Pictures of Egyptians
These are my Gladiator Games (now Called Black Hat - see the 15mm Suppliers page for details) Egyptians (with the odd Essex and Irregular swordsman in there too), as used at Roll Call 2003
In my humble opinion the hardest-looking and coolest Egyptian Figures out there today.
Bases use my dead easy base technique
Click on the small images to open them in a new window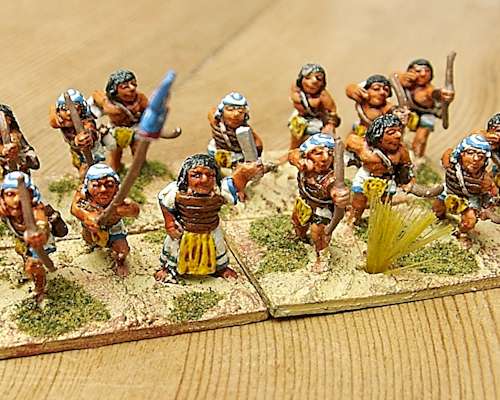 Heres More Egyptians
Tank Warfare on the Eastern Front 1941-1942: Schwerpunkt
A fresh look at Panzer Warfare
Amazon.co.uk's top selling Books on Ancient Egypt
Amazon.co.uk: Bestsellers in Books > History > Ancient History & Civilisation...
The most popular items in Egypt (Updated hourly). Note: Product prices and availability were accurate at the time this feed was generated but are subject to change.
#1: The Awesome Egyptians (Horrible Histories)
The Awesome Egyptians (Horrible Histories)
Terry Deary

(Author)

, Peter Hepplewhite

(Author)

, Martin Brown

(Illustrator)
(51)
Buy new:
£5.99
95 used & new
from
£0.01
---
#2: Egypt (See Inside) (Usborne See Inside)
Egypt (See Inside) (Usborne See Inside)
Rob Lloyd Jones

(Author)

, David Hancock

(Illustrator)
(36)
Buy new:
£9.99
£9.98
52 used & new
from
£1.70
---
#3: Tutankhamun: The Eternal Splendour of the Boy Pharaoh
Tutankhamun: The Eternal Splendour of the Boy Pharaoh
T.G.H. James

(Author)
8 used & new
from
£2.00
---
#4: The Story of Egypt
The Story of Egypt
Joann Fletcher

(Author)
(11)
Buy new:
£10.99
£10.68
22 used & new
from
£6.25
---
#5: The Forgotten Papyrus (The Mummifier's Daughter Series Book 5)
The Forgotten Papyrus (The Mummifier's Daughter Series Book 5)
Nathaniel Burns

(Author)
(25)
Buy new:
£2.04
---
#6: The Hermetica: The Lost Wisdom of the Pharaohs
The Hermetica: The Lost Wisdom of the Pharaohs
Timothy Freke
(Author)
(49)
Buy new:
£7.68
32 used & new
from
£3.10
---
#7: Stories from Ancient Egypt
Stories from Ancient Egypt
Joyce A. Tyldesley

(Author)

, Julian Heath

(Illustrator)
(26)
Buy new:
£8.95
37 used & new
from
£4.79
---
#8: The Oxford History of Ancient Egypt
The Oxford History of Ancient Egypt
Ian Shaw
(Editor)
(43)
Buy new:
£12.99
£10.99
51 used & new
from
£7.38
---
#9: The Prince of Nubia (The Mummifier's Daughter Series Book 6)
The Prince of Nubia (The Mummifier's Daughter Series Book 6)
Nathaniel Burns

(Author)
(11)
Buy new:
£2.01
---
#10: Keeper Of Genesis: A Quest for the Hidden Legacy of Mankind
Keeper Of Genesis: A Quest for the Hidden Legacy of Mankind
Robert Bauval

(Author)

, Graham Hancock

(Author)
(23)
Buy new:
£9.99
£8.99
48 used & new
from
£0.01
---
---
UK eBay Listings
Malifaux
Wild West
---
US eBay Listings
Malifaux
Old West
---
Australian eBay Listings
---
---