Ancients in Salamanca, at The Worlds 2017
Alexandrian Macedonian vs Delhi Sultanate
Game 1 Alexandrian Macedonian vs Classical Indian
Game 2 Alexandrian Macedonian vs Graeco-Indian/Indo-Greek
Game 3 Alexandrian Macedonian vs French Ordonnance
Game 4 Alexandrian Macedonian vs Delhi Sultanate
Game 5 Alexandrian Macedonian vs Christian Nubian
Game 6 Alexandrian Macedonian vs Sassanid Persian
After a campaign almost as brilliant as all of my other brilliant campaigns, I find myself almost literally on top of the world, and very near the summit of the leaderboard as the evening game draws near.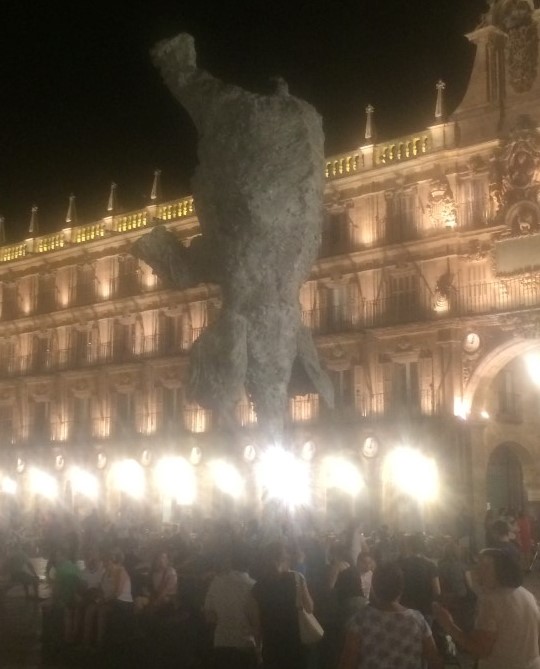 And - my opponent was El Kreator, herve, Author of the L'Art de le Guerre rules.

What a honour, what a great privilege, what a unique and wonderful experience it would be for him to get to play (and of course be soundly beaten by) me, Alexander the Great!
El Kreator had picked an army from the quite literal ends of the world, India, the Delhi Sultanate - presumably another of the long-standing Successor states that I planned to leave behind across my area of conquest with its capital (I'm guessing maybe named Alexandria) after my death of old age at some point probably in my late 70's in my far future.
Delhi Sultanate - a textbook shooting and skirmishing cavalry army with elephants and some fairly decent medium swordsmen foot to sit between them. This version also had a comedy artillery piece..
The lists for the Alexandrian Macedonian and Delhi Sultanate armies from this game, as well as all the other lists from the games at Salamanca The Worlds can be seen here in the L'Art de la Guerre Wiki.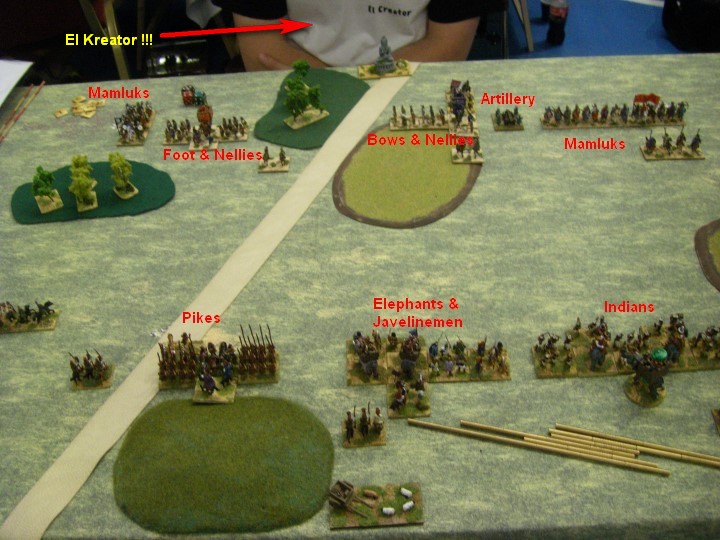 The table was typical of the jungles of far flung India, with woods and some large rough areas - a spot I had carefully picked in order to inconvenience the enemy cavalry as much as possible. The Indians in my own army had been dragged along as well and were deployed on my right as I was relying on their unswerving loyalty to my own munificence to counteract any sympathies they may have had for their opponents and countrymen.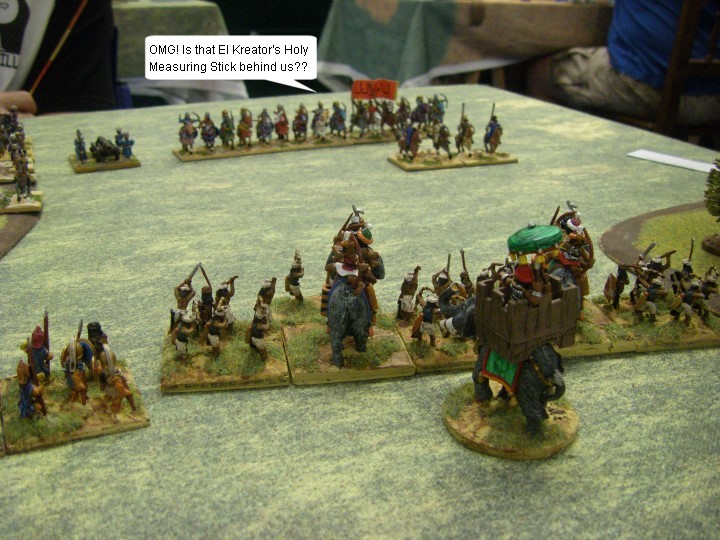 The Indians were quick off the blocks, as they looked both to close down the enemy Ghulams and to wheel themselves out of arc of the heavy gun battery that the Sultanate troops had installed in the middle of their line. The artillery were to be kept from targeting my elephants at all costs.
Alexander, the Mini-cartoon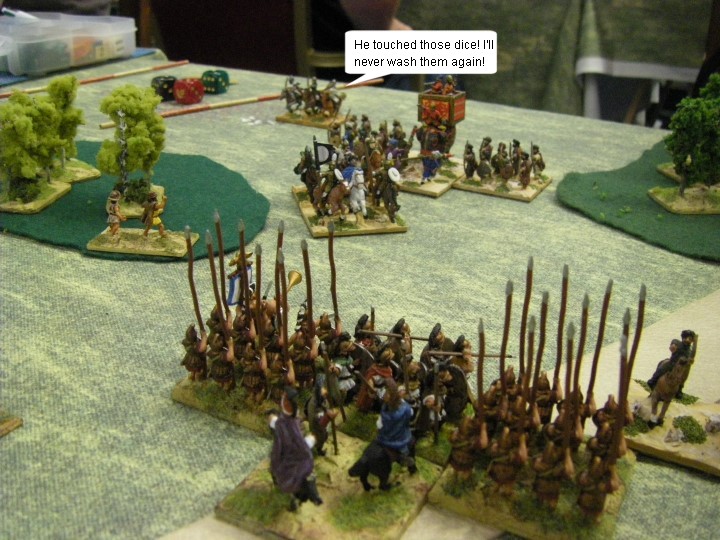 The cluttered terrain had bottled up some of the other Indian troops, and a rapid advance by the hard working and long-walking firm-thigh'ed men of my core Makedonian Phalanx intended to keep them there by whatever mean possible. If these troops were neutralized the rest of my army could overrun its' opponents and the battle would be won.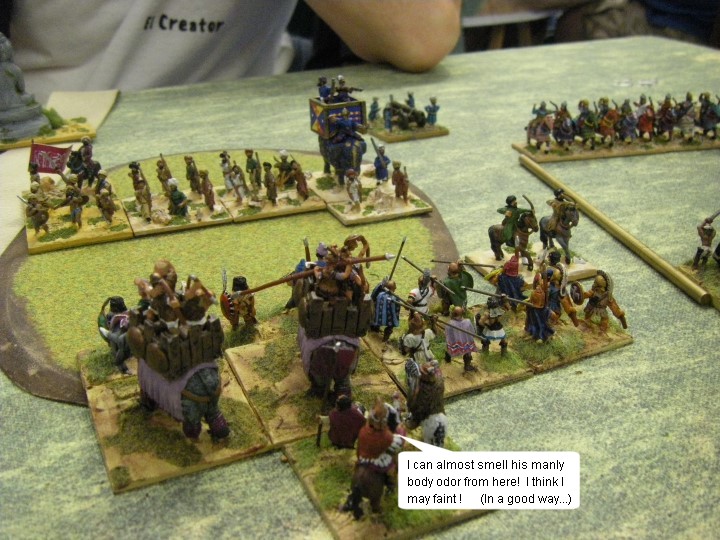 The soft Delhi-underbelly of my opponents was firmly in the middle of the table- an elephant, some half-hearted bowmen and a swordsmen unit. This was a clear and obvious target for my own Greek-led Pachyderm command, complete with its masses of elephant-eating javelin skirmishers and a protective skin of light infantry. The Indian were clearly scared of what I was pushing their way, and tried to delay me with skirmishing light horse, but they had little hope of slowing the advance of this juggernaut for long.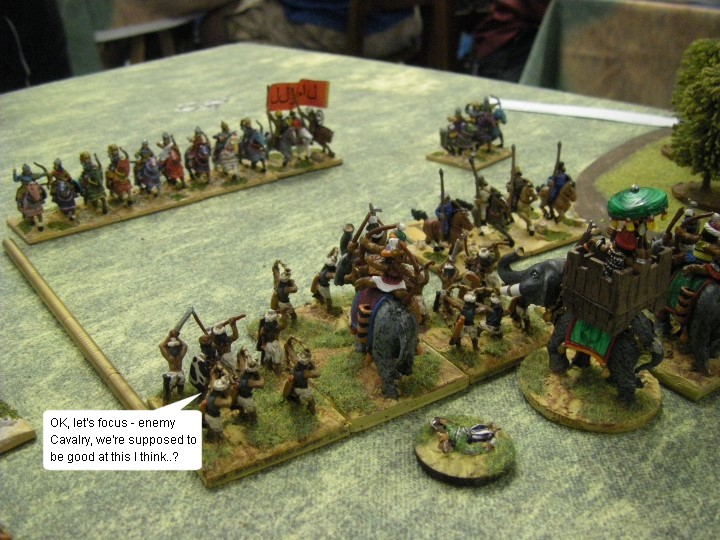 My erstwhile Indian allies were racing forward as fast as they could under my explicit orders to do so - but the sniping of this new-fangled gunpowder artillery was a constant irritation, hitting the impressive big grey beasts through their skirmish screen.

As the Indians bunched up to get out of the way of the big piece
L'Art de la Guerre hint - Artillery can shoot through skirmishers and aim at the target behind if it chooses.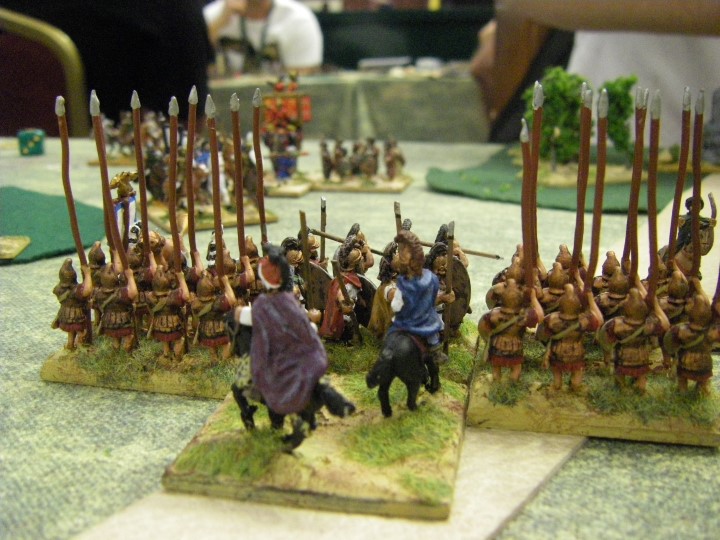 Without artillery to worry them, my Phalanx were confidently advancing towards a date with destiny - and an enemy they knew they had the beating of already.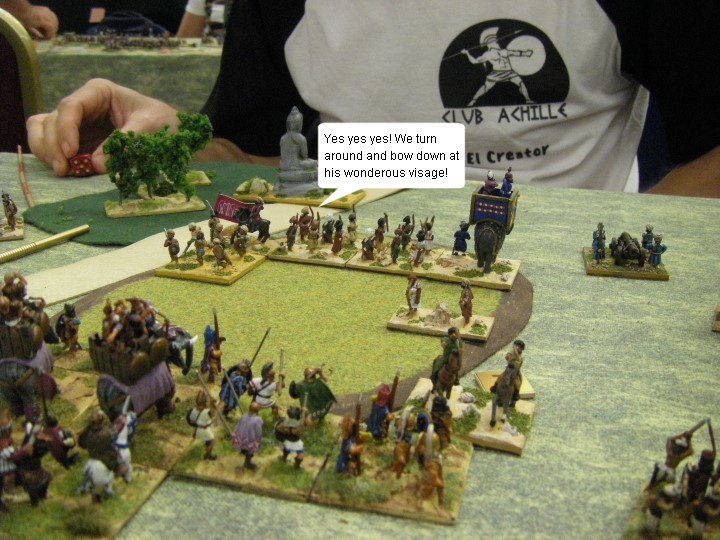 The Delhi-soft-belly formation also knew it was beaten - as often happens with my potential foes now that my reputation has gone before me - and turned tail and retreated in the face of the pressure my men and Elephants were piling onto them. Perhaps soon we would capture the artillery and start to learn its' secrets?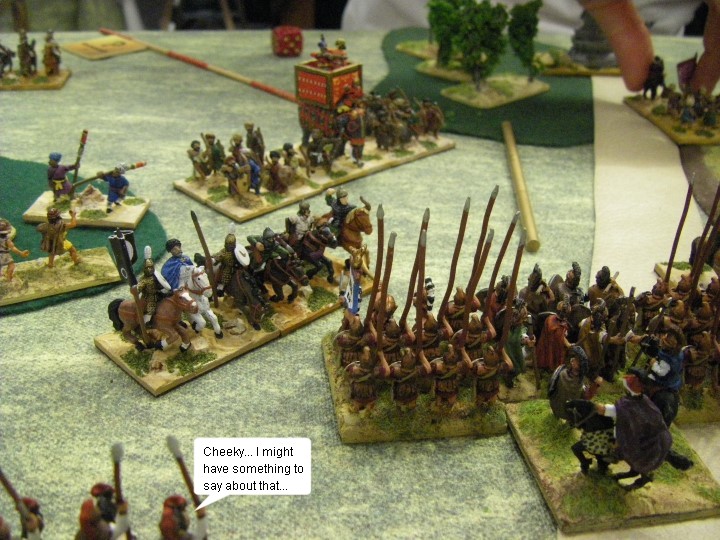 The Indians had realised they were in trouble, and as my Agrianians skirmished in the woods on their flanks the Sub-Continentals threw some of their Royal Guard forward to try and block my relentless advance.
25 things we didn't get round to doing in Salamanca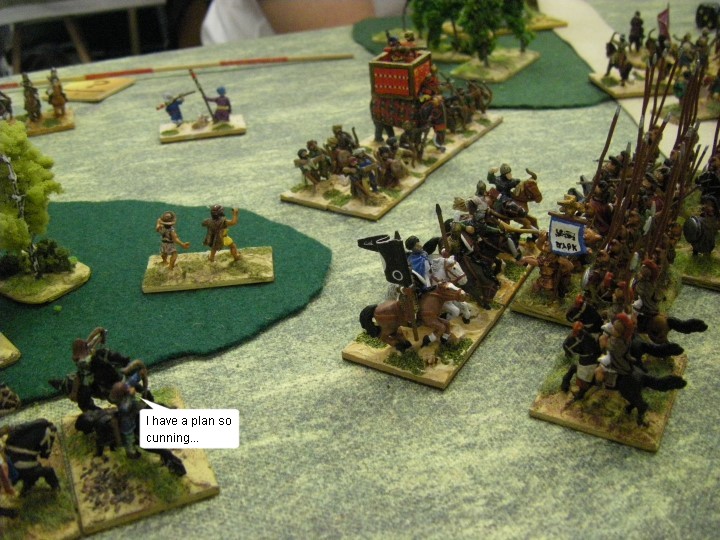 In a charge which felt like it had started to gain momentum in the foothills of Makedon some 4 years before, the Phalanx crashed into the Indian cavalry as a unit of Companions moved up to pin the enemy Commander as well. The enemy skirmishers had been driven from the woods, and yet more of my troops were appearing to harass the flanks of the Indians.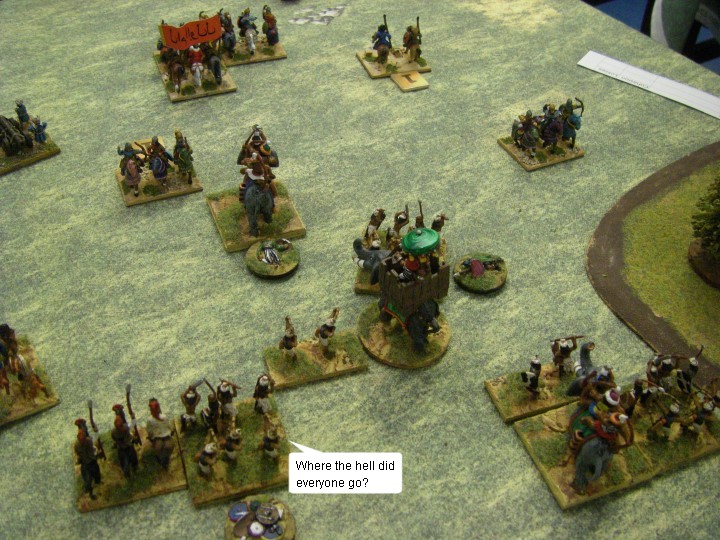 The indian elephants under my control had gotten themselves into a lg jam, and with limited command and control capability they started to break into smaller and smaller lumps as I drove them forward in haste to chase away the enemy Ghulams and neutralize their shooting.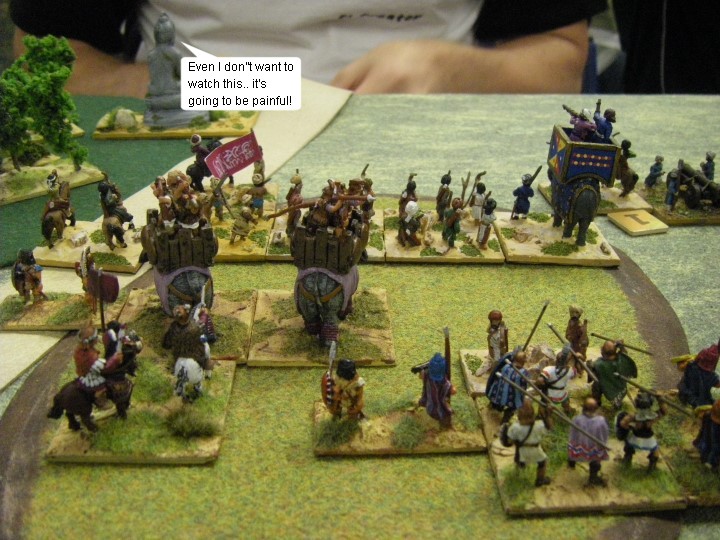 The centre of the table was much more straightforward, as one of my most trusted commanders pushed the Elephants and Thracian Javelineers forward so they were breathing down the very necks of the fleeing Indians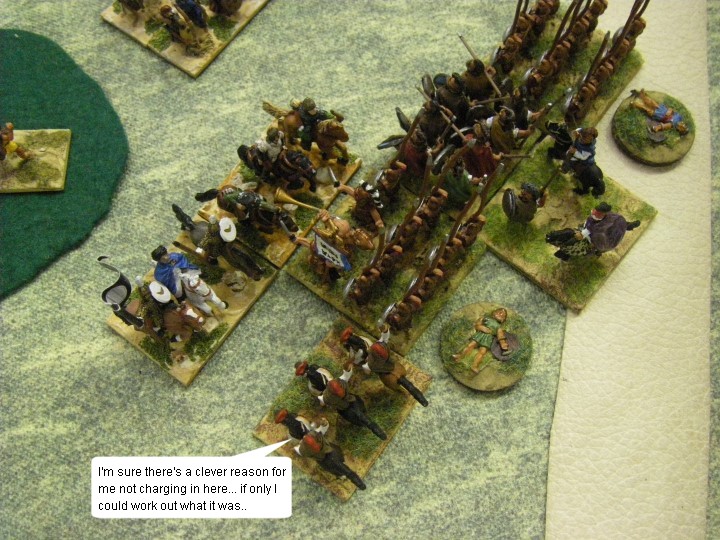 My poor dear Phalanx were clearly exhausted - losing to enemy cavalry, what ignominy!

My Companions were eager to join the fray and stop all of the monkeying around that had been going on up until now..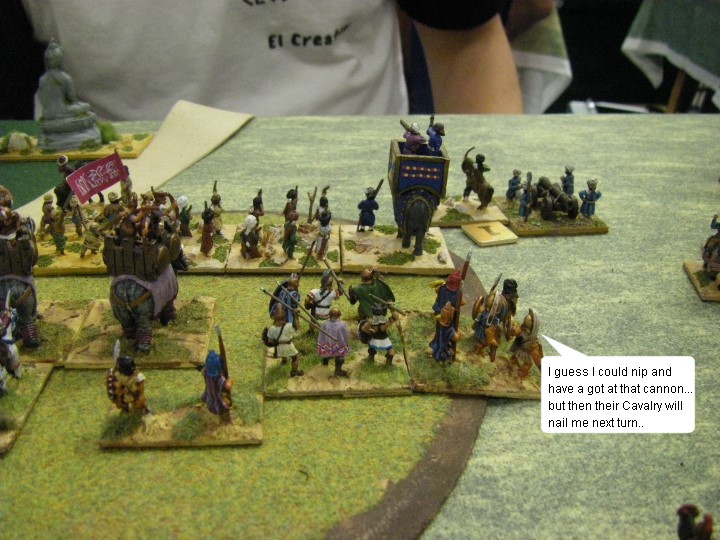 Those Thracians sure can throw a mean javelin - the Indians seem to have run out of road (and brush) as my valiant forces chase them down in their cowardly retreat. The moment of decisive battle is about to be joined, and the chaps from Delhi have barely managed even to get in a single shot against my rapid advance. Once they are gone I will be examining this artillery contraption in double short order !
Secret Life of Alexander the Great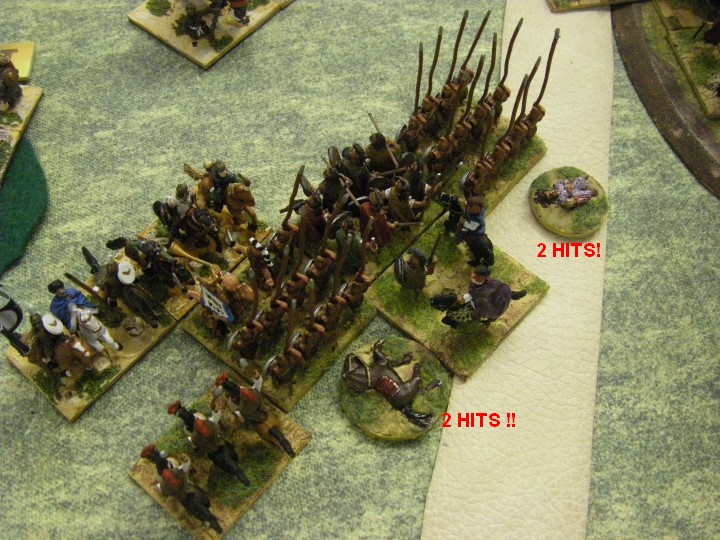 Shamefully my Phalanx continue to struggle against the enemy cavalry, as the combat drags on and the better armoured Indian horsemen refuse to concede ground or hit markers. Relentless shooting from the Indian bowmen opposing me is also starting to erode the confidence of the rest of my Pikemen - perhaps I need to revert to an earlier and more literal ruleset where massed ranks of pike count as adding "shielded" protection to the entire Phalanx?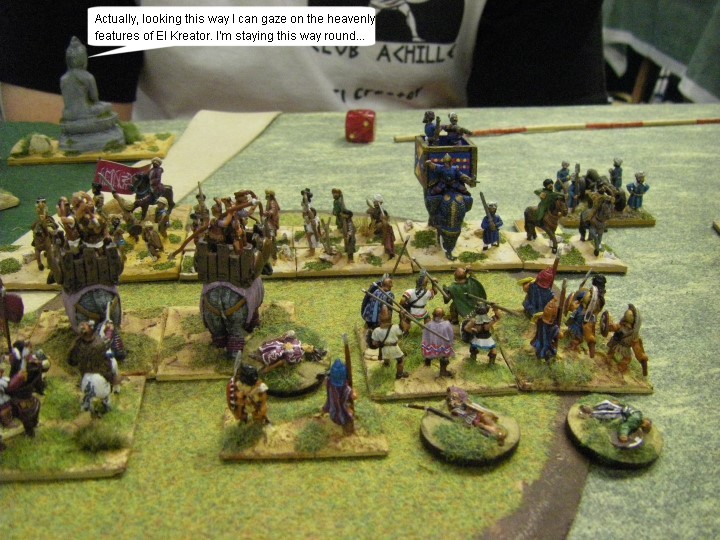 There comes a time when even cowards can run no further! Unfortunately it appears that this time also coincides with a time when Cowards can shoot really effectively against my Javelinmen - the Thracians and Greeks both take a hit just before the vital combat, skewing the odds back against them. They are however brave and good looking young men, and I am sure they can stand firm and proud with me in their thoughts as we go forward into the Battle of Salamanca!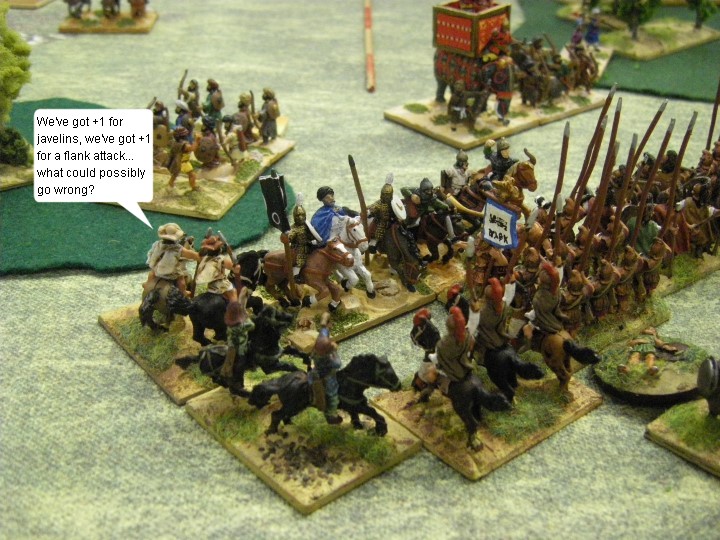 A military genius like me is always thinking of clever ways to outfox the opposition, and in this case I have come up with a truly cunning wheeze! Ordered in from the outskirts of my burgeoning empire, I demand that two units of Light Horse small themselves bravely into the flank of the enemy Commander! This neutralizes his "Impact" ability, gives my men a +1 for targeting his flank and should mean that in a subsequent turn the Companions can hammer into his flank (after he conforms), dropping him a morale level and sending him onto his doom!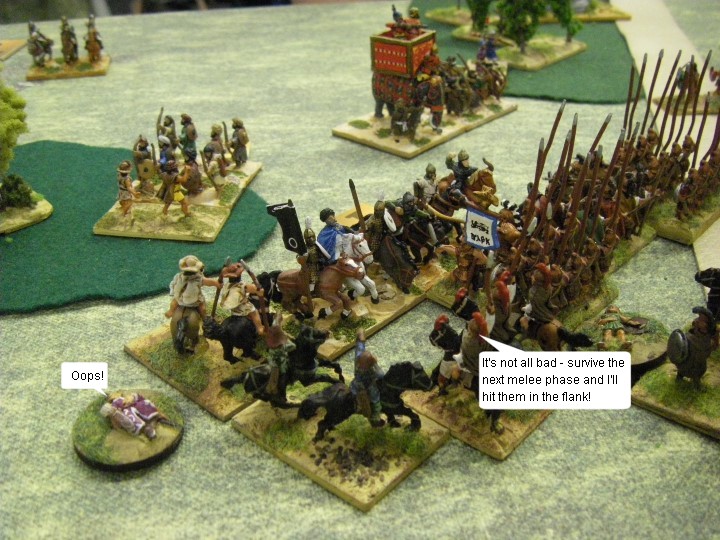 Well, not all plans work as planned. I guess a General on an armoured horse is still a General on an armoured horse - even when you hit him in the flank.
---
Pictures of Arab-ish troops from my Ancients Photo Directory
(Click any image to see details of the manufacturer, and a larger version of the photo)
---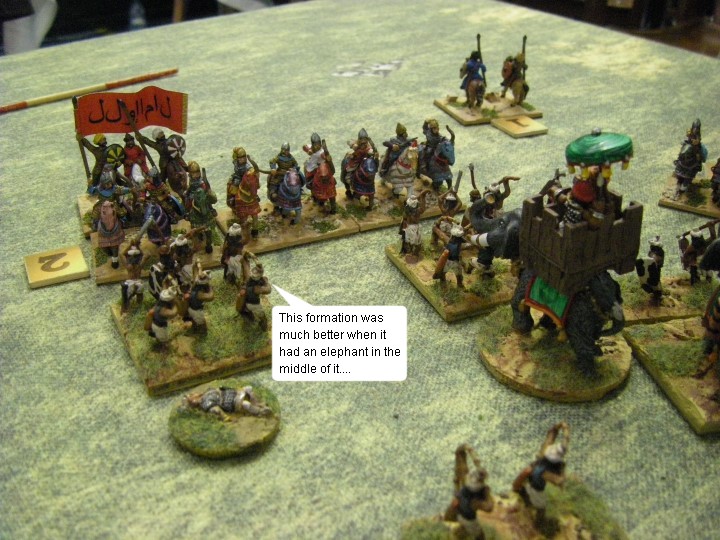 The Indians working for me are having a rather torrid time on the opposite flank, with the ceaseless shooting of the opposing mounted bowmen finally taking down one of their elephants - this was a disaster for the elephants, but also for the Indian infantry who now appeared to be rather more vulnerable to a mounted charge than they had been whilst the Pachyderms were in their line. Tricky.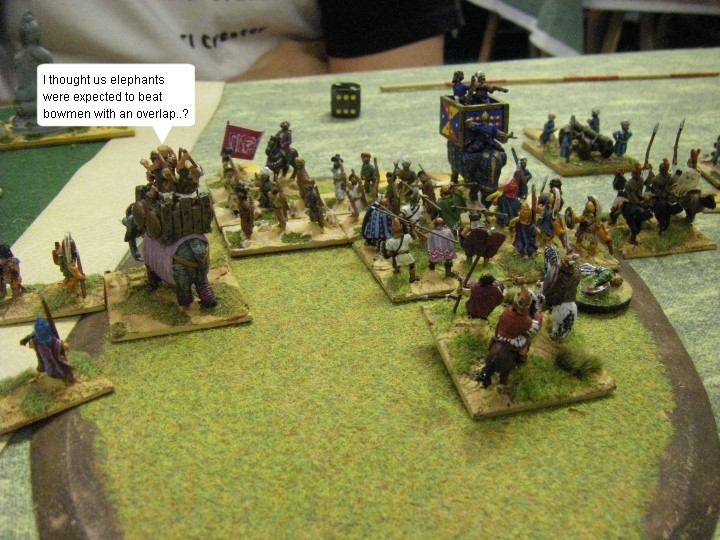 Boom! I drive the Greek-led Elephant Corps forward into the very beating heart of the enemy formation, expecting to overrun their bowmen and hack down their elephants - but the resilience of the Indian archers is remarkable enough for me to consider whether they deserve a place in my own army (possibly now I come to think of it as part of an integrated experimental phalanx?) - the supposedly road-kill bowmen have taken down one of the handful of Elephants I own myself! This is not supposed to be happening.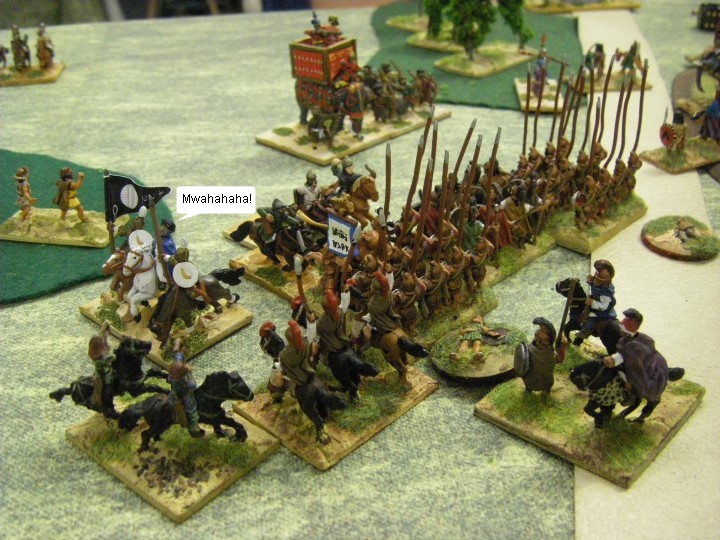 The Indian General has fought his way out of the trap I cleverly constructed for him - perhaps he is auditioning for a place in my own army of relentless wonderful victoriousness ?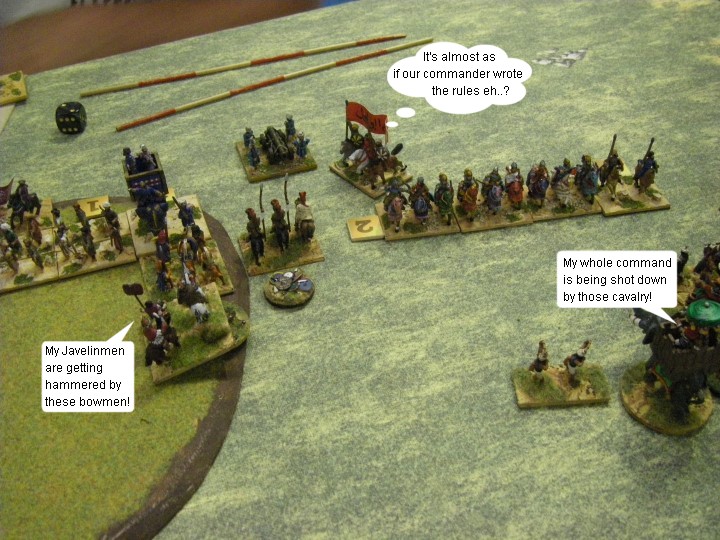 My central punch is evaporating as the Indian bowmen continue to surprise even themselves with their fortitude - the Thracians now too are lost, and with the collapse of my Indian ally as well suddenly this whole half of the table looks like a space where I will have to actually try a little harder than usual to come up with an incredible game-winning plan… and I will have to do so soon, as my army, hamstrung by the loss of the Indians and the Elephant Corps is now dangerously close to defeat!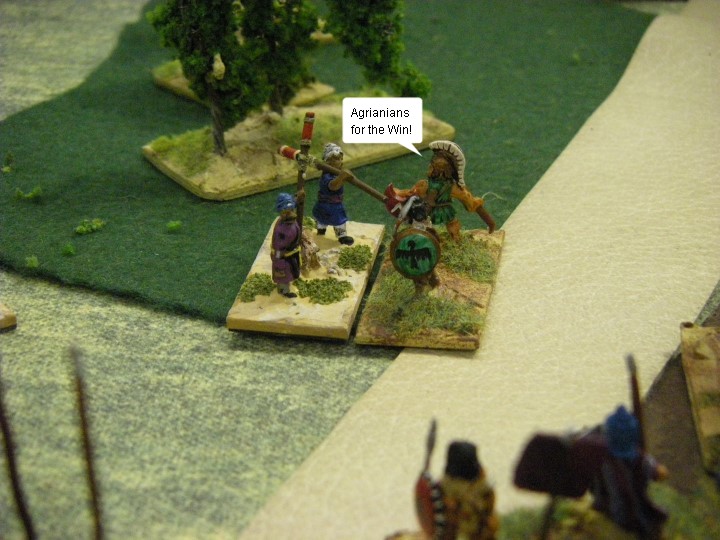 My men however never know when to give up, and I spy a chance to recover the situation - an Agrianian javelin-armed skirmisher mugs the Indian firestick bearers in the deep forest - beat them and a mutual destruction is assured.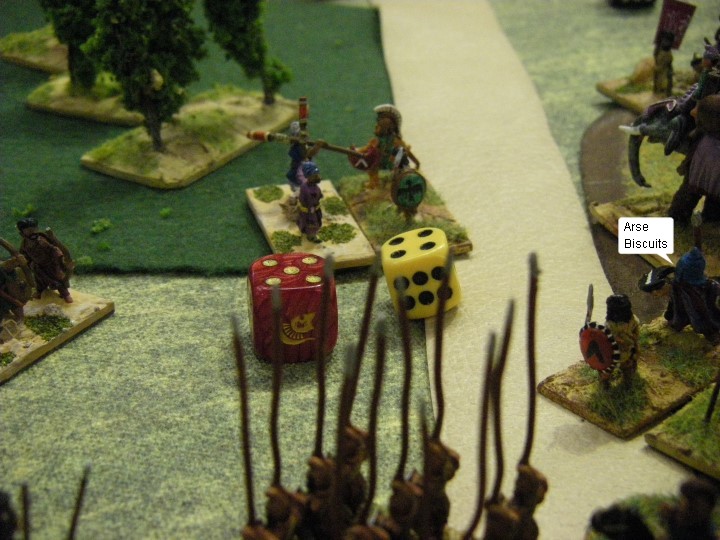 The Result is a defeat in which El Kreator was just one unit from breaking!
Click here for the report of the next game in this competition, or read on for the post match summaries from the Generals involved, as well as another episode of legendary expert analysis from Hannibal
Post Match Summary from the Alexandrian Macedonian Commander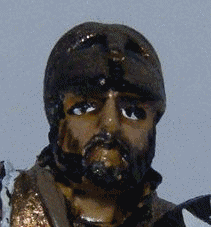 How close can one man be to a victory yet have it wrenched so cruelly from their grasp? Were it not for the outlandish and unexpected abilities of the so-called artillery and the unforseen bravery of the enemy bowmen I think this game would have been a far easier win for me.
Perhaps I needed to carry on after the expedition to India and get all the way to far off China to understand this gunpowder technology - if only my men had let me carry on with what I was doing, and where I was going with them what empires I could have owned !
I had enough chances to win this one though, and having come out in 2nd place in this battle I am still well placed to do well over the course of the full weekend, with what must be a maximum points defeat here to carry me forwards into the next round of the draw
Onwards and upwards, and carry on...
---
Hannibal's Post Match Analysis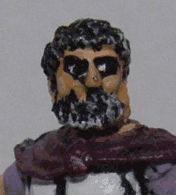 This just shows what a hopeless and overly complicated, over confident battle plan, linked to an utter lack of planning and preparation can do - this is the only time I can think when a simple attack would have been better.
You had no idea what to do about the Artillery, yet it seemed to paralyze your whole army for long periods of time - the command effort you spent trying to get your elephants out of its arc of fire were extraordinary! Do you not realise that simply charging teh dammned thing down frontally would have been much better in this situation - even if you had taken some losses on the way at least the rest of your line would have been coherently attacking the enemy cavalry instead of feeding themselves to then in penny packets?
And quite why you thought that there was a better option instead of engaging an enemy General with the Companions - remember, they are your brothers and cousins, the creme of yoru army and more than a match for any enemy never mind a General - and that the better option was to attack Elite Armoured horse with unarmoured Light Horse? Staggering.
At least being beaten by the writer is an honour in itself - I am sure that you will not be treated with such respect in the next game
Click here for the report of the next game in this competition
You may also like....
Game 1 Alexandrian Macedonian vs Classical Indian
Game 2 Alexandrian Macedonian vs Graeco-Indian/Indo-Greek
Game 3 Alexandrian Macedonian vs French Ordonnance
Game 4 Alexandrian Macedonian vs Delhi Sultanate
Game 5 Alexandrian Macedonian vs Christian Nubian
Game 6 Alexandrian Macedonian vs Sassanid Persian
View My Stats for My Match Reports Pages