Field of Glory at Ascot 2008
Game 2
After an unexpected success - and an even more unexpectedly straightforward-seeming success, I was overflowing with confidence. Maybe my 4 elephants were good enough to take a medieval army out of the game on their own? Maybe a line of spears was pretty neat? Maybe my newly painted Spanish (who were the only reason to take the whole army to be honest) would actually manage to do some fighting and perhaps even win ?
Game 2 saw me facing an traditional Carthaginian enemy - The Romans (that's their list)

The white-balance on my camera was already struggling, but would I?
I had assumed that the Romans would have a stack of legionaries and not much else :
My plan was that I would be able to use my 20 bases of LMI to dominate the rough terrain and do a bit of a Hannibal - lose slowly in the middle, cave in the flanks and sweep to victory before being sent into exile in Greece, working for a tyrant and dying in ignominy and poverty.
Well, maybe not the last bit. In fact, may not much of it at all after the "win" section really.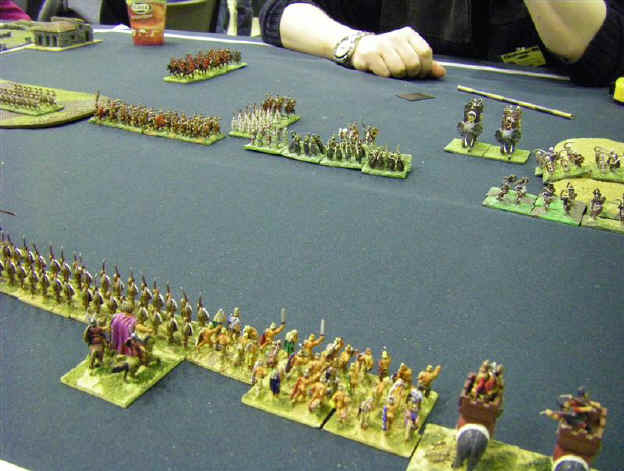 In the middle the Romans had surprisingly few legionaries - 2 blocks of 8, and 4 Triarii - but they had a whole load of Gauls, some more rubbish skirmishers, and 2 elephants - so it was going to be alot more even in the RGo that I had hoped.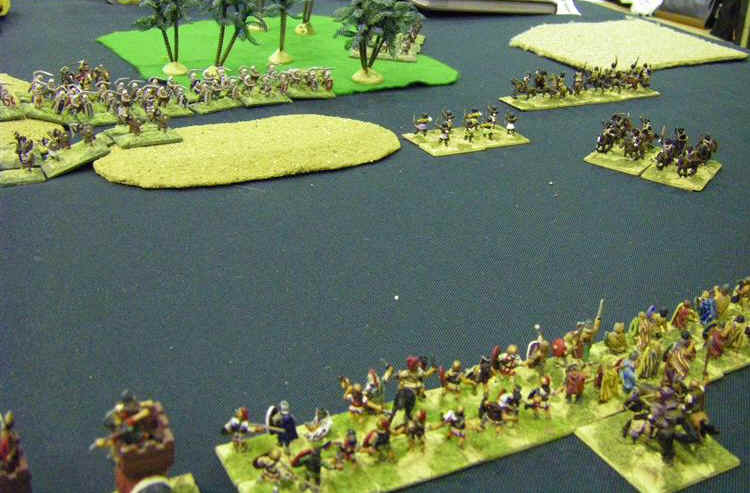 The only advantage I had was that my Gauls & Spanish were more brightly coloured, and so psychologically we held the edge over the rather anemic enemy Gauls. My Numidians were also bottling up some psiloi in a plantation and threatened to take on the Romans flanks if they dared lurch forwards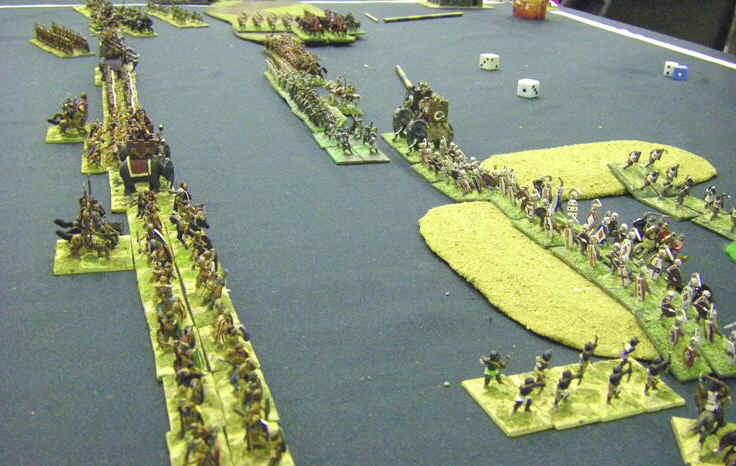 All in all it was looking like an Ancient Battle as the two lines moved slowly toward each other. None of this mucking about with skirmishers here - two proper armies ready to go toe to toe.
My Numidians had undertaken a rather diversionary charge on the flank of the Gauls, forcing their formation to turn just and present their flank to my advancing Celts. After my Numidians were forced to break off, the Romans quickly despatched a sub-commander to whip the Gauls into shape and make them turn around ....
...which unfortunately he succeeded in doing!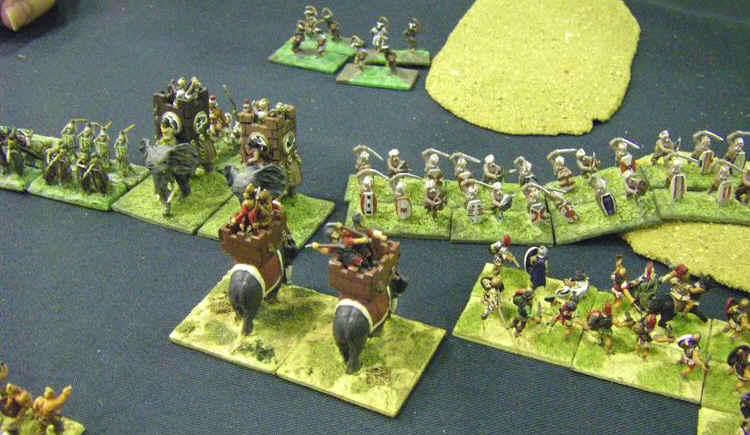 2 of my elephants had been maneuvering desperately to try and get at the Romanized Gauls as well, but had been faced off by the Romans own Pachyderms. However, it was a very even fight, in which I hope the presence of a lone elephant ploughing into the Romanized warband would give me an advantage (the "hill" wasn't actually a hill, it was a vineyard or something).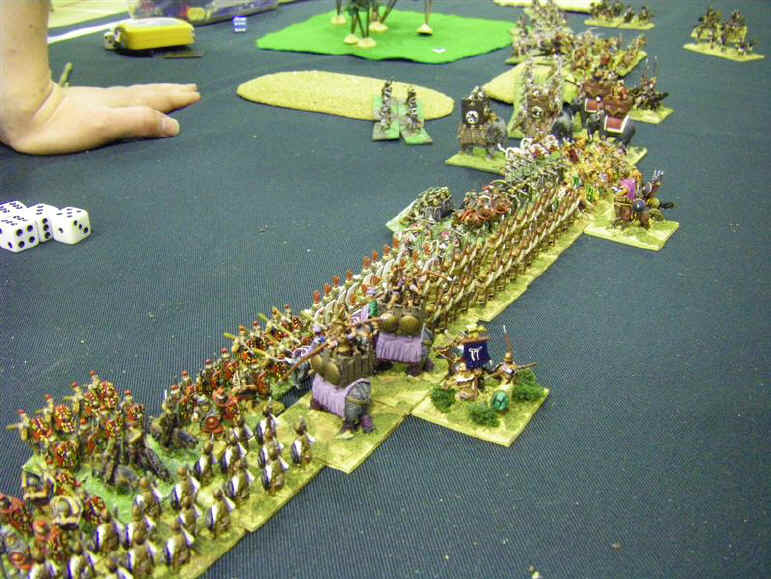 The whole battle line clashed - nearly 4 feet of combat with 7 or 8 units engaged on each side. I knoew my spearmen would be looking to try and hold on in the middle, but I could accept their demise as long as it was slow and I won on the flanks. And looking along the line I did appear to have the slight curve in my favour - it might be Cannae yet !!!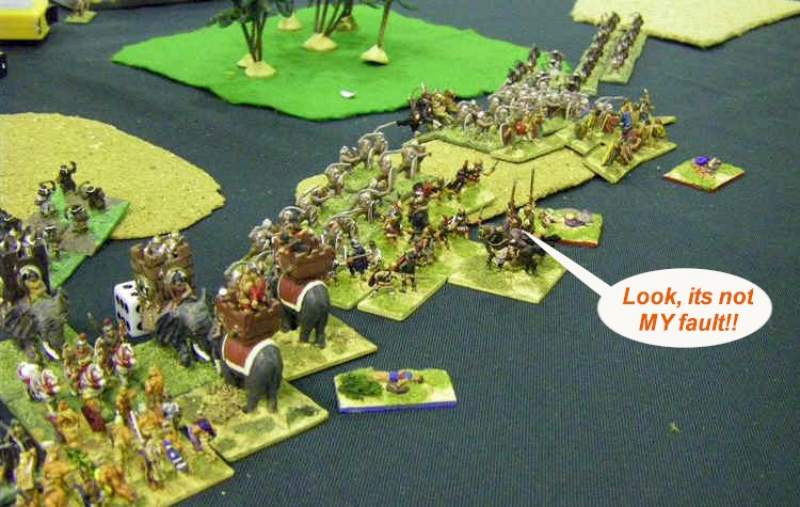 But the Romans were not playing the game! Maybe they had been cheating and had read one of these six excellent (all "clickable" so you can find out more yourself) books which they no doubt bought at an excellent price from Madaxeman.com's Amazon-powered UK bookstore to see what happened in the real battle and learnt from it ?
or if you are in the US you can follow this link (did you notice what I did there?)
My Gauls and Spaniards were soon in complete disarray, collapsing at impact against identical troops and then breaking and fleeing before I had any chance of getting a general to reassure them. Even the elephants were losing ! The only bit that was going according to plan was that I was losing in the middle as well....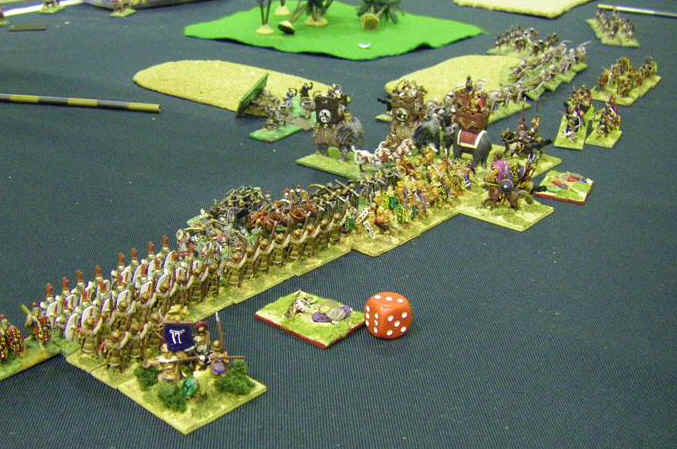 At least I was getting to use a load of my cohesion markers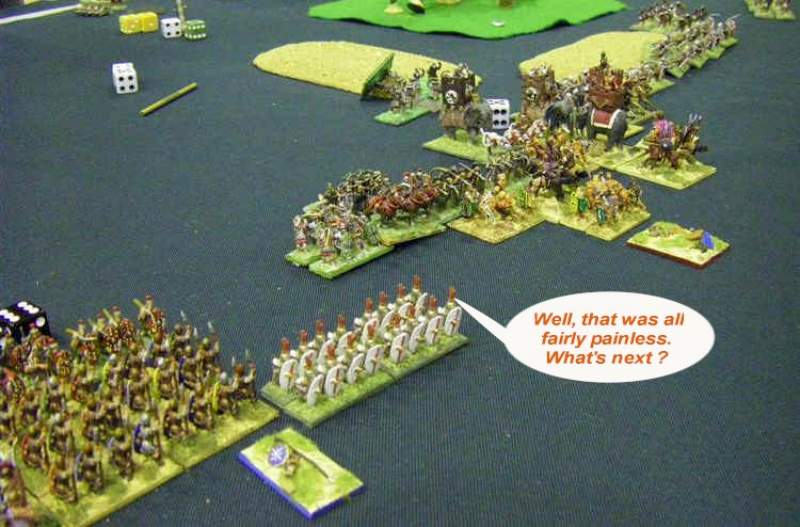 With my left flank totally swept away, the game was only going to end up one way, and soon there was a massive hole in my center as well, as the brave spearmen exploded under the hammer blows of the legionaries.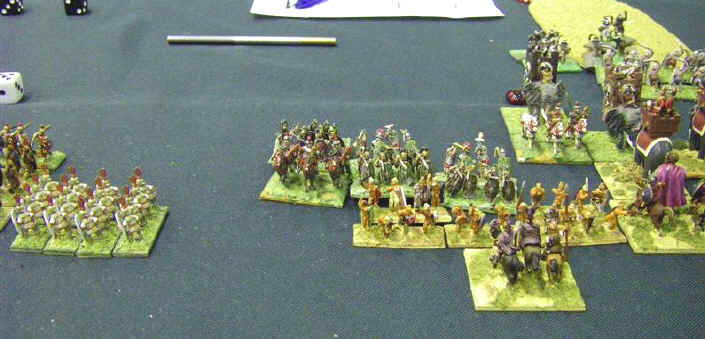 Soon my army was a mere fragment of its former self, and the game was wrapped up with a crushing defeat for the Hannibalic hordes.
Post Game Analysis from me
This was one of my "learning experiences" from Ascot. I had thought combination of Elephants and Gaus would be much better than the Romans troops, but even with my elephant hitting the Romanized Gauls, my own Impact Foot were still just as likely to lose as they were to win at impact. This is because each unit wins or loses based only on the damage its opponents do to it, never mind what happens its opponents against other units they are also fighting.
To lose so spectacularly and so quickly on the flank was rather a sobering experience which rather killed off any chance I had in the game almost at the first impact, but hey, sometimes bad stuff does happen and I'd had the rub of the green in Game 1.
Post Game Analysis from Hannibal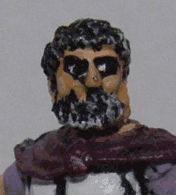 Well, with Commanders like this, who needs an enemy? You clearly messed up what was - in the hands of a master like, ahem, myself - one of the truly great plans of all military history (although at the time there wasn't quite as much military history as there is today you understand).
The big mistake, other than not growing a beard of course, was to get the balance totally wrong. If you are to stove in the enemy flanks and give ground slowly in the middle, make damn well sure you DO have enough force to stove in the flanks - don't fritter it all away with a marginal and risky attack where you have almost no advantage. And if you are planning to give ground slowly in the middle, hang back - don't rush your troops into combat with enemy forces who are far, far better than them, or you won't have time for your flank attacks to work - especially if you have the competence level of a blind deaf half-wit and fail to set them up correctly!
Want to buy some Romans now?
Or check out my figure review page
View My Stats
The Ancient Army List Index
Historical background notes, external links, 15mm supplier listings, FoG army lists, and a list of books about these armies
The Rise of Rome (280 BC to 25 BC) Mid Republican Roman ; Late Republican Roman ; Gallic ; Pyrrhic ; Later Carthaginian ; Ancient Spanish ; Later Macedonian ; Later Seleucid ; Later Ptolemaic ; Attalid Pergamene ; Numidian or early Moorish ; Pontic ; Early Armenian ; Parthian ; Later Jewish ; Illyrian ; Spartacus Slave Revolt ; Bosporan ;
Storm of Arrows - Western Europe in the Later Middle Ages (1300 AD to 1500 AD) Medieval French ; 100-yrs War English (Continental) ; 100-yrs War English (Britain) ; Later Medieval Scots ( Britain) ; Later Medieval Scots (Continental) ; Later Scots Isles & Highlands ; Medieval Welsh ; Later Anglo-Irish ; Medieval Irish ; Low Countries ; Later Medieval German ; Italian Condotta ; Swiss ; Free Company ; Medieval Burgundian ; Medieval Danish ; Medieval Swedish ; Medieval Castilian ; Medieval Crown of Aragon ; Medieval Portugese ; Later Granadine ; Navarrese ; Ordonnance French ; Wars of the Roses English ; Ordonnance Burgundian ; Santa Hermandad Nueva Castilian
Immortal Fire - The Greek, Persian & Macedonian Wars (550 BC - 146 BC)
Classical Greek ; Early Achaemenid Persian ; Lydian ; Thracian ; Syracusan ; Early Carthaginian ; Skythian or Saka ; Kyrenean Greek ; Late Dynastic Egyptian ; Alexandrian Macedonian ; Later Achaemenid Persian ; Classical Indian ; Early Successor ; Early Sarmatian ; Galatian ; Hellenistic Greek ; Graeco-Bactrian ; Graeco-Indian ; Indo-Greek :
Legions Triumphant - Imperial Rome (25 BC to 493 AD) Dominate Roman ; Principate Roman ; Foederate Roman ; Later Sarmatian ; Early German ; Dacian or Carpi ; Ancient British ; Caledonian ; Early Alan ; Jewish Revolt ; Sassanid Persian ; Kushan or Indo-Skythian ; Palmyran ; Early Frankish, Alamanni, Burgundi, Limigantes, Rugian, Suevi or Turcilingi ; Western Hunnic ; Early Visigothic & Early Vandal ; Early Ostrogothic, Herul, Sciri or Taifali ; Early Anglo-Saxon, Bavarian, Frisian, Old Saxon or Thuringian ; Gepid or Early Lombard ; Early Scots Irish ; Early Pictish ; Hephthalite Hunnic ;
Swords & Scimitars - The Crusades (1096 AD to 1311 AD) Early Crusader ; Later Crusader ; Fatimid Egyptian ; Georgian ; Seljuk Turk ; Cuman ; Komnenan Byzantine ; Post Latin Conquest Byzantine ; Ilkhanid Mongol ; Mamluk Egyptian ; Cilician Armenian ; Syrian States ; Khwarazmian ; Ayyubid Egyptian ; Middle Serbian ; Middle Bulgarian ; Medieval Cypriot ; Latin Greece ; Pecheneg ;
Eternal Empire - Eastern Europe and the Rise of the Ottomans (1300 AD to 1500 AD) Early Ottoman Turkish ; Later Ottoman Turkish ; Tatar ; Later Russian ; Later Serbian Empire ; Later Bulgarian ; Later Lithuanian ; Later Polish ; Later Teutonic Knights ; Catalan Company ; Middle Hungarian ; Moldavian or Wallachian ; Albanian ; Timurid, White Sheep Turcoman or Black Sheep Turcoman ; Later Hungarian ; Hussite ;
Decline & Fall - Byzantium and Islam (493 AD to 1071 AD) Early Byzantine; Maurikian Byzantine ; Thematic Byzantine ; Nikephorian Byzantine ; Later Moorish ; Later Visigothic ; African Vandal ; Italian Ostrogothic ; Early South Slav ; Lombard ; Avar ; Arab Conquest ; Early Bulgar ; Ummayad Arab ; Abbasid Arab ; Early North African Dynasties ; Khurasanian Dynasties ; Bedouin Dynasties ; Dailami Dynasties ; Pecheneg ; Ghaznavid ; Western Turkish (includes Khazar);
Wolves From The Sea - The Hairy European Dark Ages Post Roman British ; Early Welsh ; Later Scots Irish ; Merovingian Frankish ; Later Pictish ; Early Slavic ; Middle Anglo Saxon ; Astur Leonese ; Andalusian ; Early Navarrese ; Carolingian Frankish ; Viking ; Magyar ; Great Moravian ; Early Scots ; Rus ; Norse Irish ; Early Medieval French ; Early Medieval German ; Norman ; Early Polish ; Anglo Danish ;
Swifter Than Eagles - The Biblical Book Nubian ; Early Libyan ; Later Sumerian or Akkadian ; Early Nomad Allies ; Old or Middle Kingdom Egyptian ; Hyksos ; Mitanni ; Syro-Canaanite ; New Kingdom Egyptian ; Later Minoan or Early Mycenaean ; Hittite Empire ; ; Middle or Early Neo-Assyrian ; Later Mycenaean or Trojan ; Sea Peoples ; Philistine ; Phoenician Allies ; Neo-Hittite And Aramaean ; Later Hebrew ; Mannaean Allies ; Libyan Egyptian ; Urartian ; Median ; Neo-Elamite ; Proto-Arab Allies ; Cimmerian or Early Skythian ; Neo-Assyrian Empire ; Phrygian Allies ; Kushite Egyptian ; Neo-Babylonian Empire ;
Oaf of Fealty - Early Medieval Europe Feudal Catalan and Early Crown Of Aragon ; Early Hungarian ; Taifa Andalusian ; Feudal Navarrese and Aragonese ; Feudal Castilian Leonese or Portuguese ; Fanatic Berber ; Italo-Norman ; Feudal French ; Imperial German ; Feudal German ; Communal Italian ; Papal Italian ; Early Scots Isles And Highlands ; Feudal Scots ; Early Russian ; Feudal Polish ; Anglo-Norman ; Later Welsh ; Early Lithuanian or Samogitian ; Wendish Prussian or Estonian ; Early Medieval Frisia and Other Free Cantons ; Post-Viking Scandinavian ; Early Plantagenet English ; Later Sicilian ; Early Medieval Irish ; Early Anglo-Irish ; Early Teutonic Knights ; Mongol Invasion ; Early Granadine ; Middle Plantagenet English ;
Empires of The Dragon - China, Korea and Japan Erlitou-Shang Chinese ; Early Northern Barbarian Allies ; Early Zhou Chinese ; Yayoi Japanese ; Early Horse Nomad ; Ko Choson Korean ; Warring States To Western Han Chinese ; Qiang And Di ; Three Kingdoms Korean ; Eastern Han Chinese? ; Three Kingdoms W Jin And S Dynasties Chinese ; Kofun Nara Japanese ; Northern Dynasties Chinese ; Later Hindu North Indian ; Later Hindu South Indian ; Central Asian City States ; Western Wei To Early Tang Chinese ; ; Later Horse Nomad ; Tibetan ; Nepalese Allies ; Parhae Korean ; Late Tang To Five Dynasties Chinese ; Khmer Or Champa ; Thai Allies ; Nanzhao ; Pyu Burmese Allies ; Koryo Korean ; Early Heian Japanese ; Pagan Burmese ; Liao ; Song Chinese ; Xi Xia ; Ghurid Afghan ; Jin ; Late Heian To Muromachi Japanese ; Japanese Warrior Monk Allies ; Mongol Conquest ; Moslem Indian Sultanates ; Medieval Indonesian Or Malay ; Yuan Chinese ; Medieval Burmese ; Ming Chinese ; Yi Korean
Blood and Gold - The Americas Olmec ; Teotihuacan ; West Mexican ; Zapotec or Mixtec ; Toltec ; Chinantec ; Aztec ; Tarascan ; Tlaxcalan Confederacy ; Mayan ; Mochica ; Chanca ; Chimu ; Hatun-Colla ; Canari ; Inca ; Mapuche or Araucanian ; Amazonian Forest Tribes ; Tupi ; Chichimec ; Pueblo Culture ; Mound-Builder Culture ; South-Eastern Woodland Culture ; Timucuan ; Eastern Woodland Culture ; Plains Culture ; Pacific North-West Culture