Pisa Game 2 - vs Condotta
The Condotta were of a late variety - Venetians in Italy, with enough pikes to be a target, and a pin-and-punch mentality that would be interesting to see if it could work in 3.1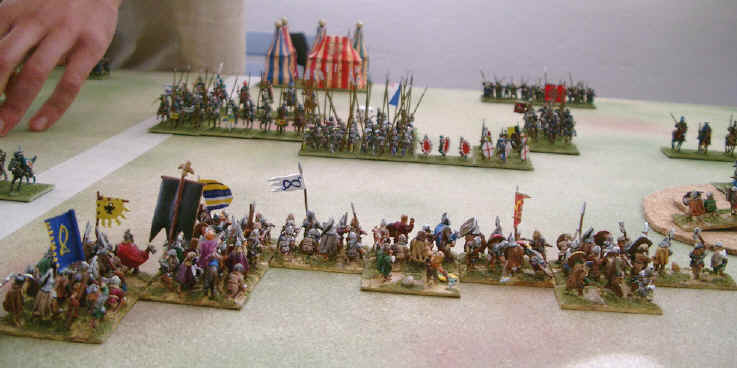 Terrain fell with steep hills on both the Italian flanks - although neither was quite butted up against the edge of the board as in the olden days. There were clearly some Stradiots hiding behind one of them, so with my army not quite stretching 2 deep across the full open part of the table we had some interesting dilemmas to face -
would I be able to hit the Italian foot before they redeployed their knights to hit the weaker points of my line?
should I spend pips preventing the stradiots coming round my flank, or just concentrate on getting into combat and hope to overwhelm the relatively small Italian commands and delay the Stradiots instead?
were the hills alive with ambushers? Or could my auxilia force their way across ?
Was there any point in bringing the Galwegianss at all ?
Initial pip dice for my command facing the likely Stradiot ambush were poor - so I decided on the rush forwards, throwing a couple of Ps half-heatedly to plus the gap. But even worse, I had decided to put the bow-armed command in the middle of my line, hoping to use their extra speed and anti-mounted ability to drive a wedge into the Italians, and stop them redeploying. But they were unreliable! No answer but to press on as best we could, and hope to close up the gap between my two advancing flanks - never that easy when it has to be done by expanding irregular blades!
As the turns moved on things were half decent on my left, as the Italian "pin" was starting to fragment, allowing me to close into the 1" march distance before the Condotteri knights were fully into position.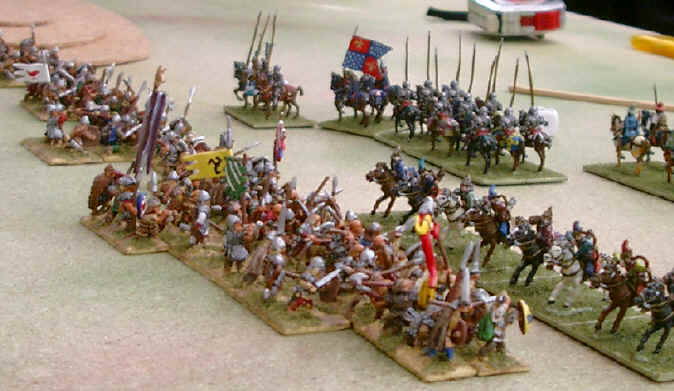 Over on my right we were progressing slowly also in the bright sunlight streaming down from the Italian heavens, and the Scots prepared to test the mettle of Pike men for the first time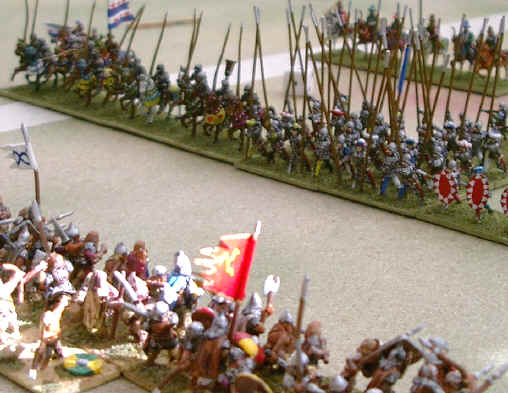 But the cost of this was that the Stradiots had been allowed to roam freely - a few delaying elements had been sacrificed, but now they were behind my army and turning back on my lines. The Highlanders sent a lone warband out to irritate ...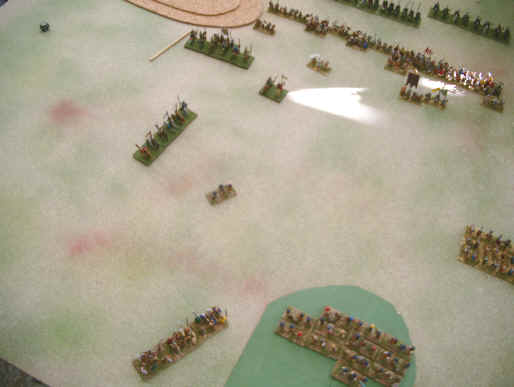 The pikemen held up well against the blades, but eventually weight of numbers told and the Italian left collapsed - bringing the bowmen belatedly into the game, but in the process also taking down significant numbers of my blades - leaving my right flank command dangerously close to breaking ! The Italian general also was still at large, and was mopping up elements as he went...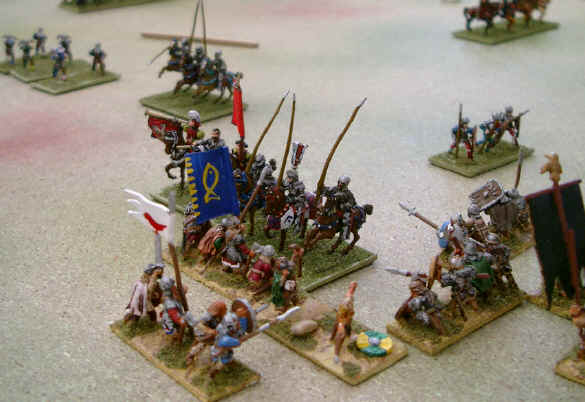 My left flank was now also in serious trouble - a coherent knight charge had broken through, and the stradiots were starting to cause real problems harassing stragglers.
With both armies teetering on the brink, my Scots were the first to crumble - falling just short of the line and staggering to a 9-1 defeat !