Photos of Home made Malifaux City Terrain
Its extremely urban
I'd bought a Deepcut Studios terrain mat as one of my earliest supporting Malifaux purchases, and at Warfare last year I picked up a large amount of basic buildings, mostly from Warbases, with a few extra bits from Antenocis Workshop. Added to this pile of MDF was a couple of eBay purchases from Troll Trader - all the detail of these suppliers can be found on the other Malifaux Terrain page with shots of this stuff in progress
I also have a page with links to all of the Malifaux content on this site which you can find here
This site also has pages that scrape the following current Malifaux-related listings from eBay: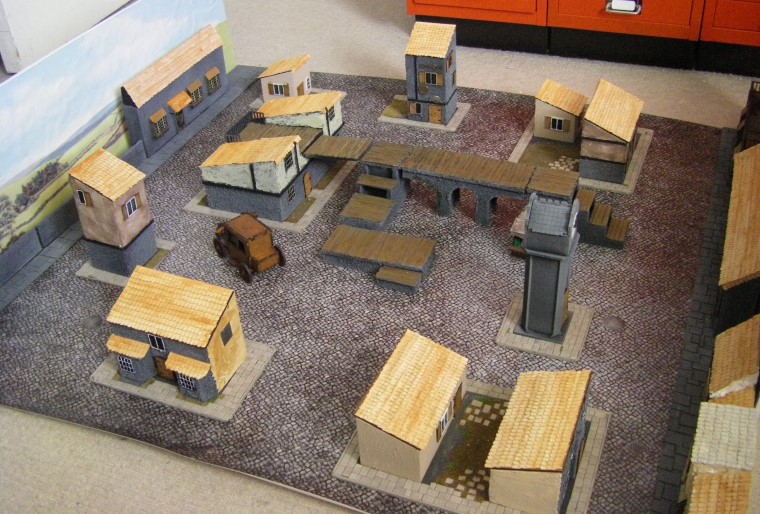 The idea was to use the Deepcut Studios mat as a base for the roads and squares of my "town", and then place on top some moveable houses - but having bought the houses I soon realised that they also really would need pavements if they were to look, well, not just like houses placed on a plastic mat. This led to another - unplanned - round of work, with 2mm MDF boards being cut to size, and some handy (fiddly) . You can also get other paving stones. Either way they were added to create a "different" pavement around each building. The paving slabs were supposed to be self-adhesive, but frankly werent so they were glued down with white PVA glue. You can get them on eBay here.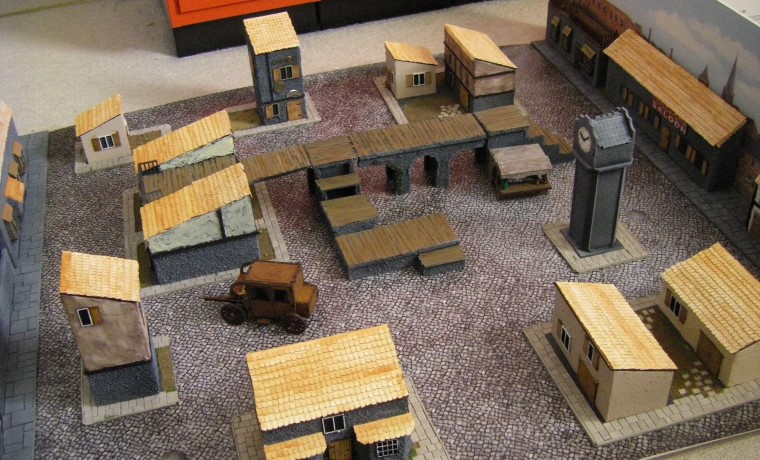 One of the centrepieces is the bridge with two sets of steps. This was made out of foamcore board with sand glued all over it - apart from on top where a row of irregularly cut thin card (cereal box) strips are glued flat to form a wooden plank effect. The while thing is sprayed black, then "dusted" with a more distant spray of grey - both standard matt car paint undercoats. As long as the grey spray is done at a distance and in several light coats you get a nice stone effect. I'm not convinced that "height" works that well in the rules of Malifaux, but its a nice extra dimension (geddit) to the game to have the steps and walkway.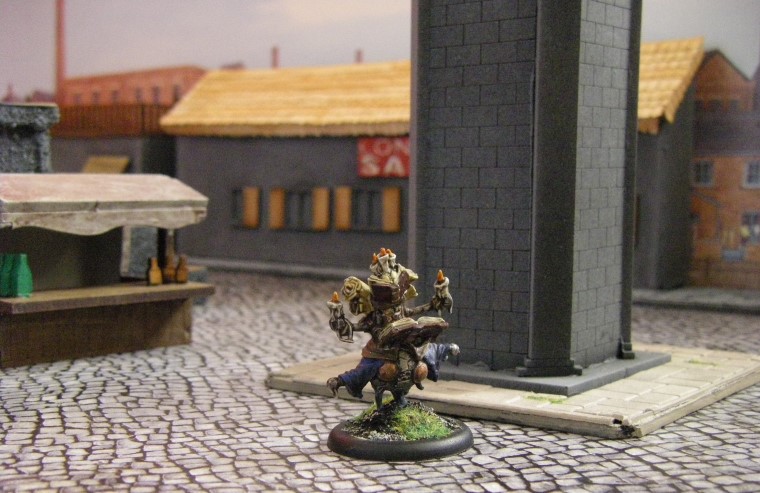 Here is the Arcane Effigy (metal) in front of Troll Trader
's Town Clock tower. Behind him to the left you can see one of Troll Trader's market stalls, this one apparently sellling a rather green beer. But, the clever - ie wargamer-obsession-gone-too-far bit is in the background where you can see not only the facade of buildings which I've created to "edge" both sides of the table, but behind that the model railway backdrop of an urban factory scene that if spray-mounted onto a sheet of foamcore and dropped into the photos for added visual effect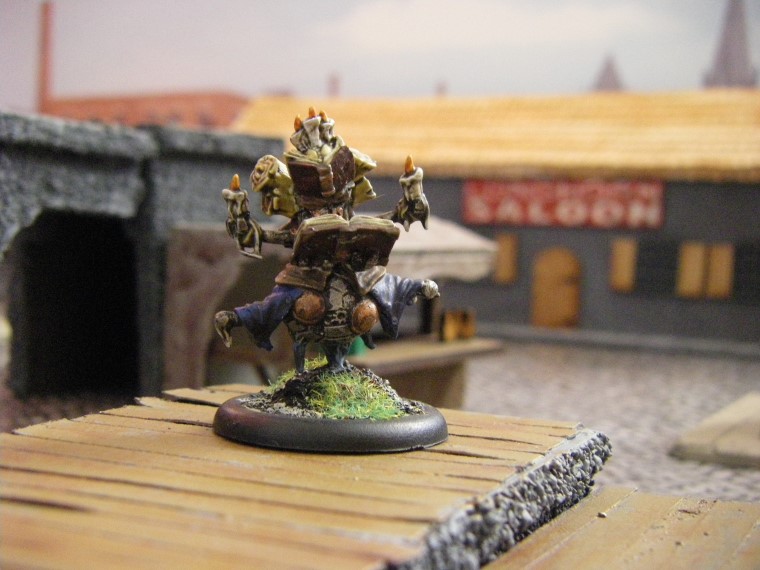 Here the Effigy is reading it's arcane books on the unloading dock that joins the stairway. You can see the plank-effect fairly well here, as all it is is the cardboard strips painted in brown and then drybrushed with lighter broan strokes along the length of each "plank". You can also see a close-up and more distant view of the pebble-dash stonework effect. I guess cutting and glueing "stones" would be another option, and one you'll see later, but this sand and spray has the benefit of being quick and non-fiddly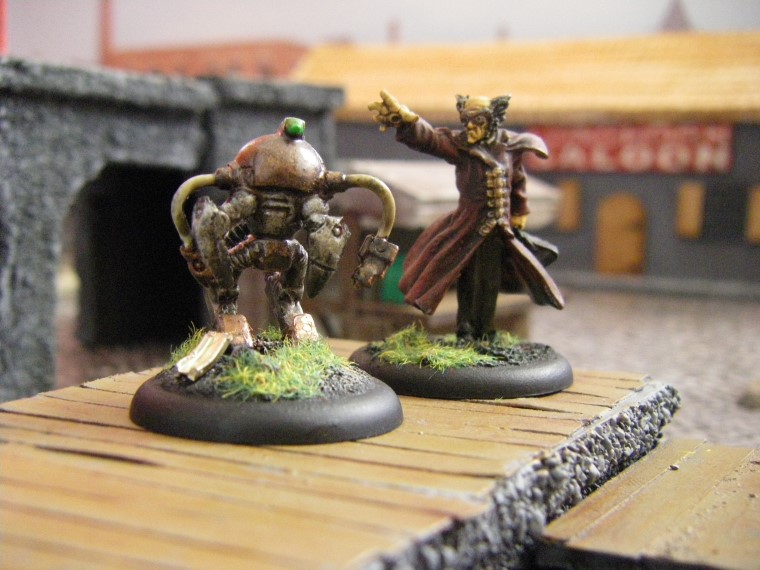 Here's Alternative Metal Ramos (erm... that sounds like he has obscure but loud musical tastes...) with my home-brew Mechanical Mobile Toolkit on the same landing stage.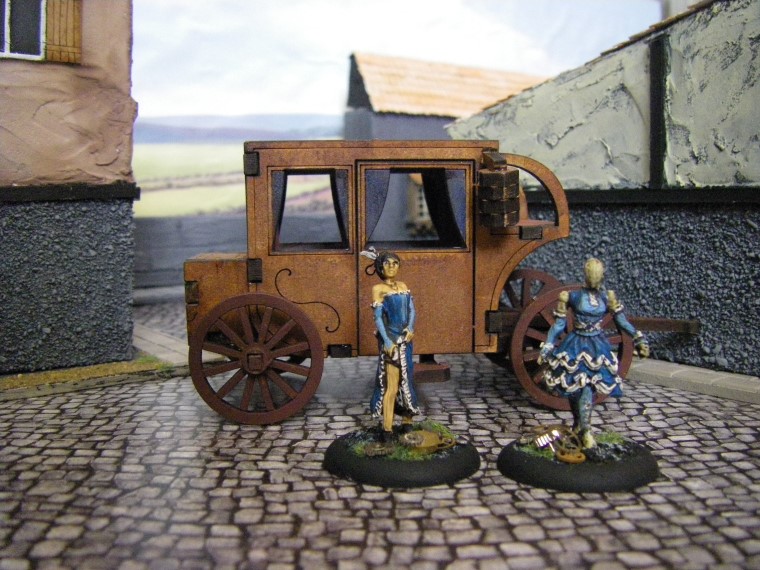 This is another Troll Trader
piece of kit - a rather, erm, robust (as in not a piece of art by any means, but you can drop it and it'll live) stagecoach together with a Performer and Mannequin -- they are either waiting for the stage, or waiting for me to buy the rest of the Showgirls pack so they can have an outing on table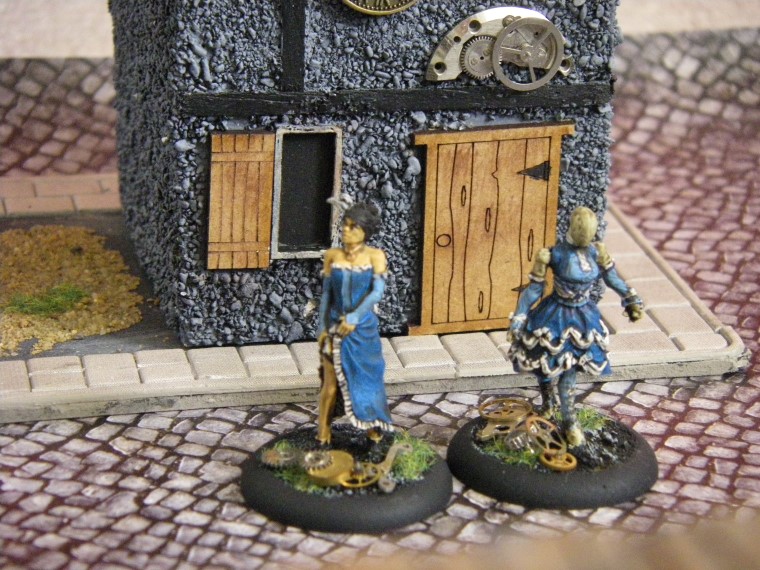 Here are the ladies again, in front of a rather more elaborate building. This is a Warbases tower, with their windows and doors added, the ineviable pebble-dash effect but also some extra adornments in the shape of a bit of half-timbering and some "steampunk" stuff stuck over the doorway to ward off evil robot magical monsters (or something). Again being a little lazy here, I have not really done much to the basic Warbases doors and shutters, which meant sticking them on with blu-tack whilst glueing on the sand, then taking them off before spraying the whole thing black and then grey. The Steampunk stuff is another super-cheap eBay purchase - this time of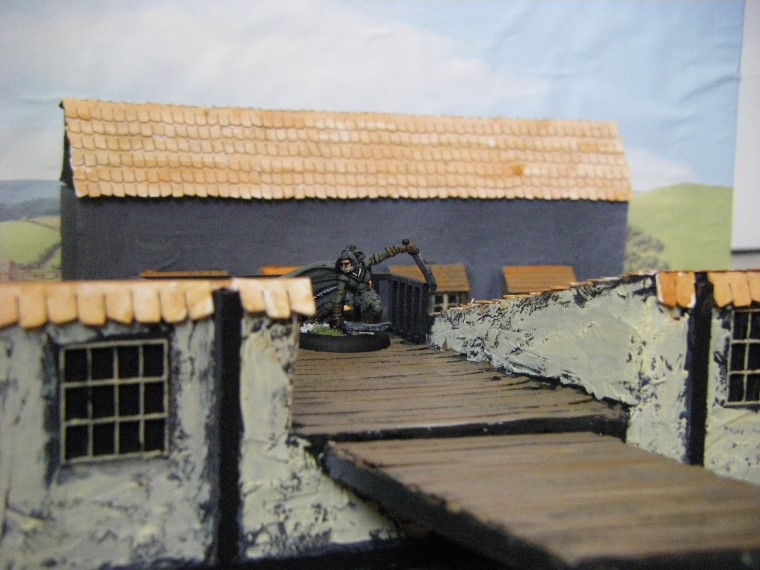 Here's my proxy Silent One, a Reaper Bones female warrior type, perched on a rather bizzarre and badly planned building I made out of foamcore. The tiles on the roof are from Warbases range of paper tiling, and the building has been designed (an over-generous word I think) with a flat roof that links into the raised walkway bridge thing I built and which was in the earlier picture. In the background you can see one of the facade buildings and another model railway backdrop, this time of fields and hills.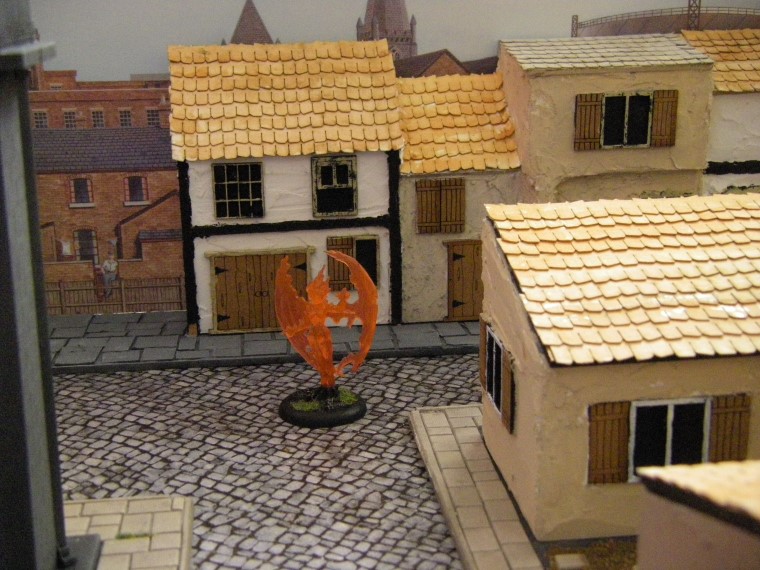 This is my favourite, and most elaborate piece of facade, a row of odd-shaped houses with Warbases and Antenocis Workshop windows and doors. The sensible reason for having the row of facade buildings was to help keep the Deepcut mat from rolling up during the game, as both sets of facades are mounted on (well, slotted onto - they are not fixed as otherwise storage and transport would be nuts) a 3' strip of 3mm MDF board, which as you can see here I've also added a home-made pavement too. There are no eBay tiles here, just a series of odd-shaped cardboard squares glued down to the MDF, and then the whole thing was sprayed black and then grey. I could easily have done this for the proper pavement too but I thought that buying the tiles might be easier .... but as they turned out to be non-self-adhesive that didn't reallly work out as planned...!
The model here is another Reaper Bones one - this is a Medium Fire Elemental, which I think will have to do as a Firestarter - as you will see in the next photo I already have the metal Kaeris kit so if he's in the new box set, picking up an actual Firestarter is probably a non-starter. This one does also have wings, which sort of fits as the Firestarter can fly, but it is much more a Emberling-type creature of flame than the new one. However, that works for me, and this was only a couple of quid so even if it does get replaced no great loss.
The scenery backdrop works really well in this photo I think!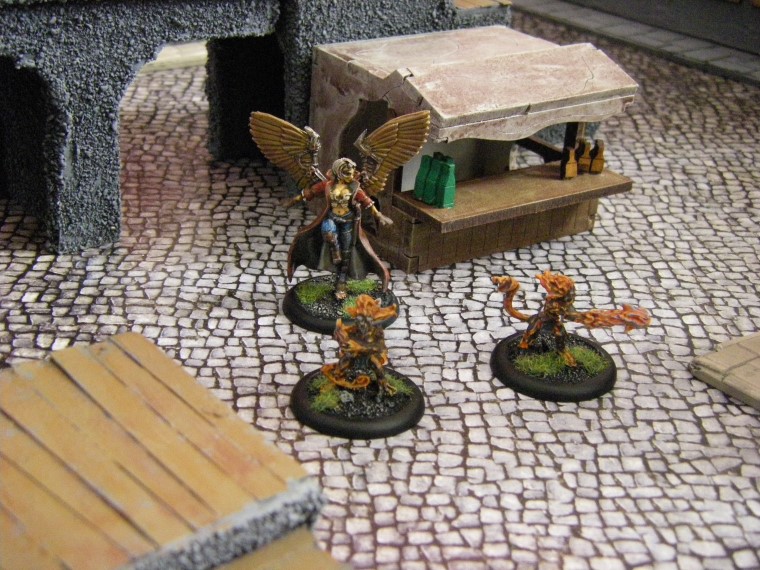 Here is the aforementioned Kaeris with two Fire Gamin and the Troll Trader's market stall. You've got all the tricks in this photo - a good view of the mat, the pavement, the wooden planks and also the stonework.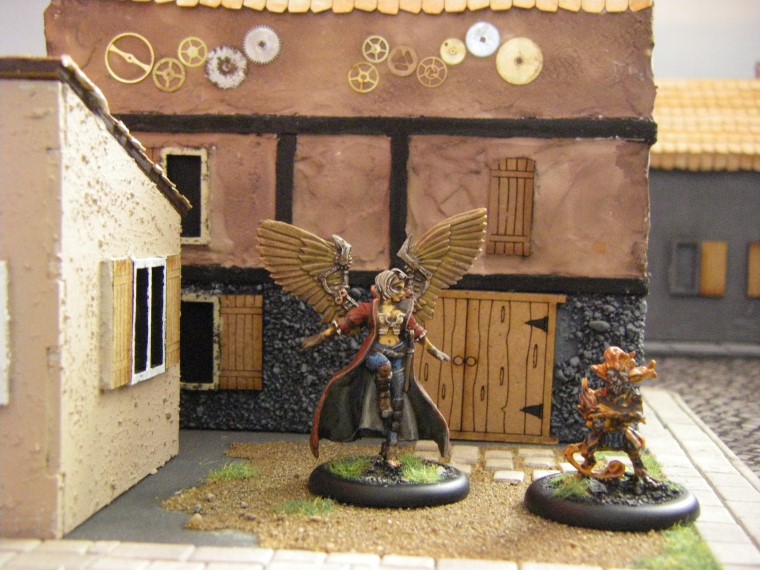 And here she is in front of another Warbases building. This one has some balsa strips to do the half-timbering, and that allowed me to only do half the building in stone - otherwise all of that grey gets a bit much. The upper part of the building was literally plastered using wall-filler. I started out using it "neat" but it's possible to water it down a little to make it go on more easily. The brown colour is achieved by giving it a thin wash in heavily diluted paint, or - as this one might be - Windsor & Newton Peat Brown ink. The building to the left is painted in a match-pot/tester pot of household emulsion that has had some spare grass flock (as I've now moved to static grass on all of my models) stirred into it to create the bit of texture that you can see on the facing wall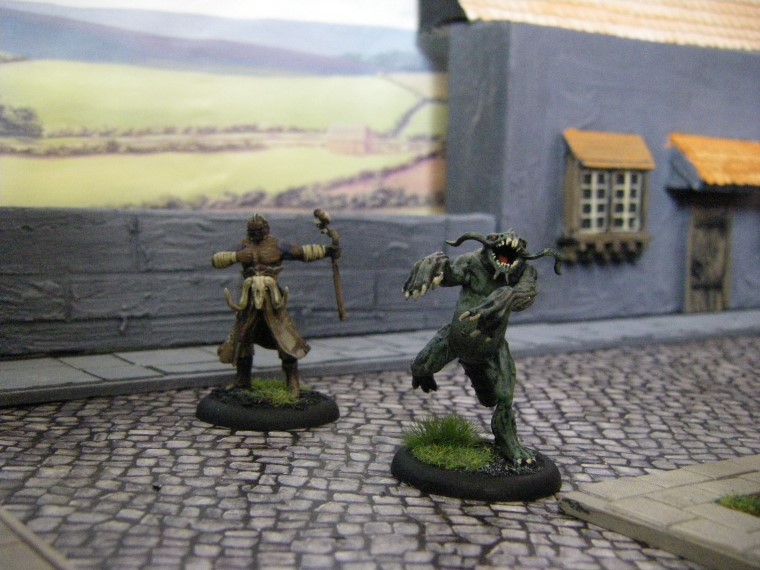 Plastic Marcus - who I don't really like as much as metal Marcus - and a 'Tiggeresque' Bouncing Silurid on the other side of the board. You can see how thin the facade building actually is here - just thick enough to slot into some plugs glued onto the piece of board. The wall was where I got lazy and didn't want to be building another building (I also ran out of foamcore) and the brickwork effect on them done by "painting" a foamcore wall with watered-down wall filler, and then using the other end of the brush to scrape the edges of the individual stones into it when it was nearly dry. Having a wall also gets more value from the railway backdrop! Going forward I may stick some trees behind the wall in games to create another "layer" between the game board and the backdrop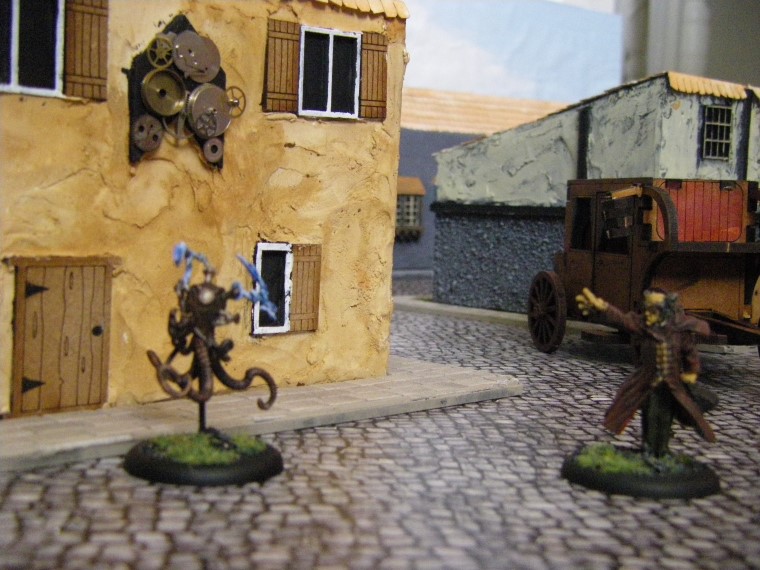 Ramos conjures up an out of focus electrical creation in front of a plastered house with loads of Steampunk stuff above the door. The rather ugly building that I made myself is in the background, along with the rough and ready stagecoach.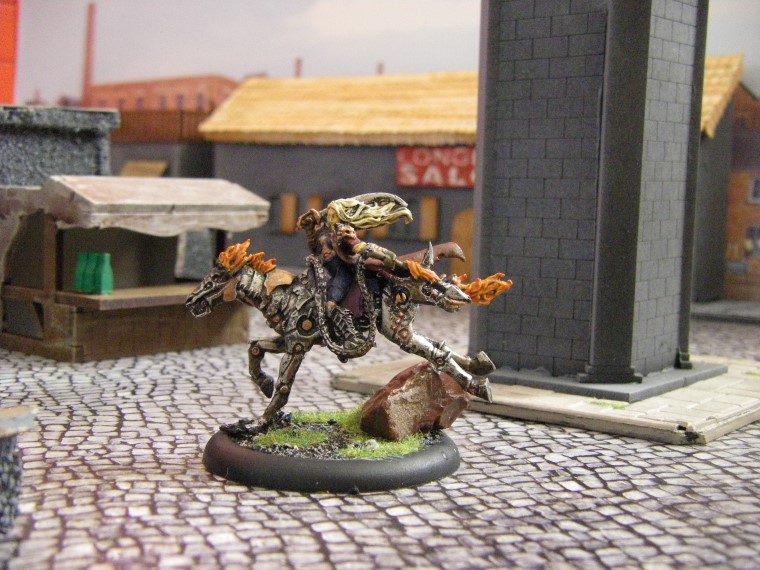 My metal Mech Rider gallops across the town square in front of the Troll Trader clocktower.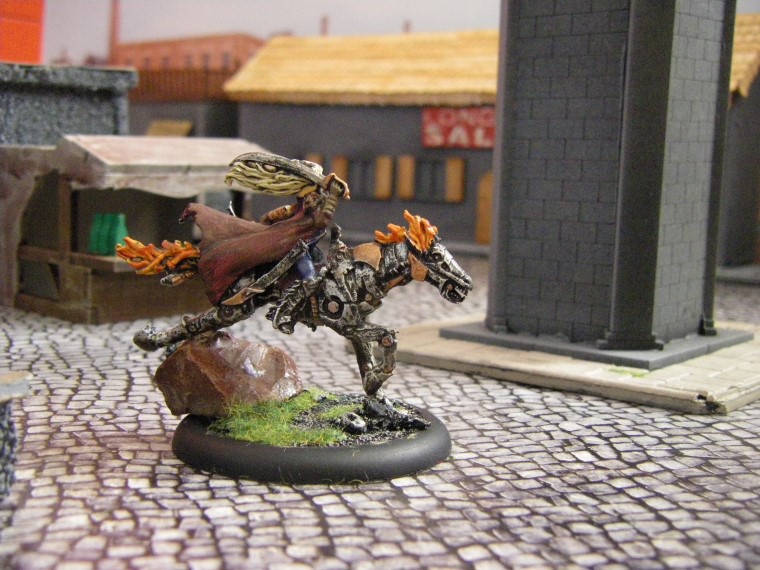 Not sure where in town that big rock she's jumping over comes from, but hey, its Wyrd.... I'm pretty pleased to have tracked one of these beasties down in the metal, partly as I'd be a little bit leary of a plastic figure standing up to tabletop handling, or more precisely being able to be succesfully and securely glued to the base whilst being handled and transported. The new model doesn't look wildly dissimilar to this one either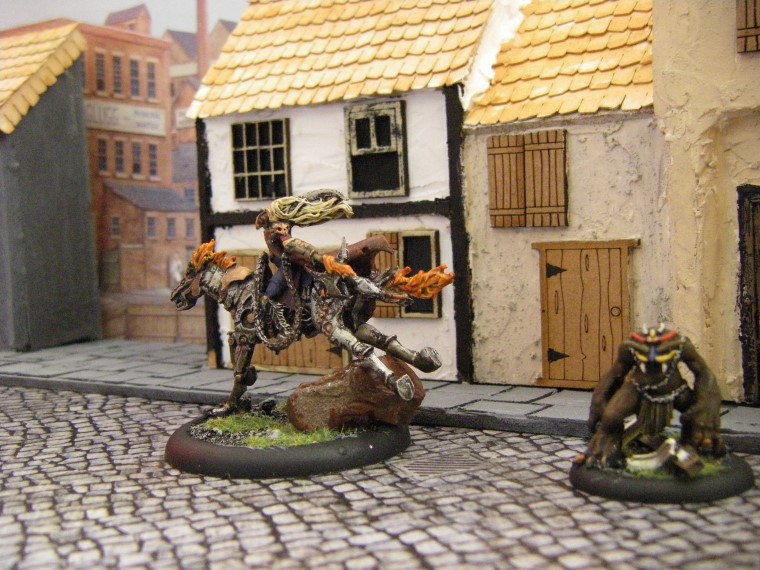 And here she is again, having just pooped out a Metal Gamin. These edge houses ended up with very steeply pitched roofs - but as they are so shallow thats probbably necessary for visual effect. The railway scenic board behind can be clearly seen here, avoiding the every-so-slightly irritating "edge of the world" scenario involved with taking photos of the side edges of gaming tables.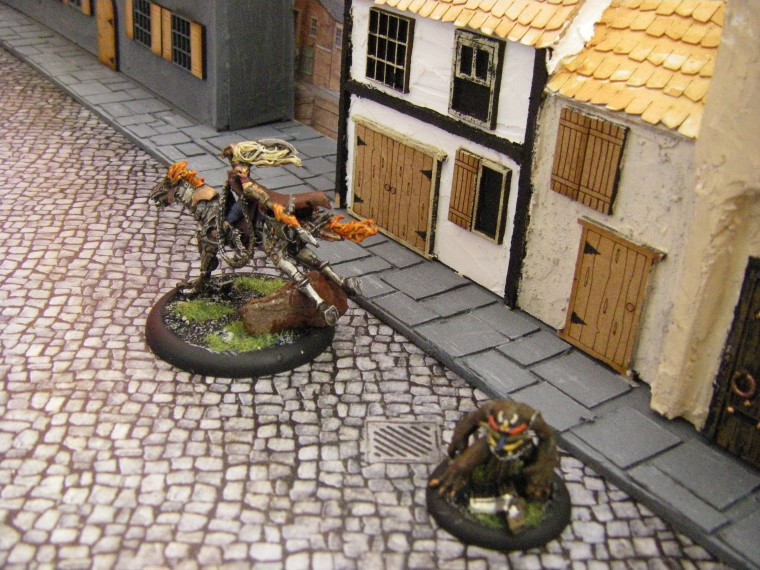 The glue-and-spray home-made paving is really clear in this shot - truth be told it arguably looks a bit better than the ones I bought. The bought ones however do have the benefit of being a totally different shade of grey compared to the pebble-dashed buildings, and so were I to do this project again (NOOOOO!!!) I'd look for a different shade of grey to differentiate the paving and buildings. The grate on the Deepcut mat is really cool too. The building in the background is an even more basic form of stone - watered down wall filler painted onto a basic foamcore box, then sprayed black and then grey, exactly the same as the pebble-dash, but without the, erm, pebbles.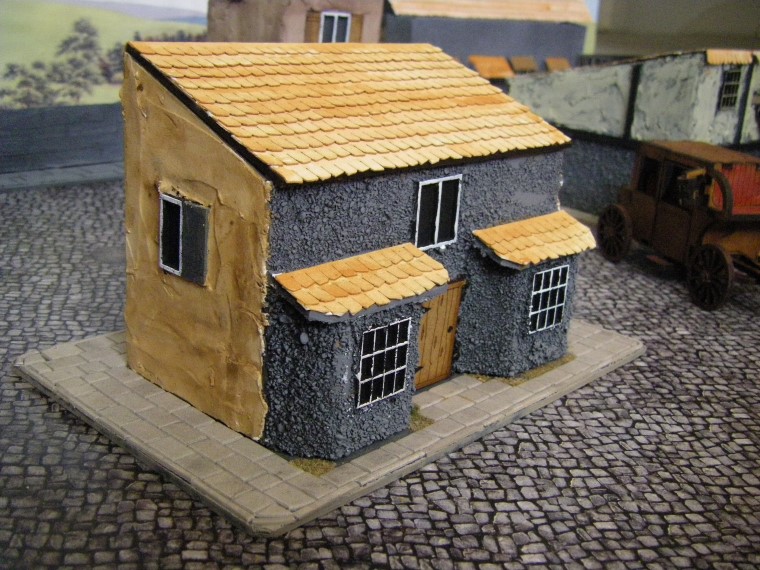 Here's a more experimental (and partially succesful) house, with bay windows added at the front by cutting up some sections of foamcore and adding them to the front, topping off with a thin MDF roof on each bay and some more Warbases tilling. The tiling was washed in this orange colour because it was originally also quite grey, and it just made the whole town look way too dull - steampunk Gothic or not!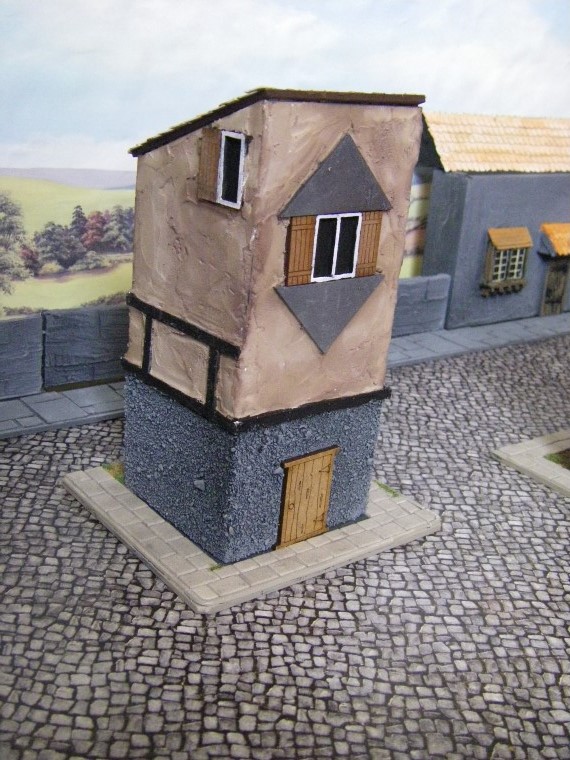 This tower shows pretty much all of the effects in one place - pebbledashed stonework, half-timbering, plaster and wash, and some odd spare bits stuck around the windows to make them look more odd. Potentially these triangles might get some additional watch parts as well at some point in future.
The metal Langston, pictured next to the rather odd home-made house with the flat roof and extended platform to join it to the elevated walkway. The platform made the whole thing impossible to store and transport, so I separated it from the building and inserted a couple of brass rods into it - these then also "plug into" the foamcore of the building so the extended platform can be removed for travel.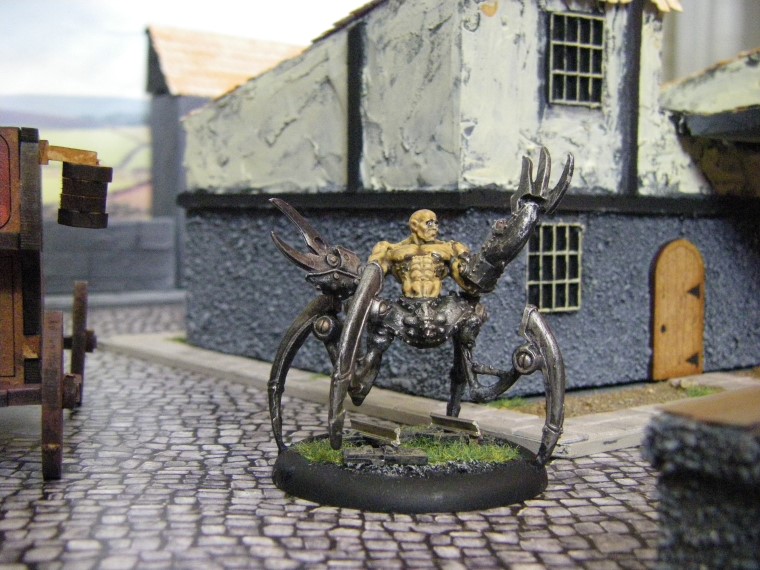 Here's Howard again - another one where I prefer the more robust feel of the metal model to the prospect of plastic. Glueing him together was admittedly tough, and in the end I had to resort to some metal-bond 2-part epoxy stuff that sort of makes "metal". He also didn't quite fit on the 50mm base, so in a spot of good fortune one of his legs has "punctured" the rim, which in a fortunate coincidence also allows me to create a much stronger anchor point between the model and the base instead of trying to secure the points of his feet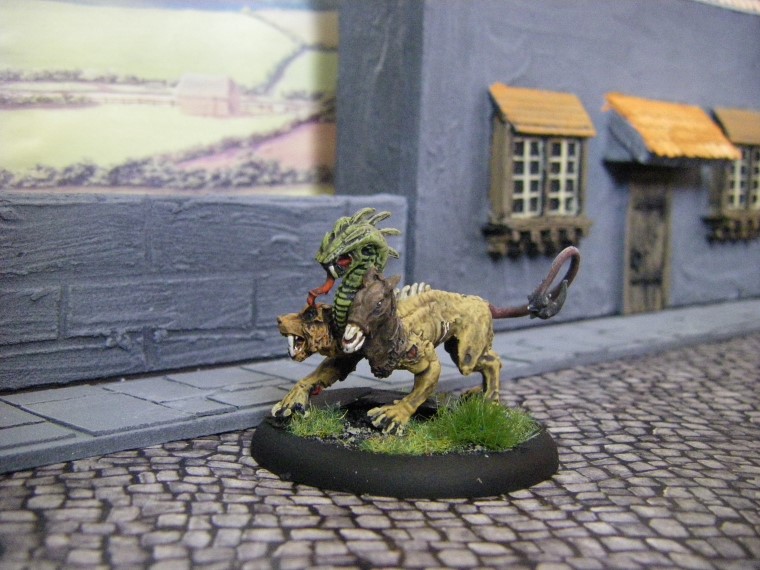 Rogue Necro, original metal version, by the wall near the open fields... where he would no doubt much rather be exercising his horror duel causing influence. I still need a card for him, so if anyone out there has got a spare (after buying an arsenal pack, or picking up the new model as well maybe) please let me know and we can try and arrange a swap!
Here he is - or maybe "they are" - again, showing another side of his personality. The new plastic one looks really good, and a lot more "meaty" next to this one, in much the same way as the new Cerberus is a lot bigger than the old one, however as its a rarely used model for me I can't see me changing up just yet
Large Steampunk Arachnid on the steps - another tricky model to assemble and base which again required the 2-part metal epoxy. This one still didn't fit on a base either, so it has a leg reaching out over the front. Nowhere near as bad as the new Brass Arachnid is by all accounts (and photos) though!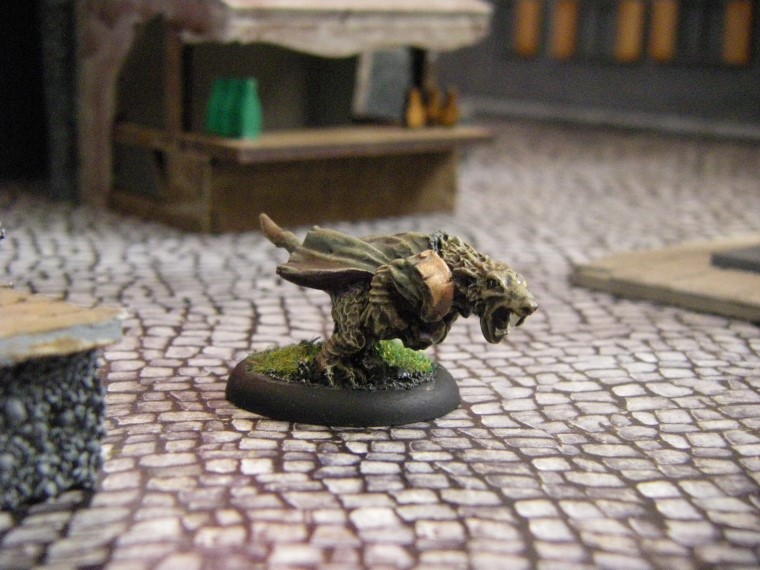 This is a model I picked up as a Guild Hound proxy, to add to my Marcus crew. It's a bit odd (mainly because its an american football playing giant rat), and I have yet to use it in combat but easy to differentiate from Canine Remains
Another tower, with plenty of added Steampunk goodness. The clock is a eBay purchase of a pack of 10 jewellery-making pocket-watch charms, so all of the clocks in my town tell the same time !
Finally, the view from above. The density of impassable terrain is arguably a bit much, and I do need to buy some barricades and temporary obstacles, but as a very odd town I think it stacks up pretty well.
Terrain Sources
Warbases basics building range, with doors and windows and roofing tiles.
for making houses and walls and all sorts of other stuff from scratch. This stuff is really easy to use, light and strong. Imagine 2 sheets of plastic-ey card with a layer of dense packaging foam between, that you can cut with a sharp craft knife and then glue with wood/PVA glue. It does need a skim of plaster before painting though, as neither the plastic facing nor the interior structure of expanded polystyrene takes paint very well at all - it can end up bubbling and melting if you are not careful.
Various buildings and extras from The Troll Trader
's TT Combat range of scenery
Extra windows and doors from Antenocis Workshop
Terrain mat from Deepcut Studios
Is it time for you to get some from eBay
Metcalfe
---
That's the end - so why not go back to the Links Page and browse through some more stuff
View Stats for my Malifaux Pages