15mm PSC Infantry being painted
The figures on this page are from Plastic Soldier Company's new re-tooled WW2 British pack. The box is excellent value, with three full platoons of figures, including light support weapons all in one box - almost 150 figures!
I decided to paint them up "on the sprue" as an experiment, so see how I fared here:
The sprayed sprues of - I tried painting them in Halfords cammo paint range car spray as an experiment, this was supposed to be Halfords Khaki but it turned out way too pale for the look I was aiming for.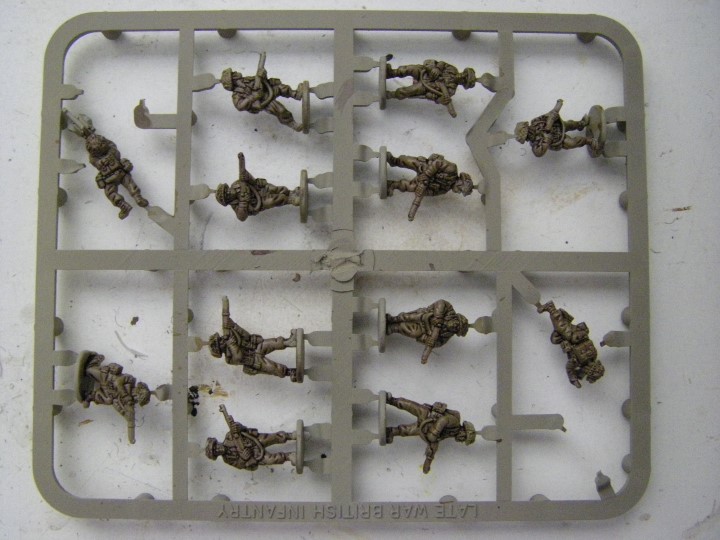 After a few unsuccesful paint-based washes I settled on a trusty favourite - Ink. This went over the spray base and got immediately closer to what I wanted as a WW2 British uniform colour. Close, but not quite.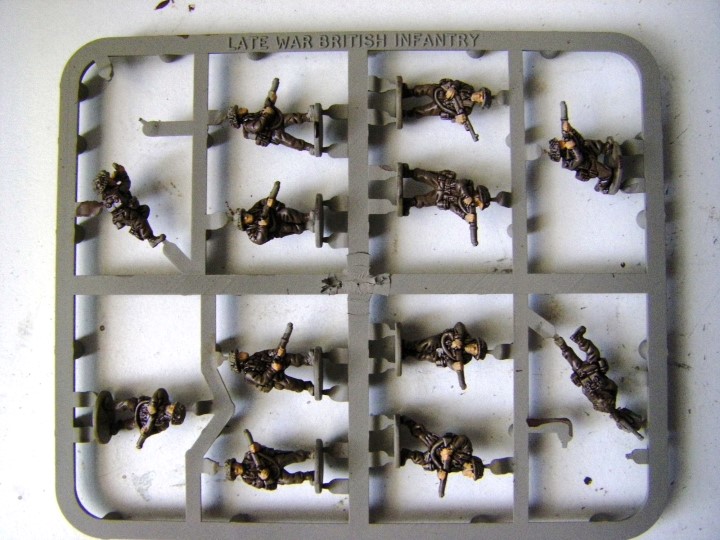 Another coat of Peat Brown and they were the colour I wanted - and all of the details in these excellent figures were really zinging too.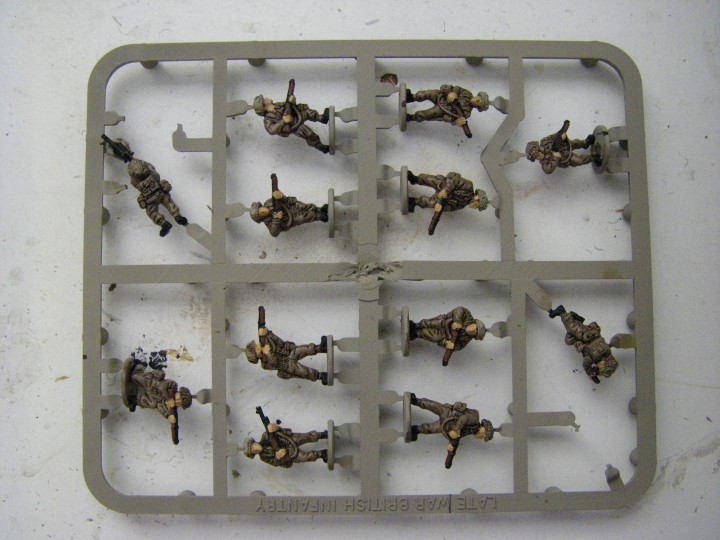 After 2 coats of Peat Brown they were ready to have details added. I started with hands and guns - it really should have been the other way round in retrospect, as the hands are often "on" the guns. The gun is Chesnut Brown, with Vallejo Sunny Flesh for the hands and faces and black barrels for the guns at this stage.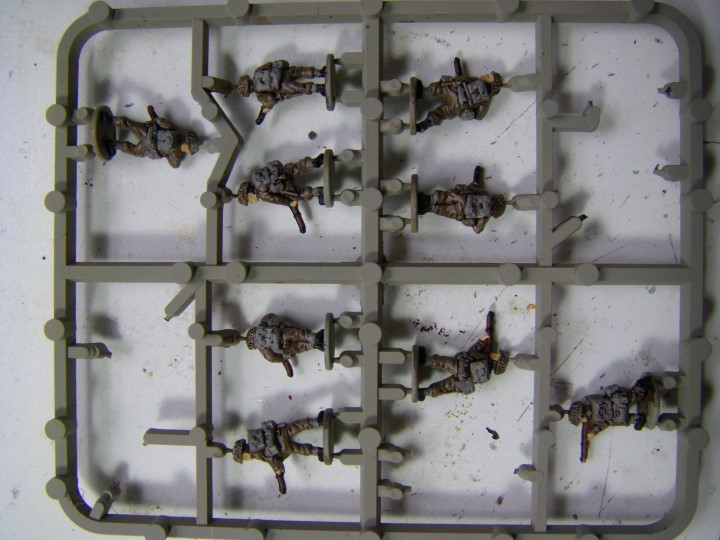 I then did the webbing and backpacks in Coat d'arms faded Khaki - a very similar colour to the Halfords base coat and which could be used for touching up the base coat if you wanted to do so, but easier here to paint on instead of try and ink round the straps.
Here the have been given rifle straps in a pale linen - I wanted these to stand out differently to normal webbing for visual effect.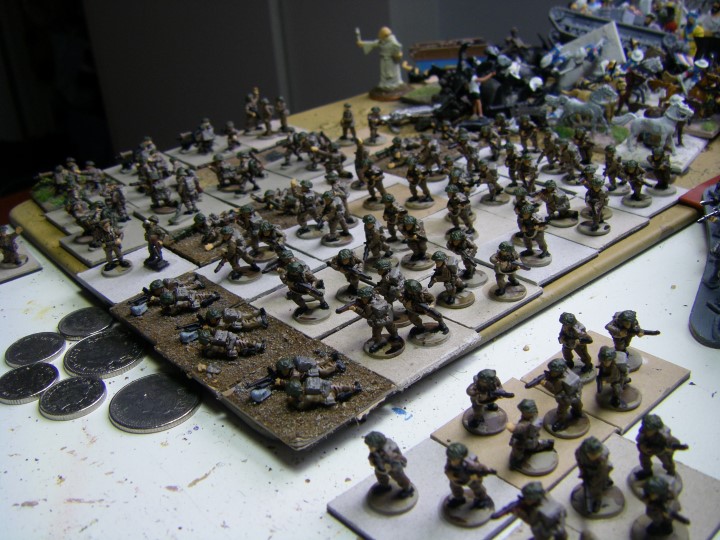 Plastic Soldier Company British infantry on their bases - you will see I have started some of the basing for the prone figures. They need to be glued down with PVA or some other glue with substance to it, as superglue won't hold the irregular surfaces of the figures to the irregular sandy finish. More of that later...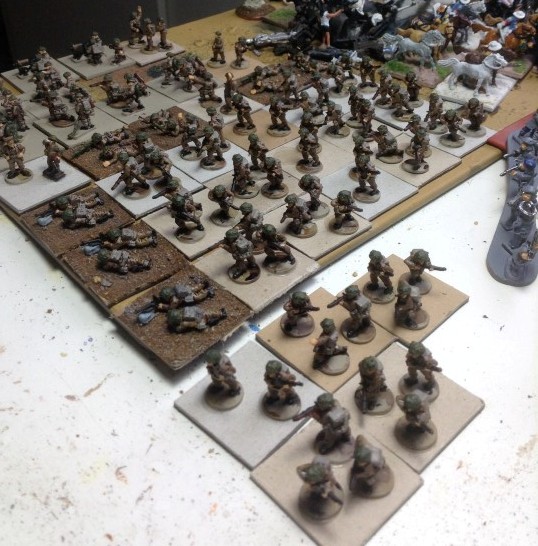 The helmets were finished and added in of course - GW Catchacan Green (now known as ). Sometimes I wonder if GW's financial foundation was established in WW2, as this paint appears to have been used by almost every allied nation on at least some of their kit at some point in the war.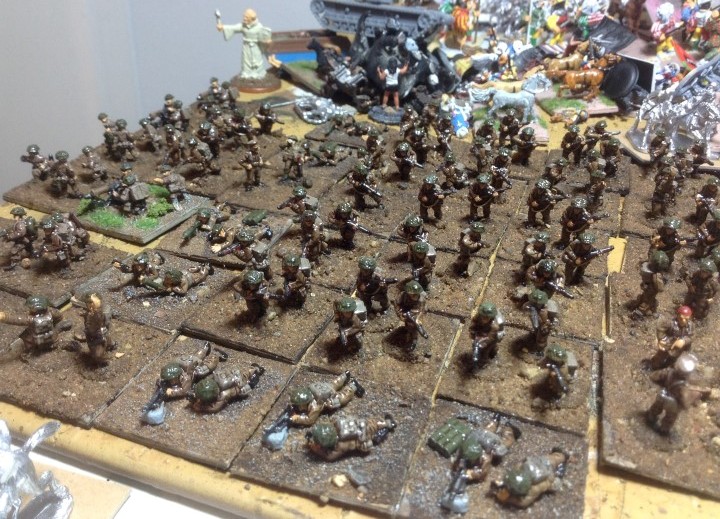 Then the whole job lot of Plastic Soldier Company British infantry were liberally doused in Strong Tone (medium) Army Painter varnish. The bases are glued-down builders sand, stained whilst still wet with Rustons Dark Oak wood dye- a tip I found online which both darkens the sand, and makes the base colour a lot more uniform. Basically just blob some onto the sand with a big brush when the glue (PVA wood glue) is still wet and it spreads and stains the sand and underlying base quite nicely - sometimes a 2nd blob is needed, but not always.

Infantry bases (30mm x 30mm for Peter Pigs excellent PBI rules)

The figures are in similar but not identical poses - all of which are pretty useful, barring arguably a couple of iffy looking NCO's
Ready for the next stage...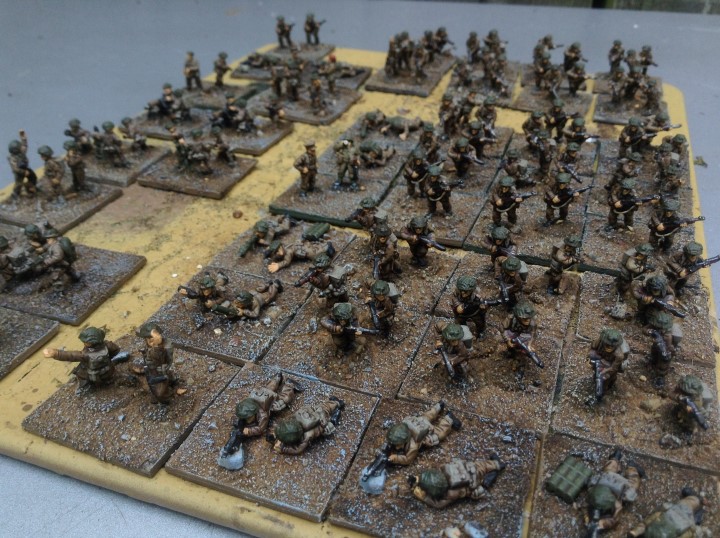 Once this varnish all dries, they can be matt varnished and the base can be drybrushed - here in GW Bleached Bone and then a pale grey (I think this was Uniform Grey, but it's not important). You can see the two iffy NCO's in the foreground. I have also added some Peter Pig HMG and 3" mortar teams to the platoon, along with some Engineers - the Pig figures are a little smaller than the PSC ones, but for a handful of specialist figures Peter Pig - as well as beng very nice - are a whole lot better than waiting for PSC to produce the heavy weapons, and then having to buy a whole box!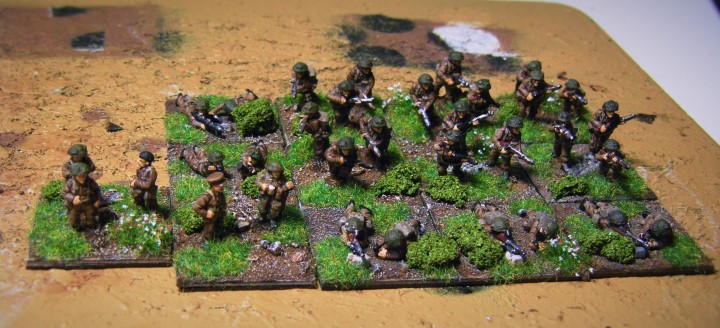 The finished first platoon, with a Peter Pig Brit having a Brew sneaking in there too

Static grass added, some clump foliage and the rather nice but not especially martial flowers that are now all the rage
For these ones I then finished up by doing a 4-blob face highlighting thing after all of the varnishing coats. The blobs are chin, nose, and both cheekbones - I don't normally do this, but it looks OK from tabletop range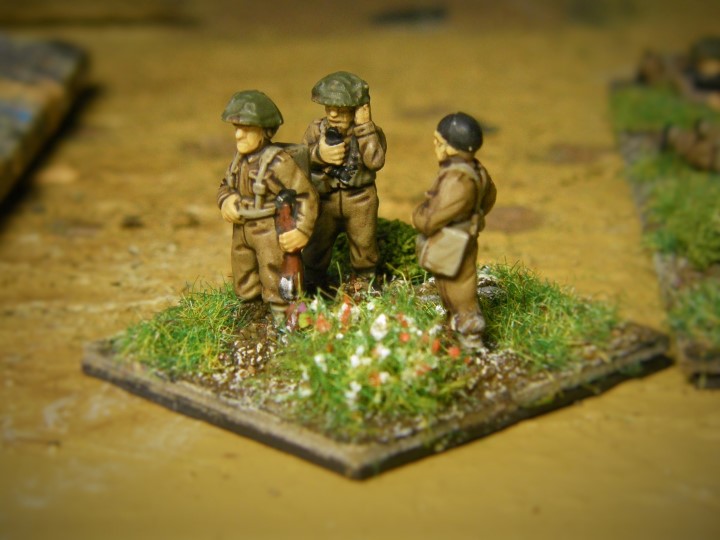 WW2 British radio team. You need to cut down one of these guy's bases to get them to stand this close to each other. The chap who I think is supposed to be in a black beret hasn't really got it cast in sufficient relief, so it srt of looks like he has gone bald and painted his head black. sad...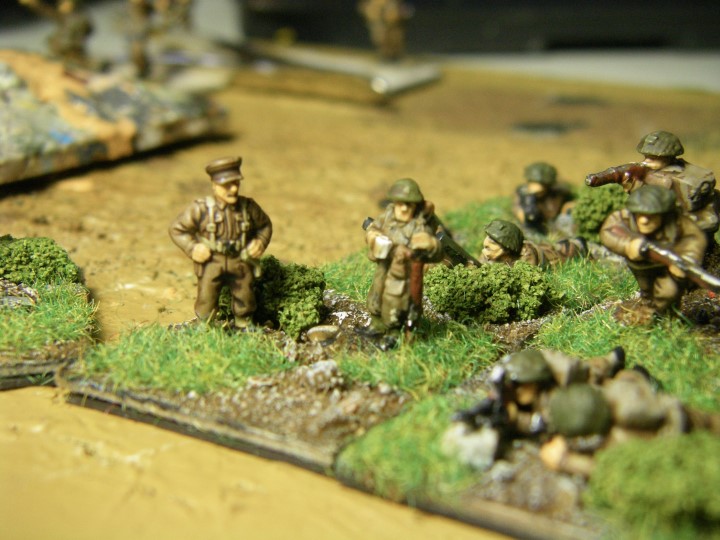 The officer figure is suitably "Young Captain Mainwaring"
I also re-did the chinstraps on the helmets for these guys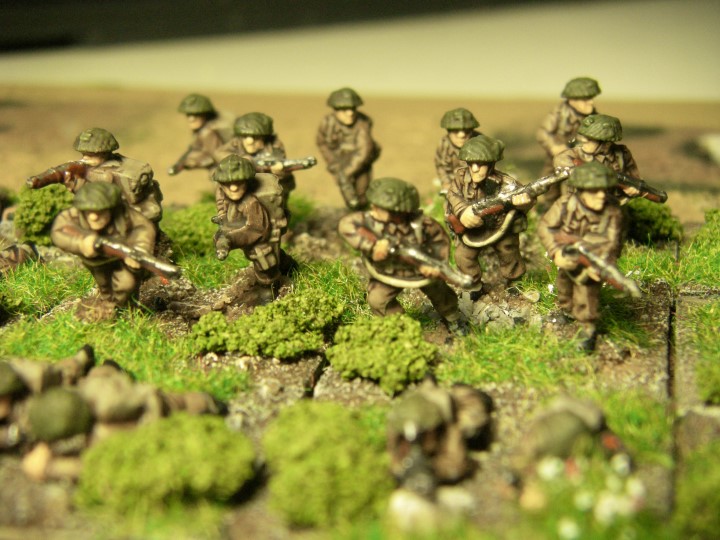 Action Stations!

15mm WW2 Pages on the site
FoW Troops for Sale on eBay
---