Afrika Korps Flames of War troops
These DAK infantry, guns and transport are based for Flames of War.
There are five full platoons of infantry (some using captured British trucks), two 3-base squads of HMGs, a 2-squad mortar platoon, 2 88's, 2 fabulouso 25pdr's with tows that have been captured and are now crewed by the DAK, several sets of motorcycle recce troops, a few Panzer IV's and Marder assault guns as well as Field Marshal Erwin Rommel himself with his trusty GREIF Sdkfz 251 command vehicle.
If you fancy knowing more before you deploy the lads and the North African Campaign, I can recommend the following books as well. Panzer Commander contains some excellent DAK stories as well as Russian and Western Front tales, and Army at Dawn is an account of the US-led Torch landings, and the progress of the Western part of the North Africa campaign.
Rommel reviews his next brilliant move with his staff by the side of GREIF
The diorama is based on a double-sized standard infantry/vehicle base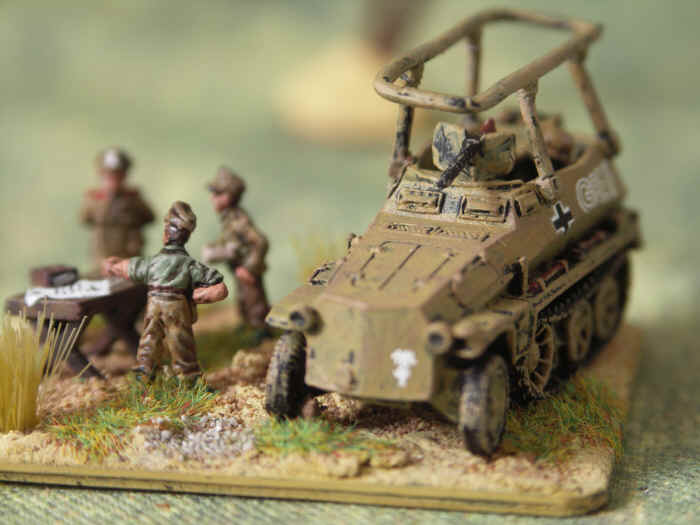 DAK transfers have been used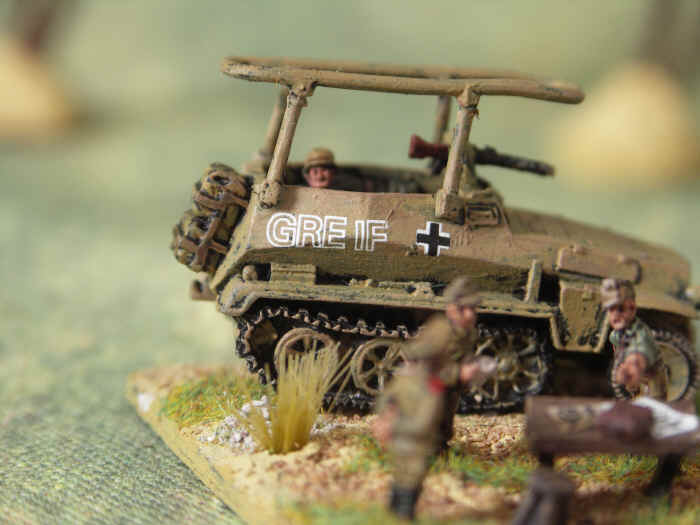 Including the GRE IF insignia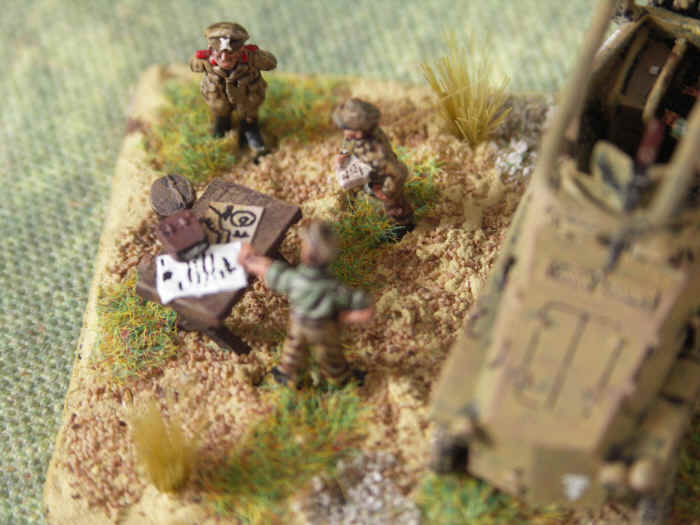 If only Monty could see this shot !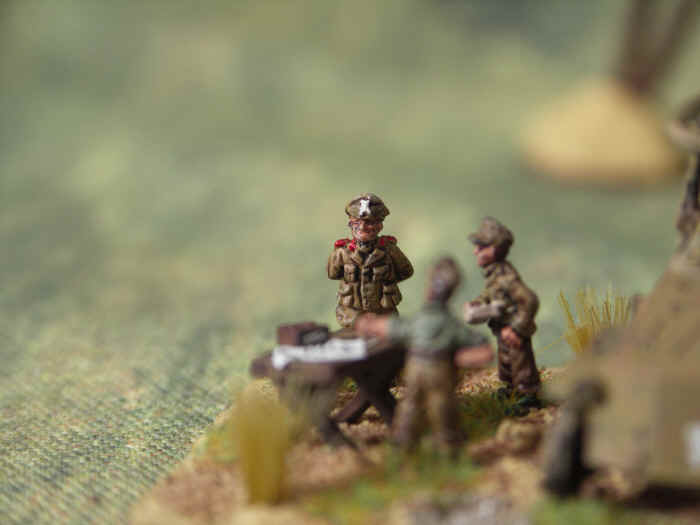 "Hmmm....I think we shall actually do something even more cunning and audacious"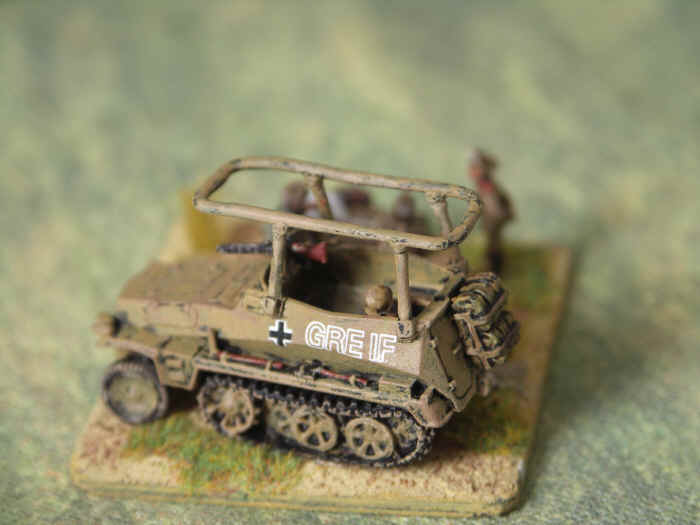 Radio operator in GREIF starts to issue the orders. Good job ENIGMA is unbreakable eh ?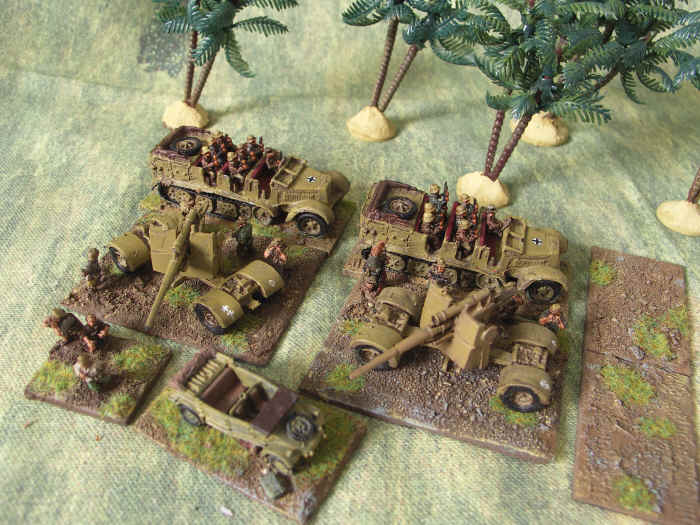 Afrika Korps 88's quickly deployed to fire, without extending the feet. Comes with tows and commander in Horch staff car. The 88's are not glued down so you can separate them from the bases and put them in towing position on the extra bases (on the right of the picture)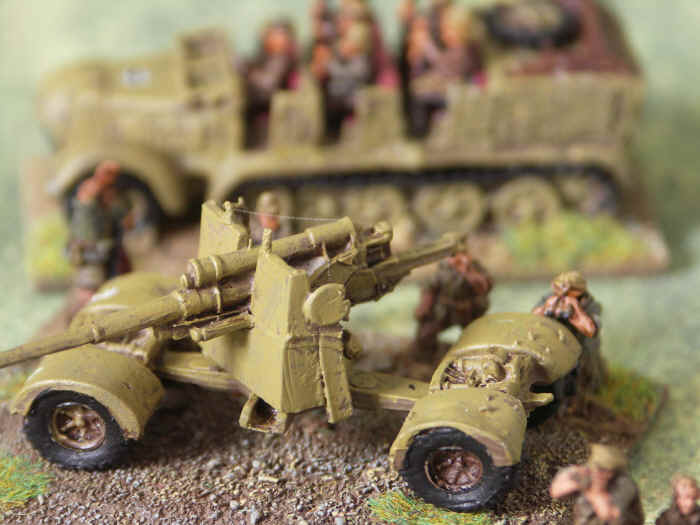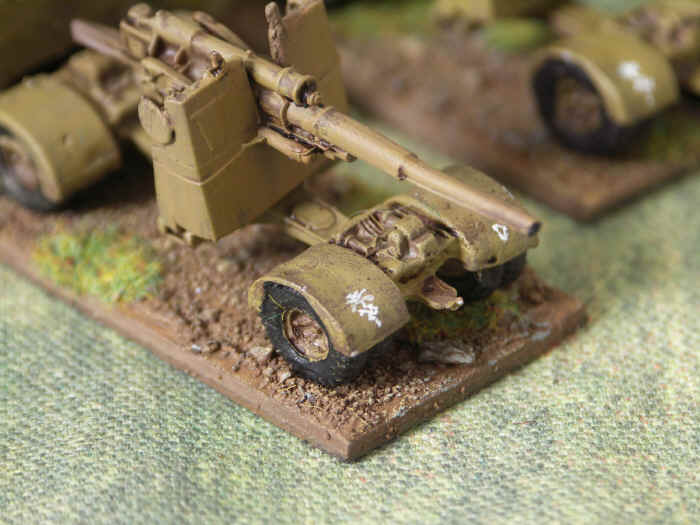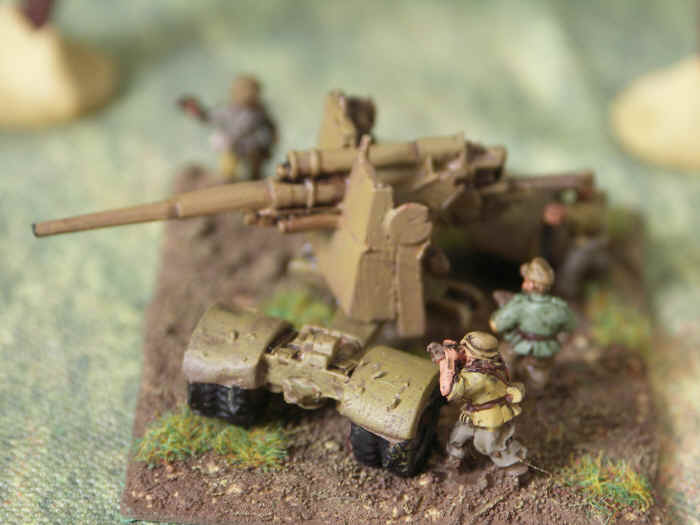 Ready for the Kasserine Pass!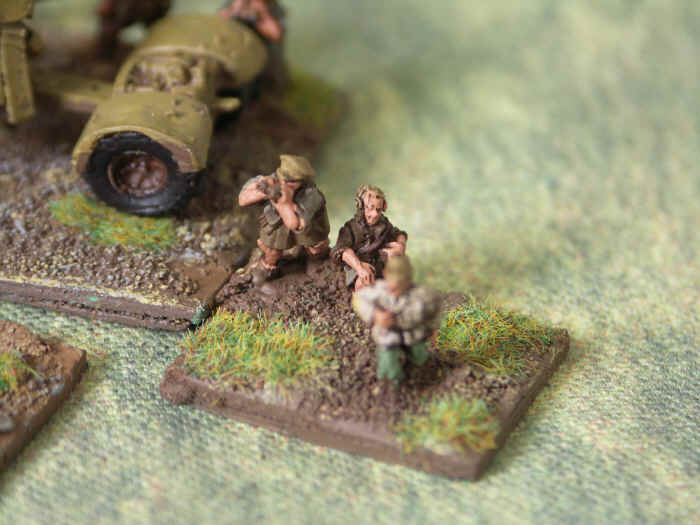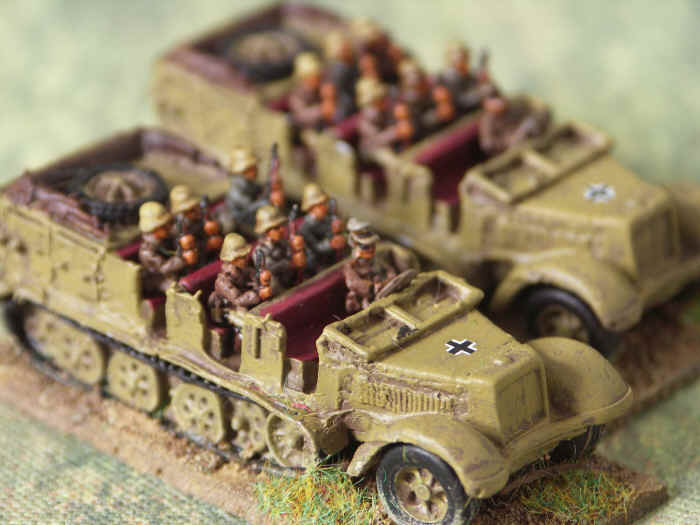 A full complement of crew sits in the halftracks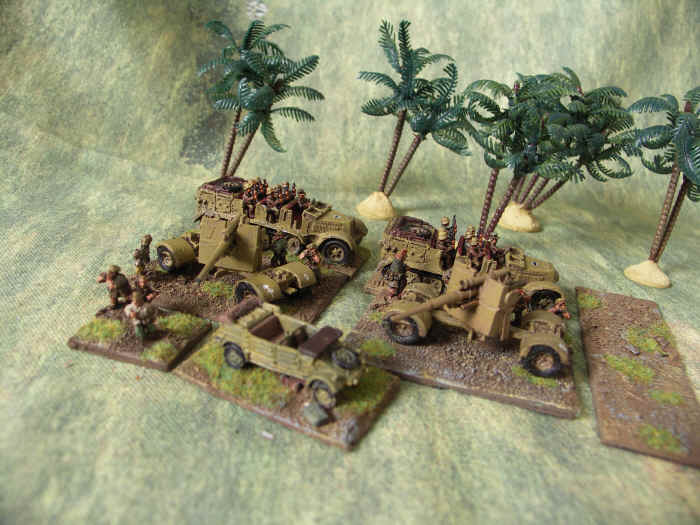 The palm trees are actually cake deecorations.... honest!
Here the guns are shown in towing position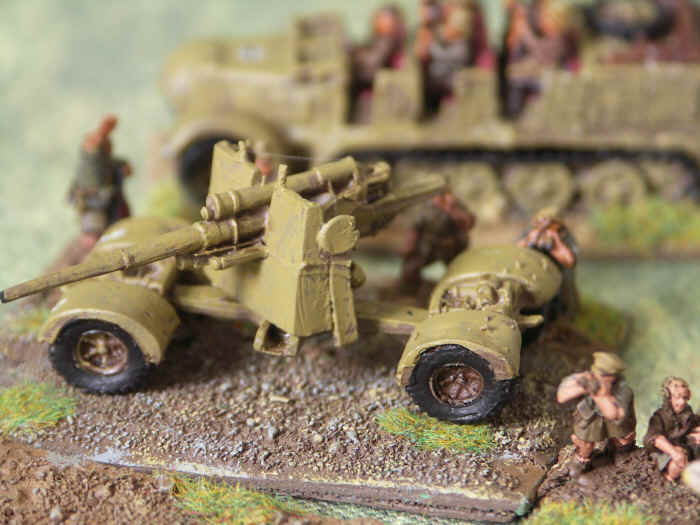 This is the pair of captured 25pdr guns and tows.
Lots of Air Identification flags draped everywhere to prevent friendly fire incidents
DAK insignia has been added to the guns!
The crew are all DAK professionals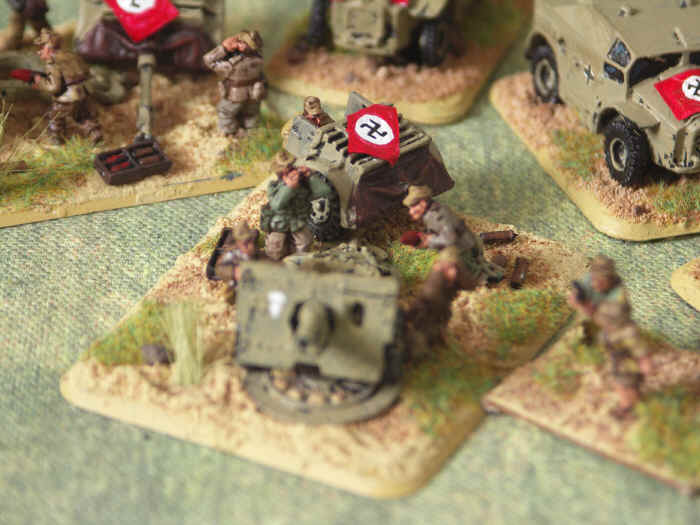 Even the ammo trailers were captured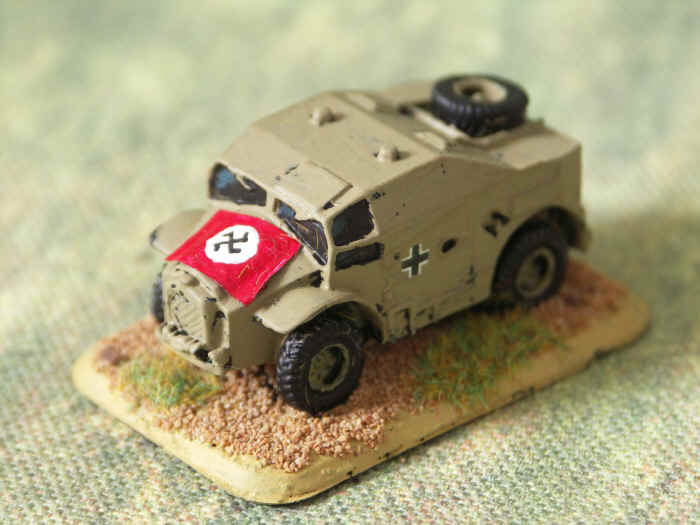 Vorsprung Durch Bedford Portee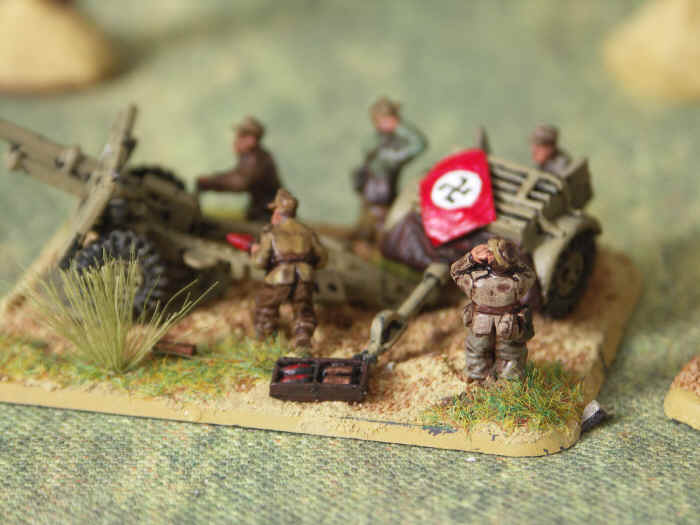 One man covers his ears !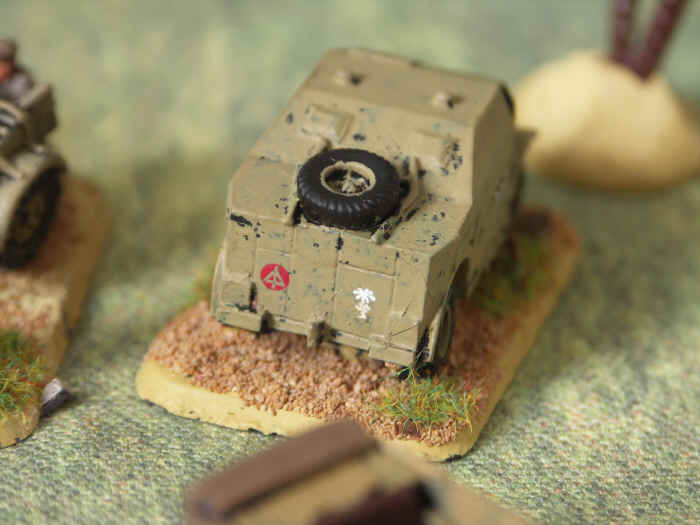 DAK insignia on the trucks also
Now, where are those shells...
The officer still keeps his Horch staff car though.
There are a number of Battlefront stockists operating through eBay who have eBay shops - which means they are all selling Battlefront FoW stuff on a "buy it now" basis including: