Afrika Korps Flames of War troops
These DAK infantry, guns and transport have been sold on ebay, based for Flames of War. The infantry are generally Command Decision with some Peter Pig. Vehicles are Battlefront
DAK Text Link
Battlefront DAK Motorcycle recce unit
4 sidecar combos with MG's for each
There is different stowage on each bike
And hey are painted with different scarves as well to add some colour
Although a few are red/white checked !
This was in fact some early work by Yasser Arafat's stylist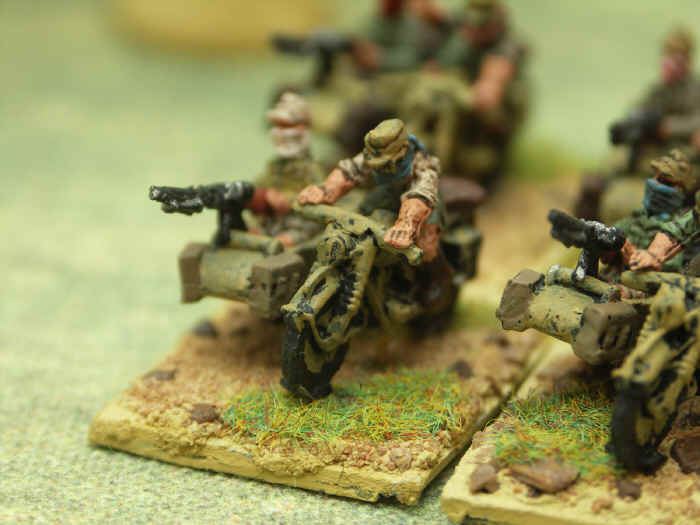 Brum Brum Gdanga Danga !
Hey Dudes - West Coast (of Tunisia)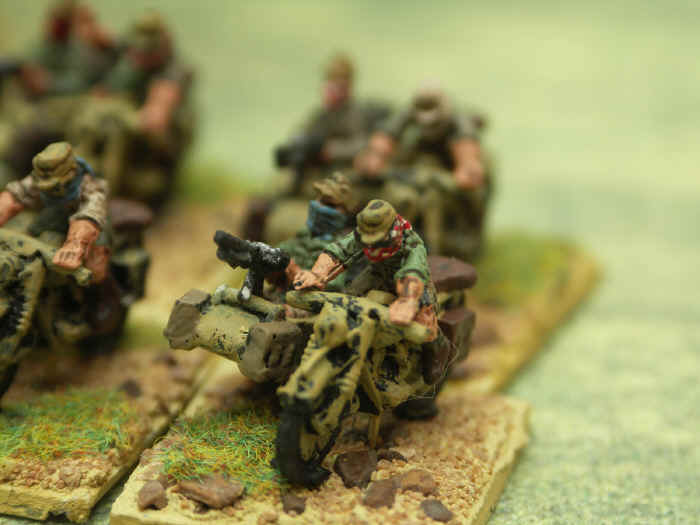 Head down, get movin'..
The first platoon, complete with DAK transport
A little closer
The commanders - with a Panzerknacker !
Barbed wire was no obstacle to these boys
MG team digs in
Infantry advance
(These are "affiliate links". If you buy something after clicking on them I get a small kickback from eBay)
FoW Troops for Sale
Preview of 30 upcoming listings on eBay.co.uk
[CaRP]
php_network_getaddresses: getaddrinfo failed: Name or service not known (0)
[CaRP]
XML error: Mismatched tag at line 8 - This appears to be an HTML webpage, not a feed.
---
Design Your Own Rules
Rifleman takes aim
A red bandanna could keep out the dust and sand
The commander kubelwagon
Closeup of the truck, with Lion symbol
The back of a truck
the whole lot again
Platoon No 2
There are a number of Battlefront stockists operating through eBay who have eBay shops - which means they are all selling Battlefront FoW stuff on a "buy it now" basis including:
eBay also has lots of ongoing auctions for FoW stuff, Battlefront & others, both painted and unpainted - I have a full listing on this site for US, US and Australian auction listings: