Review of another game with L'Art de la Guerre
Carthaginians vs Galatians
A second game of L'Art de la Guerre - this time at the more "normal" points total of 200 each side, which gives you just 3 generals, after my 300 point opener. I had elected to wheel out (literally) the Galatians to try some Chariots, and some Elite foot warriors. Geoff's equally wheely Carthaginians were the opponent, for some classical Classical era action to test out this new ruleset.
Pictures of Galatians from my Ancients Photo Directory
The 200 point game is more normal in Frrance and allows a finish in under 2 hours usually - quite good for a club night when you get stuck in traffic on the way. My army was also quite small - 3 Elite Light Chariots, 8 Elite Heavy Swordsmen IMpetuous (16 old-style bases), 2 LF with javelins, 3 Elite Heavy Cavalry, 5 Medium Cavalry and 2 Scythed Chariots - all fitting in a very small tin indeed.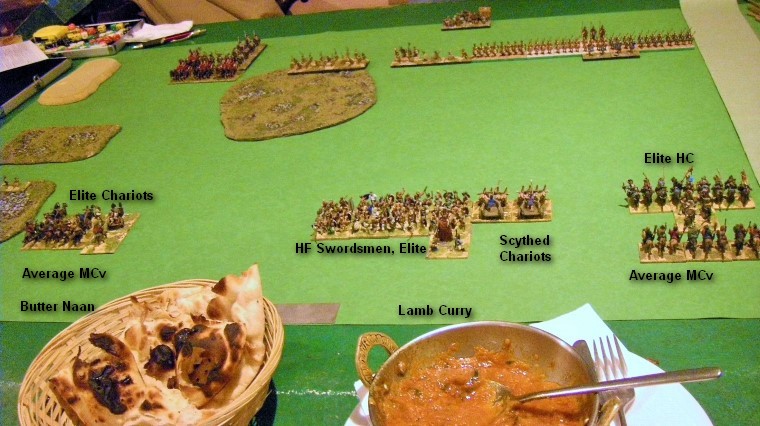 The curry in the foreground was supporting a command of Heavy Foot Galatians in the middle, with the Elite Cavalry down by the waterway and the LCH hopefully skirmishing on the left. The Carthaginians had no curry of their own, but had a line of Ordinary and Elite Spearmen by the waterway, some Javelinmenm (MF who can shoot and skirmish) in the middle and a strong force of Heavy Chariots on the left (their right)
What does this tell us about the rules then ....?
Waterways are quite easy to get on table - this protects one flank, but arguably makes it obvious where your heavy foot will be. In ADLG it;s difficult to move heavy foot long distances, so potentially they could be cut off from the action here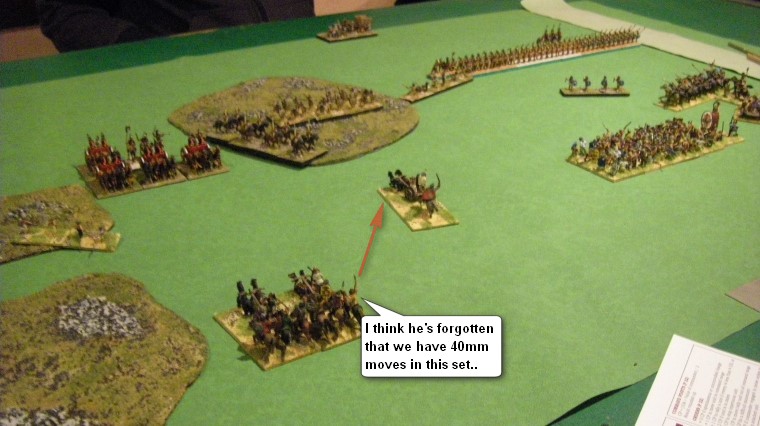 The game started with very low pips for the command on my left, who sat transfixed as the Carthaginian chariots steamed towards them. In the middle my 2-deep block of Elite Warband moved up as fast as it could whilst the good cavalry pondered what to do in the face of enemy spearmen. Enemy Numidian LH threatened to pile through the middle, so a lone chariot was directed by it's General to try and slow them down.
What does this tell us about the rules then ....?
At 200 points and a 150mm x 100 mm table stuff gets into contact really, really quickly.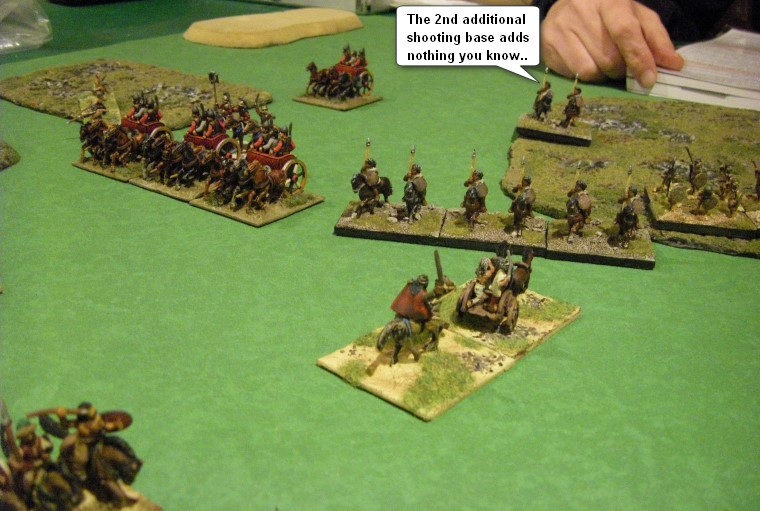 The Galatians split into two sets of units, one wheels out to the left to try and threaten the enemy in the rough and the rest advance. This is taking something of a chance as the command is now in two parts, however with a General able to command one block of units it's not a complete risk. The Medium Cavalry are rushing off to the left to try and help out the skirmishing LH chariots. The Elite Cavalry are closing in on the enemy skirmishers in front of the speak line...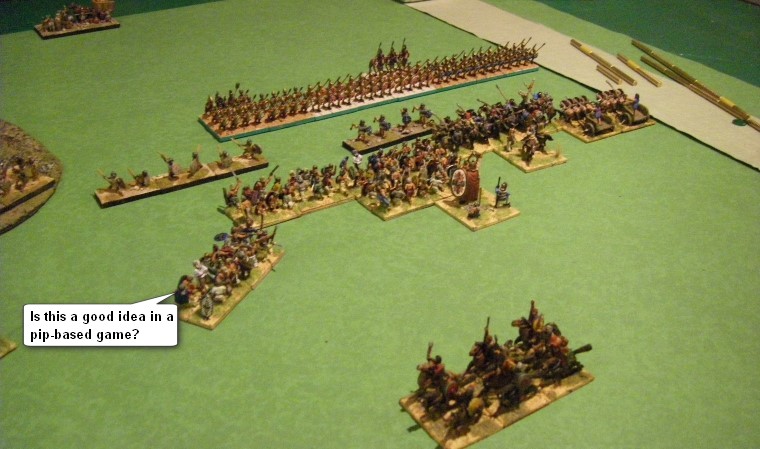 The light chariots evade from a heavy chariot charge, scattering in all directions in the face of the enemy advance. This has left some of the Medium Cavalry in a rather tricky situation
What does this tell us about the rules then ....?
LCh can evade, and the one-base slide that is allowed as a part of almost every move allows them to avoid the friendly cavalry badly placed behind them. One unit has gone straight back, the other one has slid sideways and then wheeled to avoid the other LCh.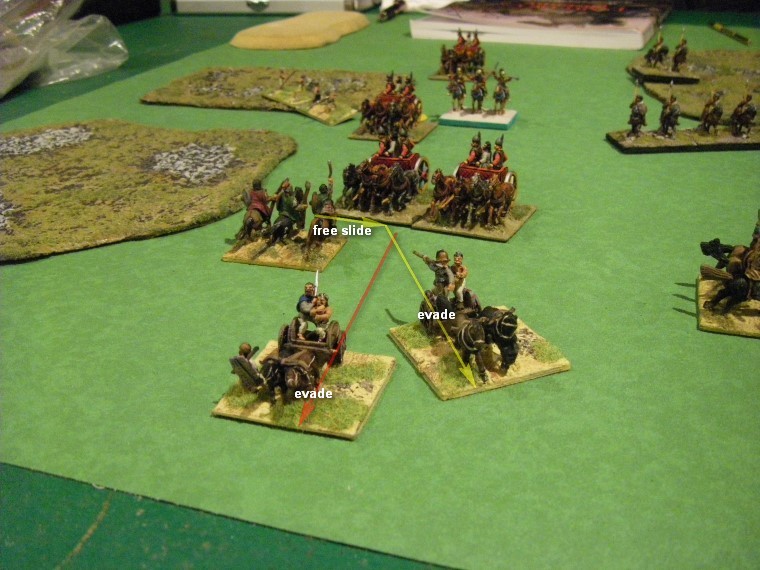 The LCh have been taken down by the Numidians - a couple of rounds of shooting and a flurry of combat is enough to knock off the few cohesion points they have. The Numidians fall back, apart from one who throws a javelin at the Medium Cavalry and hurts them.
What does this tell us about the rules then ....?
LH can fall back as a block, shooting can wear down isolated enemy units susprisingly quickly. And I've bought some markers!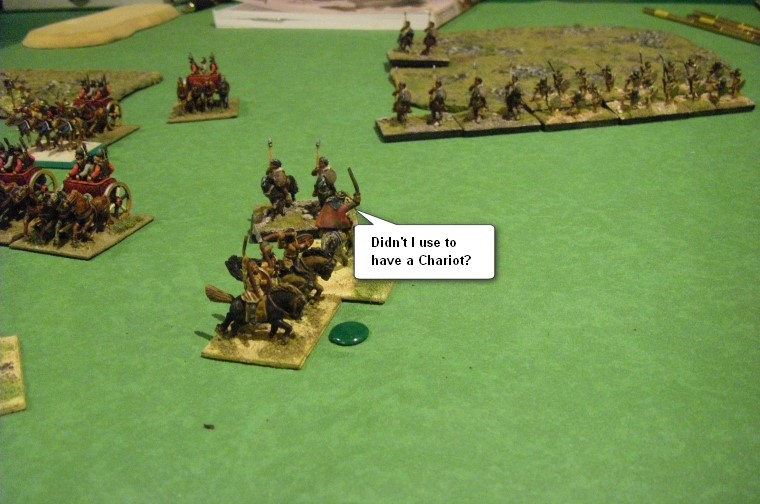 The Galatians try and charge in as a block - but with duff pips they fail to hold back the rear rank as a reserve, so they are in a non-optimum situation - the rear rank will lose cohesion if the front rank dies. At contact the Elite Carthaginian spearmen suffer doube cohesion drops, as having lost narrowly to Impetuous troops they suffer an additional cohesion loss, however a bad dice roll sees one of the Galatians drop 2 levels as well. These Heavy Infantry units all have 4 points of cohesion each before they will rout.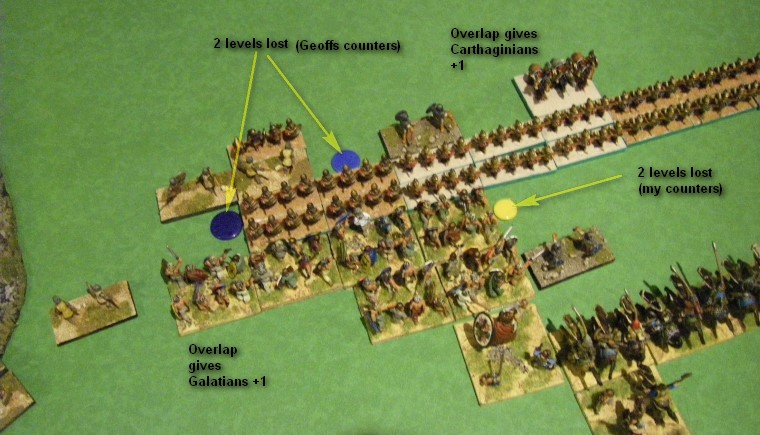 The first round of combat is very important for Impetuous troops - an additional cohesion loss can be devastating and unrecoverable. There are no pushbacks, and all of the combats are played as simultaneous so even if units die, this does not create overlaps which would otherwise have an immediate effect on the combats this turn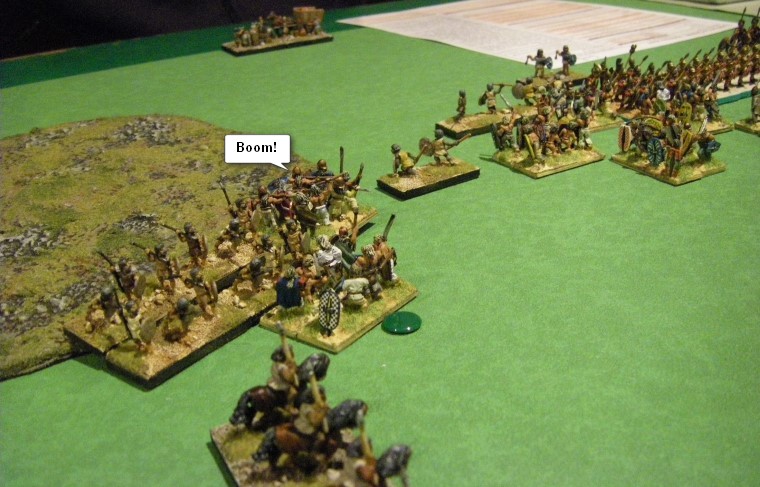 The Carthaginian Javelinmen forget they can evade, and stand - suffering an immediate base loss against the charging Heavy Swordsmen, but also inflicting a cohesin loss themselves. The Javelinmen only have 3 cohesion steps to lose though...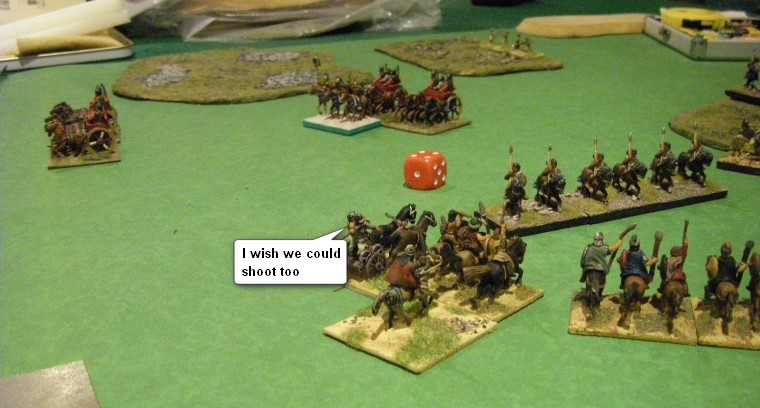 The two commands of mounted Galatians combine their units to try and threaten the remaining Numidians who have bravely come out into the open again. The Charioits now have no opposition but are a little isolated at th emoment - they will need decent pips to reform.
The Galatians burst through the Carthaginian spear line and pursue (in their own turn) into empty space. A lone LF who is caught by the pursuit move is immediately destroyed - no evading for troops caught in a pursuit!
What does this tell us about the rules then ....?
The victory has cost the Galatians several markers and they are unlikely to recover cohesion. Every unit with any sort of marker counts as one lost point towards the army total, irrespective of the number of step losses it has suffered - so maybe worth rallying those on one step loss, but others, well, you may not have time to do so....
But with that the total losses for the Galatians adds up too much, with enough Cavalry lost already (at 2 points per broken base) as well as Carthaginian chariots eating the baggage (4 points... quite a lot in a 20-odd point army where any cohesion loss also counts as 1 point lost) to cause the Galatian army to break
Pictures of Galatians from my Ancients Photo Directory
Read on for the analysis from Hannibal
Hannibal's Analysis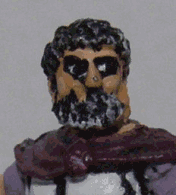 The Galatians here tried to be too clever, by putting their mounted on the wing by the coastline. This meant they were essentially wasted as they had no chance against a wall of enemy spearmen. The LCH were also wasted by being deployed in 2 ranks - looking back, a 2nd rank needs to be kept some way behind the front line and used to plug gaps, thats all.
The infantry also were over-complicated in trying to attack in 2 waves. A simple line, with some non-impetuous troops behind would have been much better. I was also intrigued to find out that letting Inpetuous troops go impetuously into an enemy means they have a -1 in the first round of combat - quite a neat trick in a game where there are so few command points that impetuosity might otherwise be a real boon.
Medium Cavalry are pants, aren't they? This has ever been thus in Ancients games and this is the same. It is a shame in this army that there are so few 'filler' troop types, but then again more infantry would have been good.
I amd also unconvinced that the Elite upgrade, which adds +1 to all dice rolled that are below 4 initially was worthwhile here - 25% more units would have been good too. Perhaps next time its less Cavalry and a lot more foot, played in a single line?
That's the end - so why not go back to the Match Reports Index and read some more reports?
Battle Report Pageloads to date.
View My Stats for My Battle Reports Pages