Field of Glory Renaissance in Britcon 2011
You can "Like" this page Facebook
The Year - 2011, The Competition - FoG Renaissance, and the mode of transport, the train. All in all the weekend was set for much greater enjoyment than my last excursion to the riot-torn north (admittedly starting from the riot-torn south) of England.
In the photos of these battles the (3) Superior foot units in my army have Blue or Red coats, the other (Average) foot all have Grey coats. The two units of Determined Horse are identical, so if you can see one you know what it is. The Dragoons are blue and red and start as units of 3 bases, and there is a 4-strong unit of foote with musket and bayonet who are dressed in white with a chequered flag, and who aren't Impact Foot and who don't have a pikeman base in the unit. The guns are pretty obvious (they are painted red anyway)
Mine and my opponents lists can be seen here. (Any videos in these reports are all pretty short - well under a minute). Click the arrow to play !!
In the photos of this battle my troops have bases which are mixed earth and grass, my opponents are green all over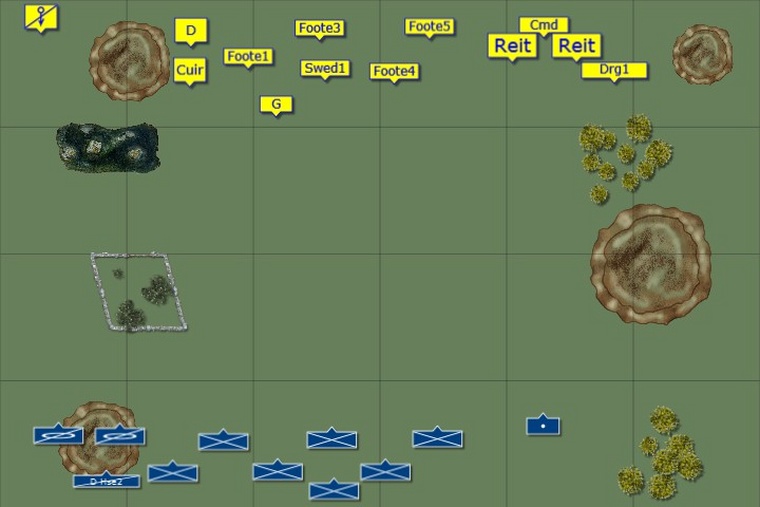 Here's the initial map of the two teams. The Swedes have somehow lost a unit of artillery - but its sort of top right-ish. The French are all in standard notification, as the foot and horse are (almost) only one type of each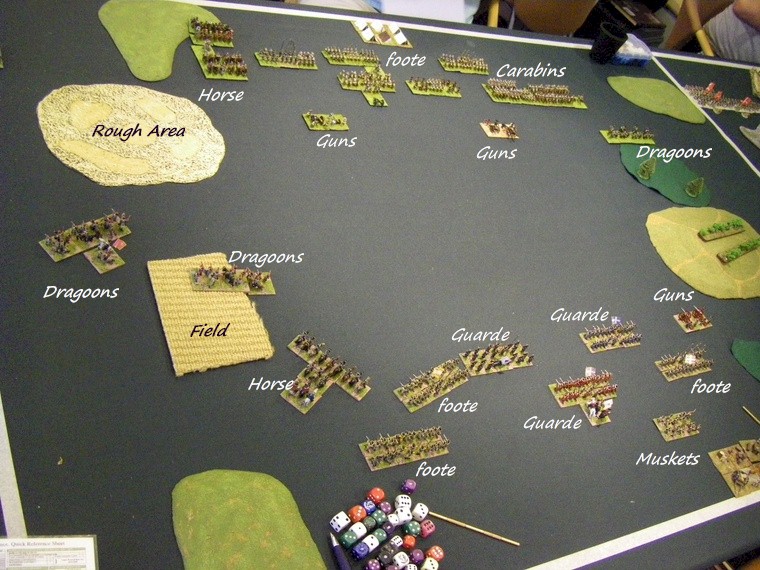 The first Friday night game managed to start only a couple of pints into the late afternoon, and against a Swedish army - but a very late Swedish, who presumably had been staying up late reading about how to make meatballs and flat pack furniture and so had not had time to learn Salvo formation....This made my infantry potentially much better than the Swedes. Unfortunately they didn't actually have that many.. a pair of facts which I didn't really cotton onto until all the army had been deployed...meaning I didn't even deploy in a formation which would allow me to double move. I had also sent a unit of Line Horse on a beer-fuelled flank march to my left - maybe they would appear to great effect later?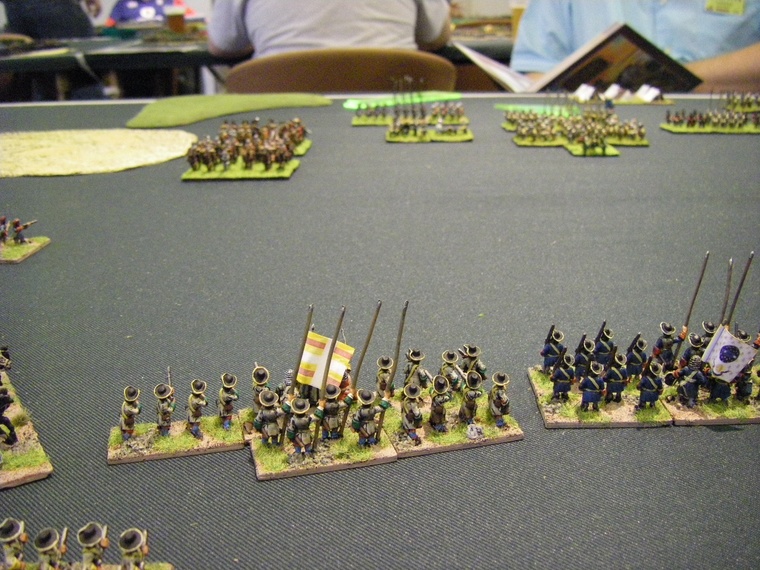 The table was a bit of a bowling alley, so I deployed my cavalry on my left and moved forwards, also trying a flank march. The Swedish artillery quickly picked the Quaking (well, look at those hats - you can smell the porridge from here) French infantry apart as they moved up tentatively, inflicting a death on a roll of 1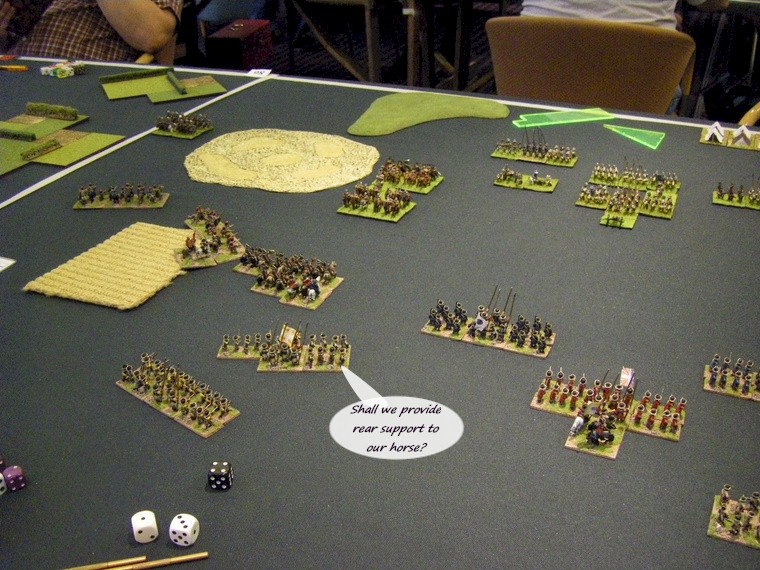 The Swedish horse were a mix of carabiniers and mad Finns, but both sides seemed keen to get into action on the left of picture as the two lines of horse closed up (ini turn 2)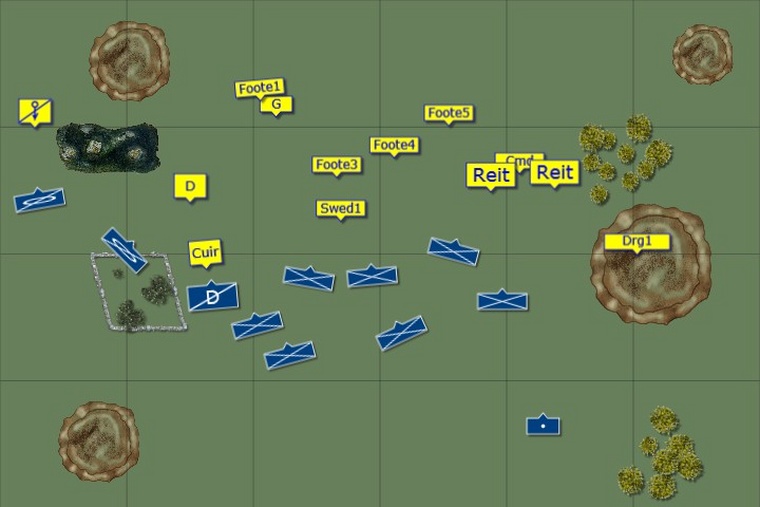 This is the map at this stage of the game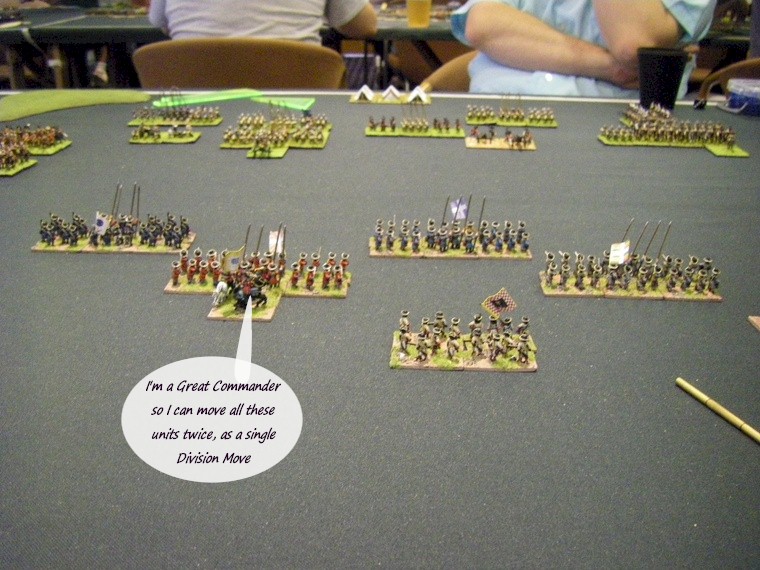 The French infantry had now shuffled themselves into better shape and were gliding gracefully forwards like a fleet of ships propelled by a Gusty Commander. Surely an omen of the coming curry ...?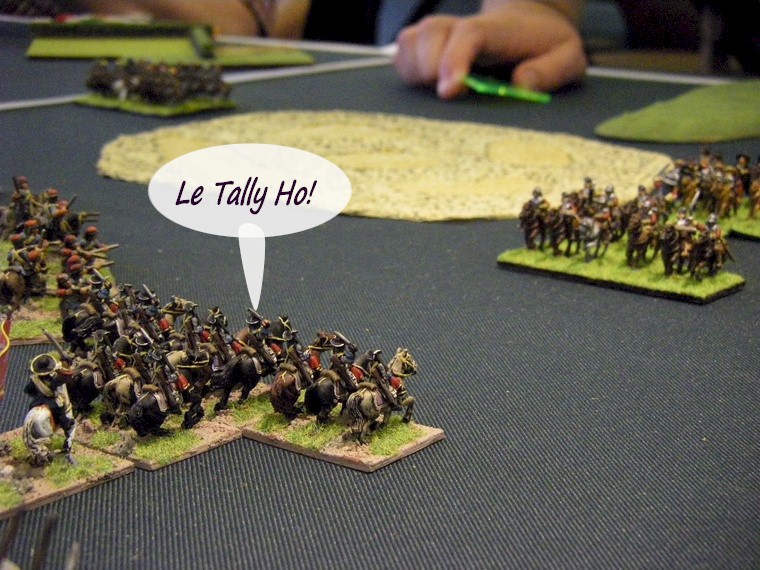 The Swedish Dragoons were doing what Dragoons do, and were going to do Dragoonish things in a wood on top of a hill.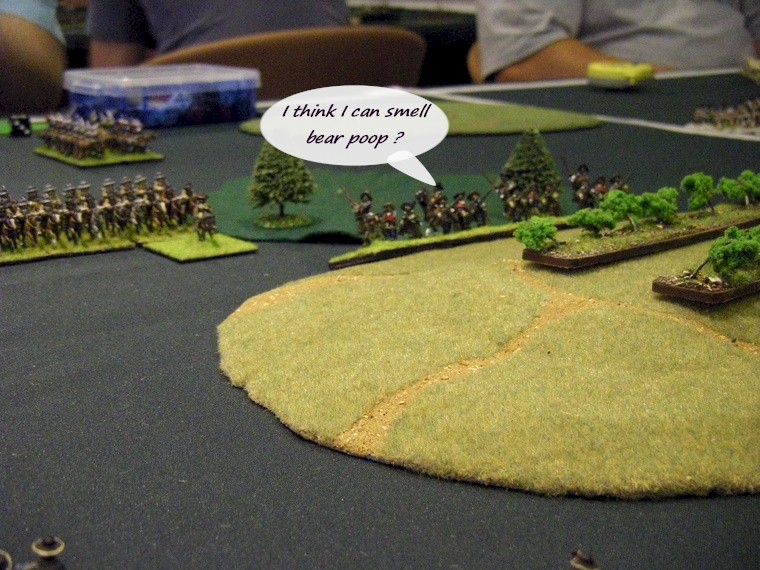 The French artillery was trained on the Swedish horse, and soon unhorsed one of them as the Line French Cavalry inched into charge range. Both sides debated whether they really wanted to initiate a decisive battle quite so soon in the game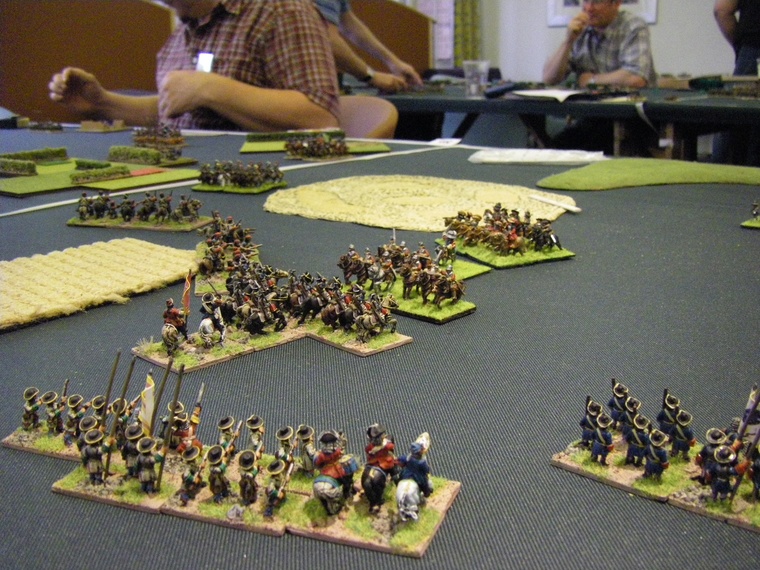 Undeterred by their losses, the Finns moved up and clarified to their opponents that they were in fact impact determined horse rather than the carbine armed horse the incompetent French general had sadly assumed they were.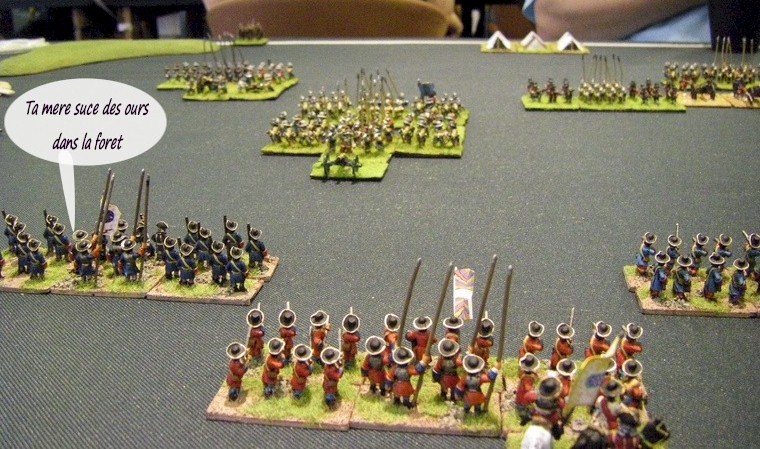 The centre of the table looked like a tube of smarties as units of many colours jostled together and faced up for the coming hand to hand action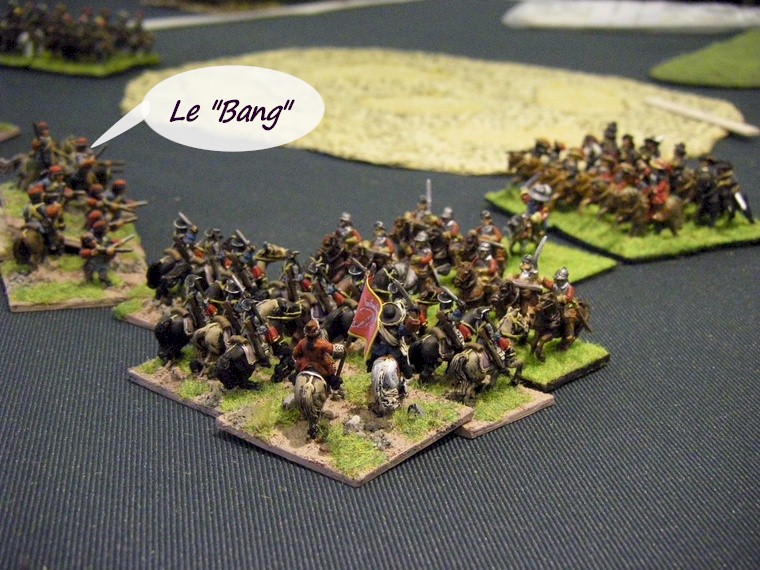 Things were looking congested as the two cavalry units clashed. First blood went to the French, with the Finns disrupting - whatever happened, there would be some collatteral damage soon as units were too stacked up to avoid each other if routs were to take place
Moustache hairs fell like autumn leaves as two sets of swords arced through the air...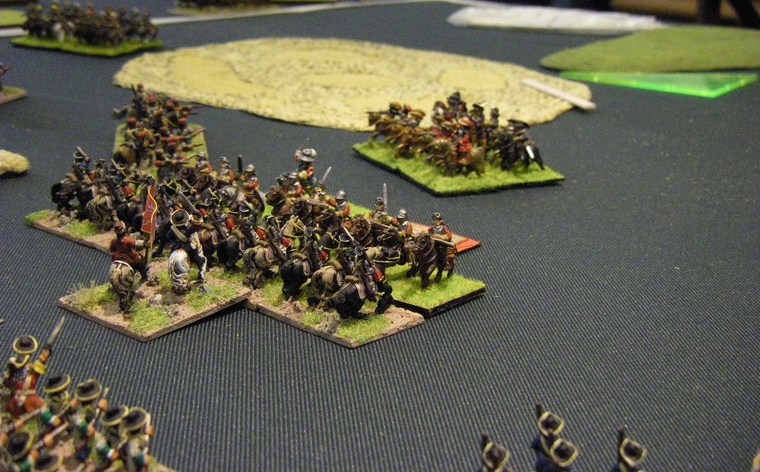 The French had advantage of numbers, and expanded to make it count..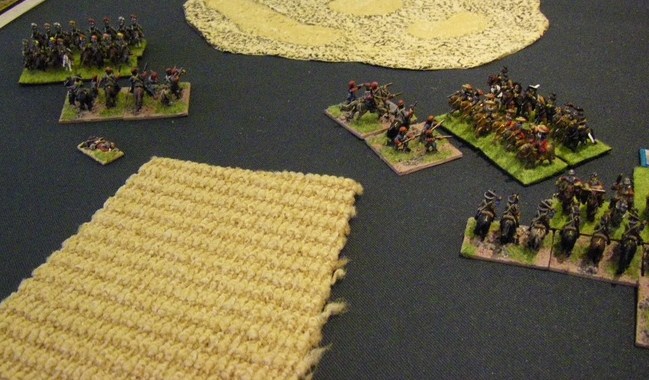 Meanwhile, faced by some carbine fire, the French Dragoons were doing their best to not have numbers on their side, with both units losing 1/3 of their strenth to death rolls of 1. If only the flank march would arrive now....?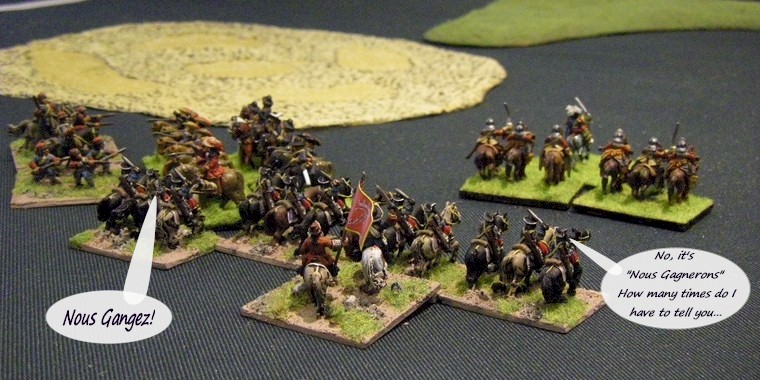 The Finns Broke! With a huge "Le Hurrah" the jubilant French Horse charged forward, catching the carabiniers like a Ferarri catching a caravanner on the M40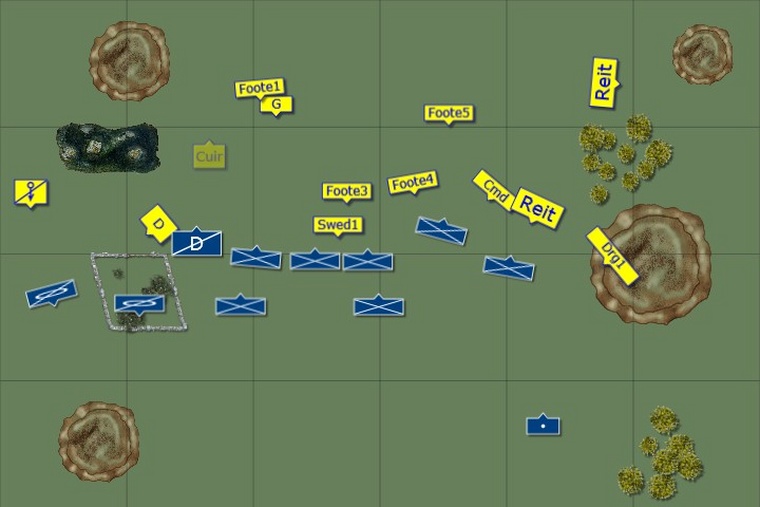 The Swedish right lies open for the Line Horse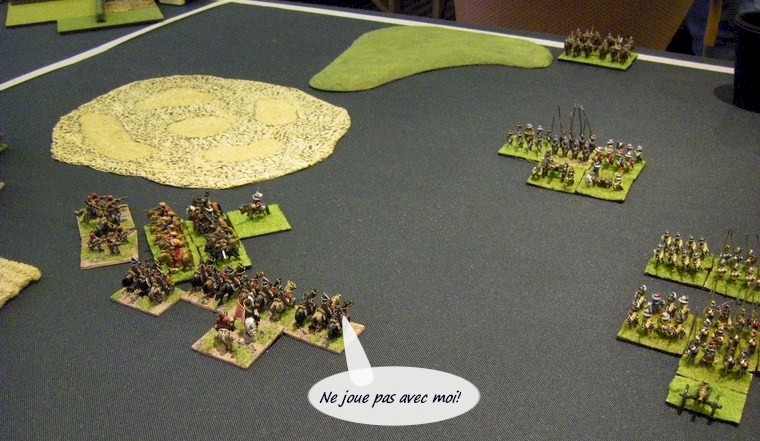 Suddenly the entire Swedish flank opened up.... but the French had only one unit on table to exploit it!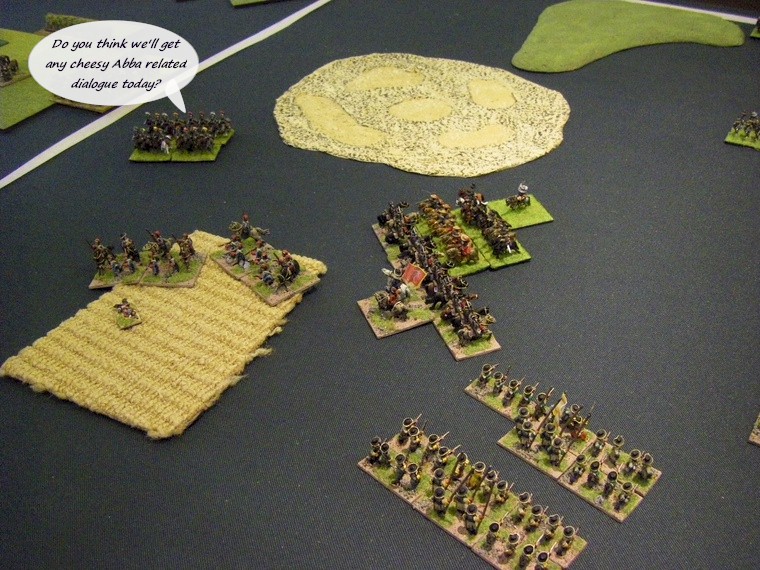 The Dragoons decided it was time to run and leave the field to the Line Horse - who were making hard work of the theoretically weaker carabiniers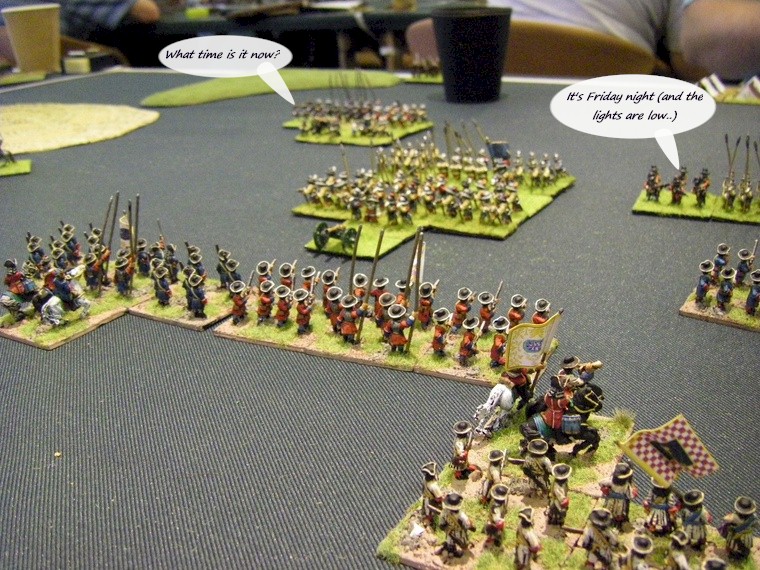 The Frenchies were in good order as they advanced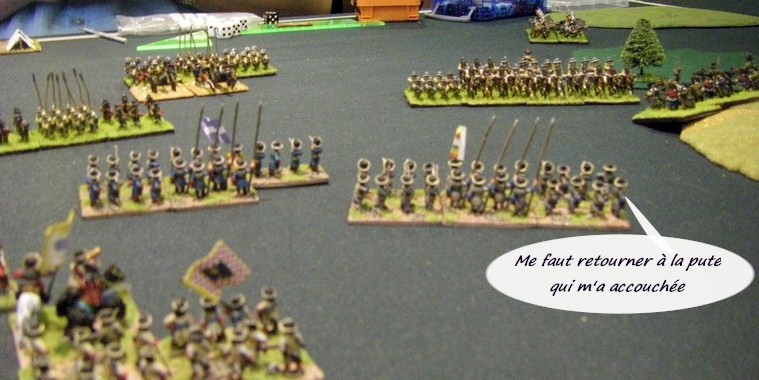 However, the French right looked a bit less confident as it faced off against a bucketload of Carabiniers and commanded salvo shot with a unit of Ordinary Line Foote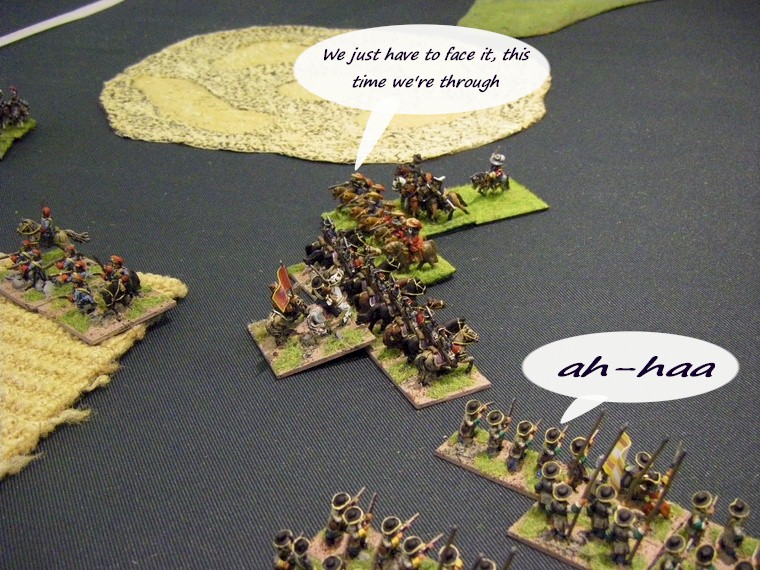 Aaaah - "Service Normale" was resumed as the gallant French Line Horse chopped down the hapless Swedish carabiniers!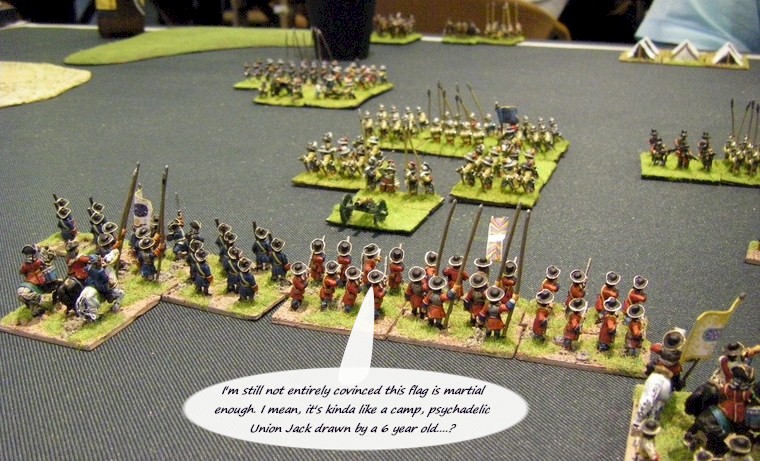 The only proper Swedish Foote unit on table faced off against two Superior French Guard units, led by Generals. Even another unlucky 1 on a death roll could not deter the brave Frenchmen as they moved up to take on the Salvo Formation. Beat this and the Swedish army would be a toothless reindeer lying in the path of an onrushing Volvo estate loaded with stripped pine flat pack furniture!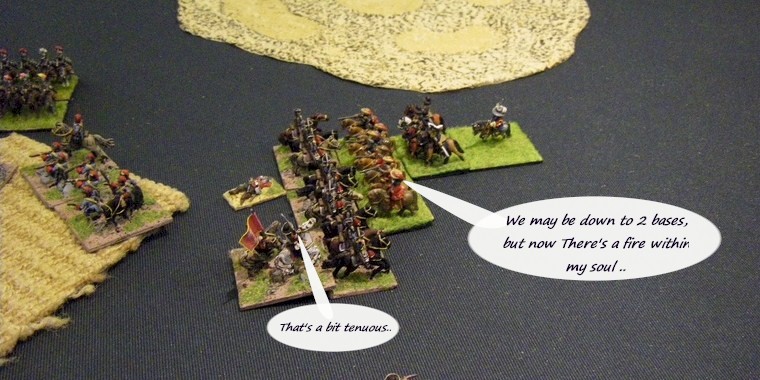 Dammit Sir! The French Faltered and the Swedes Struck Back! The Game of Horse was not yet played out!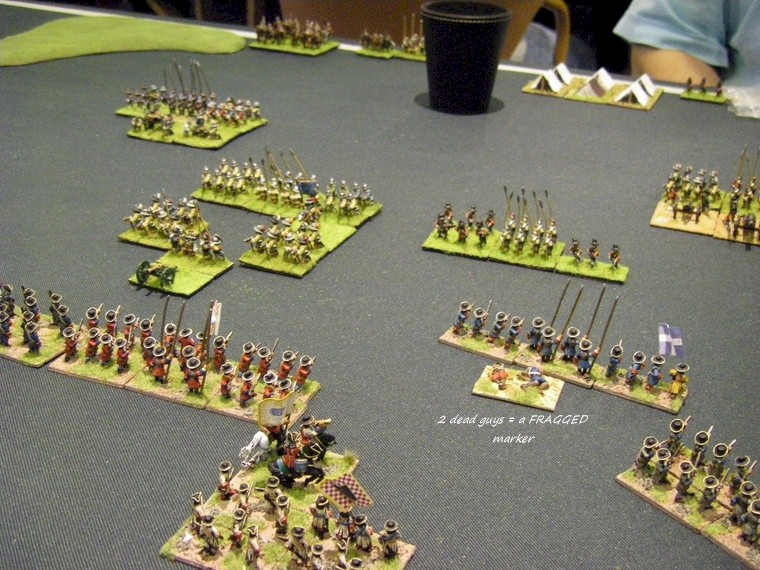 Today was clearly not the day for one unit of French Guard, who lost their third base to 2 units of artillery, and dropped to Fragmented. Imagine how bad it would have been if they didn't have rear support and a Great Commander cheering them on?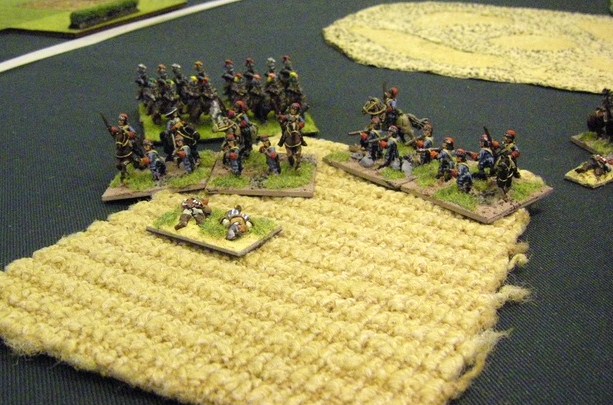 Talking of shooting casulaties, the French Dragoons were finding it increasingly difficult to avoid severe damage from Swedish Carabiniers - the Sneaky Swedes seemed intent on not letting the Dragoons sneak off - even though they had found a cheap field to hide in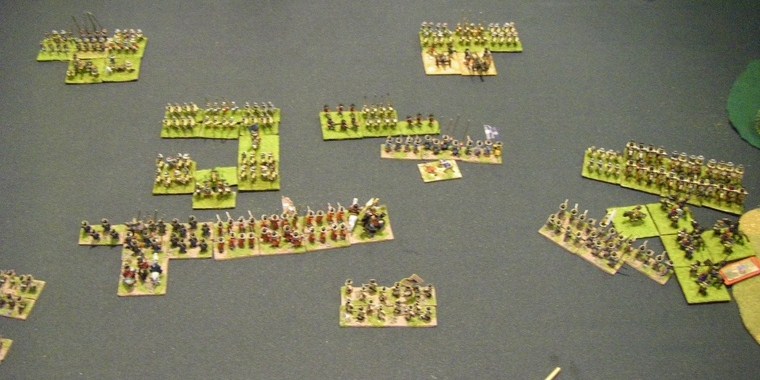 The crippled Guard unit (3 bases strong, in the middle, and with a FRAGGED marker with two dead chaps on it) pushed itself as far forwards as possible, knowing that when it died it would be so far away that its colleagues would not see the rout. Little did they know that the other French units had never liked it anyway, and so would care not ....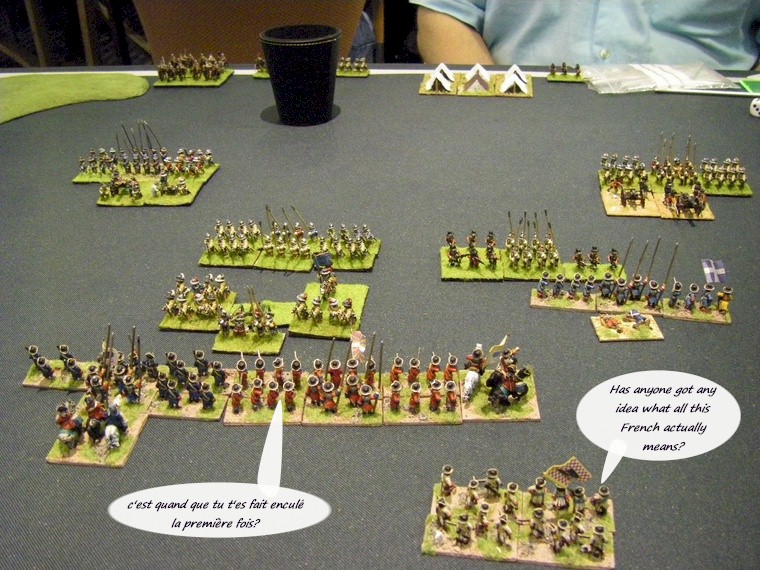 Massed French fire had by now decimated the Swedish Yellow Brigade, who's formation was in the same tatters as their historical flags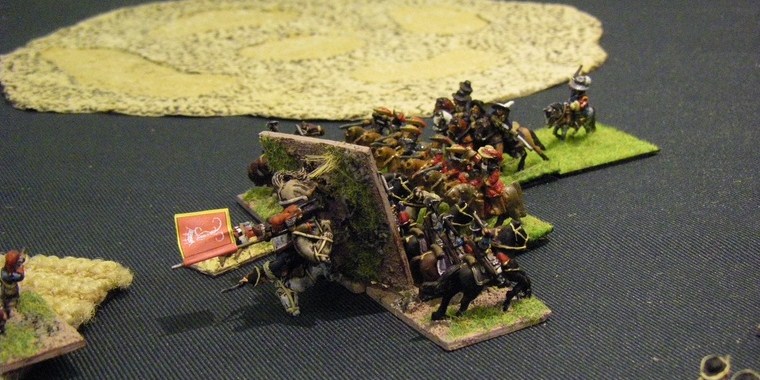 Aaargh! The French Line Horse lose a General! That could make things harder.....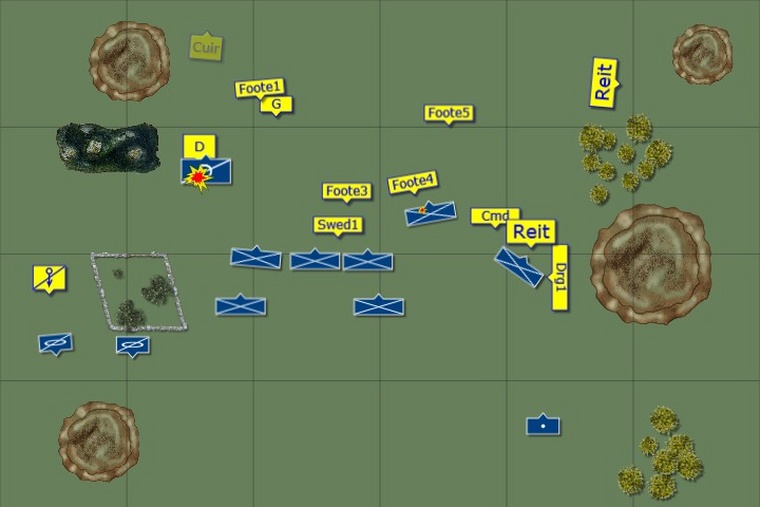 It's all kicking off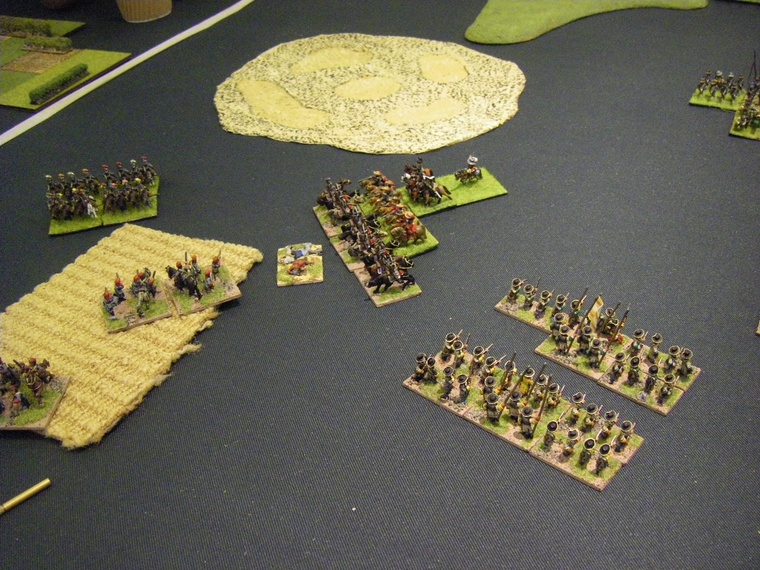 Ooops - Fragmented too!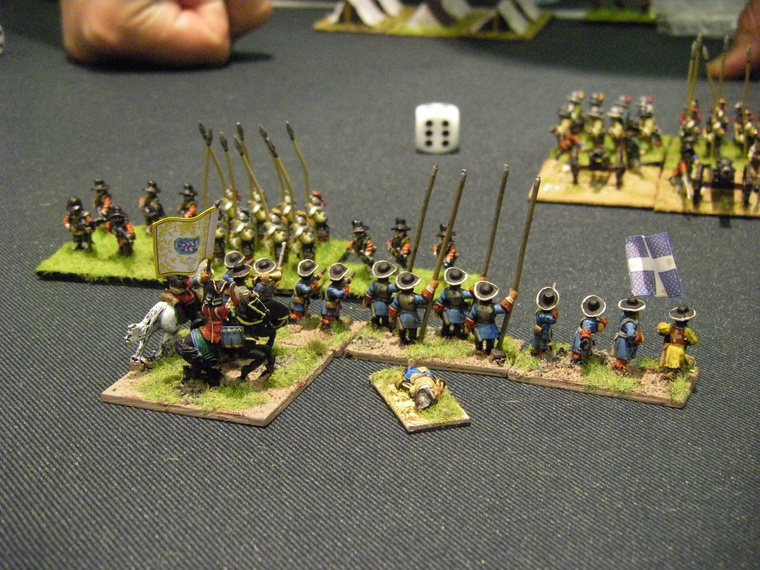 The French Guard, having realised no-one loves them, decide to at least have a go at fighting, and recover a cohesion level
Then again, not that much of a go.... they rout at contact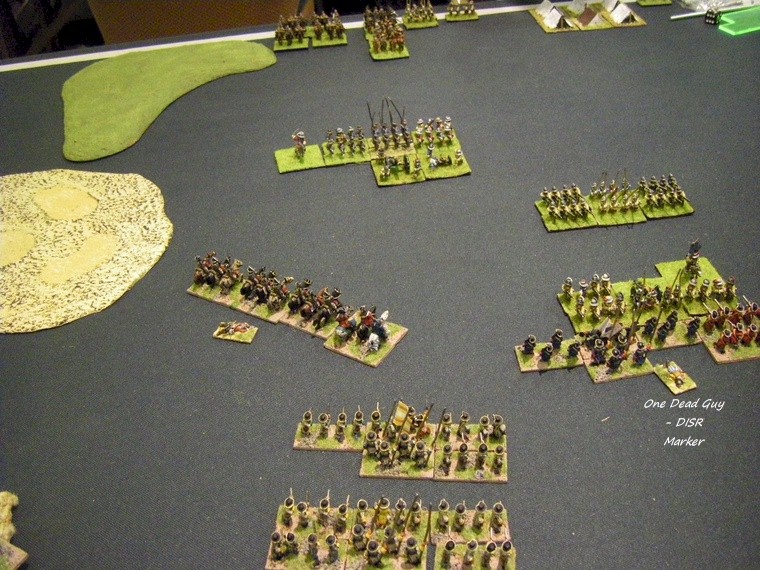 Suddenly its chaos! The Fragmented French Line horse dig themselves out of a hole and break the (average) carbines they are facing - and led by a new replacement General, sweep majestically across the table - as in the middle battle is well and truly joined!!!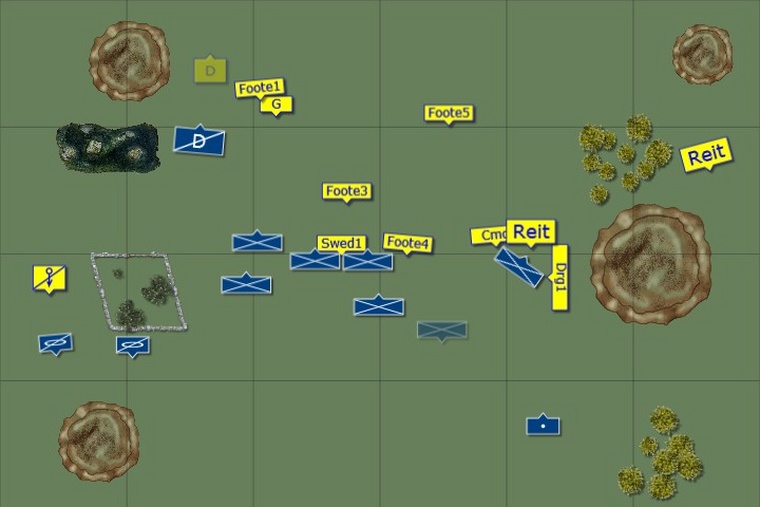 It;s all kicking off everywhere now
Look, I know its not quite right, but it's still cool right?
Heavy going as the best units of the Swedish and French armies go toe to toe at close quarters...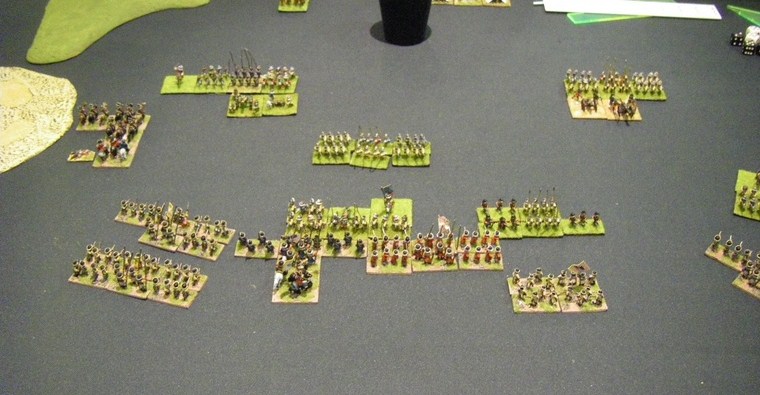 The French are now struggling to bring their greater numbers to bear - but the Line Cavalry have a clear baggage-shaped idea in their minds and race down the Swedish flank out of arc of the dangerous guns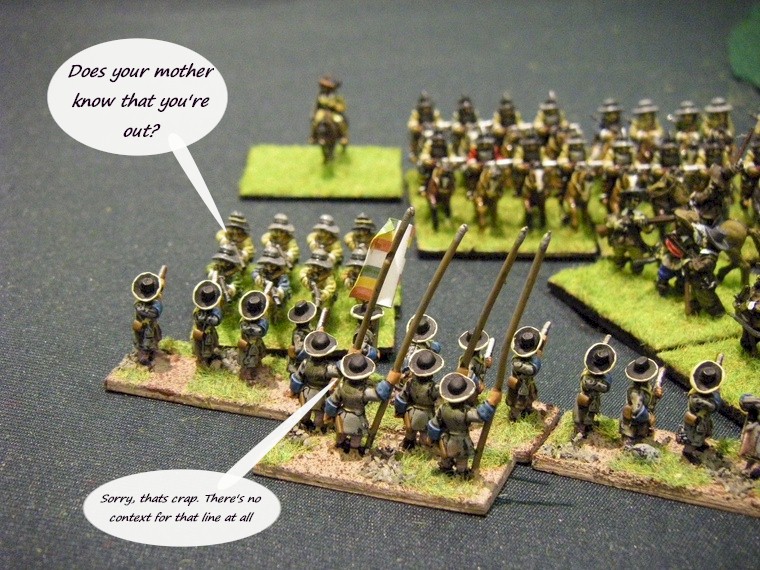 On the French right, a couple of low-probability base losses have reduced the Ordinary infantrymen guarding the French flank down to 4 bases out of 6. This encourages 2 Swedish salvo commanded shotte to charge home. Surely 2 bases cannot be serious...?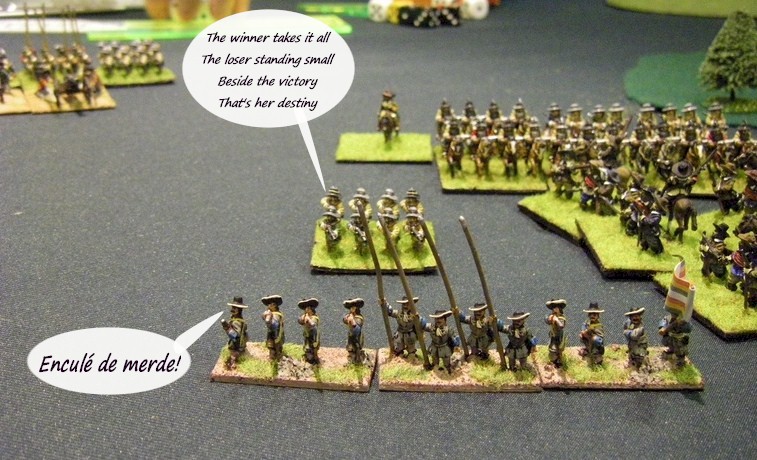 Oh dear... another base loss on a 1 or 2 roll ! The total approaches double figures....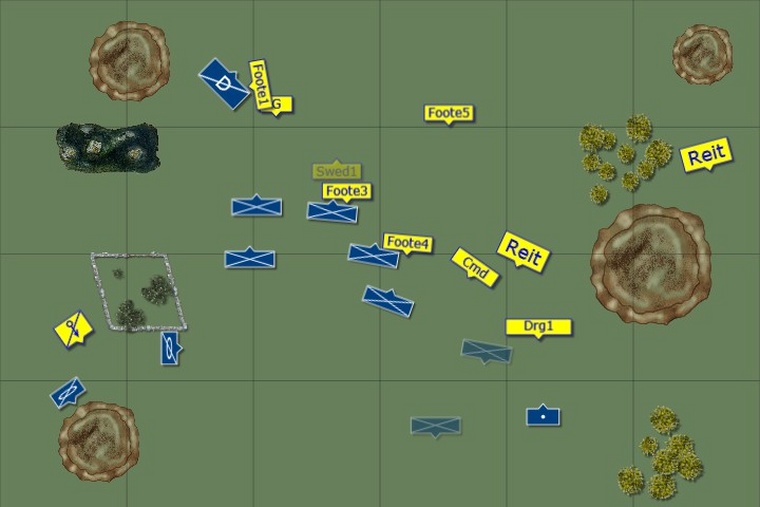 Carnage Everywhere !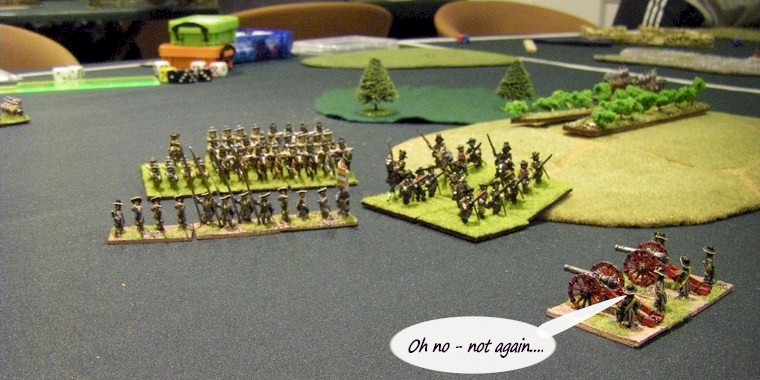 The French artillery park suddenly feels somewhat exposed. Together with the Guard and Dragoons, that could easily make 7 VPs down and counting...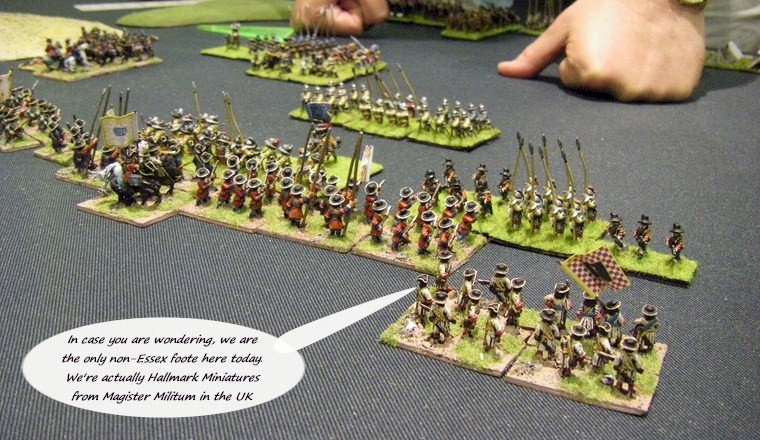 The fighting in the middle continues at a high intensity but with no real breakthroughs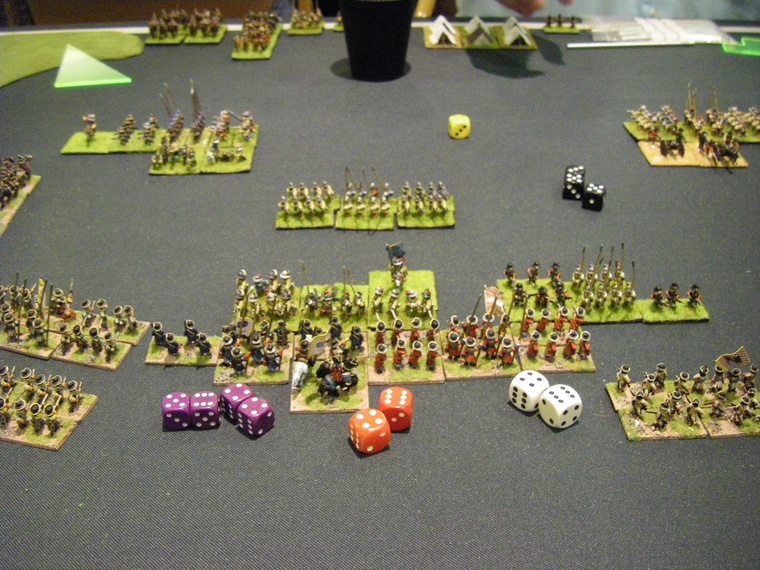 Actually, lets hang on minute there, we may want to reconsider that statement.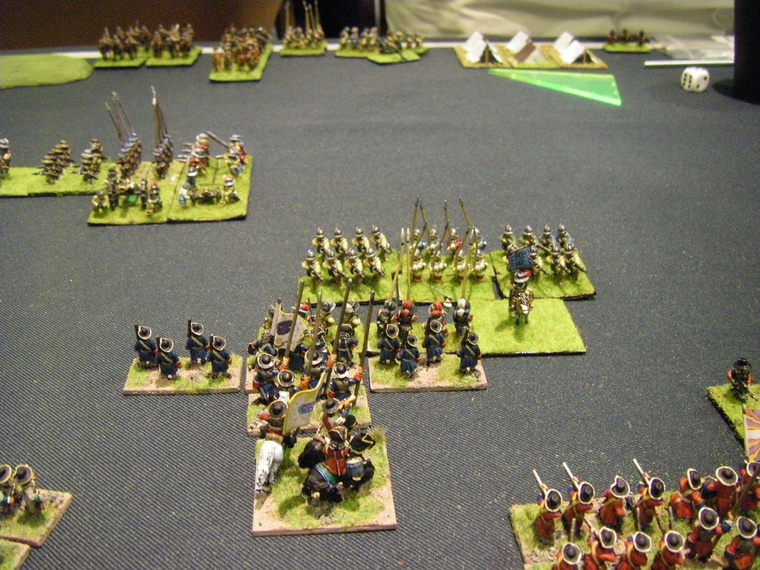 The Yellow Brigade is shredded and routs - but only one French unit (well eroded already) can follow it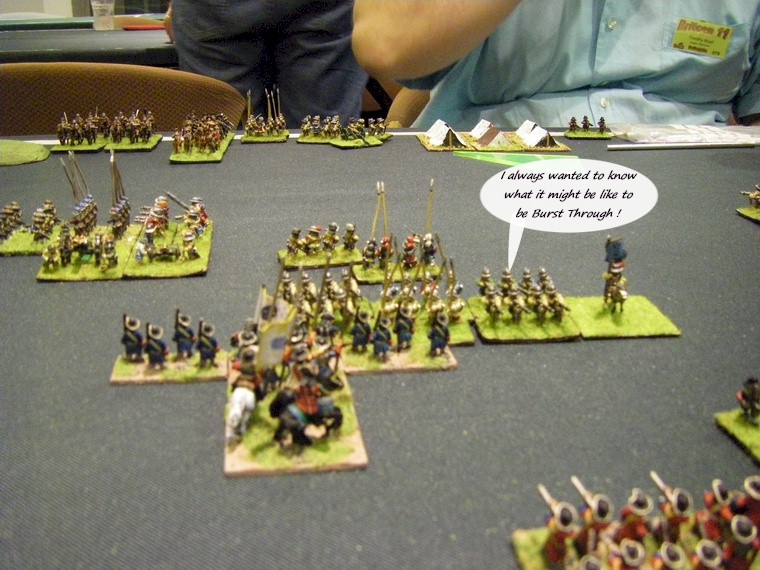 The Yellow Brigade bursts through its supports, who are then slammed into by French Guards !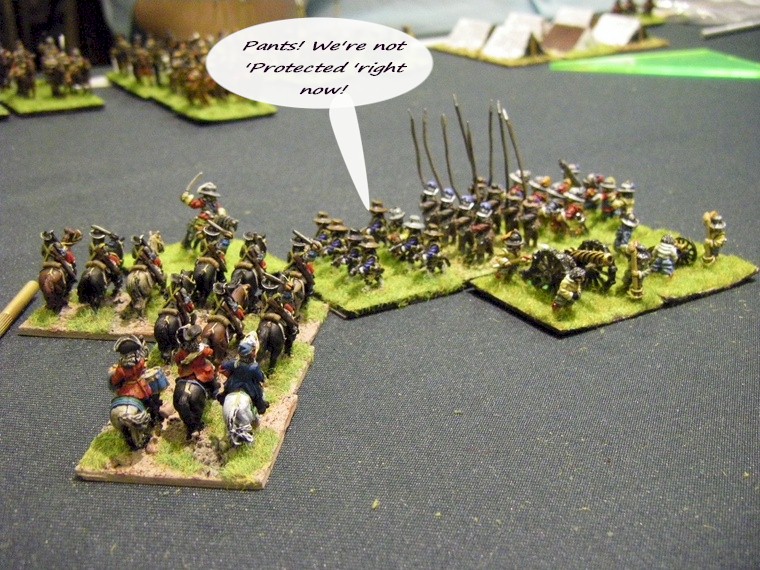 The Swedish unit defending their guns tries to cut off the advance of the French Line horse - but they, being posh moustachioed hail fellow well met types with more garlicy breath and better taste in hosiery decide this is exactly the sort of thing they should be doing, and charge home against the currently unprotected foote!! Yoiks!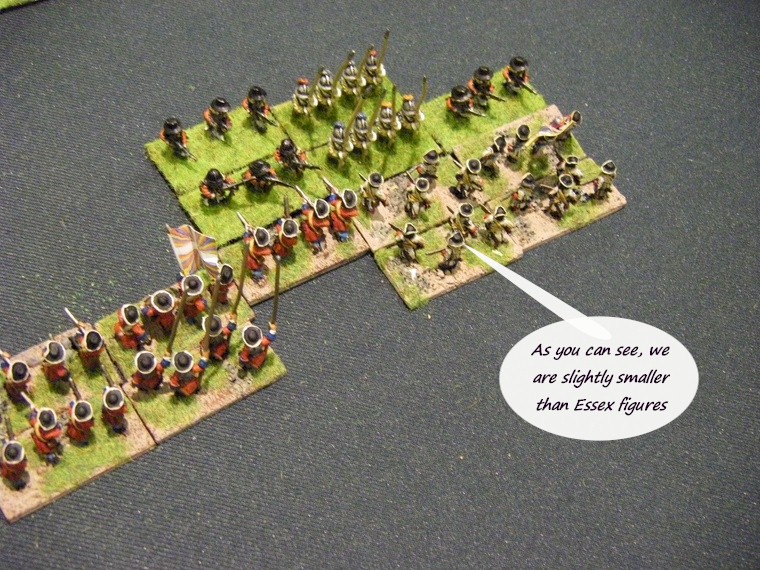 Desparate to finish off the stubborn Swedes, a unit of German musket-only infantry joins in the combat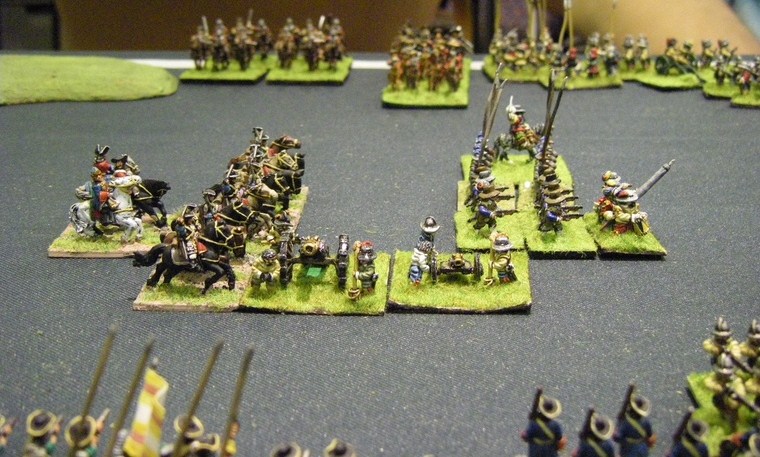 The French Line cavalry are on Fire! Routing the Swedish infantry in double quick time, they press on and also capture half the the Swedish artillery park in their pursuit!!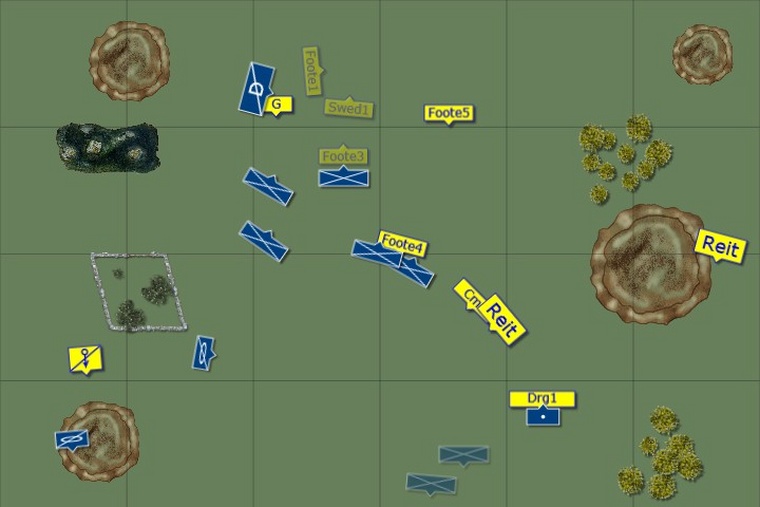 The Horse roll on as the Swedish army collapses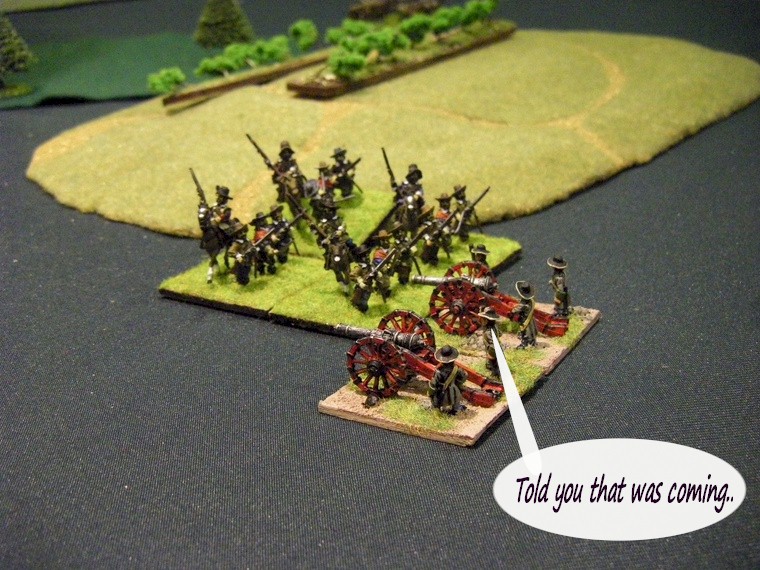 The offended yet practical Swedes return the favour...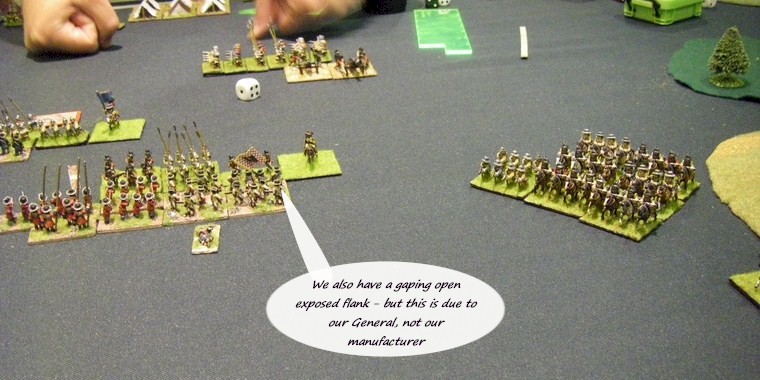 The French right flank is entirely absent and back in the box as the Swedes reorganise a massive block of mounted shooters and consider their many many options to cause havoc!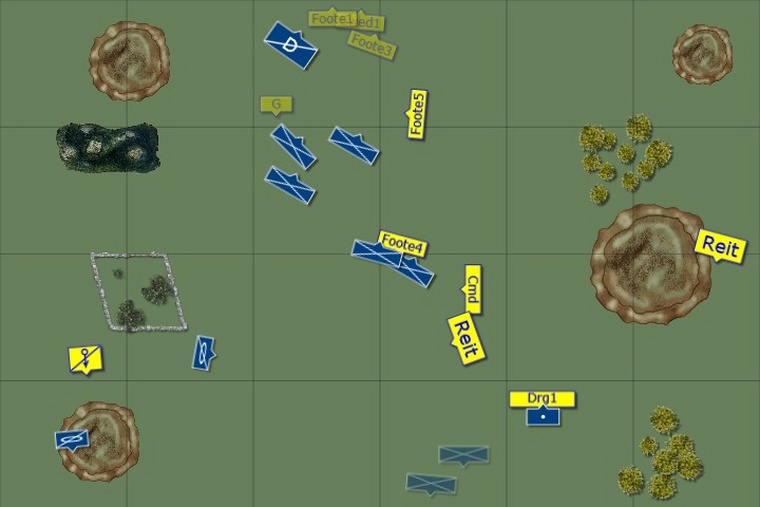 Scary Monsters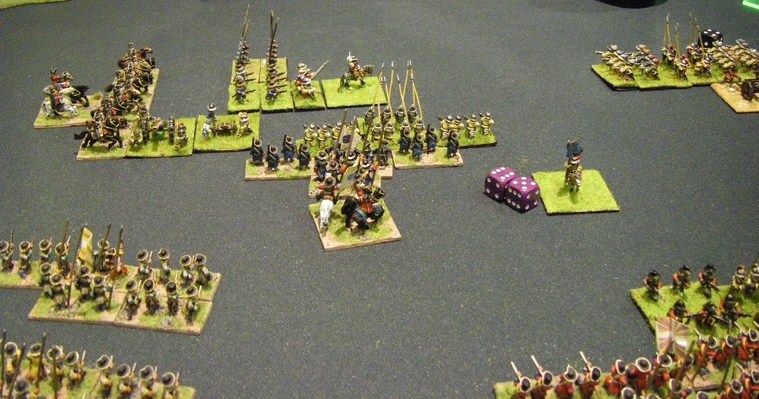 But the Swedish center is now equally in tatters, as the victorious French Guards press on and rout a further Swedish unit. Both armies stare defeat in the face...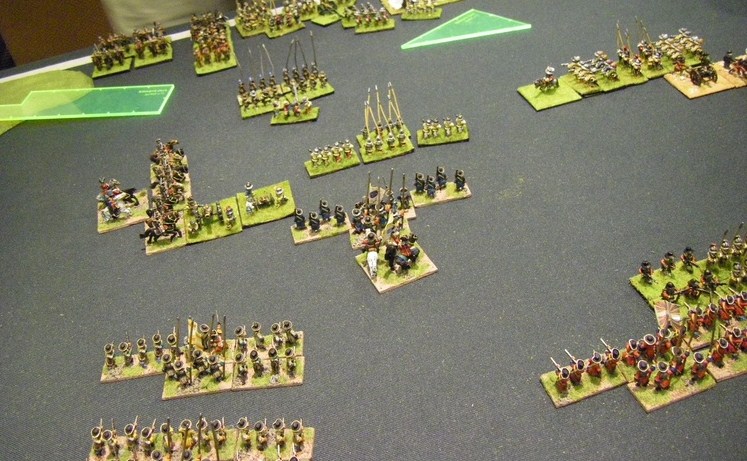 The unblooded bulk of the French army has nothing left to face... all the Swedish casualties have been caused by just 2 units!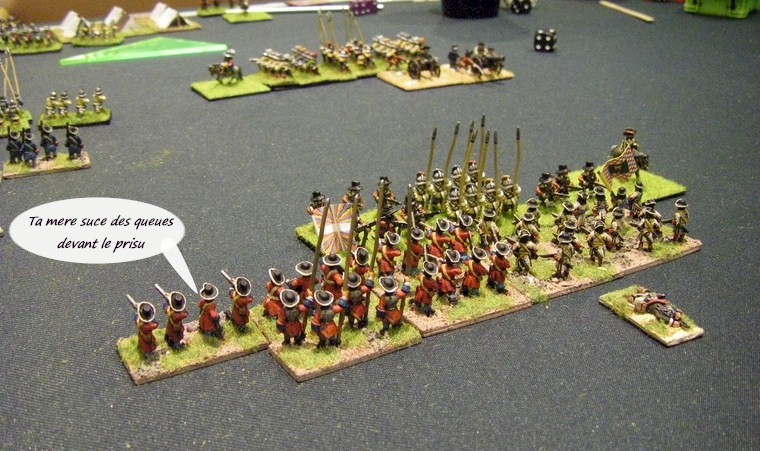 Meanwhile, other Frenchmen struggle to make any sort of impact (in melee, so not surprising really..)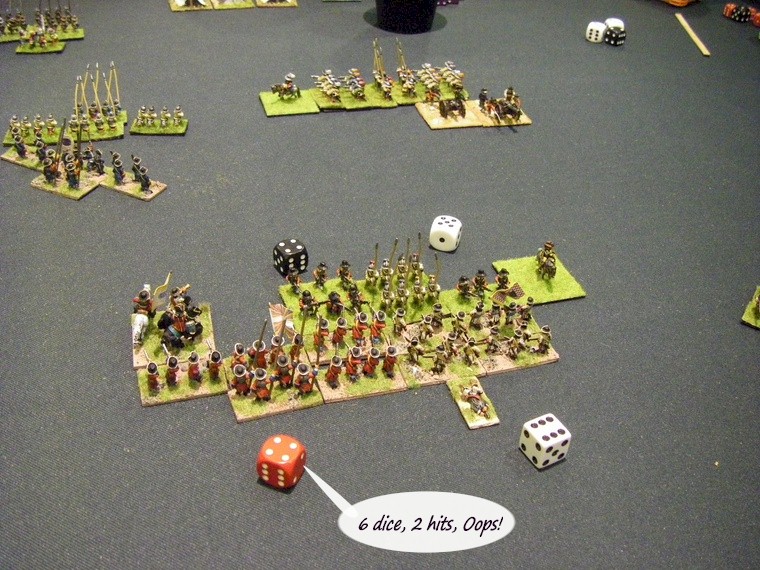 Pathetic.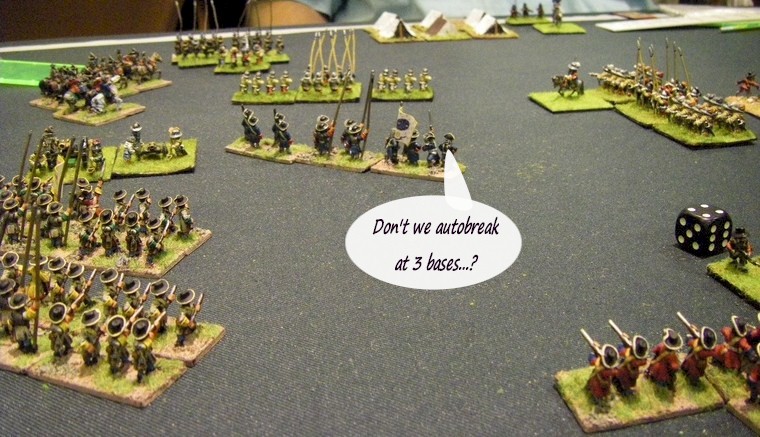 Having ripped through the Swedes single handed, the French Guards lose yet another base to low intensity shooting...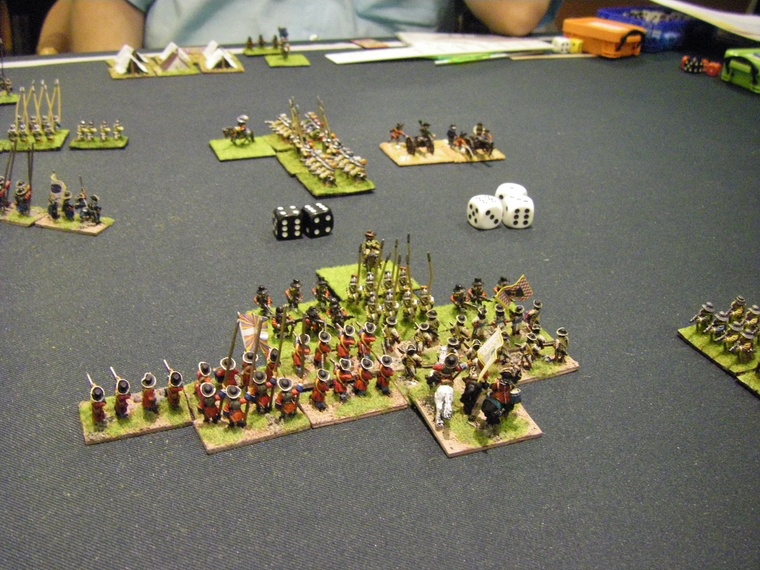 Two French units conspire to lose badly when outnumbering the enemy and being better quality as well...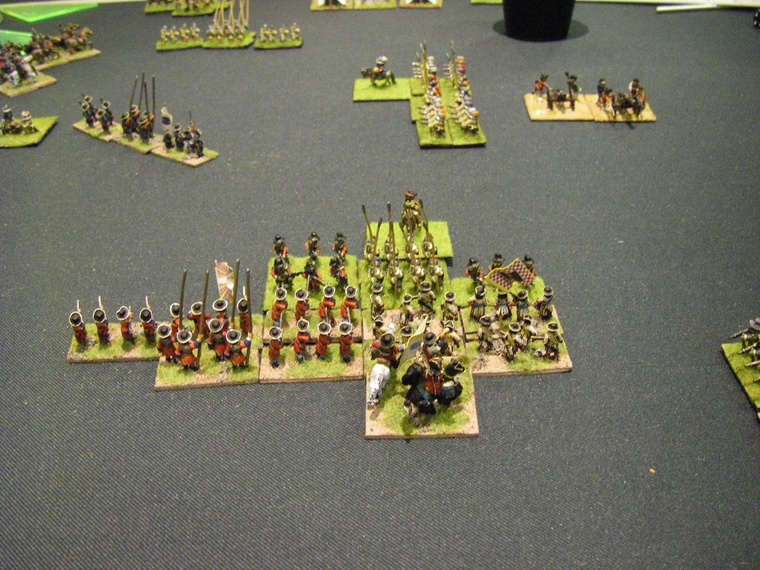 This battle could go on all night... good job there are other units on table elsewhere for both sides!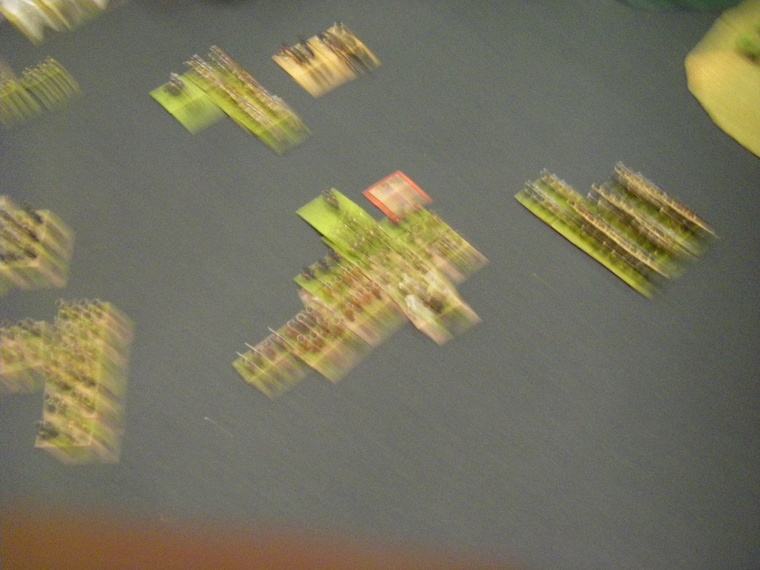 Oh My God!! The earth moves....!!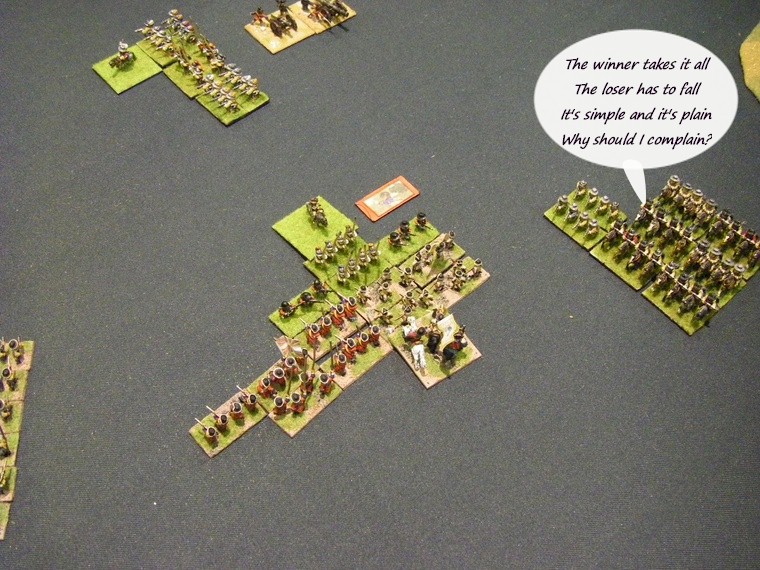 The Swedes at last do the decent thing, lose a base and go disrupted.... Will the battle be decided here - either for the French if they win frontally, or for the Swedes as the salvo shotte charge in from the flank?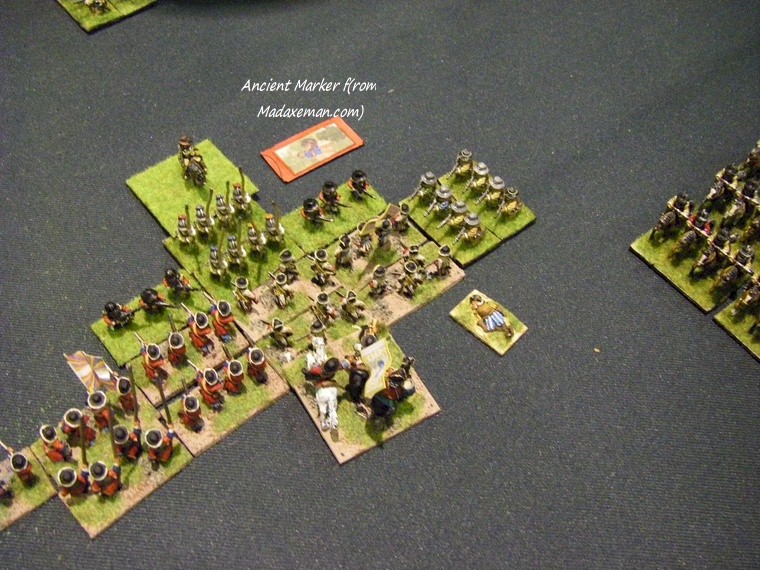 Well, the frontal victory option looks to be discounted at least for now...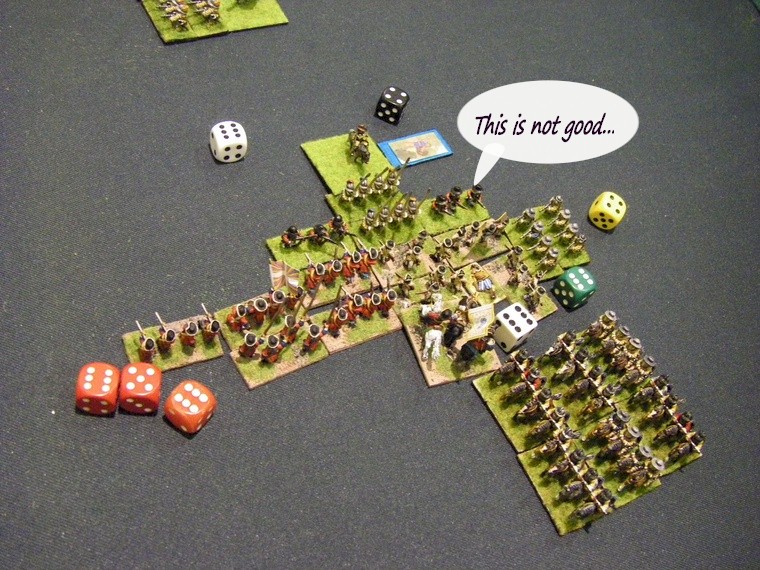 It's desparate stuff all round as the French and Germans stage a desparate rearguard action in the face of overwhelmiing odds.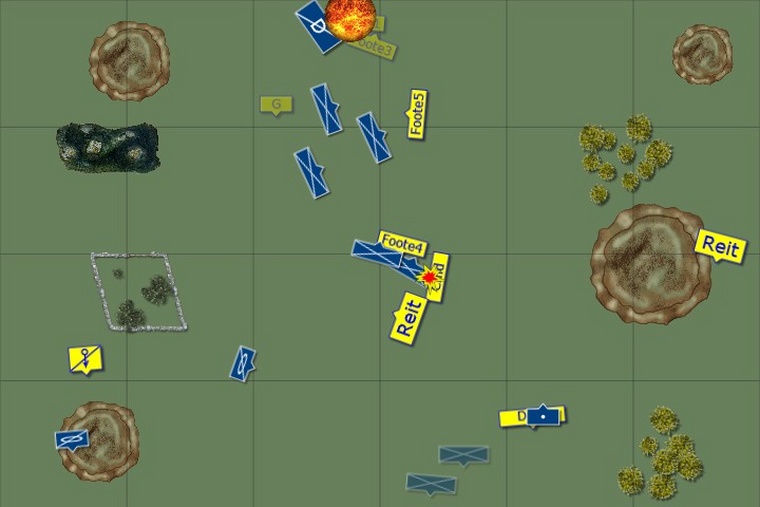 But whilst this is going on, the Line Cavalry have continued their rampage, and swoop down on the Swedish baggage - winning the game for the French ! The Line Cavalry have taken 10VPs alone !! Hoorah! s
The Result is a 19-6 win
Post Match Summary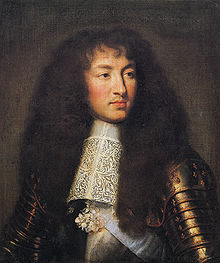 Well, how astonishingly spiffing, in a French sort of way eh? What fun, the noble Horse win with some style and elan, whilst the cake-eating peasantry labour away to fritter away some unitage - all in all a perfect start
I heartly congratuate my Cavalry leader, General Georges Le Patton, for his alacrous advane to victory - good job that first chappe fell from his horse as he wasn't up to the job at all was he?
This infantry malarky bores me frankly, so that it was indecisive seems irrelevant somehow, and that in turn seems juste, nay proper and juste
Losing 13 bases to death rolls of 1 or 2 did rather make this harder than perhaps it could have been, but I prefer to think of it as merely setting the stage for a glorious Cavalry victory rather than a sign of any failing on my part. Hoorah!
---
Hannibal's Post Match Analysis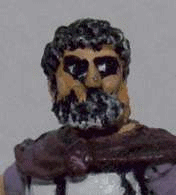 God nor indeed I will not forgive this hairy wretch of France. A liar of blasphemers and a gossiper of rioters has led his men ignominiously to the squeakiest of victories.
Your horsemen are not noble - they are but blasphemers of defilers and whipper of serfs, who wear their lace as a badge of shame, not honour. Twas luck not skill that allowed one unit to win a game, and I fear that the icompetence of not bringng your forces properly to bear means the lessons of this win will go unlearned thou gleeking clapper-clawed botch!
Only a cheater of blasphemers and a eater of sloths would try a flank march in such circumstances - what a paltroon! And, nay, how it nearly costed you dear. Hadst you even read the army listes beforehand all this could have been avoided with a good solid slog up the middle
FoG Renaissance
Order on Amazon UK here
Order on Amazon US here
FoG Reports Pageloads to date.
View My Stats for My FoG Pages