Field of Glory Wargaming at Usk, Godendag 2009
January comes around and we are off again to pour more money into the already bulging coffers of Doctor Bodley-Scott by playing his rules using his army lists in a hotel named after his pet dog whilst staying in a pub owned by his uncle in a town nestling in the ample bosom of Welsh hills overlooking Newport - a town which he holds totally in his thrall in an almost Feudal Baronial sense up to and including exercising the rights of Droit du Seigneur over local maidens - if talk in some of the local hostelries is to be believed.
After "Warfare" the attractions of taking a pedestrian army had paled considerably, and so my self and doubles supremo Adam Worsdale stuffed our bulging knapsacks with hordes of "dom-rom" simulating Arab cavalry who would appear as a swarm of poorly armoured but cheap lancers. Our Hamanids of Alleppo list is available on my FoG Wiki here:
The science was that we expected to outnumber enemy cavalry by 50-100%, so with lancers we would almost certainly be either events or up one POA at impact, and down one POA in combat against the armoured swordsmen we expected to fight - but with an advantage of numbers which would allow us to win by attrition. The arabs were fielded in big units of 6 to allow them to take punishment and even though they were protected or unprotected, an IC made them almost invulnerable to shooting. An FC allowed us to consider flank marching if terrain dictated this was needed.
Game 1 saw us facing .... a Nikephorian Byzantine Army who's list is available here
Pictures of Byzantine Troops from my Ancients Photo Directory
You can rate the quality of the above figures by clicking on any of the pictures and then clicking on the 5-star voting buttons. Your ratings will be seen by hundreds of other gamers and will help them select the best figures for their armies!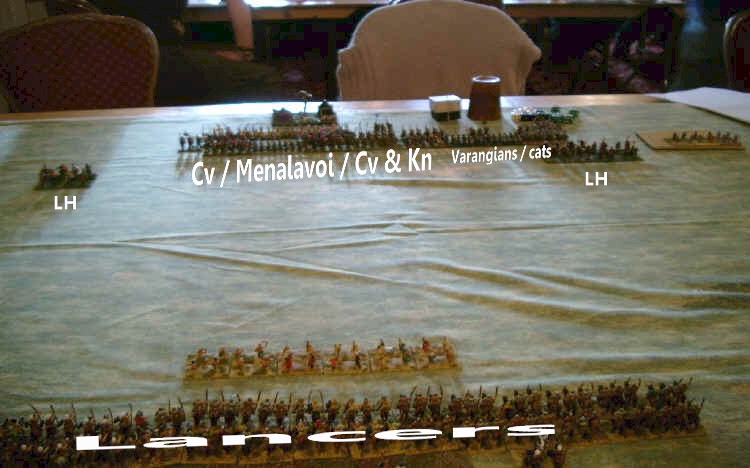 Both sides fancied a billiard table, and so with us choosing Steppe and a quick trip to "The Bodley-Scott Snooker Supplies Emporium (if you want coloured balls in Usk, we're your one stop shop)" we ended up with one! Our cavalry massed in the middle, and faced a smaller-looking Byzantine force - which although it was moving first, we hoped to swing our army out towards both wings and force the Byzantines into responding by opening up gaps in their formation.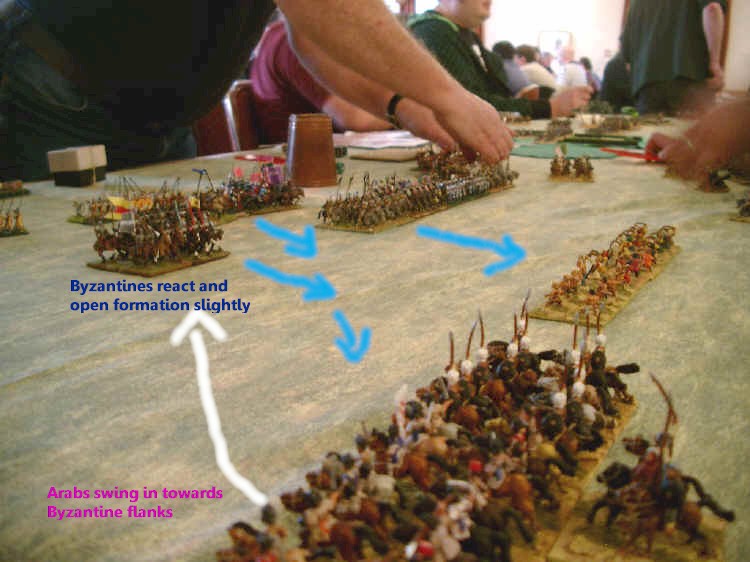 As our center held back our wings pushed up like an advert for some strange middle eastern feminine hygiene product (doubtless sold through "Al-Bodley-Scott Personal Care Product Importers") The Byzantines were keeping a fairly tightly packed formation and were using their generals to ensure the infantry could keep pace with the cavalry in their strong center.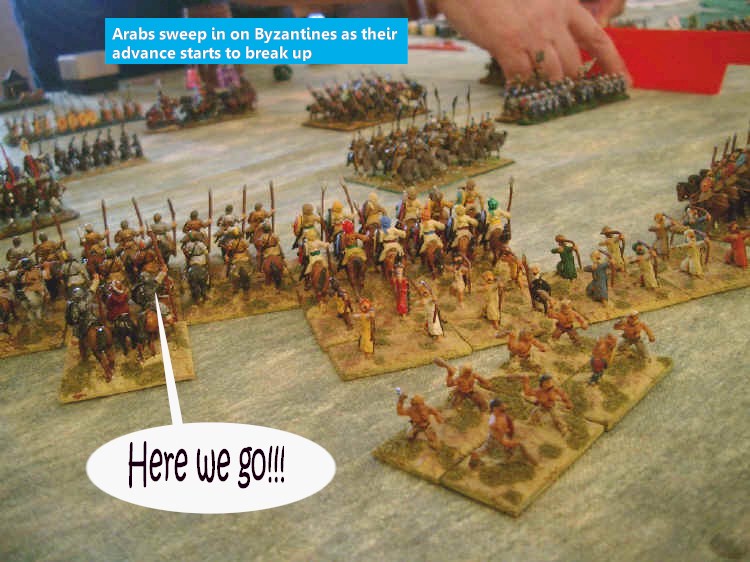 As the Byzantine advance became increasingly ragged, the Arabs withdrew their skirmish lines and a big lineup of massed cavalry started to bear down on the boys from Byzantium.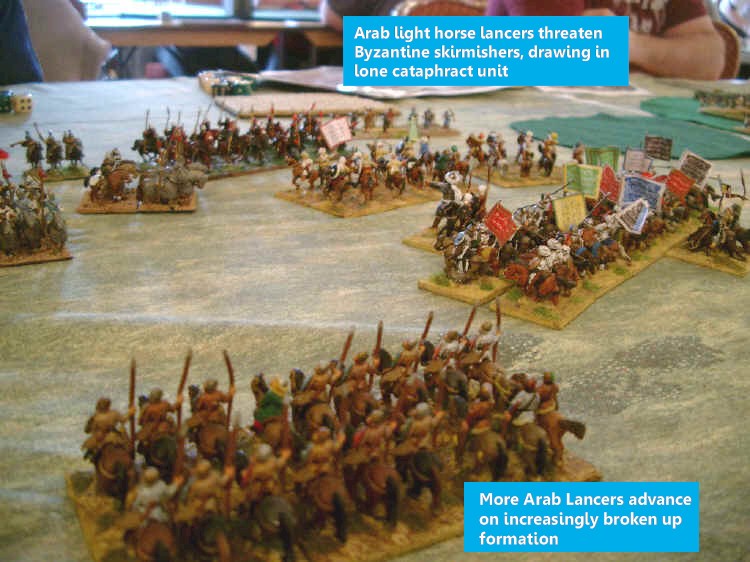 On our right a similar pattern was emerging, drawing the Byzantines wedge of cataphracts wide and into the patch of our unprotected lancers as the Byzantine light horse were forced to withdraw in the face of heavy pressure (provided by Usk's very own "Bodley-Scott Weights & Measures Inc")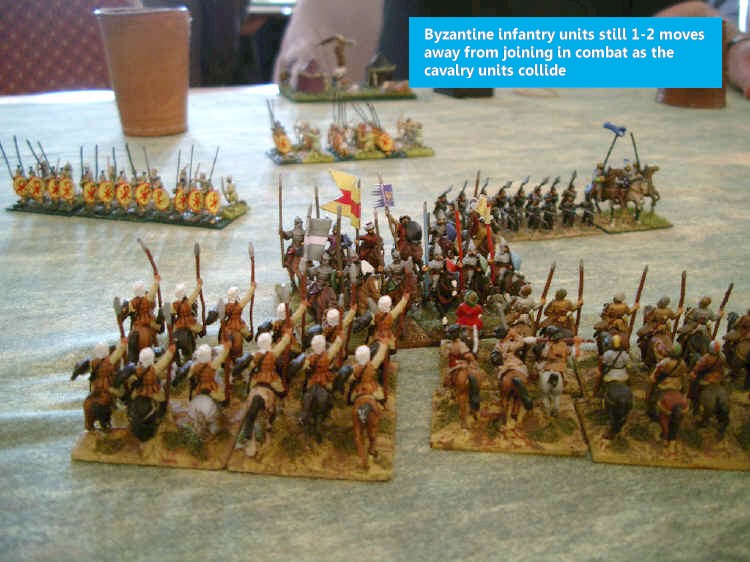 The initial combat happened as with so many lancers on both sides a charge was triggered. Our Arabs had engineered what they had been looking for - 10 lancers against 4, so evens at impact and even though we would be a POA down in melee against the armoured Byzantines, having 8 figures fighting and splitting our casualties between 2 units should give us the edge long before the Menalavoi arrived (probably via either of Usk's two taxi operators, Scott's Cars or Bodley's Taxi Service).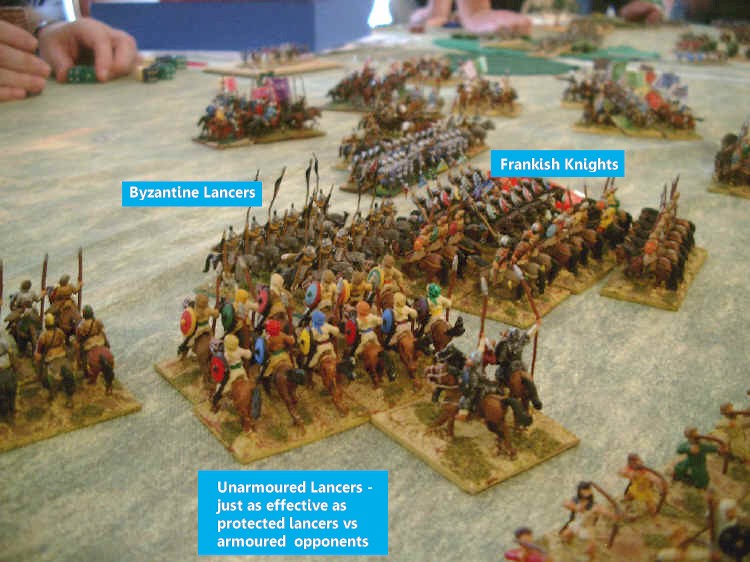 In the center a similar combat was developing - the Byzantine Frankish knights were unavoidable but wherever they appeared frankly we would struggle to beat them (and wherever they appeared, it was bound to be Frankly, or maybe Frankishly?), so hitting them when they were 2 ranks deep and getting a 50% advantage in numbers against another 4-strong Byzantine lancer unit next to them seemed even a fair deal - so we raced off to "Bodley's Bookies - Usk's very own Turf Accountant" to lay down our wager on a victory.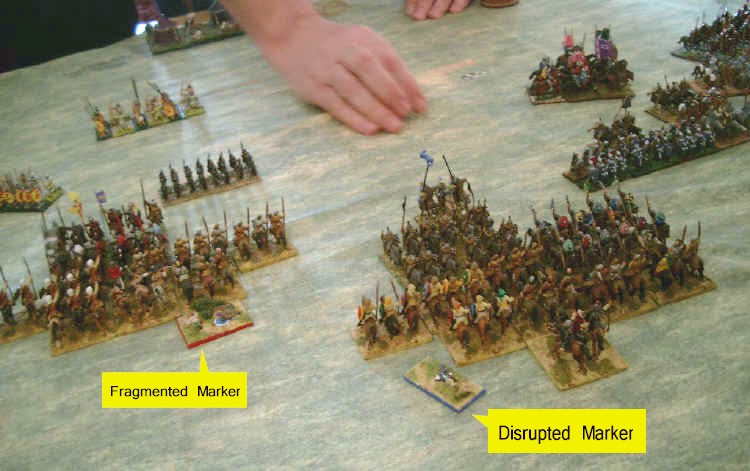 Of course, with this being FoG, theory and reality often founder on the wheel of fortune, and despite being at evens in impact, by the end of impact phase we were 3 bases down, with one unit fragmented and one disrupted - for no Byzantine losses at all! Our plan was in tatters within a handful of dice rolls! Time for a trip to "The Magical World of Doctor Scott - Usks very own Toyshop" to buy some more!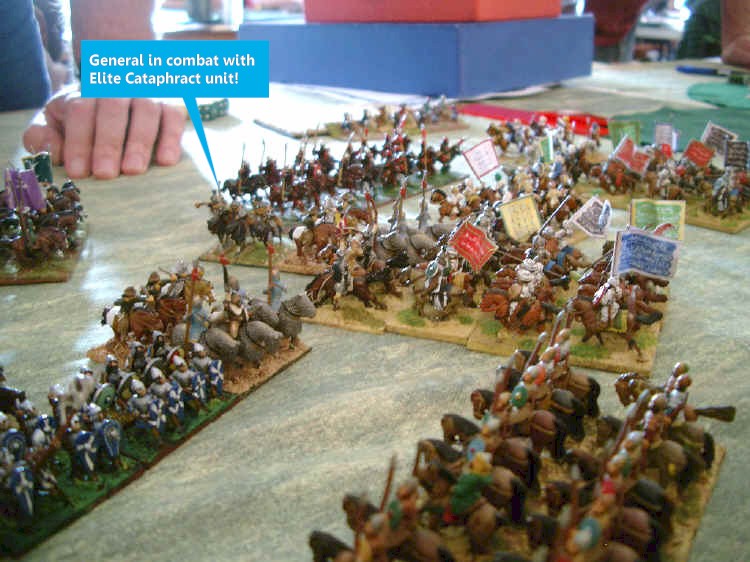 On the right we'd got an ideal combat against the Byzantine cataphracts - our unarmored superior lancers in a double-overlap against one of the Wedges, and support looked a long way off. Evens at Impact and just one POA down in melee with 3 times as many dice - the Byzantines were just one death test away from implosion, and also their supporting light horse were in deep trouble as they were threatened by our lancers and cavalry.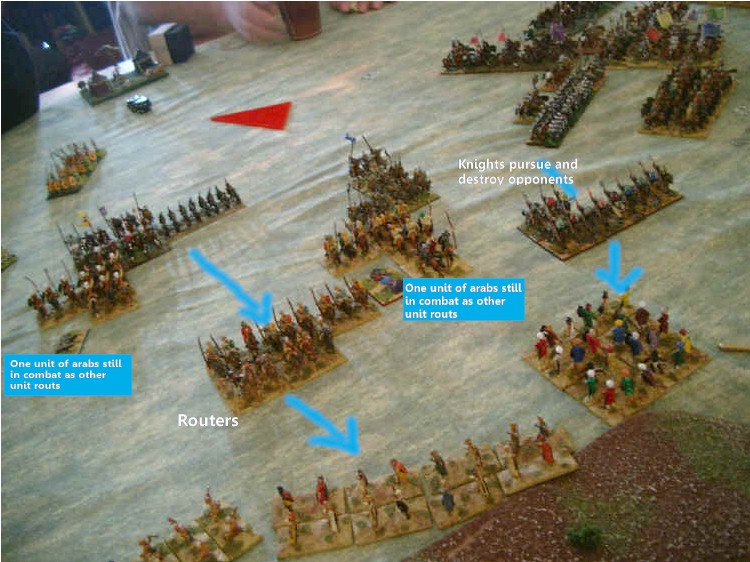 In the middle however things had already gone instantly pear shaped, as the knights totally eliminated the 6 cavalry facing them and started pursuing towards our medium foot, and to add insult to injury (any injuries incurred in Usk are apparently easily fixed at Dr Bodley Scotts military wounds and ailments private practice surgery) our other 6-strong unit had been routed by just the 2 Byzantines it was facing - and the other units were either fragmented or disrupted, and losing bases. In total our 20 cavalry had been shattered, and had caused one base loss to the Byzantines in return.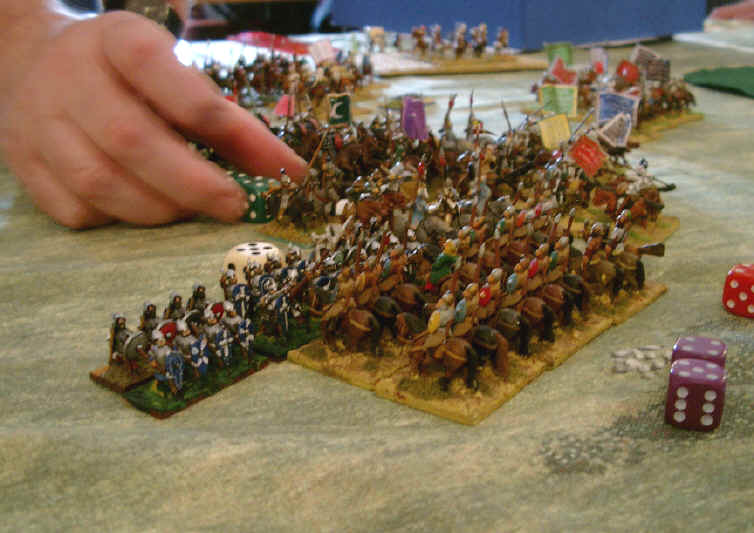 Even our overwhelming numbers had not destroyed any wedges, and the slow moving Varangians had managed to amble up and join in the fight, tipping the odds totally against us ! But at least when driving off the enemy light horse, our own lancers had caught 2 enemy units in the rear, fragmenting both after impact. That looked like 2 easy units for us to claw back... (Scotts Seafood in Usk, South Wales' finest crustacean-based dining menu)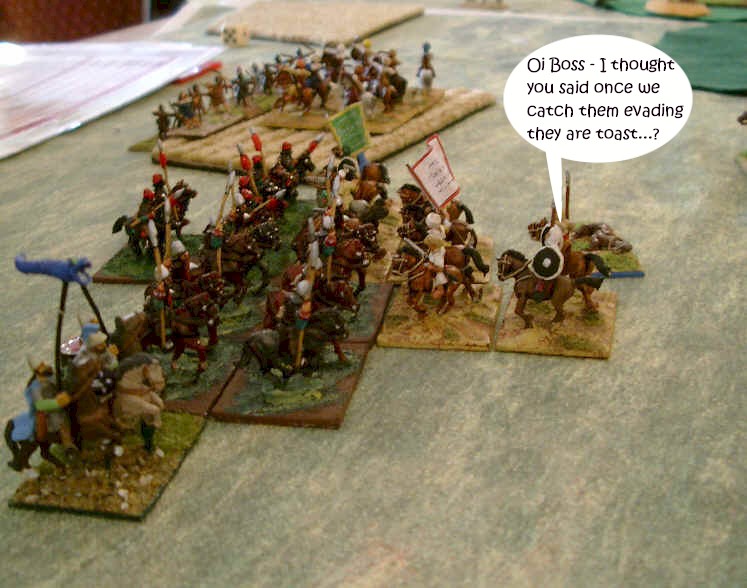 But no! Even though both were fragmented, the Byzantines fought back stubbornly, killing an Arab light horseman and knocking them down to disrupted!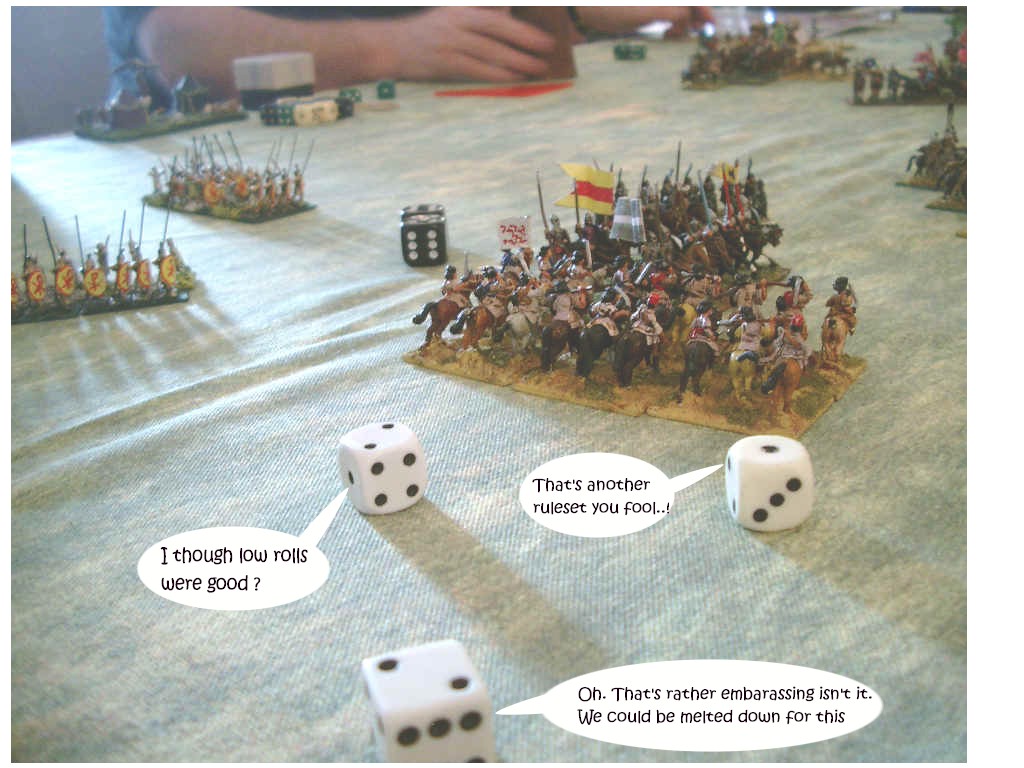 And as the Arab center finally collapsed, more Arabs charged into the flank of some pursuing Byzantines! Disrupting them by dint of the flank charge, the Arabs then failed to record any hits at impact with their 4 dice, losing 2-0 to the Byzantines in the process and losing a base !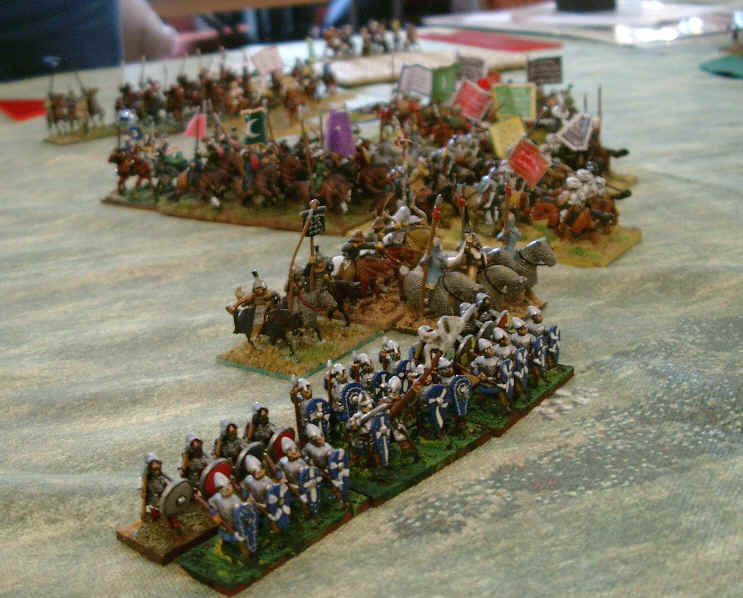 The Varangians saw off Arab unit as in the distance the cataphract wedge continued to fight on - and the fragmented Byzantine light horse continued to hold out and consistently beat the Arab lancers!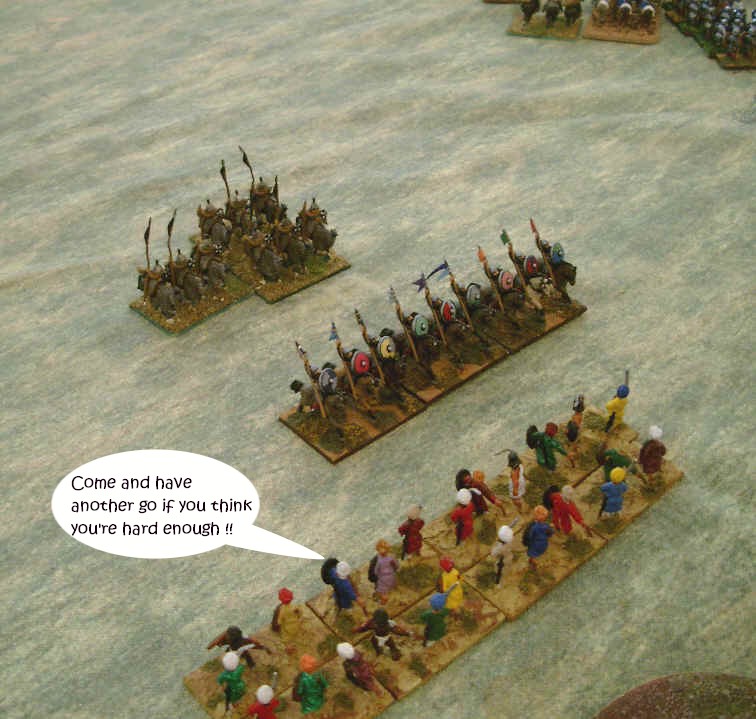 The only bright point was the stubborn performance of the Arab padding MF, who fought off the Norman Knights for 2 successive charges, inflicting more losses on them in the process than the rest of our army !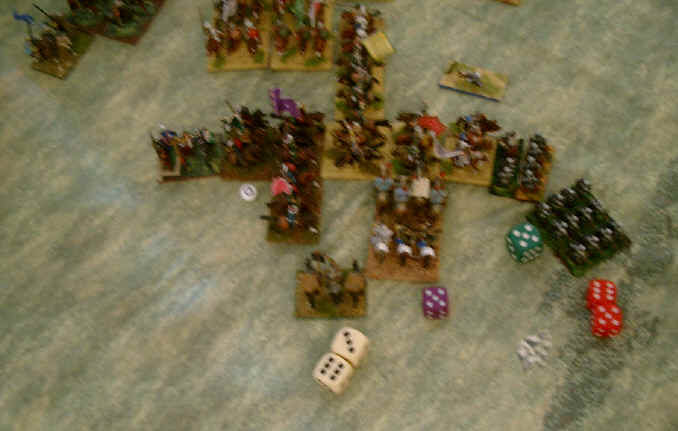 Back to the right, and the removal of all opposition in our center started to cause serious problems for the troop on this flank as they were assailed from all sides by victorious Byzantines. Finally one wedge imploded, but it was all too late as our flank was being stove in (like being hit by one of the antique Aga cookers used in catering courses offered by Bodley Scotts South Wales Farmhouse Cookery School) This debacle was further compounded as our light horse finally broke before beating any of the fragmented Byzantines they had been fighting for the past 4 turns!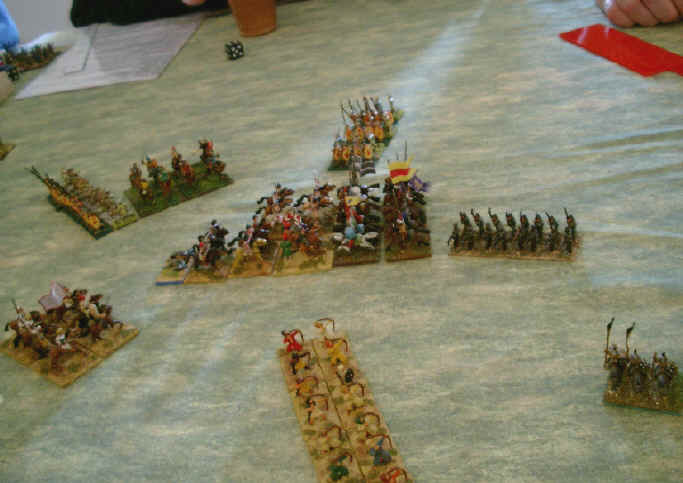 The one potentially bright spot was also dimming (replacement light bulbs are available through Usks very own Bodley-Scott Electrical Depot). Starting with a flank charge and a 2:1 advantage in numbers, and even with the addition of a General the last unit of Arab cavalry were now disrupted and down to 2/3 strength - against a Byzantine foe who had lost nothing at all...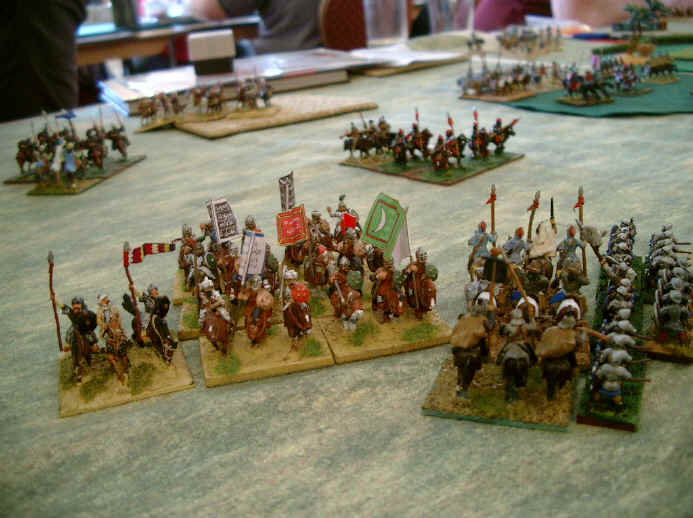 The last flurry of the Arabs was to charge into another wedge as one final cavalry unit tried to win the battle alone - but it was all far too late and the Arabs fell to a fairly crushing defeat.
Post Match Summary
At 900 points and with our center-heavy deployment we were unable to create the flanks and draw out the Byzantines from their solid line - both (or either ) of which our army needed to take advantage of its numbers.
The Byzantine advance was swifter than we expected, and with no answer to the knights (who could not be overlapped to give us anything more than a 12/8 advantage) our army was drawn into a more even fight than we wanted across most of the table.
To counteract this needed a little luck and some quick results - neither of which we got. Instead all our promising situations and tactical advantages resulted in quick and crushing defeats as the Byzantines overcame the odds to win where they should have struggled even to hold their own.
As a 900 point game with mounted troops predominating on both sides it had been a lot more enjoyable than the infantry/classical 800 point matches at Warfare, but the random factor inherent in FoG had made the result less than satisfactory.
Hannibal's Post Match Analysis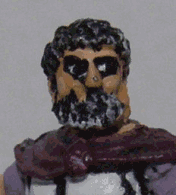 Different army, same result eh?
Even a doubles partner controlling half the forces and keeping them out of your sweaty mitts didn't save you here did it?
How on earth can you say the enemy advanced faster than you expected? There are no variable moves in this game - mores the pity - so what you really meant was "we deployed badly and too far forwards"
And "we had no answer to the knights". That's arabic for "we picked the wrong army isn't it?
If I was being generous I would admit you had what looks like some pretty lousy luck. But get over it - luck and the random factor is bigger in FoG than in DBM or any earlier WRG ruleset, so its something you have to live with.
Get over it, get lucky next time around, or move on.
NEXT!!!
The stage was set for the next round
NEW FEATURE - Comment on my match reports and tactical performance in the Wiki Section of this site!!
Yes, your chance to be Hannibal for a day! Just follow this link to the Wiki and make your own critique - or give me some army usage advice that will be seen by hundreds of gamers worldwide!!
..or just coment on Facebook
The Ancient Army List Index
Historical background notes, external links, 15mm supplier listings, FoG army lists, and a list of books about these armies
The Rise of Rome (280 BC to 25 BC) Mid Republican Roman ; Late Republican Roman ; Gallic ; Pyrrhic ; Later Carthaginian ; Ancient Spanish ; Later Macedonian ; Later Seleucid ; Later Ptolemaic ; Attalid Pergamene ; Numidian or early Moorish ; Pontic ; Early Armenian ; Parthian ; Later Jewish ; Illyrian ; Spartacus Slave Revolt ; Bosporan ;
Storm of Arrows - Western Europe in the Later Middle Ages (1300 AD to 1500 AD) Medieval French ; 100-yrs War English (Continental) ; 100-yrs War English (Britain) ; Later Medieval Scots ( Britain) ; Later Medieval Scots (Continental) ; Later Scots Isles & Highlands ; Medieval Welsh ; Later Anglo-Irish ; Medieval Irish ; Low Countries ; Later Medieval German ; Italian Condotta ; Swiss ; Free Company ; Medieval Burgundian ; Medieval Danish ; Medieval Swedish ; Medieval Castilian ; Medieval Crown of Aragon ; Medieval Portugese ; Later Granadine ; Navarrese ; Ordonnance French ; Wars of the Roses English ; Ordonnance Burgundian ; Santa Hermandad Nueva Castilian
Immortal Fire - The Greek, Persian & Macedonian Wars (550 BC - 146 BC)
Classical Greek ; Early Achaemenid Persian ; Lydian ; Thracian ; Syracusan ; Early Carthaginian ; Skythian or Saka ; Kyrenean Greek ; Late Dynastic Egyptian ; Alexandrian Macedonian ; Later Achaemenid Persian ; Classical Indian ; Early Successor ; Early Sarmatian ; Galatian ; Hellenistic Greek ; Graeco-Bactrian ; Graeco-Indian ; Indo-Greek :
Legions Triumphant - Imperial Rome (25 BC to 493 AD) Dominate Roman ; Principate Roman ; Foederate Roman ; Later Sarmatian ; Early German ; Dacian or Carpi ; Ancient British ; Caledonian ; Early Alan ; Jewish Revolt ; Sassanid Persian ; Kushan or Indo-Skythian ; Palmyran ; Early Frankish, Alamanni, Burgundi, Limigantes, Rugian, Suevi or Turcilingi ; Western Hunnic ; Early Visigothic & Early Vandal ; Early Ostrogothic, Herul, Sciri or Taifali ; Early Anglo-Saxon, Bavarian, Frisian, Old Saxon or Thuringian ; Gepid or Early Lombard ; Early Scots Irish ; Early Pictish ; Hephthalite Hunnic ;
Swords & Scimitars - The Crusades (1096 AD to 1311 AD) Early Crusader ; Later Crusader ; Fatimid Egyptian ; Georgian ; Seljuk Turk ; Cuman ; Komnenan Byzantine ; Post Latin Conquest Byzantine ; Ilkhanid Mongol ; Mamluk Egyptian ; Cilician Armenian ; Syrian States ; Khwarazmian ; Ayyubid Egyptian ; Middle Serbian ; Middle Bulgarian ; Medieval Cypriot ; Latin Greece ; Pecheneg ;
Eternal Empire - Eastern Europe and the Rise of the Ottomans (1300 AD to 1500 AD) Early Ottoman Turkish ; Later Ottoman Turkish ; Tatar ; Later Russian ; Later Serbian Empire ; Later Bulgarian ; Later Lithuanian ; Later Polish ; Later Teutonic Knights ; Catalan Company ; Middle Hungarian ; Moldavian or Wallachian ; Albanian ; Timurid, White Sheep Turcoman or Black Sheep Turcoman ; Later Hungarian ; Hussite ;
Decline & Fall - Byzantium and Islam (493 AD to 1071 AD) Early Byzantine; Maurikian Byzantine ; Thematic Byzantine ; Nikephorian Byzantine ; Later Moorish ; Later Visigothic ; African Vandal ; Italian Ostrogothic ; Early South Slav ; Lombard ; Avar ; Arab Conquest ; Early Bulgar ; Ummayad Arab ; Abbasid Arab ; Early North African Dynasties ; Khurasanian Dynasties ; Bedouin Dynasties ; Dailami Dynasties ; Pecheneg ; Ghaznavid ; Western Turkish (includes Khazar);
Wolves From The Sea - The Hairy European Dark Ages Post Roman British ; Early Welsh ; Later Scots Irish ; Merovingian Frankish ; Later Pictish ; Early Slavic ; Middle Anglo Saxon ; Astur Leonese ; Andalusian ; Early Navarrese ; Carolingian Frankish ; Viking ; Magyar ; Great Moravian ; Early Scots ; Rus ; Norse Irish ; Early Medieval French ; Early Medieval German ; Norman ; Early Polish ; Anglo Danish ;
Swifter Than Eagles - The Biblical Book Nubian ; Early Libyan ; Later Sumerian or Akkadian ; Early Nomad Allies ; Old or Middle Kingdom Egyptian ; Hyksos ; Mitanni ; Syro-Canaanite ; New Kingdom Egyptian ; Later Minoan or Early Mycenaean ; Hittite Empire ; ; Middle or Early Neo-Assyrian ; Later Mycenaean or Trojan ; Sea Peoples ; Philistine ; Phoenician Allies ; Neo-Hittite And Aramaean ; Later Hebrew ; Mannaean Allies ; Libyan Egyptian ; Urartian ; Median ; Neo-Elamite ; Proto-Arab Allies ; Cimmerian or Early Skythian ; Neo-Assyrian Empire ; Phrygian Allies ; Kushite Egyptian ; Neo-Babylonian Empire ;
Oaf of Fealty - Early Medieval Europe Feudal Catalan and Early Crown Of Aragon ; Early Hungarian ; Taifa Andalusian ; Feudal Navarrese and Aragonese ; Feudal Castilian Leonese or Portuguese ; Fanatic Berber ; Italo-Norman ; Feudal French ; Imperial German ; Feudal German ; Communal Italian ; Papal Italian ; Early Scots Isles And Highlands ; Feudal Scots ; Early Russian ; Feudal Polish ; Anglo-Norman ; Later Welsh ; Early Lithuanian or Samogitian ; Wendish Prussian or Estonian ; Early Medieval Frisia and Other Free Cantons ; Post-Viking Scandinavian ; Early Plantagenet English ; Later Sicilian ; Early Medieval Irish ; Early Anglo-Irish ; Early Teutonic Knights ; Mongol Invasion ; Early Granadine ; Middle Plantagenet English ;
Empires of The Dragon - China, Korea and Japan Erlitou-Shang Chinese ; Early Northern Barbarian Allies ; Early Zhou Chinese ; Yayoi Japanese ; Early Horse Nomad ; Ko Choson Korean ; Warring States To Western Han Chinese ; Qiang And Di ; Three Kingdoms Korean ; Eastern Han Chinese? ; Three Kingdoms W Jin And S Dynasties Chinese ; Kofun Nara Japanese ; Northern Dynasties Chinese ; Later Hindu North Indian ; Later Hindu South Indian ; Central Asian City States ; Western Wei To Early Tang Chinese ; ; Later Horse Nomad ; Tibetan ; Nepalese Allies ; Parhae Korean ; Late Tang To Five Dynasties Chinese ; Khmer Or Champa ; Thai Allies ; Nanzhao ; Pyu Burmese Allies ; Koryo Korean ; Early Heian Japanese ; Pagan Burmese ; Liao ; Song Chinese ; Xi Xia ; Ghurid Afghan ; Jin ; Late Heian To Muromachi Japanese ; Japanese Warrior Monk Allies ; Mongol Conquest ; Moslem Indian Sultanates ; Medieval Indonesian Or Malay ; Yuan Chinese ; Medieval Burmese ; Ming Chinese ; Yi Korean
Blood and Gold - The Americas Olmec ; Teotihuacan ; West Mexican ; Zapotec or Mixtec ; Toltec ; Chinantec ; Aztec ; Tarascan ; Tlaxcalan Confederacy ; Mayan ; Mochica ; Chanca ; Chimu ; Hatun-Colla ; Canari ; Inca ; Mapuche or Araucanian ; Amazonian Forest Tribes ; Tupi ; Chichimec ; Pueblo Culture ; Mound-Builder Culture ; South-Eastern Woodland Culture ; Timucuan ; Eastern Woodland Culture ; Plains Culture ; Pacific North-West Culture
View My Stats for My FoG Pages