Photos of Painting War Magazine from Spain
A very unique publication
One of the nice things about producing a website such as this one is that occasionally nice people send you nice stuff - and this is exactly what happened when Quino Ruiz contacted me via the Madaxeman.com Facebook Page to see if I wanted to road-test a couple of editions of their new magazine (more of that later...) Painting War.
There is lot's more of this random-type stuff on my Links Page
Of course, like all wargamers the idea of free stuff - and the possibility of getting into a new collectable "thing" - was irresistable, and soon a fat padded envelope appeared on my kitchen table out of which slid three rather impressive and extremely well produced magazines... and, even better, a handful of (admittedly somewhat random) miniatures.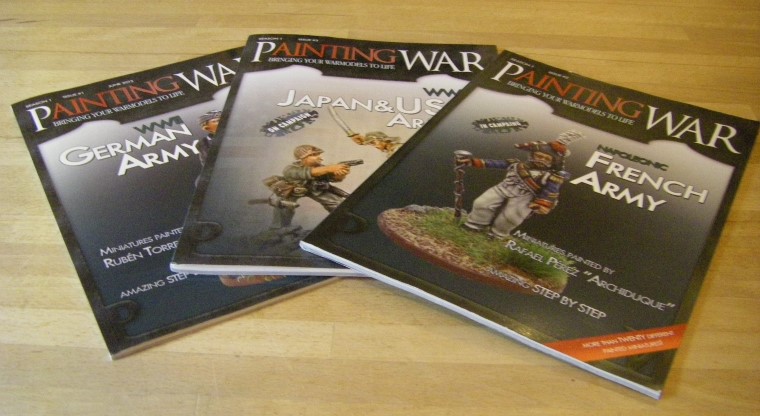 The first thing that strikes you is the heft of the magazines - these are well-bound expensively produced publications with very high production qualities, and that means they are actually are veering extremely close to being reference books. The layout and quality would put several sets of rules to shame, and would stand up well against the eye-candy of any of them out there today. And once you open the books (let's call them that) you almost immediately find out why.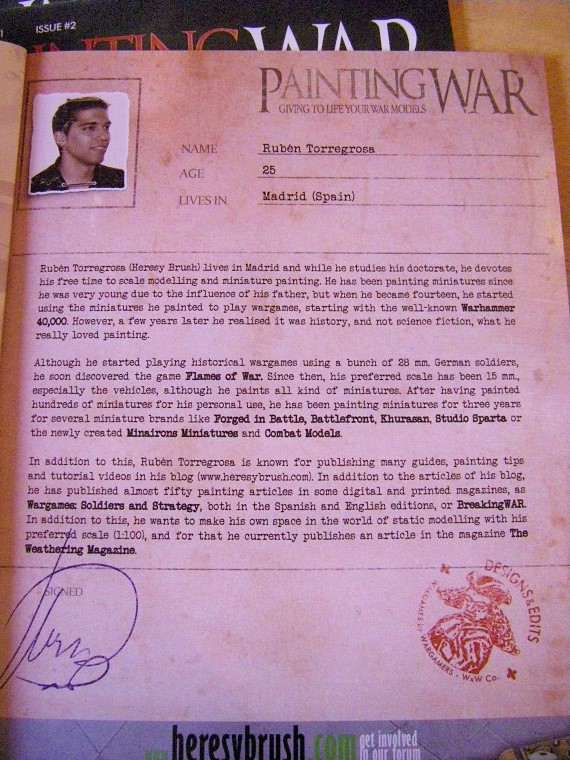 That's because these are not really a series of magazines with news and articles each month or quarter - instead this is a "collect them all" series of reference books on world-class painting, with each edition focusing on the work, and the style and techniques used by a "famous" miniatures painter and looking at a relatively narrow subject matter. This first one covered the (OK, fairly broad) topic of WW2 German uniforms, with all of the miniatures painted by Heresybrush.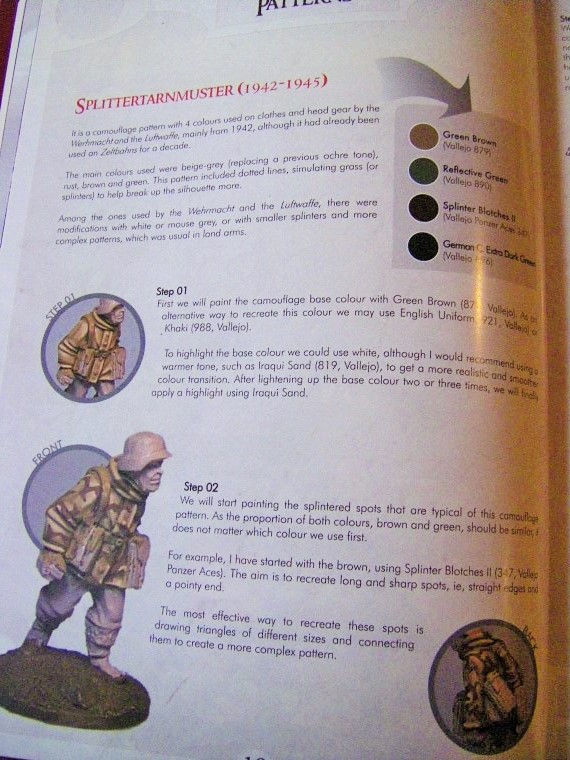 But this is far, far more than a fat book of wargamers eye-candy. The level of detail on paint choices and painting techniques given is incredible - someone must have sat down and used their best Seville Orange Juicer
to squeeze all of the best juicy bits out of Heresybrush over a matter of days and weeks, and then carefully commit them to the page to create this publication!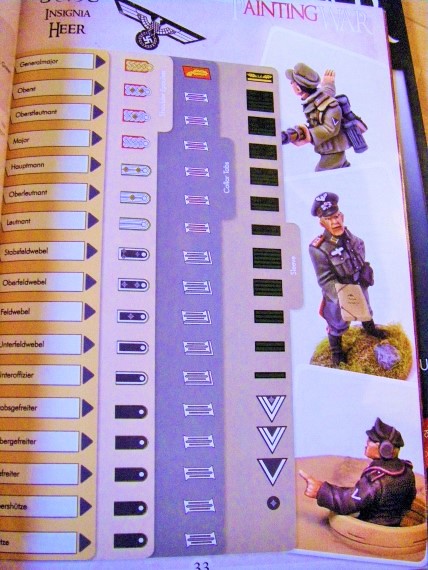 As well as eye candy and painting, all three of the books I was sent included at least one, often more uniform and insignia guides - which when sat next to pro-quality painters suggestions on how you reproduce these on 28mm (and sometimes 15mm) fiigures has already gotten me thinking about retrofitting some insignia to at least a couple of my WW2 armies.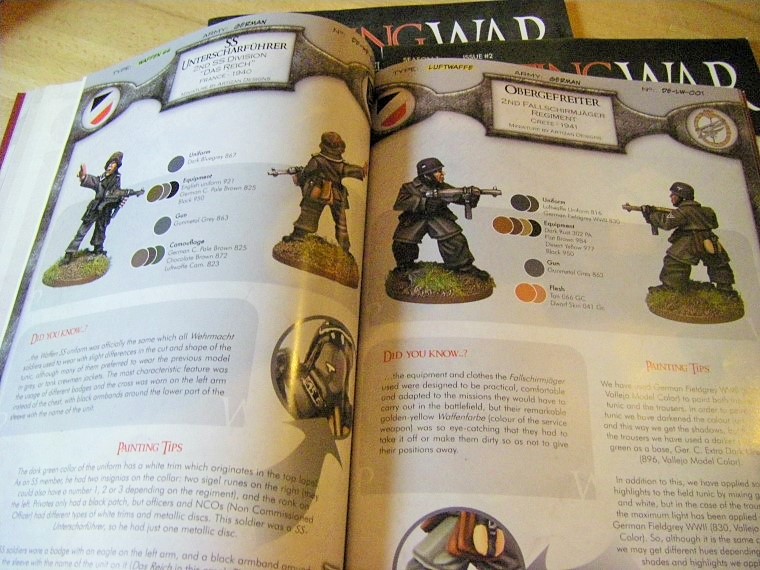 There are also a few interesting background snippets in there, mostly about uniforms - but they are all the sort of hyper geeky "actually, the pale grey undersocks were occasionally worn by mountain troopers deployed below 1,800 feet just prior to the end of 1944, even though the regular army didn't issue them until January 1945" type of things that you can drop into mid-game conversation and talk down patronisingly to your next opponent, so all good there too really.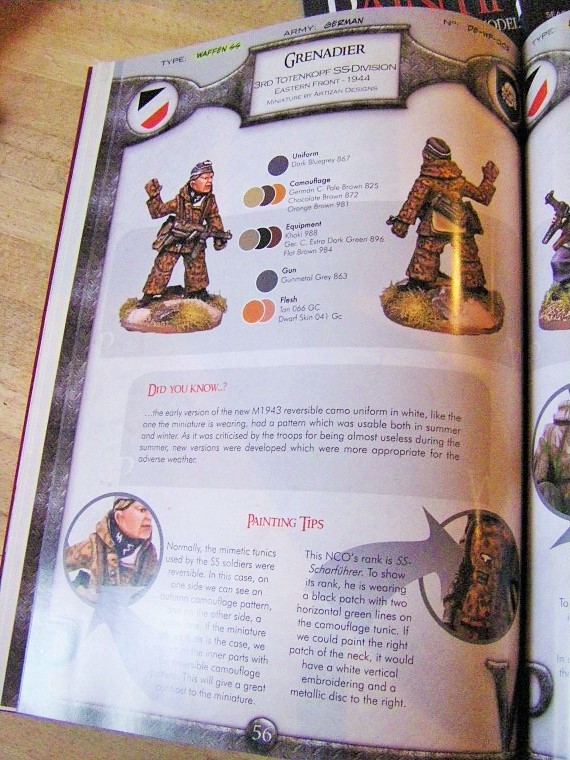 Most have Vallejo paint references, but this depends on the preference of the painter - some use mixed media, even oils for particular effects and for every page there is a new tip and technique.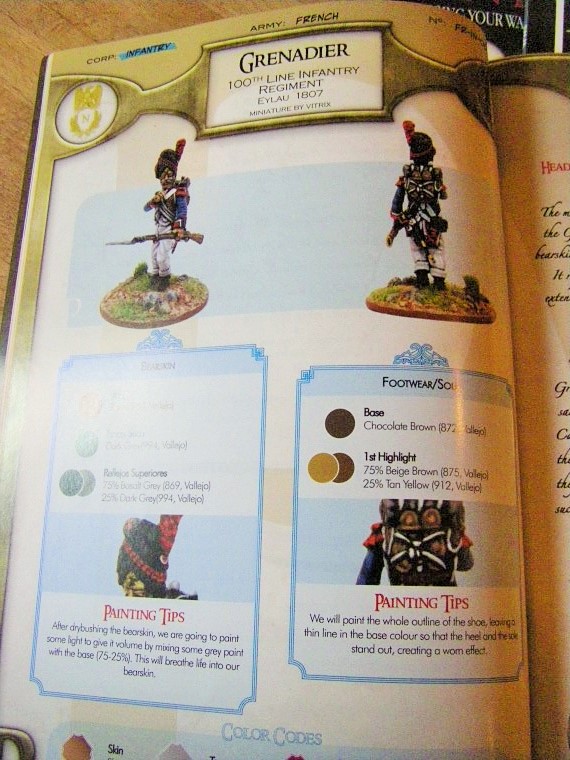 The Napoleonic edition focuses just on French troops - you can see where they could keep the magazine going for many years on this basis!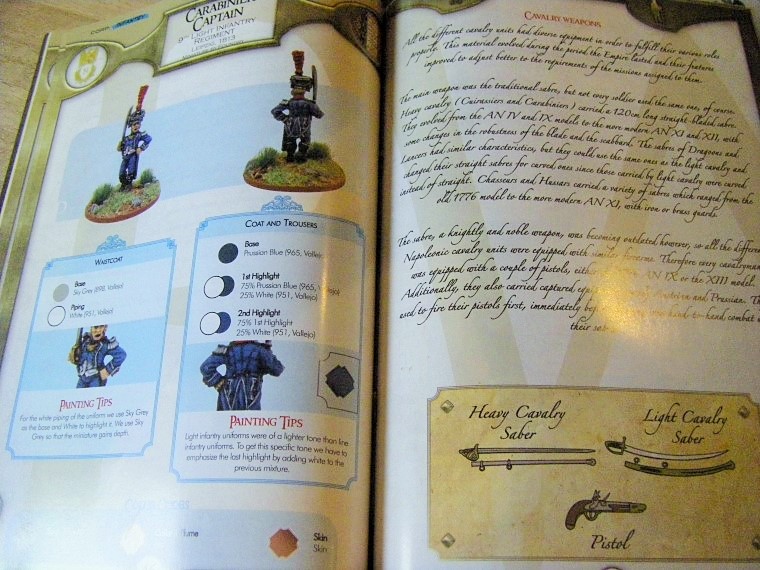 To see how much layering and detail goes into the figures from these best-of-the-best professional painters laid out on the page is fascinating in itself - but the walk-through is always simple and clear enough that it looks entirely possible to follow it. Whether I have the patience is yet to be determined of course...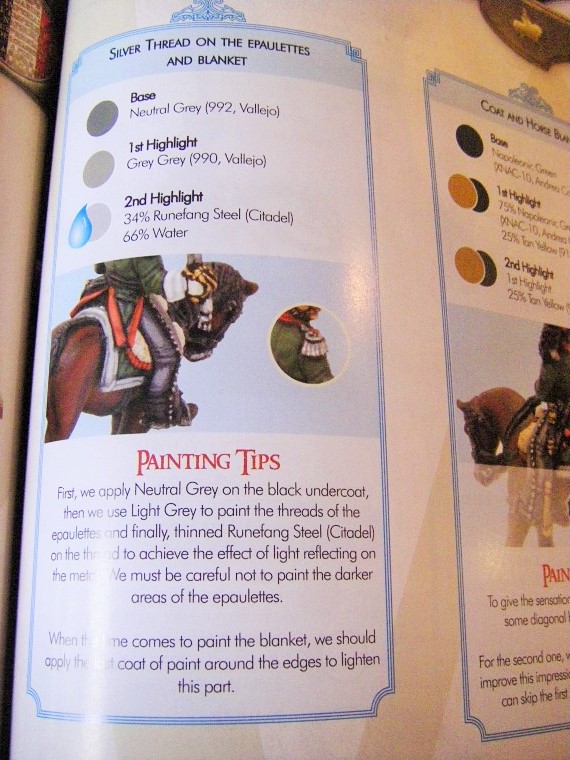 Much of the publication is - of course - focused on the marger 28mm or even 32mm figures. It's hard to imagine painting epaulettes on a 15mm figure with three layers of highlighting, although I am sure there will be someone out there doing it even as we speak.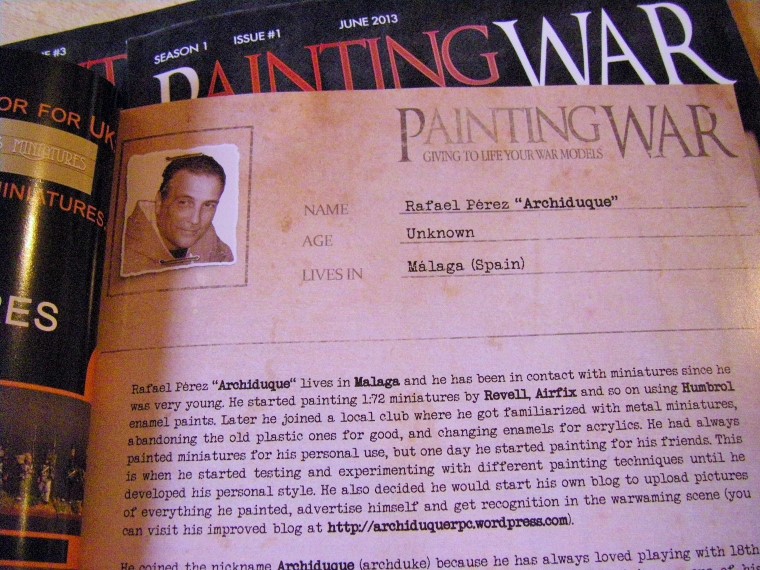 All three of the painters in the first three publications in the series are Spanish - makes you wonder what exactly is in the water in Spain to inspire there folks - each also has a blog and website such as this one for Rafa Archduke - one could easily imagine other well-known painters actually asking to be featured in future editions if the publications pick up enough of a following. Rafa is the bloke who has painted the "proper" versions of the Totentanz 15mm Renaissance figures on their website, which are far better than my own ham-fisted efforts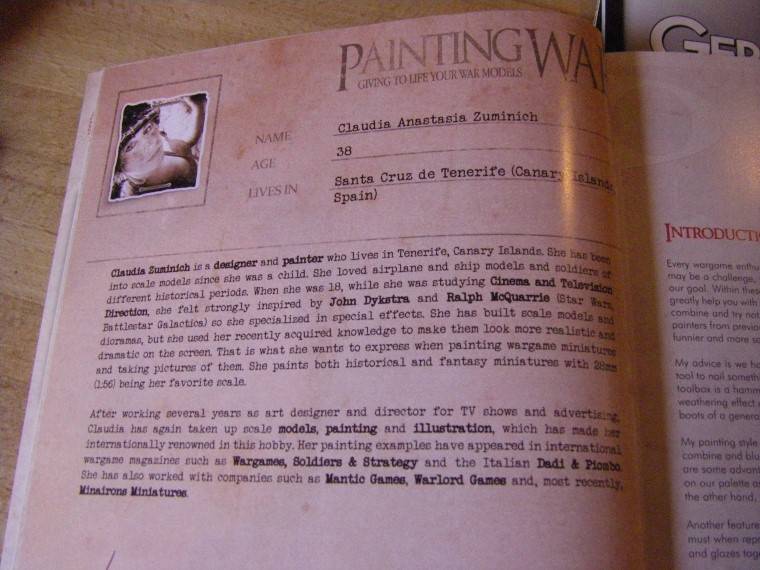 The most mind-boggling edition features the work (and techniques) of Claudia Zuminich, and covers US and Japanese WW2 troops (oddly enough, not just US Pacific theatre - there are a good number of Europeans in there too).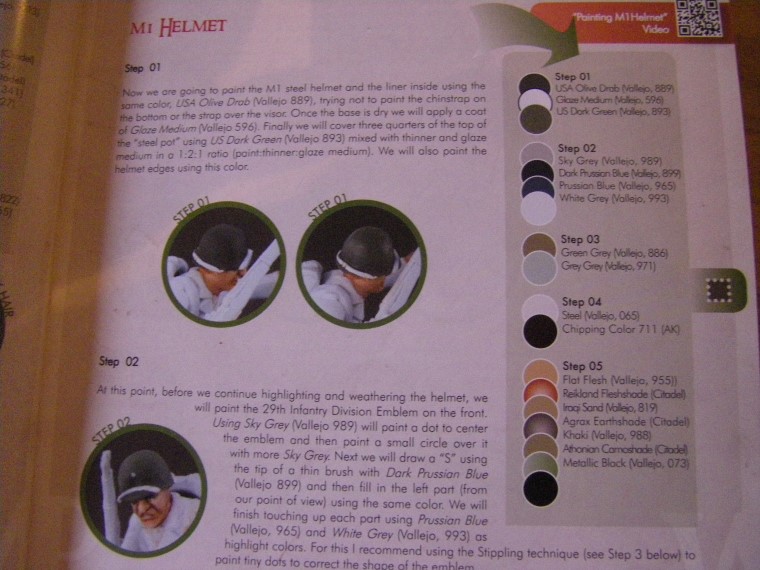 The sheer number and complexity of the paints Claudia seems to be applying to each model is almost impossible to believe - multiple layers, glazes, different types of paint, all turning out works of art. But, even with this almost insane level of detail there are useful tips to be picked up by the more casula painter (ie everyone) about painting insignia and the like - such as you can see here.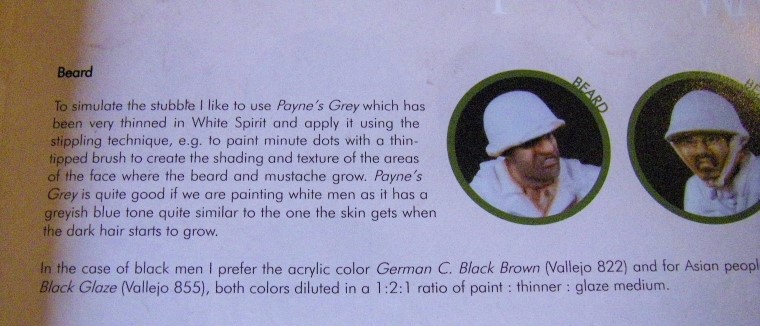 All of the painters go into some detail on skintones and faces - which is great, as then there is something for every period even in a WW2 book such as this one. The magazine also gives you a real insight into the patience the really good painters must have, and the thought (and presumably experimentation) that must also go into achieving some of the specific tones, colours and effects they can achieve. A long way different to just getting figures on table quickly!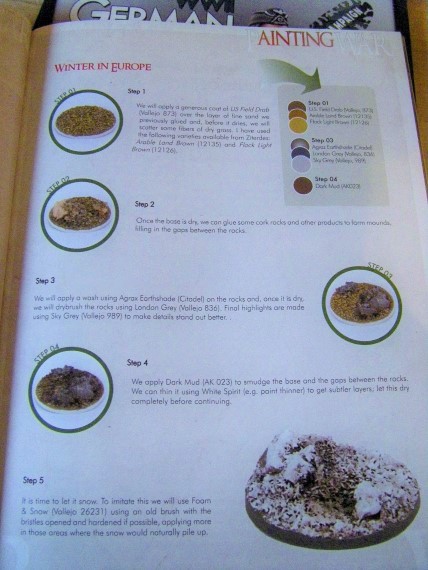 Claudia even covers some basing techniques in the book on US figures - OK, this only involves 7 different layers of paint and effect, so a pretty quick and easy finish really, but you get the idea....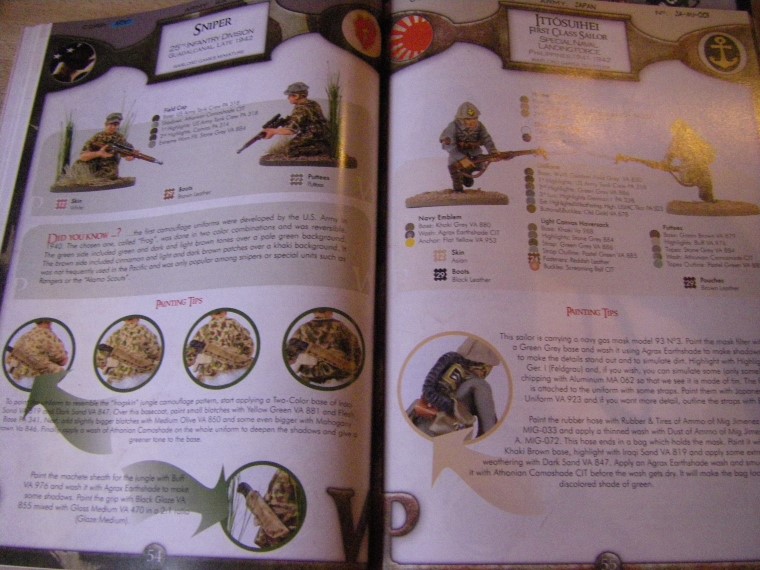 By the end of each book you will - I guarantee - know more about how to paint any and every uniform, piece of soldier equipment and every type of weaponry than you did before. Whether you use all of the techniques I suspect is debatable - and if you use all of the paints they suggest, I'm buying shares in Vallejo right now!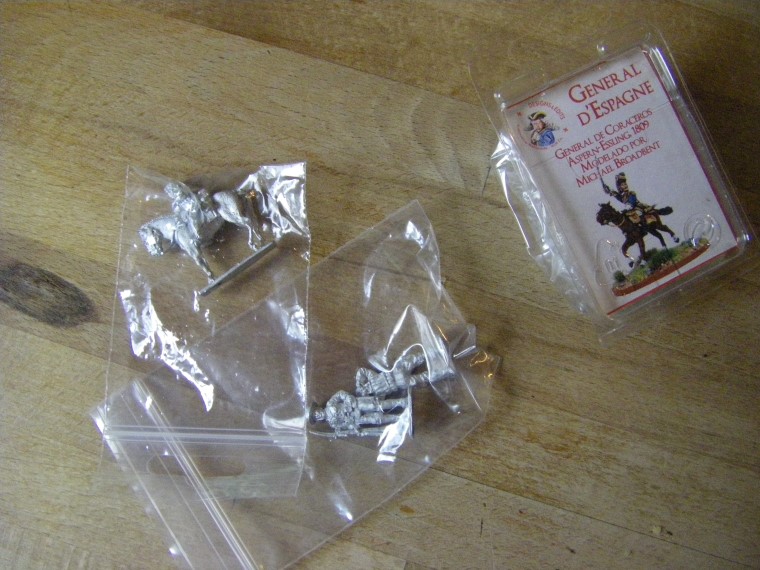 I also got there figures - so I suspect that every edition will come with a specially commissioned figure that you can try out the techniques on and see how far you get. That's now my plan anyway... not quite sure when it will be finished, but as and when I will share it here!
The Summary
First things first - these are not really magazines in the traditional sense of the word. They are really a series of wargamers (painters...) reference books in a collectable format, which there probably isn't a proper word for in English - maybe there is in Spanish (and there almost certainly will be in German - Collectorpaintertechnischeneye-candymagazineinebookletthingverynice perhaps)? And at 20 Euros each, they are not really priced as anything other than reference books either. However, as a detailed painting guide that blends uniform research and useful info with uber-high-end painting techniques I've not seen anything that even comes close to ticking the boxes of both Golden Demon aspirees and gamers who want to just have a guide to painting uniforms that is a bit (a lot) better than anything they can find for free on the web
What is really impressive though is - and this may sound daft - just how much better and more detailed these publications are than the many, many online painting and uniform guides that you can find for free out there. To command a 20 Euro fee is pretty bold, and you need a good product to justify it, especially to a tight bunch of whingers like most gamers. Even though I was sent these as complimentary copies, and even though I'm never going to be even 10% as good as these painters, reading through them I found myself thinking that next time I start on a new (uniformed) army - or, god forbid, that I take the plunge and add 28mm to my 6mm, 10mm, 15mm and 20mm WW2 collections - that I would look and see if there was one of these books for that period and army, and invest in it just simply so I had something to refer to, aspire to, and learn the odd trick or two from. Which, as a wargamer saying he'd willingly choose to spend his money on something that is not figures or paints, is about as good a recommendation as you will ever get.
The publications are available in the UK from North Star, and direct from the publisher in Spain as well.
---
That's the end - so why not go back to the Links Page and browse through some more stuff