L'Art de la Guerre Resources Page
This page is my directory of L'Art de la Guerre Resources for the ADLG / ADG wargame rules. It links to other things on this site, and to a host of external sources for L'Art de la Guerre (mostly in English).
There is now an ADLG supplement/mod for the Renaissance period too!

You can download the mod, army lists and playing aids for FREE here
L'Art de la Guerre is a ruleset which was originally developed in France, and had undergone a couple of editions before the 3rd edition was translated into English and published in English-speaking countries. The 4th edition, fully revised and updated, was released in early 2021
The rules play like a combination of an updated, cleaned up DBM with an infusion of some of the elements of unit-based games. Each army is - in the standard game size - about 20-25 maneuver elements,. This means you only need maybe close on 40 bases of standard DBx-based troops, as Heavy and Medium Infantry types are represented by 2 standard bases locked together as a (15mm) 40x40 or 40x30 "DBE" base leaving LI and mounted troops as single bases. This is for the 200 point version of the game with 3 commands, which plays out in under 2 hours - you can also play a slightly larger 300 point version which will see you going to 4 commands and maybe 30-40 maneuver elements.
Either way the feel is very much "big battle" due to the fact you have 20-30 units under your command, all of which move around the table in battle lines - as opposed to the more skirmishy "firework display" feel I have found you inevitably get from unit-based games like FoG or MeG where you are only controlling a dozen-or-so units, and they often end up moving around the table independently. To me, that sort of game always leaves me with a nagging feeling of "Only 12 Units? Why don't I just play DBA then, and resolve all of these lengthy combat sequences with a single D6, instead of all this extraneous faff ?"
Everything you need comes in the one volume rulebook - which for v4 is a handsome beast, with 260-odd pages including all of the lists for the ancient and medieval era. The lists in v3 were very clearly based on the 4 key "historical texts" of DBM, but in v4 there has been more work done to update and revise them all, including separate sections for different geographies and eras to allow more easy themed competitions.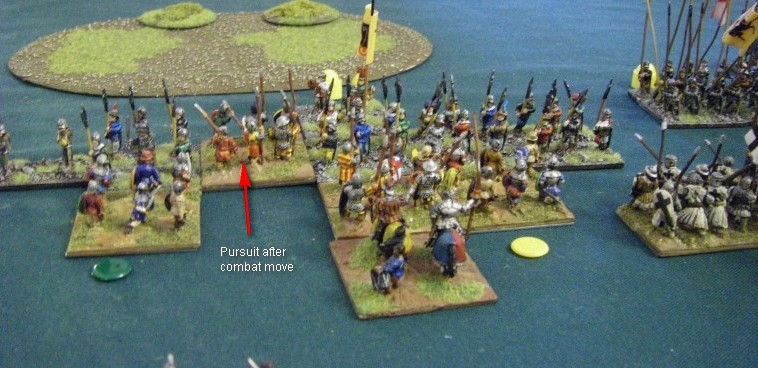 In 25/28mm most infantry units are based on 60mm x 60mm, and the 200 point game plays extremely well with 20-30 moving units on a near standard sized 6x4 table.
The core mechanics are also DBx-based, with opposed dice rolls between elements forming the core combat mechanic and pips for command and movement. Where it differs from DBx rules is that each "unit" has a number of cohesion points or hits. Heavy infantry can take 3 hits before a 4th hit removes them from play, Medium Infantry and Cavalry have 3 hit points in total, and light troops 2. Each time you lose a combat or shooting duel you suffer one or more hits - but a general can also rally units to remove hits. This sounds like a subtle difference but it introduces a whole new dimension to troop types and how they are used compared to both DBx, and unit-based rulesets where unit size is what matters - "resilience". Heavy Infantry in ADLG simply have greater abiilty to take punishment than Mediums, and so you can be confident that a line of Heavy Foot will take longer to grind down than a line of Medium Foot - irrespective of Armour or Troop Quality.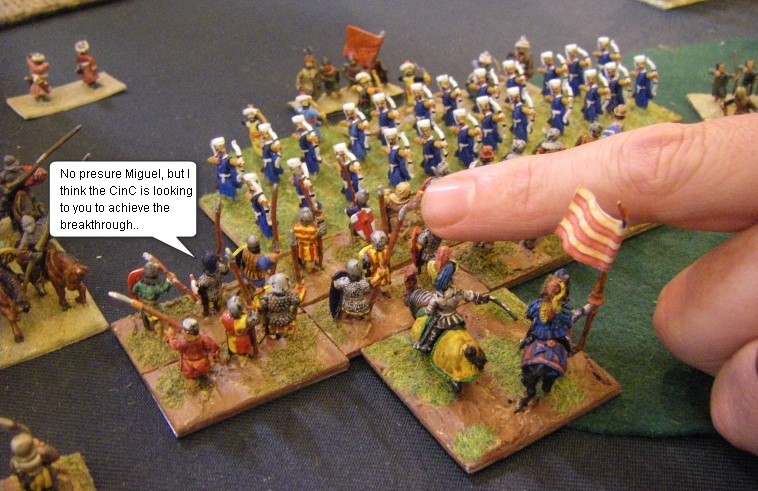 Troop Quality works to mitigate poor dice rolls by Superior troops, and reduce the possibility of extremely good dice rolls by poor troops - which feels logical. Armour also works in an old-school logical way, making troops with better armour harder to beat. There are a number of other common-sense post-combat effects to add flavour and variety, such as "barbarian" troops inflicting extra hits on the enemy if they win in the first round of combat, or mounted troops doing likewise when beating Medium Foot in the open. Unlike DBx games, Light troops do also shoot - which is an irritant to their targets with potential to become significant if left unopposed, rather than a game winning tactic and mechanic (as it sort of became in FoG) or an irrelevance as it seems to be in MeG.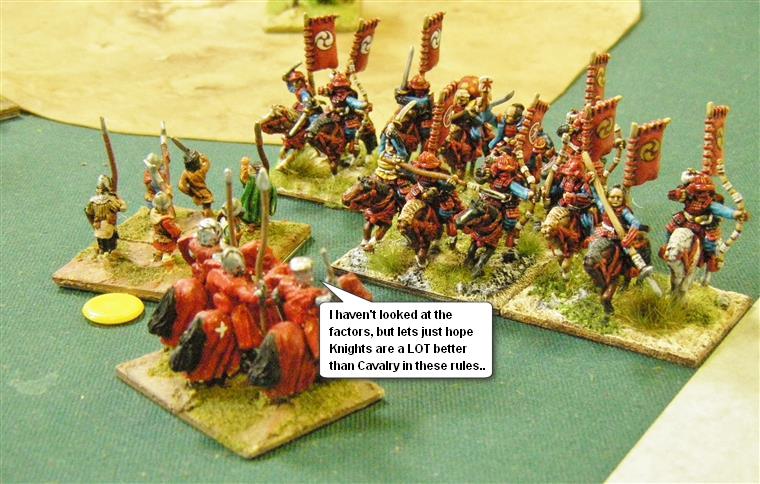 .
I did say earlier that it is a cleaned-up DBM, and that means that even though it has been translated from French, there is no 'Barkerese' - plenty of diagrams (even more in v4 than v3) and evidence of a load of playtesting on the global competition circuit, all of which is backed up by the authors use of a "Technical Committee" of experienced players from around the world who he has used to steer developments and knock out any niggles in the rules before publication. This also means there's no "lobbying the author" to be done - it's all been hammered out and sorted pre-publication. The Technical Committee are active on the forum, and any queries usually get a direct repsonse and a quick turnaround - anything even slightly vague is included in the latest FAQ, which is also updated regularly
Internationally the rules are now well embedded in the competition community with active circuits running across France, Belgium, Spain The USA, the UK, Italy, Australia, Ireland, Greece and New Zealand amongst others. As of today ADLG is the most widely played Ancients competition ruleset in the world, and by some margin in the UK where 200+ players had entered an event in the 12 months prior to Lockdown in 2020
I also set up an L'Art de la Guerre Wiki which has a separate page for every ADLG army containing historical data, links to other sites, tactical tips on using the army, and all the army lists I come across for that particular list, as well (sometimes) as where to buy (15mm) figures from, a list of relevant books and collated results from competitions. This is here in The ADLG Wiki, where you can edit the pages yourself (yes, honestly!) and add stuff to it. So, you can add more detail on loads of ADLG armies, including Army Lists, Tactical Tips, 15mm figure suppliers, photos, external links, history and relevant books
Other L'Art de la Guerre Stuff and resources
Online groups and resources
My rant about why it would be great if we all used the same rules - and why ADLG might well be that set
the Official Forum online in multiple languages
the English language FAQ, updated and to download
ADLG Playing Aids for Newbies - lots of really useful stuff from Martin at Vexillia
Kurtus Browns Youtube Channel - for ADLG !
Global Ranking system - see how many players around the world are taking part in ADLG competitions
ADLG List Builder Online - at Little Army Designer
UK Rankings - compiled by the BHGS
Other Blogs, websites with ADLG stuff
Phil on Ancients ADLG Blog - many, many battle reports
Rough Wars blog - batreps at 100 points and more
Sgt Steiners Blog - reviews, battle reports
Despertaferres ADLG Blog
Wall of Shields - battle reports, focused on Romans
The Shire & Everything After Blog - battle reports from the North Eastern borders of England
Irregular Wars Blog - lots of content, and some lovely 6mm armies
Tales from a Wargame Shed - mostly battle reports
WWPD - 28mm battles
The Wargamer website - a full review
Urban Bunnie - battle reports and reneral ramblings
The Recoilling Knight and the Surrounded Spear - a review and more
The Waving Flag - Martin from Vexilia's blog, with playing aids and helpful downloads
By Brush & Sword - more battle reports
Twin Cities Gamer Blog - those clicks and hisses sound like ..L'Art de la Guerre
Caliga Spanish manufacturer making ADLG mats, including deployment zones pre-marked
Tiny Wargames sell custom-sized battle mats
Battle Reports
Tibetans go hunting for Fish and Chips in Brixham in 2022. These reports are all in video format from The 2022 Brixham Classic
Warfare 2022 ,the Mycenean army has 5 themed games in Homer's The Silly-iad.
Later Hungarians take part in The Northern League in 2022. Peel back your eyeballs and watch these 3 video reports
The Delhi Sultanate take to the field in 5 5 fully trunked-up match reports
Achaemenid Shooting Towers in action in Portugal in a knacker-munching set of 5 battle reports
The Ukranian Rus take to the field in three consecutive games, with the Rus Abbott joke as well
The World Championships return to Rome and the Khurasanians return in 6 battle reports
An hour of video and pictures of 5 games using the Assyrians in glorious 25mm at Roll Call in Milton Keynes See how chariots roll in widescreen action !
ADLG in Germany in 5 match reports book-ended by two epic travelogues (and an accompanying podcast!) in this multi-part wargaming holiday slideshow
An all singing and dancing Khurasanian army at the Burton Doubles in 4 all-colour all-desert reports
A teeny-tiny Burgundian Ordonnance army takes the field on the south coast of England in 5 battle reports from the Beachhead ADLG competition
A ludicrous Peoples Crusade army of over 8 million figures (OK, but almost..) from Alicante in 2022
Feudal Hungarians make it to the tabletop (finally) in Five Feudal Heavy metal (and camel) clashes!
The first ever wargames event in Brixham sees The Sertorian Spanish and the BURNING CART OF DOOOOM!! in action
Thrill and swoon as podcast-inspired Saitic Egyptian army hits the beaches for 5 games against a raft of contemporary opponents. Will they line the beaches and fight them there, or take them on in the nightclubs and beer halls of the Pool Peninsula? Get a long stick and poke away here
The frozen North hosts the first ADLG tournament since the end of Lockdown with the Thracians playing in a period dominated by Cataphracts
On Youtube a Justinian Civil War game, speeded-up (so you can watch it without dying of boredom) on Tabletop Simulator battle from my Youtube channel
On Youtube - Camillan Roman vs Pyrrhicin a double-handed match report against Phil from the Phil on Ancients blog, which is both shown on my Youtube channel , and recorded with text and pictures on Phils Blog. Almost uniquely, there's also an "in the studio" debreif conversation featuring both players you can watch after the game too<
Carolingians vs Vikings, a speeded-up (so you can watch it without dying of boredom) Tabletop Simulator battle featuring Carolingians vs Vikings, shown on my Youtube channel
On Youtube - Alexander vs the Persians, Another fast-time international Tabletop Simulator battle shown on my Youtube channel
From the distant depths of pre-lockdown history these 3 "Doubles" match reports from the Cold Wars 2020 auditorium . Let's make Wargaming face-to-face Great again!
The Seleucid army takes to the tabletop for 4 Classical era battles in these 4 full-flavoured and decidedly hoppy battle reports from Burton!
In glorious 28mm the subtle and innovative Gepid army travels to the 2020 PAW competition in Plymouth in these 4 full-scale West Country reports. May the Pasty be With You!
Assyria's smallest army packs up and flies to the Provence region to take part in a French event in Avignon. Bain marie my friends, bain marie!
Some 28mm Vikings get their Bristols out in reports from Big Abona. Oooh-er missus!
The World Championships in glorious Rome with six fully illustrated, map-annotated, kawasaki-riding battle reports.
The Samurai take on a whole 5 different enemies in these FIVE fully different sushi-flavoured battle reports.
The New Kingdom Egyptians get an outing (or two) in a theme that is tighter than a chariot riders underpants in these SIX wheely wheely big battle reports.
The Lancastrians from the Wars of The Roses in a 25mm Perry Plastic special outing in these 5 massive big format match reports. Will we keep the Red Rose Flying High?
Central London take a team trip to Greece yet again to test the Assyrians in 5 battle reports and some food analysis Always good to get the first deployment under your belt - but I may need a bigger one after this weekend.
Pamplona is the home of the running of the bulls, so an ideal place to try out an army which may in itself be a load of old bull - the Koryo Koreans and their War Wagon Wagon Train in six battle reports featuring trucking good stuff.
The Galatian army engages in a bit of clothes-optional rambling on the South Coast of England in these five epic Classical Era match reports.
Food, Tourism, Cultural Appropriation, Booze... and a bit of ADLG wargaming thrown in for good measure as the Umayyad Arabs go to try and re-re-re-reconquer Spain in these 5 match reports from Estella 2018. The rain will certainly fall somewhere, but is it on my dice?
The West Country plays host to a 28mm-fest of vandalism and chaos as the African Vandals storm across the Mediterranean to arrive in the land of Wadworth 6X. See how they make the maths add up, in 4 reports with some added video and audio commentary on Game 1!
Limerick 2018 - Irelands first ADLG competition with a Han Chinese army. 5 Reports
A new format of top-down video reports show off the strategy - or lack of it - in 5 games from sunny Bristol. The army is Nikephorian, and it's Dogs of War 2018
An Alexandrian army takes on all comers in 5 games of ADLG from The Worlds @ BHGS Challenge 2018
The Aechemenid Persians at Campaign 2018.
Greece is The Word as the European ADLG circuit hits a 5th (if you count Wales) overseas territory with as the Ghaznavid army in 5 reports from Patras 2018..
The Welsh on the Roman Road in 28mm action as a Welsh army takes on all comers. Its Roll Call 2018.
15mm Samurai pro-painted at 350 points - see the Samurai at Burton
A rather aggressive looking Patrician army in 300 point doubles action in these 5 match reports from Patricians at Cardiff
A one-off social game in which the Sassanids make another appearance and take on the Huns. Will Attila's men triumph in this Christmas Special battle report
A fully-Chariot Ancient British army aims to Brexit it's way out of historical mediocrity iin 3 reports of the wheeled wonders - see if Cassivellaunus can make a success out of the ancient world's most unloved troop type
The much-trailed 28mm Patrician Roman army gets it's first competitive run-out in these 5 match reports from Derby in Bruntingthorpe 2017
Alexander The Great's classical army in 6 battle reports from an event held in Spain
A wall of Spearmen move up as the Rus take to the stage for the first time since the pre-2008 DBM era. See how this one dimensional approach fares in 5 reports.
Brand new Sassanids do their best at 300 points in the NEC Birmingham in these BHGS Challenge 2017 reports against many similar armies
The Sicilian Normans bring their own style and joie de vivre to Milton Keynes in the 6 reports from Campaign 2017 against a range of historical opponents
Dacians make a rare outing in three reports. Is it a car crash, or do the wheels just fall off on their own in these 3 L'Art de la Guerre reports of the Dacians in action.
Godendingdangdag Doubles as the Early Romans and Judeans show just what the Romans Ever Did For Us
Warfare 2016 : Five battle reports from Warfare featuring a Spring and Autumn Chinese which may give you a bad case of indegestion or just leave you hungry for more?
Estella 2016 Another set of reports from Europe - 5 games in Spain with a Patrician Roman army trying some new tactics
The Worlds 2016 Fruit Based Drinks and Post Industrial Decay - 6 match reports where I get schooled
ADLG in 25mm - it works really well! from Devizes - 4 match reports
Bows and Arrows in a tank battle with the Early Persians at the Saumur Tank Museum in the South(ish) of France.
28mm action with Medieval Italians in 4 Reports from Devizes in the sunny West Country...
The BHGS Challenge 2016 is where five fames of ADLG and some long-forgotten figures come blinking into the daylight in Feudal Spains Greatest Hour with the army of El Cid
ADLG makes its way into Roll Call and a Ponic army takes on every single imaginable flavour of Romans in 5 reports, with rules hints and explanations scattered throughout the Mithraditic shambles that these games represent
4 multimedia reports from Burton 2016 in a 500BC-500AD competition with added curry and video
4 in-depth reports, photos and battle maps plus many thousands of words as Condotta and French Medieval Armies go toe to toe against a range of medieval opponents at Godendag 2016
3 match reports featuring the Carthaginians at Central London 2015 - includes loads of rules tips and hints
A game of Gauls vs Carthaginians - one of the first games I played - includes rules tips and hints
A game of Republican Romans vs Carthaginians - literally my first game
Results and post event review from Central London in 2015
The Germans are coming - 5 whole games of Feudal Germans from the 2015 BHGS Challenge
The Legions of Rome take part in what was the first ever UK event for ancients ruleset L'Art de la Guerre - in Oxford -lots of rules-learning tips in here too.
The Match Reports Index has loads of game reports with photos, stories, comedy sound effects and most importantly of all, Hannibals sarcastic commentary.
A textbook new player's question about ADLG
Q: I want to embrace these rules as they seem to be the flavour of the month. I like all apart from the combat. It just seems like it's all in the dice rolls, and the factors mean little. If there is an advantage it is either 1 or maybe 2. Too much relies on the dice roll. You can be 1 ahead but still lose drastically
A: Yeah, that's a fairly common initial reaction TBH. There are a few things that most players tend to realise fairly soon though:
Firstly the %age odds of a +1 or +2 advantage are more material than you think - calculate them and see!
Secondly, armour and elite status have a big part to play - and most interactions end up with one side or the other with armour or different status and so getting these matchups in your favour a big part of the skill of play.
Thirdly once you get a feel for the number of hits each unit can absorb before being removed, and how things like Furious Charge can inflict extra hits also changes the way the game feels (very different to DBx games where its all binary, they are there or they are gone for example).
Fourth, it means that overlaps and flanks are hugely important in the game - and generating these is really a lot of where the 'player skill' comes into its own.
Fifth - lets face it, how much do we really know about ancient combat and who would have what %age of winning? A simple and abstract system that flows quickly but has some depth too is a pretty good win given that too much complexity is probably not simulating historical reality any better anyway.
Finally, having a game where big dice rolls can skew the result and create a 'wow' moment where a beleaguered unit fights its way out of a hole, or a Guards unit stutters and stumbles against a bunch of hapless peasants is actually quite fun once you learn to embrace it!
Ancient Wargaming Resources useful for ADLG on this site
Georgian Flags for 15mm Cavalry - blog entry and some ideas and links
Pulling together a Ghaznavid List - a Podcast with Ethan Zorick
Designing a winning Sassanid list - a Podcast with Richard Case
The 15mm Suppliers Index has a full listing with links of every 15mm ancients supplier I now - and you can vote on the quality of the minis as well
The 15mm Picture Gallery has thousands of photos of painted minis, and is fully searchable - and tells you which armies they might be useful for, as well as listing who makes them
Lots of L'Art de la Guerre Baggage - a page of 40 x 80 wonderment.
15mm Indian or Kushan allied command for ADLG
28mm Generals suitable for ADLG
15mm Sassanids based up for ADLG
Wargamers Bookshop - buy history & wargaming books
Where to buy L'Art de la Guerre rules
Firestorm Games (UK)
Breaking Wars (Spain)
Miniaturicum (Germany)
Frontline Games (Germany)
Sologiochi in Roma (Italy)
Tempos Medievais in Portugal
RR Decor (Belgium)
War & Peace Games (Australia/New Zealand)
On Military Matters (USA)