L'Art de la Guerre Resources Page
This page is my directory of L'Art de la Guerre Resources for the ADLG / ADG wargame rules. It links to other things on this site, and to a host of external sources for L'Art de la Guerre (mostly in English).
There is now an ADLG supplement/mod for the Renaissance period too!
You can download the mod, army lists and playing aids for FREE here
L'Art de la Guerre is a ruleset which was originally developed in France, and had undergone a couple of editions before the 3rd edition was translated into English and published in English-speaking countries. The 4th edition, fully revised and updated, was released in early 2021
The rules play like a combination of an updated, cleaned up DBM with an infusion of some of the elements of unit-based games. Each army is - in the standard game size - about 20-25 maneuver elements,. This means you only need maybe close on 40 bases of standard DBx-based troops, as Heavy and Medium Infantry types are represented by 2 standard bases locked together as a (15mm) 40x40 or 40x30 "DBE" base leaving LI and mounted troops as single bases. This is for the 200 point version of the game with 3 commands, which plays out in under 2 hours - you can also play a slightly larger 300 point version which will see you going to 4 commands and maybe 30-40 maneuver elements.
Either way the feel is very much "big battle" due to the fact you have 20-30 units under your command, all of which move around the table in battle lines - as opposed to the more skirmishy "firework display" feel I have found you inevitably get from unit-based games like FoG or MeG where you are only controlling a dozen-or-so units, and they often end up moving around the table independently. To me, that sort of game always leaves me with a nagging feeling of "Only 12 Units? Why don't I just play DBA then, and resolve all of these lengthy combat sequences with a single D6, instead of all this extraneous faff ?"
Everything you need comes in the one volume rulebook - which for v4 is a handsome beast, with 260-odd pages including all of the lists for the ancient and medieval era. The lists in v3 were very clearly based on the 4 key "historical texts" of DBM, but in v4 there has been more work done to update and revise them all, including separate sections for different geographies and eras to allow more easy themed competitions.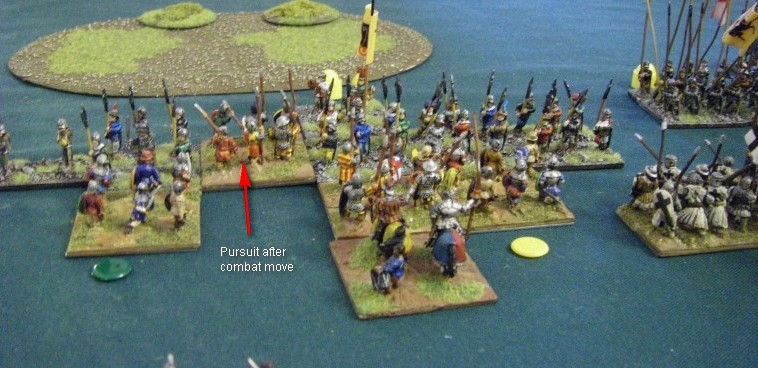 In 25/28mm most infantry units are based on 60mm x 60mm, and the 200 point game plays extremely well with 20-30 moving units on a near standard sized 6x4 table.
The core mechanics are also DBx-based, with opposed dice rolls between elements forming the core combat mechanic and pips for command and movement. Where it differs from DBx rules is that each "unit" has a number of cohesion points or hits. Heavy infantry can take 3 hits before a 4th hit removes them from play, Medium Infantry and Cavalry have 3 hit points in total, and light troops 2. Each time you lose a combat or shooting duel you suffer one or more hits - but a general can also rally units to remove hits. This sounds like a subtle difference but it introduces a whole new dimension to troop types and how they are used compared to both DBx, and unit-based rulesets where unit size is what matters - "resilience". Heavy Infantry in ADLG simply have greater abiilty to take punishment than Mediums, and so you can be confident that a line of Heavy Foot will take longer to grind down than a line of Medium Foot - irrespective of Armour or Troop Quality.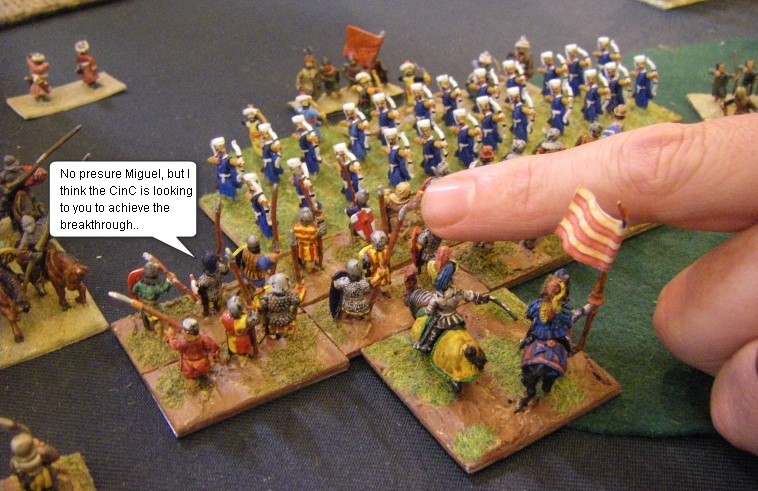 Troop Quality works to mitigate poor dice rolls by Superior troops, and reduce the possibility of extremely good dice rolls by poor troops - which feels logical. Armour also works in an old-school logical way, making troops with better armour harder to beat. There are a number of other common-sense post-combat effects to add flavour and variety, such as "barbarian" troops inflicting extra hits on the enemy if they win in the first round of combat, or mounted troops doing likewise when beating Medium Foot in the open. Unlike DBx games, Light troops do also shoot - which is an irritant to their targets with potential to become significant if left unopposed, rather than a game winning tactic and mechanic (as it sort of became in FoG) or an irrelevance as it seems to be in MeG.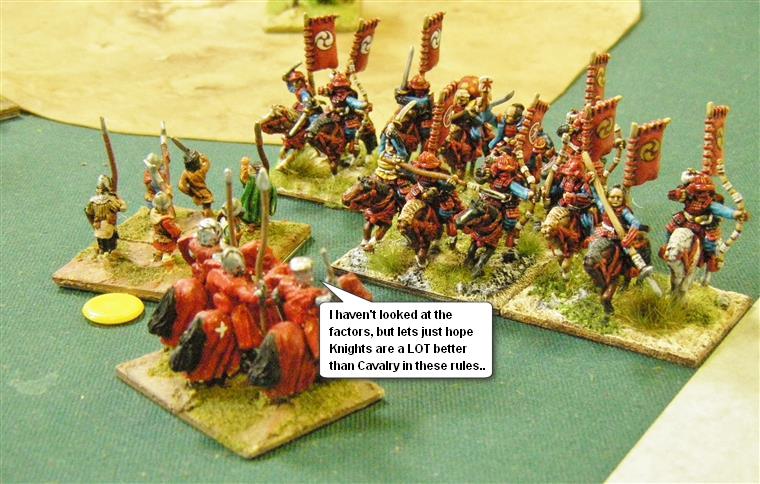 .
I did say earlier that it is a cleaned-up DBM, and that means that even though it has been translated from French, there is no 'Barkerese' - plenty of diagrams (even more in v4 than v3) and evidence of a load of playtesting on the global competition circuit, all of which is backed up by the authors use of a "Technical Committee" of experienced players from around the world who he has used to steer developments and knock out any niggles in the rules before publication. This also means there's no "lobbying the author" to be done - it's all been hammered out and sorted pre-publication. The Technical Committee are active on the forum, and any queries usually get a direct repsonse and a quick turnaround - anything even slightly vague is included in the latest FAQ, which is also updated regularly

Internationally the rules are now well embedded in the competition community with active circuits running across France, Belgium, Spain The USA, the UK, Italy, Australia, Ireland, Greece and New Zealand amongst others. As of today ADLG is the most widely played Ancients competition ruleset in the world, and by some margin in the UK where 200+ players had entered an event in the 12 months prior to Lockdown in 2020

I also set up an L'Art de la Guerre Wiki which has a separate page for every ADLG army containing historical data, links to other sites, tactical tips on using the army, and all the army lists I come across for that particular list, as well (sometimes) as where to buy (15mm) figures from, a list of relevant books and collated results from competitions. This is here in The ADLG Wiki, where you can edit the pages yourself (yes, honestly!) and add stuff to it. So, you can add more detail on loads of ADLG armies, including Army Lists, Tactical Tips, 15mm figure suppliers, photos, external links, history and relevant books
Other L'Art de la Guerre Stuff and resources
Online groups and resources
Other Blogs, websites with ADLG stuff
Battle Reports
A textbook new player's question about ADLG
Q: I want to embrace these rules as they seem to be the flavour of the month. I like all apart from the combat. It just seems like it's all in the dice rolls, and the factors mean little. If there is an advantage it is either 1 or maybe 2. Too much relies on the dice roll. You can be 1 ahead but still lose drastically
A: Yeah, that's a fairly common initial reaction TBH. There are a few things that most players tend to realise fairly soon though:
Firstly the %age odds of a +1 or +2 advantage are more material than you think - calculate them and see!
Secondly, armour and elite status have a big part to play - and most interactions end up with one side or the other with armour or different status and so getting these matchups in your favour a big part of the skill of play.
Thirdly once you get a feel for the number of hits each unit can absorb before being removed, and how things like Furious Charge can inflict extra hits also changes the way the game feels (very different to DBx games where its all binary, they are there or they are gone for example).
Fourth, it means that overlaps and flanks are hugely important in the game - and generating these is really a lot of where the 'player skill' comes into its own.
Fifth - lets face it, how much do we really know about ancient combat and who would have what %age of winning? A simple and abstract system that flows quickly but has some depth too is a pretty good win given that too much complexity is probably not simulating historical reality any better anyway.
Finally, having a game where big dice rolls can skew the result and create a 'wow' moment where a beleaguered unit fights its way out of a hole, or a Guards unit stutters and stumbles against a bunch of hapless peasants is actually quite fun once you learn to embrace it!
Ancient Wargaming Resources useful for ADLG on this site
Where to buy L'Art de la Guerre rules