Central London Wargames Club
* having an "official" motto would not really be very "Central London". In fact, the mere suggestion of having anything "official" at all would probably get you thrown out. If we could be organised enough to do it of course.
Now well over 30 years of existence, surviving through an anachronistic mixture of democratic anarchy and polite chaos
The Club runs two nights a week every Monday and Thursday at "Escape" which is just by Mornington Crescent Tube. The pub serves a mean curry on Thursday nights as well (and sometimes on Mondays if the chef is in) highly recommended
We meet at about 7-ish on Mondays and Thursdays and play most things. There are usually at least 4-5 games going on of various sorts (sometimes many more).
Ancients is just about the most popular, although there can be everything from ACW ships to Space ships, skirmishes to massed battles, 6mm to 28mm, as well as boardgames. On both nights we have room for more players and more games...
L'art de la Guerre Ancients & King of the Battlefield (penned by a club member) are probably the most popular right now, but a range of other things are played too. For Epic in particular Central London is a bit of a hotbed and the Epic players have even set up their own self-spawning mini-mega-robot-tastic website at Epic Armageddon London, which is far better designed that this half hearted effort. The King of the Battlefield rules written and published by club member Ian also have their own slightly less impressive but equally well loved and cared for Yahoo Group. As well as being the ancentral home of King of the Battlefield, we have also developed Gavin's award winning best in show at SELWG 2011 and 2010 World War 1 Air game, and Alan's teeny tiny ships game, Ironclads in Action which covers the entire second half of the 19th Century
We also organise the odd one-day competition, including for Saga, Epic, FoGR and L'Art de la Guerre.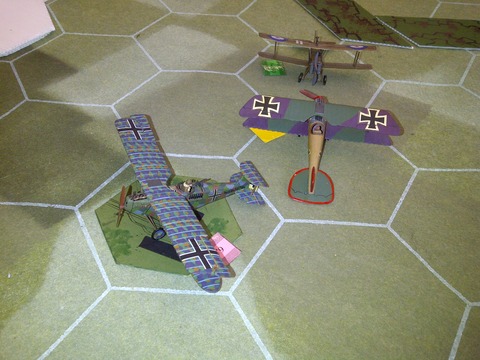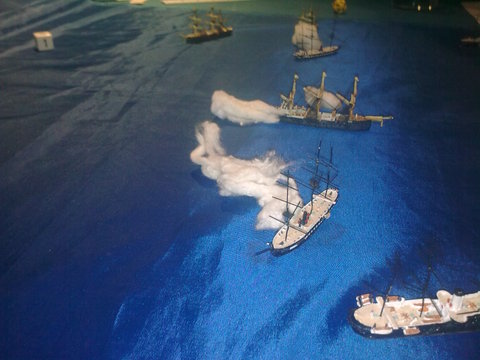 Central London has a Yahoo Group for club messages and arranging games which you can join. Its the Virtual LondonA Group.
To arrange a game or if you have any questions please or
The key fact is that we meet in a PUB, and technically we aren't even a club, as we have no membership fee, no committee, no club constitution and none of that boring political stuff that goes with it. Did I mention that there is a bar ?
The Escape is fairly near Euston Station. It is outside the Congestion zone, but that finishes at 630pm anyway, and there is also parking nearby. There is also (this) website at www.clwg.org.uk
This is where it is for those of you too incompetent/lazy to type it into Google yourselves - The Escape in Mornington Crescent
Going by Tube? Get real live tubeline status and journey planning here
Join our Yahoo Group
Click to join Virtual_LondonA
Unusually for a wargames club, there are very few of us who could objectively or accurately be described as "fat". We also have an unusual distribution of facial hair, in that it that the hirsuteness of our membership roughly mirrors that of the general population. The B.O. however is still a problem.....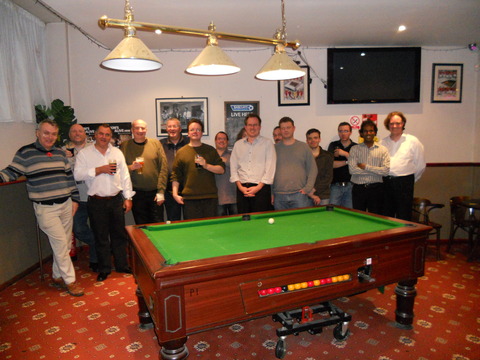 ---
Blogs and stuff
Some of us have our own blogs, and by the magic of the interweb, some of the more recent posts can be seen here (click each post to be taken to the relevant blog)
---
7 Aug 2018 at 11:50am
Yes, I have been rather quiet on the blogging front since I finished (the beginnings of) my Aussie force. That's largely because of the recent hot weather we've had in the UK - I'm.....
...(click the post title to go to the full post on this blog entry...)
---
5 Aug 2018 at 9:59pm
There once was a man with an axe,Who played ADLG to relax.A comp in Limerick Town,Would see much Guinness go down,On the plane was a Chinese army he'd packed.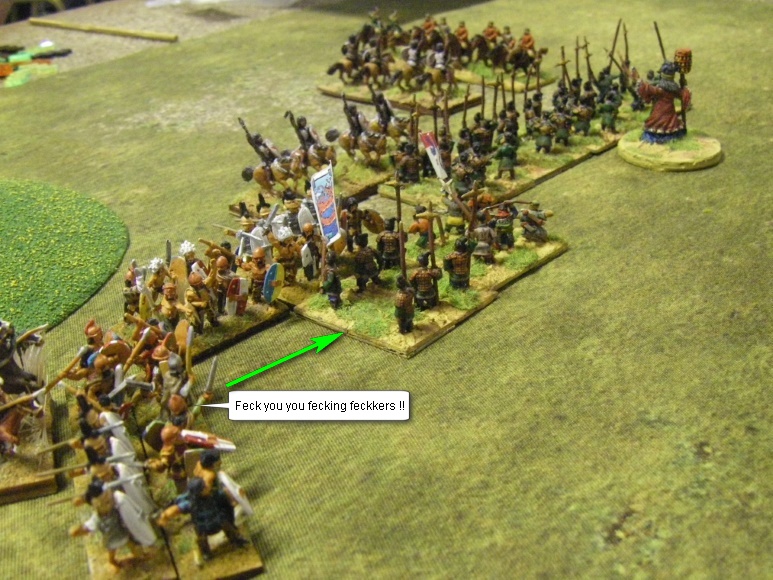 That Keith Duffy bloke.....
...(click the post title to go to the full post on this blog entry...)
---
1 Jul 2018 at 3:11pm
I decided to spend some time this morning adding tufts to the bases of all the Aussies that I've painted so far. And then to take a bunch of photos of them all. So, here you are - .....
...(click the post title to go to the full post on this blog entry...)
---
23 Jul 2018 at 6:29pm
It's now the end of the epic movie series, with Game 5 from Dogs of War 2018. In this episode the Nikephorians take on a massive Arab Conquest army.Will this be a great sequel, or is there a Jar-Jar Binks lurking in the background? Watch the video to see how there two armies get on!
---
1 Jul 2018 at 12:00am
I've been quite busy today. The airbrush has seen a lot of action and I've done a few other things.
The Eureka figures got primed (well, eleven of them did); the figure that had los.....
...(click the post title to go to the full post on this blog entry...)
---
22 Jul 2018 at 8:36pm
The 4th Dogs of War video walkthrough has now been posted, in which the Nikephorians attempt to take on the Ghaznavid Empire in its most elephant-packed incarnation.Rather than watch a tiny embedded version here, you are much better flipping over to fullscreen or viewing it in YouTube directly
---
29 Jun 2018 at 8:42pm
I've been taking things a little easy over the past few evenings after the marathon of painting all those Aussies. I thought I deserved it.But I have, nevertheless, been quite prod.....
...(click the post title to go to the full post on this blog entry...)
---
19 Jul 2018 at 8:52pm
It's Game 3 of this 5-part video podcast series from the recent Dogs of War event in Bristol.This time the Nikephorian Byzantines take on a Hindu Indian army in full cinematic actionLists for the Indians also included.
---
26 Jun 2018 at 9:10pm
Did I say these would be finished and posted on Thursday? Oh well, I'm sure you're not going to be too upset to see them posted two days early.This is the 7th batch posted and will.....
...(click the post title to go to the full post on this blog entry...)
---
16 Jul 2018 at 5:16pm
And, in quick succession, here's the video of the second game in which the small but imperfectly formed Byzantines attempt a double envelopment against the Southern Dynasties Chinese
---
24 Jun 2018 at 8:53pm
Quite a few bits on the go, as you can see.Packs, Pouches and Weapons
As I noted in my last post, these were painted yesterday and I spray varnished them this morning. These are for.....
...(click the post title to go to the full post on this blog entry...)
---
15 Jul 2018 at 12:32pm
Here's an experimental "new format" battle report from the recent Dogs of War ADLG event held in Bristol, with a video walk-through of top-down photos of the game.It's not going to.....
...(click the post title to go to the full post on this blog entry...)
---
23 Jun 2018 at 10:48pm
And another batch is finished. Phew! Almost there now. The only problem is that I've started to run out of space in the foam figure trays. I've got room left for another 8-figure b.....
...(click the post title to go to the full post on this blog entry...)
---
7 Jul 2018 at 8:40am
To round out two armies (don't ask...) for the upcoming event in Devizes I picked up a box of Gripping Beast plastic Dark Age cavalry recently, and added a few more figures to them.....
...(click the post title to go to the full post on this blog entry...)
---
19 Jun 2018 at 8:24pm
I might have forgotten to mention that I'd booked yesterday and today as annual leave. Of course, that has given me plenty of time for painting more Aussies.I finished painting the.....
...(click the post title to go to the full post on this blog entry...)
---
On the weekend of June 11th 2011 some of the club members played a big Fire & Fury game (Antietam) as part of an art project in an art gallery in Piccadilly. This is part of an installation by Swiss artist Christoph Buchel, and has been reviewed in both The Guardian and The London Evening Standard. Read the report of the game here
---