Brits in the Bulge
A 4000 vs 2000 German breakthrough attack in January 1945. So we could use lots of late war armour! All pics are my new large scale thumbnails - click on them to get a bigger image.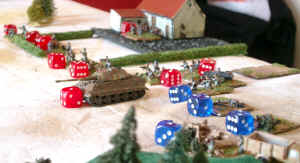 The pesky King Tiger is suppressed after heavy air and 25-pounder attacks. Its accompanying infantry begin to regret standing so near a vehicle with "aim here artillery" painted on the top (note the base which it escaped from at the edge of the table!)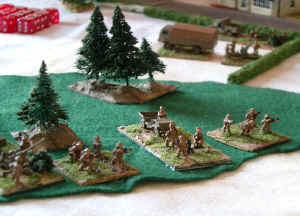 Plucky Pendraken Tommies man the edge of a strategic wood. Minifigs Bofors are pressed into the AT role as german air cover is non existent.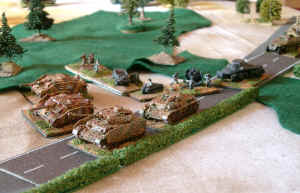 Wargames South Stug's and Pz IV's lead a motorized infantry column along the road. Minifigs 20mm Flak and Recce look on..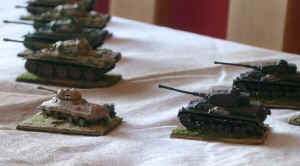 A strong German Panther attack sweeps down the right flank. (Minfigs Puma and Pz IV's, Takara plastic Panthers)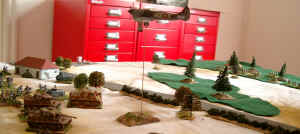 Hawker Tempest (playing as a Typhoon) flies low over Wargames South Tigers, a Takara (kit) Brumbar, Pendraken infantry and some minifigs recce vehicles).

German infantry (and the Brumbar) batter the British lines, and make a dash across the open ground to assault the survivors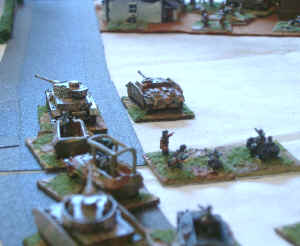 Blitzkreig is back as the Germans rush down the main highway, bypassing the British positions as they seek to break through to the other table edge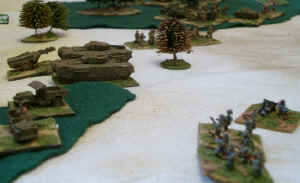 Minifigs Churchills (including a Crocodile) wait behind a ridge as the German infantry charge forwards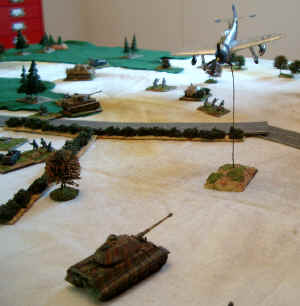 A P47 slams in again against the King Tiger as the Germans march onwards
Finally, the Germans scraped a narrow victory, and were vaguely close to the 2:1 advantage in kills as well. We chose not to allow flank deployment, as it seems daft in a game where there is a objective to get troops off the other end of the table !