Photos of 10mm Napoleonic French for Bataille Empire
(mostly from Pendraken)
Can you believe that I've never owned any Napoleonic figures, played any Napoleonic games or even read any books about the Napoleonic Wars? I mean, I've not even watched a single episode of Sharpe !
Sean Bean doing what he does best
But, after a zillion years and with the possibility of a set of rules which at least more than one person at CLWC might agree upon playing in the form of Bataille Empire hoving into view I have finally taken the plunge and dipped my toe into Napoleon's wars!
Of course I'm mindful of the need to uphold wargames longest-standing tradition of every Napoleonic player having their own approach to rules, scale, basing, terminology history, uniform and painting ... so with everyone else already having a load of 15-18mm troops based for Blucher, FoGN and other sets I ended up going down the 10mm route with a large investment in Pendraken lead.
Starting with a Pendraken French starter army pack picked up at Warfare 2019 I soon realised that this was of course nowhere near enough, and another couple of topping-up orders from the nice chaps at Pendraken and a couple of extra purchases from Old Glory and The Wargaming Company (both at Cold Wars 2020 just before Lockdown struck) and I ended up with what is probably a viable Bataille Empire army that is utterly different to those I'll be (eventually) fighting.
One of the reasons (other than simply because they are cool) that I wanted to try 10mm was that painting 10mm demands a very different set of techniques to painting 15mm or larger scales. The troops need to look OK en-masse, but individual detail is less important, the colours need to be bolder and brighter than in larger scales and the basing needs to be slightly simpler and plainer in order not to overwhelm the figures.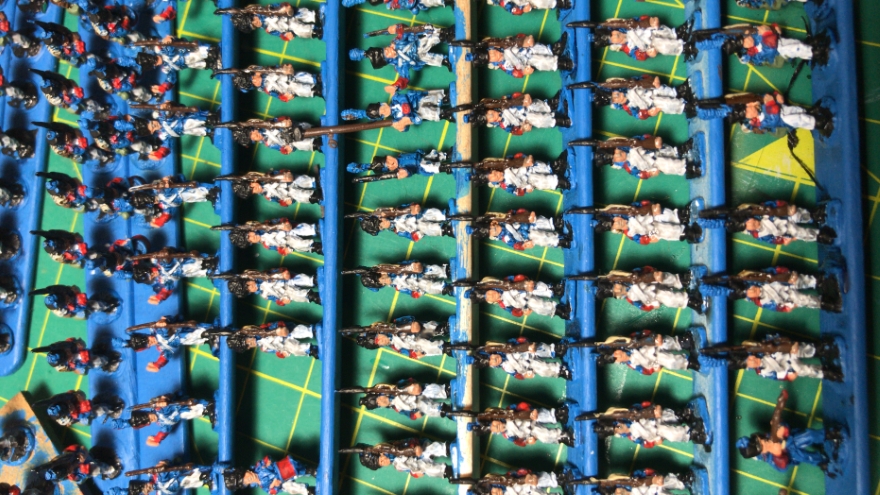 With about 400 of these guys to paint I started by spraying them all in an Army Painter Crystal Blue - its a very bright colour, nothing like actual French uniform but I had a bit of a plan for that. The other reason for using Army Painter sprays was that they do dropper bottles that exactly match the spray paint, so I could touch up the guys if needed. I also painted them on ice lolly sticks, which you can buy exceedingly cheaply on eBay - well, a lot cheaper than eating a shed-load of Magnums and saving the sticks!
The second stage after the blue spray was to ink them with another Army Painter product - their Blue ink. I did two coats of this, which darkened the figures quite a lot and gave the really sharp casts from Pendraken some good definition in the creases and undercuts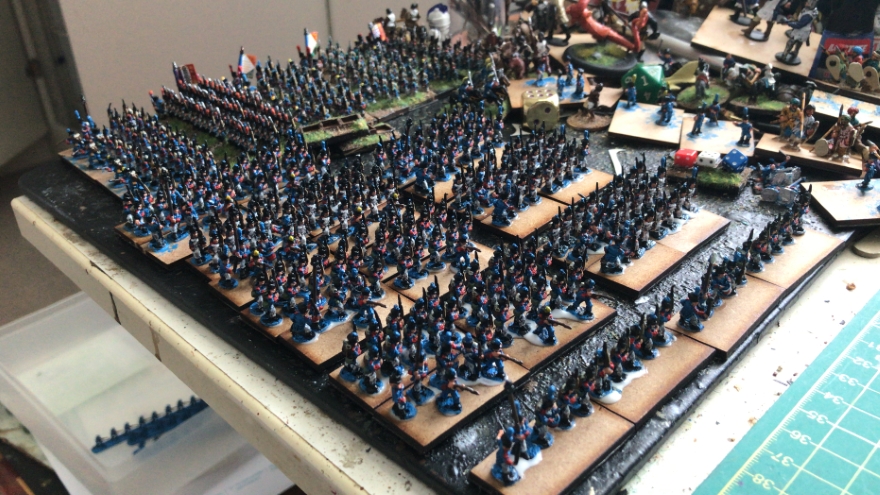 The Old Guard were a different kettle of fish - mine all had grey greatcoats, as I wanted the pre-campaign look (OK, I didn't really fancy doing them all in messy old Retreat from Moscow coats, and I also wanted them to look different to the line infantry) finished with a slighly diluter Dark Tone.
The Quickshade Mixing medium that dilutes Quickshade inks from the dropper bottles is a tip Bob Amey gave me when I posted some photo's of arabs who were a bit too dark with the standard ink range, and now I probably water down the Army Painter washes (with Mixing Medium) for pretty much all of the inked stuff that I do.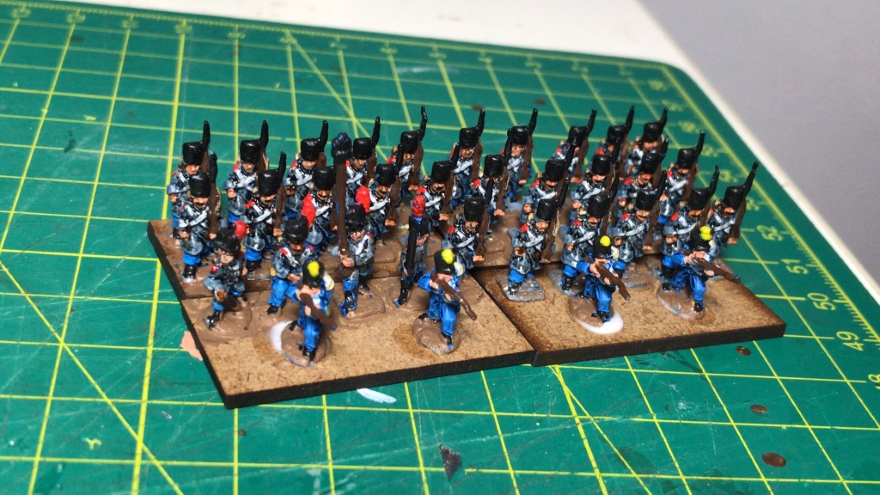 These Old Guard are based up on 40mmx20mm bases, with 4 bases to a unit. Each unit is 3 ranks of 10 figures, with some Voltiguers out front doing their skirmish thing.
In BE the skirmish screen counts as a factor in the main unit's shooting, so I have used 1 or 2 skirmishers per base frontage to indicate which units are +1 or +2 for their skirmisher factors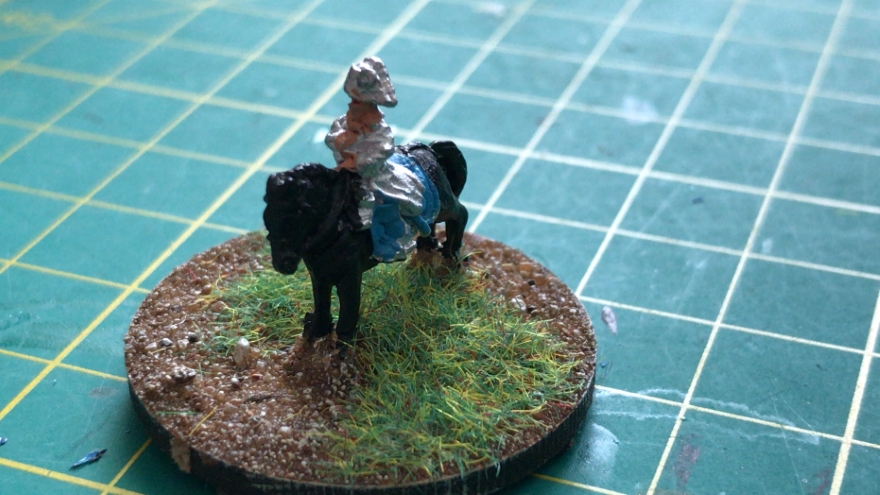 Pendraken do some personality figures - I was in too much of a rush to paint them up so I didn't even bother undercoating them which is a bit slack of me. Hopefully the paint will stay on!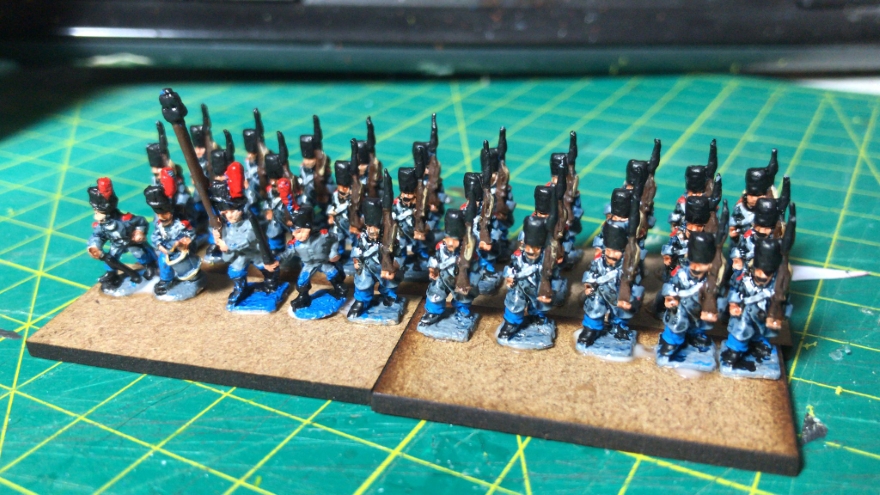 The Old Guard here show how the watered-down Dark Wash picks out the white cross-straps quite nicely. It's a bit messy in these extra-large photos from extreme closeup, but remember these are 10mm figures so this picture is many times bigger than the real thing (unless you're looking at this on your phone!) so really it is all about mass effect.
I also picked up a pack of Old Glory strip Grand Manner Napoleonics - these are supposed to be a Flank Company, but as I don't really know what that means they are just the same as the rest apart from being stood a lot closer together as each block of 5 men comes as a single piece.
For the OG chaps I added a couple of Pendraken officers in order to make the about an inch-wide strips fit on the 30mm x 20mm bases I had (Bataille Empire has unit on unit combat, so base sizes aren't that important as long as both sides are roughly the same).
Don't even think about cutting the OG strips - it's a complete nightmare, the men bend at the ankles and break when you try to cut them, the metal is hard to cut and they don't really go together that well when you try and add 2 strips next to each other either. I just about managed to separate one strip of 5 into 4 singles to add to the end of some of the blocks so they filled these 30mm wide bases - the 5th was a casualty of war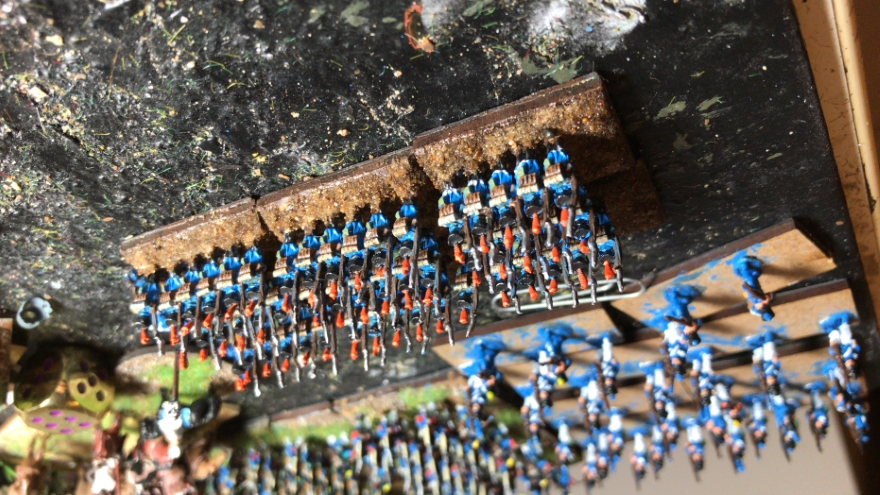 You can see here the uniform way I did all of the backpacks and blanket rolls - this is consistent across the whole army, and as you'll see soon they were painted in pale grey for the blankets, leather brown for the backpacks, and then ink-washed in Strong Tone.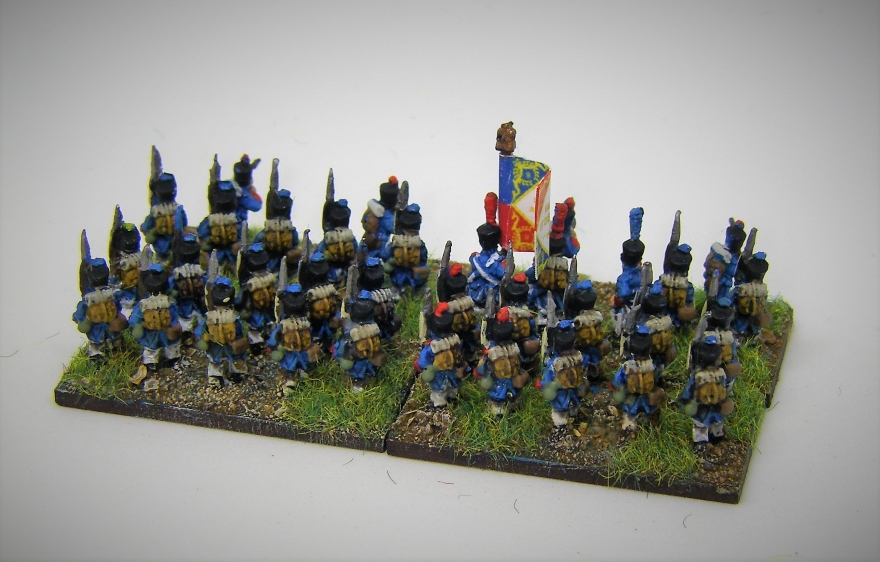 This is the back of a French unit from Pendraken, with 3 ranks of 10 figures across four 40x20 bases. I thought about squeezing in a 6th file per base to have the real shoulder-to-shoulder look, but it didn't really fit as the bases the men come on are a smidge too big. And of course there is a limit to how much I am prepared to spend!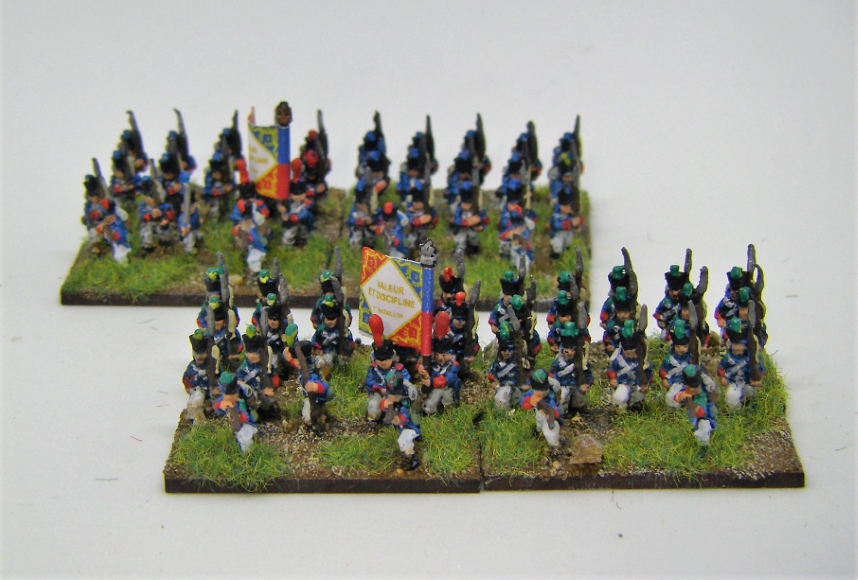 In my initial basing rush I based the flag carriers and officers in the centre, and then found out they were on the end of each formation. This was something I realised I needed to fix, so the craft knife came out to prize them off the initial base and reorganise them. This flag is a Pendraken one from their 1908 set.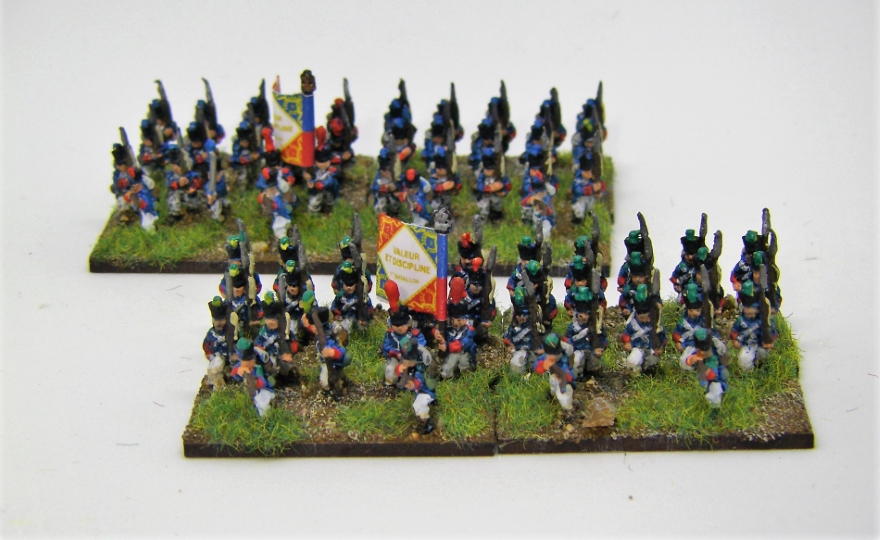 I was also experimenting at this stage with different combinations of plume colours, having struggled to sift the wheat from the chaff in the vast amount of online information about this key topic for wargamers. I've not really found a wargamer-friendly site even now that gives clear ideas as to what to do.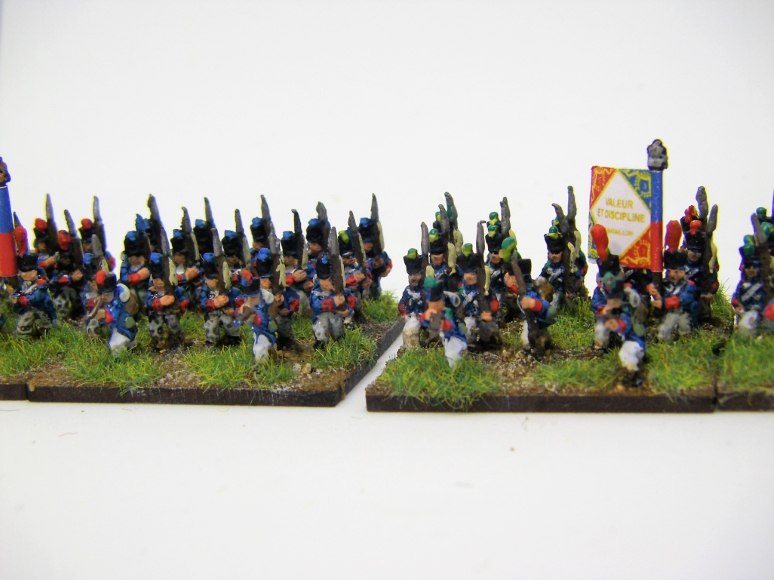 I was also still giving them blue uniforms and only white-painting their straps at this stage. Again, I was later to work out this wasn't perhaps the best way to do it - but I'm sure I'd seen some pictures in which this was on figures, or shown in images painted nearer the actual time. Working out that this wasn't necessarily right was a great boon, as painting straps is a right PITA!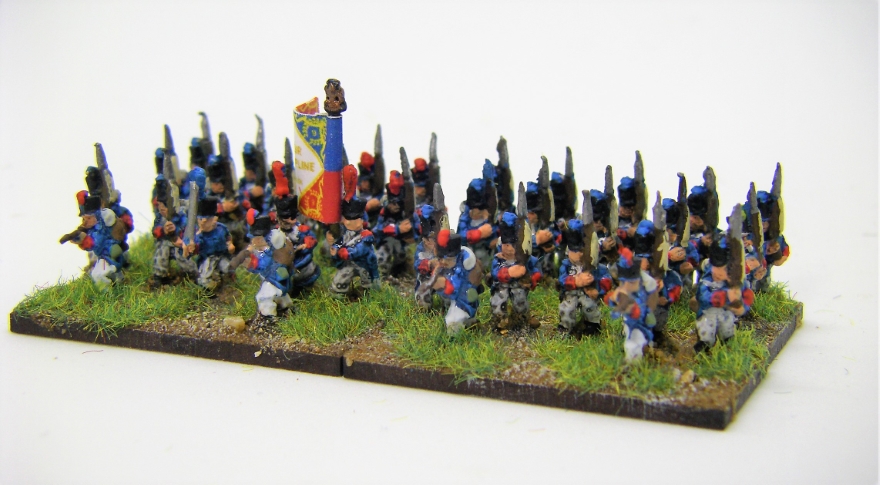 Pendraken has 2 basic poses - this one the men are more side on, and you as a result can't really see their chests at all. The white front (or strap) is just a blob really in the top right corner of their chests above where the arm crosses their body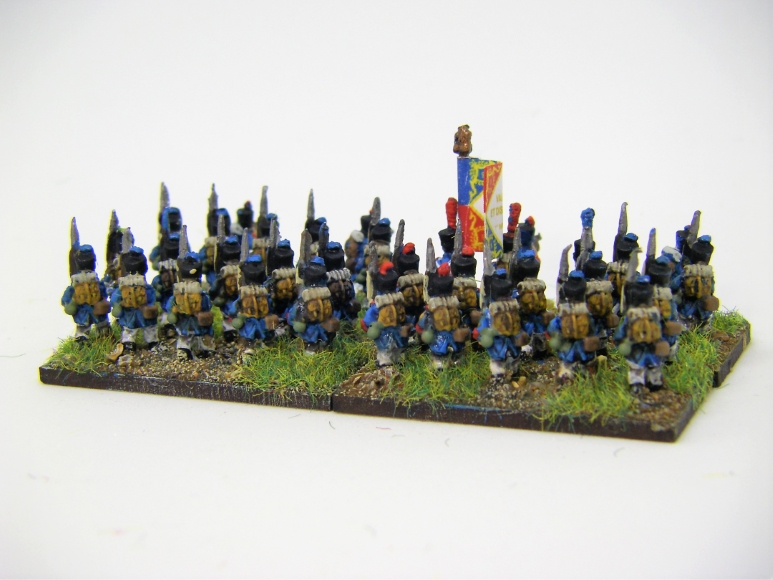 From the back here you can just about see where the blue wash has picked out extra detail on their blue coat edges.
Some painting tutorials suggest white "turnbacks" on the coats, but I quickly decided that was a step too far for both me and for 10mm.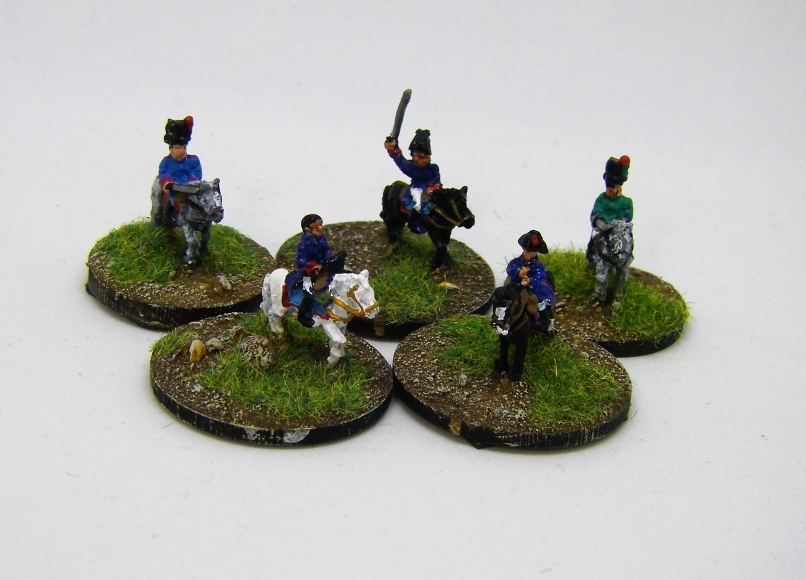 Here are the commanders - some of them are spare Dragoons in waste-bin hats (I'm sure there is a proper name) who got repurposed after being the odd two men out when I based my Dragons and Cuirassiers up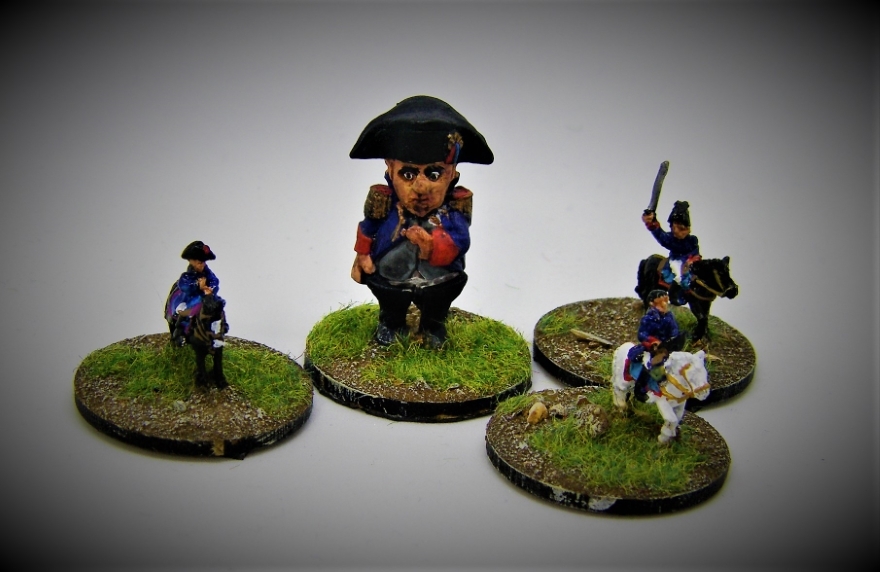 And Brigade Games 28mm Gnome Napoleon as the Great Leader himself.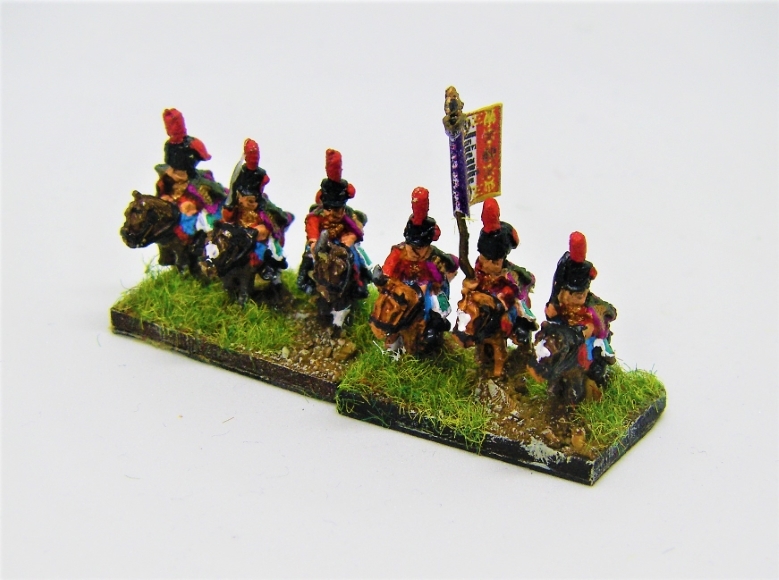 With better lighting here are some lurid 10mm Hussars from the ESR range by The Wargaming Company.
10mm horse tutorial
I did actually copy this tutorial for these horses - the darker legs is the new thing I learnt in this whole process.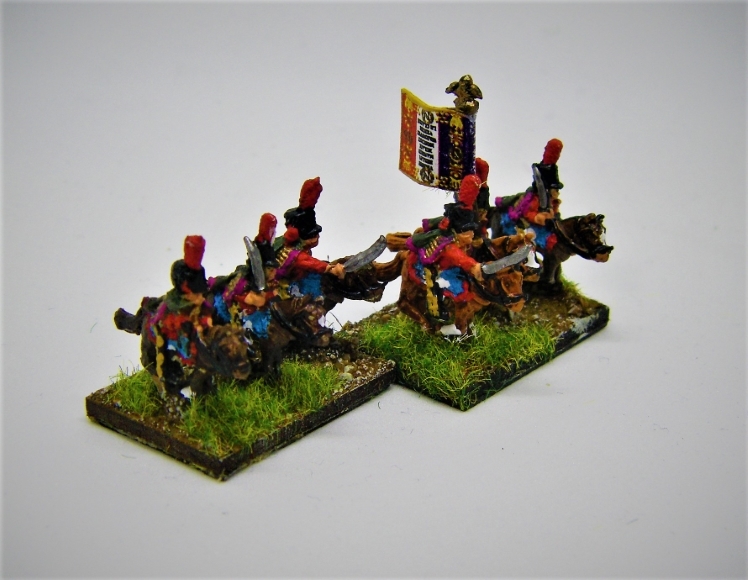 They are also available from Magister Militum in the UK.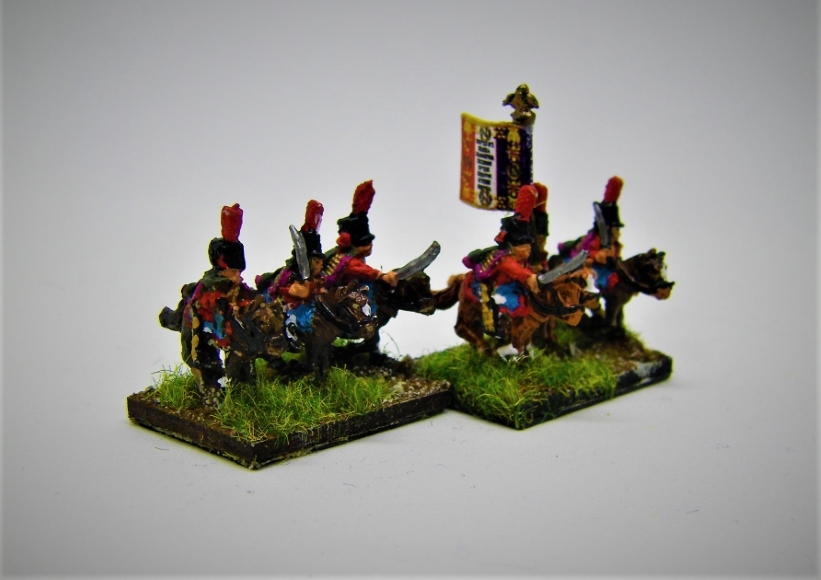 I based these on some quite tiny 30mm x 20mm bases as there were only 12 in the pack I bought (at Cold Wars 2020) and so to get 2 units out of them meant they had to be in 6's - which would have looked very sparse on a 40x30 base.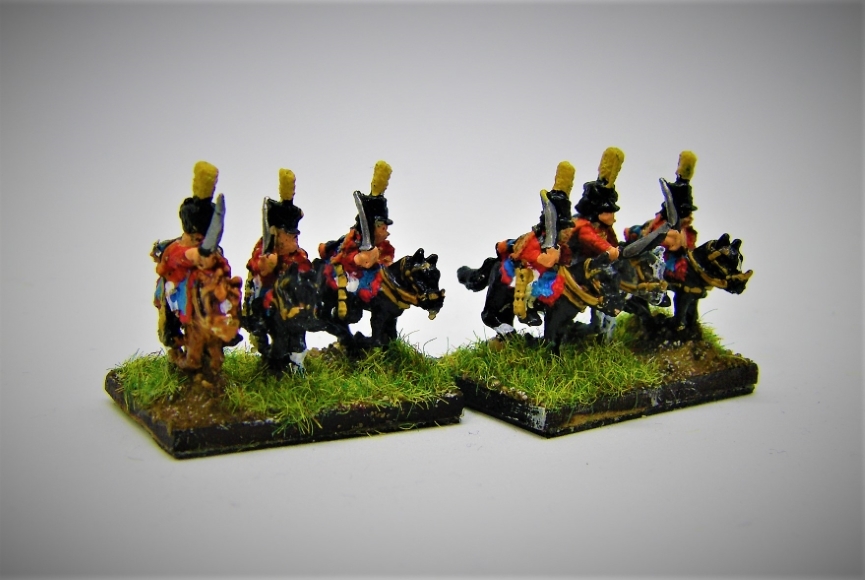 I did have a few 30x20's lying around spare though, and with base sizes supposedly being agnostic in Bataille Empire I thought why not see how they look? If (when..) i buy some Chasseurs a Cheval I will probably stick to this format as my standard Light Cavalry basing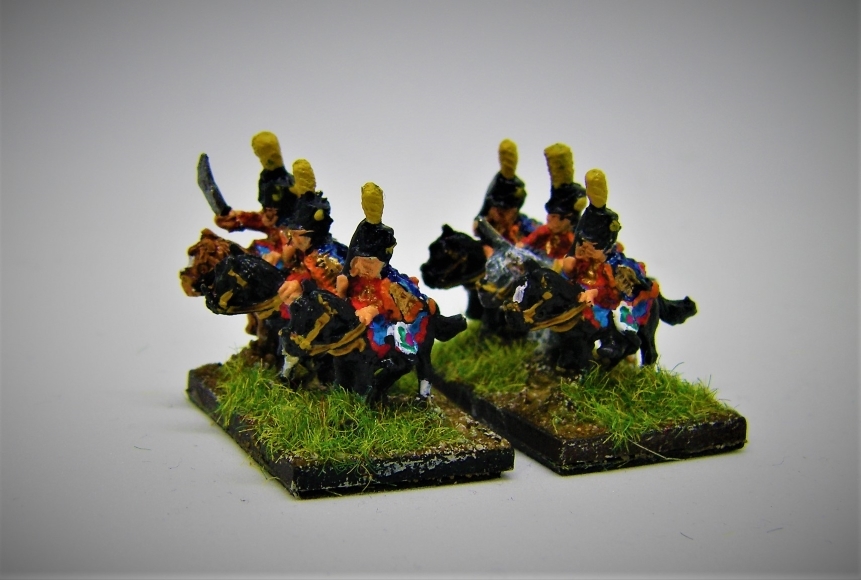 These extreme closeups do really show how, erm, "impressionistic" the painting really is - these photos remember are far larger than the real figures
These are Dragoons - a huge surprise to me to find not all French troops dressed in blue, and also a huge pain in the --- to realise that I'd mixed up the Dragoons and Cuirassiers from Pendraken at the undercoating stage and had to work out which were which after the event.
Hopefully these are all Dragoon figures, but not all of them seem to have rifles so maybe not?
10mm Naps from someone better than me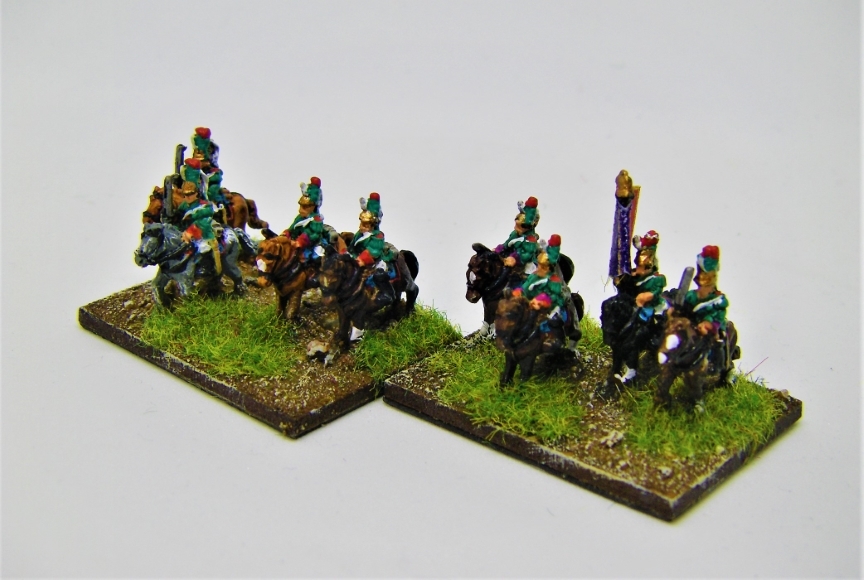 These were some of the last figures to be done, so my painting style had gotten more pragmatic as time went on. I did also squeeze in some pink cuffs to make a small variance from the red ones that most of the army has.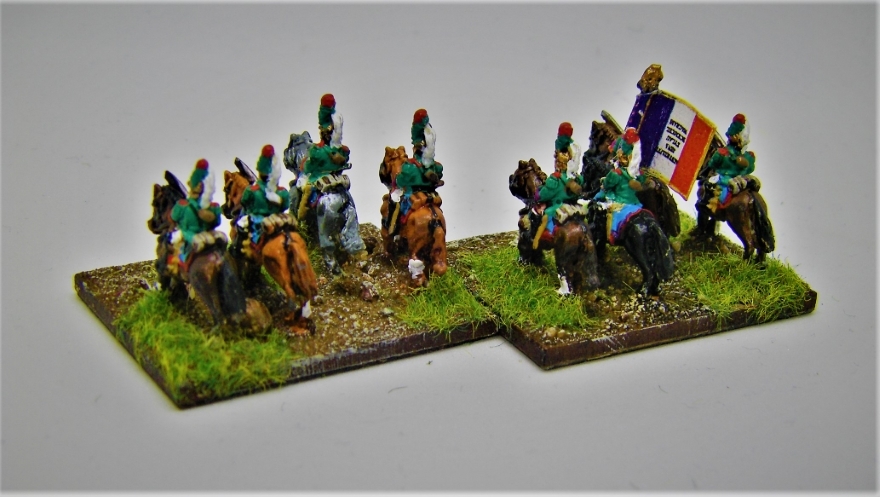 The flag was also from a trader at Cold Wars, who sold a huge A4 (or I guess "letter") sheet of pre-printed flags on label material for about $10.
There are almost 100 French flags, and then all of the other Waterloo nations as well on one sheet. Encouragement I don't need to buy some of the other nations I guess!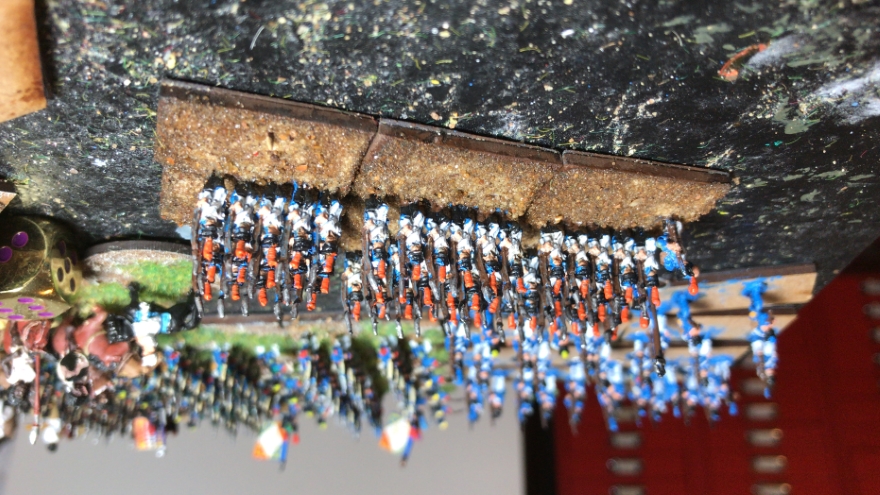 These are the OG strip figures from the front - they have longer boots than the Pendraken guys who's shoes are under long trousers whereas these guys have tucked their white trousers into their boots.
If you look at their hats you'll see how poorly I did the first pass of black on their hats - I needed to go back and do this properly later, and in fact I found with these figures that there was a great deal of going back and spotting tiny mistakes and bits where I'd missed something.
Part of that was because they are so small, and have such bright colours that if a patch of colour paint leaks onto an adjacent part of the figure it's really obvious, so you do have to fix it - an Ink wash won't hide it !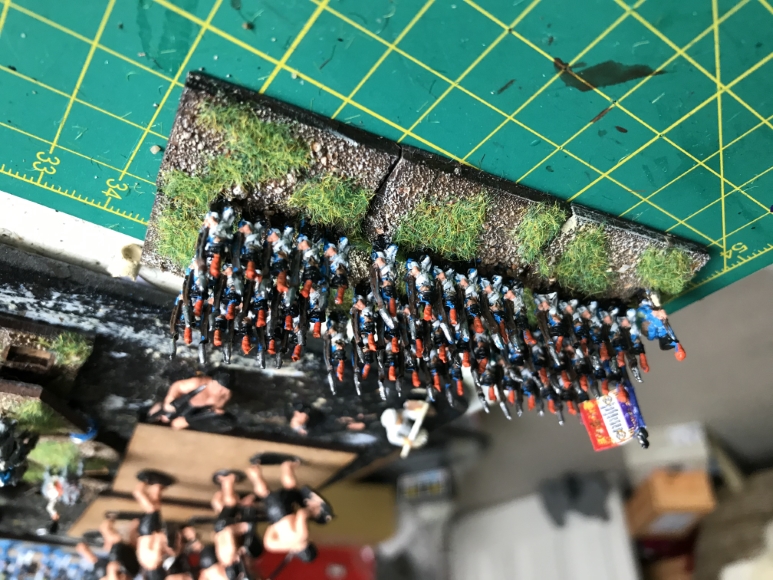 In the end I realised that this many figures, in uniform, and in 10mm needs a proper fixed sequence planning out to paint the various colours, and then you just have to make sure you tough it out and barrel through doing as many of each thing (faces, straps, boots, hats, guns... etc etc) on as many figures as you can in one sitting to get that factory-line technique down pat for each blob of colour.
The more you do the easier it becomes - sometimes I was even doing the front of the trousers on all of one block, then going back to do the back as a second pass. It's a real factory line process.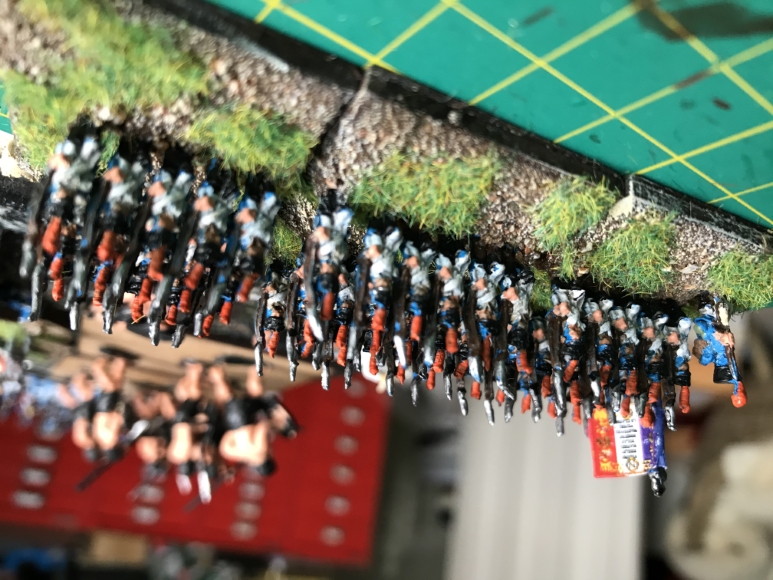 With the OG strips the bases the figures were on were so big and intrusive that I ended up building up the rest of the base with some filler before adding sand and colouring, so these guys are now always going to be stood at the top of a small slope. Combat advantage anyone?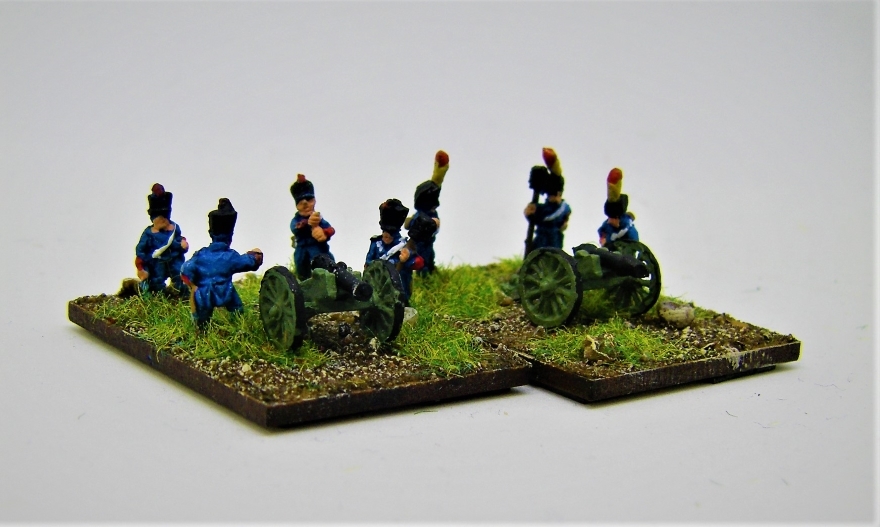 Artillery is Pendraken again, and the blue inking shows really well on these all-blue figures.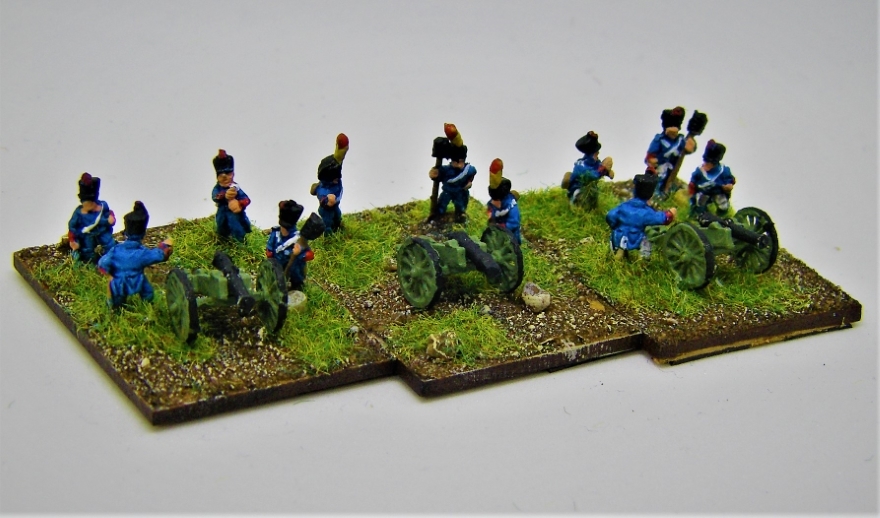 I managed to lose some of the gun barrels in the painting and undercoating process, but at this scale a snipped off bit of spare plastic sprue of about the right size is a perfectly decent swap.
I haven't bought any limbers, but I do have quite a few from my 10mm ACW Union army that do have horses and caissons (?) and drivers in blue coats, so given they are game markers I may just decide to be cheap and use the ACW ones if my artillery need to move in Napoleonic times
10mm horse tutorial
I did actually copy this tutorial for these horses - the darker legs is the new thing I learnt in this whole process.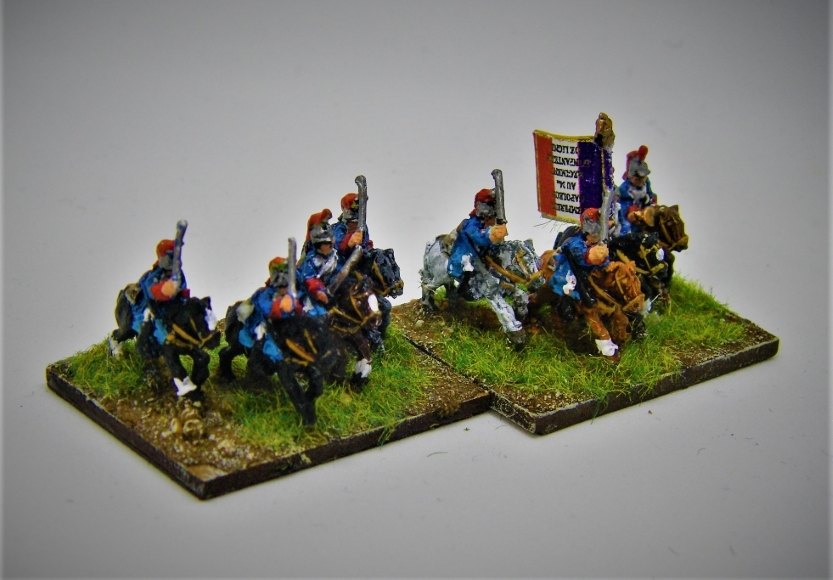 Cuirassiers! Again, far bigger in the photo than in real life so the messy painting really doesn't show at tabletop distances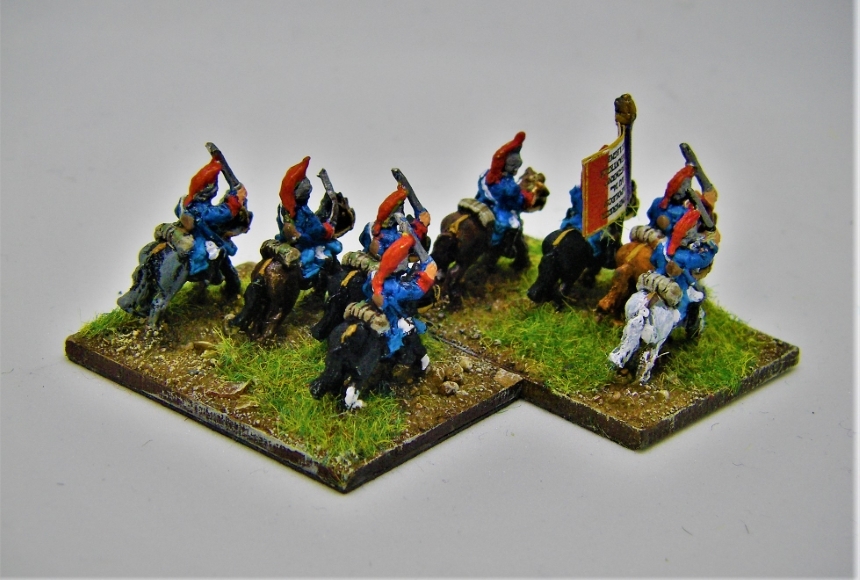 There's a limit to how many horses can fit on a base, even at 10mm, so you can't really pack them in like you can with the infantry. A 15mm infantry base would have 4 figures to the 10 in 10mm, but cavalry are 3 in 15mm and (here) 4 in 10mm. I guess you could squeeze in 5 at a pinch
I find that having fewer figures on horse bases, and the fact horses are generally brown, so a similar colour to most basing systems too does make it very easy for cavalry figures to get lost in the basing at 10mm, so painting them to stand out against the grass and sand is important.
Having bold red plumes and a simple blue paint scheme really helps.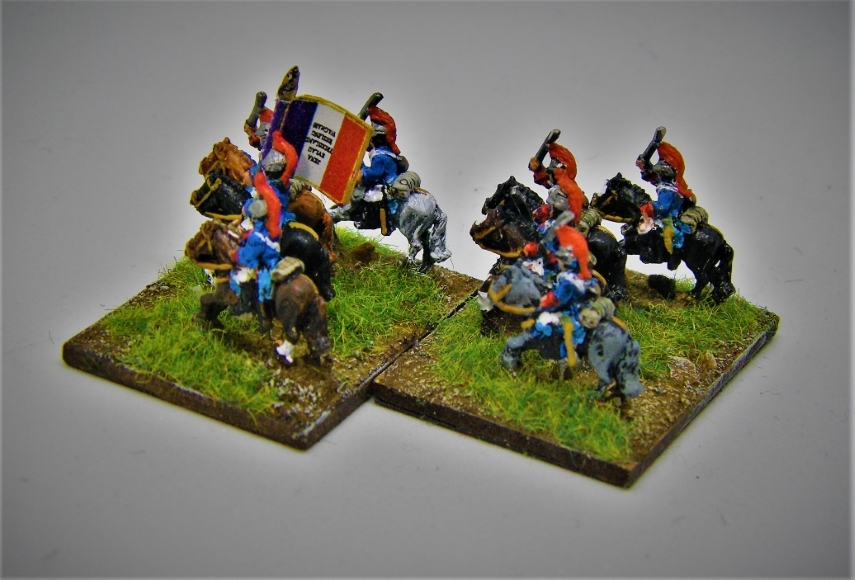 On all of the cavalry I really struggled with working out where the legs of the riders were - in the end I must have repainted the coats, breeches and boots a few times on most of them to end up with what is still an ill-defined white blob in some cases.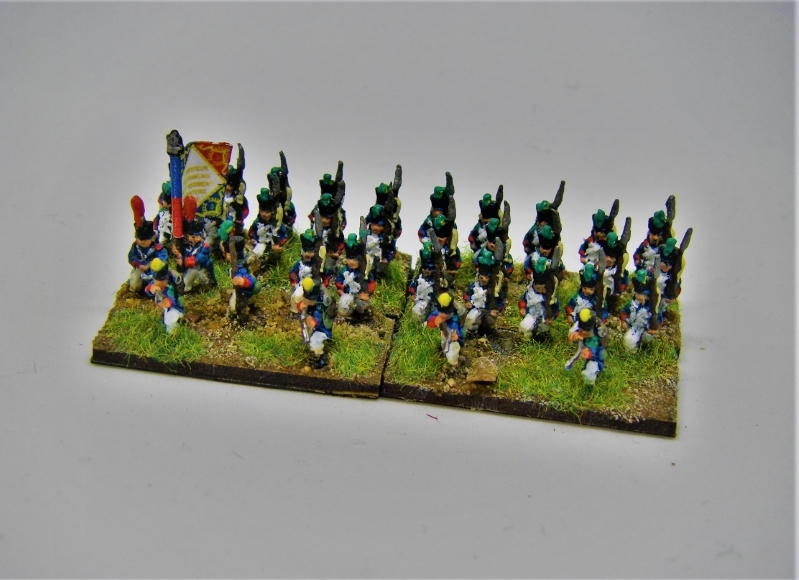 These are more 'mid process' infantry where I had started to paint out the blue tunics underneath their straps with an all-over white stripe for their straps and tunics. These must also have been mid-plume-repaint as there's loads of leakage of the rather bright green (I think Vallejo Emerald) paint onto the black parts of their hats, which I then needed to go over and tidy up later in the overall process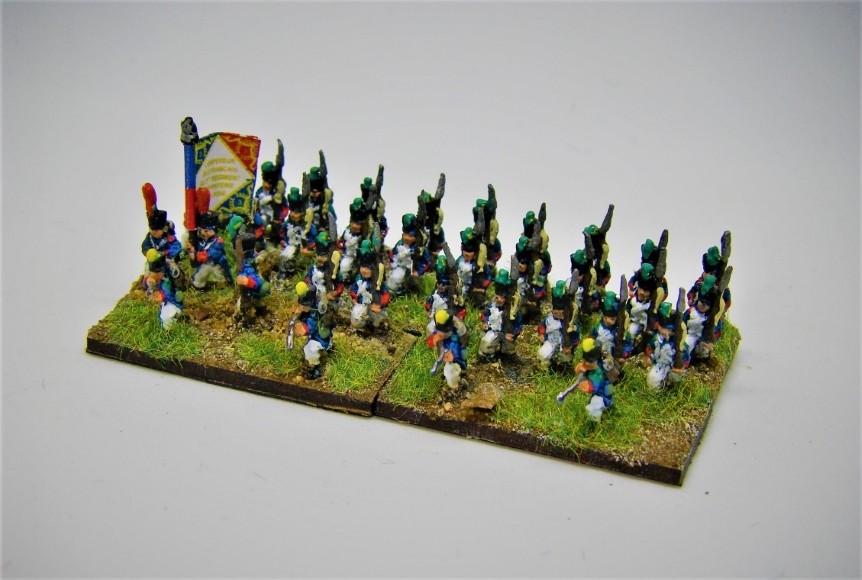 I toyed with, and then discarded the idea of doing the plumes at Batallion/Regimental scale, which would have meant various files of figures having green/yellow, lilac, orange, blue and then even maybe some in red plumes - a rainbow effect in short!.
Instead I went with plumes consistent in each unit to mirror a much lower level of organisation, and then there are now 4 sets of units with fixed colours across the army.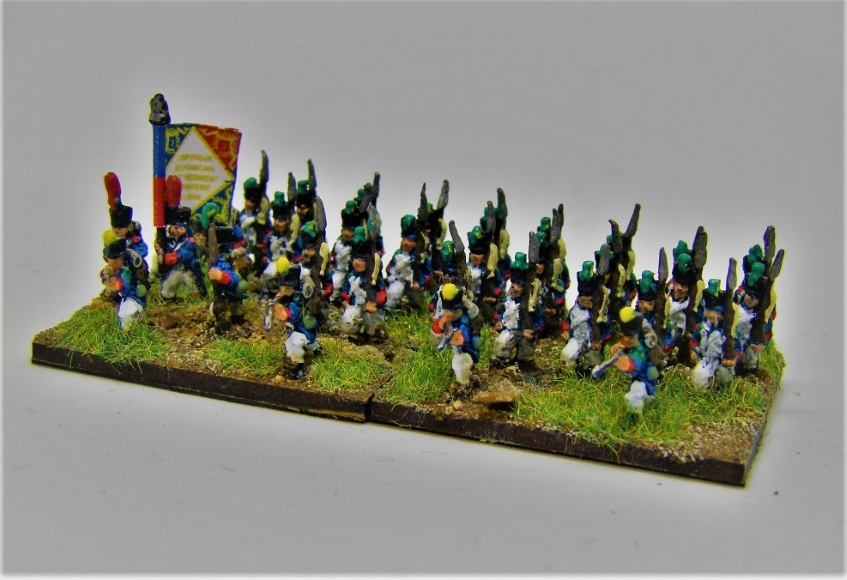 It does mean there's some troop scale weirdness in that a Regiment or Batallion has the plume consistency (if that's a thing?) of a Company, but with so few figures anyway I just felt on balance the rainbow effect generated by representing each Company as two files of men with a different pompom colour would create would just look even more odd.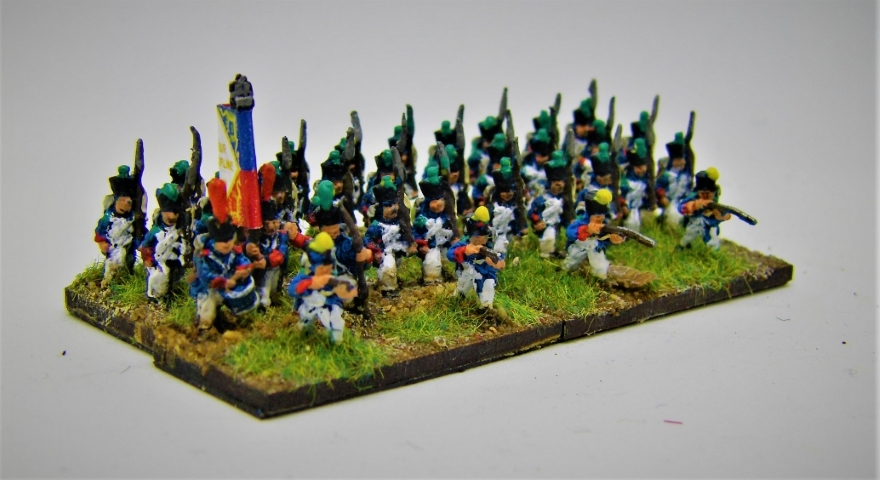 The one concession I stuck with was having the skirmishers with yellow plumes, as they did represent Voltiguer companies who would have had them, and it also breaks up the visual monotony of the unit a little too.
You'll also notice that on this unit I have painted-in the white bits on their tunics outside the webbing straps.
Lancer & Pendraken compared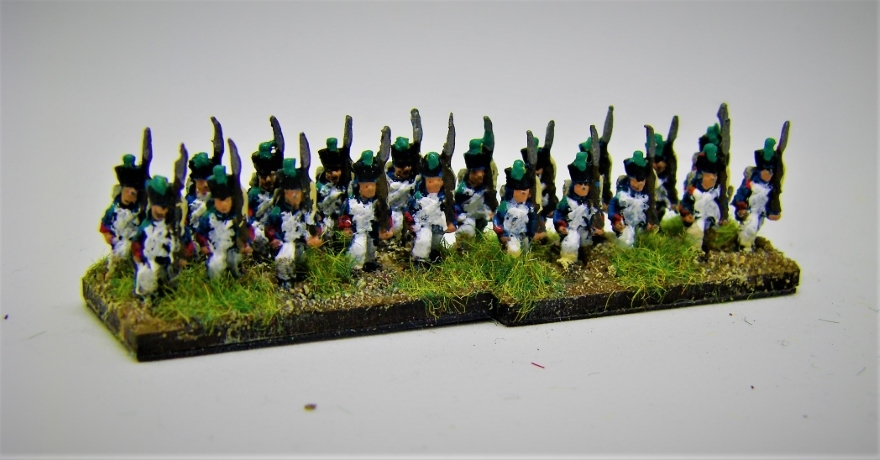 This turned out to be a much easier and quicker way of doing thing - a simple white stripe down the front of each figure from the neck to the (also white) trousers.
These are shown before adding a watered down dark wash to pick out the detail.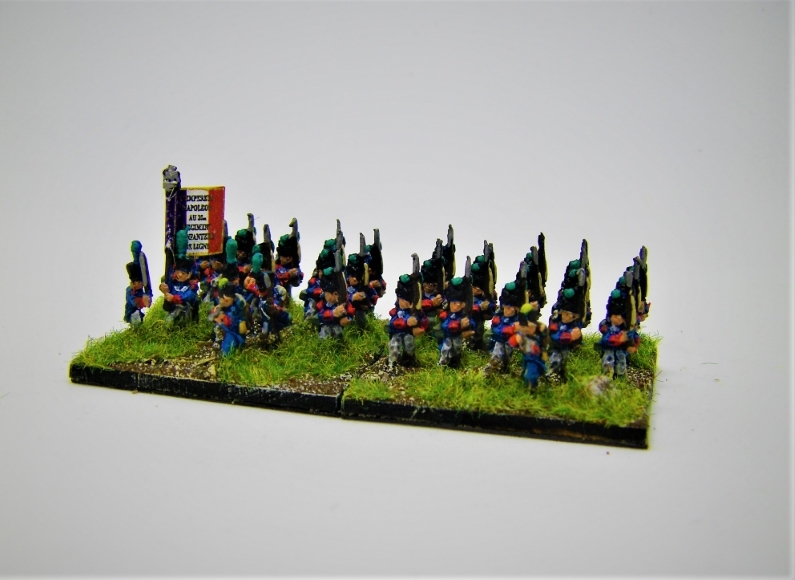 This unit has a rather too dark wash on their trousers, which now look almost dark grey. I ended up painting over this with white in the end.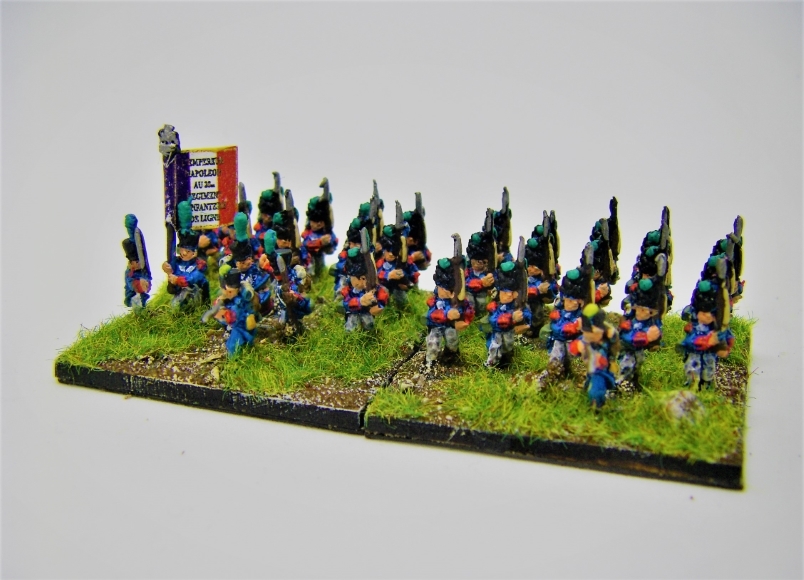 They also had hats with pompoms rather than plumes - with my rather arbitrary decision to make the units I had consistent I kept to the same hat style for each unit wherever I could (or wherever I had enough figures to do so). I'm not sure this is right, but I'm not sure.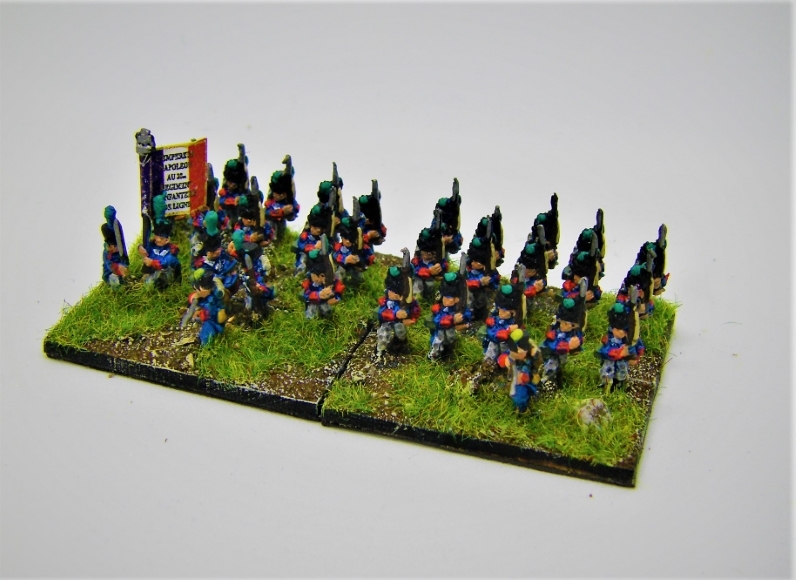 The grass I used is standard on all of my figures - I use the same length on 28mm bases, which really shouldn't work I guess.
I do wonder that maybe it doesn't, but I've just gotten used to it?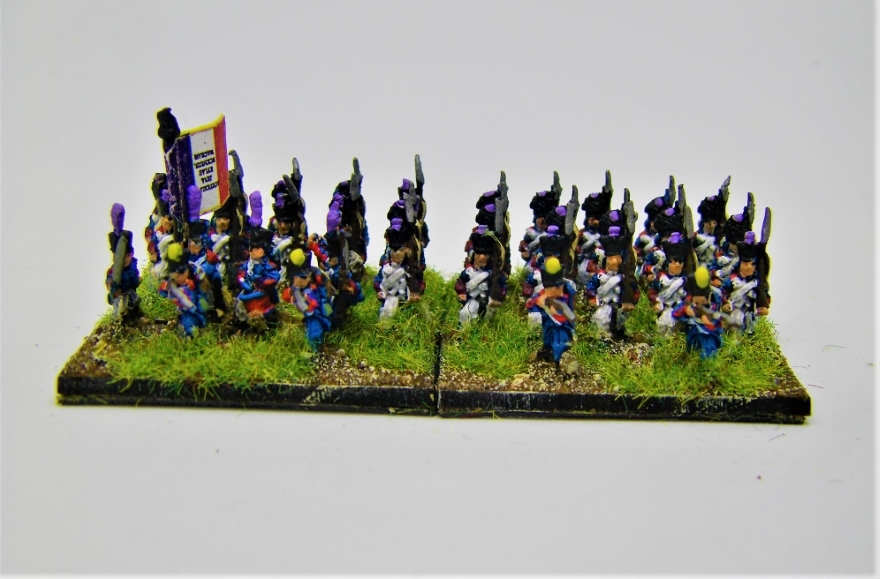 Here's a unit where it all starts to finally come together through trial and error. The white tunics and trousers, dulled only slightly with some diluted Dark Tone wash, and then the straps picked out again in 'clean' white paint
The straps are one solid diagonal line of whit efrom top right to bottom left as you look at them here, and the other strap is painted with just two spots of white paint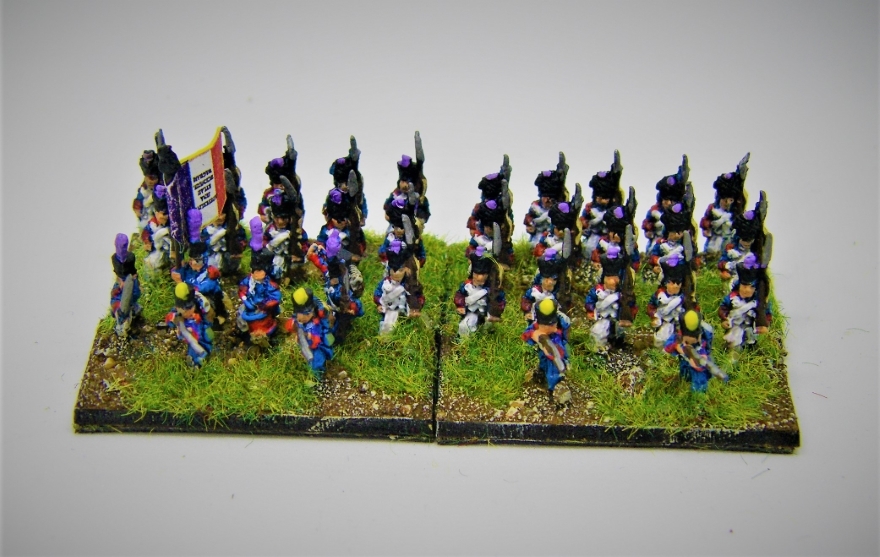 Lilac plumes here - a unit insignia that seems to only be cited on some painting-guide websites but not all of them.
Even so, I quite like anyway so I now have a quarter of my infantry units with these plumes.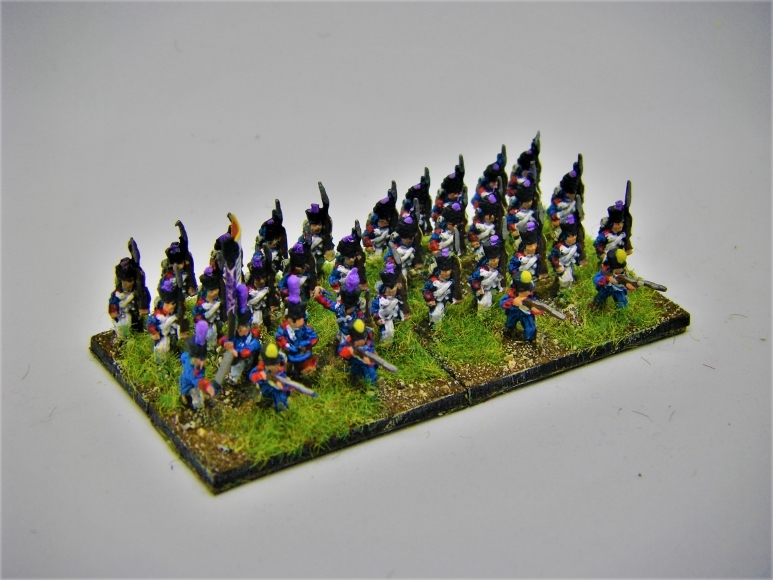 The Voltiguers by now I had realised didn't have white waistcoats - they were just blue with white straps. That was fine by me as it made them easier to paint!
(These are "affiliate links". If you buy something after clicking on them I get a small kickback from Amazon)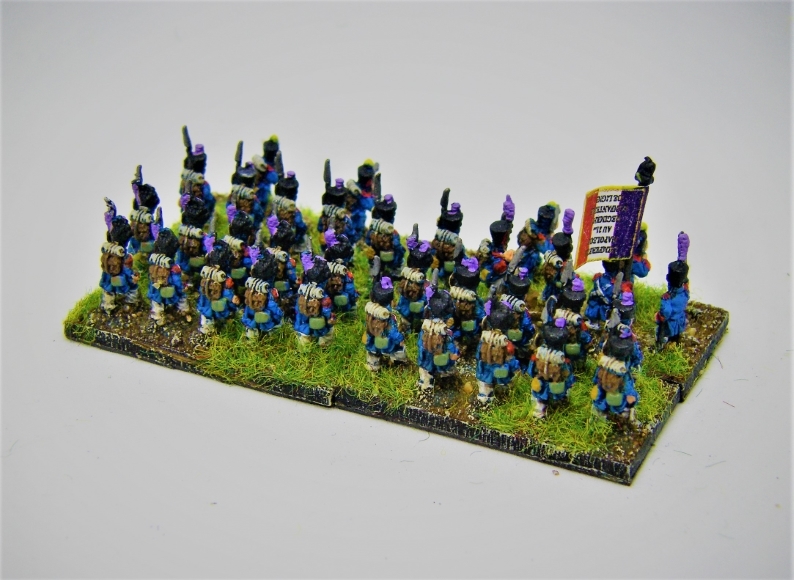 That super-consistent view from the back, with 4 separate colours used to do the packs, straps and a couple of smaller things hanging from their belts.
I have no idea about these colours on the packs and other bits and pieces, they haven't been researched as such but with the green and pale yellow belt items I just wanted an excuse to put some clear spots of colour on the figures to make the rear view less dull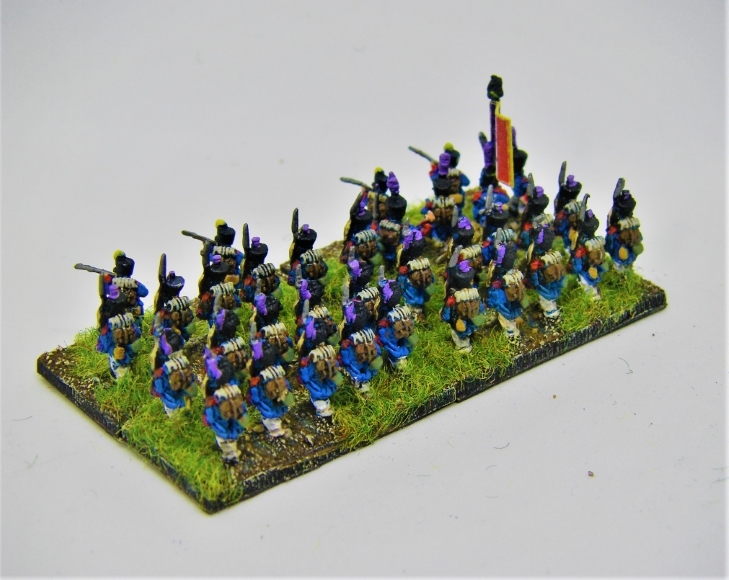 The grey blanket rolls and backpacks have really responded to a wash of Strong Tone very well, bringing out a lot of depth of detail. I decided this was good enough and I didn't need to add the straps onto either item after the wash stage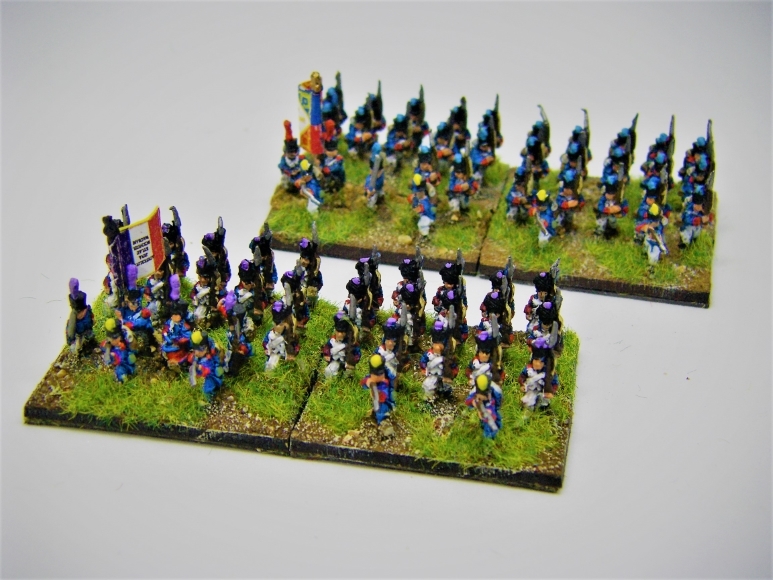 I don't use a static grass applicator even though I hear they are all the rage - on these small figures the flattened grass is probably better given its (I think) 4mm long - or waist height to these men!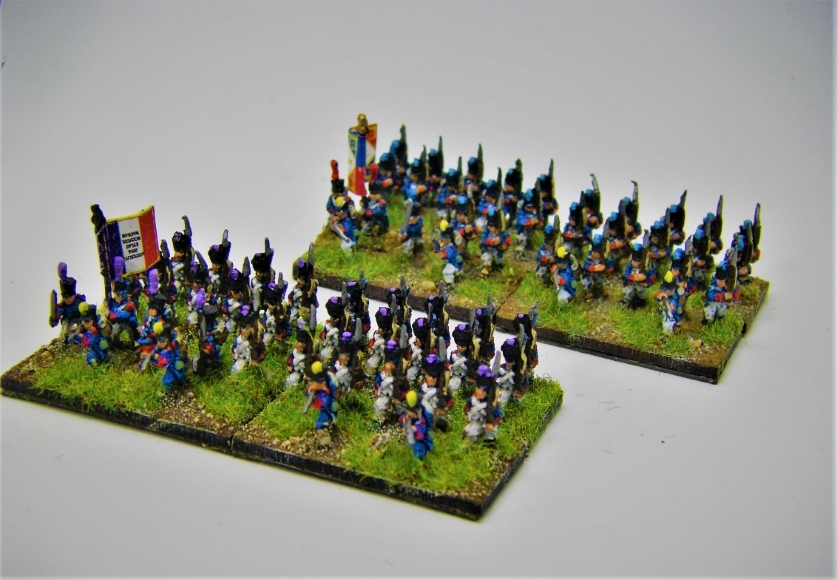 One of the things I found about these infantry was that once you think they are finished you always spot another little thing in the castings that could be painted up or tweaked to make them nicer.
From this angle you can see a few of the shoulderstraps on the men's rifles, which I'd originally missed. Doing them ended up being 300-odd strokes of a brush with Pale Sand, followed by 300 more strokes of Strong tone ink wash just to get consistent rifle straps across the army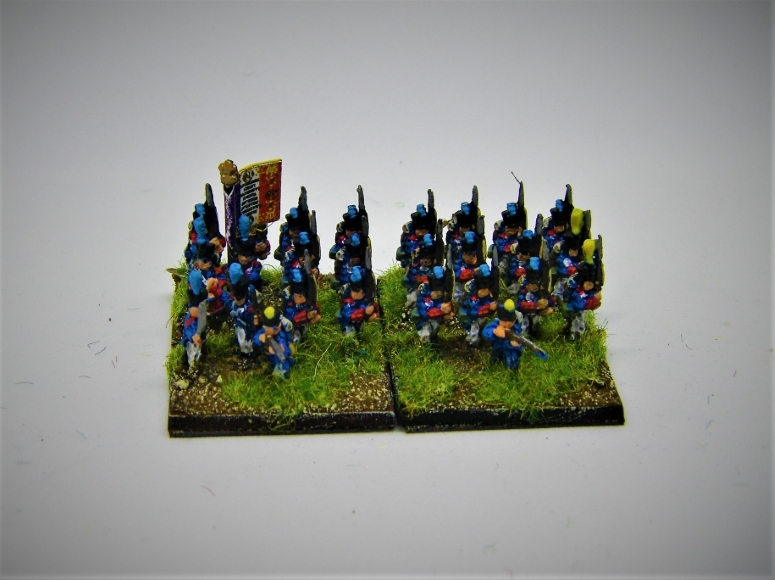 With the OG figures on 30x20 bases anyway, and not quite enough Pendraken models to do all my units in sets of 30 men I compromised and made a few units of Pendraken infantry with 24 men on 30x20's as well. A bit smaller, but a bit cheaper too! I'll use them interchangeably with the 40x20 units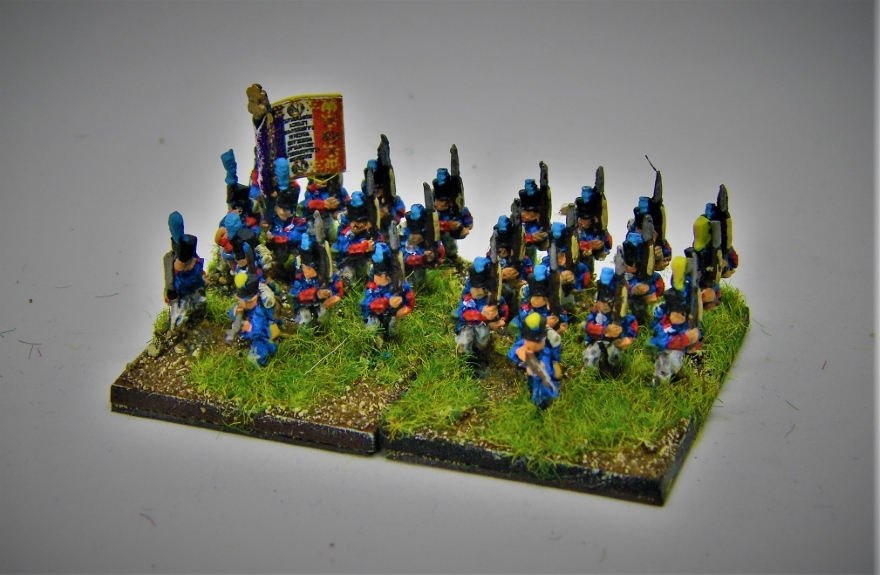 With 1 Voltiguer per base this unit will have a Skirmisher Factor of +1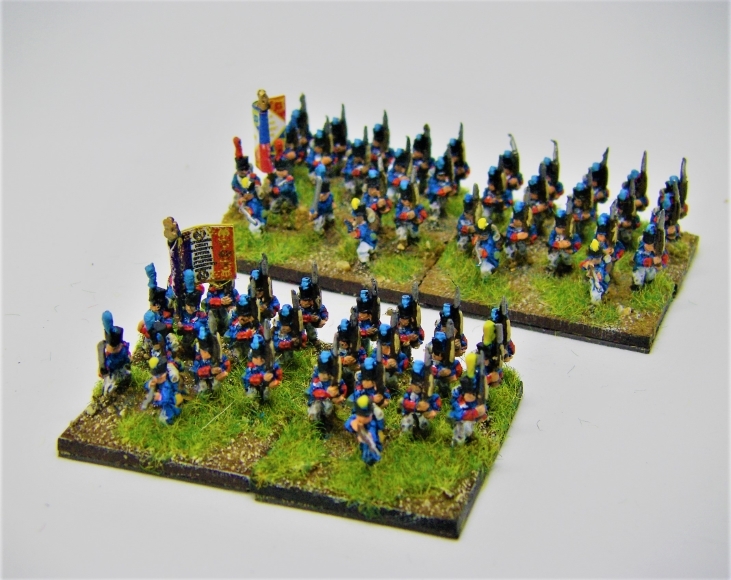 The 30x20 units are - of course - smaller than the 40x20 based ones, but its not ridiculous when they sit next to each other like here. Mixing them in the same army I feel will be fine, and just some of the units will start a little more battle-worn than others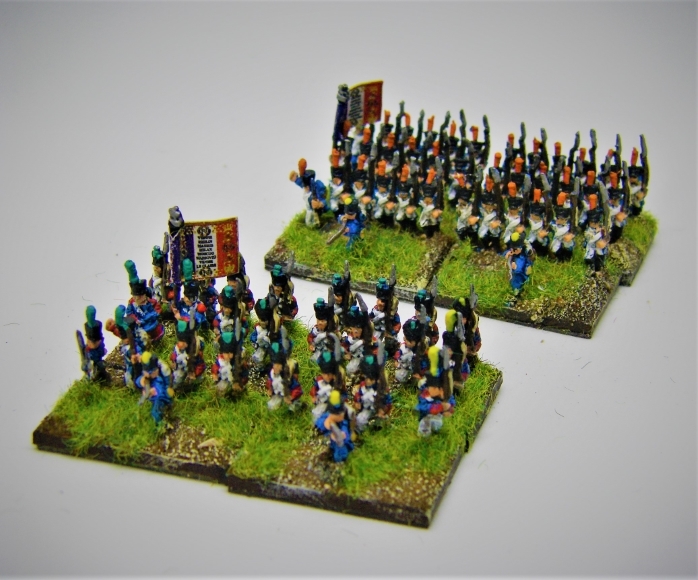 The extra-cosiness of the OG strip figures here with 6 men (5 strip plus the painfully extracted spare man) set against Pendraken men with 4 files per 30mm frontage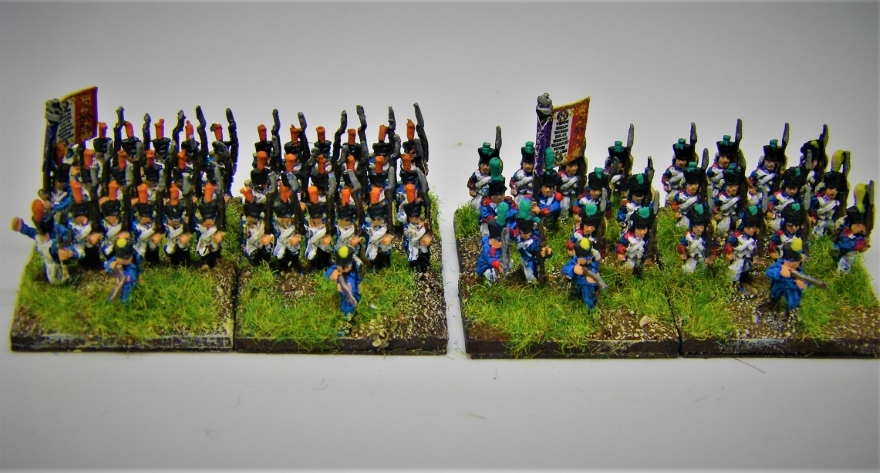 And side by side. Looking at them from this angle I think the boots of the OG men stands out more than any difference in poses or style of the castings
Looking almost straight down the files like here does highlight the thinner ranks of the Pendraken men, but from any other angle they look densely packed enough, even if not quite as tight as the OG units.
I guess you could argue the Pendraken ones are more chunky, but at 10mm and tabletop distances...really does it matter?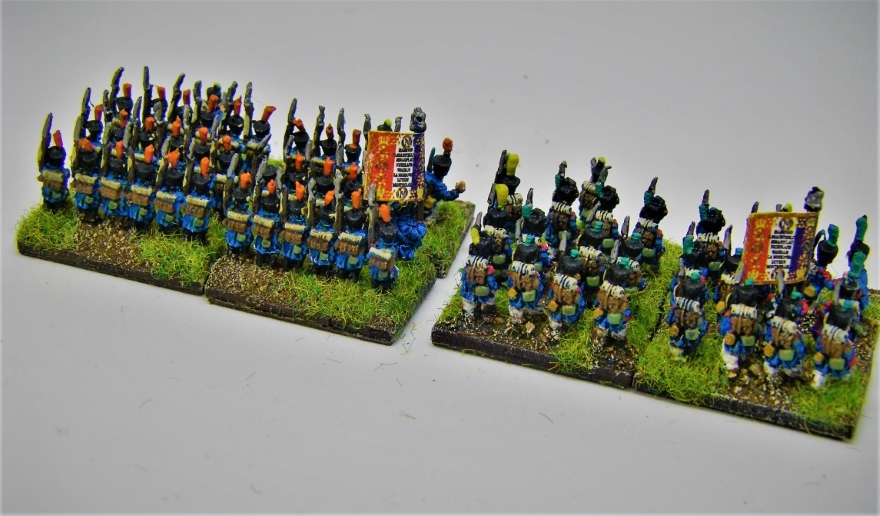 (These are "affiliate links". If you buy something after clicking on them I get a small kickback from Amazon)
From the back. One of the downsides of the OG figures is how hard it is to but two blocks up hard against each other when they are mounted on separate bases. This is down to the size of the shared metal base the men are all attached to - not an issue you have with the Pendraken singles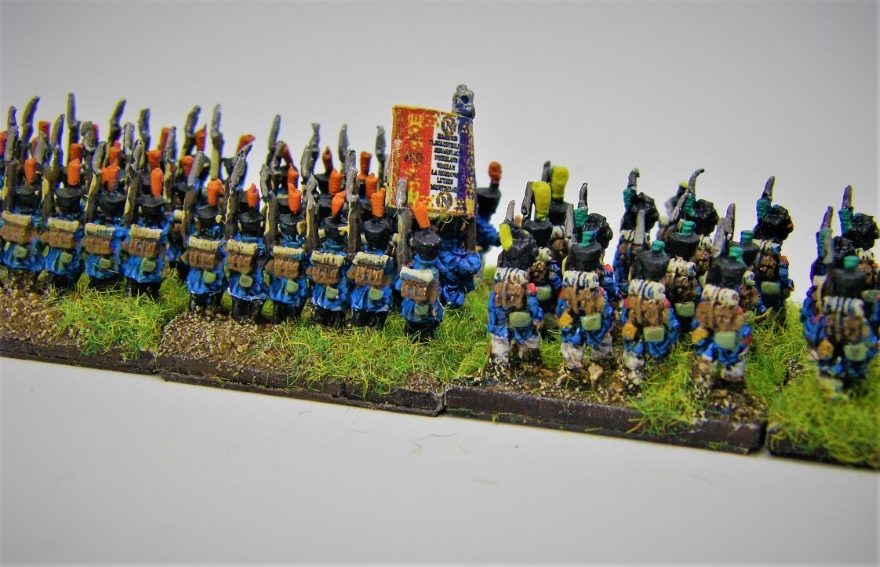 Some of the figures are carrying more kit than others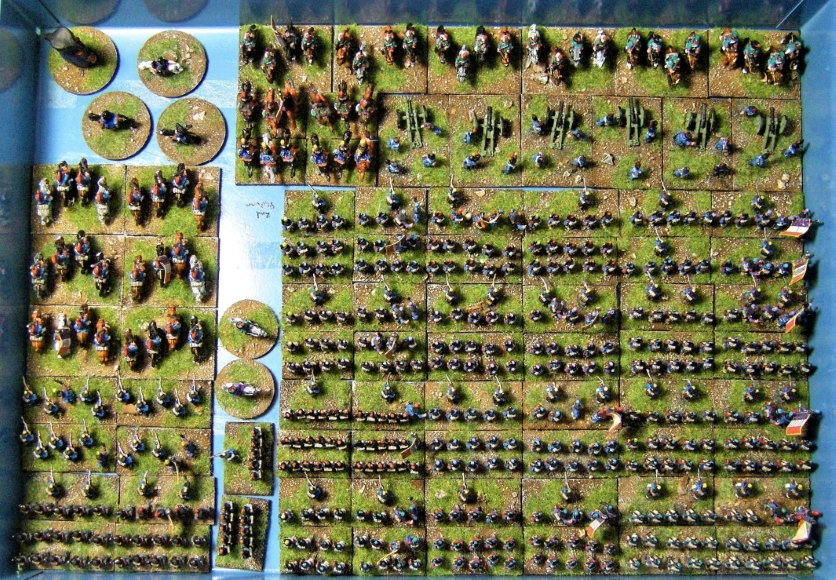 And here's the metal box I managed to fit them all into !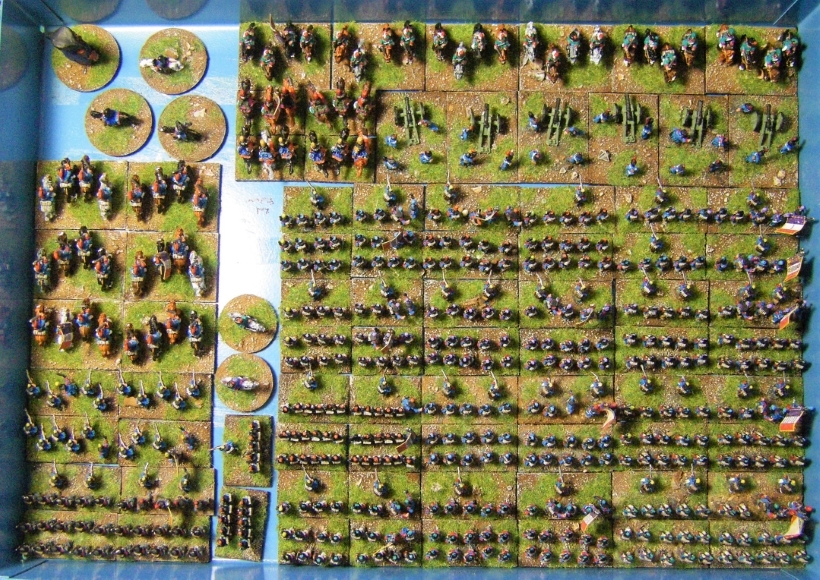 14 units of 4-base infantry (plus some spare front-rank bases to allow me to swap a couple of units between being Sk+1 and Sk+2 units using the same rear ranks), and two more extra bases of OG men as well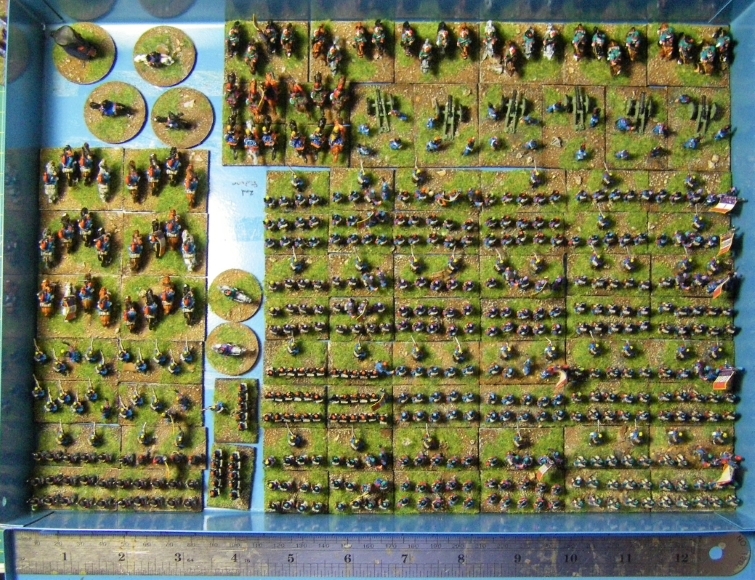 8 units of 2-base cavalry
6 Guns and 6 Generals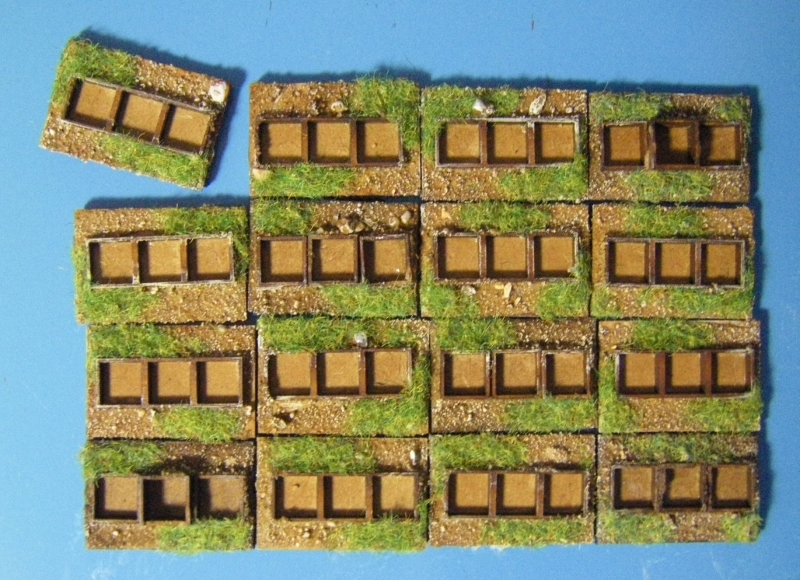 I also made these marker frames with 30x20 bases and Pendraken Minibits 7mm dice frames. They can sit behind units and carry their hit markers, and other activation or battle-damaged indicators as well.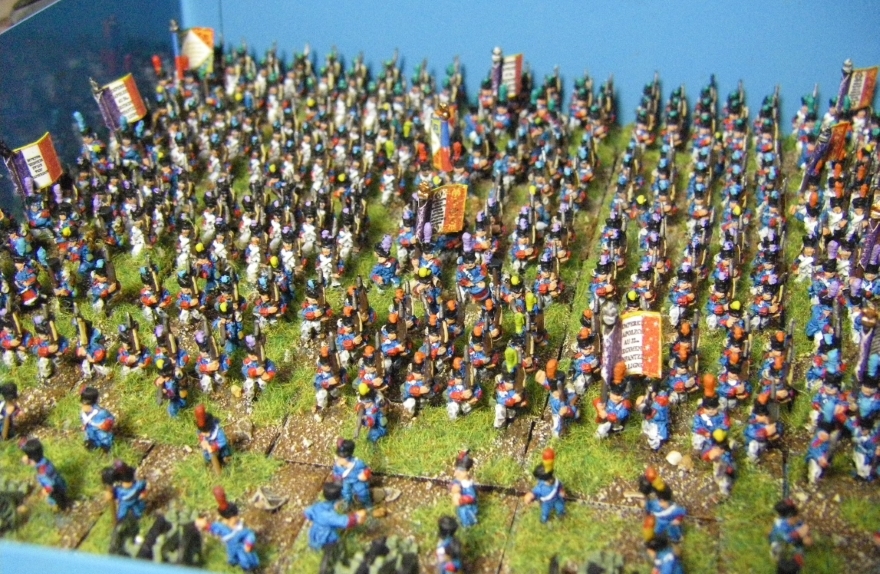 Here's a better view of the army - the inked-white fronts and picked-out straps really show in some of these infantry.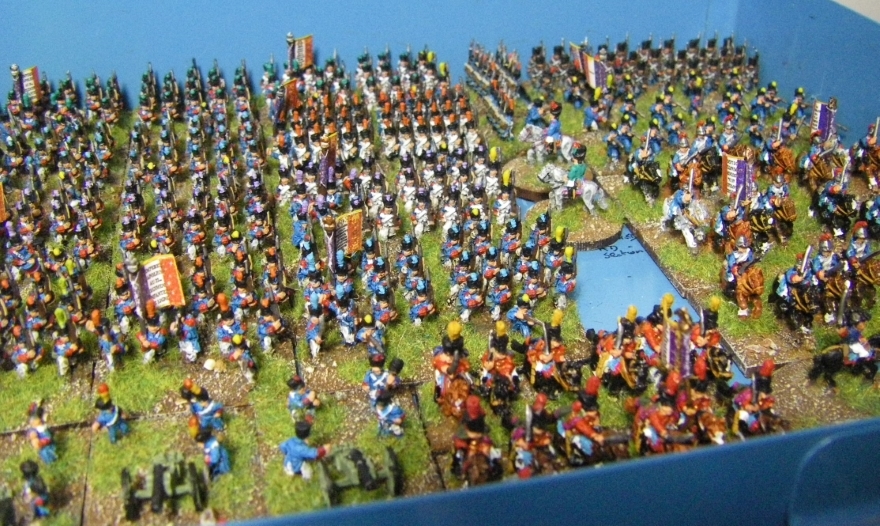 The box was a near-miraculous fit - or a warning not to buy any more!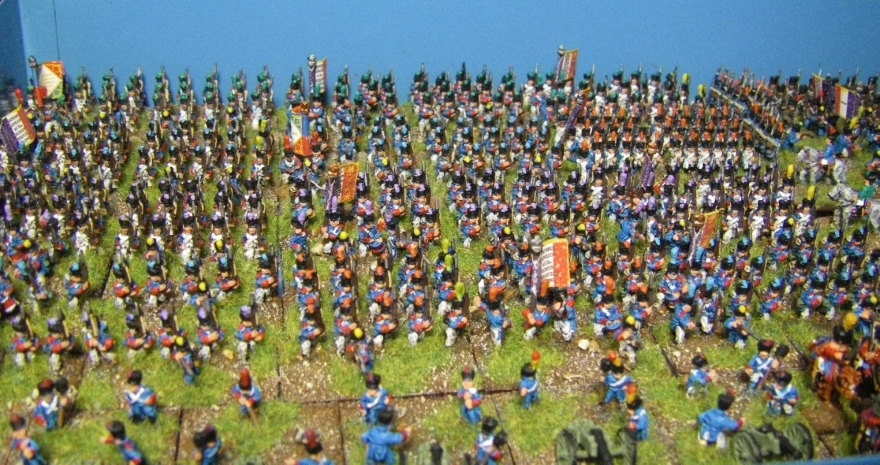 Again, the rare down-the-files view makes the gaps between men look more significant than on table in a battle situation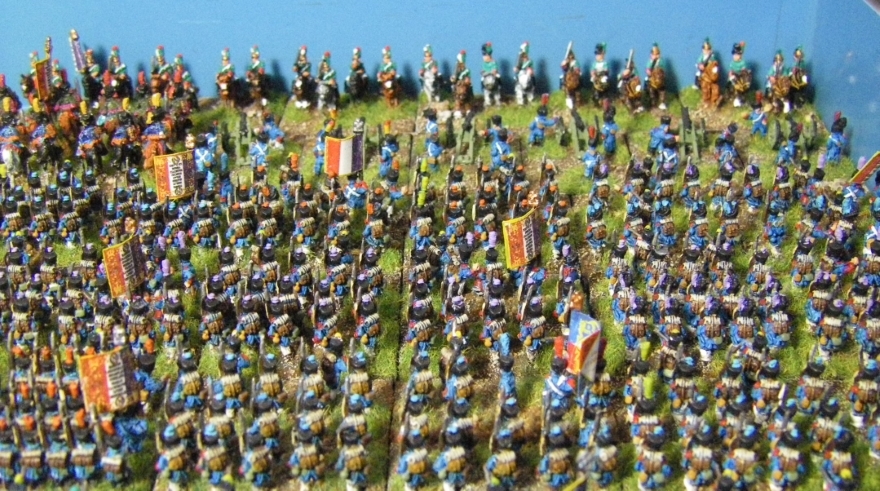 The Dragoons with their brass hats are ready to charge the guns!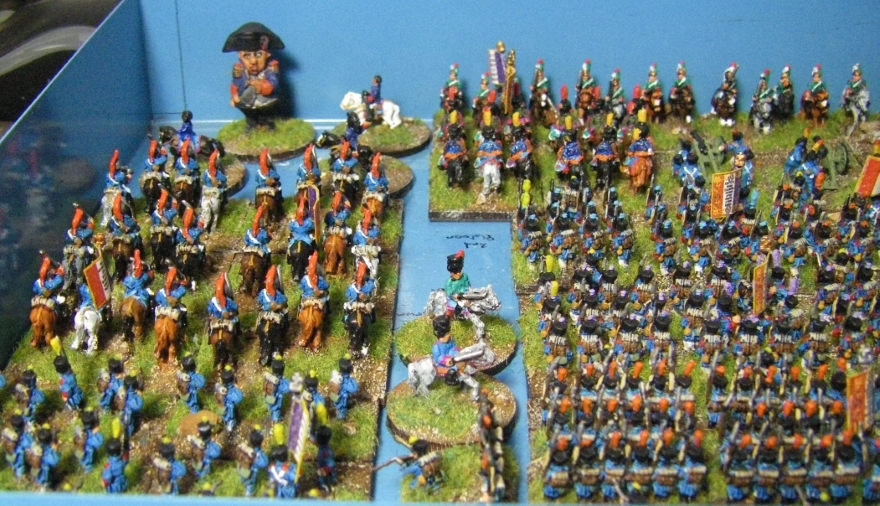 Gnomepoleon looks like the naughty boy made to stand in the corner, which in some ways is fairly close to history I guess. Apart from the Gome bit of course.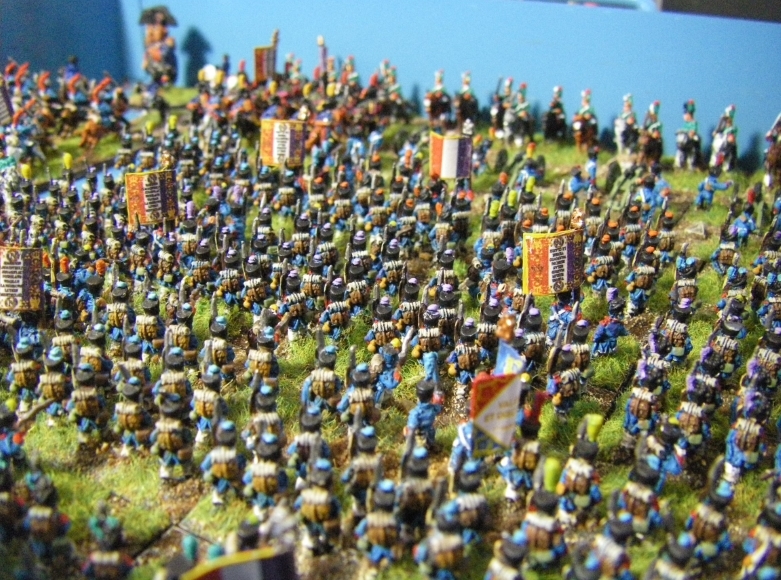 Hopefully this will be the view I see most of all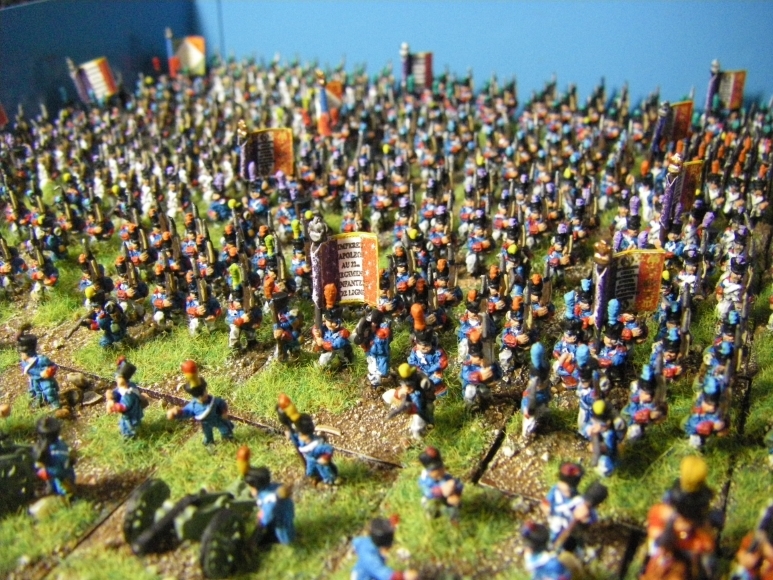 Ready to advance and crush their enemies - whatever scale they may be!
The Summary
Be honest - these are so cute you want some, don't you? The painting is spotty, but seen en-mass these 10mm figures really nail the Napoleonic look and feel I was hoping for about as well as I could have hoped, and I suspect that you actually would struggle to see much difference if they were painted better, which is great for me.
There are some real works of art out there in Naps-painting-land online, especially at the bigger scales, and some great stuff in 10mm too but for me its about serried ranks of little men off in the distance charging up and down hills in blocks, not individual combat on a uint sized frontage between works of art.
These figures have been an education, and in the end a joy to paint - and I think they work much better for this scale than even the Medieval and Ancients figures I did a few years ago for Warmaster, mainly as the mono-pose look just feels better for 10mm. Once you realise you are actually painting a unit to look good, not each figure is when it really starts to click. Let's see if I can avoid buying the Brits now!
There are some real works of art out there in Naps-painting-land online, especially at the bigger scales, and some great stuff in 10mm too but for me its about serried ranks of little men off in the distance charging up and down hills in blocks, not individual combat on a uint sized frontage between works of art.
Most of the figures are from Pendraken, and the others from Old Glory (UK link) and the Et Sans Resultant ranges available in the UK from Magister Militum (UK link). You can get Bataille Empire in the UK from North Star (although the first print run is running out apparently as of May 2020), there's a forum in multiple languages here, and you can see a flip-through of the rules on Wargames Illustrated and a review on wargamer.com as well. Once I actually get to play it I'll post something too!
---
That's the end - so why not go back to the Links Page and browse through some more stuff