Painted 28mm Successors from Victrix, 2023
Mostly the Light Troops
I've finally managed to get some of the 28mm Victrix Successors I bought last year onto the painting table this summer/autumn
With a huge range of troops to choose from, I didn't want to do my usual and try and make and spray the whole army in one go, so I decided to start with the "light" troops
This would then allow me to also start with the fun stuff, which for Victrix figures is doing some kitbashing with my (by now) huge bits box of plastic arms, weapons, shields and heads that have accrued over the last few years from other sprue-based purchases
Always, always snip the bits off all of your spare sprues and drop them in a tin - you will find a use for some of them later, and whilst it's a PITA to snip bits off a sprue after you've made the figures on it, you'll kick yourself if you don't save the bits for later!
That ended up meaning that my first (OK second - I have done some test bases before now) batch of figures for this army ended up being Light Infantry, Javelinmen, Peltasts and a couple of bases of Galatian crazy heavy infantry (because...)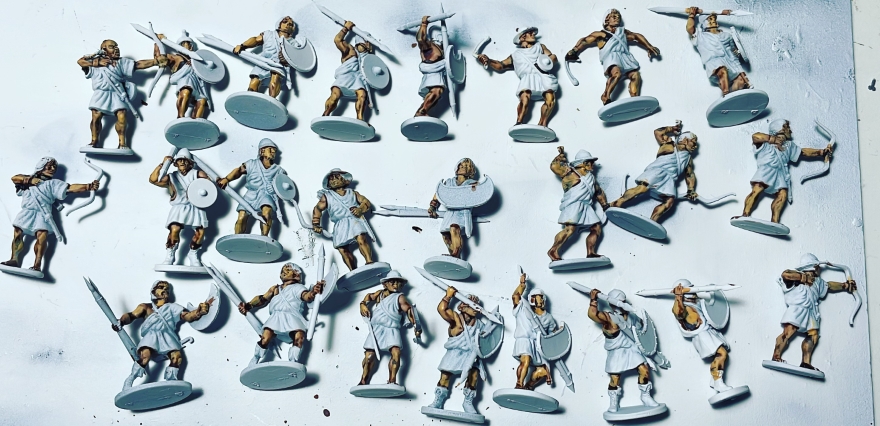 This was the full set of undercoated guys - I used Halfords car spray as usual to help make a bright colourful scheme using mostly Contrast paints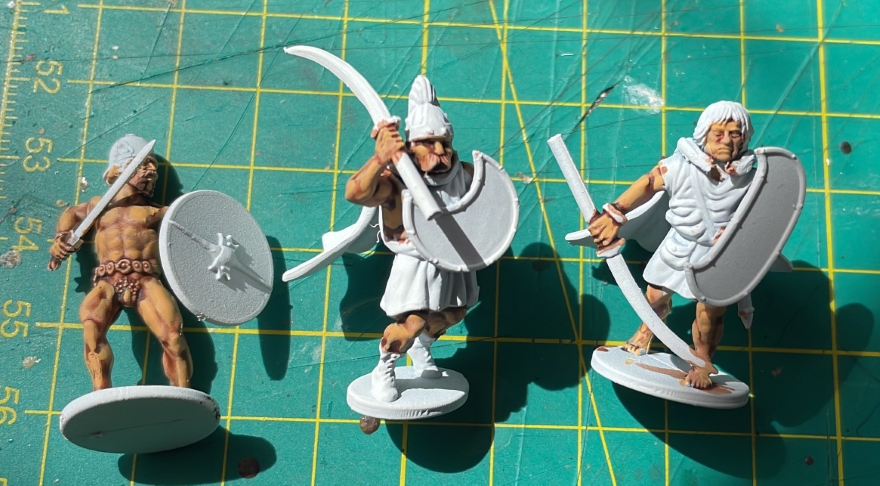 The starting point was to go with Darkoath Flesh on the flesh areas - although as you will see I intended to use this as a base layer, not a final coat in most cases. The Thracian guys are using romphias made out of swords from Fireforges Arab cavalry attached to the hands of Victrix skirmishers, with some added cloaks and the handles of the romphias being cut-down spears.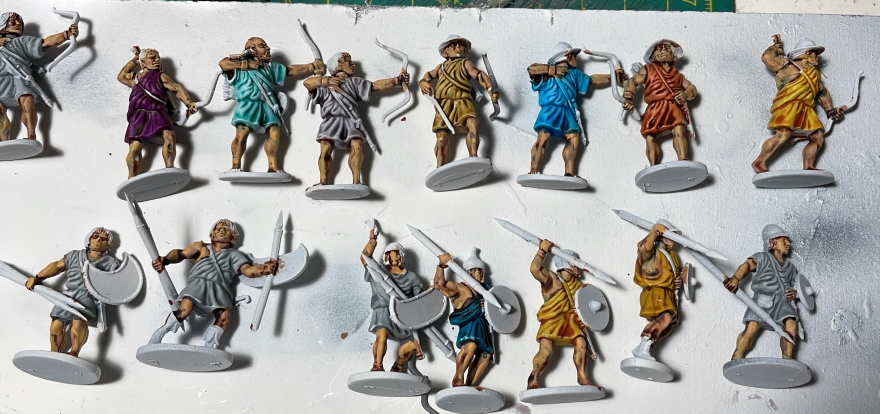 The next step was to add a lot of different pale colours to the tunics of the figures.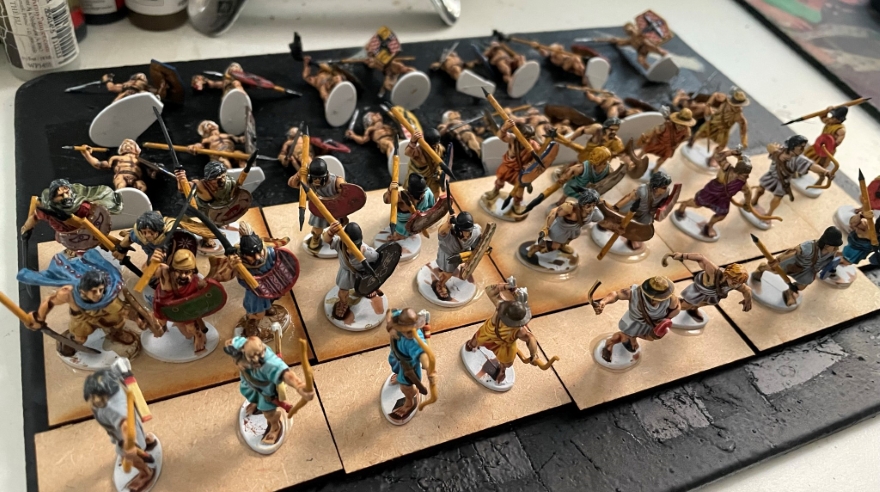 This next shot is pretty far down the line, with me starting to have painted highlights in proper Vallejo Dark Flesh paint to pick out the muscles on the guys arms and bare legs. You'll see this in some subsequent photos more clearly. I also have done all of the spears in my standard colour of Ochre, and done black undercoating on everywhere that will end up as metallic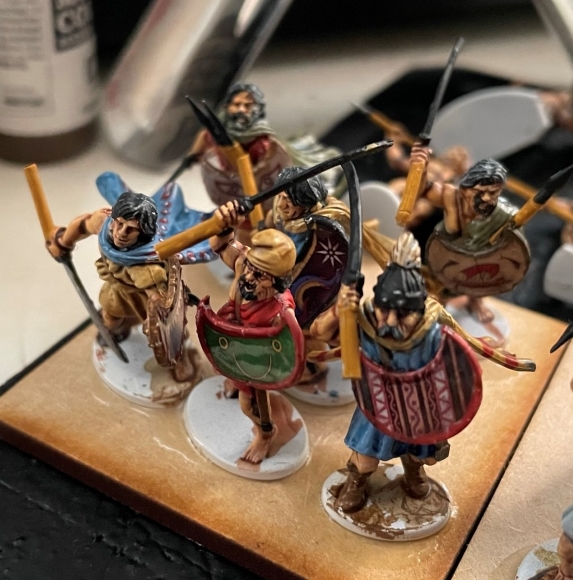 These are the home made Thracians, close up. I have a mix of contrast paints and normal paints + washes here, with the cloaks mostly paint + wash.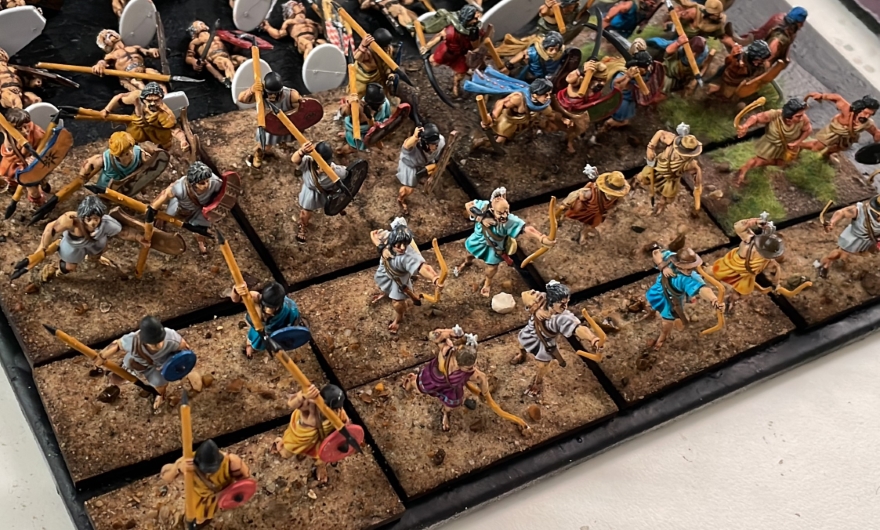 This is getting into the final basing stage, with builders sand stained with Rustins Wood Stain to give a more even colour to the base prior to flocking and drybrushing highlights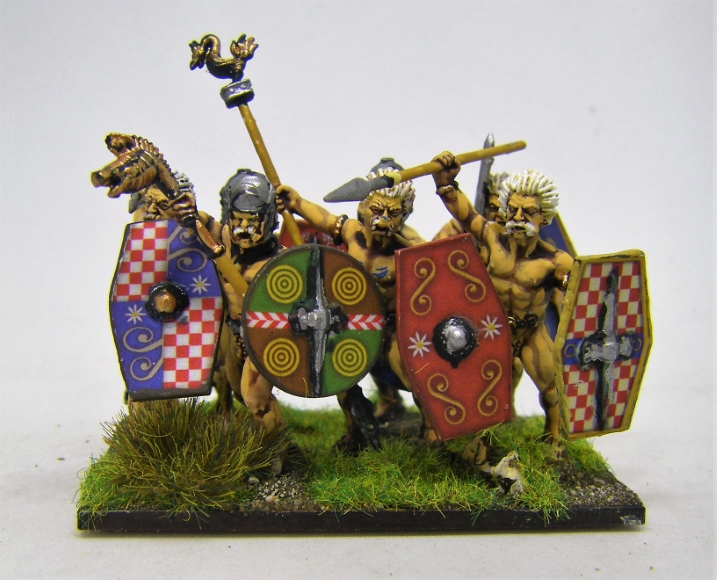 And, here in all their glory, are a unit of Galatian infantry with waterslide shield transfers from Battleflag, showing the way I've used Vallejo flesh paint to layer on top of the Darkoath Flesh Contrast base layer to create a half-and-half "Foundry 3-layer/Contrast" paint end product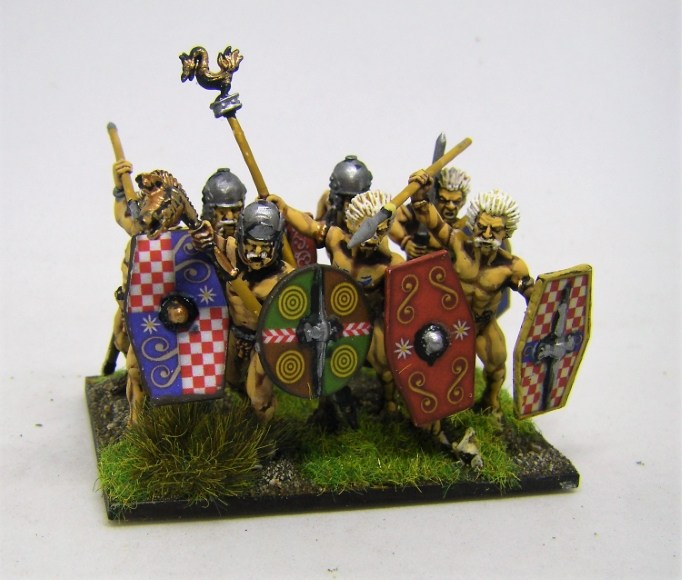 I matt varnished these nekkid almost-Gallic guys before doing any of the metallics, so when they go onto the figure its still properly shiny
The limed hair is just the hair painted in Contrast Dunes, and then drybrushed white.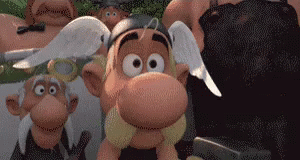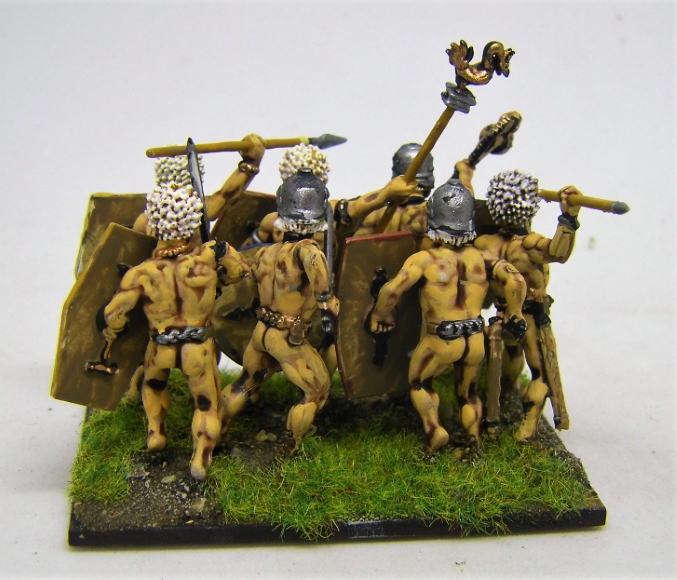 You can really see the layering on the rear of the figures. It's not really that neat in practice but at 3-foot tabletop ranges it looks really effective, and in many ways the eye deceives you with your familiarity with this technique done properly (!!) to make you think its better than it is!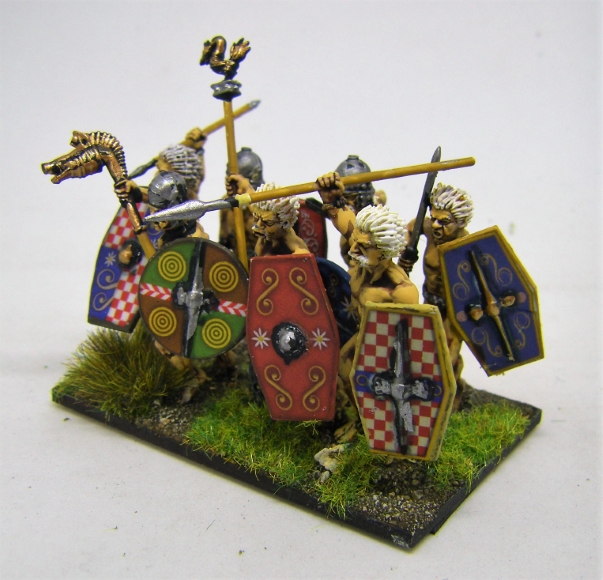 7 guys on a 60mm x 40mm base is pretty well packed.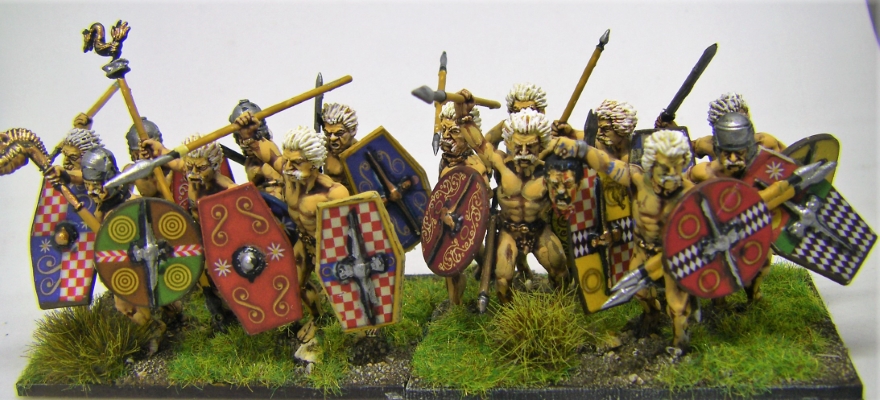 And here's 2 bases next to one another
I had to shave the individual figures bases down to fit them all in.
I even managed to find and use some really old Warlord Games rub-down blue tattoos from a very old set of their Gallic figures, which you can see here.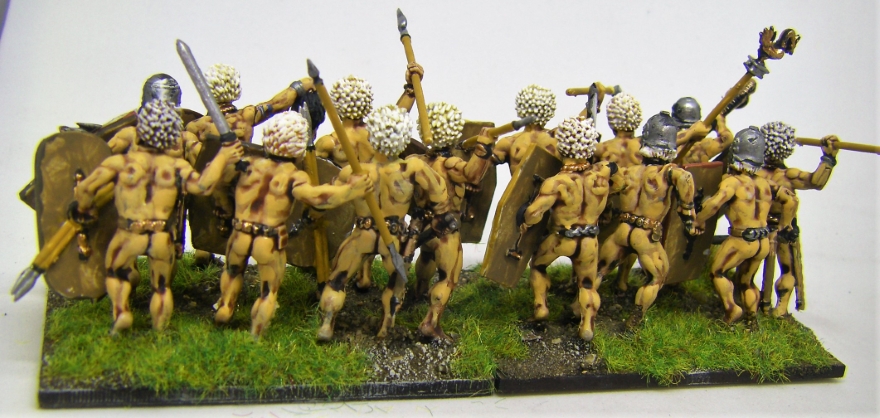 It's a lot of buttocks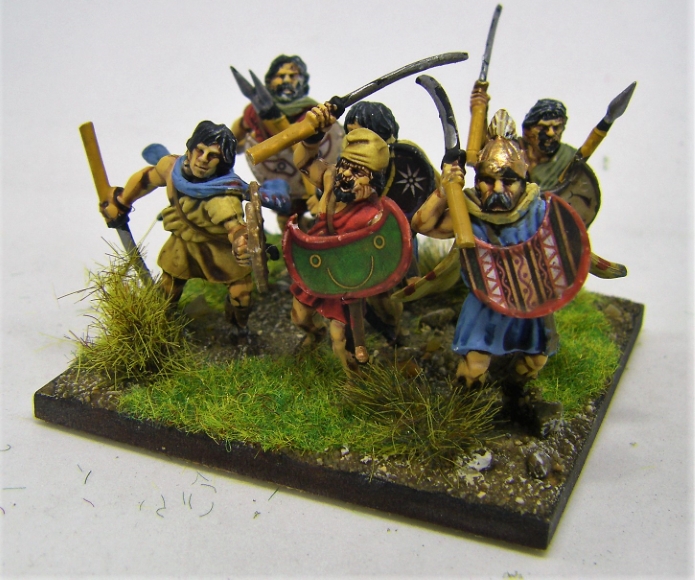 Here are the Thracians
The guy with the helmet is a Gothic Cavalry head from Gripping Beast
He could easily be a bit of a Thracian leader with a special (futuristic) Goth helmet .. surely?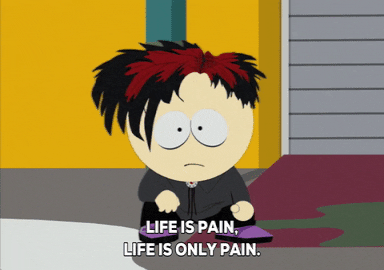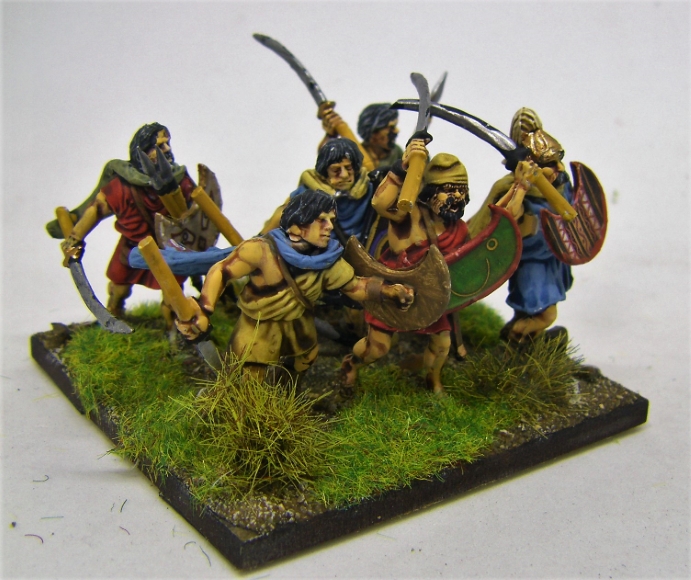 This guy at the front really shows the combination of straight contrast paints on the clothing, and Contrast + highlighting on the flesh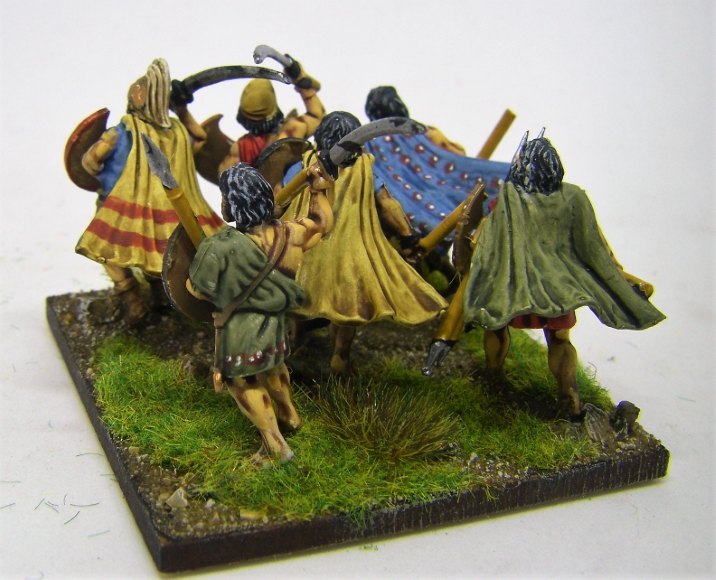 I'm also trying to pretend to myself that I've not noticed that the blades on the home-brew Falx' are probably the wrong way round, as I don't want to have to clip them off and fix them!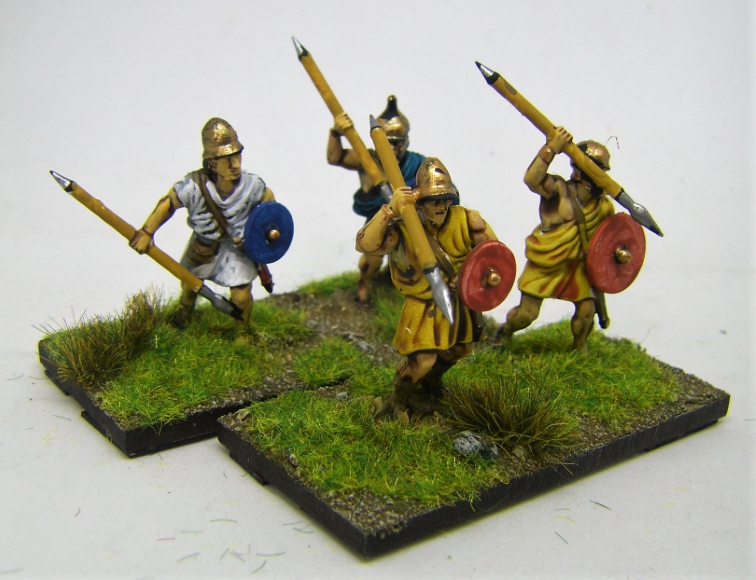 These are light infantry with javelins, some of which I think I imported from other kits as I do like thicker spears than some of the Victrix guys have.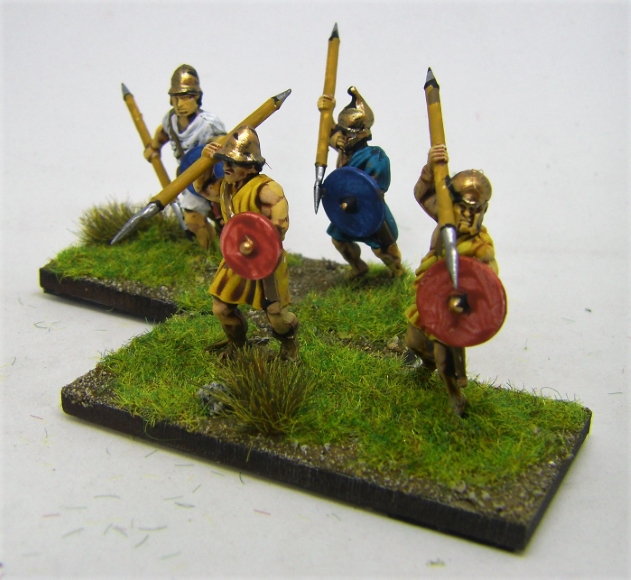 The guy in the white at the back is done in Warlord Games Holy White with "real paint" white highlights over the top - more of which later
Speedpainting something vaguely Ancient-ish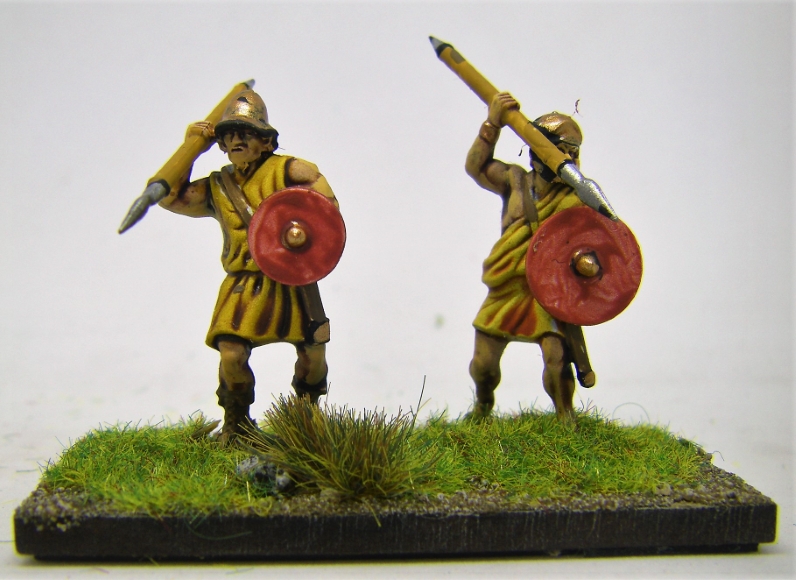 I quite like the effect of contrast paints on shields as it often gives them more texture and depth than flat paint can end up doing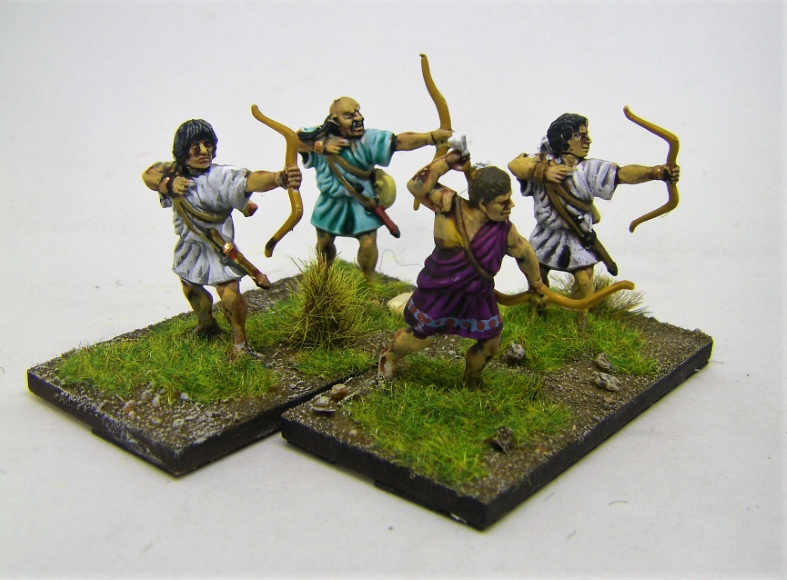 Two of these archers have the "white on Holy White" finish. I also used a Fireforge Mongol head on one of the random archers just for a bit of intrigue and interest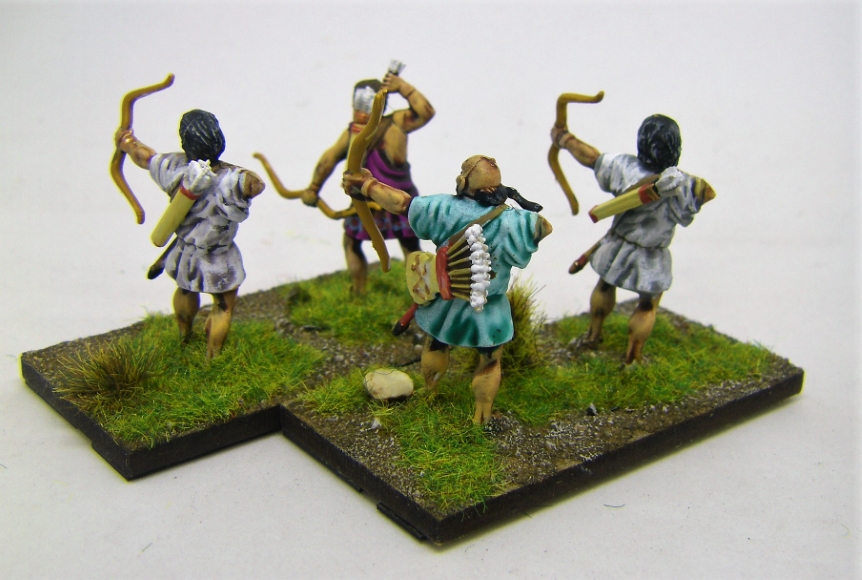 The non-white-clothes guys are in straight contrast paints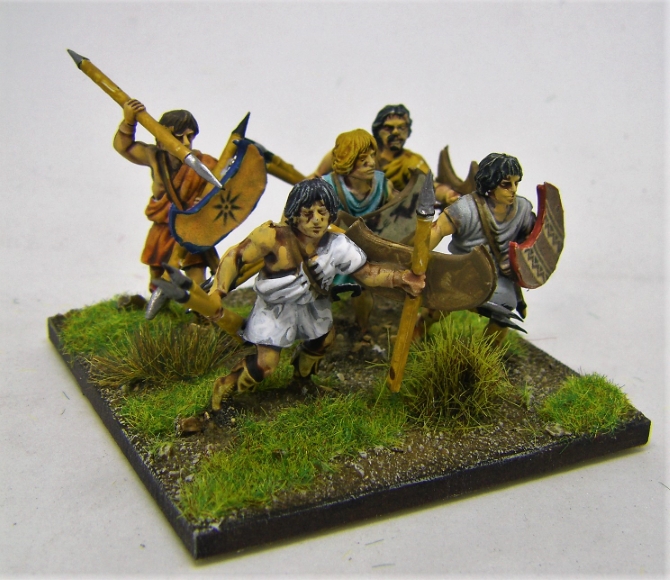 This is a base of Javelinmen.
The front two are both Holy White, but only one of them has the white highlights treatment
Adding in an extra javelin from the bits box clasped behind a shield gives a bit more variety to these figures. The javelin is simply snipped in half and glued to either side of the guys fist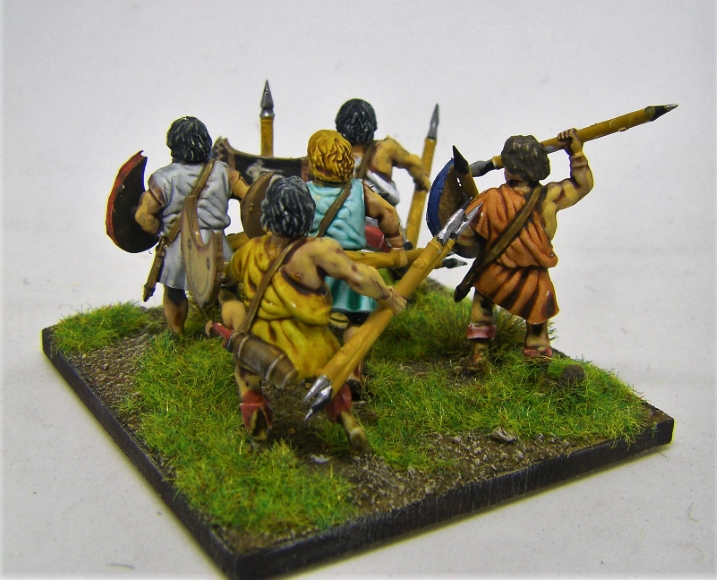 These are all straight contrast from the back (with flesh highlights)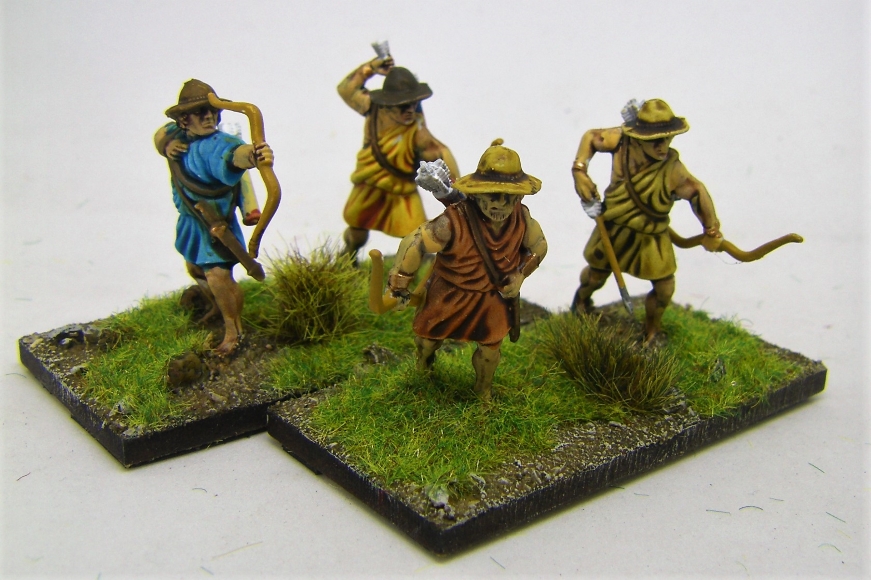 These are Cretan archers - hence the hats
The bows are pretty thin, and ideally I ended up trying to position some of them so they also attach to the body of the figure as well as at the wrist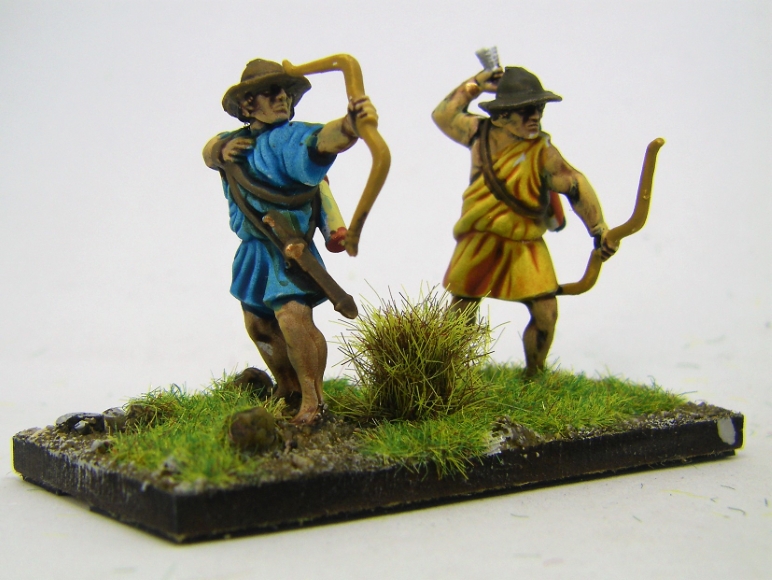 I was in two minds about how bright and bold these colours should be, and erred on the side of "pretty colourful" in the end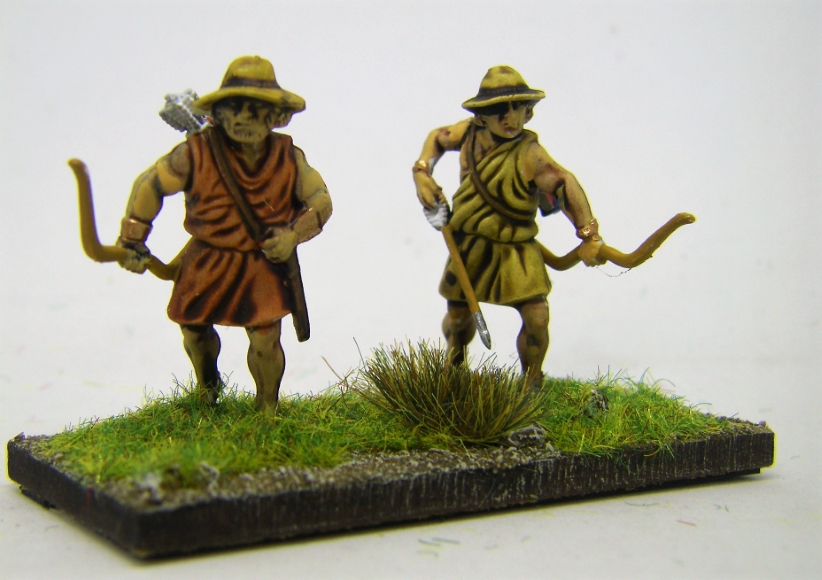 You can see more clearly here how the bows have been positioned for 2 anchor points on the figure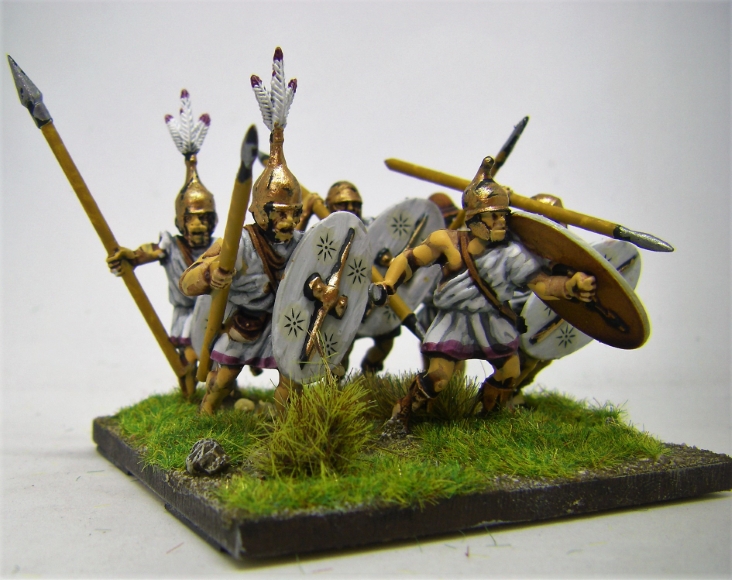 These are peltasts - Holy White + Real White!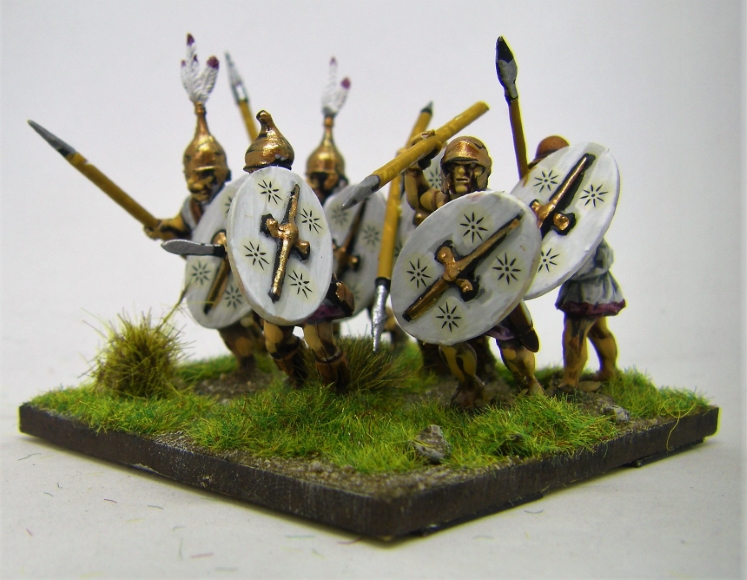 The shield patterns are Veni Vidi Vici 10mm shield transfers from a hundred years ago when I painted some 10mm Warmaster armies!
That's why they are slightly yellowing... but it barely shows at tabletop distances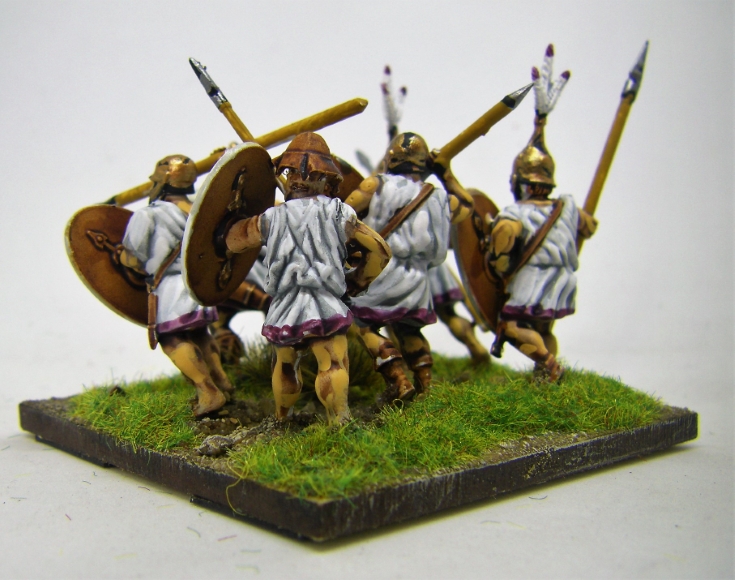 From the back they looked too white, so I added a small edging colour to the robes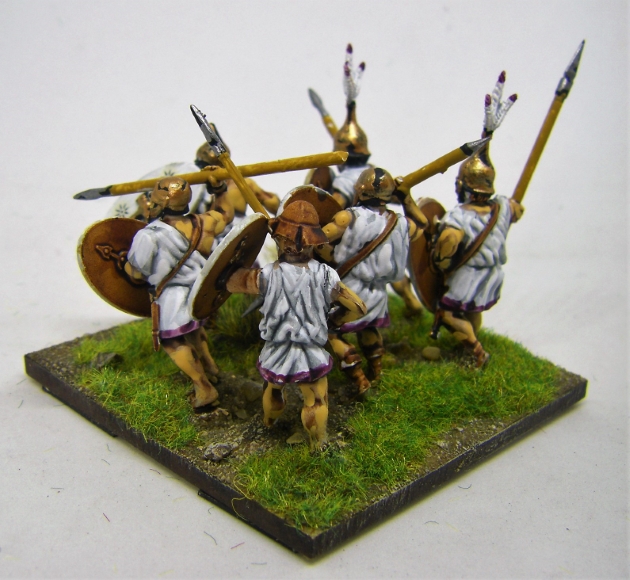 Bot the clothing and the flesh highlighting looks really rough a this sort of magnification, but this is not the distance you see them from on table
The figures themselves are really helpful in showing you where to put the highlights, and with Contrasts doing the deeper shading for you too its a speedy way to do a cheaty 3-layer paint job.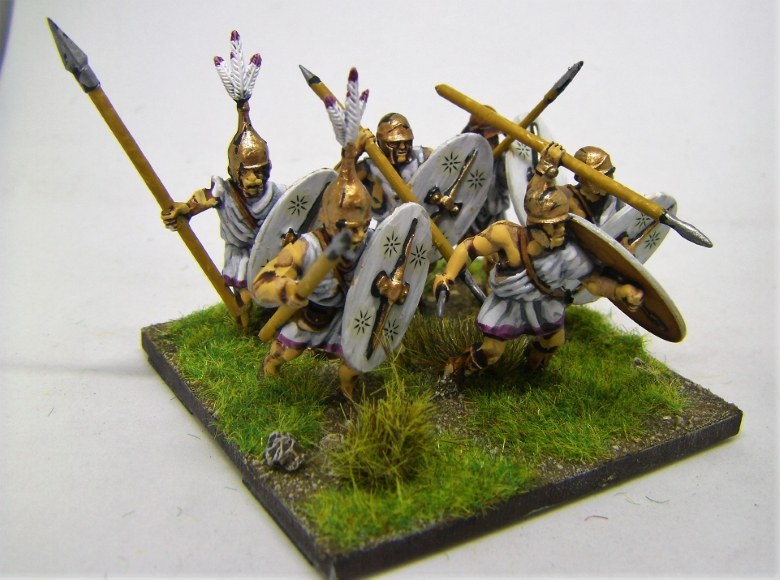 I do now know I need to go back and do some moustaches however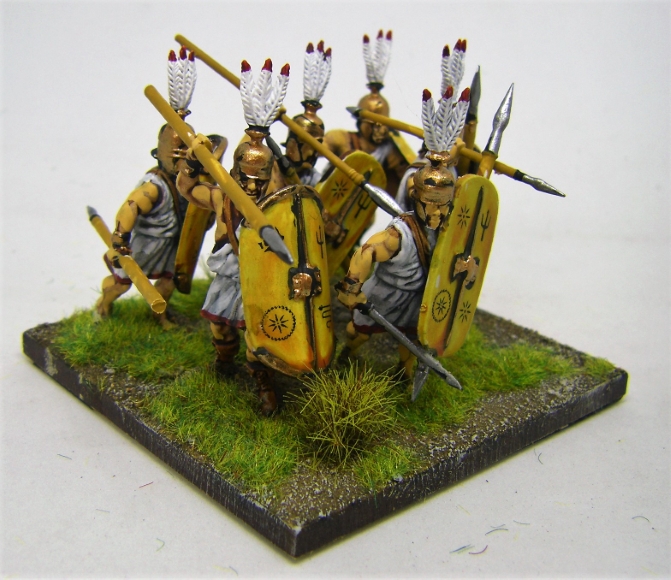 These are a recycling job, using the Romanized shields and heads from the Victrix elephant crew plus a few oval Galatian shields to create some rather unusual (but not totally "Roman"-looking) Successor Peltasts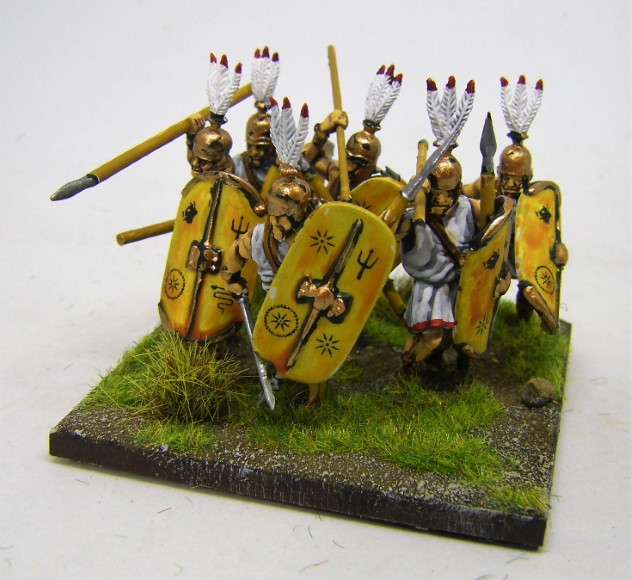 Yet again the shield patterns are from VVV, and are waterslide transfers for 10mm or 15mm scale figures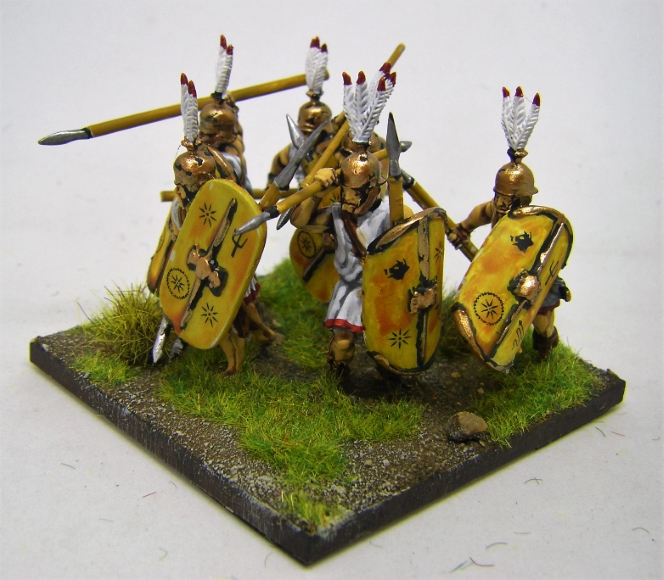 They have ended up really dynamic as a block, and with the size of the shields the unusual shape sort of gets lost a little. Or at least that's what I tell myself.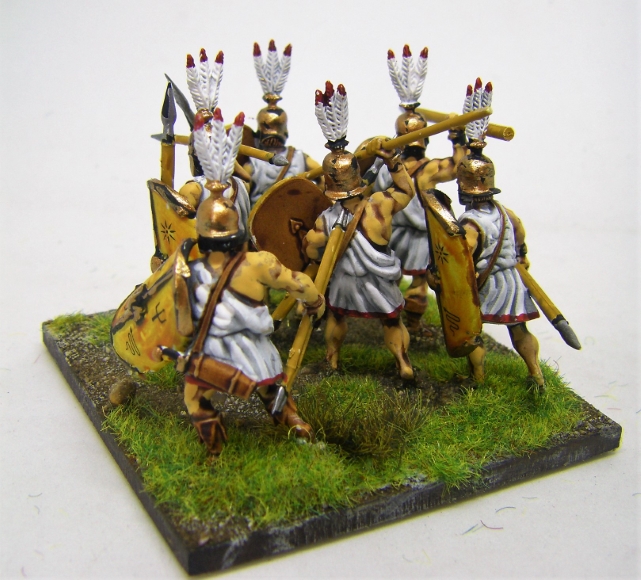 You've seen this from the back already!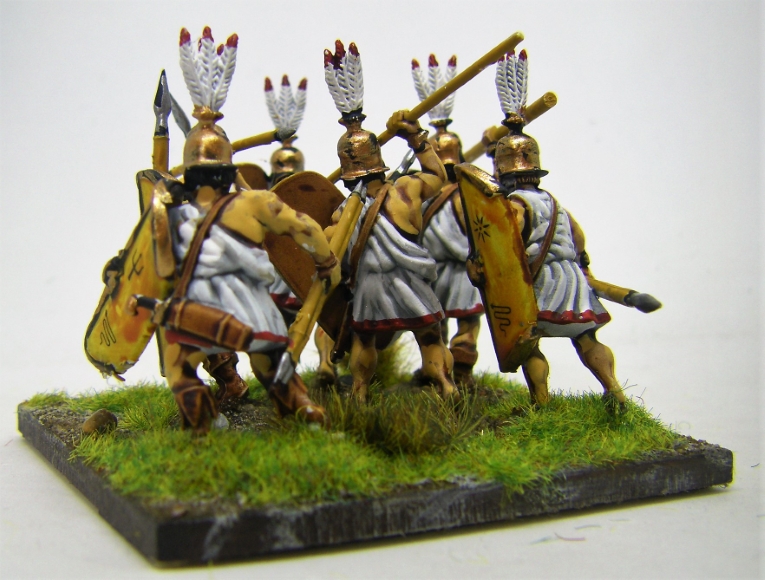 Again, too much white and I ended up adding a narrow edging to the skirts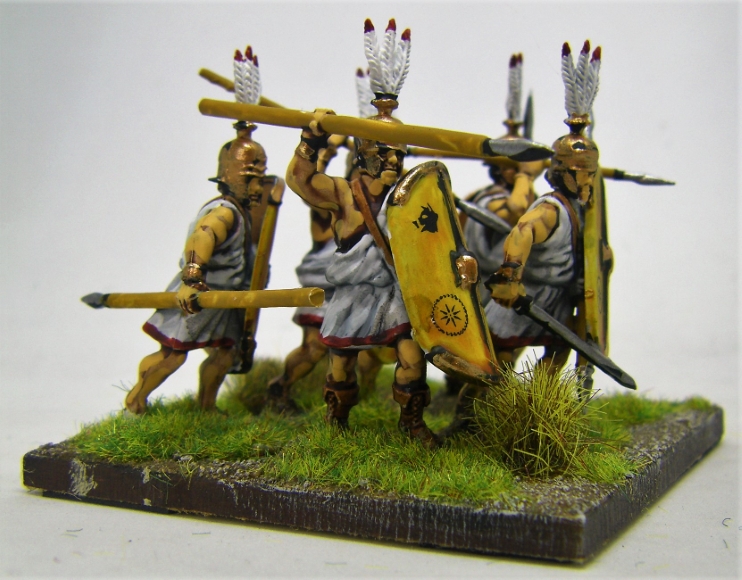 Some of these spears are Roman spears cut off at the writs from the Gripping Beast Late Roman set. This chap nearest the camera may have his hand on the wrong way round, or perhaps he just has a spin-bowlers googly grip?
The Googly (not another reference to the Galatians!)
So, that's this tranche - there is more to come once I get them made and painted! In the meantime you may want to check out the 3D printed elephant with added crew from Aventine Minis that I did a year or so ago for this project
You may also like....