Marcus and Ramos Arcanist Crews for Malifaux
Painting the box sets plus some other metal bits and pieces
What's Going on Here Then?
Malifaux is a steam-punk set skirmish game by Wyrd Games with some really well developed back-story on the different factions. I have painted some more stuff that is visible here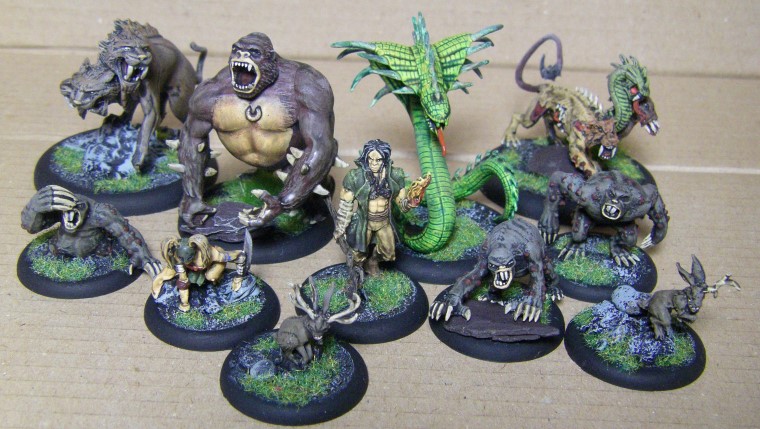 Here is the metal Marcus, surrounded by a load of Beasts. Sabretooth Cerberus, Cojo, Razorspine Rattler, Rogue Necromacy (metal). 3 Molemen, a Dead Dog (Canine Remains) and 2 Jackalopes...and Myranda.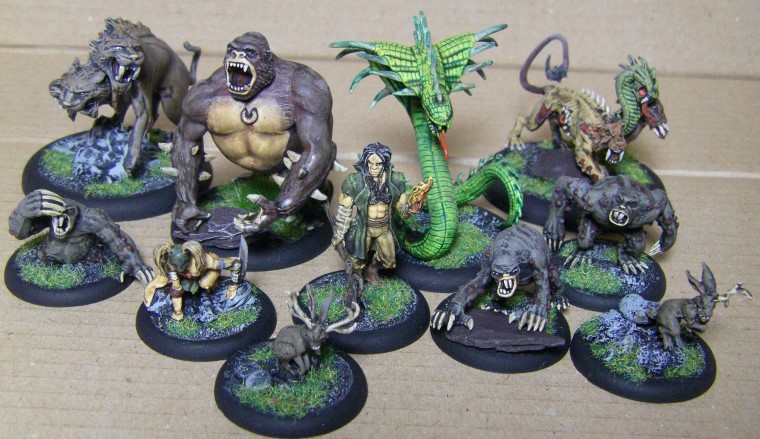 As usual, finished in a matt varnish after a coat of Army Painter Dark Tone to make them really grimy and dark..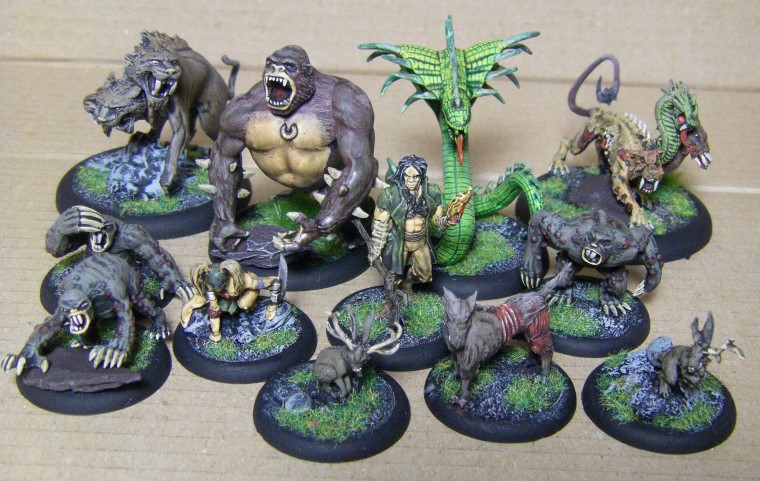 The jackalope on the right is missing one of his pair of horns, and is a metal model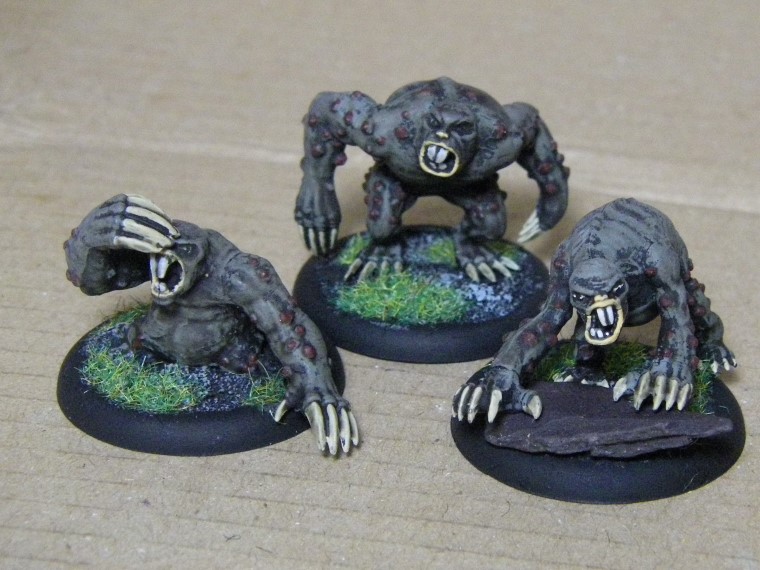 These are the three Molemen - black undercoat, drybrush of a dark green and then the "spots" picked out in a deep red before the varnishing. The claws are GW Bleached Bone, now called something more ridiculous like Ushabti Bone.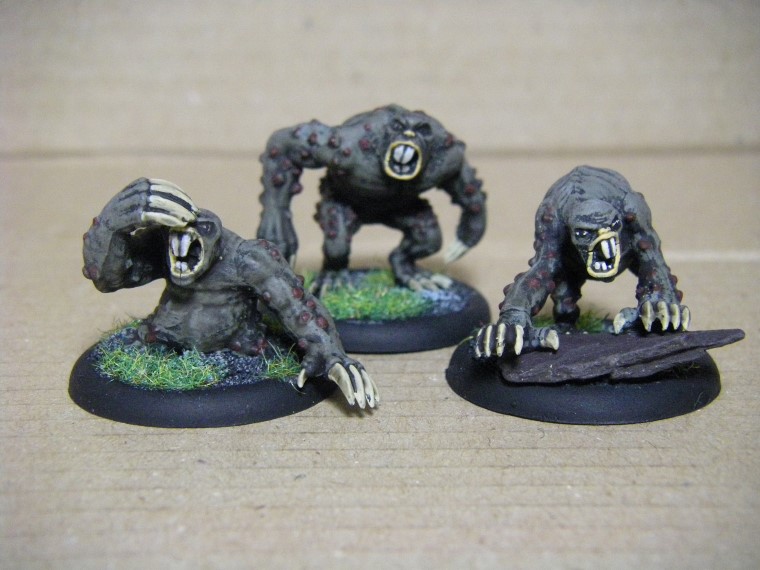 Slightly closer... the one on the right is standing partly on a real piece of slate from the chippings in our garden.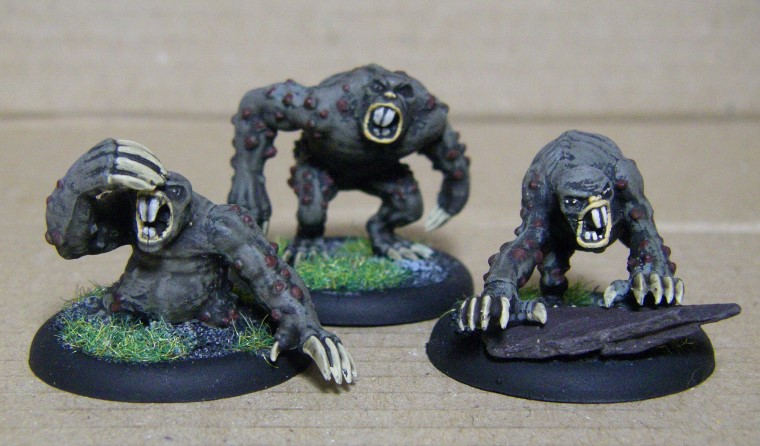 And again. Doing the noses in flesh has worked a treat, as do the eyes which I am unusually pleased with.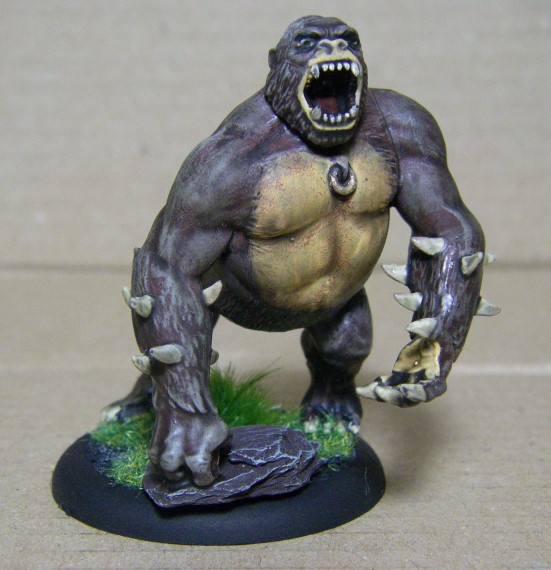 Cojo. Apart from the joins in the kit showing more than I expected (I did try and fill and sand them - they are almost too small to do this properly) this surprised me as the model itself has very little relief on it for picking up details. Flesh over black for the chest, a dark brown base coat with several lighter drybrushes for the fur and again Ushanti bone for the spines and claws. The teeth are in pure white - they get toned down anyway with the Army Painter. Yet again some fairly competent eyes too, even if I say so myself.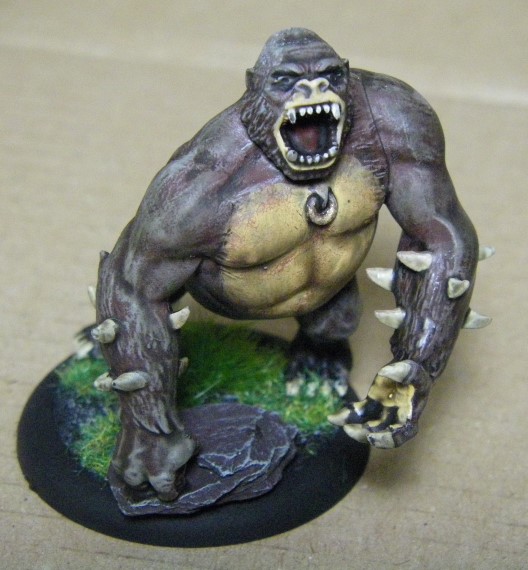 This really draws the eyes to the seam unfortunately - not as easy to see on the table, but this lighting is rather unforgiving.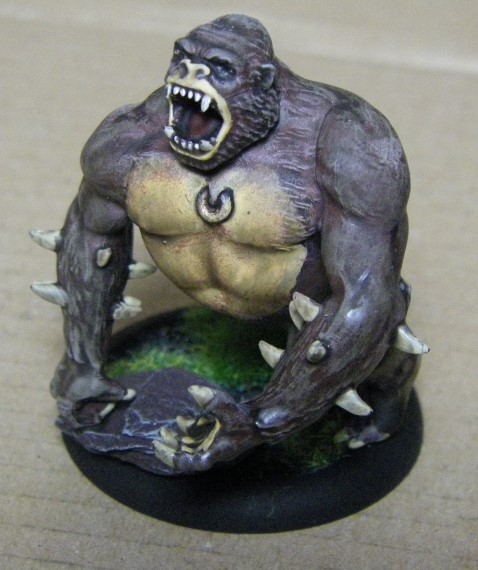 I think the lips (and palms) were all done in flesh colour - they have yellowed up under the Army Painter varnish a lot though, not necessarily a bad thing. He struggled to fit onto the base so having the piece of slate projecting out to rest his knuckles onto was really handy - it also makes the model a bit more stable as it adds weight to the base.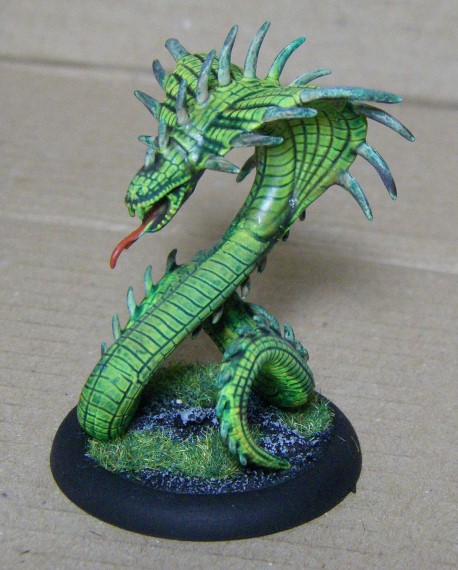 Razorspine Rattler. One of teh few models undercoated in white, and then "painted" in Windsor & Newton Viridian Ink. This model is a plastic one from the new Marcus box set, and I couldn't get it to go together without breaking the kit and then glueing it together - the bit where the front of the hood slips onto the spine didn't seem to want to fit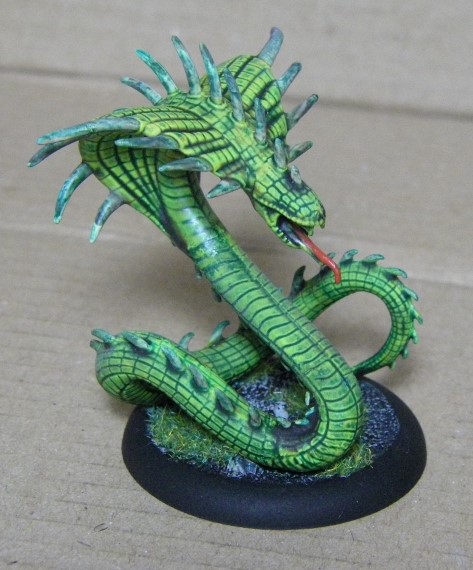 And again. I am thinking of doing the spines again, and drybrushing them bleached bone for a bit more contrast with this very green model - and to be consistent with Cojo and some of the other spine-carrying models.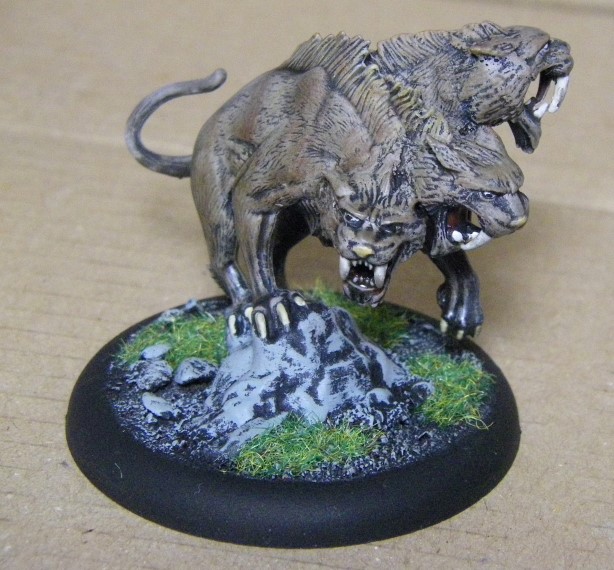 The Sabertooth Cerberus went together quite well, but again needed some filling, and some joins still show through. A simple model to paint though, that gives great results - a flesh nose makes them a little-more cat-like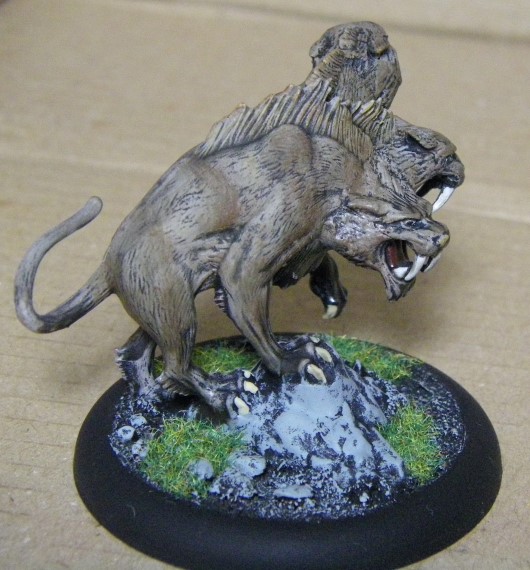 Sabertooth Cerberus - the three headed big cat, black undercoat and some drybrushing mainly with GW Graveyard Earth and a few similar colours.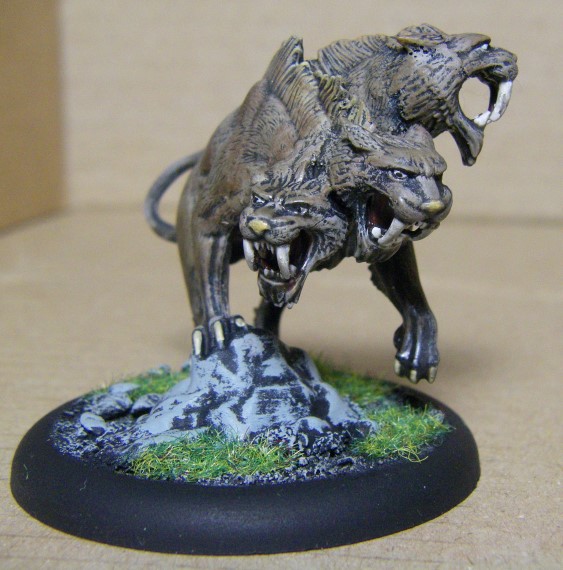 The Sabertooth Cerberus has some fairly subtle stripes, again drybrushed in a "redder" colour and then the Army Painter does the job of toning them down.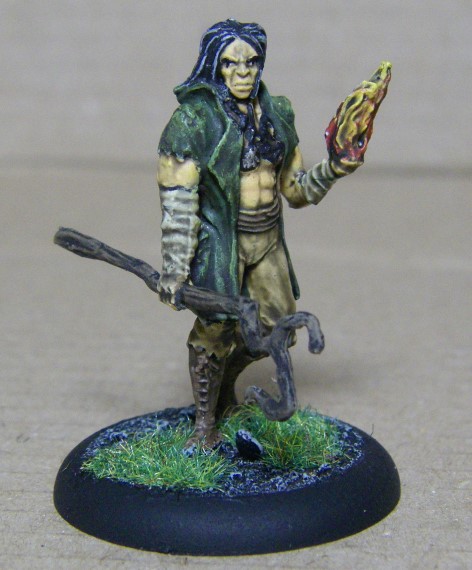 The metal Marcus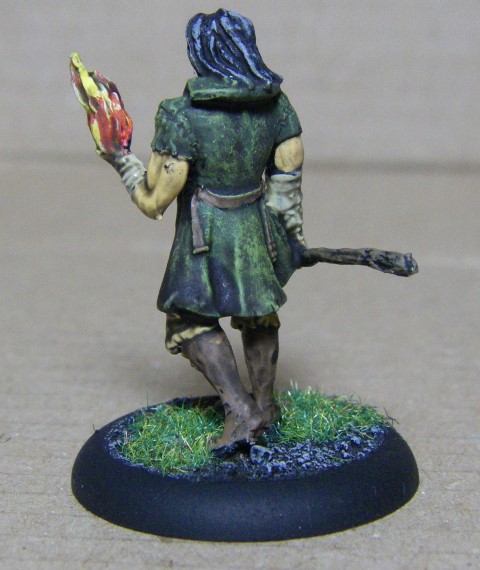 And from the back. The arm with the flame is separate, and is glued with superglue - maybe I should have pinned it (and maybe I will end up doing so...)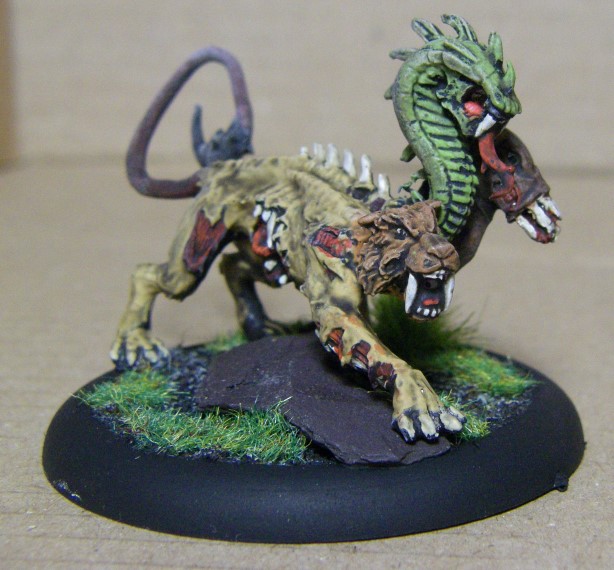 Rogue Necromacy - bought because it just amuses me to think that there must technically be legitimate necromacy for rogue necromacy to exist!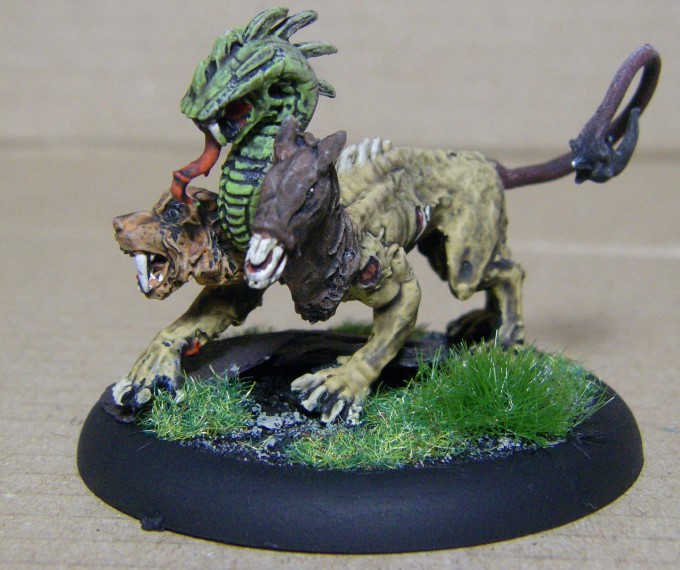 Rogue Necromacy has a lion, snake and dead horse for its three heads.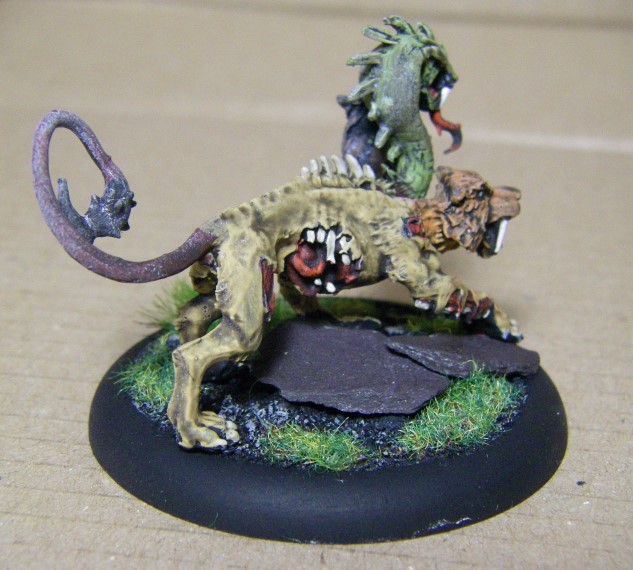 The Rogue Necromacy also has an open wound - I added some arterial bright red to this in what is otherwise a very dark paint scheme.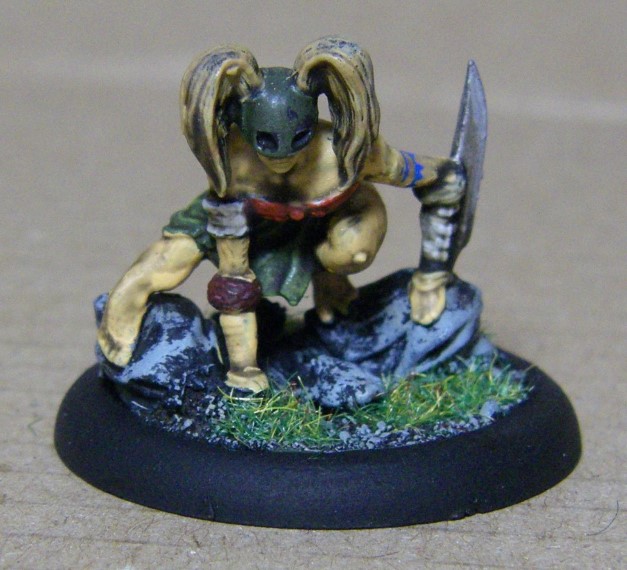 Myranda is one of those tiny figures that make you question what you are paying for - but this plastic one looks much better than the original metal. I gave her a green-themed outfit to tie in with Marcus, and the whole "jungle/woodland beasts" vibe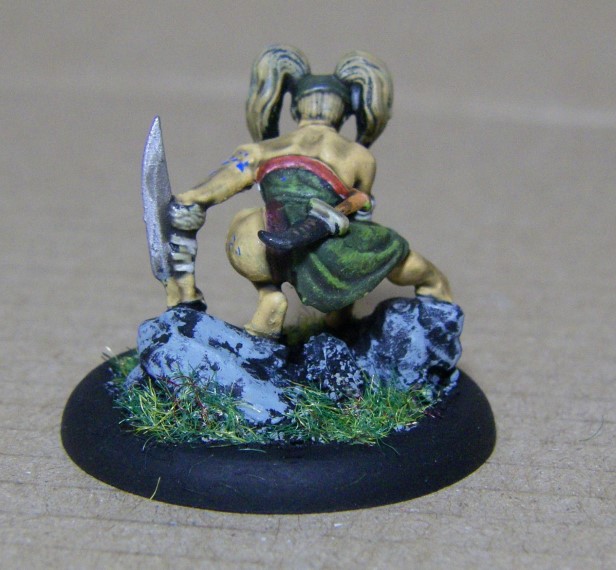 Myranda comes with the rock she is perched on, but has to be glued to it - making it easier for you if you want to find another one !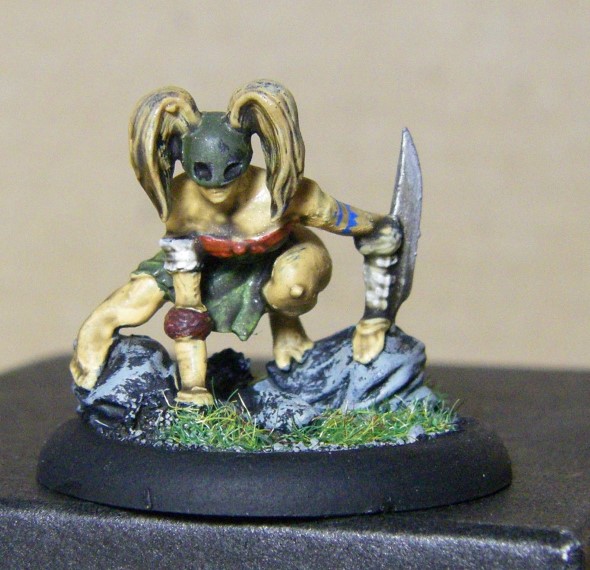 Here is Myranda again. I tried adding some spare woad tattoo transfers to ger arm from a warlord Games box set, but found they didnt work as they were dry-rub, so it proved almost impossible to get them coherently onto a rounded, small, hard to reach arm. You can see what did make it on this model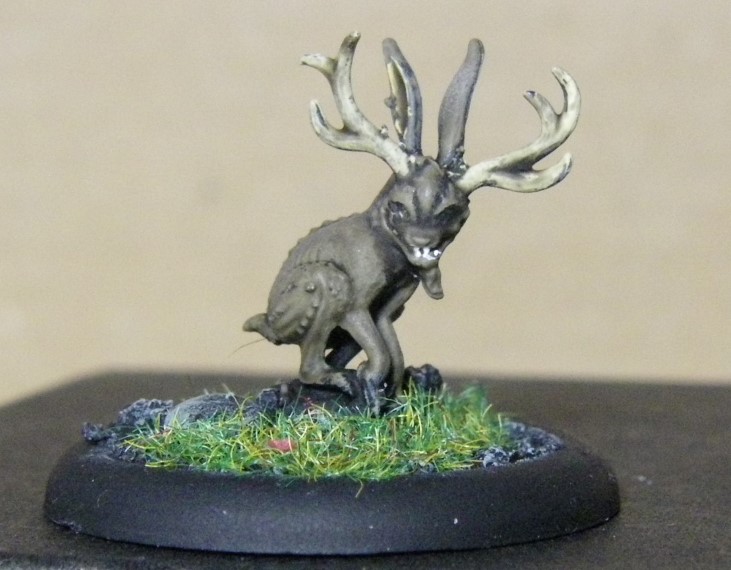 Jackalope - a nast rabbit with horns. This is the plastic one. You'd not want to pay a tenner for three of these I suspect.... especially as their key skill is being reborn for free when the last jackalope in your original crew is dead.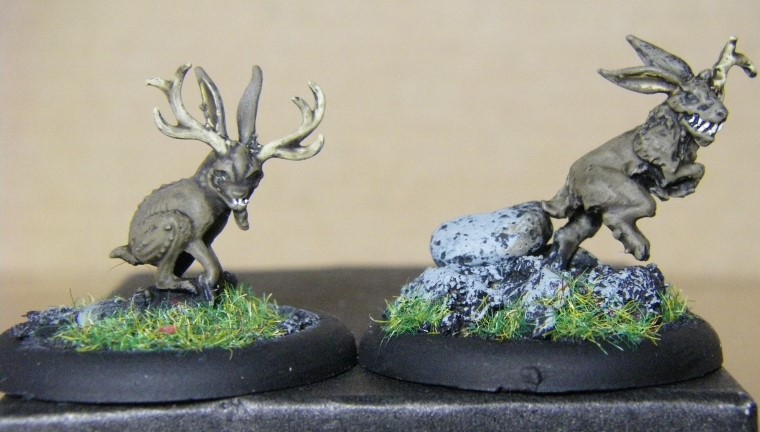 Plastic and metal killer bunnies. I seem to have lost one of the antlers from the metal one, but this is because it was impossible to glue on anyway so I may just have given up...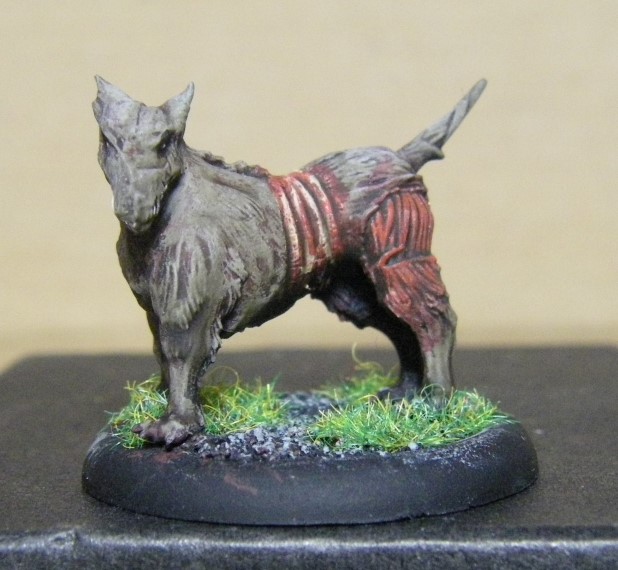 This is the only one I've done so far - the other 2 in the set are smaller, and don't stand up on their own feet. They will need drilling and putting on a pin mount to be in the act of running or maybe jumping over siomething. Bit of a PITA for 2 of the three models in the set to be like that reallty.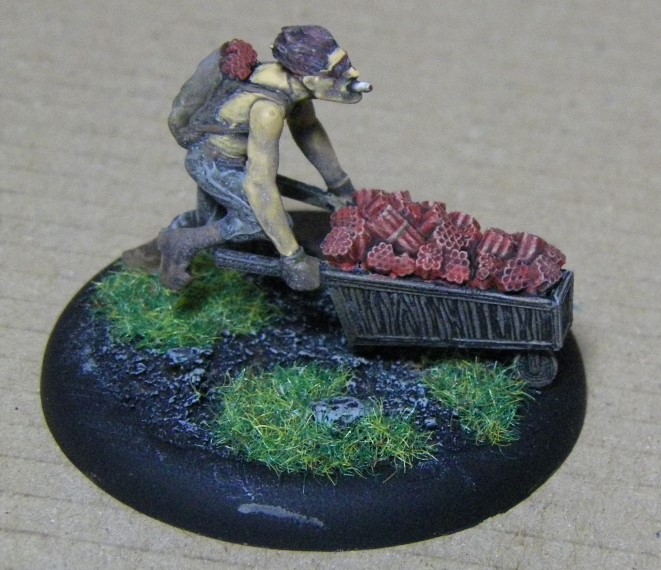 Here's Willie - a straightforward model but which again needs drilling and pinning, this time with a pin underneath the wheelbarrow going down into the base - otherwise the fixing points for this model are rather inadequate.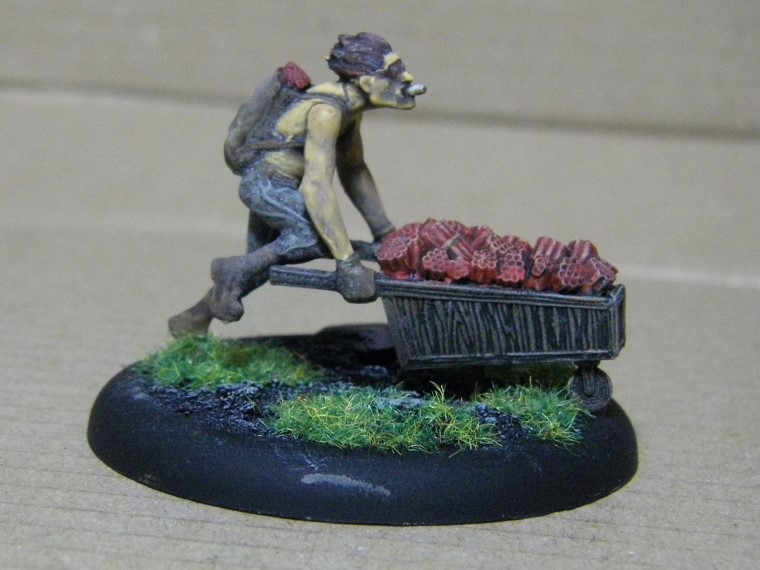 Side view...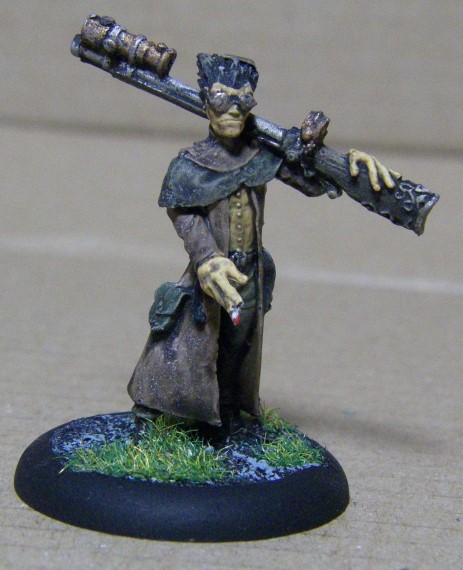 Hand the mercenary sharshooter and his nonchalant cigarette!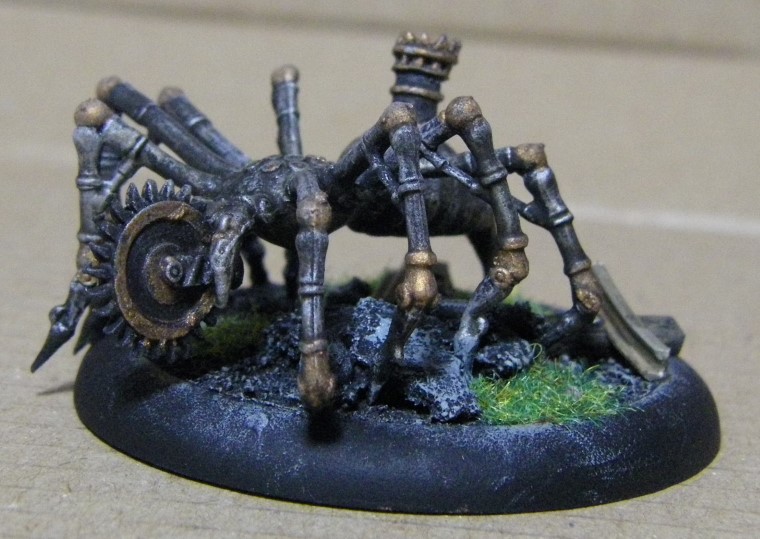 The Large Steampunk Arachnid. A metal model whichy I drilled to put on a mount, otherwise you are relying on 8 glued-in legs to hold the model up.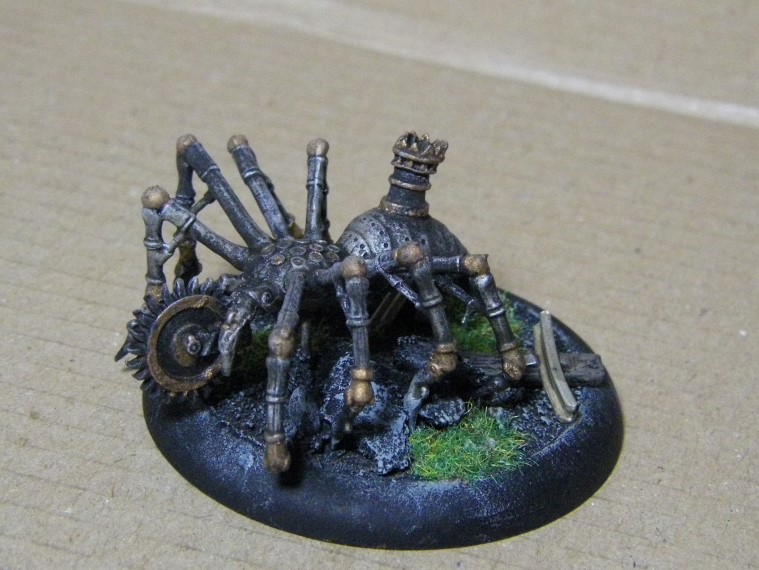 Here he is from the front. The rocks under ther Large Steampunk Arachnid help hide the pinning mount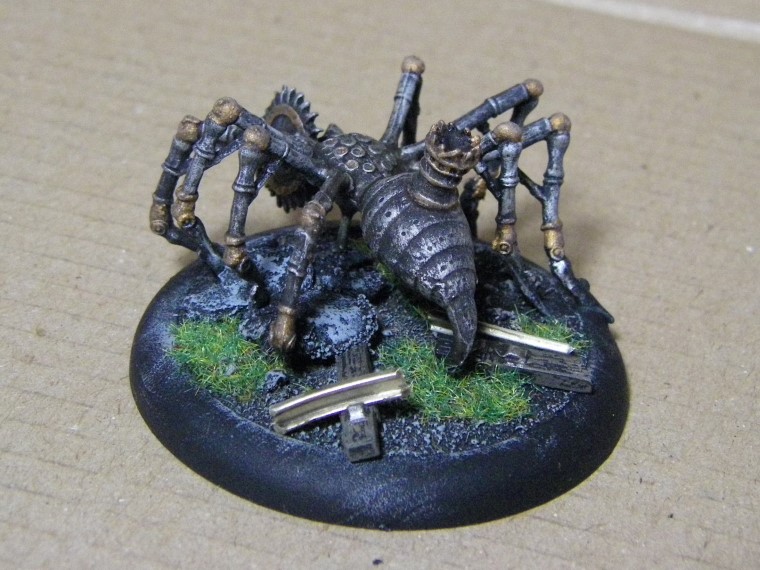 And again. under the abdomen of the Large Steampunk Arachnid you can just about see the pin. I also added some railway debris to tie it in with my Mei feng crew constructs a little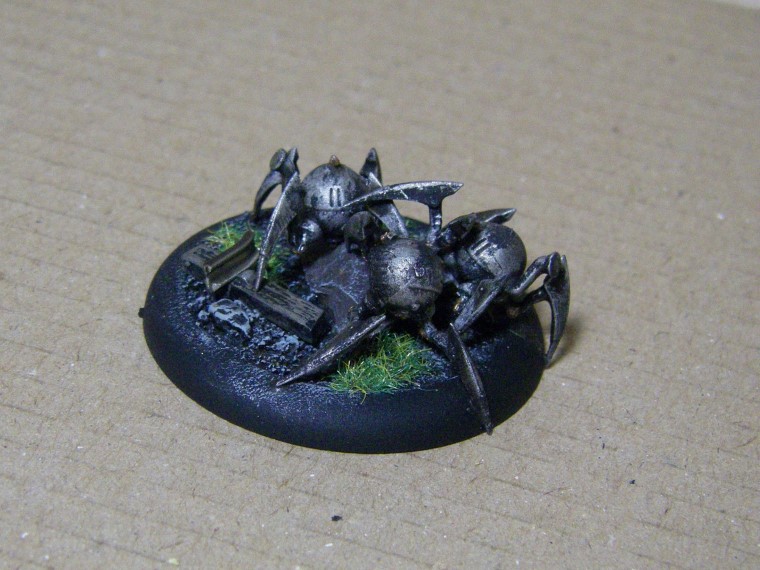 And again. The metal beam the Rail Golem is carrying is painted brown and then has its edges done in a drybrushed gunmetal. In the game I think he probably hits people quite hard with this.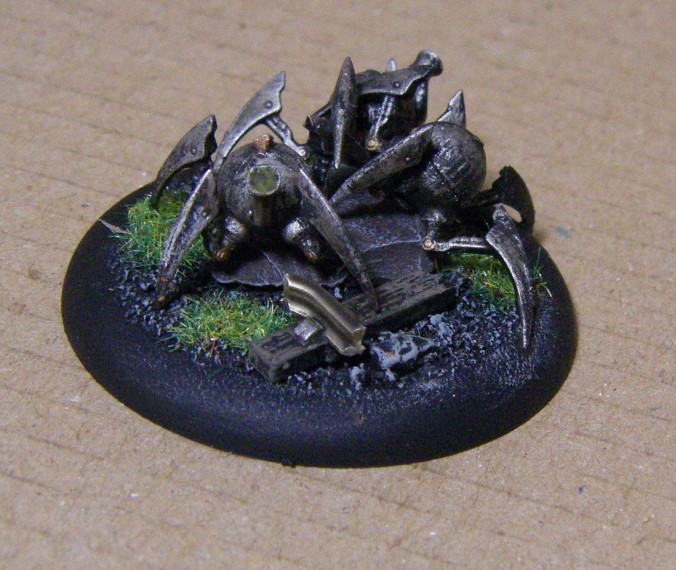 New Arachnids - plastic. I was really dubious about their ability to survive handling, so I used these three as a single glued-on swarm so they gain strength from each other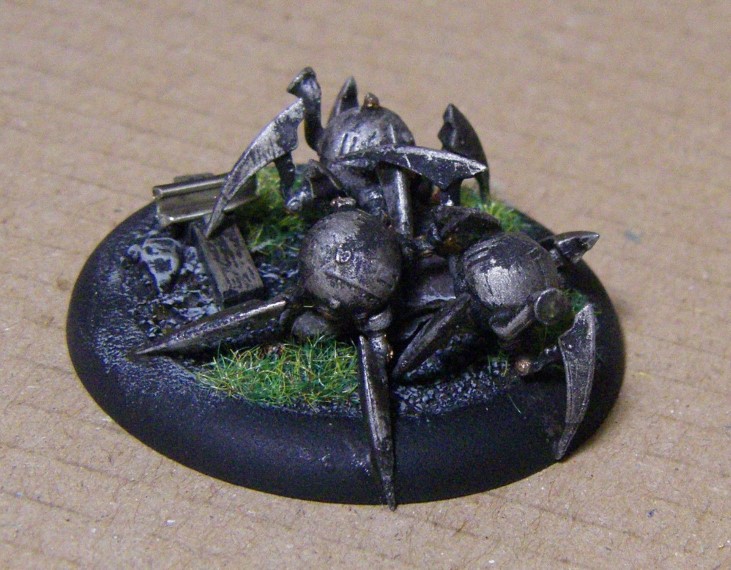 And again. Black undercoat, drybrush in gunmetal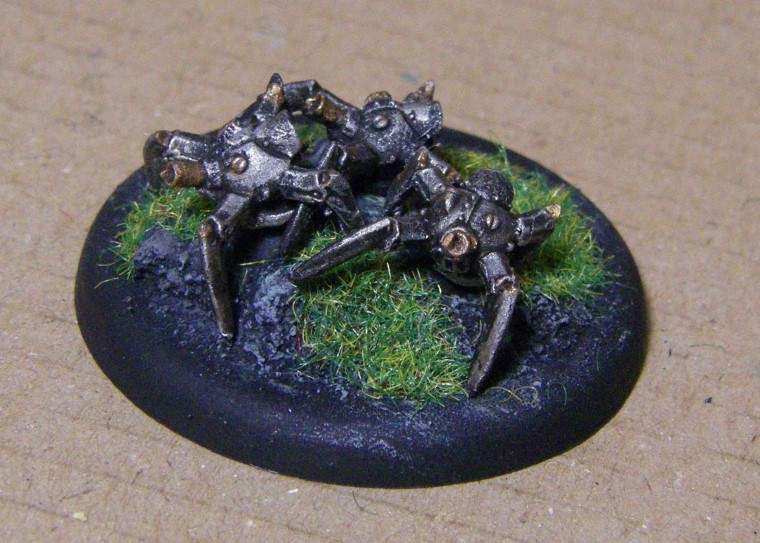 Steampunk Arachnids in metal - these are "alternative design" one piece castings, which are much more robust. If you look under the abdomen of each model you can see where I have attached a rare earth magnet... the base has some metal foil buried in it and painted over to look like a rock, so this swarm can be separated and used on three separate single bases (again with metal foil to fix them to).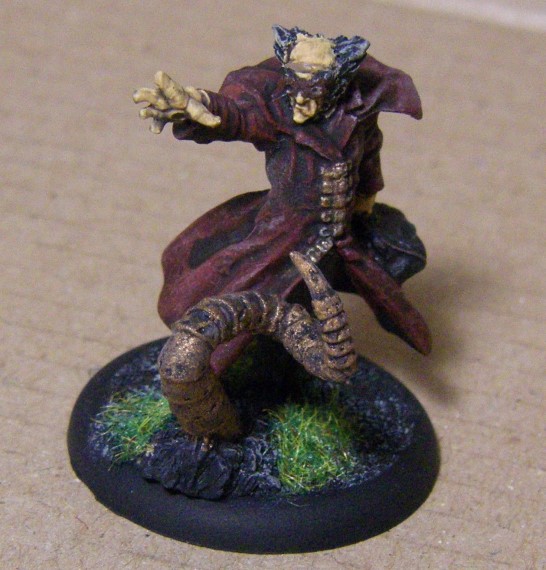 Metal Alternative Ramos. I am thinking of removing the tentacle thing and basing it up as a Soulstone Miner.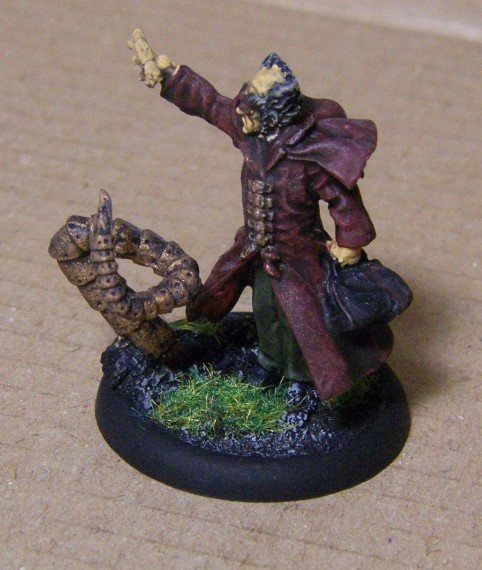 The Metal Alternative Ramos again from another angle.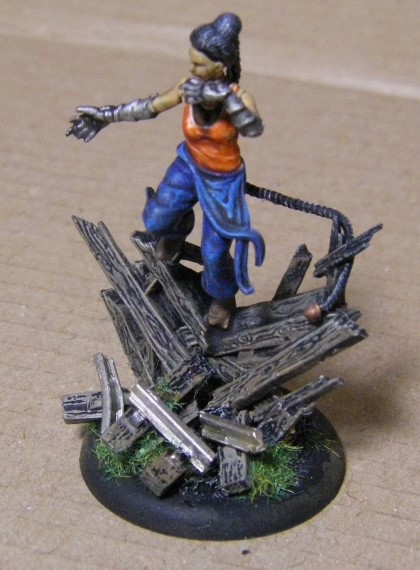 Mei Feng On the right base size this time, with more rail debris added as well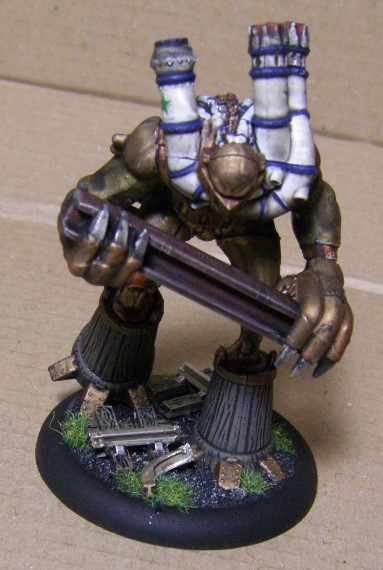 Rail Golem, again with some more railway debris added.
I have a page with links to all of the Malifaux content on this site which you can find here
This site also has pages that scrape the following current Malifaux-related listings from eBay:
Malifaux Rules
Order on Amazon here
View My Stats for Malifaux pages