Photos of 15mm WiP Ancients figures from The Lockdown 2021
Refurbs, rebasings and brand new WiP
With the Lockdown Podcasts due to start again next week and the UK in what feels like it will be a hard-lockdown lasting at least into March, I've been chewing away at some bits and pieces before embarking onto an actual major project.
There is lot's more of this stuff on my Links Page
The cold weather has means that many of these figures aren't yet matt varnished - I'm reluctant to try spray varnishing outside due to the risk of it either going badly wrong, or simply not working well enough so that I have to re-do it later anyway.
I have however been undercoating figures outside on some of the milder days, using a tip from Tamsin of warming the can of spray paint on a radiator for a while before spraying. Making sure the can is warm (and whipping the figures outside at the last minute too) seems to work for undercoat, even in barely 10-degree weather.
I've also been doing some online gaming on Tabletop Simulator, and recording and publishing a whole load of army-list specific podcasts as well as doing these figures.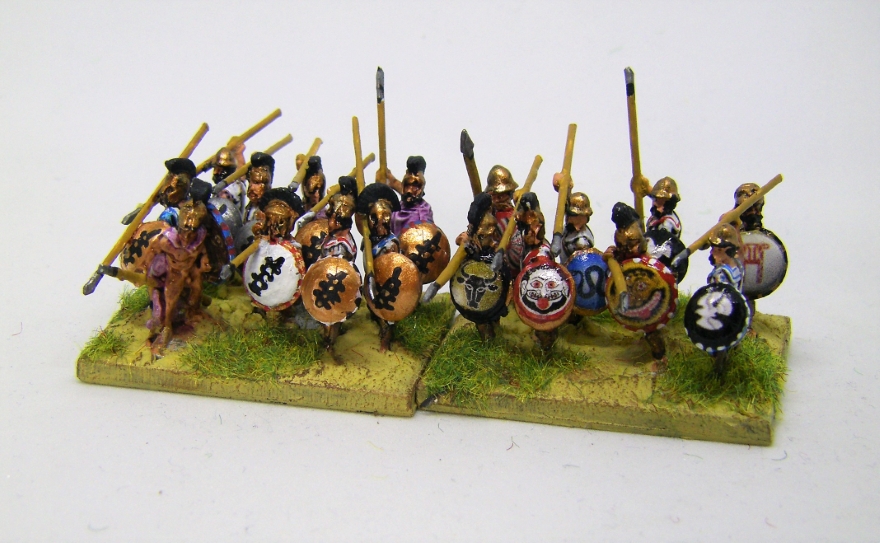 These are a mix of Essex and Magister Militum/Chariot hoplites, with a lone New Museum commander in the front rank.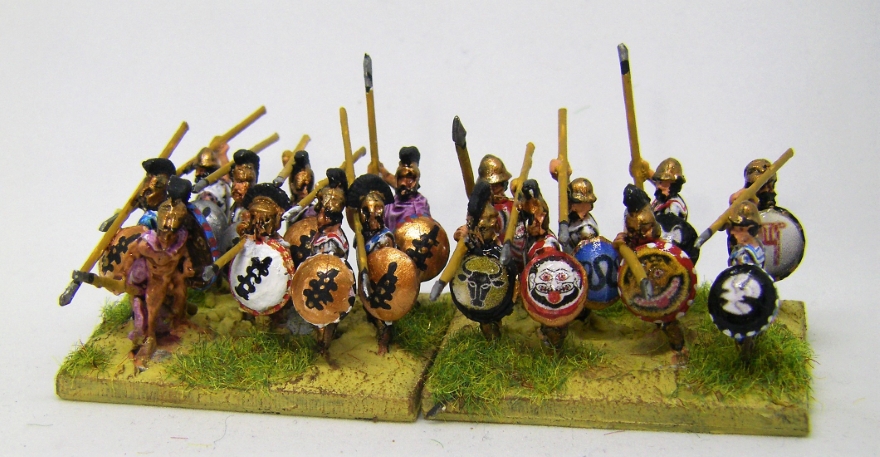 I have far too many hoplites, and they are pretty long in the tooth such that they pre-date LBMS shields (!)> These are a handful I stripped down to bare metal with Biostrip, then spent more time than I usually do painting them up from a white basecoat.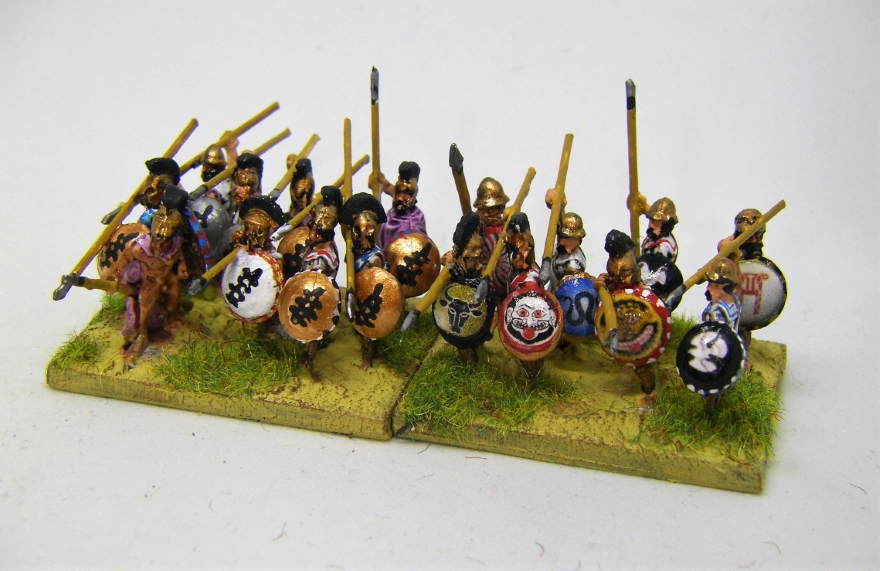 The Theban shields aren't great, and I may go back and re-do them - the others are using printed-on-paper designs I found on on Pinterest and test-printed onto paper prior to running them off on waterslide transfer paper, again something that I can only dare do once the weather warms up to allow me to matt varnish the transfers once they are printed off.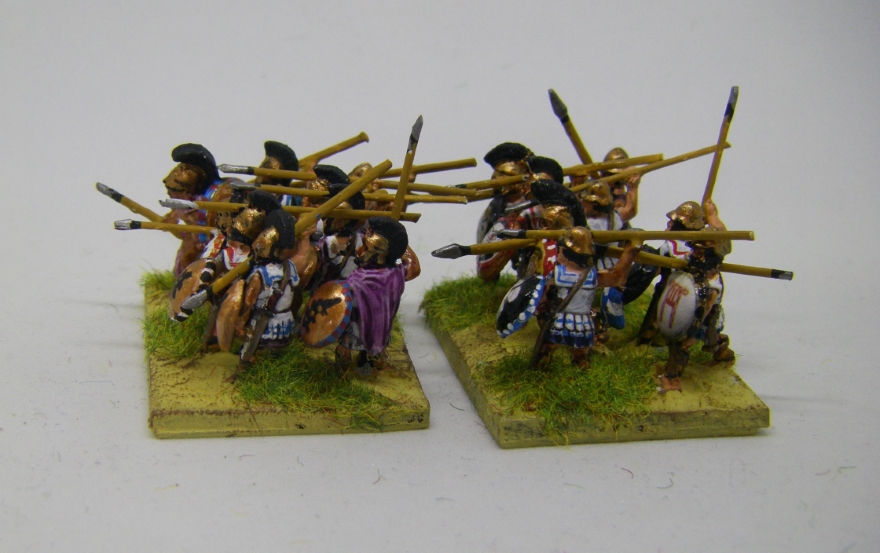 This angle shows the small touches of colouration I added to the white linothorax armour of many of these guys.
The white leather armour itself was white undercoat, then a wash of ArmyPainter Dark tone to pick out the details, then it was painted white leaving the recesses clear of paint so the shading was left only in the recesses.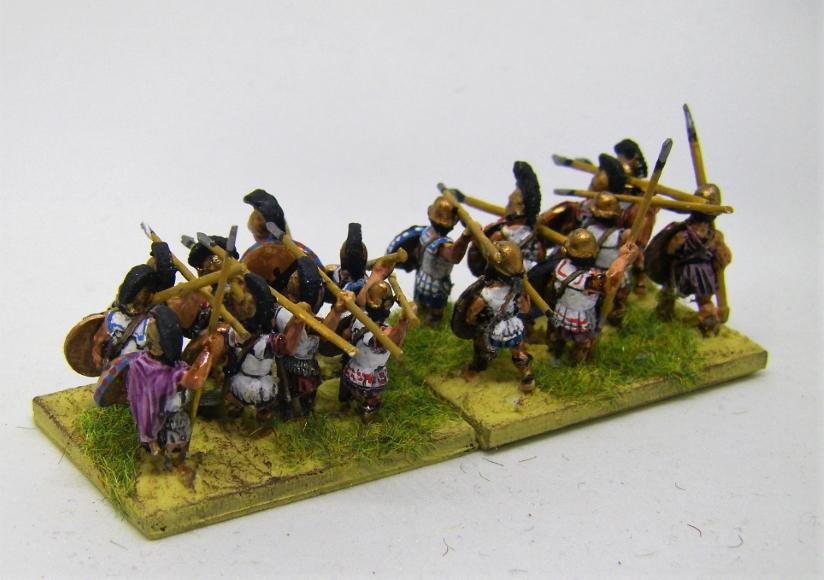 I'm very pleased with how they have come out, but the prospect of repainting and stripping down a whole army is something I will probably put in the "to do" pile for the summer or even later as its a lot of work, and you only see it close-up !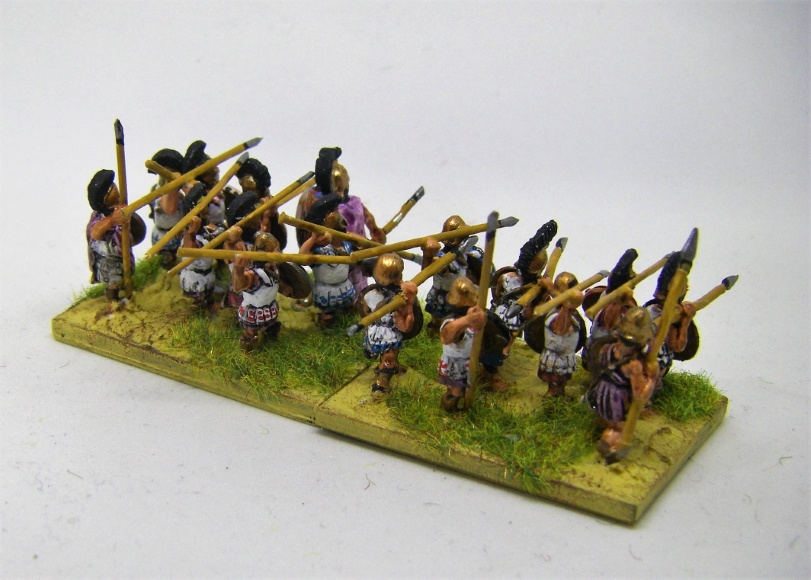 The same, from the other angle. The Magister Militum figures are a good fit with Essex, but have cast on spears which may not appeal to everyone. The Essex spears are bristles from a sweeping brush - I finally cracked and bought a brush head in a hardware store for a fiver at the end of last year!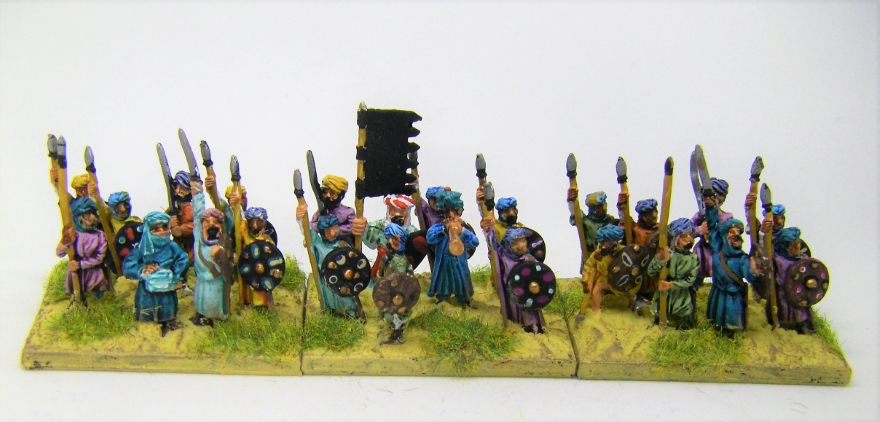 These are mostly the "boring" Essex Arab spearmen, again stripped in Biostrip, undercoated in white and then with GW contrast paints applied to mirror the 28mm figures I did a few months ago.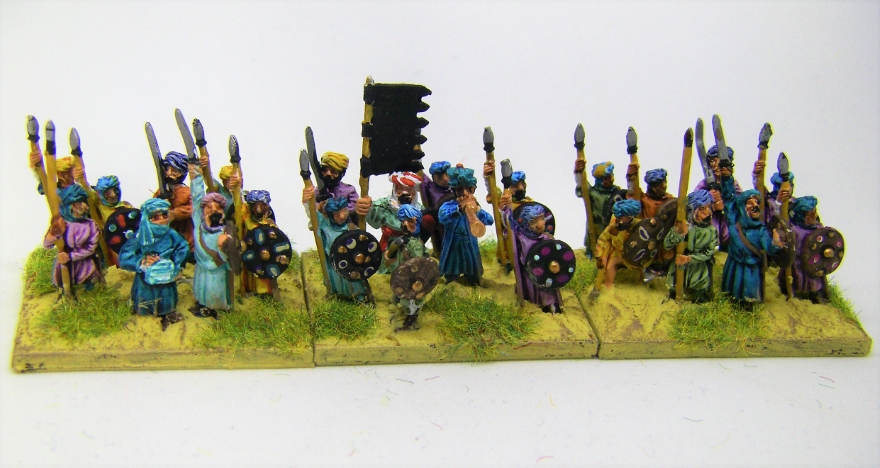 The flag still needs some text added to it, but I may do that with a transfer at a later stage, as painting Arabic writing in 15mm is probably beyond me.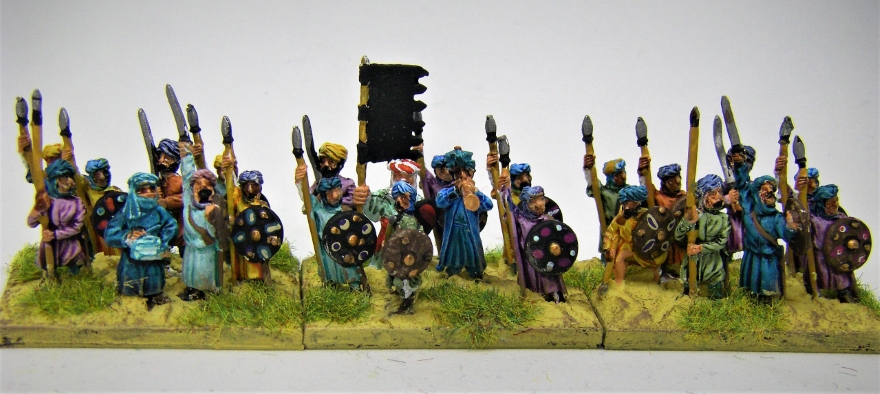 These guys now look a lot better than the "beige" versions they started out as pre-stripping, so I suspect these three bases will be the first out of the box in future, much to the irritation of the other stalwart but less colourful warriors who have served loyally for many years until now.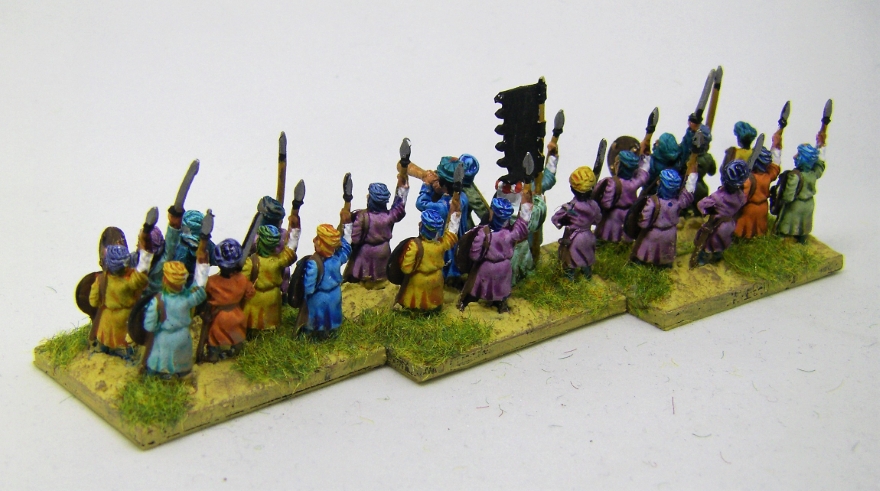 The contrasts I think work well on these sorts of figures with a large expanse of clothing to colourize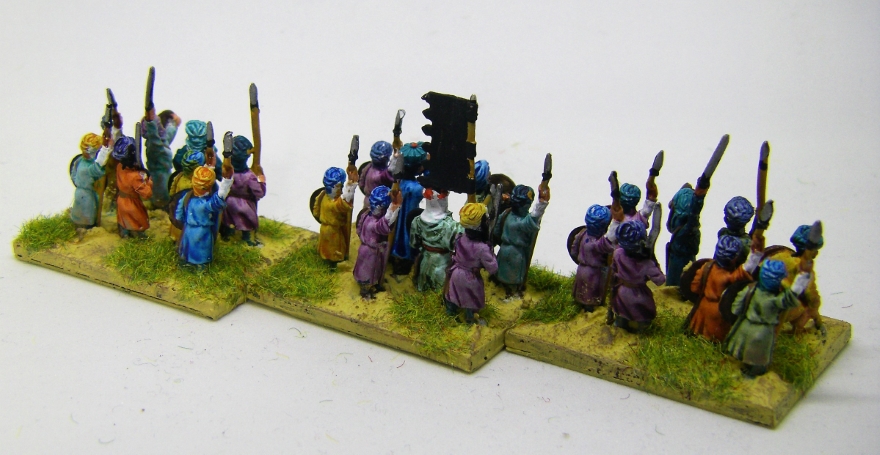 And again, from another angle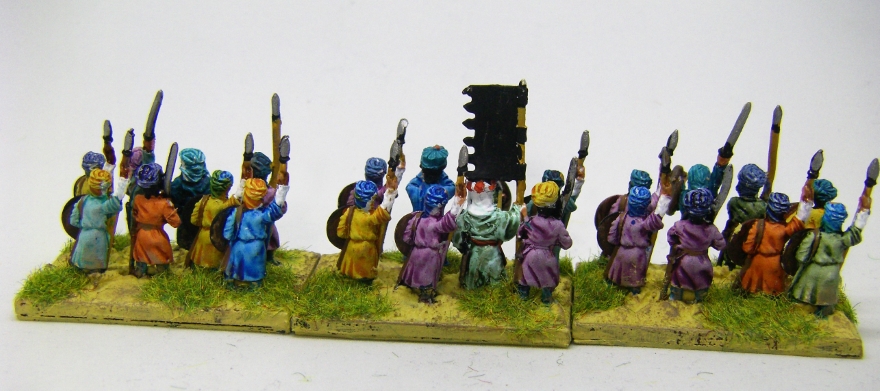 And the front again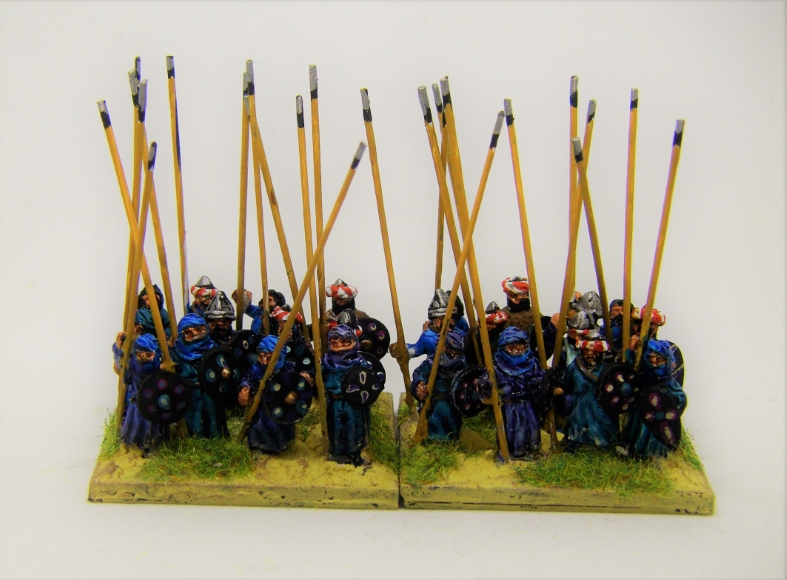 These are Donnington New Era arabs, based up as Saririyah Pikemen from the Fatimid Egyptian army list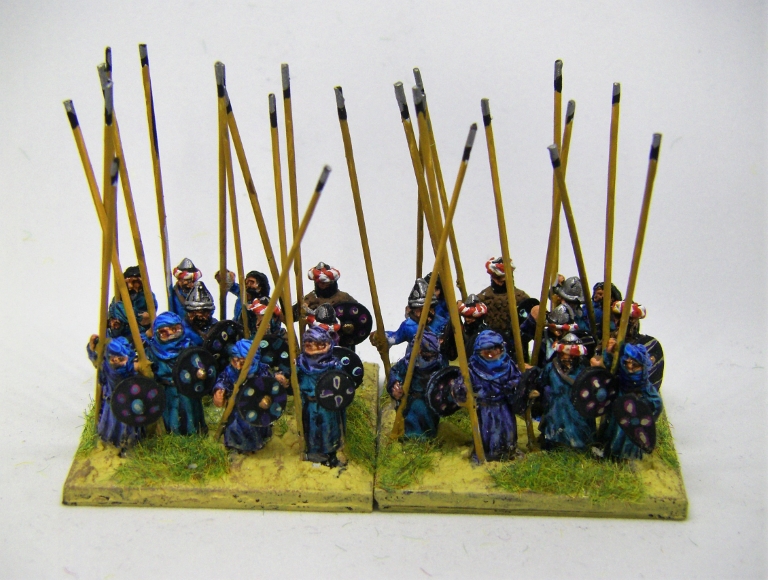 I've thought about getting these two units for a while - its not a great list, but this is a unique unit so that's cool enough for me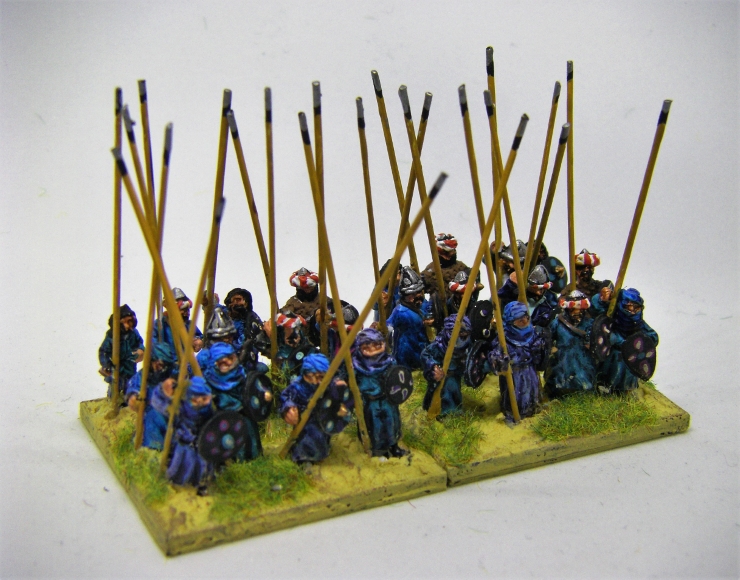 They are all done in Ultramarines Blue, Talassar Blue and Akehelian Green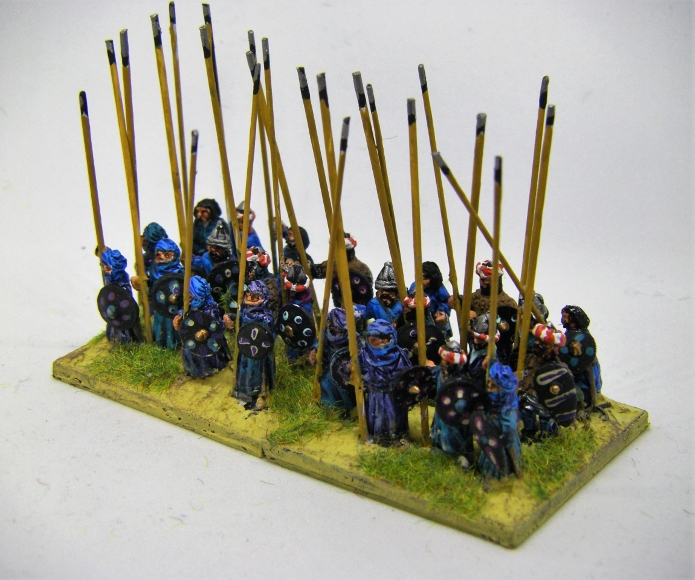 The spears are brush bristles, painted in Vallejop Ochre Brown, which is my current go-to colour for spears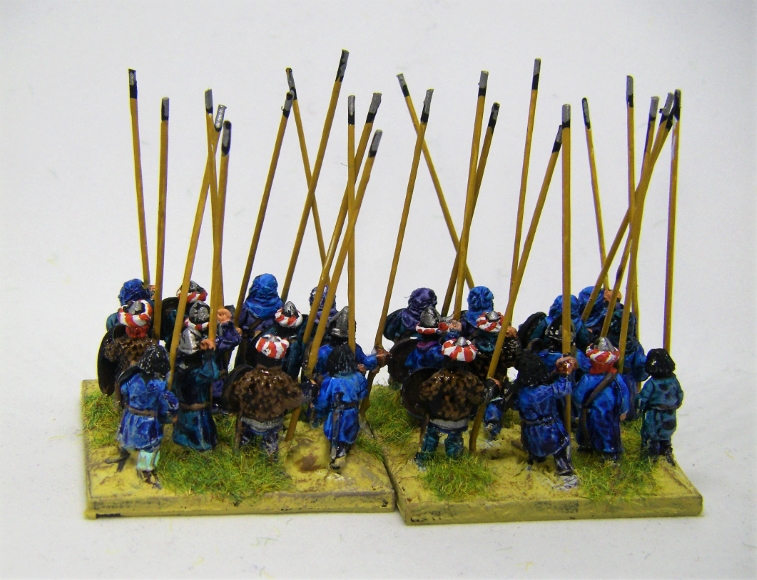 Having lighter spears than the dark brown I used to use seems to make the whole base pop a bit more, and means the black band between the spear shaft and the metal head is much more prominent, again drawing the eye to that.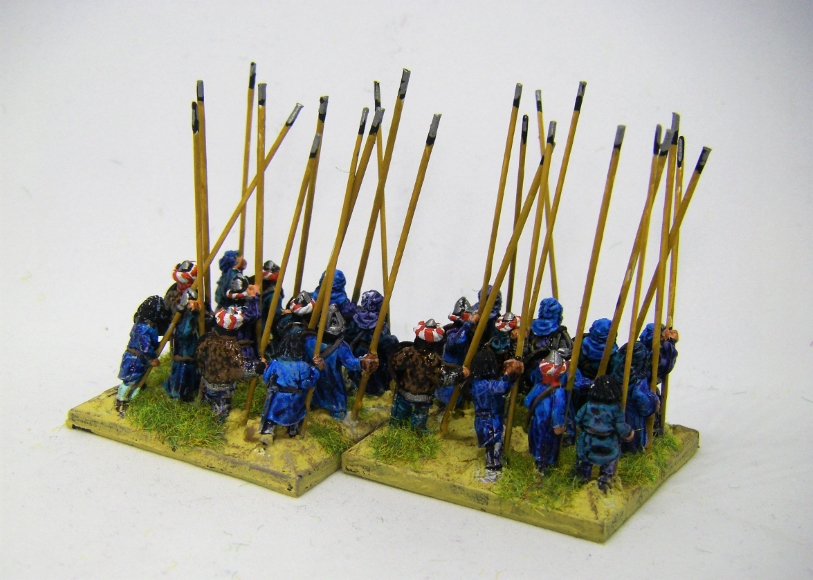 These will end up dulled a bit once I can do a matt varnish spray of course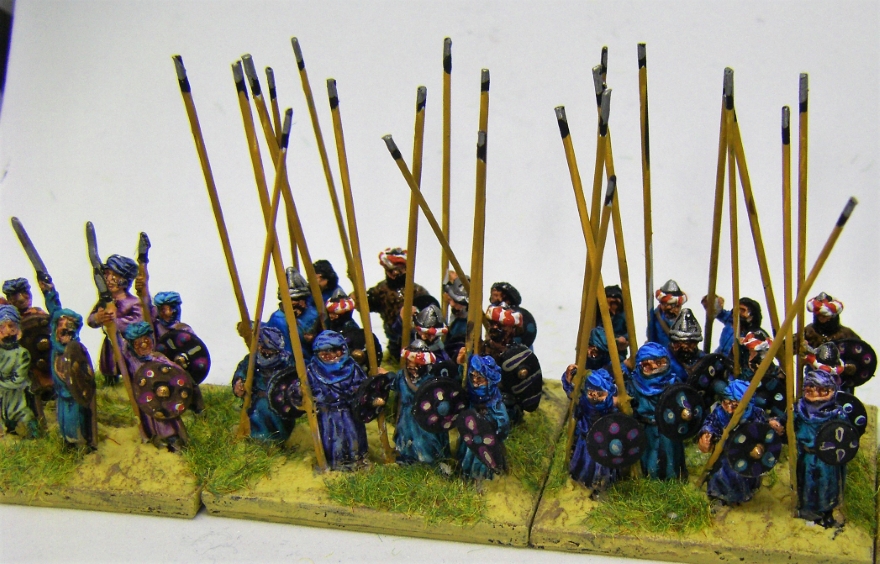 The Donnington New Era arabs fit well next to Essex infantry size-wise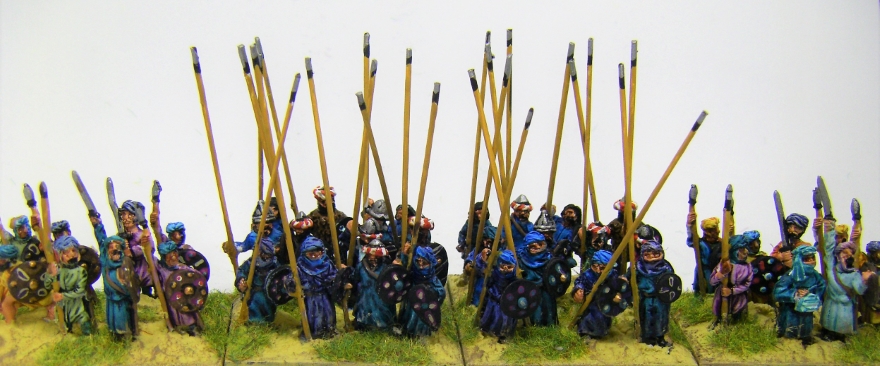 This show is even clearer. An Arab army with a solid infantry core!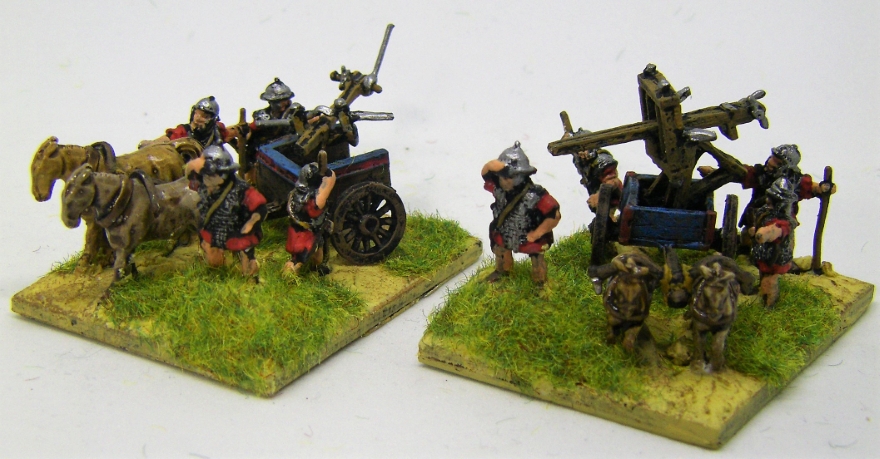 I've also been thinking about upgrading my Roman Carroballistas for a while, and Tamsins painting of these Donnington figures flagged up in the podcast spurred me on to finally get around to it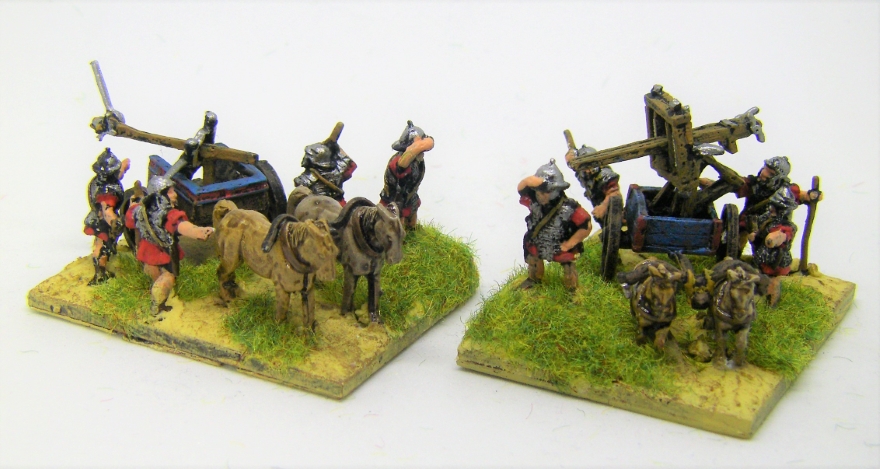 The ballista and cart on the left is from Donnington, on the right its from Essex - but all the crew are Donnington, sold as singles.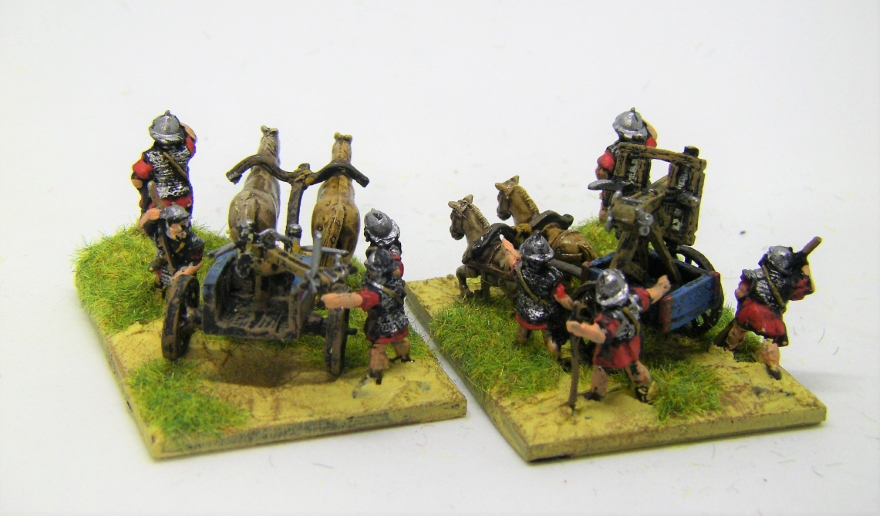 I also built up the basing under one of the crew so the man looking out is standing on a hillock, allowing him to see over any friendly (or enemy) troops stood in front of him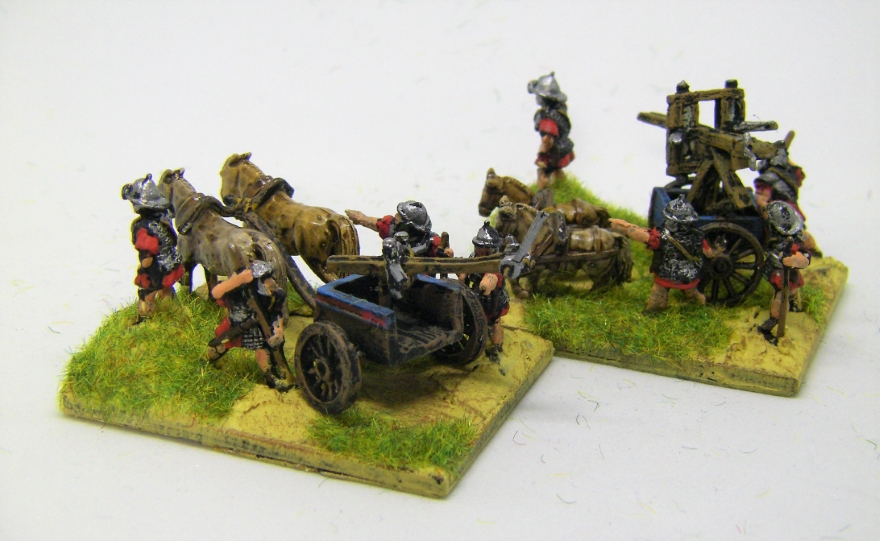 These Donnington crew are really easy to paint, and there's a load of different poses so you can pick and choose tpo get as much variety as you wish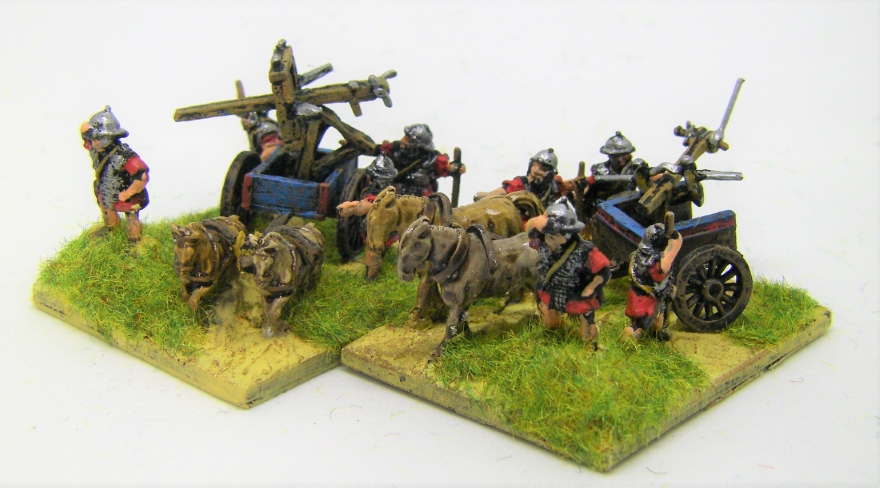 I also gave some colour to the carts, as otherwise it would have been a lot of brown.

This is a rebasing project, separating my rather vast (mostly) Two Dragons Rus/Viking DBM army into separate ADLG Rus and Viking forces (and possibly creating a Viking army I can sell on eBay too)

Having all of the Rus guys together - instead of mixed in with the Vikings - does make a difference

I'm also taking the rebasing moment as an excuse to repaint the spears as well. Spears do tend to get chipped and bent, so repainting them all makes a big difference to how new the army looks.

I've also followed through the new paint colour on these spears too, so that too brightens the figures a little. They will need varnishing too anyway eventually as they have gotten shiny over the years of use.
The Summary
Getting distracted by a variety of projects is sometimes a good thing, as it does mean you can get a sense of achievement from making a noticable difference to some figures - and at the moment we all need some achievements to mark down!
Equally, taking advantage of the extra time we've all been gifted at the moment does allow some experimentation, and the hoplites certainly fall into that category as I tried a very different painting style, taking almost a week to do these handful of figures
Either way, a break from launching into the next major project is great, and when it throws up some interesting figures, paint styles and creates some reason to use new(ly rebased) armies in future that otherwise might have languished in a drawer thats great too.
---
That's the end - so why not go back to the Links Page and browse through some more stuff
Add your comments on these reports on the following forums
You may also like....