Cold War Commander 1980's at CLWC - 2012
1980's NATO British vs Warpac Polish
The first game of CWC for my newly minted Polish army saw 2 reduced companies of tanks and a company of infantry take on a small but no doubt high quality force of British in an early 1980's battle. The Brits appeared to be rather few in numbers,which started to give me an inkling that the Chieftains and Challengers might prove a little difficult to take down..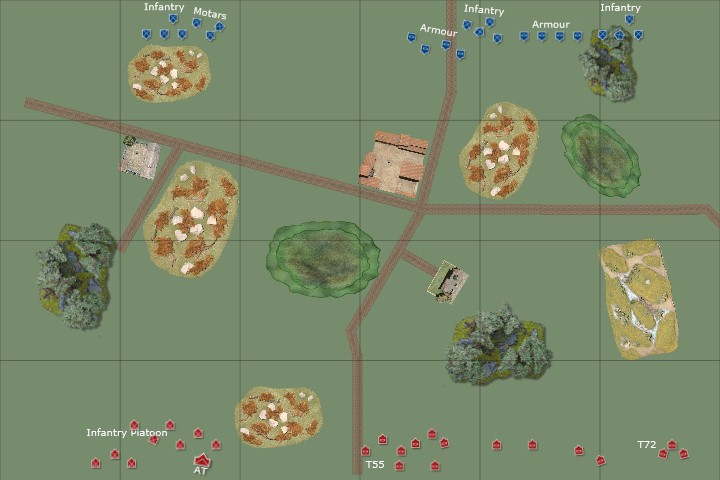 Cold War Commander hint
The Polish army was
7 T72's
7 T55's
9 Infantry units in OT64 (ie BTR) wheeled APC's
2 BRDM2 with Swatter AT units
1 ZSU AA gun
2 SA6(-ish) AA units
1 BMP-R Recce
Several FAO and FAC's
1 Hind
1 MiG 21 Ground attack
3 122mm towed guns
3 152mm SPG's
1 BM21 MRLS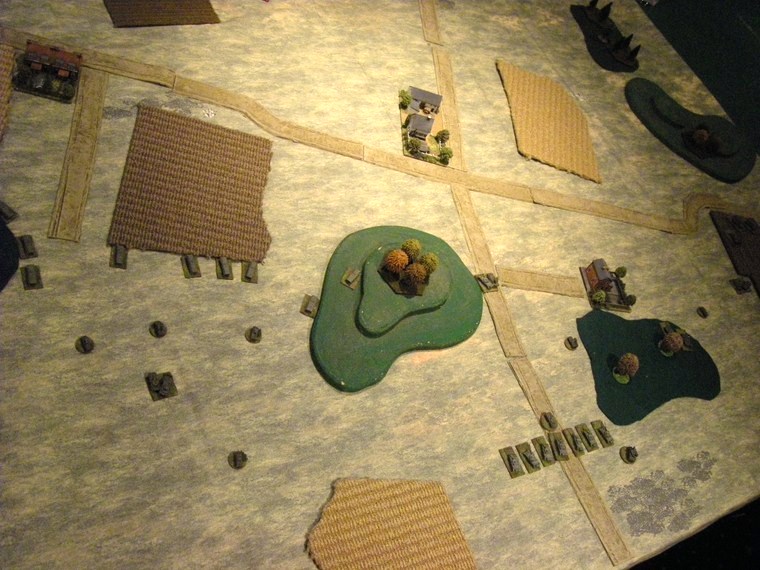 The Polish moved first, and the wheeled infantry raced forwards across the field totally unopposed, rolling a succession of impressive command rolls and taking full advantage of the +1 for fixed commands all doing the same thing.
Soon the sci-fi-esque vehicles were butted up against some terrain pieces ready to de-bus and dig in against the inevitable NATO counterattack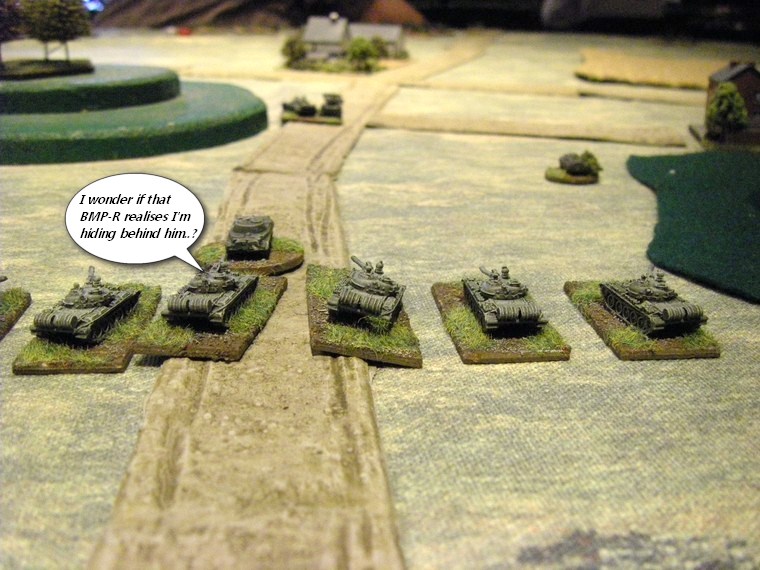 The 2nd-string but ridiculously expensive GHQ-built T55 company had suffered some attrition due to mechanical failures on the way to the battlefield (ie I'd needed to save a few hundred points to get the army back under 3,500) and there were only 7 tanks at the start line.
Their commander pushed them forward, conscious that the enemy would outrange his tanks and their 100mm guns, but the aging heavy metal would not respond to his will and the company inched forward only slowly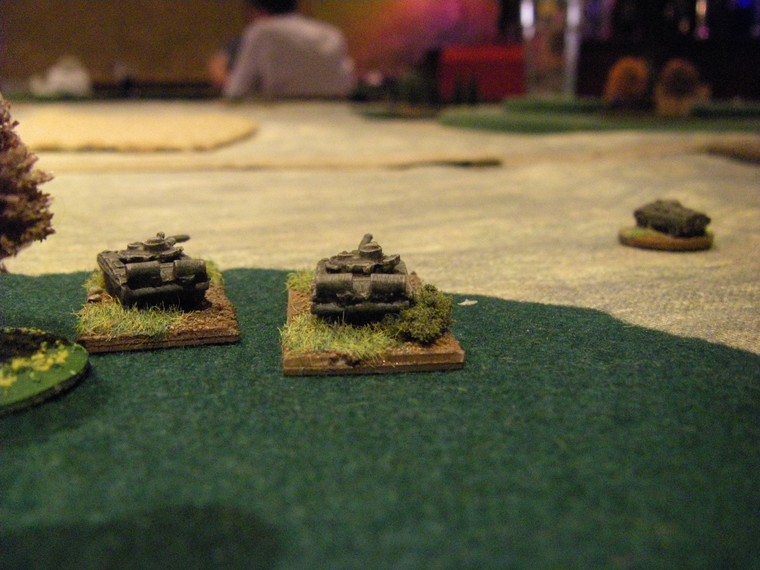 The 72's were rather more well trained and well led, under the command of the CinC they quickly moved up and took up positions in a field of long grain, their low sillhouettes providing good cover so they could lie in ambush for the Brits.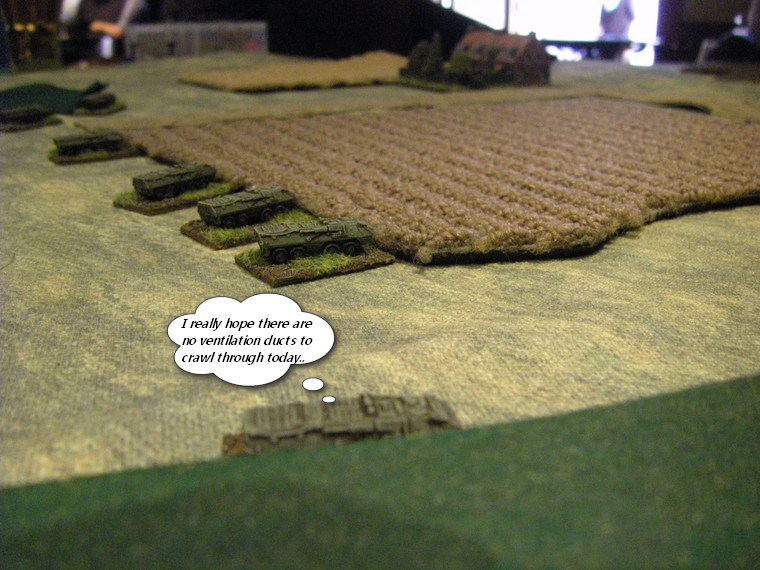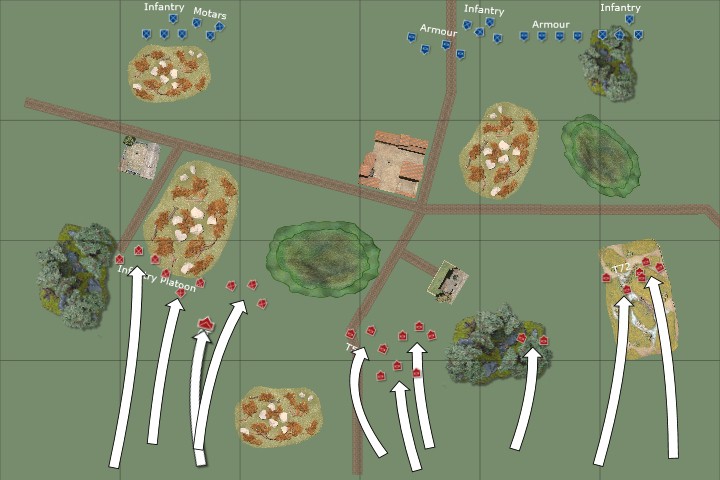 The film director Ridley Scott looked on in interest thinking about his next installment in the Alien franchise and whether he could just steal the designs of the Polish-build AFV's whoesale...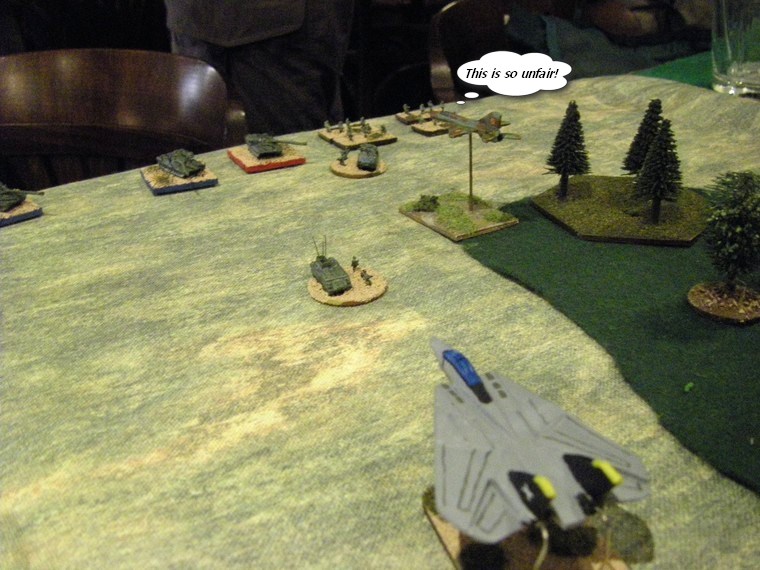 The British had only stumbled onto the table, with an initial failed command role - the Poles knew they had to make the most of this opportunity and called in an airstrike from a top quality MiG21. The NATO forces however enjoyed air superiority, and a highly unlikley yet rather stylish F14 Tomcat flying from the USS Nimitz which was obvioulsy anchored somewhere on the Rhine (erm, well, never mind..) intercepted the MiG, bringing it down in flames on its first ever sortie !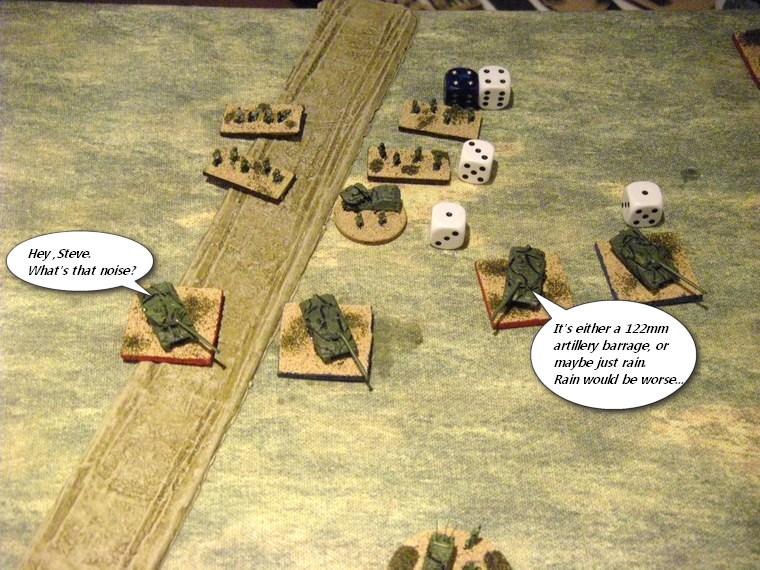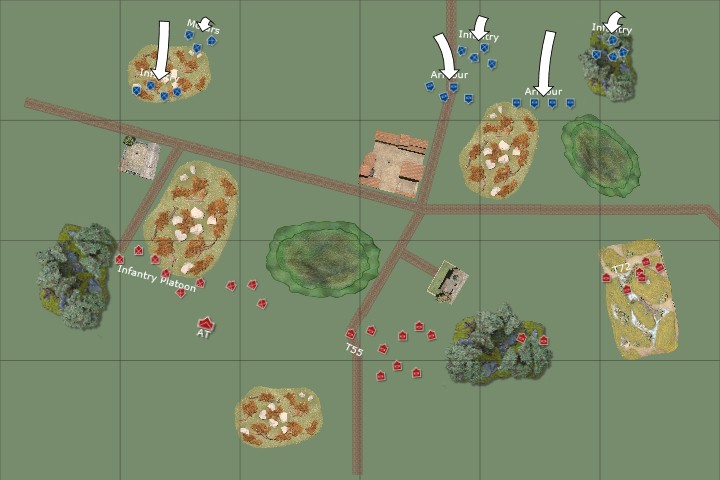 The Poles unleashed a fearsome artillery barrage which forced the British infantry to take cover, slowing their advance without causing any actual casualties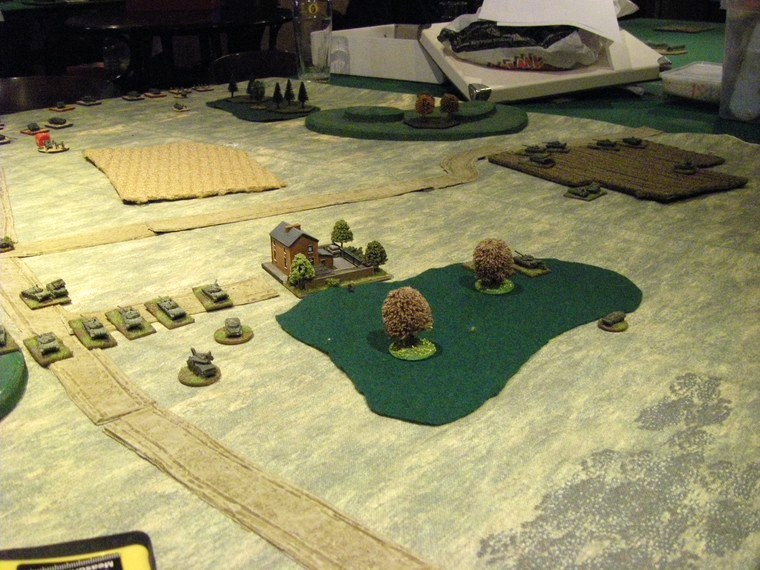 Seeing the God of War on their side inspired the Polish T55's, and they rumbled forwards seeking to close the range on the Challengers facing them so they might at least get in a shot or two before the 120mm guns opened up on them - no doubt to good effect
The Poles however were still struggling to build up any real momentum, and so it was left to the FAO in his BRDM to race ahead of the tank formation and seek to bring in yet more accurate artillery on the encroaching British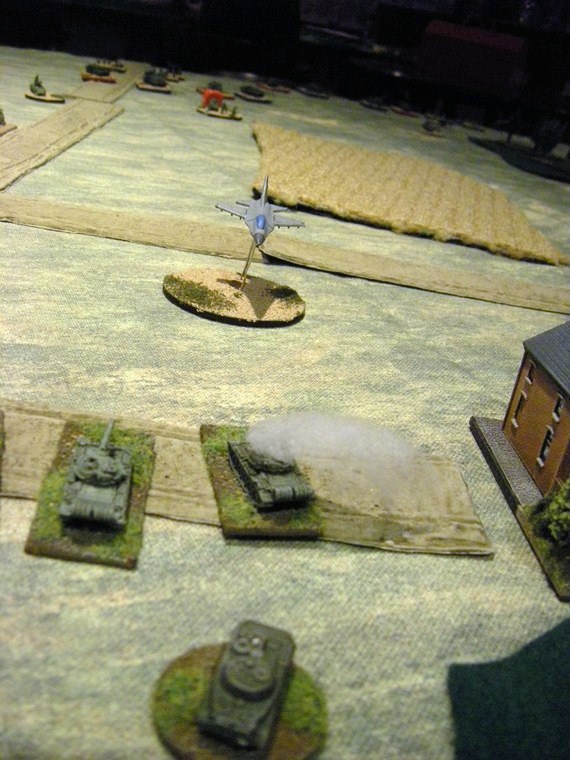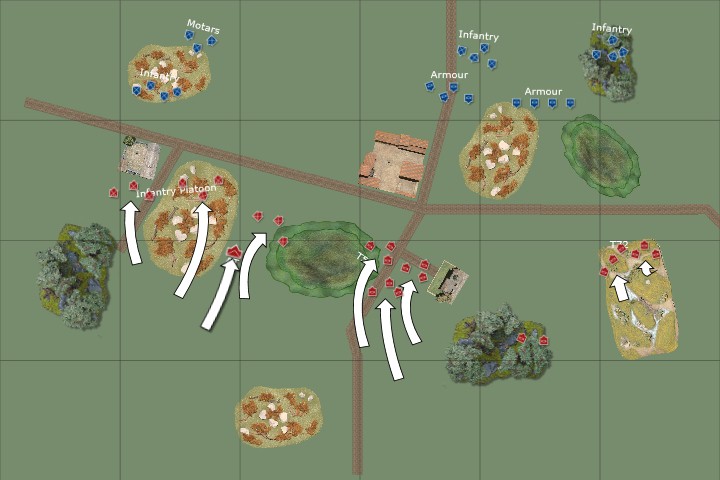 A much more feasible F16 turned up from the NATO cabrank
Despite frantic efforts from a variety of air defence units,the F16 zeroed in on a T55, overwhelming its armour with an deadly attack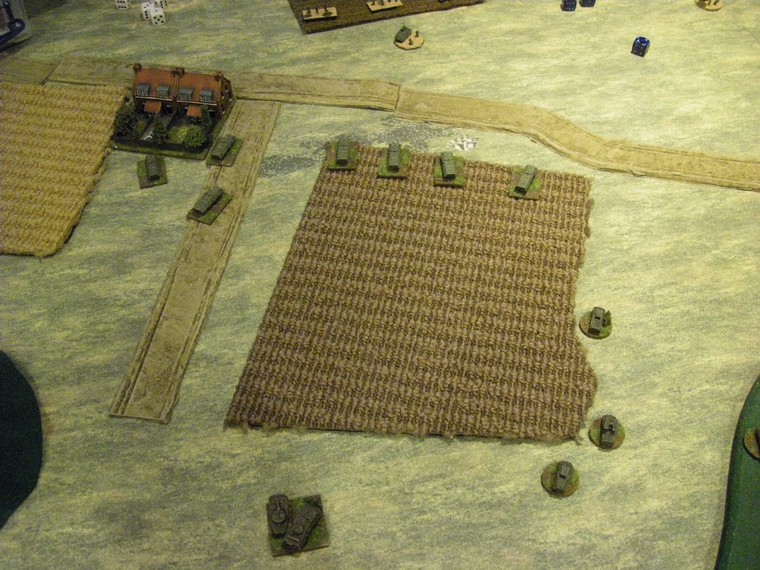 The infantry were advancing cautiously, and as the British were using plenty of mortars on table, the Polish pedestrians had decided to stay buttoned up and in their vehicles as they advanced to danger close range.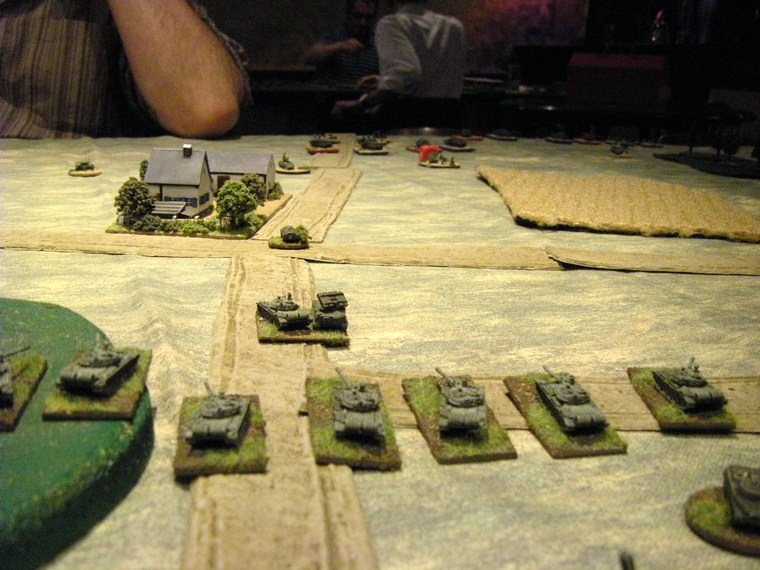 The Challengers were now finding their range against the rather more primitive T55's. This was turning out to be a bad day at the office for the Polish tankers... i
The British were pushing forward on their left with 4 Chieftains - unskilled in micro-scale Soviet built AFV recognition in low light after 3 pints, the British commander had failed to notice that these were the T72's. or maybe he simply didn't care.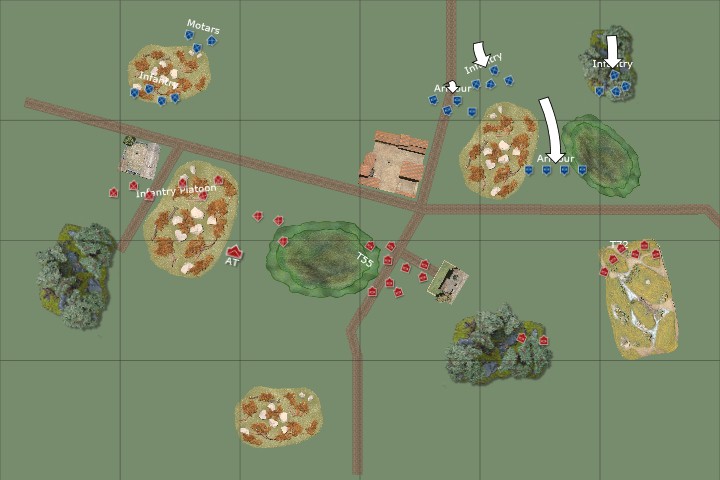 The Polish tankers opened up and started to ding shots off the Chieftain's armour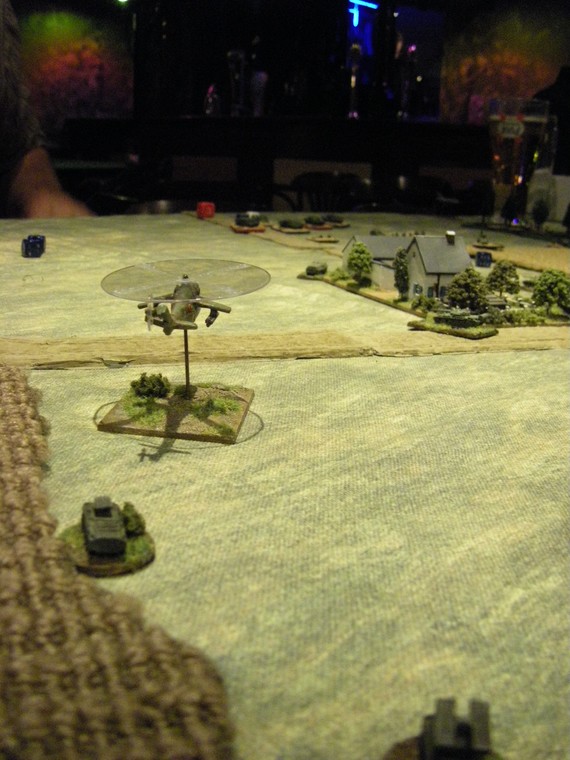 The Poles were throwing the kitchen sink at the Brits, seeking to keep them pinned down with a barrage of artillery and airborne attacks.
The early model Hind, with its rather rubbish AT missiles sought to fire from the lee of a small village, trying to keep away from too much Rapier fire as it discovered that advanced armour is rather effective against old obsolete missile technology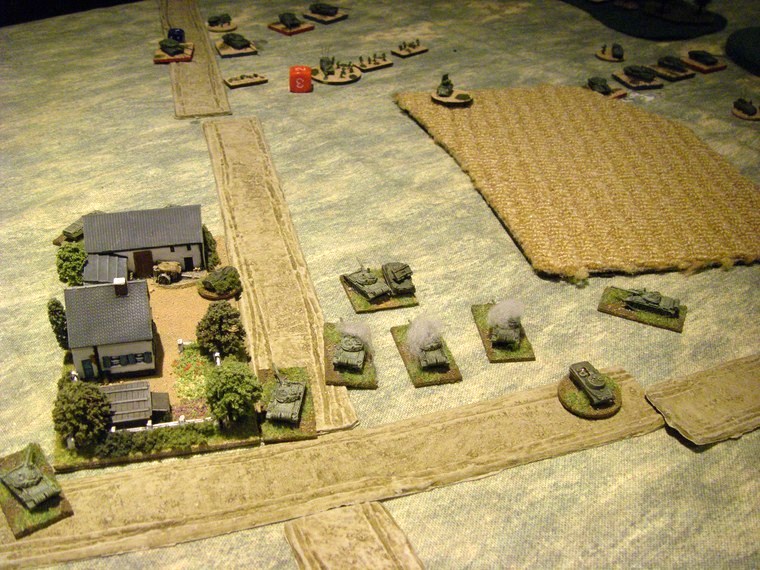 The T55's were now hurting badly, with only 3 of the original 7 left - they all tried carefully to maneuver themselves into safer positions, accepting that this might mean they would not be able to return fire but having realised that trying to shoot the Challengers was somewhat of a waste of time anyway...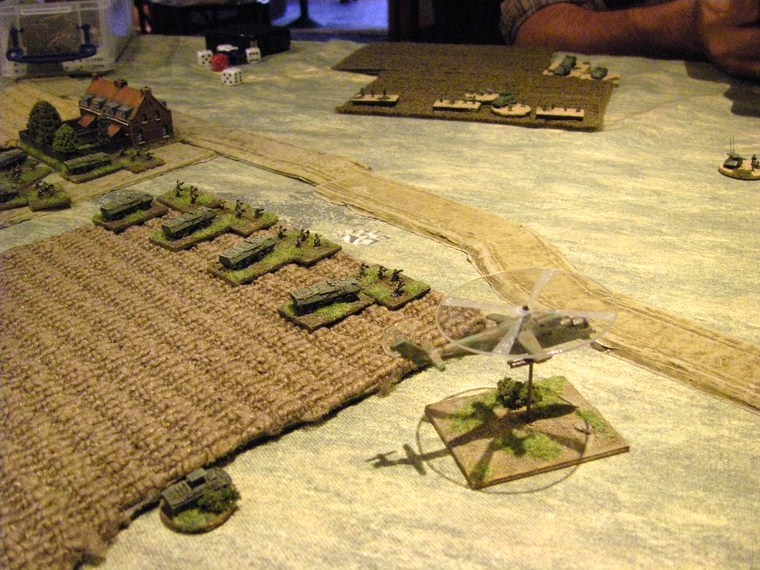 The Polish infantry de-bus... and then consider the logistics of making an attack across open ground against an enemy taking cover at the edge of a field. Hmmm - maybe Danger Close artillery might be needed to create an opportunity for the otherwise suicidal attack..?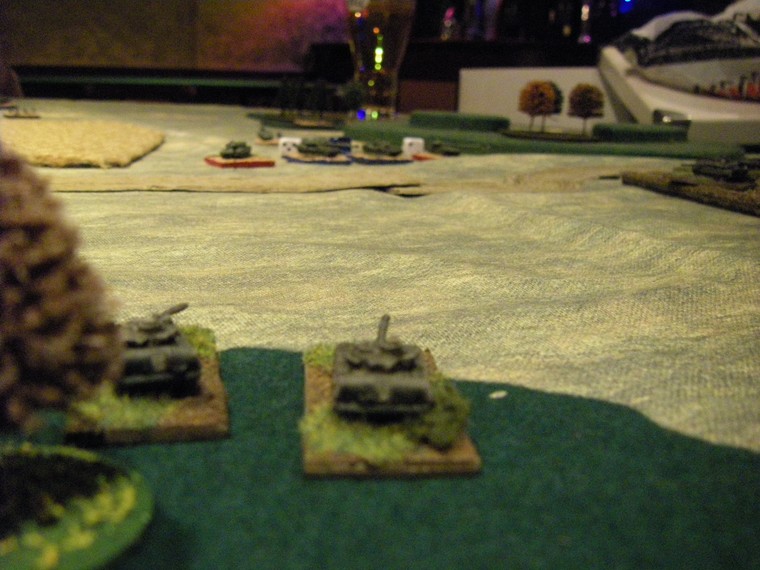 7 T72's were doing a relatively good job of keeping 4 Chieftains occupied - no Polish tank losses so far, and the Chieftains were spending a lot of time suppressed, if not actually being brewed up. Yet...?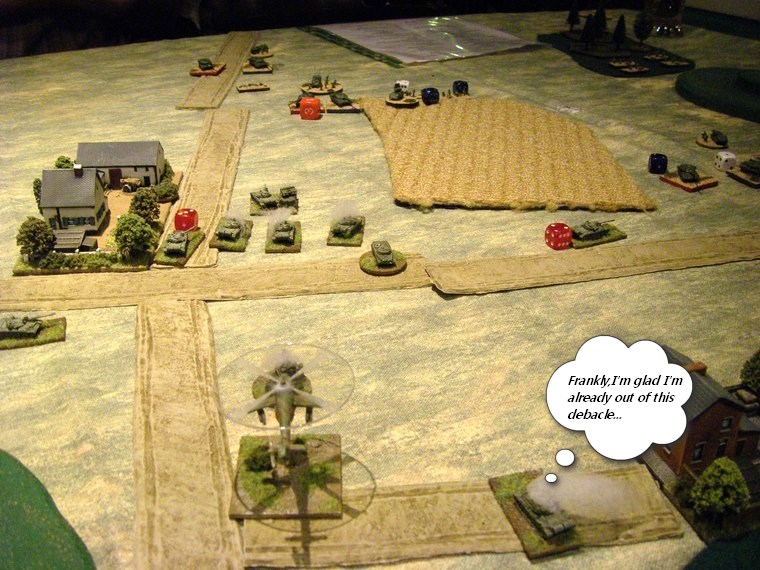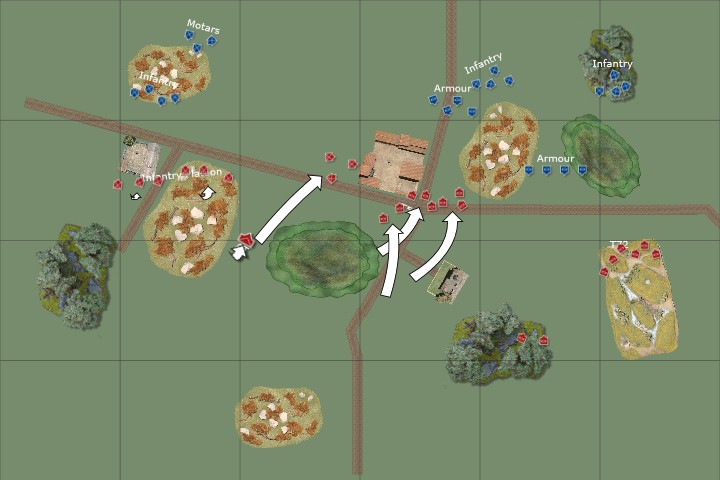 The T55's added enfilading fire to the Chieftain formation, hoping a rather more close ranks and risky Hind attack with rocket pods as well as missiles might dent a Challenger- as the T55's certainly weren't going to do so. Artillery also rained in on the Brits, who were bogged down but not exactly in trouble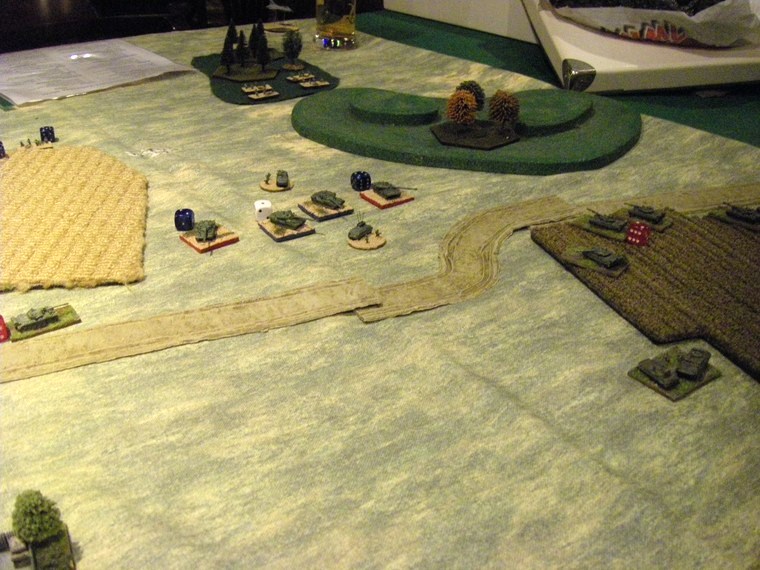 Things were now starting to get a little uncomfortable for the Chieftains...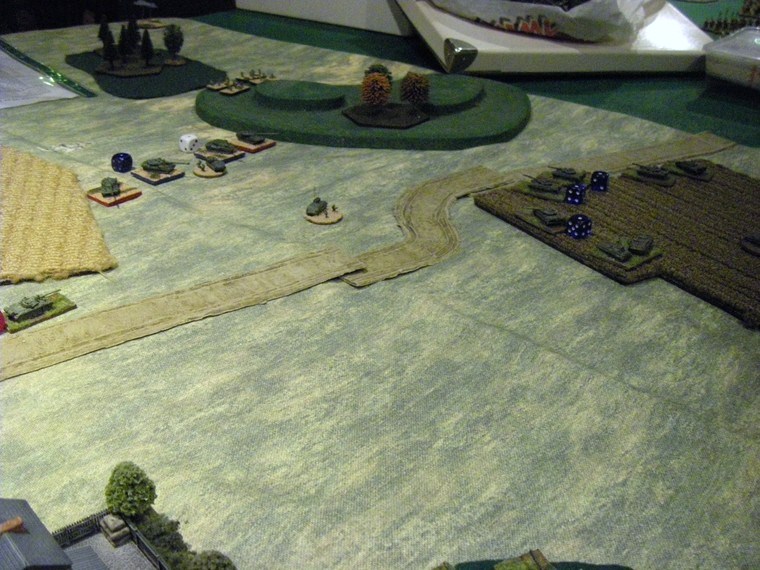 The Birtish commander gave the order to pull back, reducing the enfilading fire and taking some of hs tankers out of close range of the Polish T72's to boot.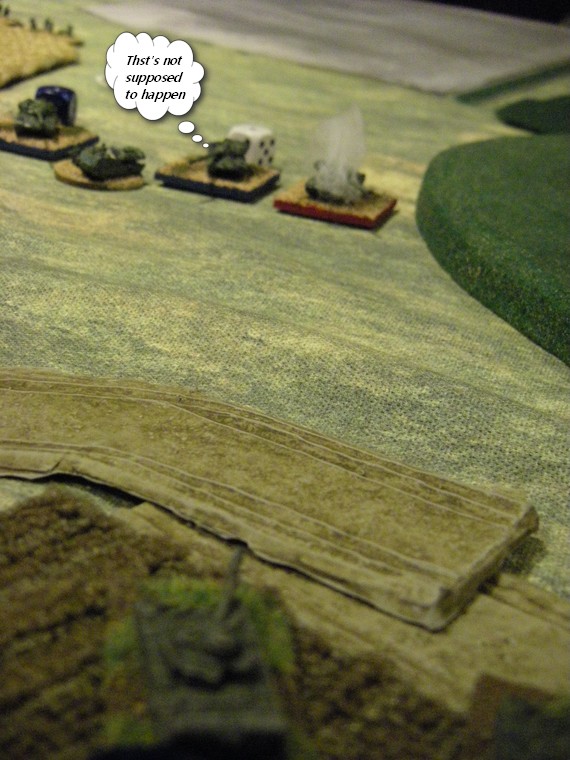 But, finally, a massive success for the Poles as a Chieftain is brewed up !
(That was The Chieftains)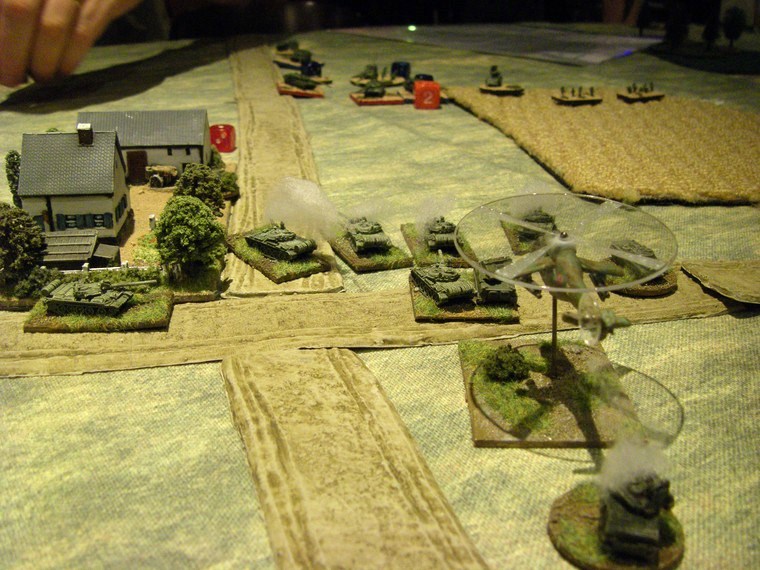 The T55 formation has taken some serious losses but the Hind keeps trying to come back despite being driven off by AA fire on more than one occasion. The British advance has stalled ..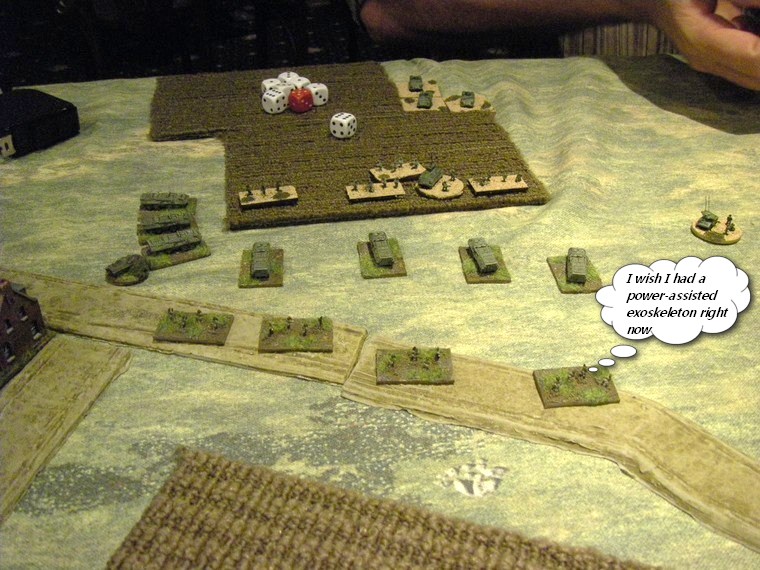 Quickly reading the rules again, the Polish infantry commander realises that his armoured troop transporters can actually join in the attack.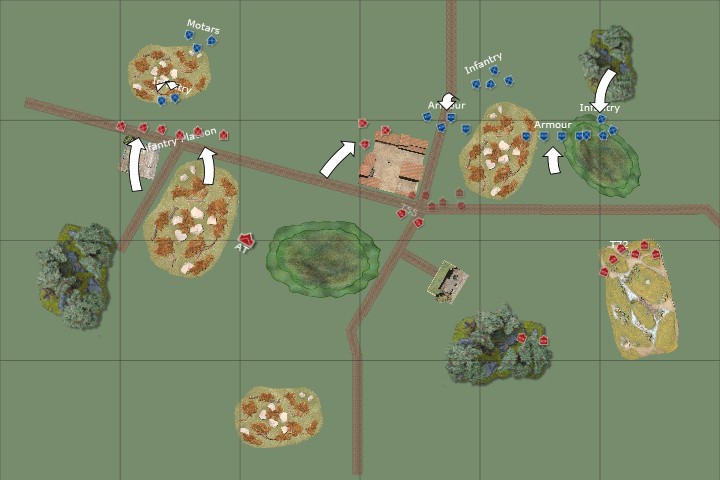 This tips the odds considerably, and the Poles roll forward, firing with every gun they possess to try and dislodge the British infantry..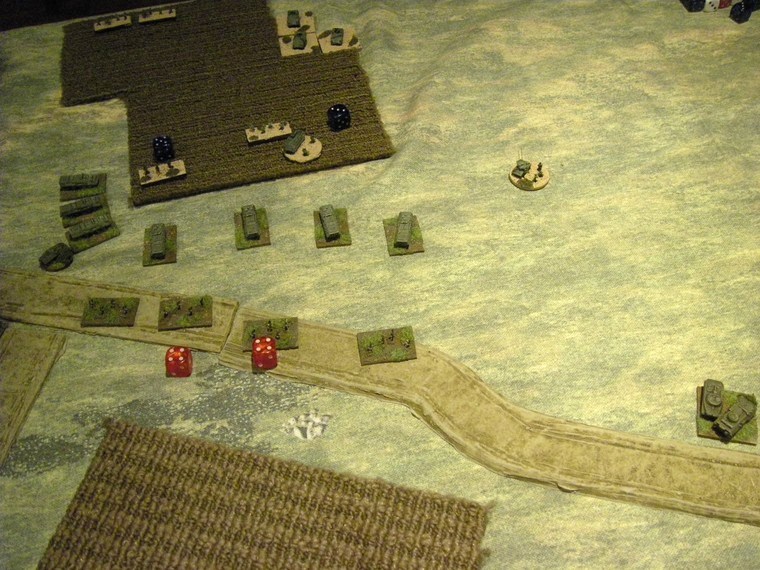 The attack is beginning to look like it may be succesful - several British units have been eliminated, as good command rolls keep the Polish moving forwards and firing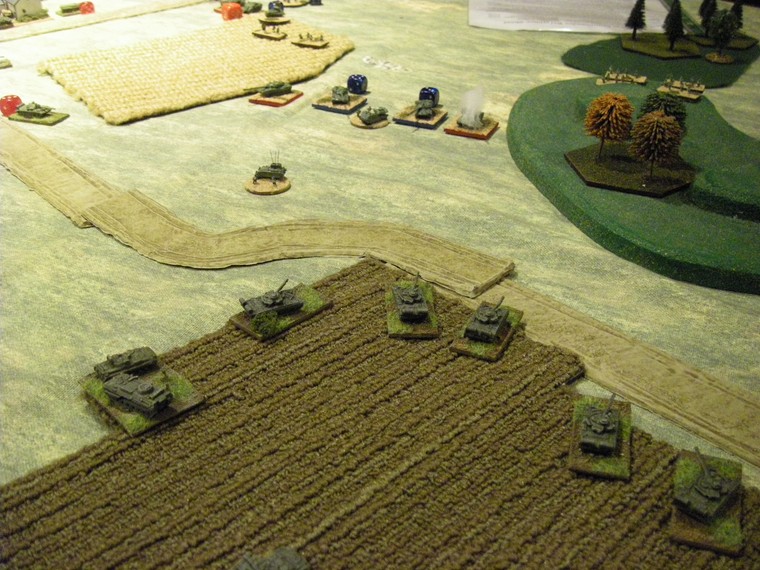 The T72's have a final round of fire, but do no more damage as the landlord calls time on the battle... .
The Result is a fairly large defeat for the Poles,who have lost considerably more points of troops than the British.
Read on for the post match summaries from the Generals involved, as well as another episode of legendary expert analysis from Hannibal
Post Match Summary from the 1980's Polish WARPAC Grade 1 Army Commander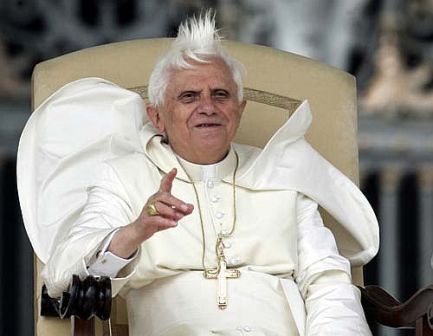 Hey dude, I may be the Pope - and I don't want anyone to say the "ex" Pope,'cause there is only one Pope, and you is looking right at me, say yeah?
I say I is Da Pope, and I IS da Top Man of all of Po-land, so I is well satisfied innit with this ass-kicking outcome for ma homeboys. Schaaa-moh!
I think we just about kicked this British Ass, and as I don't know many of yo' Brits, but Da Pope he do know Yo Mamma - and Da Pope he know Yo mama so stupid she think Taco Bell is a mexican phone company - so yo' is no-where in kicking my ass in this battle, I say NO-where A 'tall.
---
Hannibal's Post Match Analysis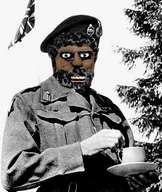 You know, I have absolutely no idea what just went on there. Who was that man?
However I do know two things. That game flowed and rocked, and you were in the groove with the rules from the first few turns. And I also know that you got absolutely battered by far superior forces, which you attempted to take on with no intel about how they compared to your men, and no real plan other than spreading out your three commands across the table. And we all know how that goes.
I did like your attempt to use lots and lots of artillery, however you needed to dump it on the enemy infantry as it was apparent from an early stage that the enemy armour was largely impervious to it. Supressing them was a good thing as it arguably kept more of your own tanks alive, but it was a holding action in a game you were trying to win, not just hang on in. So it achieved little in the final analysis
It would also have been sensible to concentrate ALL of your rounds of firing on just one target each turn as then you might have actually killed more than one enemy AFV. Admittedly you may have lost more as the enemy would have spent less time supressed, but you had numbers on your side. Next time, in a non-encounter you can also use lots more smoke, programmed artillery and other toys. Which, against the NATO tanks, you clearly need. Best of luck in that....
That's the end - so why not go back to the Match Reports Index and read some more reports?