Steampunk Horror in Sarf London at Rebels and Rioters 2015
Ramos (Arcanists)
Game 1 Ramos (Arcanists) vs Shen Long (TT)
Game 2 Ramos (Arcanists) vs Leviticus (Outcasts)
Game 3 Kaeris (Arcanists) vs Perdita (Guild)
There is lot's more of this stuff on my Malifaux pages
A three-game event at Dark Sphere, with all of the supposedly good players off at the Nationals in (un-flooded) York saw me yet again take the only faction I owned, Arcanists, out of the box and onto the table. Much time has now passed since these games took place, and added to that the difficulty of taking sufficient photos during a game to make a proper narrative without wasting too much time means that the following report may owe much more to creative analysis of the pictures rather than what really happened…
First up was the Spider-spamming-meister Ramos, in a matchup that involved guarding a marker in the very middle of the table against the ancient Ninja warrior skills of Shen Long. Having listened to a podcast whilst falling asleep on a plane a few weeks earlier, I now believed that Shen Long had some sort of ability to make use of different types of "chai", presumably working up to the heady heights of a Starbucks decaf-skinny soya-milk latte chai (seriously, this is just a fancy word for 'tea' isn't it?). This seemed to be a bit like the Saga ability of Wrath for the Jomsvikings, so the trick is presumably to take whatever pain is dished out instead of letting Chai build up…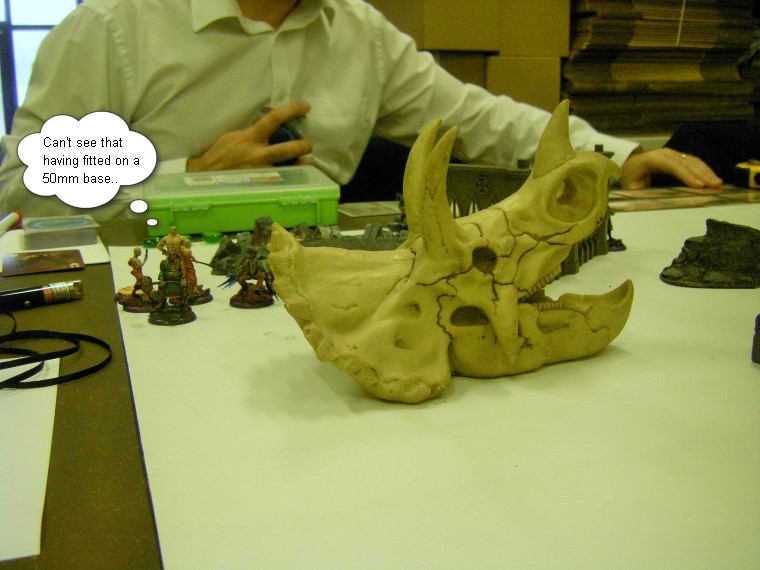 Shen and his gang started the game artistically arranged against the stand-out piece of terrain on table as they set up in Corner Deployment, the head of a gigantic breach-side dinosaur. His team included some ill looking skinny people, and a fat man with Edward Scissorhands hands, meaning that the entire crew were well catered for on the haircut front – especially Shen himself, who was entirely bald!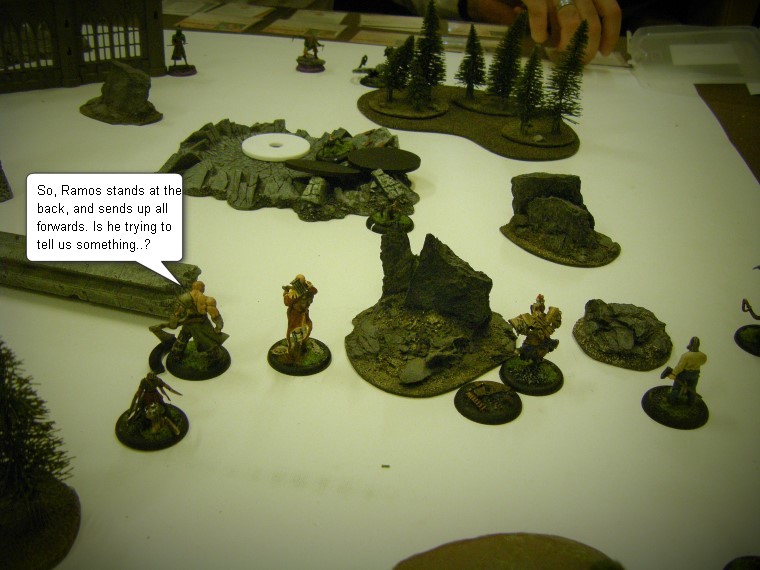 Ramos had turned up with a traditional load-out of Joss and Johan, with the newly-painted Captain on the field as well. The Arcane Effigy turned up, in theory to de-condition Shen and his posh-tea-fu but really to lurk around and provide company and emotional support for the lone, unhappy Metal Gamin who was still working to overcome the emotional trauma of being severely cuddled by the latest rules re-write from Wyrd. The Captain threw out a couple of sad-looking Wind Walls, instantly regretting his poor planning which had seen the nicely produced ones staying at home forgotten on the shelf, and a spider incy-wincey'ed up towards the marker.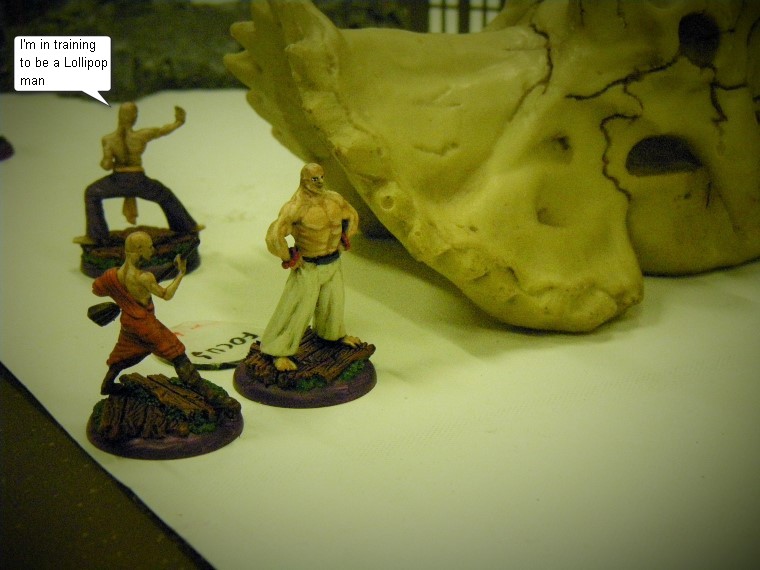 Shen and his un-hirsute followers were jiving furiously as they advanced down the edge of the table, aiming to get themselves worked up into a highly caffeinated state before they flounced into the middle of the board later in the game.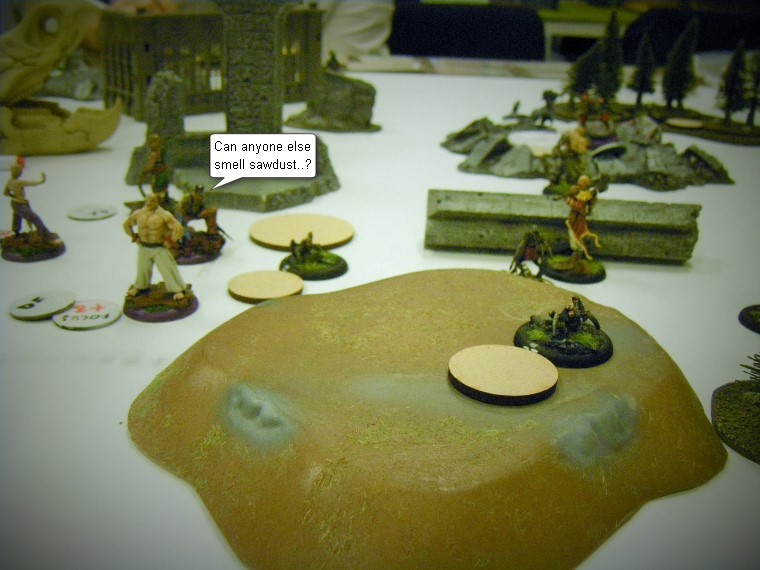 As the spider factory ground into full production, the marginally on the other half of the table areas of the board started to be covered in so many markers that Ramos and his crew were forced to use MDF roundels as their nice markers had run out.
Shen was practically tripping over markers each time he stepped forward, whilst in the background Joss began psyching himself up to remove an enemy piece from proximity to the central marker.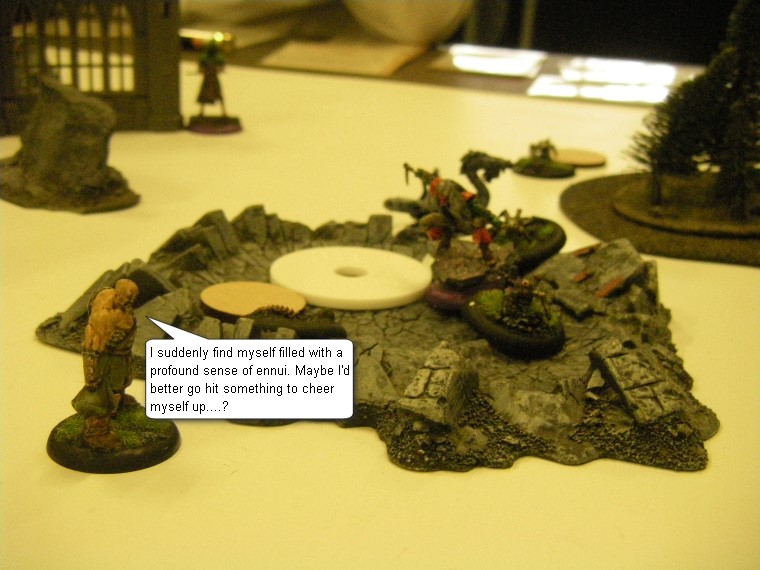 The enemy piece was difficult to make out in the gloom of the flash-free photography environment, but that didn't stop multiple spiders latching onto it to drag its defensive score down by multiple points prior to a Joss hammering. In the distance spiders were also running riot and covering yet more of the table in a carpet of markers. Soon after, the game ended, with a full suite of points for Ramos and not really that many for Shen Long.
Game 2 was photo free, and saw Ramos unwisely attempt to take on Leviticus, with his ability to remove three 4-wound models from the table every turn (not great for spiders…) in a game when I really should have taken Marcus. Unfortunately I had assumed that Levi was some sort of Undead master (on the basis that he dies every turn and is reborn) and so when my opponent announced Outcasts I expected a construct-heavy melee crew rather than an armour-ignoring shooting non-construct crew. Combined with a foolish thought that Deliver A Message might be possible if I threw a wave of crap at Levi in the hope of getting something close enough to him at turn-end to engage him at the start of the next turn (in my mind a win-win, as engaging him might cut down his shooting) this soon turned into a game in which my best outcome was to lose 6-3… which I duly proceeded to do. The whole game was streamed live online, meaning that my inept performance would have been a huge disappointment to the dozen or so people who left open a webcam browser window whilst doing something more interesting.
Kaeris relaxing at home
With a game lost, the third round saw me decide to try out something amusing rather than wheel out Ramos yet again - so the new-ish Kaeris paintjob made its way onto the table to face Perdita in a killy strat, with LITS being another easy scheme win for the 2 raptors on my crew with that pick-and-drop ability (Wings of Fire?) that Kaeris has, and Plant Explosives just for fun. A killy scheme is probably not the best for Kaeris, as death from burning doesn't really count as being killed, but hey, sometimes the game is about enjoying playing…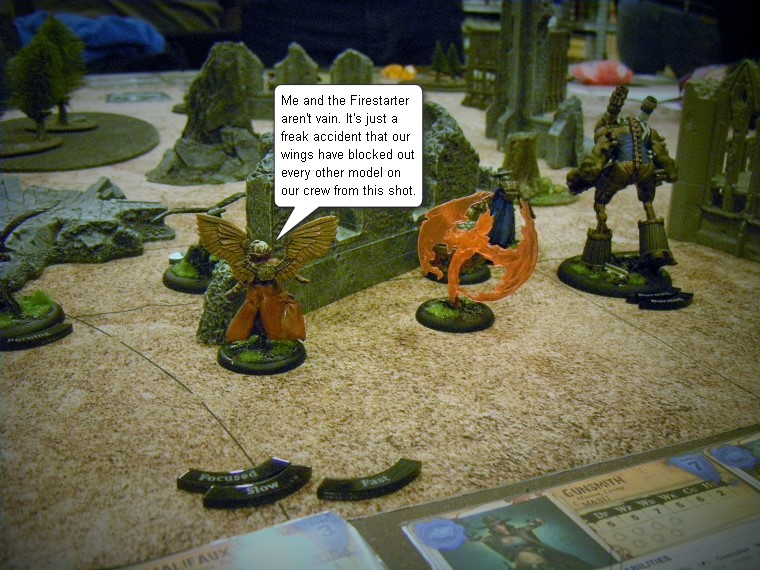 Kaeris turned up with the Rail Golem (burn!), the Firestarter proxy (buuurrrn!), a Gunsmith (buuuurrrnnn!), Fire Gamin (you get the message), a railworker (for their clever ability to inflict burning damage in-turn), and the Malifaux Child for another burning shot (and because I didn't have the plastic crew box for the hard-to-see-what-it-does proper Kaeris totem).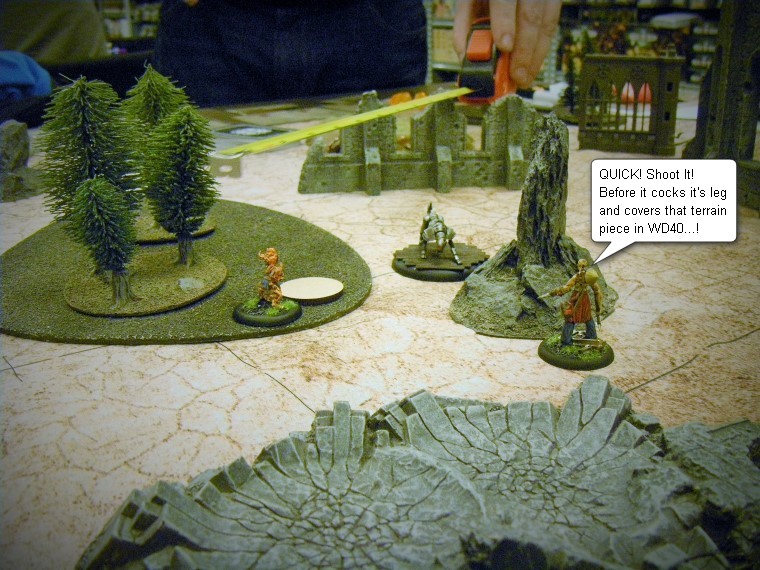 The raptors quickly established a successful LITS outcome with some fast paced marker dropping on the centre line, safely out of line of fire of the mass of hiding enemy gunmen who were holed up in a piece of church on the other side of the table, and then instantly achieved maximum points from a Plant Explosives run to the same knot of gunmen too using the same ability.
Kaeris' first dance at her wedding was to this tune
Perdita however was on deadly shooting form, taking down the "oh yes, it does have quite a low DF stat" Rail Golem before it could do any real damage to anyone, and leaving the rest of the crew a little hamstrung due to the reduction in killing power. Various Guild machines and people occasionally snuck out and engaged in combat with the odds and sods of Kaeris' crew at various points…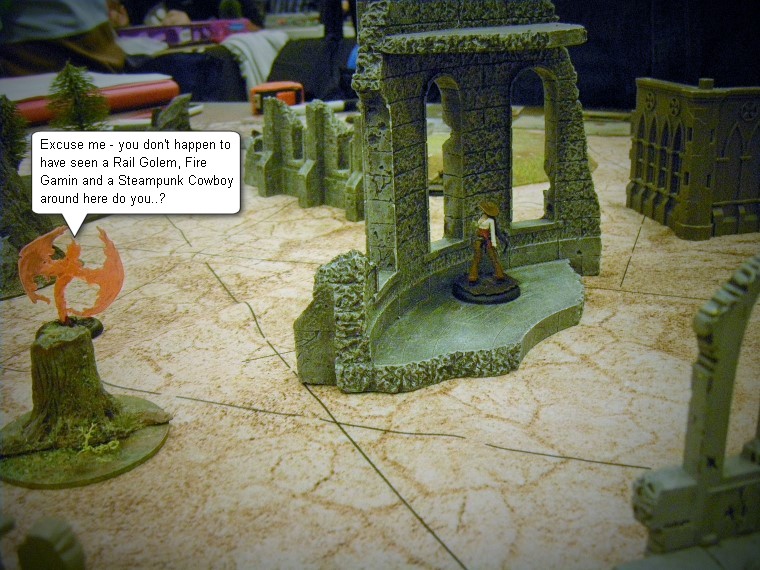 The Firestarter in particular skirted on the edge of destruction whilst simultaneously trying to place itself in danger in order to claim responsibility for burning-inflicted deaths in the end phase of each turn.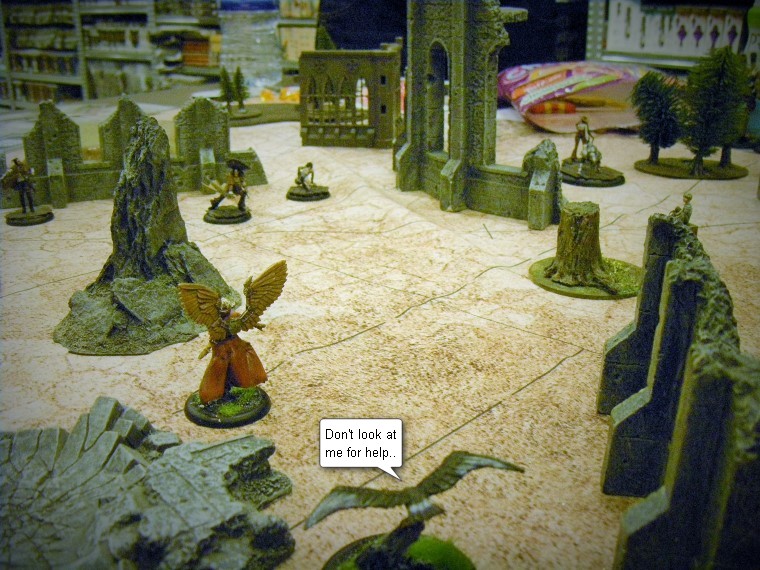 By the end of the game, Kaeris was pretty much the only survivor in a fairly narrow loss
Read on for another episode of legendary expert analysis from Hannibal
Hannibal's Post Match Analysis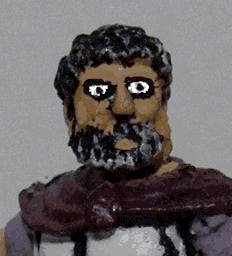 What a series of shambles have been arrayed before us today - evidently someone relieved themselves in your gene pool, and you are that progeny with half its brains but all of it's looks. There were basic, fundamental mistakes here in games 2 and 3 which left you unable to even record anything like a maximum score in either game, so making such choices put you so much on the back foot that you woudl have struggled to stay upright e'en were the earth proved to be flat!
Kaeris can kill, but not claim much credit - and Marcus is the master of taking down Levi, and with his magic machine gun of 4-damage, he will be a fair bet to be any Outcast opponents master of choice. And no-one, but no-one takes constructs against Arcanists even when they have options to ddo so - did you learn nothing from your previous event?
You, sir, are a prime example of why the plague was introduced to this fine country and more card flipping exploits such as this will see a pox upon all of your hovels instilled firmly in the rulebook, never mind in a post-revision cuddle
I hope this rubbish that you have been painting is better at fighting that the shower you displayed so inelegantly for us today. The saving grace was to be spared the horror of the Levi game, for which I must be eternally in your debt...
That's the end - so why not go back to the Match Reports Index and read some more reports?
View Stats for my Malifaux Pages
Battle Reports Pageloads to date. View My Stats for My Battle Reports Pages