Its time for Dublin!
When looking for a suitable venue for DBMs global swansong, the European Championships picked well. Dublin, Ireland, city of a million pubs, and polite, friendly people everywhere.
I had thought long and hard about which army to take. Do the Lithuanians make (another) farewell appearance ? What about the well-painted Egyptians? Maybe the always-entertaining Carthaginians? Or maybe the "I won them in Rome" Italian Communists?
However, after sifting though all these suggestions, I finally settled on Han Chinese, on the basis that they were one of the first ever armies to feature on my List of Lists, I hadn't used them in probably 8 or 9 years, they were day-glo green, and most importantly they would fit in a very small tin allowing me to take hand luggage with enough space for clothes to cope with 3 days spent dodging between pubs in a country famous for continual rain.
My list was here:
After a straightforward flight, an a typically entertaining cab ride (did you know there are over 400,000 Polish people now living in Dublin...?) Brian and I headed for a pub. And had some Guinness.
Later that evening I appeared to have a game of DBM - I wasn't aware there would be a Friday night game until earlier that week when it had been mentioned on the DBM list, but you live and learn eh? Proves the Internet is good for something other than porn and free software after all I suppose...
I did also manage to post some live in-tourney reports on my Wargames Blog - click here to see them although maybe save it until later as you may spoil the surprise of my results!
Game 1 saw me facing Tilman Walk and his Burgundian Ordannance
It was after sitting down I realised a/ how little DBM I'd played all year (all the games are listed on this site - 3 competitions!) and b/ how pathetically undergunned my army was to take on anything with decent troops, like knights, pikemen, blades, good quality bowmen, in fact pretty much anything I could find my self facing.
Tilmans army was here. There is a reason for the Bishop Brennan reference. Please bear with me...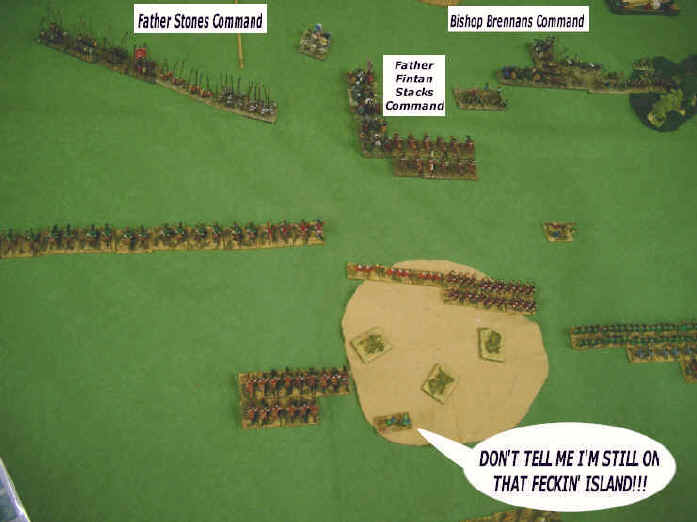 The table was dominated by a piece of broken ground in the middle, which I stuffed with bowmen to give them some chance of surviving. My erstwhile opponent then deployed something that looked like some LH(I)...but turned out to be mounted Bw (S) !!!!!!!!! Suddenly my Bowmen didn't feel so cocky, and my 3 fast blades were getting the distinct impression they would be called upon for some action rather soon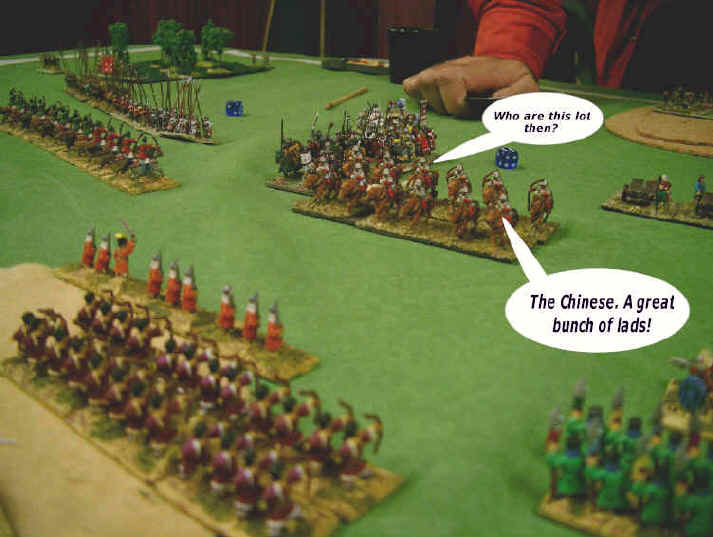 A Burgundian army is hard as nails - but one thing it isn't is W---I---D---E !!! With the rest of their command reduced to loitering impotently (as there was little for 4 Kn Chariots to do against a line of pikes and artillery anchored on a wood) a detachment of 5 LH F went on their merry way to try and cause some trouble. Perhaps they were going to try and find a pub?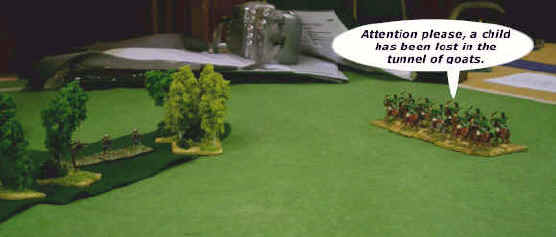 Meanwhile, my other impotent significant section of my army (well, Cv (O), LH (O) & (F)... at least the Bw (O) in that command were looking likely to be busy !) was buys keeping a thin line of pikemen occupied by suggesting they don't mess about with that nasty fighting, and share instead a nice friendly drinking game: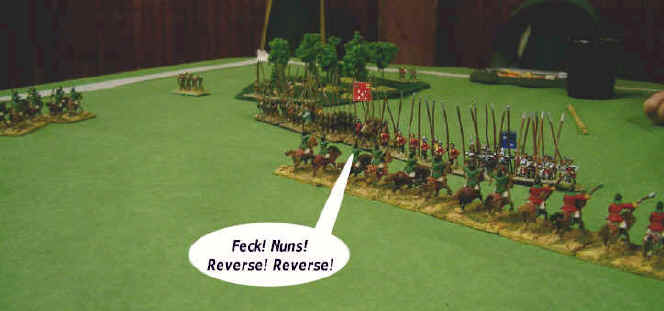 The Father Ted Pub Drinking Game
One person is nominated to start, and everyone sits in a circle. The game starts off going round clockwise. The starter can issue any of the following commands:
DRINK! (go round in the same direction)
ARSE! (change direction)
FECK! (the next person down skips a go, with control going to the player after them)
THAT WOULD BE AN ECUMENICAL MATTER! (All the players drink the contents of their glass. This command can only be used once per night per person).
Obviously, if someone makes a mistake (speaks out of turn, hesitates etc...), then they drink one finger of what is in their glass.
If any one command is used by three consecutive players, then the third player must down their drink.
If any one command is used three times consecutively by the same player, then they must also down their drink.
If anyone says "that would be an ecumenical matter" more than once in an evening, then they must buy a round for the rest of the players. If they say it after closing time, then the rest of the players are entitled to heap as much abuse on the offender as possible, and he/she must buy a drink for each of the other players at another time.
The Bright Orange blades surged forward to confront the longbowmen - and were shortly thinned out by heavy incoming fire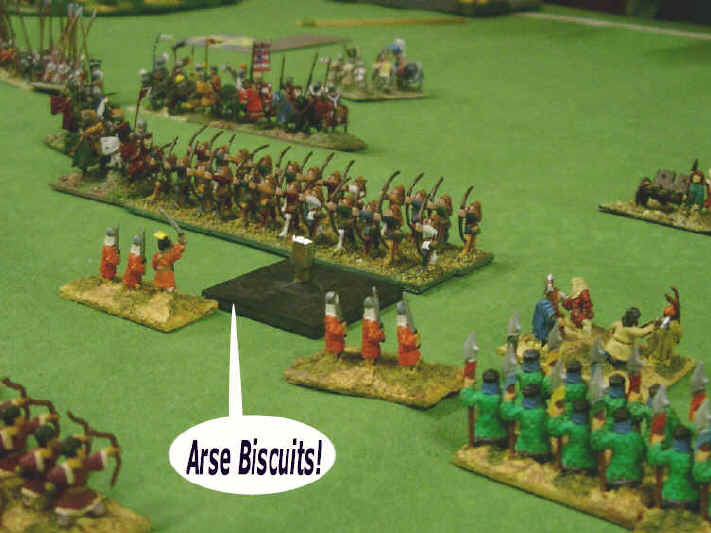 Meanwhile more bowmen were preventing my chariotry from advancing. But who was that sneaking up behind them.....?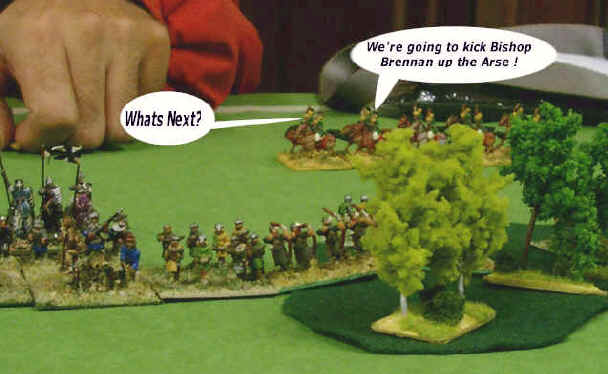 Unfeasibly, the Horde I that I had picked to balance up command sizes was now stepping up to the plate to help out the thinned down blades.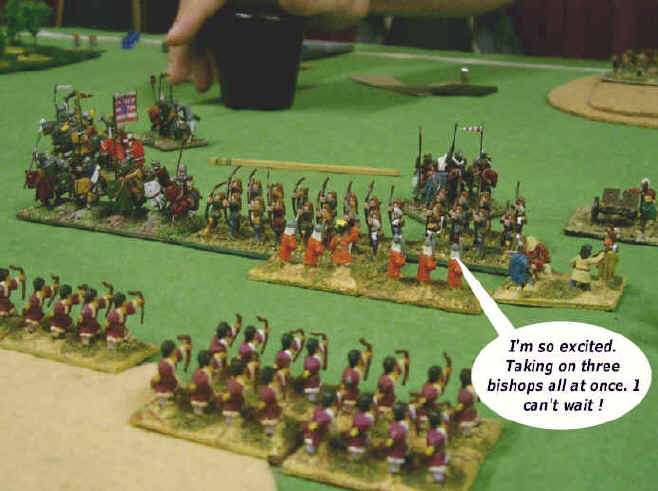 6 Bows vs 2 blades - a desperate struggle ensued, with my own bowmen playing a supporting roll.
But on the flank the light horse finally got round the back of the German Bishop Brennan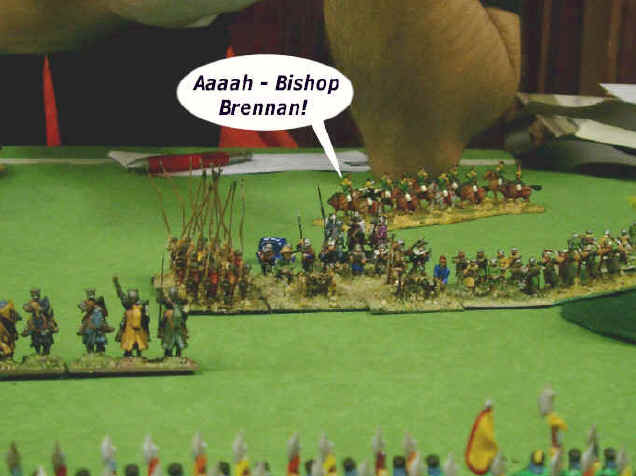 In the middle the struggle continued apace - well, a slow pace anyway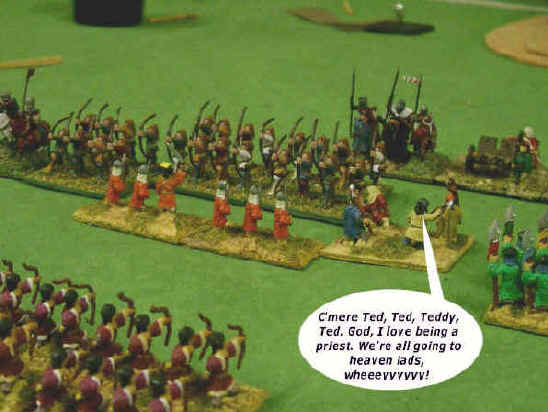 But, having given up on the Hd (I) as viable supports, the Orangemen called in their bright green friends, The Spearmen.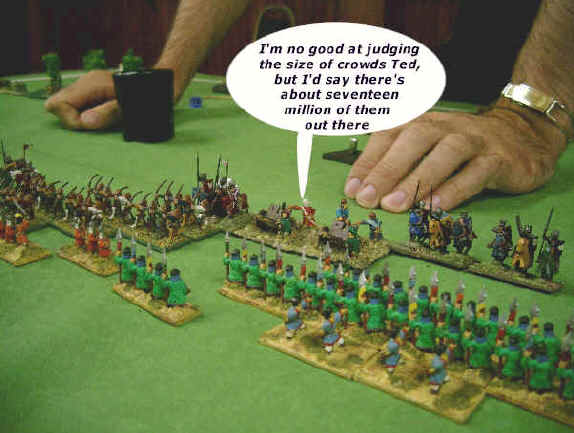 Soon the entire right wing of the Han army was in motion, sweeping towards the rather less confident Art (I) in the German lines of Bishop Brennan.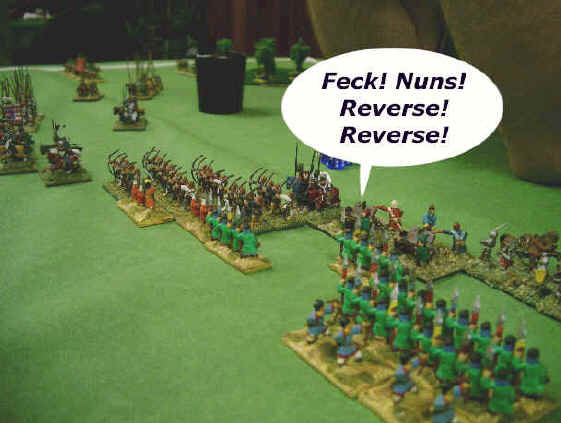 It was time for the Han spearmen to take care of things:
You know the phrase 'to take care of something'? Well, I realise now that you meant that in a sort of Al Pacino way. Whereas I was thinking more along the lines of Julie Andrews.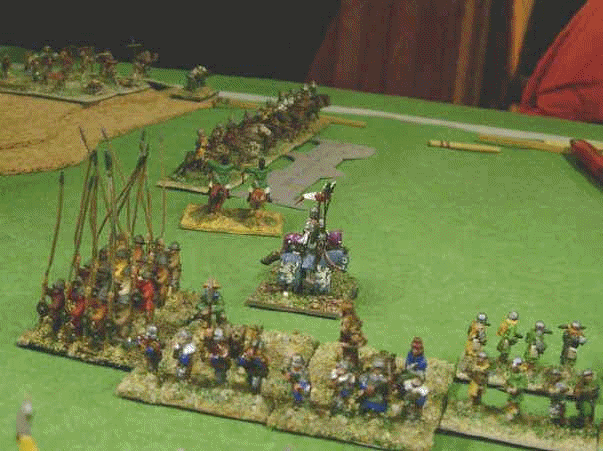 By now, the Han light horse had swung at Bishop Brennans Arse, and landed a couple of good blows - and as the central Burgundian Command was now looking very shaky, there seemed a good chance of the baggage becoming exposed as the troops defending it would break and flee.
So, with Bishop Brennans other troops now starting to react to the marauding raiders behind them, most of the Han beat a swift retreat to wait for the baggage screen to flee, leaving one irritant to keep draining the Burgundian pips.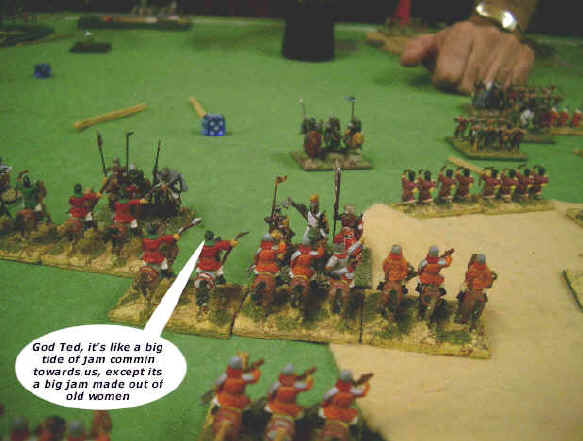 But suddenly the action switched to the middle, where one of my generals had been luring some Knights (under the command of Father Fintan Stack) into the rough going. The sneaky Chinese were confident they could unexpectedly dismount, but a series of tragically poor pips denied them the opportunity - and then Fintan charged in !!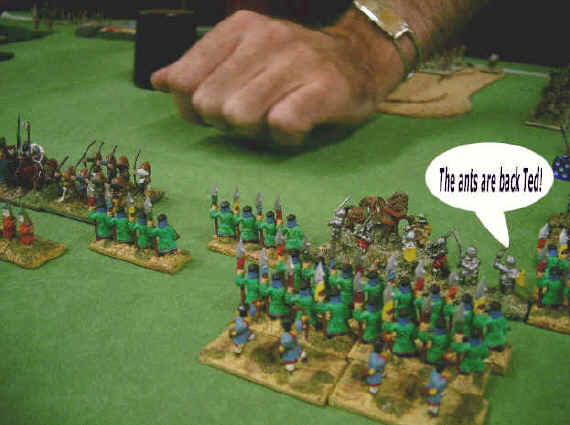 Meanwhile the line of Irish Green Chinese Spearmen were piling forward, causing the Burgundian knights to rapidly dismount.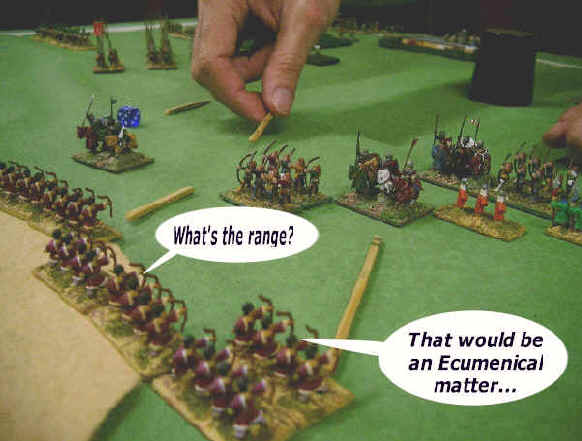 ...and the Burgundian bowmen were being thinned out by the Orange Blades like Dublin Bay Oysters in a month with an R in it
It was all hands to the pump for the Burguindians, assailed at every side. Two blades who had been tasked with defending the Art (I) were swiftly despatched, and soon the poor quality Flemish Pikemen were in serious trouble as their flanks collapsed.
General "Jack" Fintan continued his march into the rough - but the odds were evening up (rubbish for both of us) as more Chinese cavalry piled into the melee - but more ominously, some bowmen, fresh from shooting up Bw (S), moved in to block a recoil - The Burgundian General was dead!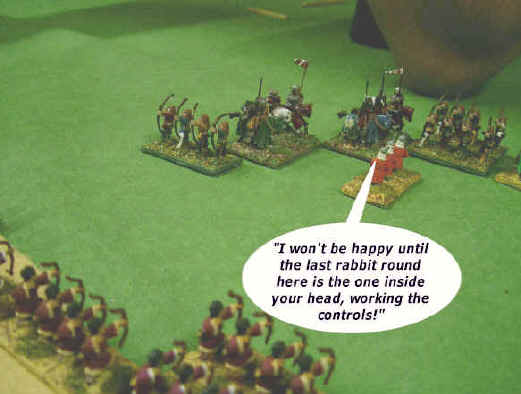 This shift in emphasis had left the last surviving blade a little marooned - but he responded valiantly, fighting off all comers.
But with victory in my grasp (and with "4 minute blitz" preventing me taking any more useful photos), the Chinese became over confident, and seeking the element they needed for total victory, accidentally risked the General from the largest command to flank a knight who was outnumbered - and of course, the risk failed to pay off.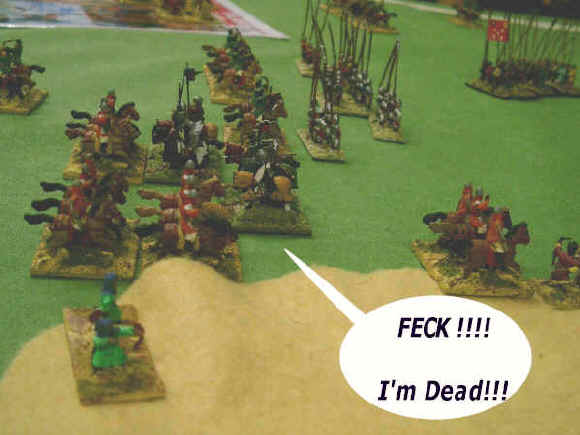 The general gone meant my command had lost 6 elements - and although it was in my bound, so I had another turn to play out, I couldn't get the element or two needed to turn the defeat into a draw - and I had lost the game 7-3 !!!
Post Match Summary
From what I felt was an unpromising start, the Han had punched above their weight and managed to hold on pretty well - good terrain for the Burgundians, handily deployed by me (doh - not playing that often does have its disadvantages...) gave them a strong bastion, but they had been tempted out and over-extended themselves trying to get hold of the only bits of the Han they could actually reach. Risking the general to try and quickly finish off the Burgundian army was a double mistake - firstly because I should have remembered that taking those sort of risks always fails, and secondly to wait too long before dismounting him - cleverness had backfired when my need to dismount coincided with a run of poor pip dice in bounds 5, 6 & 7, leaving me unable to spare the pips to dismount even the General, never mind all three of the cavalry lurking in the RGo.
The other major mistake had been because I hadn't even spotted that I was putting the General in danger, as he was painted the same garrulous Orange colour as the rest of his men, and with no flag, banner or standard to differentiate him, and fighting on a yellow piece of rough ground, I'd simply not noticed it was him I was endangering!