Field of Glory Wargaming at Usk, Godendag 2009
Sunday afternoon saw us dithering between a quick hail-Mary win or lose attack or defeat and a subsequent getaway to get back to London before the Arsenal/Cardiff game turned out, and fighting bitterly to the death in a vain attempt to sneak into the medal-winning positions that our two victories and a bloody defeat allowed us to aspire to.
The enemy we faced gave us scope realistically for only one of these - Bruce & Andy with an Arab Conquest army. Wall to wall superior spearmen was not an option for us to overcome with anything other than serious luck!
The Arab Conquest List is available here
Pictures of Arab-type Troops from my Ancients Photo Directory
You can rate the quality of the above figures by clicking on any of the pictures and then clicking on the 5-star voting buttons. Your ratings will be seen by hundreds of other gamers and will help them select the best figures for their armies!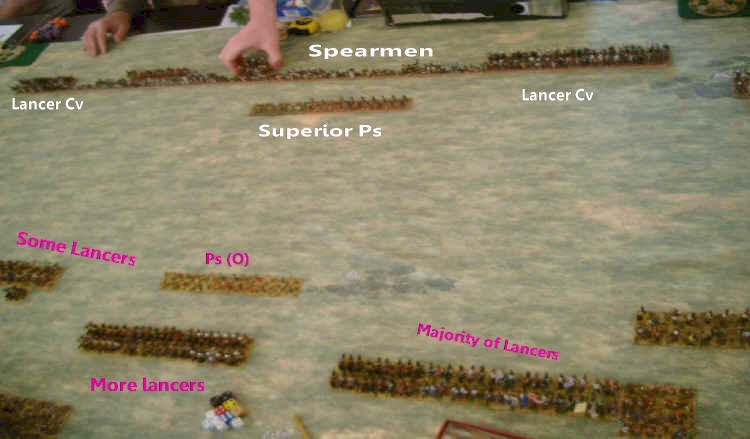 The comedy Steppe Terrain landed even more comedically than usual, with 4 minimum sized pieces one in each corner.
The earlier Arabs deployed in a very long line, mostly one deep but 6-wide in units of 8 that could therefore contract by 2 to go 4+4 in a single bound if they wanted. We loaded both flanks and hoped to overwhelm the limited number of Arab lancers on each wing, as well as leaving a small force in the middle to try and keep the spearmen from swinging out wide too easily.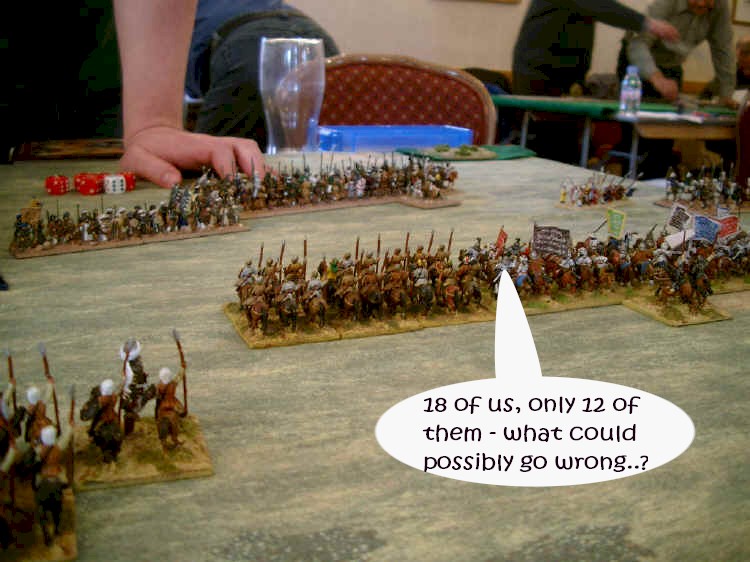 The still highly religious Arabs cheated, by getting of their horses at the end of their line and becoming better quality spearmen (Sp(S) vs Cv (O)) than they were cavalry. Undaunted, our Arabs charged forward anyway, but also brought up our bowmen to shoot at the rather small and only protected spear unit as well.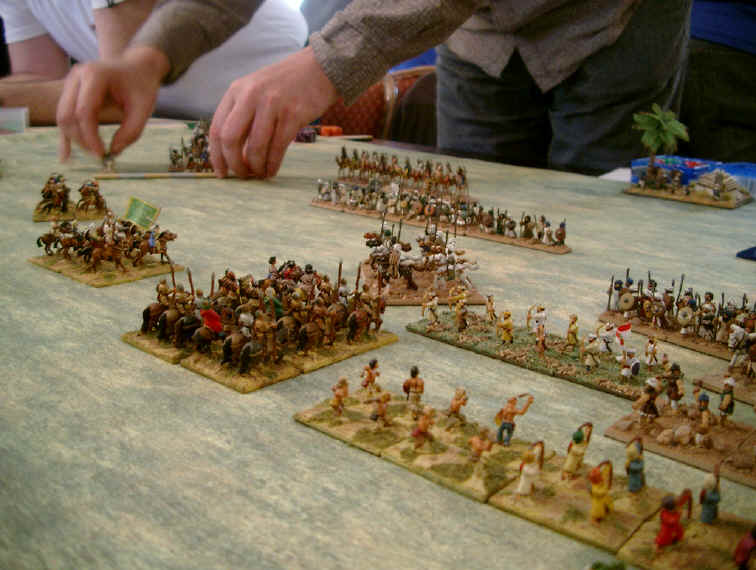 In the middle a struggle between the two sets of mounted and foot skirmihers was developing as the confused spearmen dithered about what to do.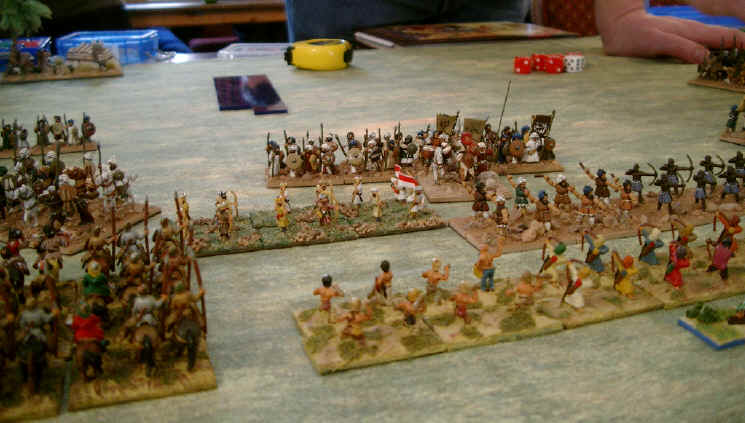 They soon decoded that being 2 deep was best however...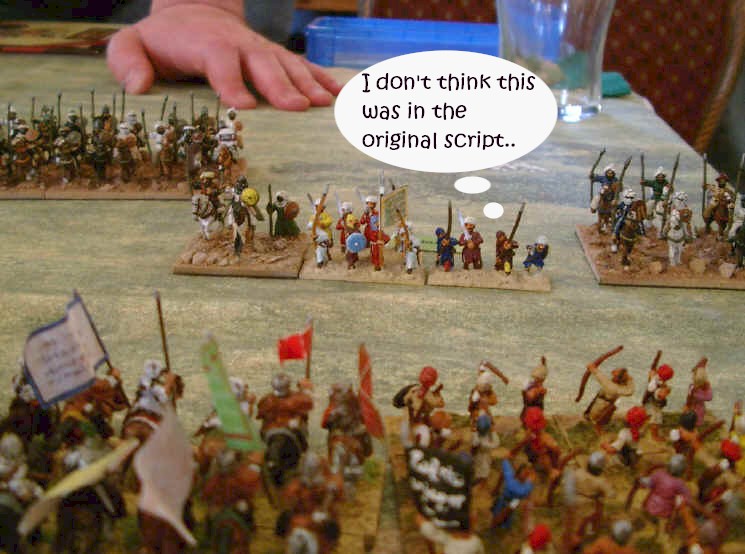 As planned, the not-so-clever small spear unit defending the end of the Conquest line was battered by our bowmen, losing a base and becoming disrupted almost immediately. Suddenly things were looking up!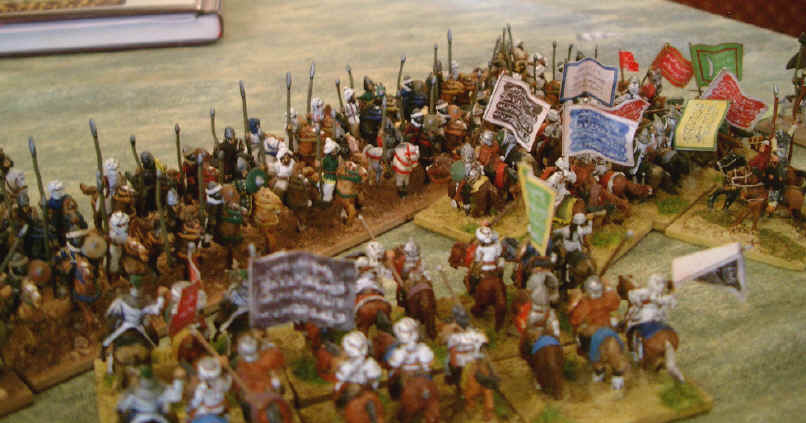 With the spears effectively now neutralized, our lancers charged in - and disrupted and fragmented the enemy formation at impact ! This could be a stunning success....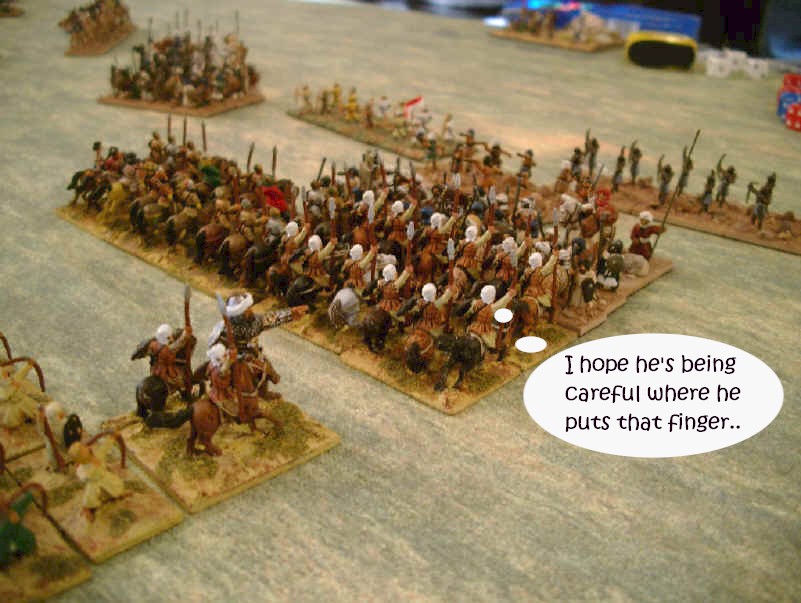 In the center a unit of spearmen had gotten isolated and were still only 3 ranks wide, and riding our tide of luck the Arabs, inspired by their inspiring commander charged home, hoping that the slight disadvantage at impact could be offset by greater numbers in melee and the opportunity to bounce off if things went badly.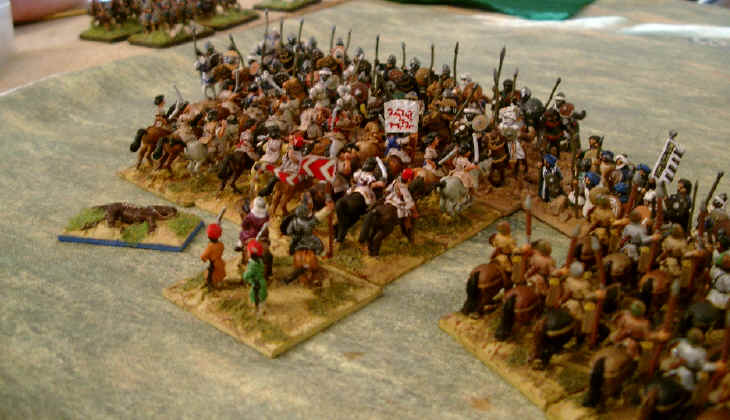 But on the right was a taste of things to come - entering into an even combat against identical enemy troops, our own lancers performed dismally and started to falter.
Back to the right now, and our initial success had failed to transform itself into anything more material - the end unit of fanatical Arabs had broken, as had the spearmen, but the rest of their line had withstood the demise, and our slightly wider units were locked in combat and unable to swing sound to take advantage of the gaping flank opening up before them.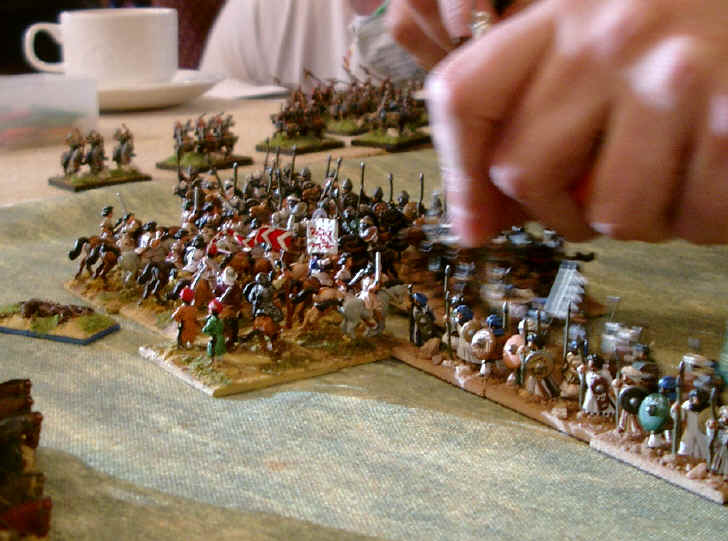 Things were still gradually sliding backwards on our left as well as casualties started to mount.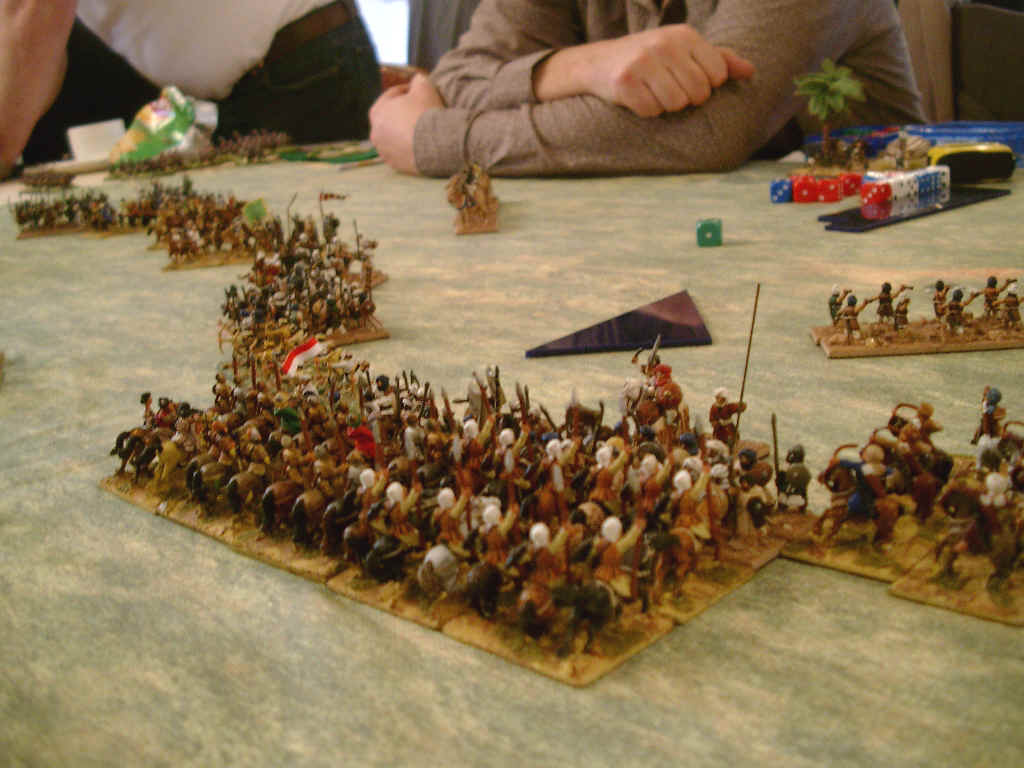 In the middle, battle continued, as we tried to repeat the tactic of "hit them in the flank to give us a potentially decisive POA at the front" which had failed so notably in the previous game.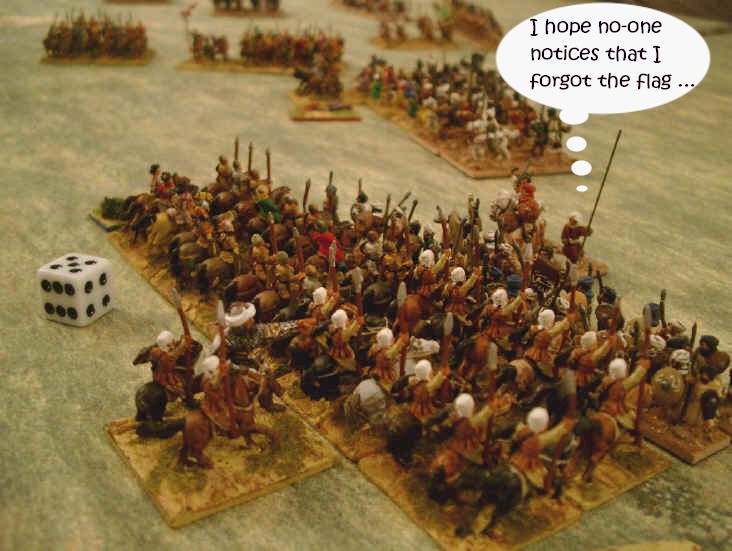 It wasn't going too badly - but it wasn't going too well either... seconds later both our units went instantly fragmented !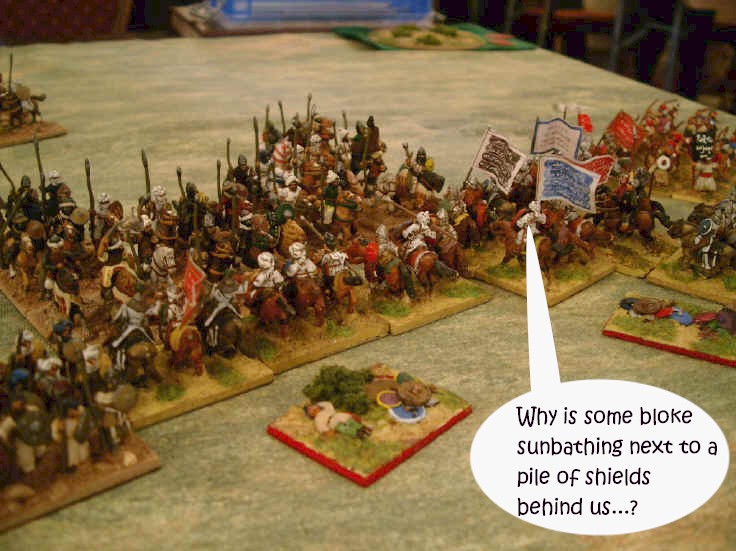 On the right, despite our initial success the Conquesting Arabs had steadied their ship, and had holed ours below the waterline to boot. Both our units were fragmented, and defeat was looming.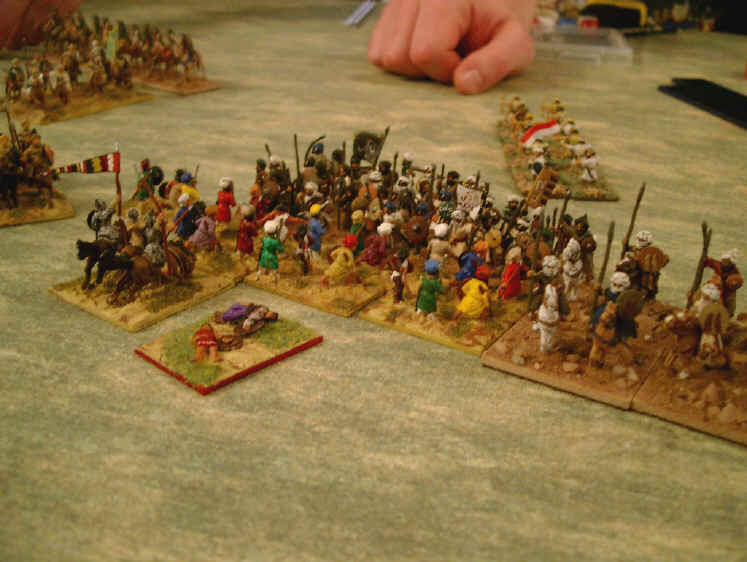 Throwing the last dregs of our army against the unyielding wall of Arab steel and whatever shields are made of, our proto-dailami were committed to battle, again only to collapse to instant defeat and fragmentation against the spearmen.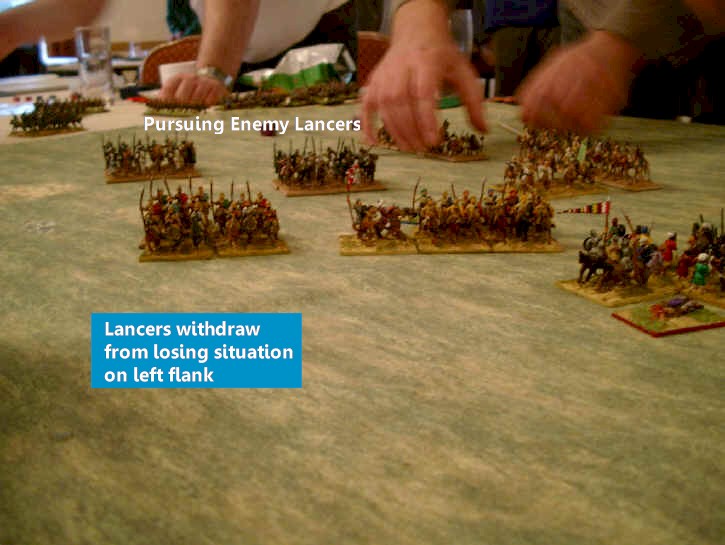 With much of our army collapsing, and no more reserves left to commit the game was over. A crushing defeat
Post Match Summary
With a good 4 feet of the table width covered by spears we had no real answer to (and significantly more than we had been expecting to face), we needed a quick result against one or both wings to stand a chance here - and we didn't get one. Despite an initial success, no further results went our way and in a totally static combat situation the Arab Conquest lancers eventually chopped their Dynastic brethren to pieces.
After our previous 3 exciting games and their regular wild swings of fortune and luck this match up proved much more of a grind and provided less entertainment - probably for both sides.
Hannibal's Post Match Analysis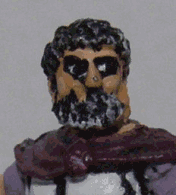 Well, that's the problem with a lopsided army. It can sometimes fall over - and very easily.
To be fair to you - and I don't say this very often - the matchup dealt you a poor hand, and you made a half decent fist of making a game of it here, but you were relying on a degree of luck, and it just didn;t come at the right place or time for you.
Even their figures were better painted than yours, so humiliation all round really.
I can't say I'm looking forward to the next one either!
Post Tourney Summary
This had been a lot more enjoyable than the foot slogging at Warfare, and the ghost chasing at Roll Call. Bigger armies had meant the tables were always packed with troops wall - to - wall, so messy and brutal combat ensued every time. Also, with much more cavalry on table for all sides the games flowed better - a win on one part of the board was able to be exploited and turned to an advantage elsewhere in a reasonable period of time. Interestingly enough, all the armies we had faced had been 16 units or close to that - and with 12 feeling like the norm for the earlier foot armies I've been using, an extra 100 points wasn't the only reason for the consistent appearance of an extra 4 units - big is good, and big makes life difficult indeed for both skirmishing stepp armies and also Dom-Rom style swarms (like the one we had hoped to try and use!).
One other observation was that each and every game had some clear and bery wild swings of outrageous fortune, overturning the expected odds in dramatic fashion. With this I think I have finally started to realise that this is an intrinsic part of FoG - almost to the point that its not worth trying to recount stories of wild dice and improbable wins in the pub afterwards, as literally everyone will have at least one such story every game!
Other observations:
Drilled cavalry are LOTS more maneuverable than undrilled, as they pass CMTs easier, charge less - and can do the very clever expand 2 bases and not move without a test, and can even expand 2 bases and move - vital for clever shooty types.
Lancers seemed very popular all round, and a massed charge is hard to deal with
Knights are much better than cavalry as you can't outnumber them in combat by as much
.
Having an IC and deploying only 2 bases wide makes you almost invulnerable to shooting
,
900 ap's may be slower to play as there are more troops on table, but its also more decisive, as you can't avoid combat - or escape from a losing situation - anywhere near as well.
Cavalry armies and Cavalry combats are more fun than infantry ones - unless again the points totals increase significantly to clutter up the table
No-one likes terrain - perhaps as its harder to use it, and harder to pick a decent army with enough troops who are capable of exploiting that are also going to be able to stand up to potential (inevitable) enemies on the Steppe as well than it is to just pick army options that allow you to get rid of it entirely
NEW FEATURE - Comment on my match reports and tactical performance in the Wiki Section of this site!!
Yes, your chance to be Hannibal for a day! Just follow this link to the Wiki and make your own critique - or give me some army usage advice that will be seen by hundreds of gamers worldwide!!
..or just coment on Facebook
View My Stats for My FoG Pages