Photos of Newline Designs 28mm Assyrian Chariots, for L'Art de la Guerre
Chariots
Finally, in this three part 28mm Biblical special, the Chariotry - the strike force of the army
Weighing in at a hefty ₤22/each I picked up four chariots, as that's the maximum number allowed in the ADLG Assyrian & Sargonid list. In my 15mm army I also did a separate General's chariot to use if a General is embedded in one of the units, but for these beasties that seemed a smidge excessive so the purple one will be carrying a General through the magic of colour coding if needed.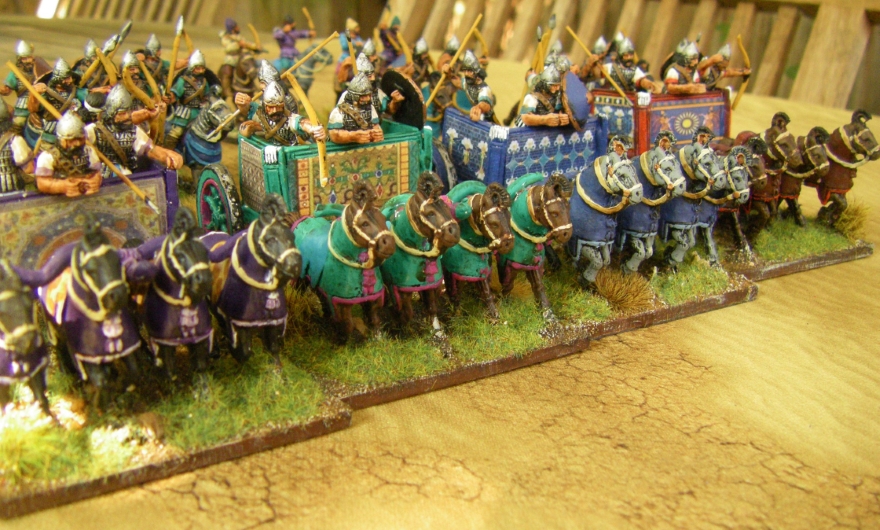 And here they are, all arrayed in different colours with their not-really-chariot-pulling horses to the front of the line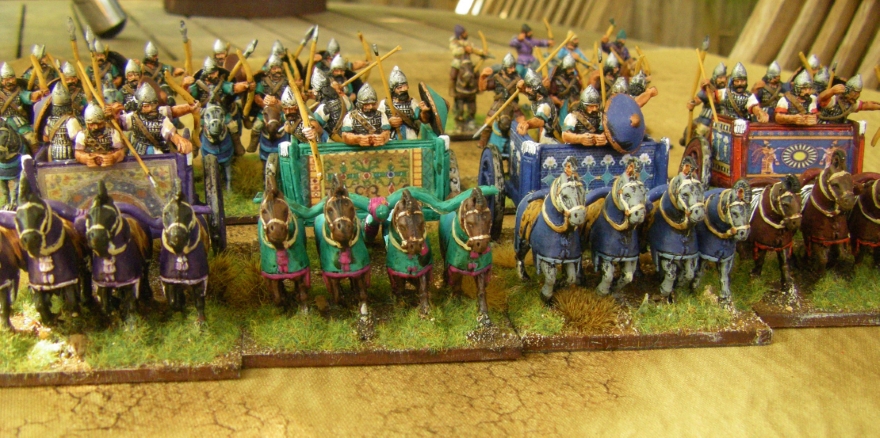 As you'll see I used the near-revolutionary yet still bleedingly obvious when you think of it technique of wallpapering the designs on the big slab sides of the chariot boxes.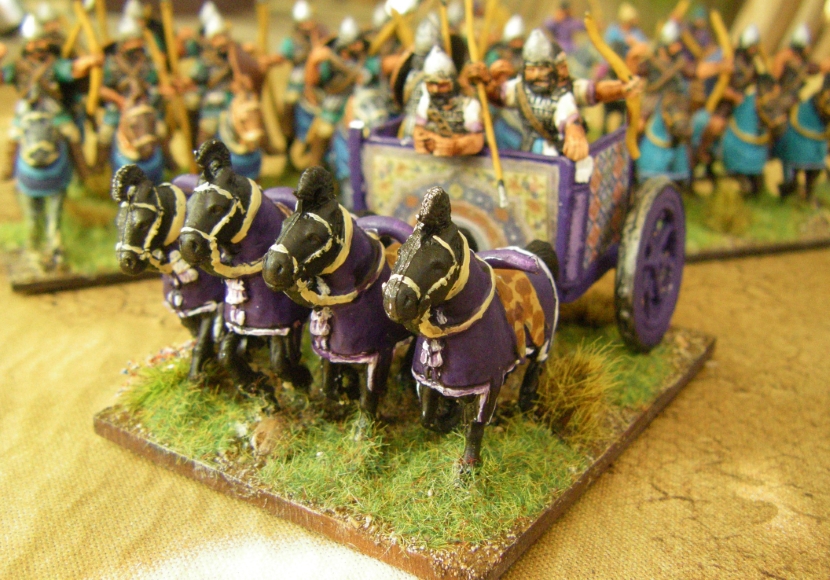 The horse harnesses are somewhat impressionistic in their execution, yet look OK once you stand a long way away from the figures (...he says justifying a fairly slack job)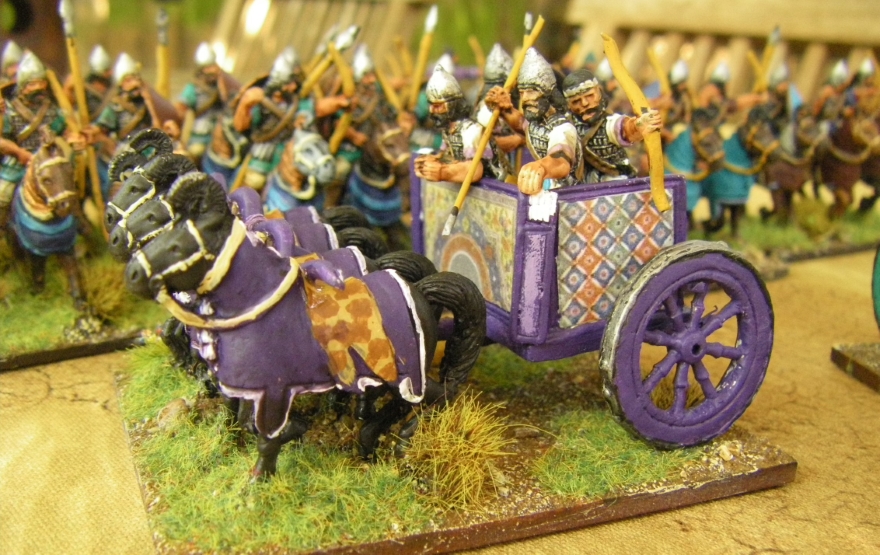 The cloth over each chariot horse was supposed to sit under the backside of a cavalryman, but as it was obvious here I had a go at a bit of a desert animal skin - perhaps this is supposed to be a giraffe ?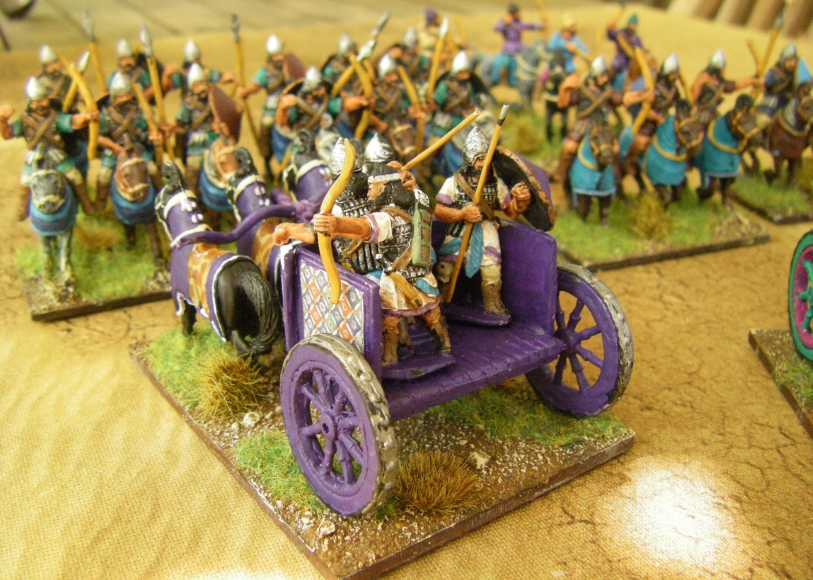 The four crew have plenty of room to walk around in the cab, so they four chariots could be posed in a variety of different ways - this is no tight fitting jigsaw puzzle that only goes together in one formation, allowing you to put even more variety into the army by varying the poses.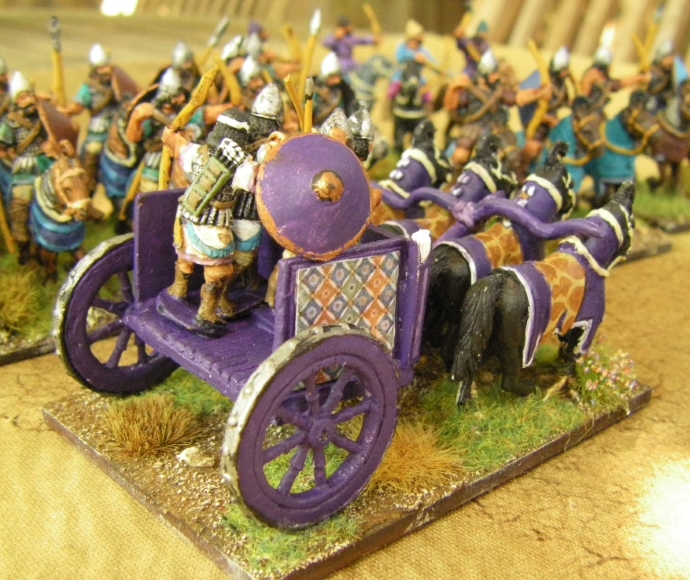 This all helps to get a bit of dramatic colour into the army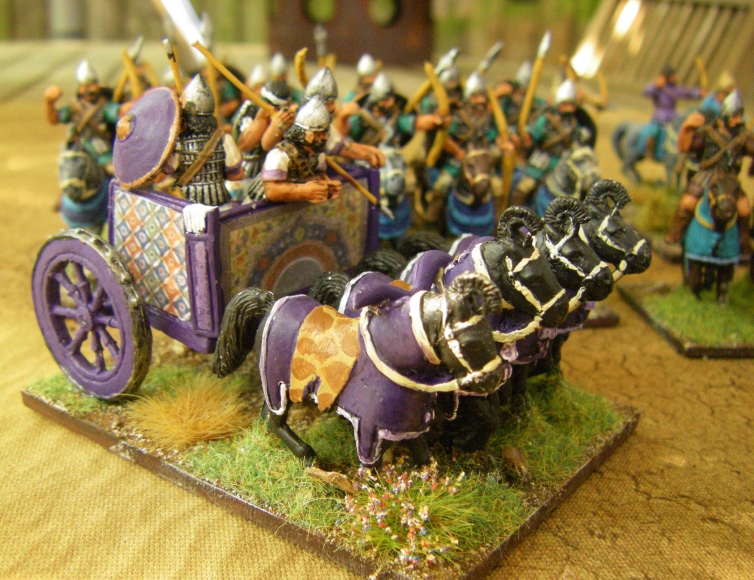 This set of wallpaper is a little understated compared to the rest - but even a small amount of purple in it leaps out when set against the overall colour of the chariot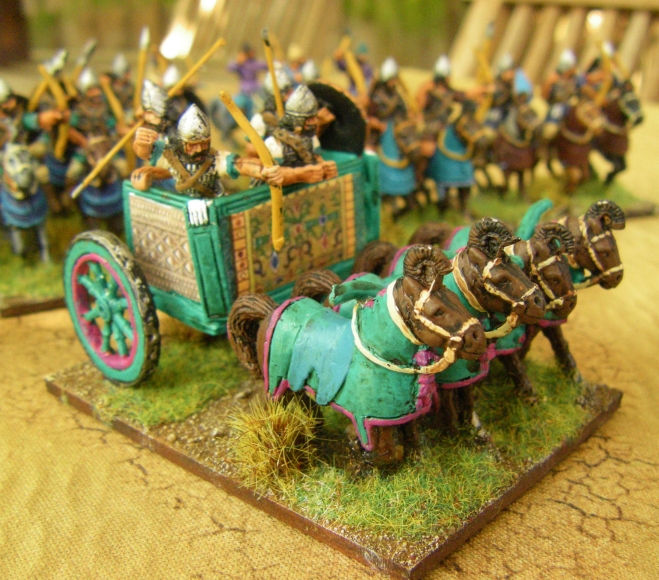 This one uses the same greens as the Elites in the army - it's a very lurid colour and I'm somewhat unconvinced on any historical accuracy, especially with the shocking pink highlights!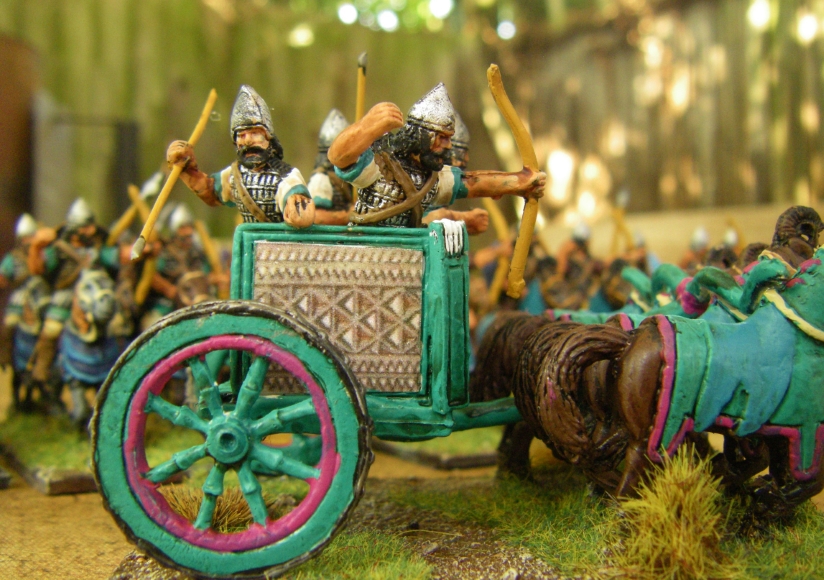 The pink is (I believe) Vallejo Magenta 70.945, which may also be 042 depending on how their naming system works. The lurid colour does offset the rather dull wallpaper here too.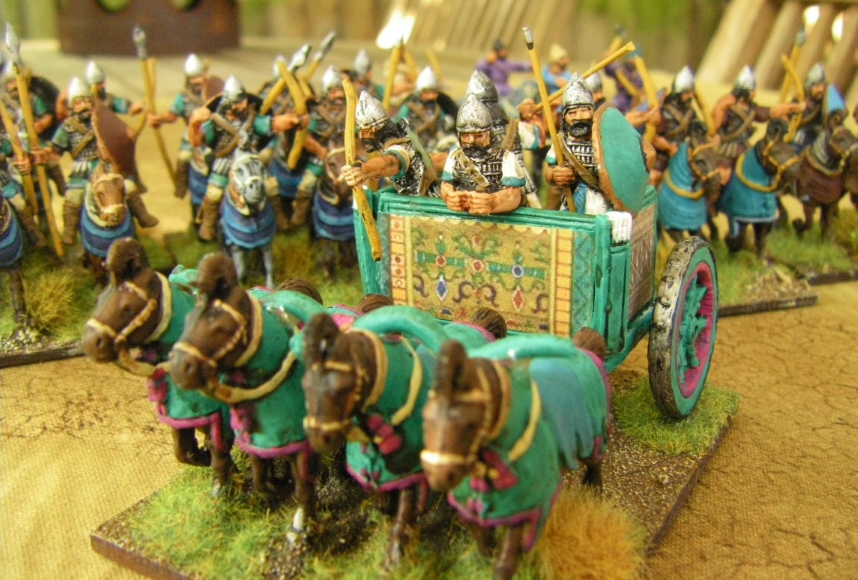 This wallpaper would be OK for an Indian chariot too, or any other bibical era type one I reckon if you wanted to copy the idea.
By this point I had admitted to myself I was rubbish at credible animal designs and just went for a slightly different green for the slung-over not really a saddle cloth thing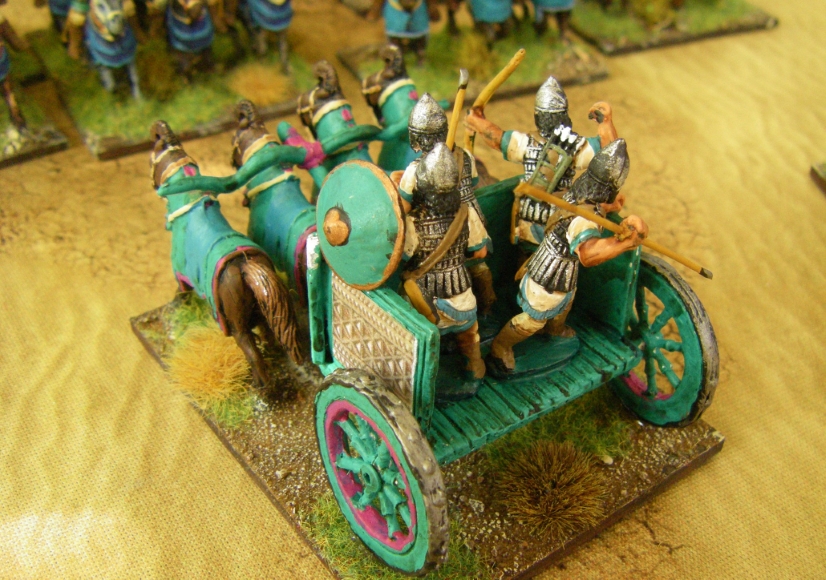 From the back you can see how much space is in the cab. A proper fighting platform.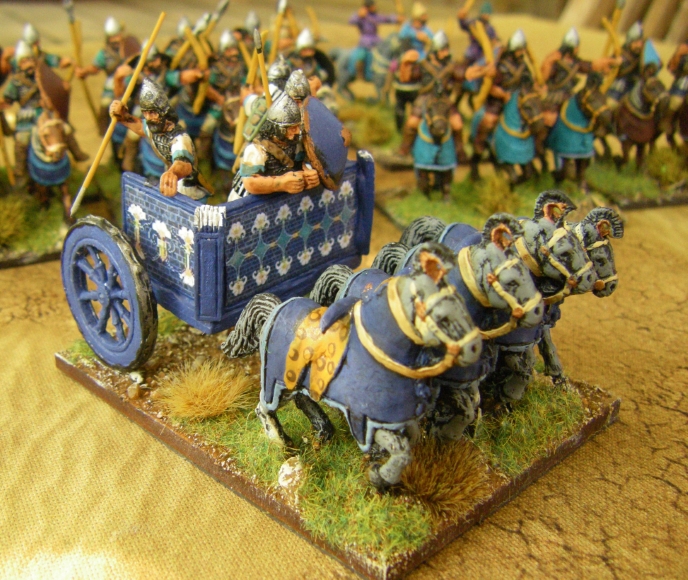 The blue chariot is perhaps the best of the lot - even the dot-in-dot leopard skin cloth is not that shabby.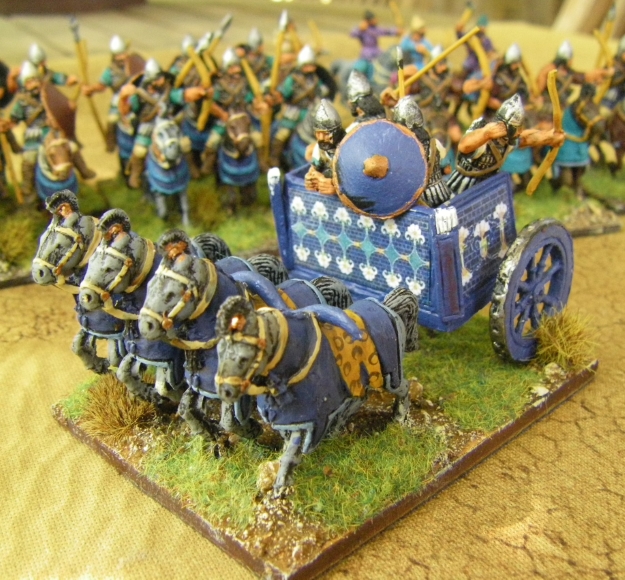 This is perhaps my favourite front-face design, an image taken from a Pinterest search for Assyrian Designs which is clearly based on the Ashur Gate brickwork. Pinterest has become a surprisingly good resource for finding military images as well as examples of much better painting than mine in recent years, so worth checking out if you haven't before now.
The Ashur Gate wall paper on this ties in really well with the base colour - a GW Magragge Blue.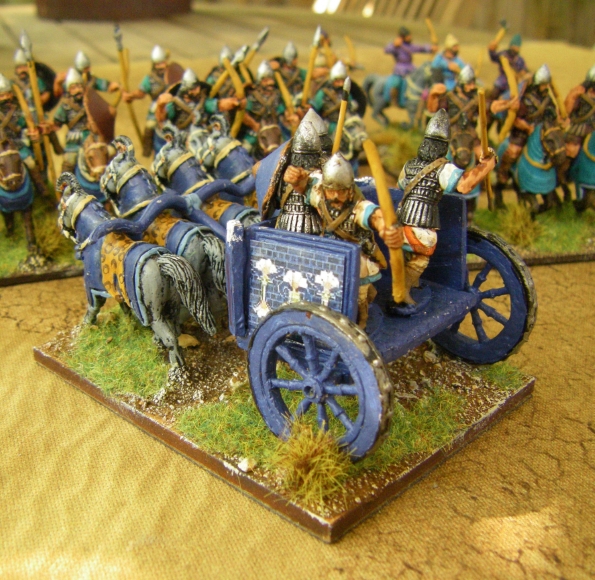 The chariots have all the same colour horses - I guessed you'd go the extra mile to colour coordinate them if you had bought a chariot.
(These are "affiliate links". If you buy something after clicking on them I get a small kickback from Amazon)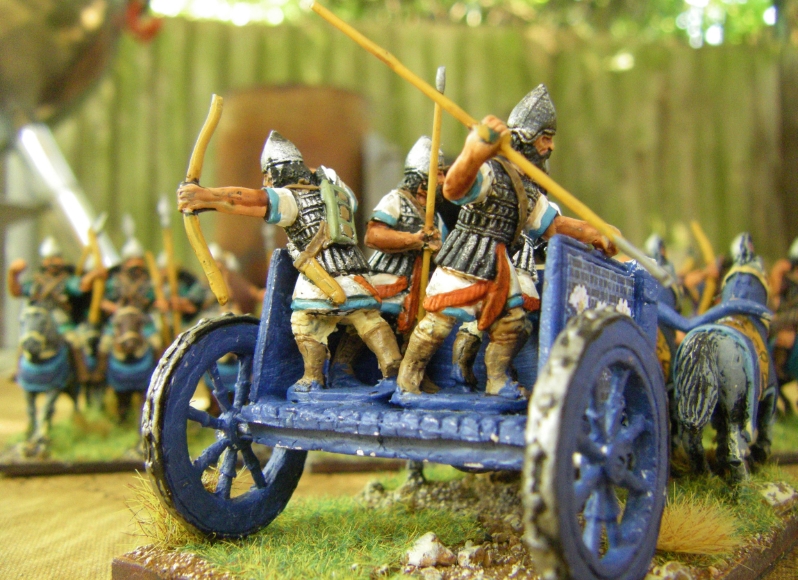 Monster tufts hide some of the places I've dolloped 2-part epoxy glue onto the wheels to secure them to the actual base.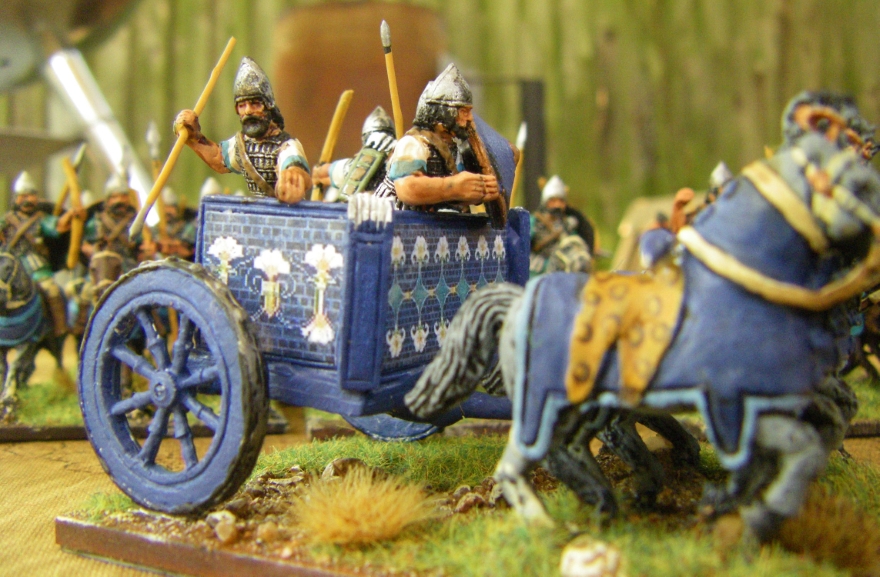 I did toy with the idea of drilling and pinning the bottoms of the wheels to the base, but have given the epoxy a go for now. I can always come back and drill them later if this doesn't work well enough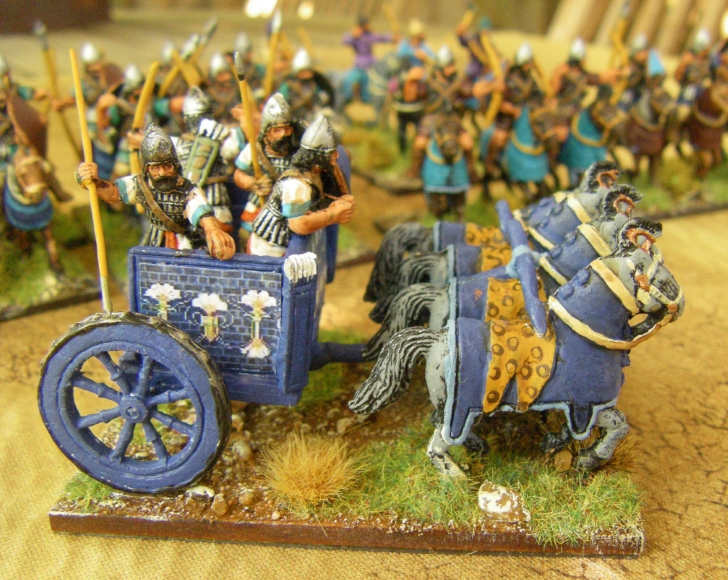 The best wallpaper by far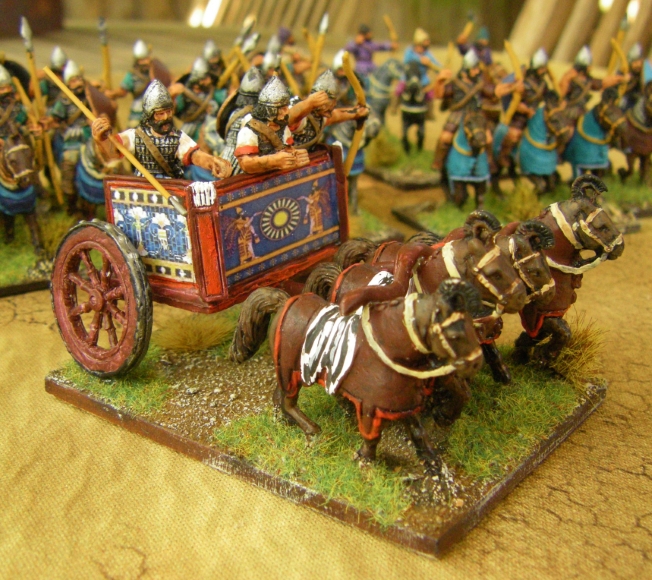 No two-tone effect needed here other than the trim on the horses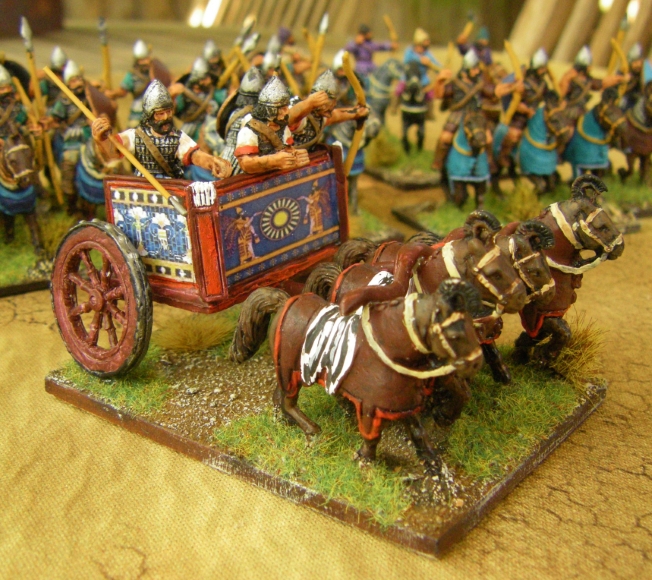 Mixing two designs here on the red chariot, as I hadn't found a red design that worked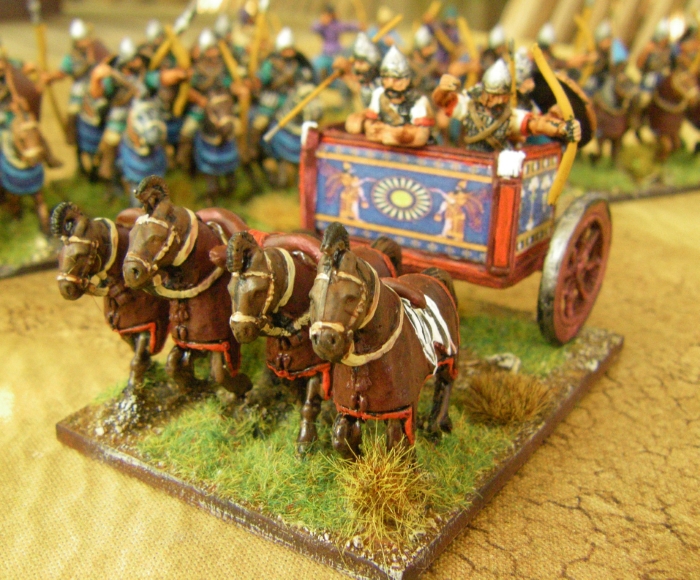 This is another modern take on an Asssyrian graphic, again taken from a Pinterest search for Assyrian Designs.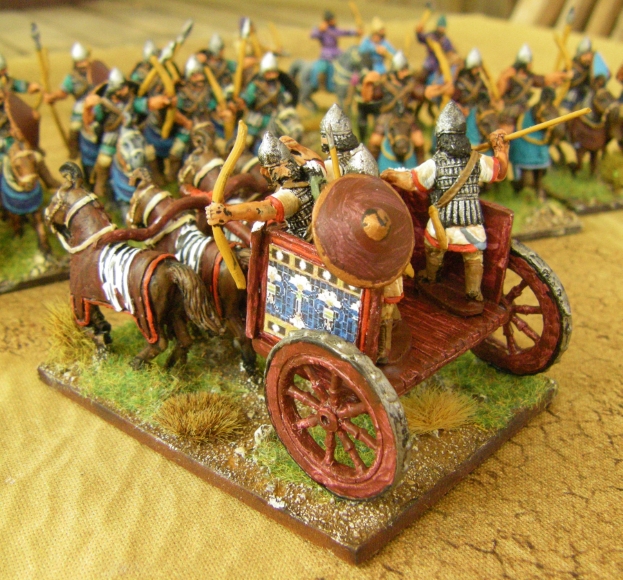 These horses have a poorly executed zebra pattern on their supposed-saddles. All of the chariot crew have white tunics, but I've also stuck with reusing a lot of the same colours from the rest of the army for the edging, and also for the shields too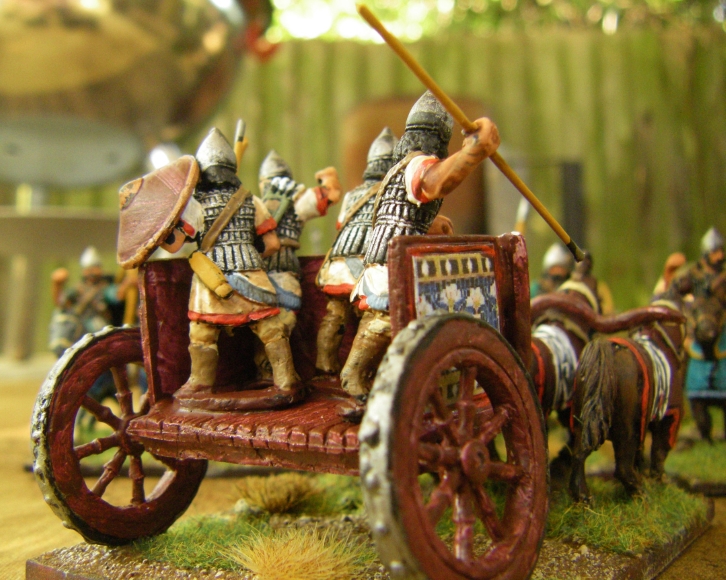 Plenty of space to deploy the crew in different poses around the cab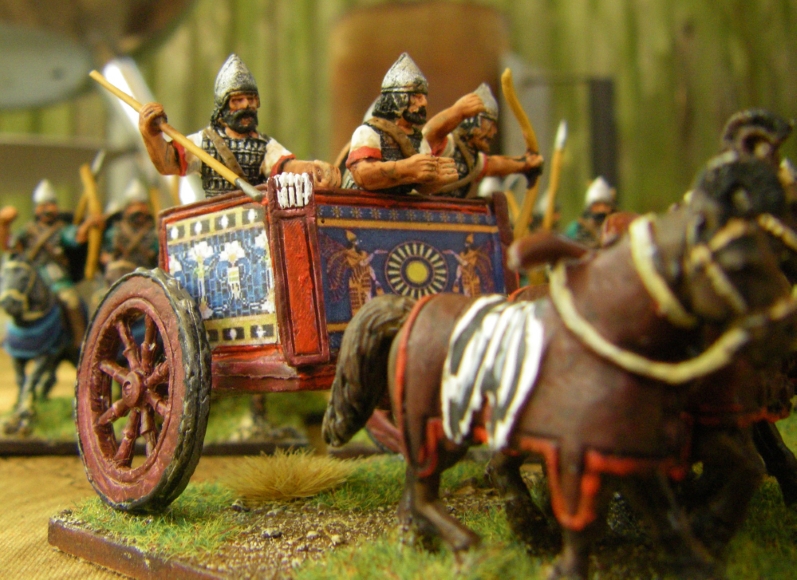 Luckily the zebra skin is out of focus !
Images used for chariot wallpaper
Right-click any of these and select "save image as..." to download each image. You can then resize them in Word, or any proper image manipulation programme before printing out to fit your chariots.


A couple of great ones that work for the sides or front of the chariot. The second one has an "end" which might be reversible by mirroring the image


This one can be stretched or squashed laterally to fit

Good strong colours on this one - I suspect it could also work as an elephant blanket!





A simpler version of the first two


The Summary
Despite buying loads more than I originally thought, this has still worked out as a nice easy to paint army at a decent price, and it also looks OK even with the same paint style and colours as the 15mm version I painted a couple of years ago too
With the "army deal" box being 2 Chariots, 24 Guardsmen, 24 Archers, 16 slingers and 9 Cavalry thats a really good place to start - it's not on the Newline website at the moment but it may be worth contacting them, or looking out for them at shows (when they resume)
Perhaps I need to do the army in 10mm, 20mm or even 40mm next ?!
This link will take you to a listing of Assyrians on your local eBay, but I can't guarantee any Newline ones will be there - for that you need to go to the Newline site
---
See The Infantry also on this site
As well, if you like horses, there are The Cavalry too also on this site
This army is also available in 15mm on my site (from Museum) if you like smaller toys
See The Infantry also on this site
There are many Assyrian army lists on the ADLG Wiki to help you pick what troops you may need.
Also, here's two sets of 5 separate battle reports all using the army in 15mm in Greece and also in France.