The Wild West down at the club in 2015
Lawmen vs Desperados
Dead Man's Hand is that Cowboy game that sits behind all of the very tempting Wild West scenery from 4Ground that is for sale at most wargames shows these days. Having bought some Black Scorpion cowboy-types and Western buildings to use for Malifaux, the inevitable mission creep crept in, and soon clubmate Geoff was rebasing some old figures and filling his house with the smell of burning by buying up a lot of mdf terrain on eBay... and there we were, testing out Dead Man's Hand from Great Escape Games
Dead Man's Hand is already ahead of many wargames by having a Three Letter Acronym - "DMH". It is also a very simple but cleverly thought out skirmish-level game involving Cowboys (and probably Indians, if you buy the supplements). The aim is to recreate the Wild West of the movies, so no great attempt at realism here - just fun and excitement! Your "gang"/"posse"/"insert your own cliche here" is half a dozen of so figures, all of which are ether a Boss, a Hechman-type or a basic dude. The game allows three or more linked scenario's to be played in an evening, and the men in your gang gain experience and abilities (and wounds and ailments) throughout the series of games. A gang can carry on forever across multiple games - as long as their opponents are gaining similar amounts of experience otherwise it would risk becoming unbalanced.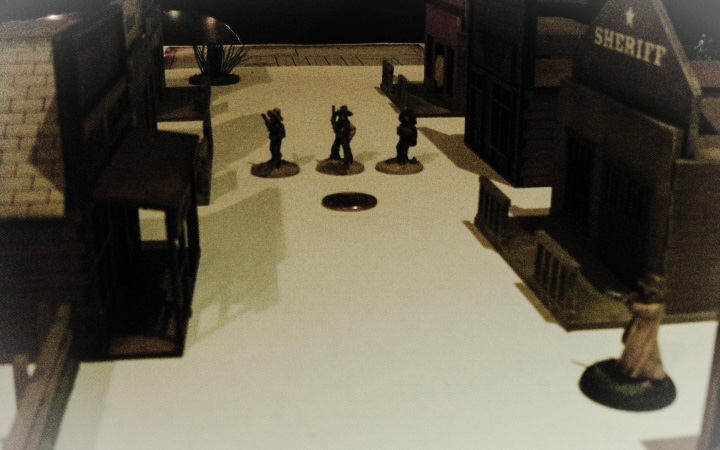 The first game in our three-part episode was a classic High-noon-style shootout, with my trenchcoated-lawmen facing off against a gang of Desperados. Moving first, my two lawmen loosed off a couple of quick shots and broke left and right, dodging out of the way of the Desperados!.
Dead Man's Hand hint - There are several factions in the game, Lawmen and Desperados were those oin screen here. They are all basically the same blokes with pistols or rifles, apart from some fairly minor but occasionally important special abilities specific to each faction. The Lawmen get to remove one "wound" each turn from one of their posse for free, whereas the Desperados gain a +1 on a morale test dice roll if they outnumber the enemy at that point in time (which I believe is called "thematic").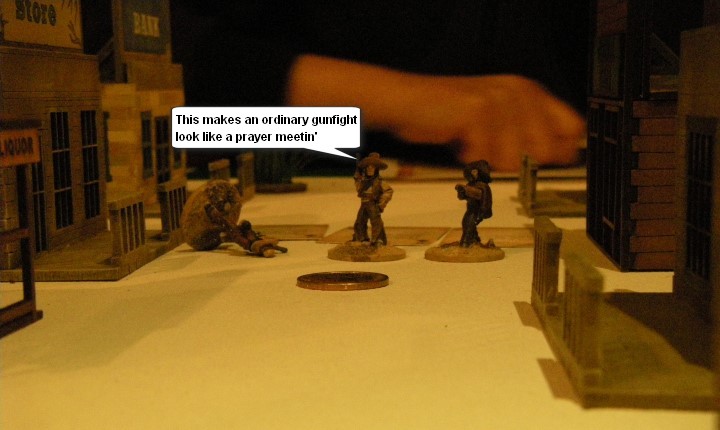 Wyatt Earp was shooting straight today - one of the banditos was felled by a well aimed 6-gun shot in the first exchange of fire, and now the Desperados were down to two bad guys - before they had a chance to move!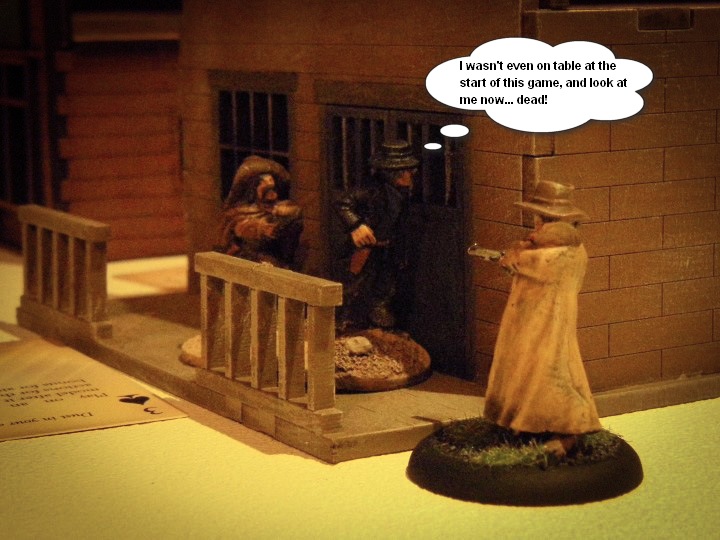 The bravest (or possibly most alcohol-infused) Desperado had rushed the Sheriff, but has missed his first wild shot. In the next turn Wyatt Earp drew his trusty 6-gun and prepared to plug the bandito - who then grabbed a civilian out of the building they were both in front of and held a gun to his neck, using the poor townsman as a human shield - Wyatt had no hesitation in deciding what to do, and plugged the townsman before taking aim at the Desperado
Dead Man's Hand hint - The game uses cards for initiative with each figure on table being dealt a card, highest going first. Each player also has a small "hand" of cards. All the cards have various cinematic actions on them as well as the suit and number. The cards held in-hand can be played at any time, and which affect shooting and combat as per the actions on the card being played. "Grabbing a hostage" was one of the actions available in the Desperado's set of cards.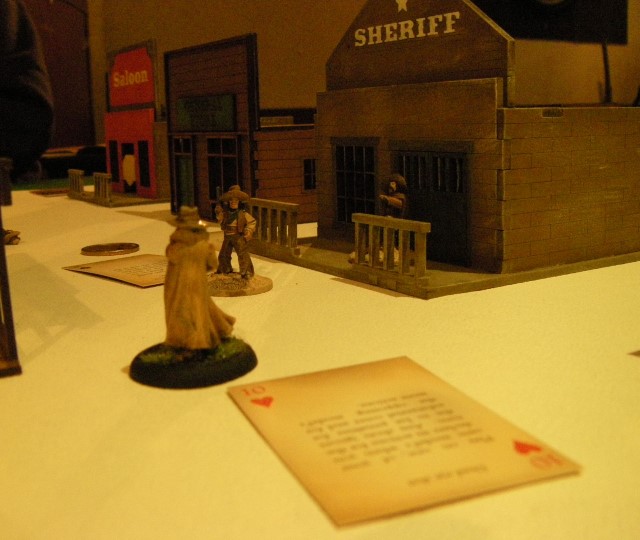 Wyatt backed away from the onrushing Desperados, firing as he went.
Dead Man's Hand hint - Each figure can do three actions per turn, any combination from move, shoot, aim or remove an "under fire" marker. Shooting is based on a D20, with 11+ needed to pick up an "under fire" marker, 15+ to pick up 1 or 2 markers (depending on how cool your figure is in the game), and 19+ to be actually hit and put down the target. There are a handful of modifiers, the usual things such as cover, moving target, yourself moving - but the biggest positive modifier seems to be a +2 for being really close!
Wyatt had a 10 in his hand - he would shoot (or move) before both Desperados with their 8 and, erm, somthing less than 8, but with two targets and only three shots....a difficult choice needed to be made.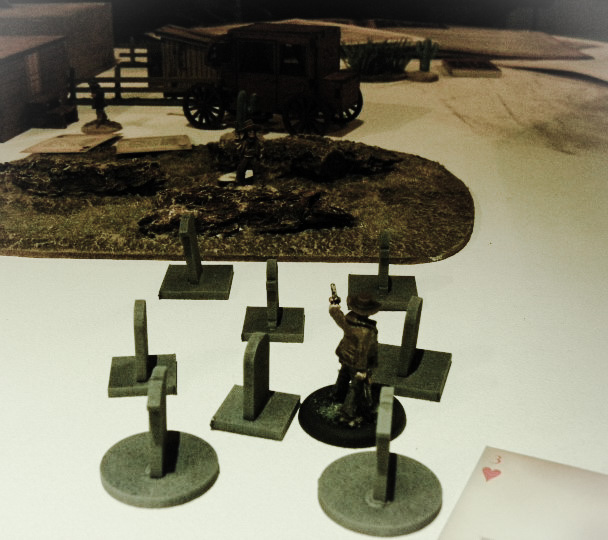 The game continued, with Wyatt Earp being gunned down and injured - ruling him out of the next scene. In the next game a bigger gang of Desperados headed into town, and the posse of Lawmen sent out to stop their nefarious plans was also bulked up. Lawmen and more Desperados were now popping up and activating across the town - here a rather lack-lustre cemetry sees some shooting action as Cold Hands Luke, the newest recruit in the Lawmen's posse opens up on a Desperado hiding in some rocks.
Luke ran across the open ground, leaping gravestones as if his life depended on it and threw himself against the hard stone wall of the side of the local Jailhouse - the stonework providing some respite against the bandito's shootong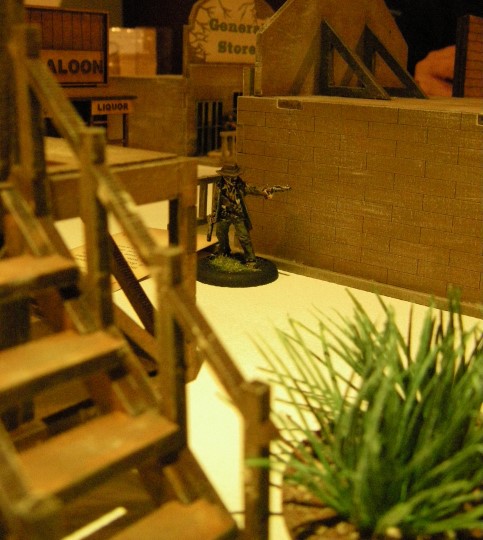 Luke was looking back at his attacker, but behind him across the street a Mexican Bandit could be seen emerging from the General Store (one of several in the town...)
Dead Man's Hand hint - Movement isn't really affected by terrain - you can go in and out of doors, round corners and jump spectacularly though windows and over fences with no penalty to movement distance. The aim of the game is to do really cool cowboy stunt stuff, not to wear out a tape measure...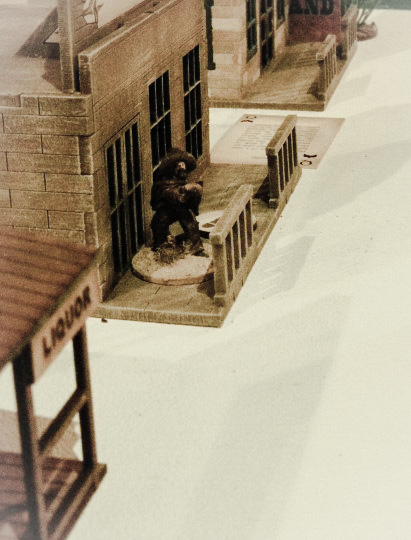 The Desperado flipped up his poncho and pulled out a huge shooter (hopefully that doesn't trigger any blocking software..) which he used to open up on poor Luke from across the street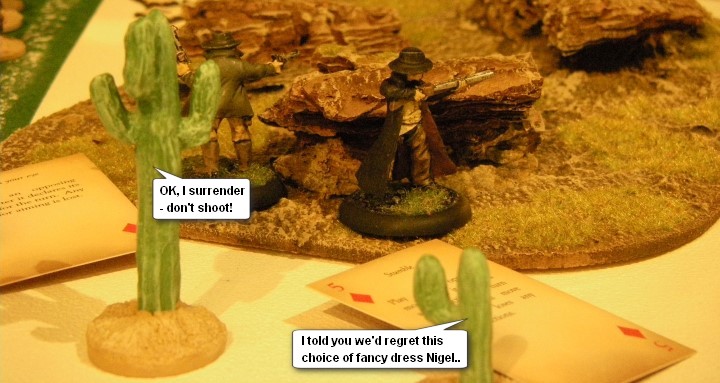 In the rocks behind the buildings on the left hand side of the street, two more Lawmen were putting down suppressive fire at the Banditos as they encroached into the town.
Dead Man's Hand hint - Rifles can shoot much further than Pistols, but can only loose off one shot per turn. So, often aiming twice to give the shooter a +2 modifier is a good idea with your rifle-armed men. Running towards the enemy shooting wildly is much better with normal gunmen!

Bandits were starting to emerge like rats from every alleyway along Main Street - the Lawmen were outnumbered, but they were still as cool as hell in their leather trenchcoats - John Wesley Harding's fingers twitched at his sides as he reached for his Peacekeeper to take down a Bandito on the sidewalk in front of him...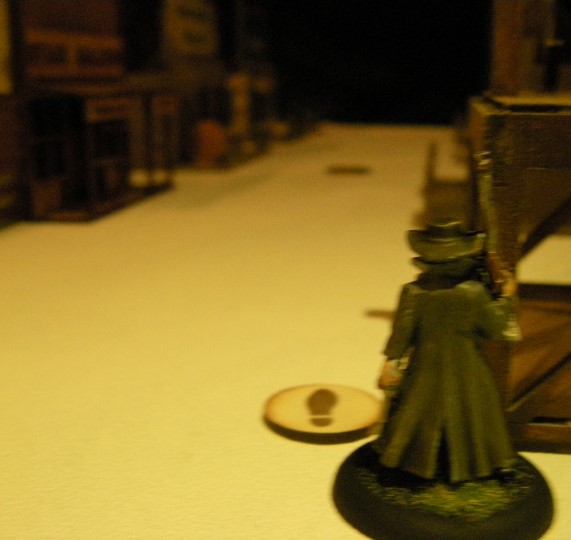 Judge John Dread was more of a fan of the rifle than the twin pistols, but he still had one pistol anyway
Dead Man's Hand hint - You can buy some really nice MDF markers to go with the game - here you can see a marker which says that this model has taken 1 Walk action this turn - which will give anyone shooting at it a -1 modifier for a moving target.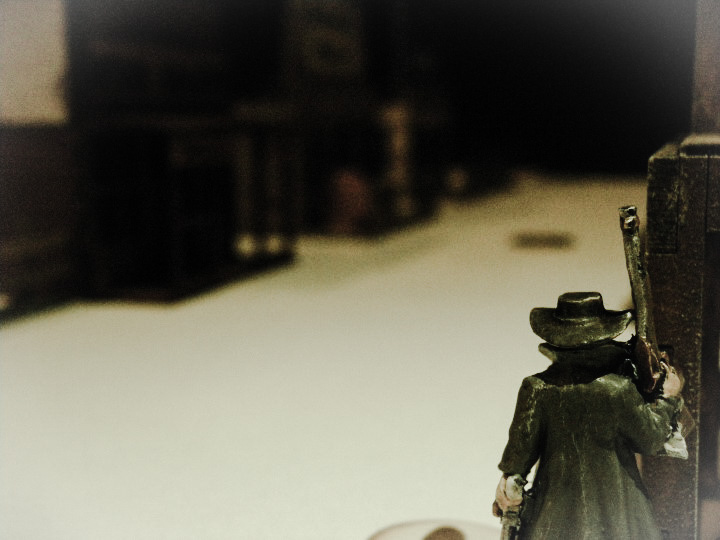 The hanging judge would not be late this day...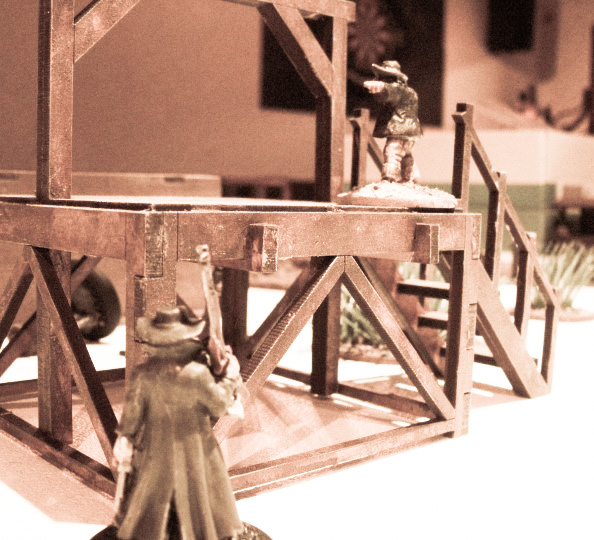 But he would have to deal with a tide of onrushing Desperados, clambering all over the town gallows (which like most of the scenery were from the TTCombat terrain range from The Troll Trader on eBay UK
) and trying to shoot him dead!
Dead Man's Hand hint - Swapping weapons (pistol to rifle) is also an action. I knew there were some more...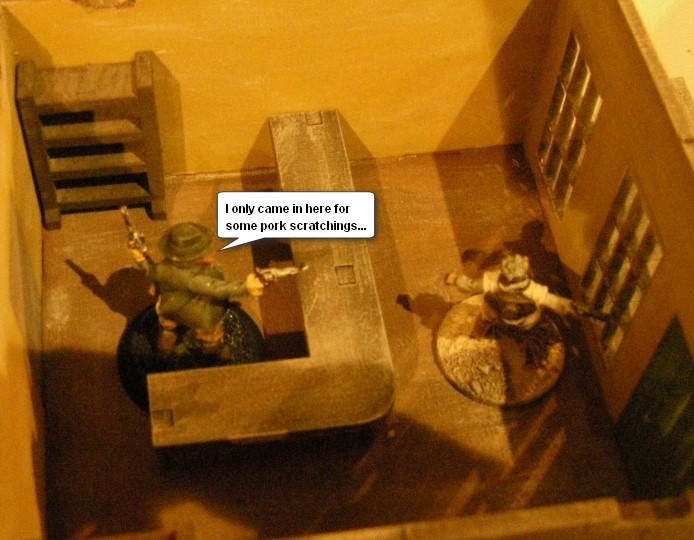 The Boss of the gang of Desperado's was hiding out in a bar, shooting at the Lawmen in the street through the windows, when a Lawman burst in through the back door, swept all of the glasses of saspirilla and hard liquor off of the bar and opened up with his six-shooter at close range into the back of the unsuspecting Boss !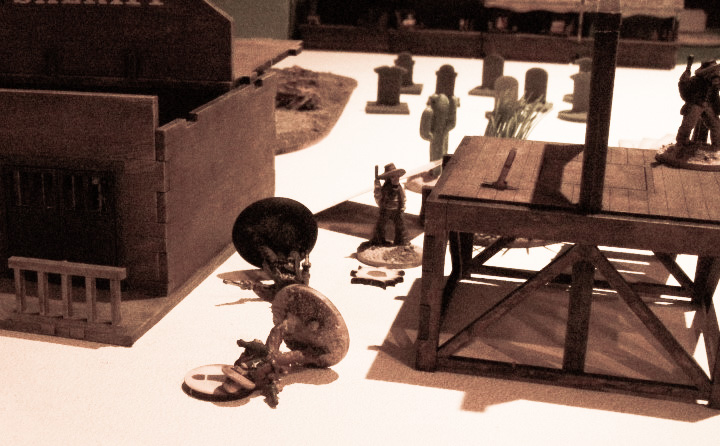 The Mexicans were now swarming into the town in countless numbers - a fast and furious exchange of hot lead just outside the Jailhouse left Cold Hands Luke lying in a pool of resin blood, next to the body of a gun-toting Desperado!
Dead Man's Hand hint - As well as being shot dead on a 19+, if a model picks up enough "Under Fire" markers it is also put out of action. More experienced models can carry on with as many as 3 markers, less experienced ones are out of action with just 3. So, you need to use activations to keep removing them...
One of the Lawmen had also been hiding out in a saloon and shooting through the front windows, this time without enough furniture in it to really cut it in the interior design stakes, but the Mexicans had quickly taken on board the whole back-door concept after their Boss had been shot and were seeking to repeat the trick on the Lawmen.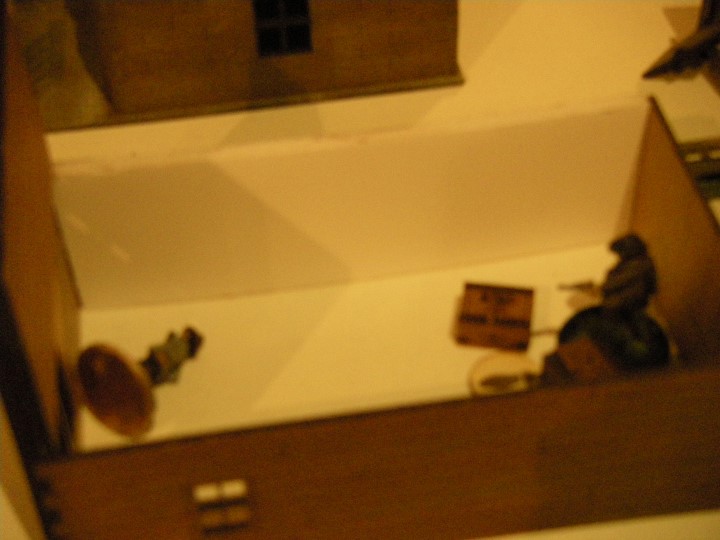 But the Lawman was quicker on the draw - the Bandito went down in a hail of close-quarters lead!
Dead Man's Hand hint - If you haven't yet activated this turn and are targeted by an enemy, you can trade in your full (3) activations for a single out-of-sequence action. This can be a single shot, or a single move to duck out of the way.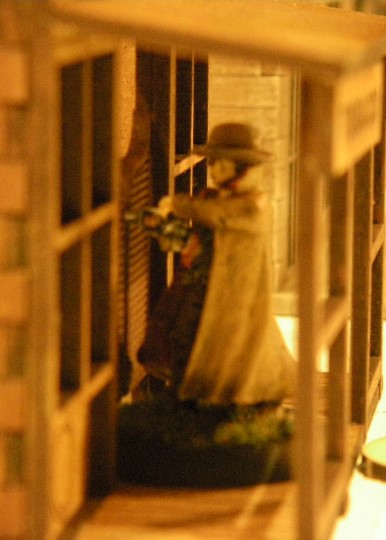 Every building was full of men shooting, fighting and ducking out of the way. Turning up his collar, Wyatt Earp burst in through the cowboy doors of the Saloon and rattled off a series of shots with his Big Iron 6-gun at the Banditos lurking inside (this is probably my favourite shot from the whole game)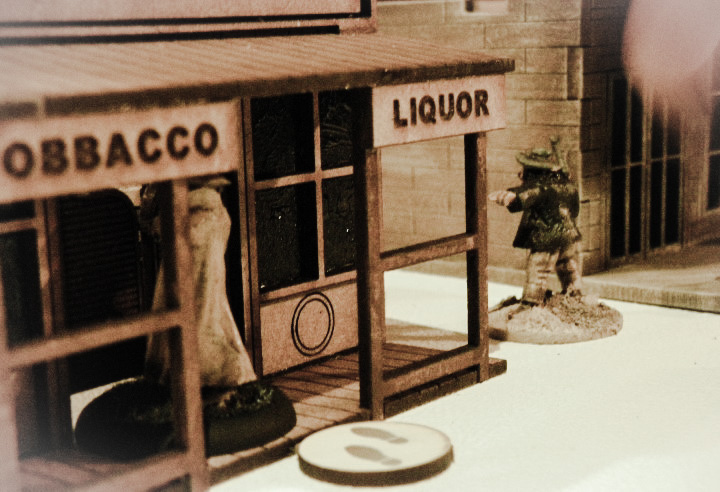 But the Mexicans were also quick on the draw - as Wyatt opened up into the Saloon, a Bandito opened up on him from close range
Dead Man's Hand hint - Wyatt has a "I moved twice" marker - making him harder to hit, but also meaning his own shots are less accurate
Elsewhere, in a back street, one of the Lawmen yanked open the door of a stand-alone crapper, and found a surprised Bandito in the middle of doing his dirty business staring back at him.
The Lawman held his nose, and pulled out his pistol... which fired, and clicked... he had run out of ammunition!
Dead Man's Hand hint - Roll a natural "1" when shooting and you run out of ammunition - reloading is yet another activation that I forgot when I listed them before.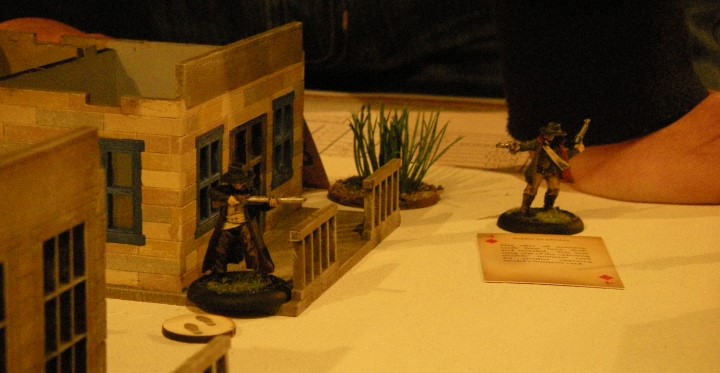 Yet more Lawmen arrived at the opposite end of town, and with a mix of pistols and rifles proceeded to try and clean up the mess they had found ..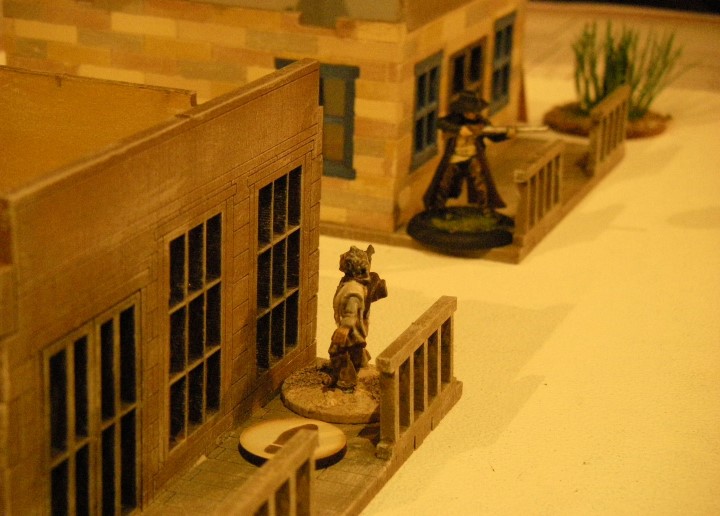 But the bandits had by now put many of the Lawmen in the ground. With more than half of their posse now dead or out of action, the Lawmen failed a Big Nerve Test and the closing credits rolled...
Dead Man's Hand hint - Morale tests for individual men are rolled on a D10 and are called Nerve Tests. The same test is taken when a crew has twice as many Under Fire markers as it has figures, and this may mean they break and lose the game - this is a Big Nerve test. It's all a been well thought through to be a lot of fun!
Read on for the post match legendary expert analysis from Hannibal
---
Hannibal's Post Match Analysis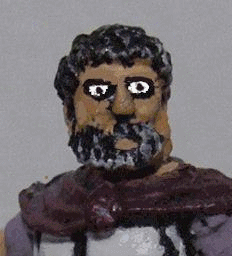 Of course, I am a bigger fan of Pirate films than I am of Westerns, but even so this seemed like a very enjoyable way to spend an evening, involving all of the usual ingredients for a battle which is reported on this site, namely a large dose of incompetence on your part and a shameful eventual defeat that comes seemingly out of the blue for anyone who is reading the write up that you have carefully constructed to try and show yourself in a more positive light than is the case in reality.
Lets be honest here, your tactics were so ugly that they would make a freight train take a dirt road, but even so this set of rules was picked up and pretty much mastered almost instantly so lack of understanding can't be the reason for defeat. Your approach was not so much though through, more as crazy as popcorn on a hot stove and that might as well have been the method by which you chose to move your men around the board for all the sense it made to me.
For a man who clearly couldn't teach a hen to cluck, I don't know how you ended up in charge of the Law in this one horse town. I suppose that's what happens when you put a ten dollar Stetson on a five-cent head.
Anyways, a really easy to pick up set of rules that is so simple you can't help wondering if you cudl have written them yourself, but which have so lovingly been put together that you really do want to hand the fistful of dollars that you gave to the trader directly to the you rules writer, and then buy him a large Jack Daniels as well for his troubles. Lovely models, lots of scenery to buy, plenty of extras and no brain ache, frankly I'm a'grinnin like a jack ass eatin cactus! And its Cowboys - so what's not to like?
Also on this site
That's the end - so why not go back to the Match Reports Index and read some more reports?
Battle Reports Pageloads to date.
View My Stats for Battle Report Pages