Central London (+1) head to Normandy in 2023
Game 1 Norman vs Communal Italian
Game 2 Norman vs Komnenan Byzantine
Game 5 Norman vs Sicilian Norman
2023 - in recent year's I'd done events in Spain, Germany, Portugal, Greece, Italy, even a pre-Pandemic USA.. but it had been ages since I'd played ADLG in France!
Keeping a careful eye on the French part of the official ADLG forum had however highlighted a tournament near Le Havre, allowing the possibility of visiting the Bayeux Tapestry and some Normandy Landings stuff on the way too. Discovering a cheap ferry route from Newhaven to Dieppe also started to tip the scales in favour of this trip, and with the realisation that its theme was "Our Ancestors" - armies of the French early feudal era Norman diaspora, well that was me all in.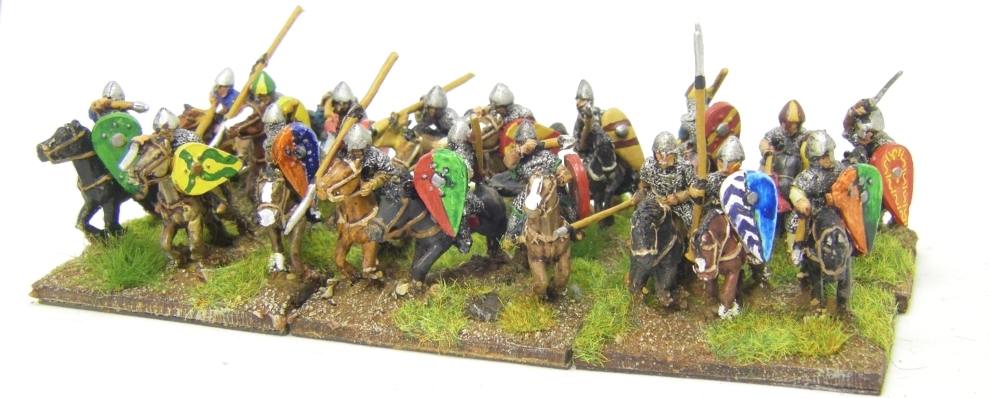 This was because I would be able to use an actual honest to goodness Norman army, and still be pretty competitive in the theme with this rather 2-dimensional charging Milites led force, and I had a 2 Dragons Norman army that I had cherished for many years but rarely fielded other than as early Feudal knights in more interesting armies. This time the army of Guillame Le Conquerant would be the one to lead these troops onto the 120-80cm field of battle!
So, with Normandy the destination, and the Norman Conquests the theme, a semi-full Central London Posse of me and Dave from The Podcast, plus Mike Bennett as well headed to France !
The Normandy Landings Podcast
We also recorded ourselves chatting nonsense at various stages throughout the trip, and have cobbled it together into a rather erratic podcast. Due to the variety of locations we recorded in, the audio is not exactly studio quality throughout - but it does as a result very much convey the flavour of our trip! You can listen to it on any of your normal podcast platforms, and I'll also drop in a reminder about it towards the end of the reports too.
This trip involved boats and automobiles, and an early start in London to drive down to the beautiful harbour town of Newhaven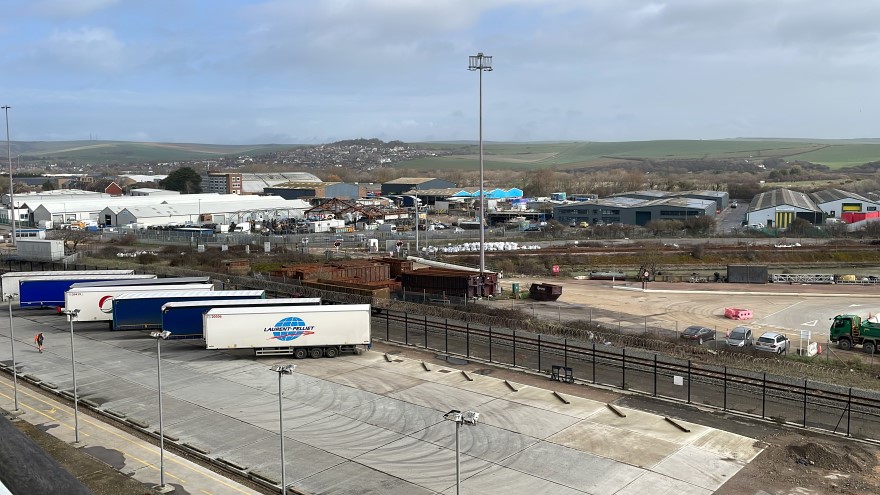 Yes, the scrapyard, light industrial units, and blasted heathland of south Sussex was indeed a joy to behold as we steamed out of port at what was very clearly a freight-first cross channel crossing facility
Soon though Blighty was but a distant memory as we sailed the seven seas towards our own landing in Normandy
I might have said that the boat's engines were a little intrusive - either that or Dave's Breakfast Pint was being stalked by a T-Rex in a Jurassic Park movie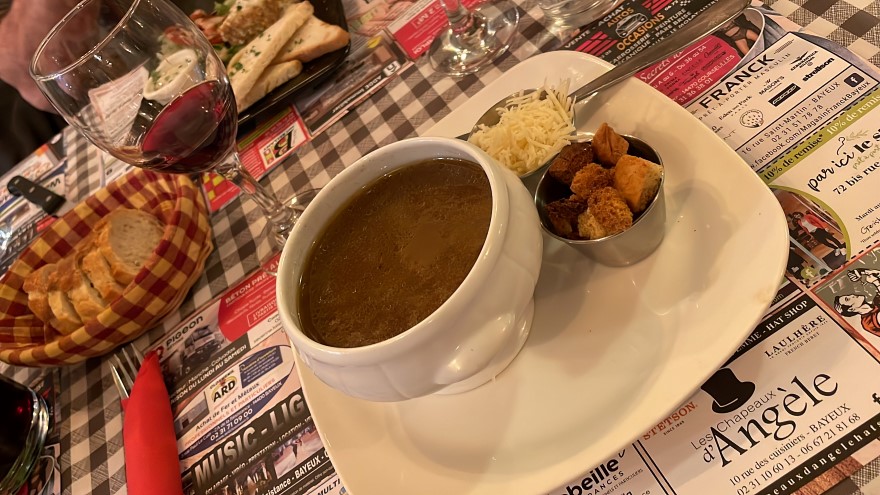 After a trek through France from Dieppe we arrived in Bayeux, scene of our first night stay, and immediately went full-French with checked tablecloths, Onion Soup, Steak Frites all round and a pitcher of the finest Red a la Maison Plonk to wash it all down with. Most delightful !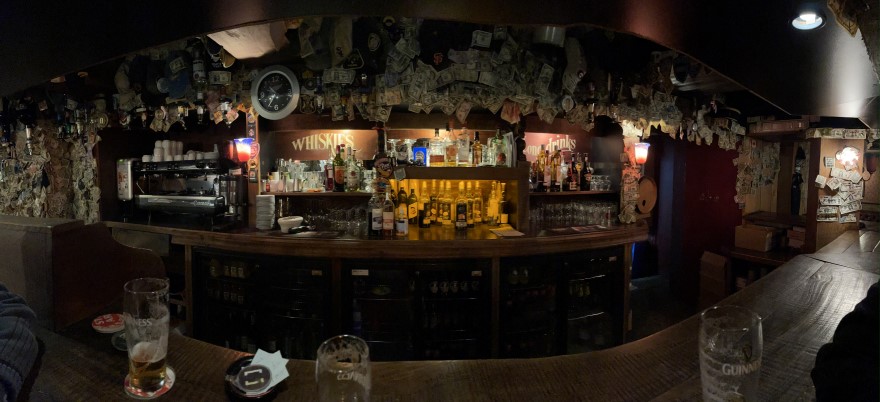 Moments later we were dodging the rain, and hiding from the weather in a local hostelry discussing the finer points of French rugby with the barkeeper, and trying to pretend this was genuine French and not just an Irish Pub of the type found worldwide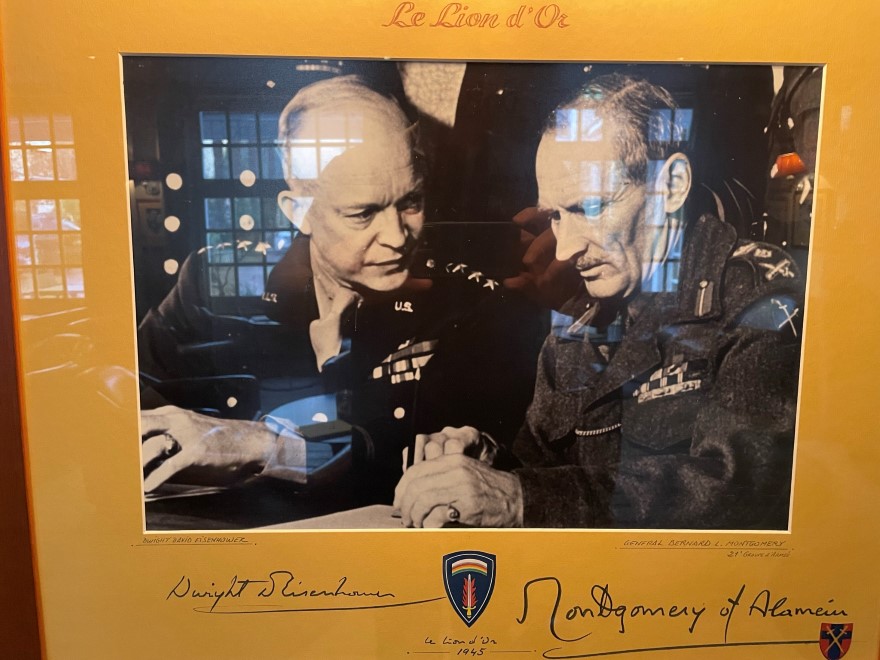 Our hotel was plonked right in the middle of Normandy, and as such had been pre-booked via 1944's Expedia by the senior leadership of the Allied invasion force for their headquarters or something post-June 6th. As such, the bar had a better than usual set of photos of previous guests to put on display !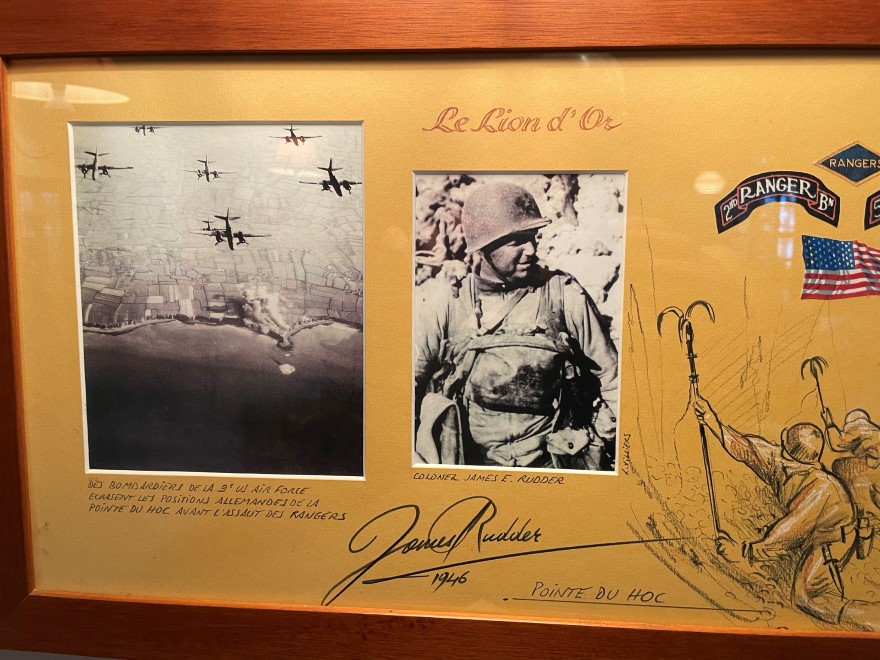 Some were even boots on the ground soldiery involved in the Point du Hoc assault
James Rudder at Point du Hoc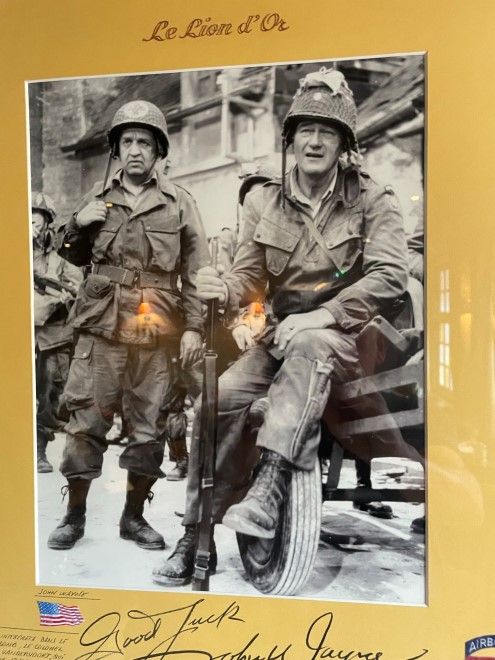 And some were movie stars arriving for The Longest Day some years after the dust had settled !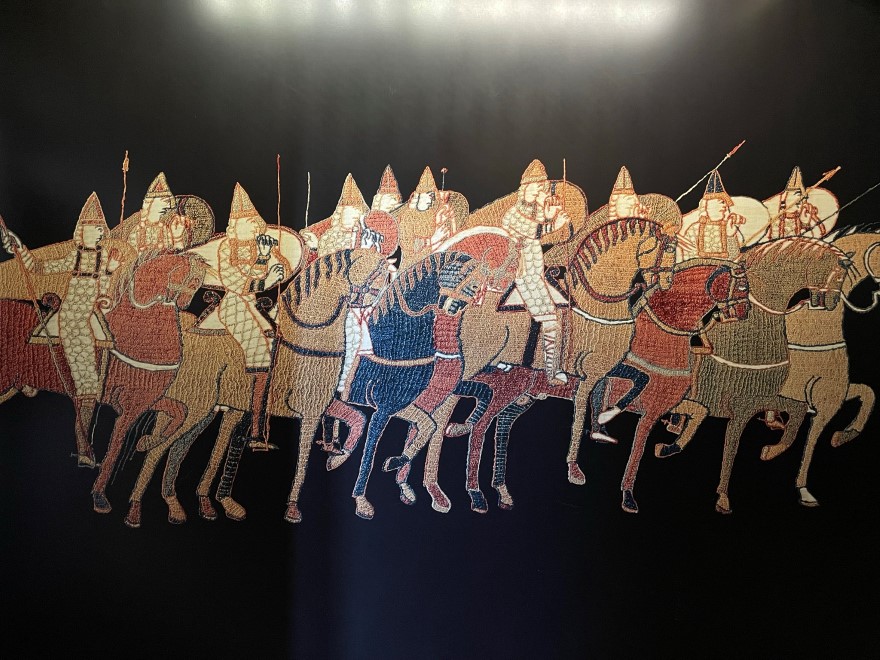 We were literally just around the corner from the Bayeux Tapestry museum, which we are pleased to be able to report has barely changed one iota since we all went there on school trips back in the mists of time. You still can't take photos of the tapestry itself, and the audio guide is still a very plummy voiced old English posh bloke as well
The museum after the Tapestry has some newer toys though, especially in 1-1 scale 3-D printed (OK, maybe not - but let's face it, everything is 3-D printed nowadays) models of the soldiery of Normandie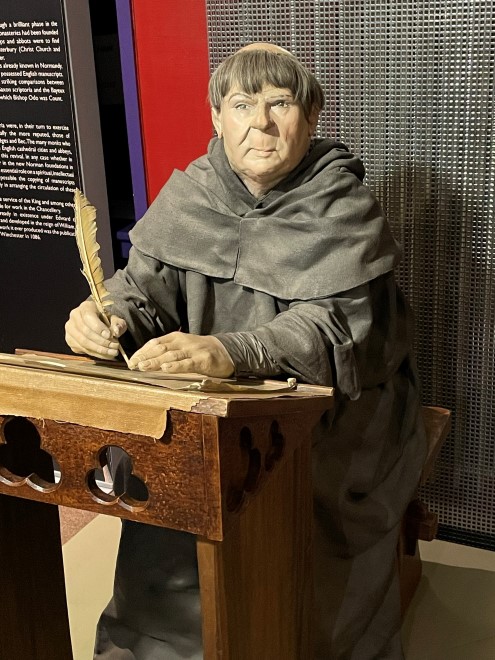 Here is a Medieval version of ChatGPT, generating content for the embroiderers to use to frame the narrative of the tapestry itself
King William either was famous for his love of the "pull my finger" fart gag, or perhaps his name of "The Conqueror" has been mistranslated and in the original Norman French he is known as William The Proctologist.
Well, possibly either of these could be true - we struggled with the information plaques in French to be fair.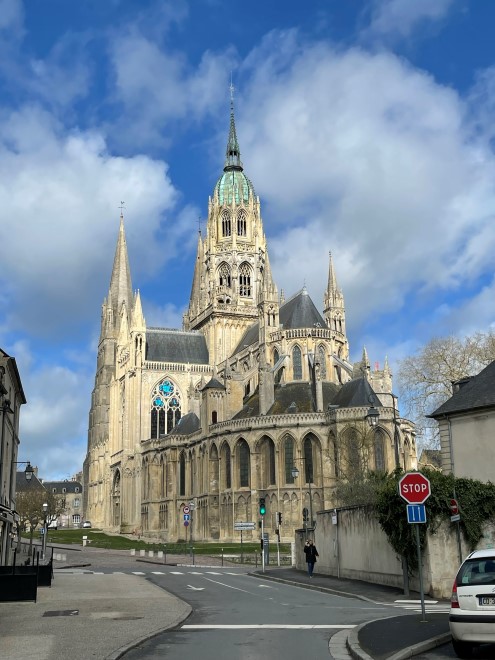 There also was a Cathedral in Bayeux, which it is obligatory to take a photo of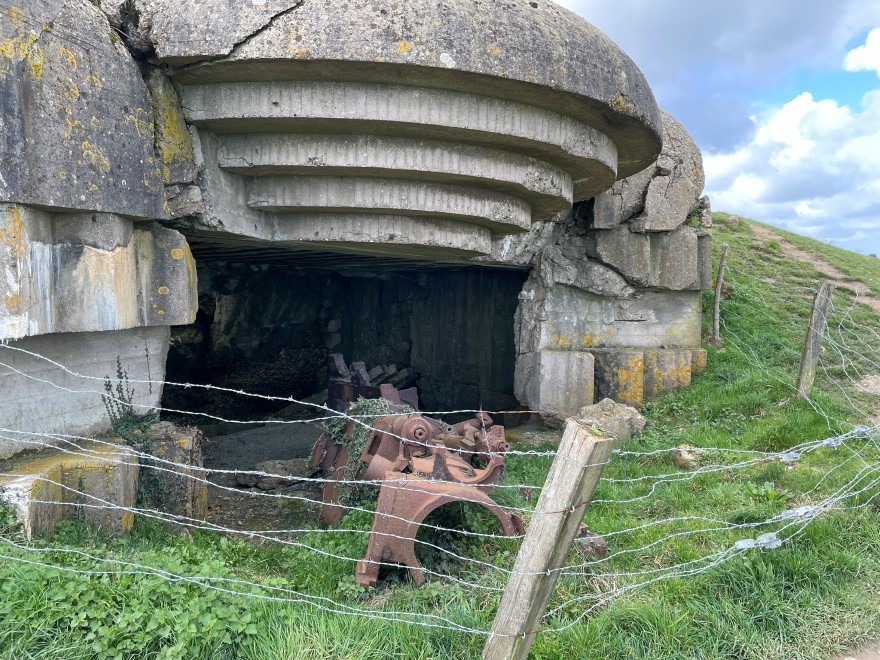 After tapestrying ourselves out, and with the military ephemera shop closed (sadly denying us a chance to but a cockpit and fuselage from an F86 Sabre jet fighter) it was off to the coast to see a WW2 German bunker complex at Longues-sur-Mer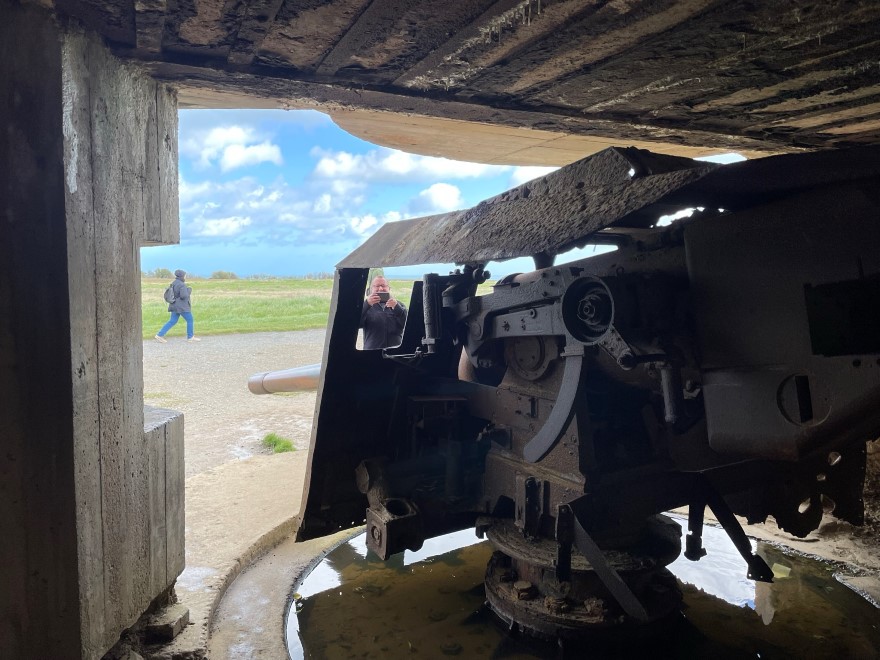 This one must have been captured by some quite careful and tidy commandos given some of the guns seemed to still be in place and intact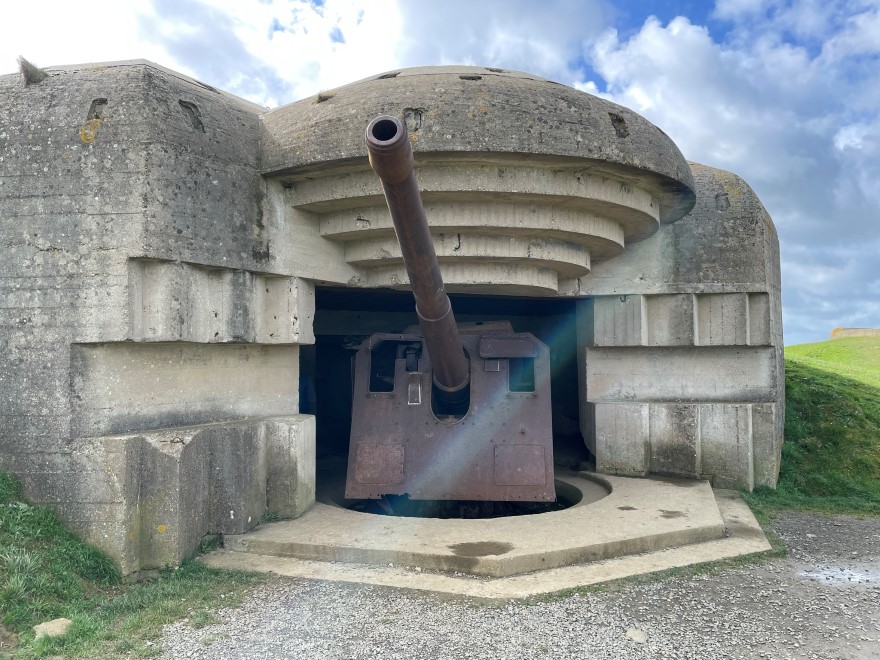 Kinda cool huh?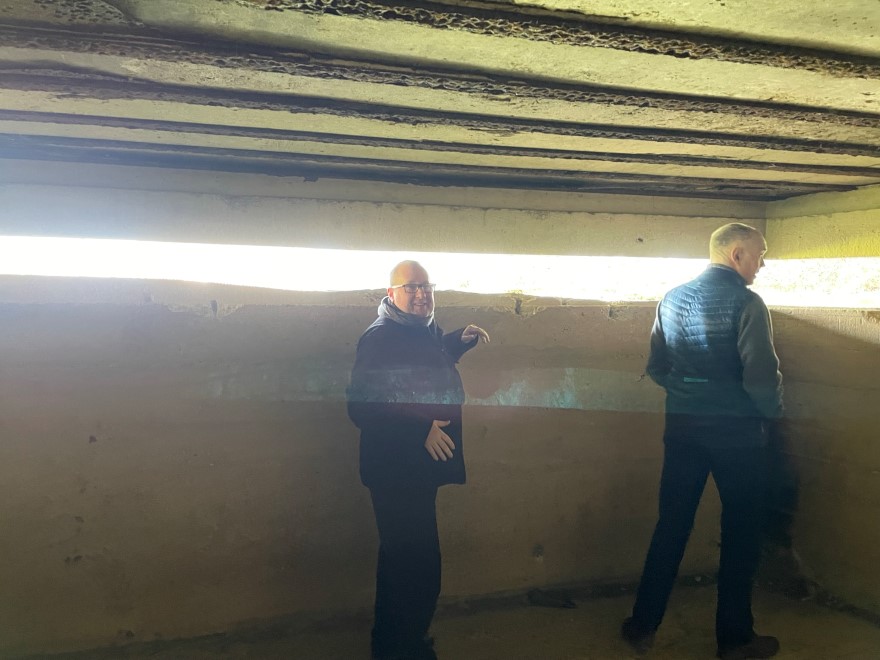 There was also a forward observation bunker you can go into (we did of course) but it's view is now obscured by vegetation.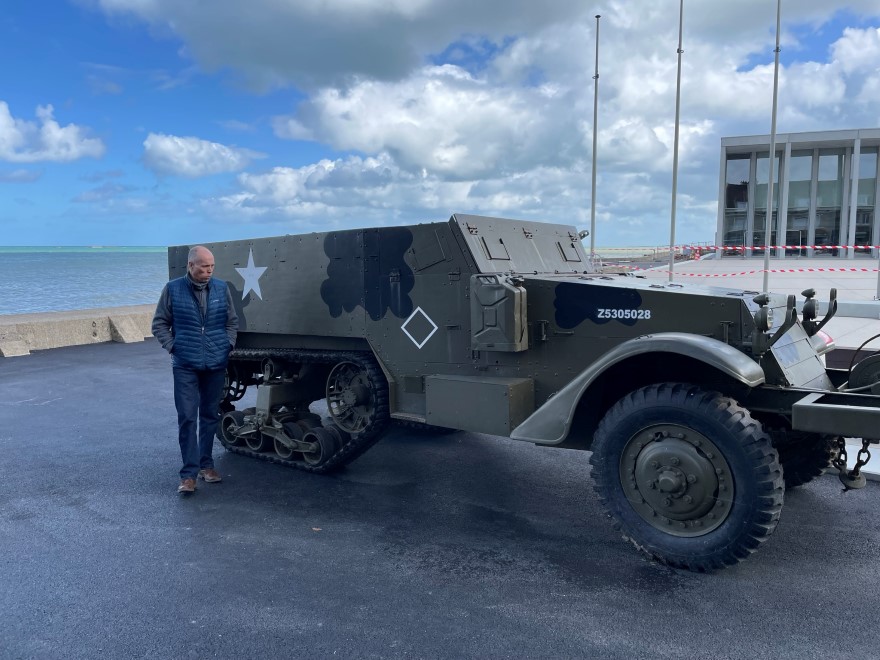 On to Arromanches and the Mulberry harbours with their distinctive checked cammo pattern. The museum was shut as it's refurb hasn't been completed (we guessed - unless they just didn't like the look of us and shut the doors pronto), but at least we saw some vehicles left carelessly outside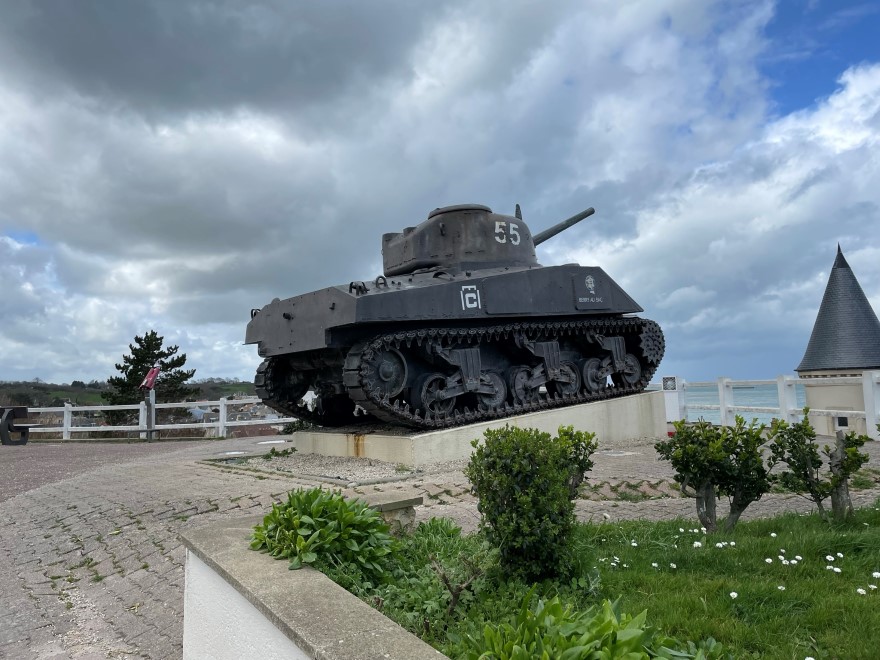 Every Normandy town should have one of these, which is useful as every Normandy town does indeed have one of these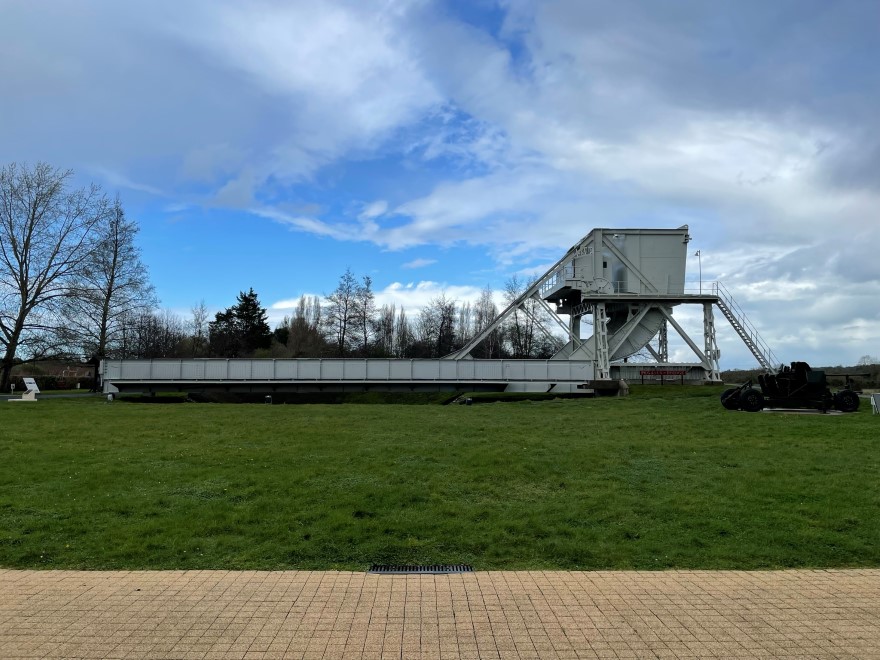 After that, a short hop to Pegasus Bridge, the saviour of many an MDF laser cutting company in recent years
The actual WW2 bridge has been moved into the grounds of the museum and replaced by a newer similar-design one, possibly 3d printed in Warlord resin, but we didn't get close enough to check I'm afraid.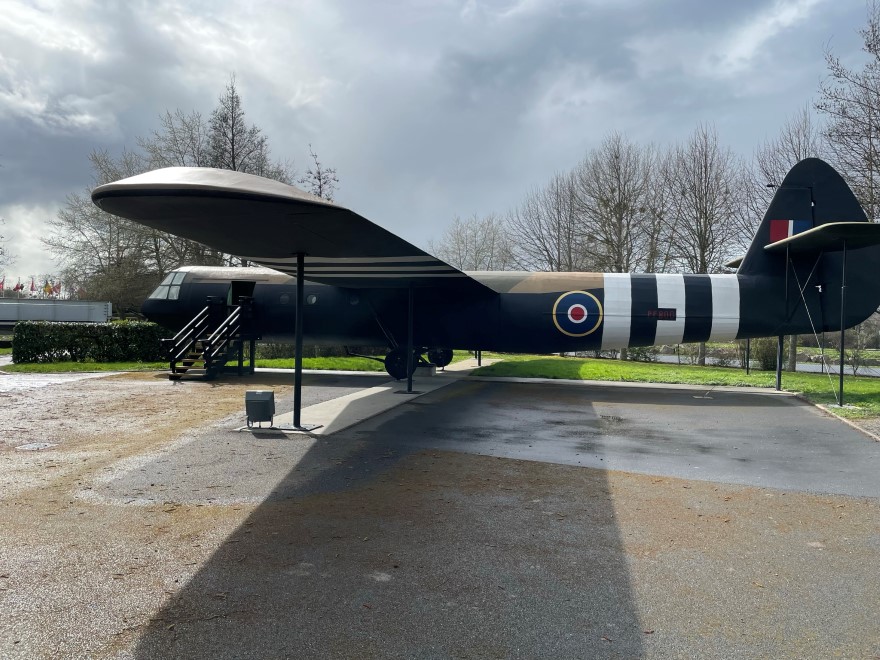 Someone left their transport behind when they arrived - OK, it's a replica, not a real one, but by god its big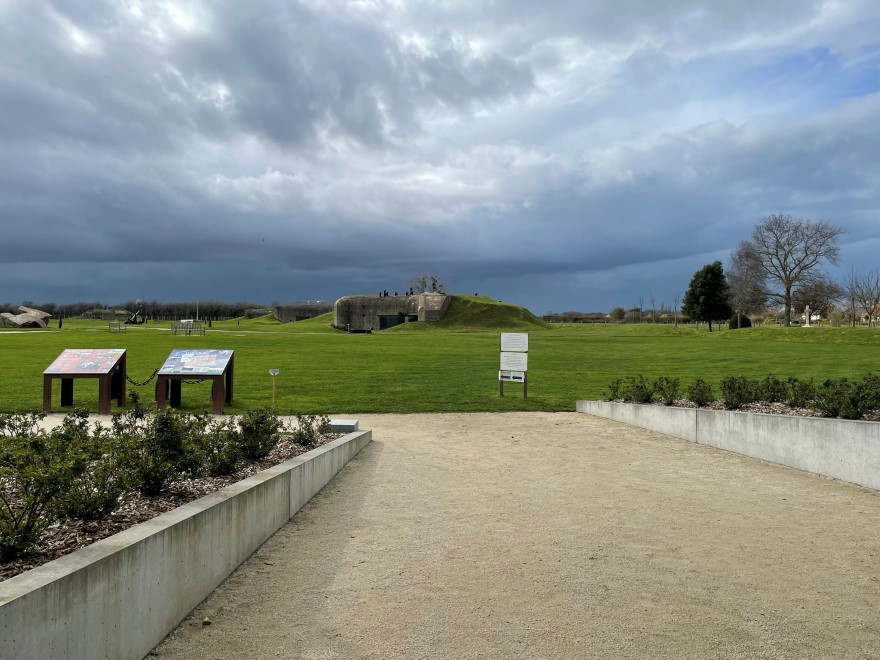 We even tried to go to the Merville Battery, but a bus load of school kids had just turned up and we would have been half an hour queuing up behind them, so you have to make do with this shot from the gate. Anyways, seen one battery you've seen them all I guess.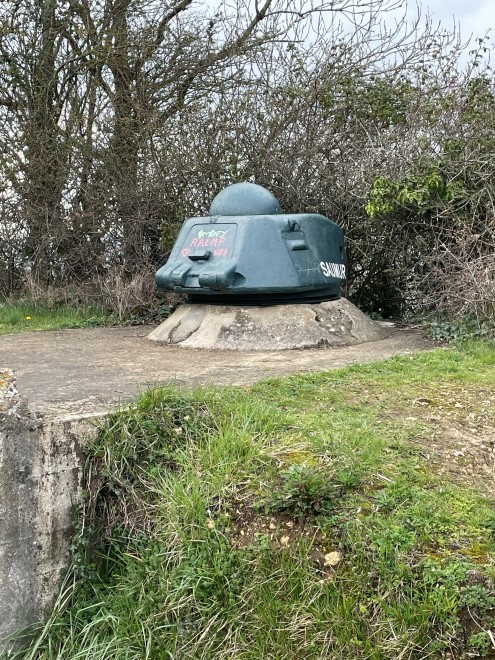 Heading up the coast road towards Le Havre, we even had time to divert to another clifftop battery just south of the Seine estuary, where we spotted this Somua helmet (is that the right word?) which must have been one of the least frightening D-Day defences on the whole coast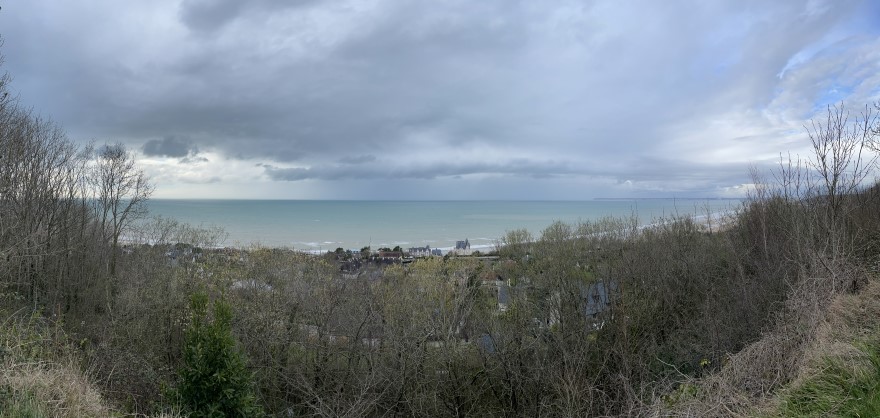 At least it had a nice view!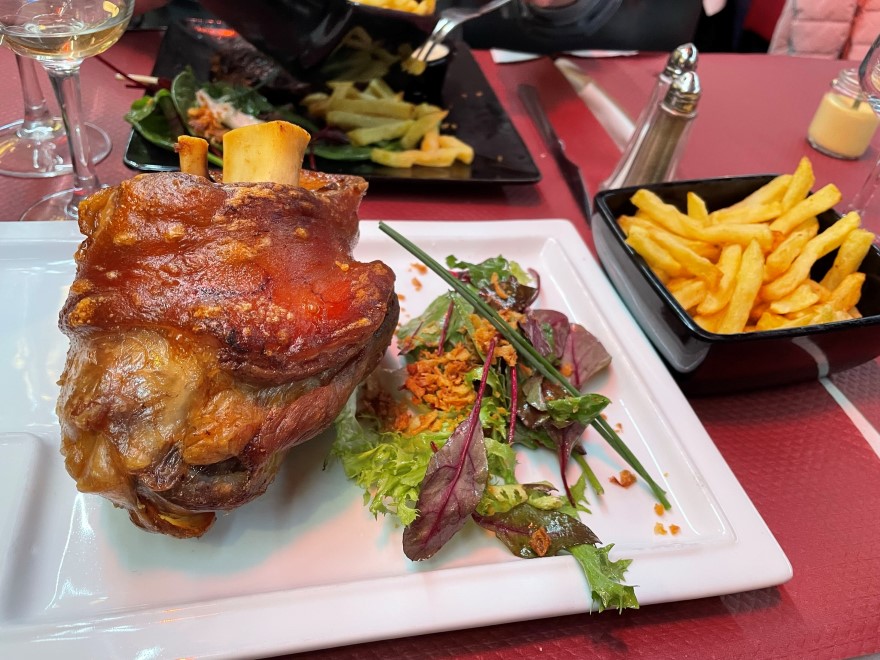 Finally we made it to Le Havre, and our AirBnB in a weirdly deserted part of town. Fortunately we managed to find a decent restaurant, with this ridiculously substantive Pork Knuckle on the menu, so we could stuff ourselves silly before retiring for the evening with plans of how to take on all comers in a French style at the actual competition the next morning!
Read on for the first actual game in this competition
You may also like....
Game 1 Norman vs Communal Italian
Game 2 Norman vs Komnenan Byzantine
Game 5 Norman vs Sicilian Norman
View My Stats for My Match Reports Pages