Warfare 2005
As the 3.1 era grinds on, my lack of playing meant I was looking for a familiar army to wheel out at Warfare. On the assumption that there might be a/ a lot of pikes, and b/ Jez Evans, I decided to resuscitate the Later Carthaginians and bring them back to a themed period they had actually won in 2003 but add in a few more warband (F), just for good measure and to help me beat up the pikemen and spears I expected to fight.
As it turned out, I had discovered in Pisa a couple of weeks before that Pikes had now been transformed from "warband Targets" into "Warbands Nemesis". So that wasn't so good. And skirmish screens of light horse were supposed to be rubbish. Which woudl be a challenge as well. Ooops !

Game 1 in my Warfare 05 odyssey
...saw me fighting a traditional opponent - Andy Ellis - and a Gallic Army. This was fine, I had played a Gallic army 2 years ago, I knew what to do.
Or so I thought
2 years ago the army had been mostly Warband Fast. I had ploughed into it with my elephants and warband, and after a scary time, we had come out on top - although my LH flank had almost been run down by the Gallic cavalry wing. So, when Andy laid out a river, I was quite happy - I dished out some woods to narrow the table even more, and confidently laid out my commands as far forward as possible, hoping to instigate a head on fight on a narrow frontage where my elephants could be the decisive troops in a Warband Fast-fest
So I was clearly somewhat disappointed to find myself facing 80+ 4 deep warband (O). On a narrow frontage. Counting factor 5 vs 4 against elephants. And that's before the (I) comes into play. Against Me. Oops !
I had to change my plan on the fly, after deployment - not nice! Instead of the mad lurch forwards, my army adopted the "hold your ground" strategy, whilst throwing forward a skirmish screen - not with any real plan, just to buy me time whilst I hopefully invented one...
...which soon came to mind, as the Gallic ally on my right flank - facing the wood - started as unreliable. There seemed an opportunity for my Numidian ally to roll a great first pip dice and get behind the Gauls.
But he was unreliable too. Doh!
Instead it was down to the spare psiloi from my left flank command to harass the Gallic lines from the cover of a handy wood.
Lacking the support of their uncommitted friends, the Gauls had no option but to instigate a general CHARGE!!!!!, peeling off what elements they could afford to waste, as they tries to neutralize my opportunistic psiloi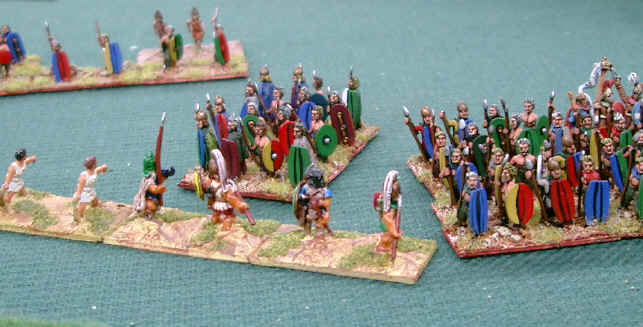 The Psiloi get cocky!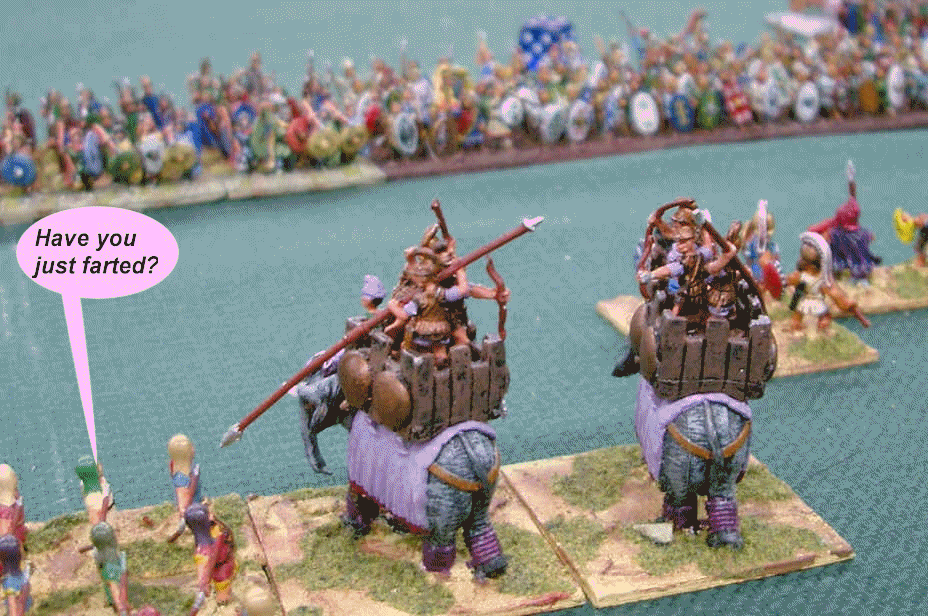 The whiff of fear was now in the air in the middle of the battlefield, with neither side really fancying the combats to come.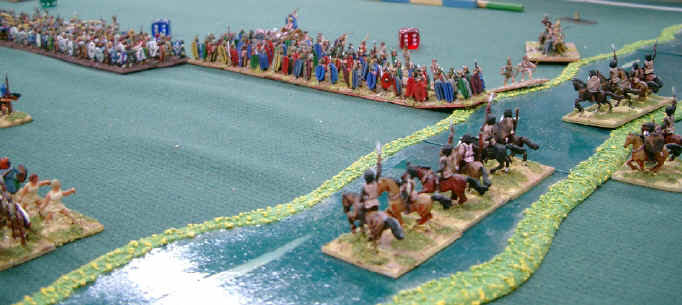 The river had turned out to be paltry on my side of the table, but a raging torrent across the other side, and so the numidians in my CinC's command were forced to wait until the Gauls advanced before falling in a well telegraphed way onto their flank. So the gauls managed to prevent it !
Eventually battle was joined just ahead of my start position, as I initiated the attacks in order to get the elephants in first. By now the Gauls had suffered a handful of casualties on each flank, but nowhere enough to seriously worry them - yet.
The first elephant combat in the middle of the line went badly - the elephant dies on the spot, and his colleague is repulsed! But on my right things go better, and 4 warband die, and then a lucky combat sees me take 2 more with my warband. Things are looking up!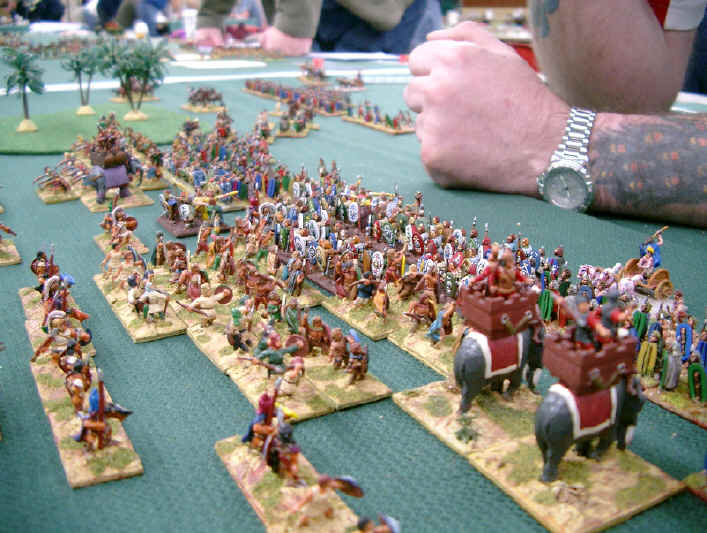 The two mighty armies of Celtic warriors clashed, surging back and forth, the odd base depth and "cant follow up because you are an overlap" causing confusion and inertia across the piece. By now the Numidians had come on stream and away in the far distance were helping harass the exposed Gallic right flank.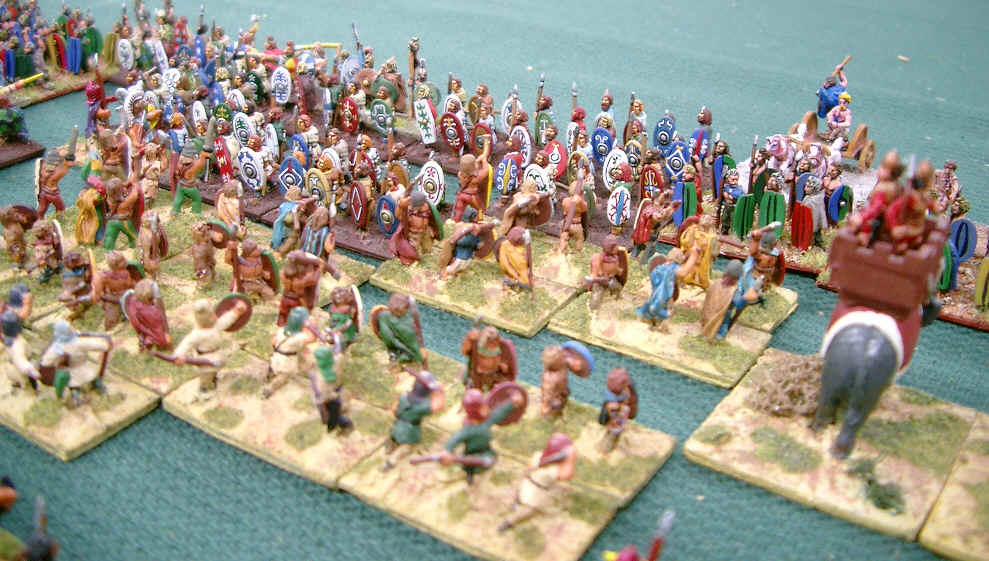 Finally, with the Gauls on the flank still uncommitted, the weight of skirmisher-initiated pressure and elephant-caused casualties on the two commands on the flanks of the main engagement told, and the Gauls collapse ! Both my commands are 2 elements away from demoralization, but we have carried the day - just!
Onto Game 2 vs Hammy - and my first Phyrric of the weekend
Having been run over by Hammy's Swiss Pikemen, in Pisa I had no desire to repeat the exercise, and so had a cunning plan for this game - not to fight the pikemen at all if at all possible.
After Hammys attackers terrain fell to block out one third of the table (his side) with woods, it was a relative narrow frontage of board we had to play on. I hoped to lure him into an attack, exposing his left flank as his army advanced past the protecting woods, and throw one of the warband commands into the Phyrric right frontally whilst hurling the other into the hopefully exposed flank - and possibly even the Numidians if they were unable to get round the woods - into this juicy target, whilst skirmishing away the open edge of the table.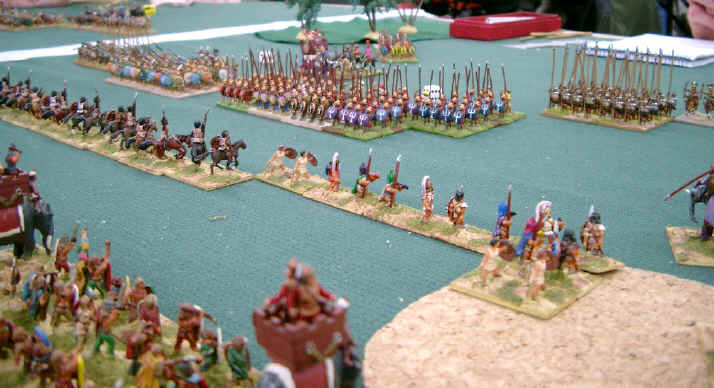 The Phyrric Phalanx deployed further to the left than I anticipated - potentially making my plan even better, as now I could potentially avoid a frontal engagement totally. With no need for a screen on my left, the woods were also looking like a good hunting ground and I detached my Ps (S) to go hunt a couple of cast-adrift auxilia who were placed to delay me.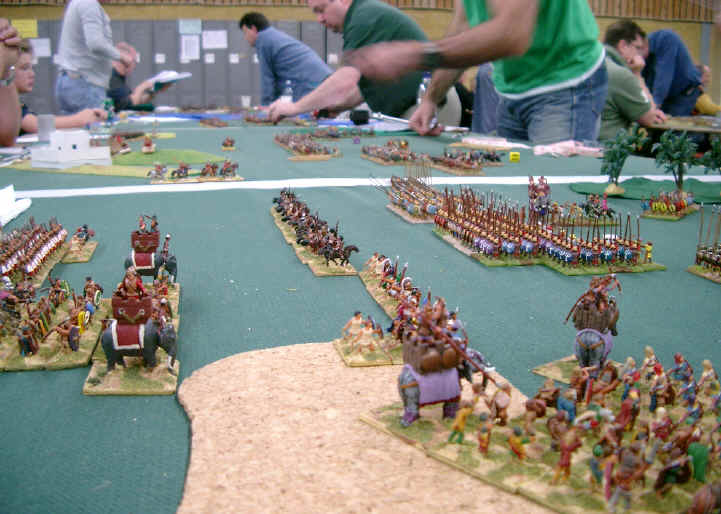 My warband wheel into the open space and zero in on the Pk (I) and flank of the Pk (O) as the rest of the army waits. The most scary thing my army can see in this picture is the picturesque sight of Colin Betts leaning over the table in the far distance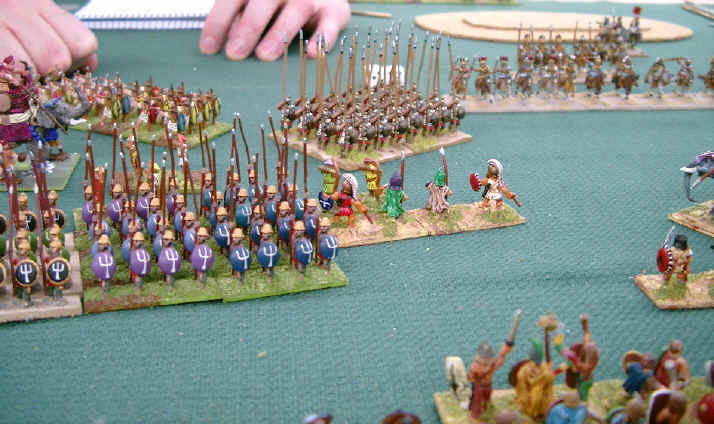 My pips so far have been not edifying, and the Numidians are unreliable, but we press on with the plan, and take a chance on forcing open the Phyrric flank even wider by taking on the flank guard Psiloi with 2 Ps (S). Over in the woods we suffer an unexpected reverse and the opportunity there drains away...
I begin to suspect something very weird was happening in this game.
I mean, have you ever known of a wargamer with a clean, white shirt,
totally free of all food stains after midday ?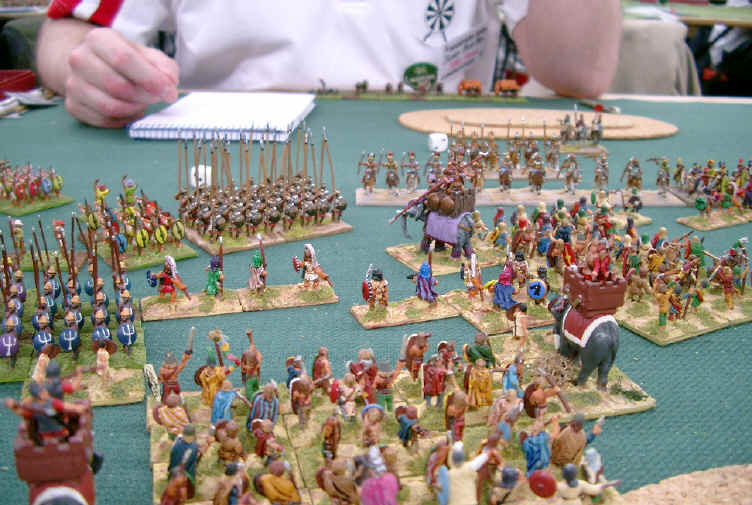 Pips are still incredibly at a premium, and my plan begins to look over-complex. But everything is almost in the right place> I must get some decent dice soon that will let me rearrange this potential pileup before my warband decide to rearrange it themselves? With the pikemen pinned frontally, we are ready to descend on their flanks - the Numidians are back on stream as well, and we have pinned back the Phyrric cavalry with some aggressive warband maneuvers.
Needing good pip dice, I roll again.
The dice is cocked.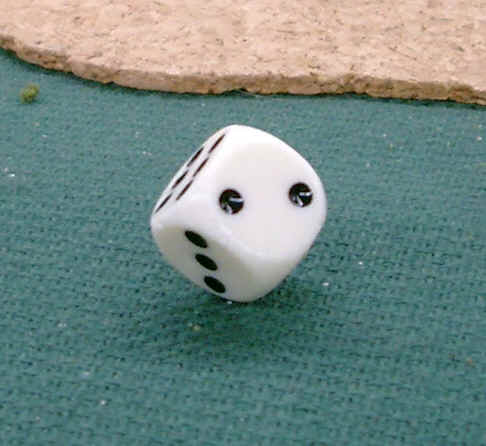 My warband finally get into a position where I can no longer control them - they burst forward and try to fight under their own steam. But their initial combat dice are as bad as my pips, and the first command to hit - on my right - dies in droves. It is a catastrophe!
Soon I am asking how many elements do I still need for 5% of the Phyrric army?
Finally, with one command in rout, the second warband command starts to make some headway into the Pk (I), and we do cause some casualties.
It looks good here - but scroll back up two pictures and see how I can effortlessly exchange that position for this one, losing one command in the process ?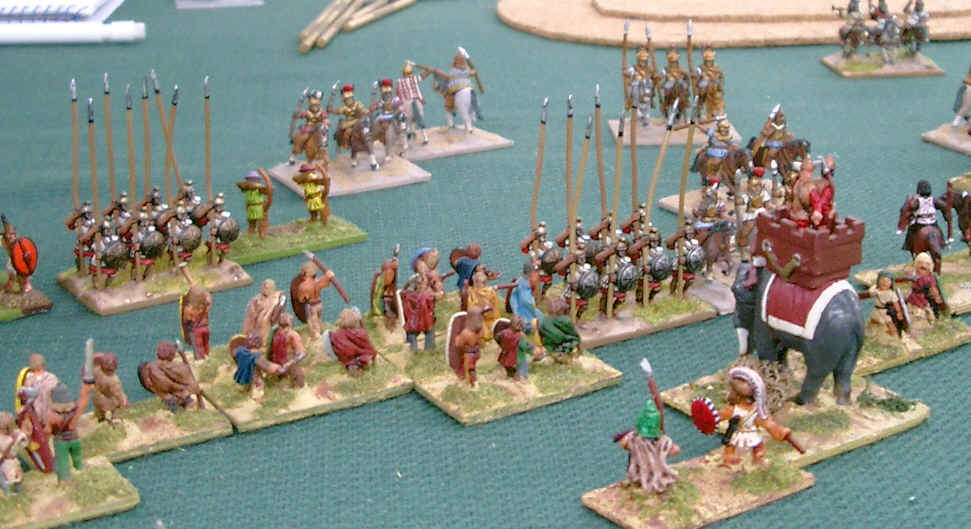 Finally the dregs of the warband make one desperate attempt to nail a Phyrric command before they get trampled. They have 2 deep Pk (I) caught in the headlights of elephants and warband.
They charge,
they fail,
they die.
0-10.
(It is a Phyrric Victory)
Hammy-tastic Spurious Statistical Analysis Section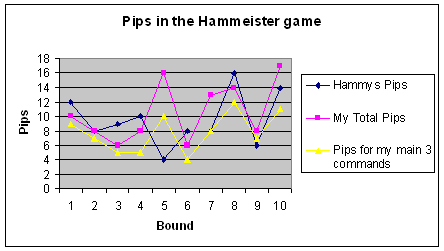 As any idiot can see, this is entirely confusing and reveals little, save for the fact that blue, pink and yellow are not ideal colours for a sweater. Or, put another way, we both had pretty poor pips, but given the Numidians were initially uncommitted, and by the time they came on-stream they were struggling to fit into the combat zone in a meaningful way, the pips I got for my main 3 commads were only better than Hammy's in one bound out of 10 (bound 5).
Here is the same data in the form of a pie chart.
As a stacked horizontal bar chart
A stacked horizontal bar chart excluding the impact of the Numidians
A 3d Area graphic representation

No - I have no idea what this shows us either.
However comparing total scores only gives half the picture (or less, looking at some of these graphs. As you will see from the raw scores below, there were only 2 bounds out of the first 9 in which I managed to roll 2 of my regular dice above a 2. How difficult does that make maneuvering 26 warband and 4 elephants - against an opponent who only needs to grind forwards at 1-2 pips per turn with each !!!!
| | | |
| --- | --- | --- |
| Hammy's Pips | My Pips (ally in colour) | My Pips excl ally |
| 651 | 6211 | 621 |
| 431 | 4211 | 421 |
| 522 | 2211 | 221 |
| 631 | 2213 | 112 |
| 211 | 4426 | 442 |
| 422 | 2112 | 211 |
| 332 | 4225 | 422 |
| 655 | 6512 | 651 |
| 411 | 3221 | 322 |
| 653 | 4436 | 4436 |
oh well.