Stalingrad
Pictures from the Penarth Wargames Club annual bash - this time a multi-table version of Stalingrad, using Peter Pigs PBI rules.
Russian Naval infantry defend a house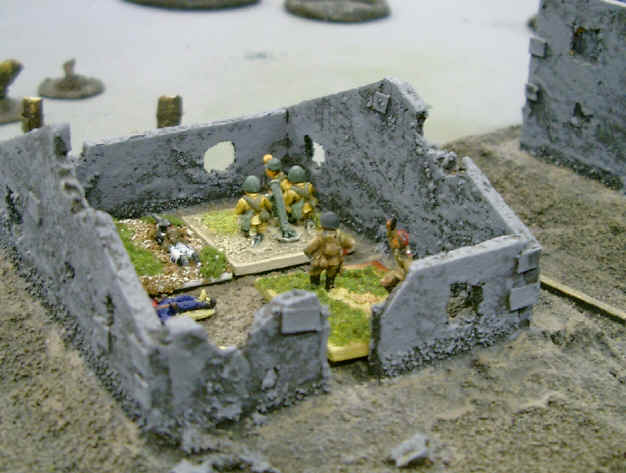 Medium Mortar moves up to the front line, "encouraged" by a pistol-waving officer
More Russians sneak round the flank to enfilade the German mortar position
The kilns of the brick works provide partial cover for a Russian advance
Russian LMG teams in the ruins

A human wave of Russians floods forwards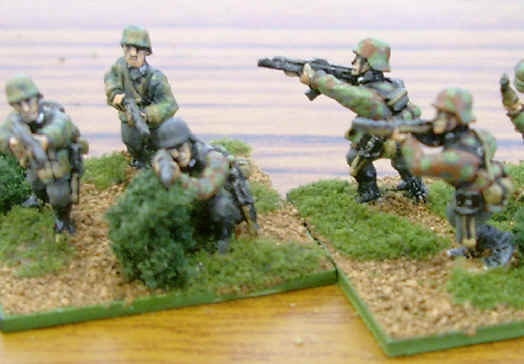 Germans!
Even more Russians..
More WW2 Miniatures shots
(These are "affiliate links". If you buy something after clicking on them I get a small kickback from eBay)
Design Your Own Rules
---
15mm WW2 Pages on the site
---
FoW Troops for Sale on eBay
---
Listings on eBay.co.uk
15mm WW2 / italian - platoon 33 figures - inf (24383)

Current Bid: £32.00
End Date: Wednesday Sep-16-2020 8:39:41 BST
Buy It Now for only: £32.00
Buy It Now
Add to watch list
---
15mm WW2 / russian - 3 tanks - vehicles (23214)

Current Bid: £24.00
End Date: Wednesday Sep-16-2020 9:26:19 BST
Buy It Now for only: £24.00
Buy It Now
Add to watch list
---
15mm WW2 / british - n. african campaign vehicles world war 2 - vehicles (17960)

Current Bid: £20.00
End Date: Wednesday Sep-16-2020 9:35:47 BST
Buy It Now for only: £20.00
Buy It Now
Add to watch list
---
Plastic Soldier Company 15mm WW2 Panzer IV 1 sprue )

Current Bid: £5.25
End Date: Wednesday Sep-16-2020 11:34:39 BST
Buy It Now for only: £5.25
Buy It Now
Add to watch list
---
15mm ww2 / german - 2 tanks - (44863)

Current Bid: £16.00
End Date: Wednesday Sep-16-2020 17:38:37 BST
Buy It Now for only: £16.00
Buy It Now
Add to watch list
---
15mm ww2 / german - 2 tanks - (44864)

Current Bid: £16.00
End Date: Wednesday Sep-16-2020 17:39:46 BST
Buy It Now for only: £16.00
Buy It Now
Add to watch list
---
15mm ww2 / german - 5 tanks - (44862)

Current Bid: £20.00
End Date: Wednesday Sep-16-2020 18:39:49 BST
Buy It Now for only: £20.00
Buy It Now
Add to watch list
---
15mm WW2 Building Ruins set (A) MDF Painted Terrain Perfect for Flames of War

Current Bid: £12.00
End Date: Wednesday Sep-16-2020 21:02:07 BST
Buy It Now for only: £12.00
Buy It Now
Add to watch list
---
15mm / - ww2 bunker & barracades (as photo) - scenics (41175)

Current Bid: £20.00
End Date: Thursday Sep-17-2020 21:37:14 BST
Buy It Now for only: £20.00
Buy It Now
Add to watch list
---
15mm WW2 / russian - battle group 80 figures - inf (31295)

Current Bid: £60.00
End Date: Thursday Sep-17-2020 23:52:13 BST
Buy It Now for only: £60.00
Buy It Now
Add to watch list
---
15mm WW2 / russian - battle group 78 figures - inf (31296)

Current Bid: £60.00
End Date: Friday Sep-18-2020 0:00:23 BST
Buy It Now for only: £60.00
Buy It Now
Add to watch list
---
15mm WW2 / russian - infantry world war 2 - inf (18938)

Current Bid: £45.00
End Date: Friday Sep-18-2020 7:03:28 BST
Buy It Now for only: £45.00
Buy It Now
Add to watch list
---
15mm WW2 / russian - 3 tanks - vehicles (23211)

Current Bid: £24.00
End Date: Friday Sep-18-2020 7:06:09 BST
Buy It Now for only: £24.00
Buy It Now
Add to watch list
---
15mm WW2 / german - platoon 30 figures - inf (23206)

Current Bid: £32.00
End Date: Friday Sep-18-2020 7:11:21 BST
Buy It Now for only: £32.00
Buy It Now
Add to watch list
---
15mm ww2 / german - 2 guns & crews 16 figures - art (24247)

Current Bid: £24.00
End Date: Friday Sep-18-2020 7:17:32 BST
Buy It Now for only: £24.00
Buy It Now
Add to watch list
---
RUSSIAN 45MM ANTI TANK GUN - PLASTIC SOLDIER COMPANY - 15MM - WW2

Current Bid: £15.95
End Date: Friday Sep-18-2020 15:56:12 BST
Buy It Now for only: £15.95
Buy It Now
Add to watch list
---
15mm WW2 metal/resin BORGWARD DEMOLITION CARRIERS x4 Blister GE611 71973

Current Bid: £4.99 (1 Bid)
End Date: Friday Sep-18-2020 22:05:27 BST
Bid now
Add to watch list
---
StuG G assault Guns (2 No.) 15mm FOW Flames Of War OFBX03

Current Bid: £4.90 (0 Bids)
End Date: Saturday Sep-19-2020 14:45:12 BST
Buy It Now for only: £10.00
Buy It Now
Bid now
Add to watch list
---
Two 15mm WW2 Emplacements Suit Flames of War

Current Bid: £2.99 (0 Bids)
End Date: Saturday Sep-19-2020 17:09:04 BST
Buy It Now for only: £9.99
Buy It Now
Bid now
Add to watch list
---
15mm WW2 German 8.8cm Tank Hunter Platoon Blister GE532 Flames of War 71975

Current Bid: £9.99 (0 Bids)
End Date: Saturday Sep-19-2020 20:00:53 BST
Bid now
Add to watch list
---
---
Podcasts to download from Madaxeman.com
---
There are a number of Battlefront stockists operating through eBay who have eBay shops - which means they are all selling Battlefront FoW stuff on a "buy it now" basis including: