Dark & Feudal Ages at Alicante 2022
The Peoples Crusade vs Ghaznavid
Game 1 The Peoples Crusade vs Ghaznavid
Game 2 The Peoples Crusade vs Ghaznavid
Game 3 The Peoples Crusade vs Samurai
Game 4 The Peoples Crusade vs Maurikian Byzantine
Game 5 The Peoples Crusade vs Vikingos!
And, just like that, the gang were back together and on the road again.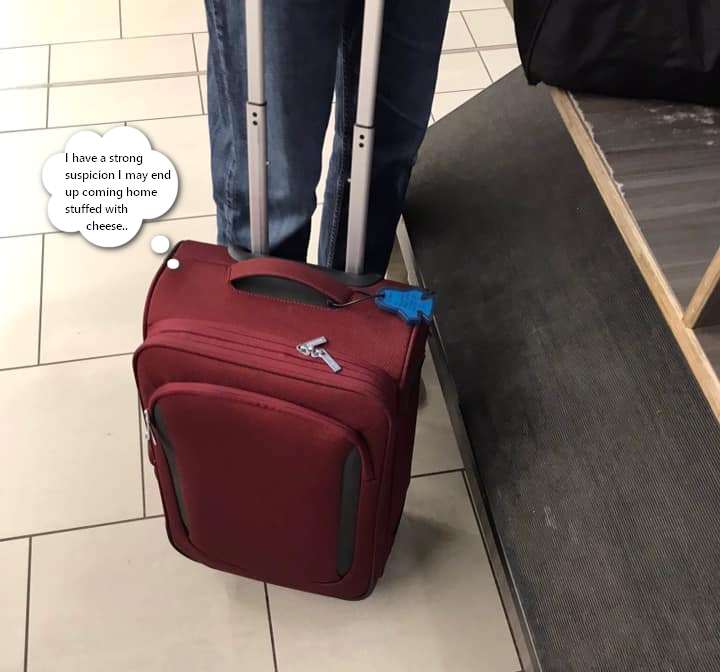 Indeed, it is true - as a chilly January day dawns, international pro-celebrity wargaming has officially returned, with a full CLWC turnout heading to the transport metropolis of Gatwick Airport to make a date with a Sleazyjet flight (more up-market options were not available... do you know just how far out of season January in Alicante actually is?) and to re-establish the non-hegemony of post-Brexit English wargaming submissiveness across mainland Europe.
Of course, these so called travel "plans" were utterly uncoordinated, with Peter leaving a day early, and Grandpa Dave departing from an airport made out of twigs, old newspapers and the cardboard remains of a Blue Peter era Tracy Island located somewhere at the end of his extensive garden and grounds.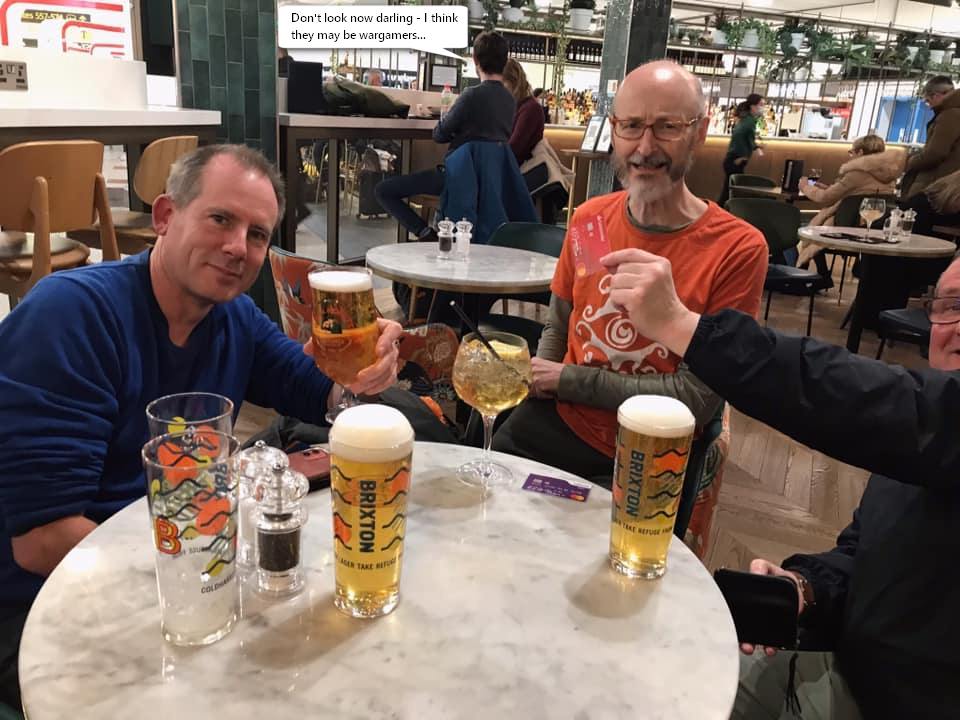 That saw a handful of us coalesce in Gatwick's No, Not The Weathespoonspub, before almost completely stoofing the entire trip up by going to the wrong end of the terminal to try to board a Ryanair flight to Alicante when we were booked on Easyjet departing at the same time from the opposite end of the building. Fortunately lockdown had not rendered us utterly unfit and we managed to leg-it as fast as our legs could carry us to make the flight with moments to spare...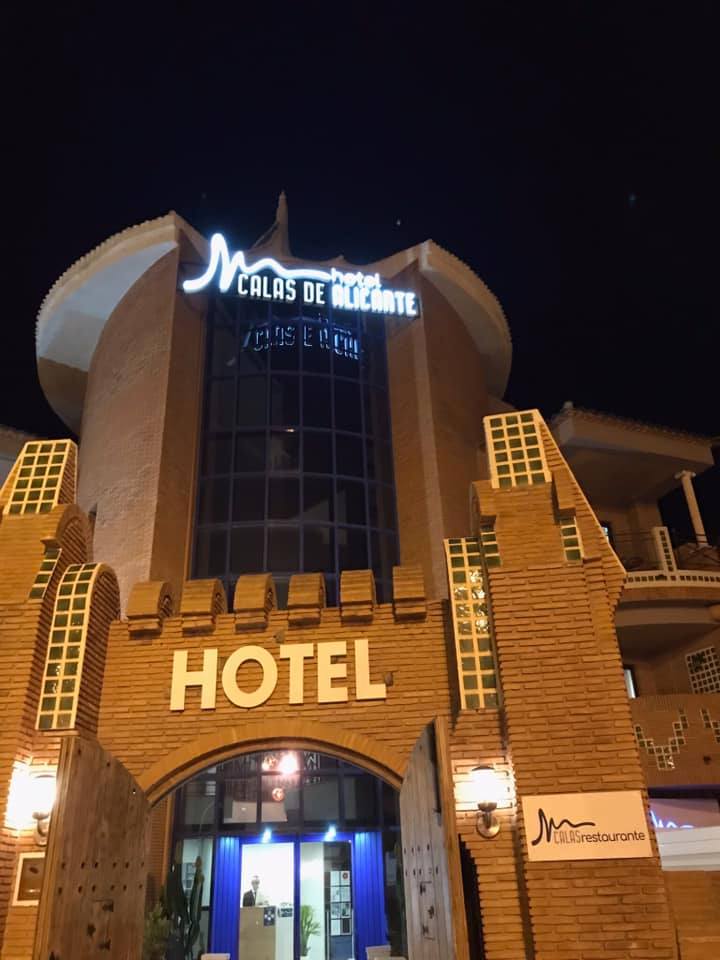 After racing through the airport using the spiffy Spanish Covid app, and a traditional hair-raising coastal taxi ride we arrived at the arabesque environs of suburban Aliacnte, and the "our building is designed more for hot weather than this unseasonable cold snap" even more weirdly arabesque Calas de Alicante hotel.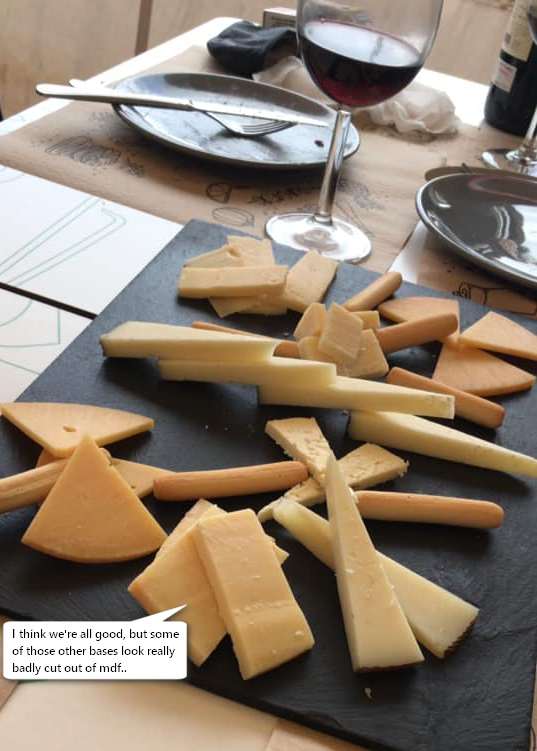 Fortunately an advance guard in the formidable shape of Peter and Grandpa Dave had managed to identify the local nightlife hotspots and pausing only to weep up a passing leading light of Irish Wargaming we decamped to the nearest place that was open and serving Tinto, Queso and Jamon until the midnight curfew put a stop to our carousing
The theme of the event had somewhat flummoxed me, being similar to Warfare but with not wanting to take the same army twice, and looking as always at the moment to try and use an army created or updated in Lockdown, the obvious choices simply didn't float my boat. A number of "the Arabs who invaded Spain" options also didn't make the cut, but finally, looking to make this first overseas expedition something notable and spectacular, I settled on the rebasing project of all rebasing projects - the Early Crusader Peoples Crusade list which had managed somehow to eat up almost all of my DBM-based 15mm Medieval Hordes and turn them into Crusading Peasants.
This army had been a side project in rebasing my Normans, who also can appear as real Crusaders as well, and instead of just doing a "let's call these dudes crusading peasants today", I had gone to the effort of making loads of crosses for them to carry, many replete with religious icons and signs presumably purloined from Byzantium en-passant on their way to the Holy Land.
It wasn't a particularly good army, being made up almost entirely of Impetuous Levy, Impetuous Medium Swordsmen, Light Infantry and a small packet of Medium Knights (Impetuous) - but by god it was big, at a box-busting 38 units.
And that made it funny, and that in turn made it the choice for this event.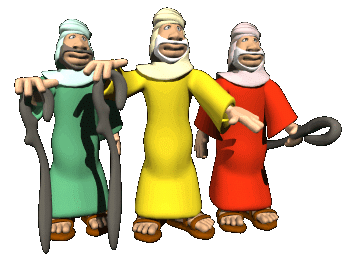 When he said he'd discounted the Arab armies, I thought we were fucked - but if he's ended up doing some of that Jesus stuff ... well chaps, I think we may well be back in business!
---
It truly was an army I could love win, lose or draw, with "lose" being the most probable one of those three... well, up until the one pre-event practice game where it did manage to utterly demolish Dave From The Podcast Saunders' Warfare-winning Feudal Spanish list in spectacular style, much to both of our amazement and confusion.
---
These battle reports are also accompanied by a specia in-the-field recorded episode of the Madaxeman Podcast with segments live from a bar during the competition. You can download it from Podbean, or play it here from this page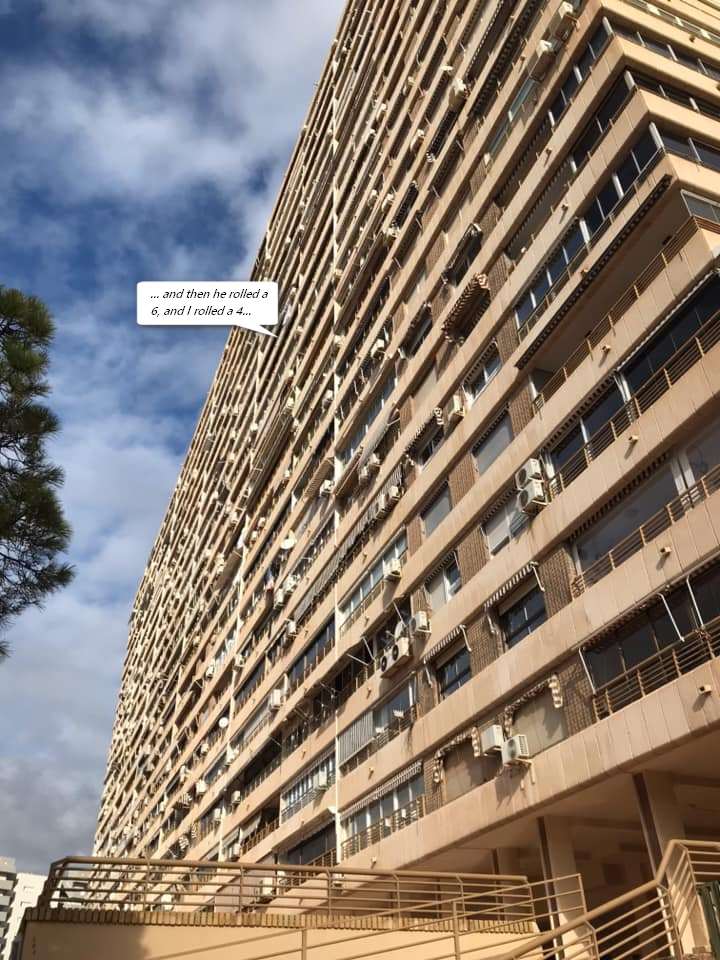 The next morning dawned, well, cold and a little bit damp if I am honest, meaning the pool remained pristine and unsullied by pale and spotty Northern European bodies for a little while longer as we instead consumed a breakfast, supped some coffee and sauntered quite literally across the road to what appeared to be the basement storage room of a coastal apartment block to start the process of milling about, supping yet more coffee and getting used to the idea of playing a whole tournament fully masked-up.
The morning's first opponent was a high-octane Ghaznavid army, the doyenne of the broader Arabian Caliphate roster of similar armies.
The lists for the The Peoples Crusade and Ghaznavid from this game, as well as all the other lists from the games at Alicante can be seen here in the L'Art de la Guerre Wiki.
Ghaznavids have long been a favourite, especially in Spain where Iniaki has used them repeatedly with much more success than has been achieved by those who seek to copy him! Good quality shooting cavalry, Elephant Death Stars with Dailami and Crazed Swordsmen from the sub-continent, and in v3 some pseudo-Skoutatoi who in v4 have been transformed into far more credible Arab-style heavy spearmen. Always a powerful - but inevitably small - force.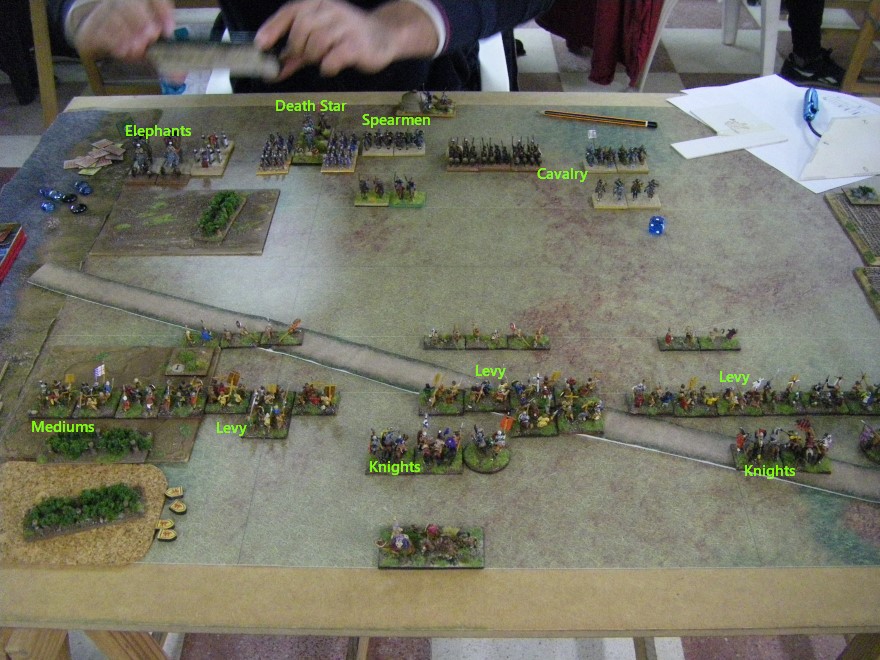 The first game started with a waterway - of course, for the Crusaders - going down on table, and plenty of other uneven terrain as the Peoples Crusade started it's Iberian Adventure with an unsurprising session of defending (Just 2 Command points and zero light horse does not bode well for winning initiative).
Good God! The Ghaznavids had elected to stack their Double Elephant Death Star and it's supporting cast on the waterway edge as well, gradually thinning out their army as it extended the full reduced width of the field.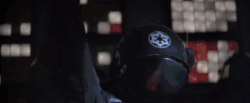 The People's Crusade meanwhile had decided to fill the whole table with crusading peasants, leaving both small blocks of Knights as a mobile reserve for when the front line inevitably buckled and broke.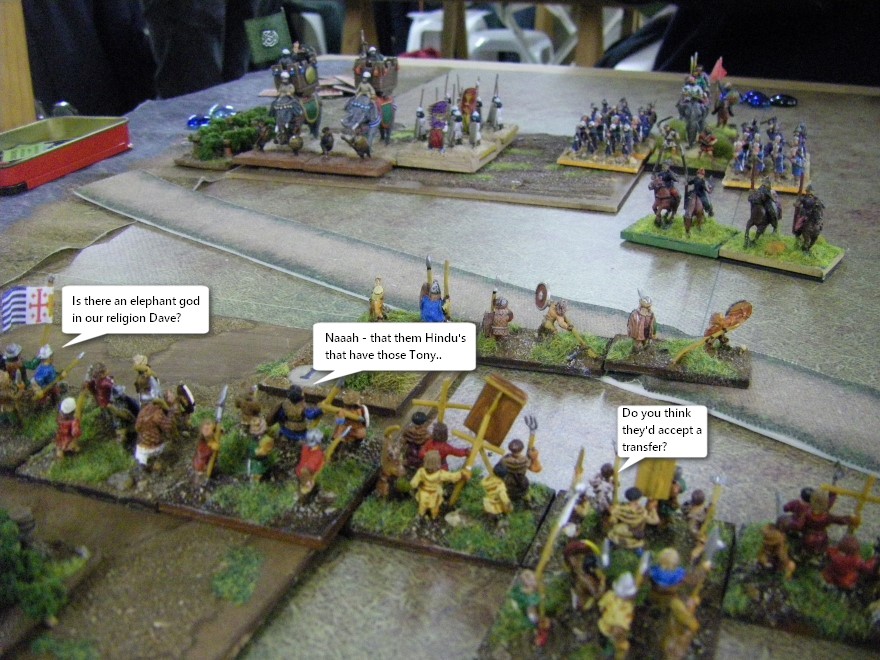 The Ghaznavids were flummoxed by the sheer numbers and intense and frequent use of Judeo-Christian imagery by the men and women of The People's Crusade.
Seemingly keen to buy time to think the Afghan Caliph sent forward some light horsemen to try and delay the potential tidal wave of peasants which were apparently happy to try and fight anything in their path that might even have the slightest whiff of apostasy about it.
The People's Crusade was one of the earliest of the "popular crusades"
They started spontaneously, with an upswell of crusading enthusiasm among the public - but were unsanctioned by the Church.
They contrasted with the "official crusades", which were authorised by the Papacy (and for which presumably you needed to buy a ticket to take part)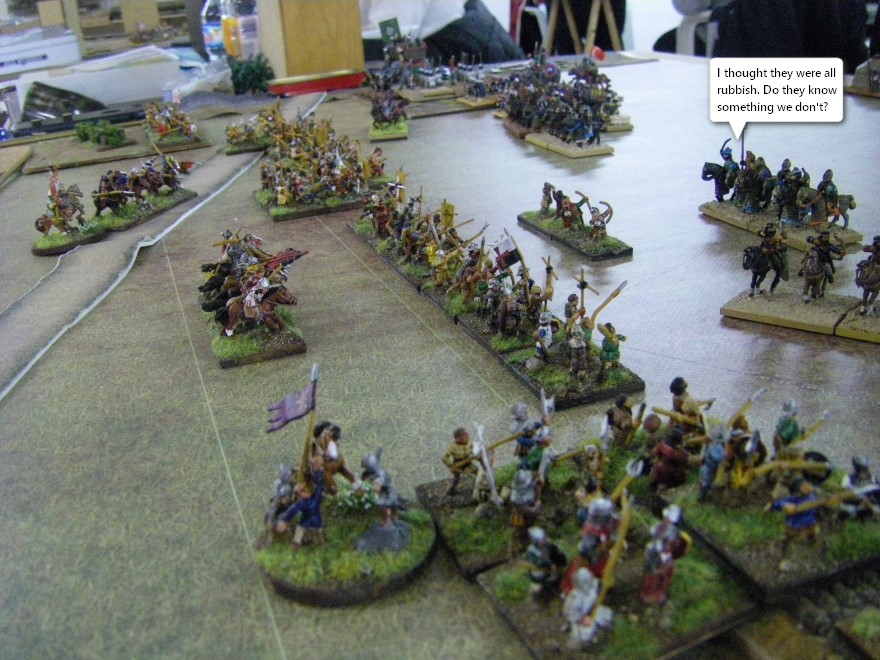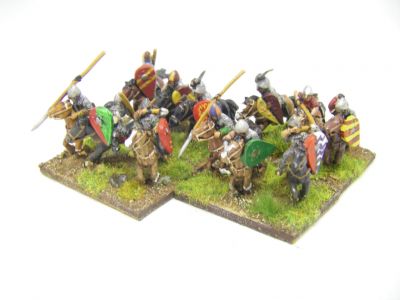 OK, maybe not quite anything. Jeezus! In a development which threatened to be as close to actual tactics as The People's Crusade army would ever manage, the god-crazed civilians facing off against the Ghaznavid Pachyderms hung back as the rest of the army surged forward in a fairly coherent, and in some places double-thickness line.
Even the handful of knights accompanying this religious rabble had a chance to advance as the wall of pitchfork-waving icon-alofting people inched forward in metric increments.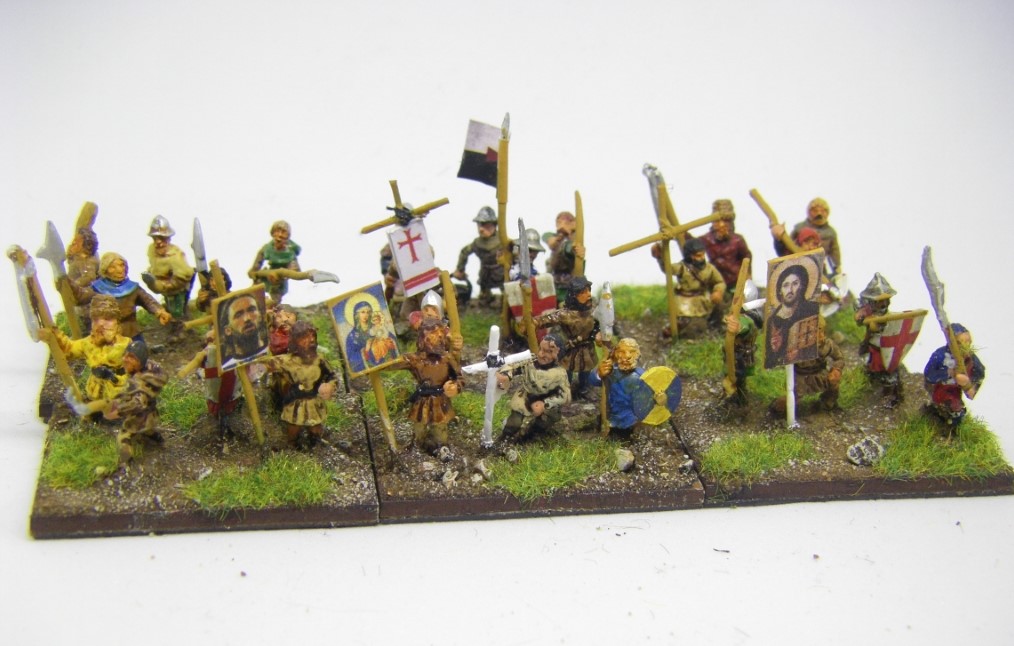 Here's a picture of some of the Levy from the front. The crosses are made from broom bristles, glued together and then reinforced with superglue and cotton after painting. The religious icons are ones I googled and printed out on normal paper, and then stuck on thin card. The dude on the one bottom left is former Manchester United and Fulham midfielder and general Jesus-lookalike Jonathon Greening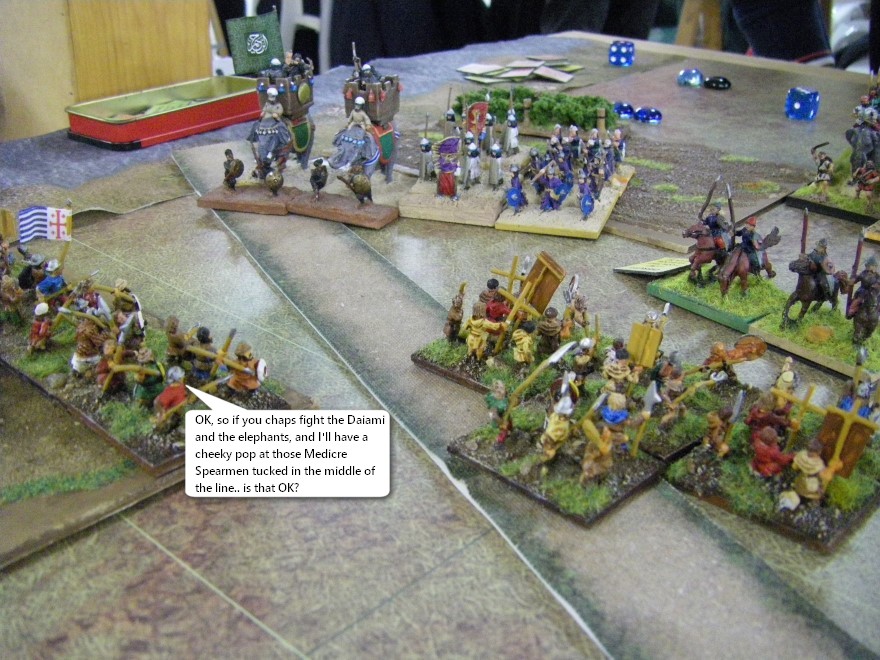 As the Ghaznavids dithered and cogitated, the People of The People's Crusade had no such qualms about attacking anything they could - especially when that looked like enemy light horse who had suddenly gotten trapped in front of their own infantry and elephants!
Praising God and hoping that he was still old-school enough in the early Middle Ages to respond to exhortations to positively influence their dice as well, the peasant army raced forward to try and chip away a few easy (compared to anything else in the army) points of Ghaznavid goodness before the Light Horse could work out how to extricate themselves from the bind they were already in.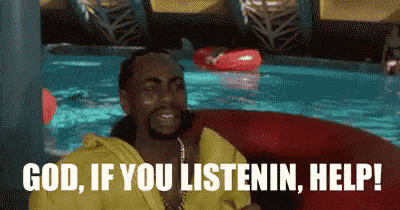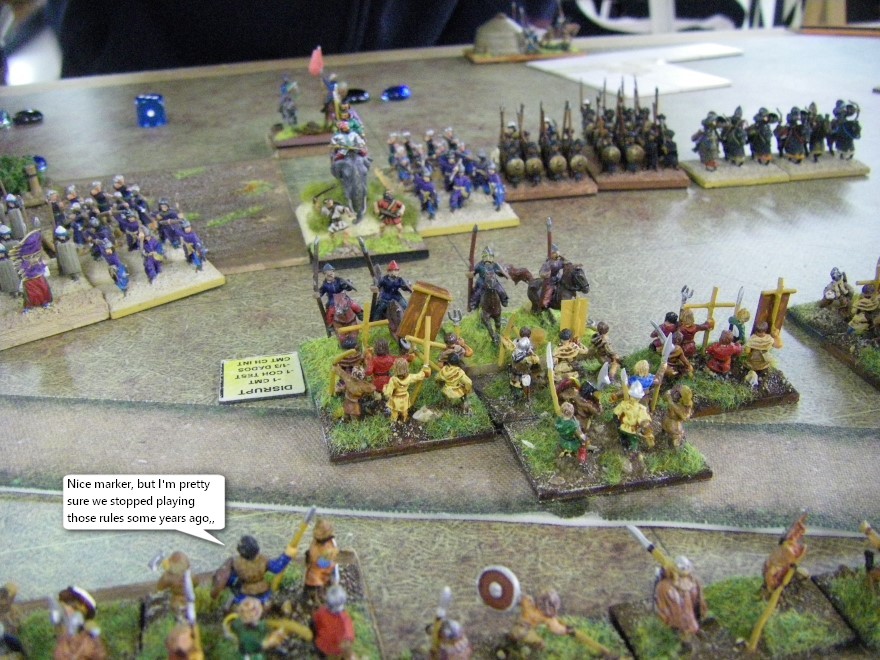 Holy Cow! Suddenly, barely a year after being rebased and seemingly moments after their first rather strong mid morning Spanish plastic-cup coffee of the day The People's Crusade were into real live honest to god combat action!
The Ghaznavidian horsemen had initiated things after being plinked away at by light javelins and hurled stones from the Crusading peasants and decided to try their luck against the quite possibly rubbish Impetuous Levy of The People's Crusade!
(These are "affiliate links". If you buy something after clicking on them I get a small kickback from Amazon)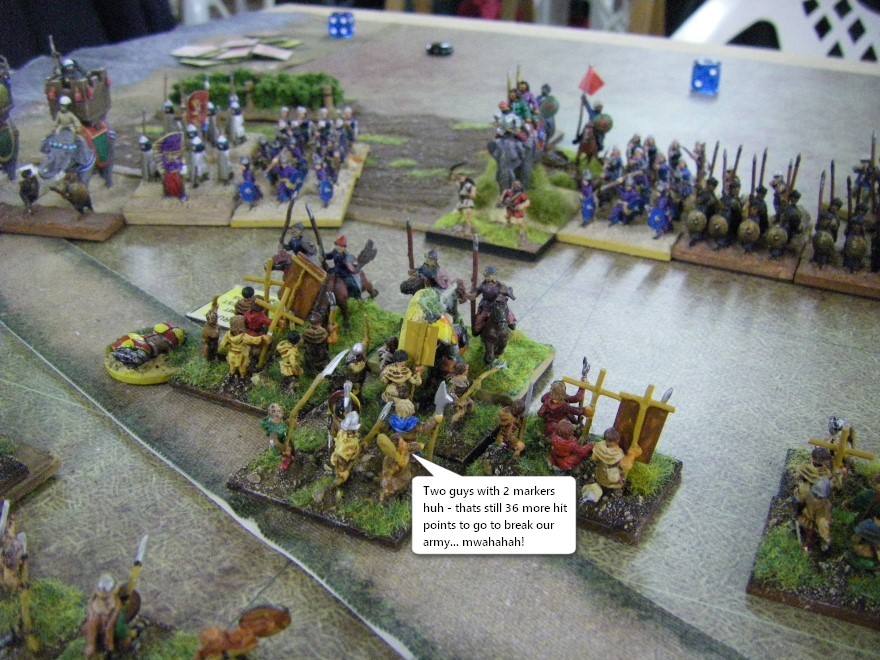 Good God! Ferociously devout Christianity immediately proved no real match for a well-couched lance on horseback, as the Ghaznavid Impact Light Horse successfully clattered into, and very nearly over the 3-hit Peasants at first contact.
The chaps in the second rank of peasantry suddenly started to realise that they were perhaps a little close to the line of scrimmage for comfort as their co-religionists ahead of them started to waver dramatically (Militarily - but not in their faith. Of course)
Peter the Hermit was a priest in Amiens and a key figure during the People's Crusade and the First Crusade
The paupers who took part were a spiritually purified and holy group of pilgrims who would, supposedly, be protected by the Holy Ghost.
The fact that the People's Crusade also included some well-armed soldiers and nobles however would suggest he wasn't a total numpty in that whole "making war" thing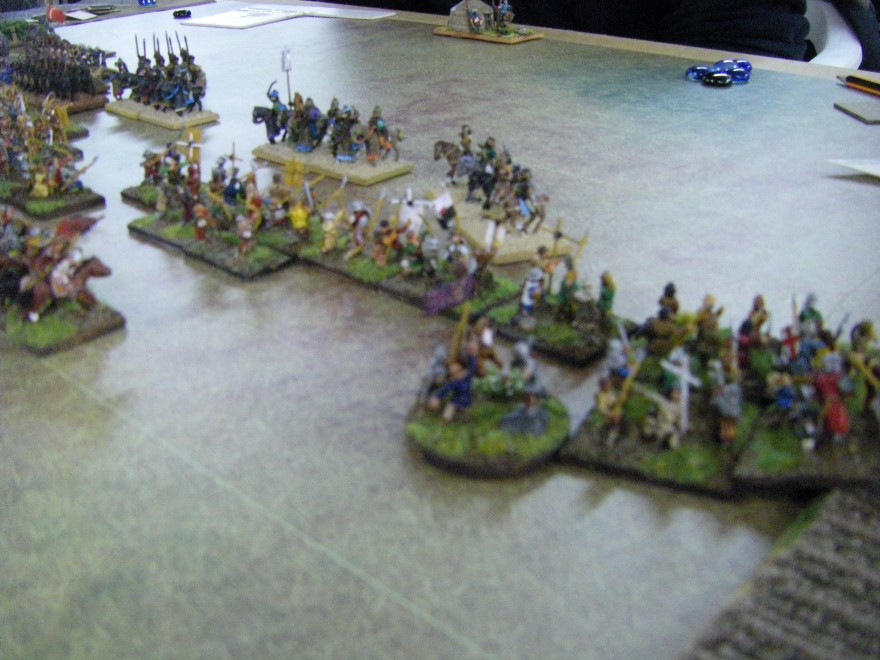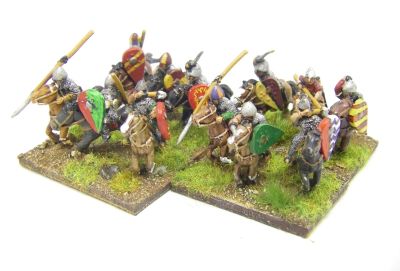 With the action focused on one small part of the table, the rest of the pitch was something of a blur of unfocused vaguely military happenings, as prayers to the saints were given, and marching hymns rang out to accompany the inexorable advance of a wall of unpleasant peasantry towards the bemused and confused Ghaznavid outriders.
The Afghan Dynastic Nobles had expected presumably to be skirmishing effectively away from a small number of high quality crazed Knights, so this veritable tide of unwashed yet pious humanity rolling towards them was a puzzle they had yet to work out how to unlock.
Saints Alive! Like a church donation platter at a Christian Virtue-Signallers Association Presidents first child's christening, the initial flurry of combat had already started to drawing in yet more and more shiny expensive objects from everyone invited to attend.
With one of the two horsemen units unhorsed, glamorous elephants and dynamic Dailami had joined in the general melee - this was a lot of Ghaznavid firepower and army points being hurled at what was still at the end of the day some 4-point unwashed Levy!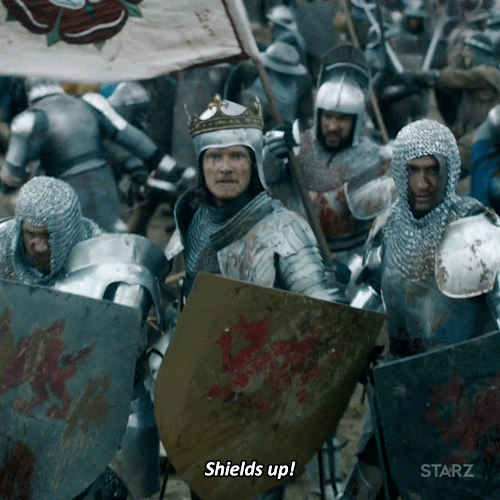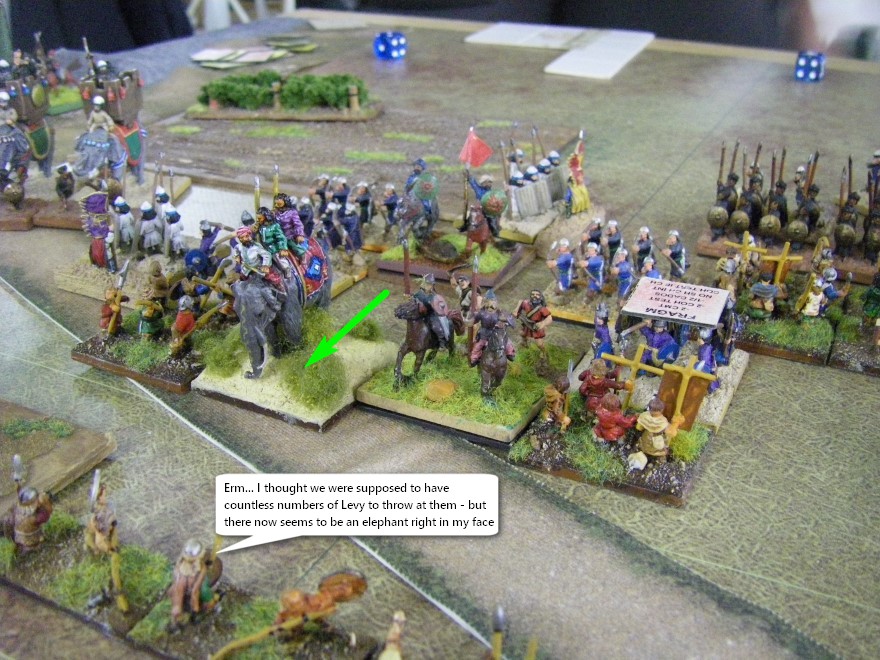 Like many Arabian cultures, the Ghaznavids were ford of eating nuts of all sorts, and so nut-based phrases and aphorisms filled their rich linguistic heritage.
Good Lord! From this day hence however the loyal soldiers of the Ghaznavidian Dynasty seemed sure to start to use a new phrase to describe using disproportionate - Using an elephant Death Star to crack an injured Christian Peasant Levy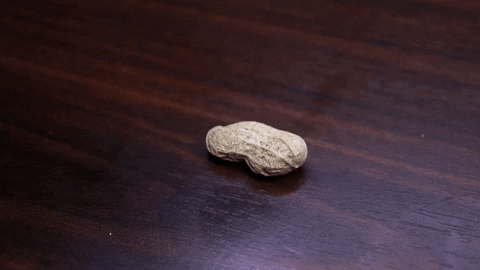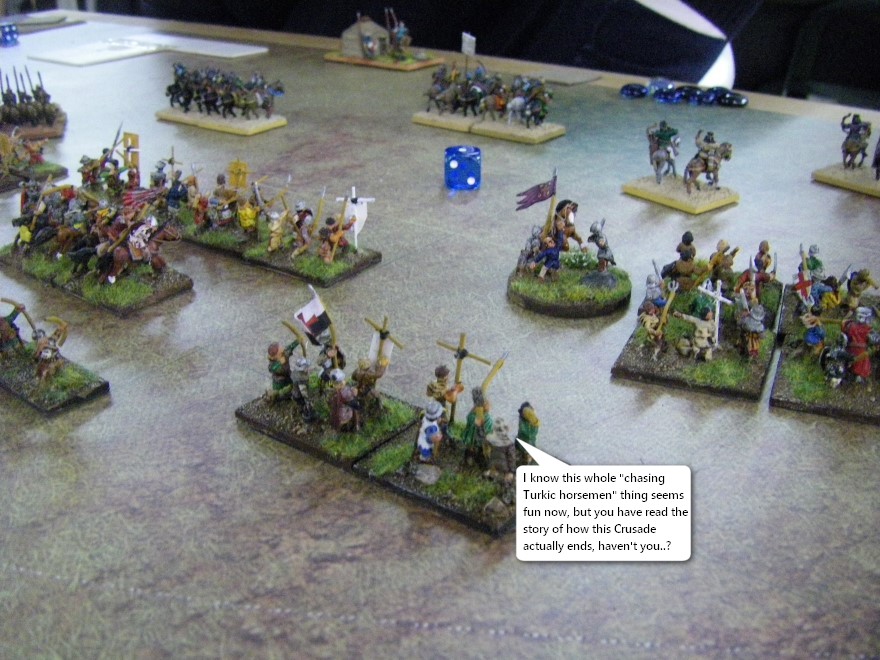 As the black hole of combat sucked in more and more of the Ghaznavid army, the more poorly focused areas of the table were witnessing panic and confusion in equal measure - possibly from both armies - as the tidal wave of massed peasantry from The People's Crusade swept on inexorably, daring the Ghilmen horse soldiers to try and stand and fight them.
Jesus in Sweatpants! This wasn't really something they appeared keen to do however, so the elite Afghan nobles fled backwards out of reach of an enemy who was intent on confronting them with extreme religious fanaticism and incoherent incompetent enthusiasm in equal measure.
L'Art de la Guerre hint - So, what's the score here then? Why are these good quality horse dudes running away?
Cavalry get a base factor of +1 against Levy, and Levy are on 0 against almost everything - so ar so good for the guys with 6 legs per, erm, "fighty thing".
But these Peoples Crusaders are also Impetuous - so they get a +1 for Impact when standing to receive a mounted charge from non-Impact cavalry. Which is what the Ghilmen are
OK, so the Ghilmen also get better armour, and some of them are Elite - but there are a LOT of levy, and only a few Ghilmen, so the Peasants are pretty well placed to get some overlaps too
Finally, the Levy are densely packed peasants. This is great for sharing lice and body odours on a long crusade, but it does also mean they count as Heavy Infantry, which in turn means no extra-hit Furious Charge for the Ghilmen if they win in the first round.
Chuck in a screen of slingers and javelin light foot plinking away, and remember that Levy are 4 points each and Ghilmen are what, 12... ? What it all means is that the Arabianized nobility can't just simply roll in and expect to ride the Christian Peasantry down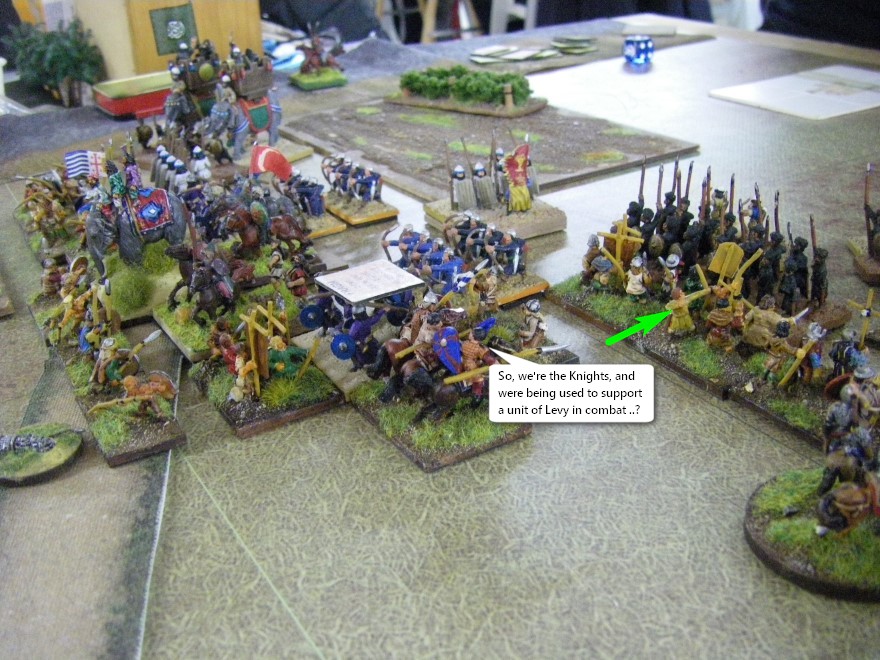 The Ghaznavids were trying to manage a traffic jam of Napoleonic proportions as two commands worth of their finest hard-core combat infantry and pachyderms struggled to get to grips with the waves of psalm-singing nonsense which continued to hurl themselves forward in their path.
In the name of the Father! With numbers on their side, the men, women, children and monks of The People's Crusade still had more than enough bodies to launch some prayer-inspired attacks at the edges of the Ghazni Schwerpunkt, driving hard into the Arabesque spearmen with all of their religious fervour (and the +1 for being Impetuous at impact).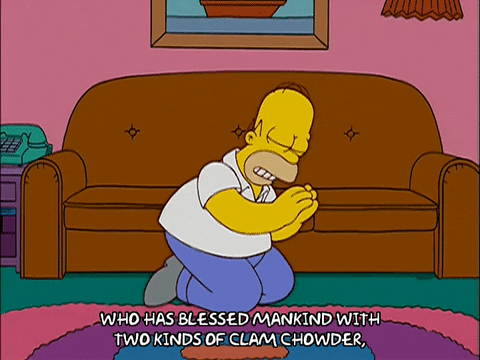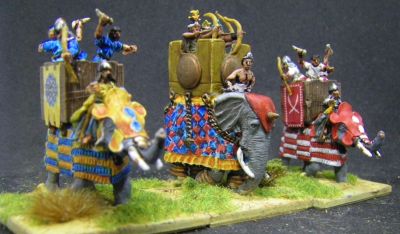 So - this whole theory about having countless waves of cheap troops to overwhelm the enemy?
Sweet Lord! At some point it appears that this strategy turns to one of "OMG, I have lost countless thousands of unnamed civilians and have now run out of more pilgrims to hurl into the gaping maw of death and disaster!"
Suddenly the Ghaznavids were looking at a breakthrough into the end zone - and to be honest their hard core troops still had barely a scratch on them.
The same could not however be said for the enemy Spearmen.
The avalanche of semi-professional infantry had battered them with crosses and gold-leaf Byzantine iconography, and stunned them with a deep and imaginative interpretation of the key passages of the Old and New Testaments - and the end result was that the once-solid line of spearmen now boasted enough gap-toothed gaping holes to strongly suggest that they may in fact have shared a dentist with Peter The Hermit himself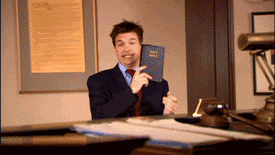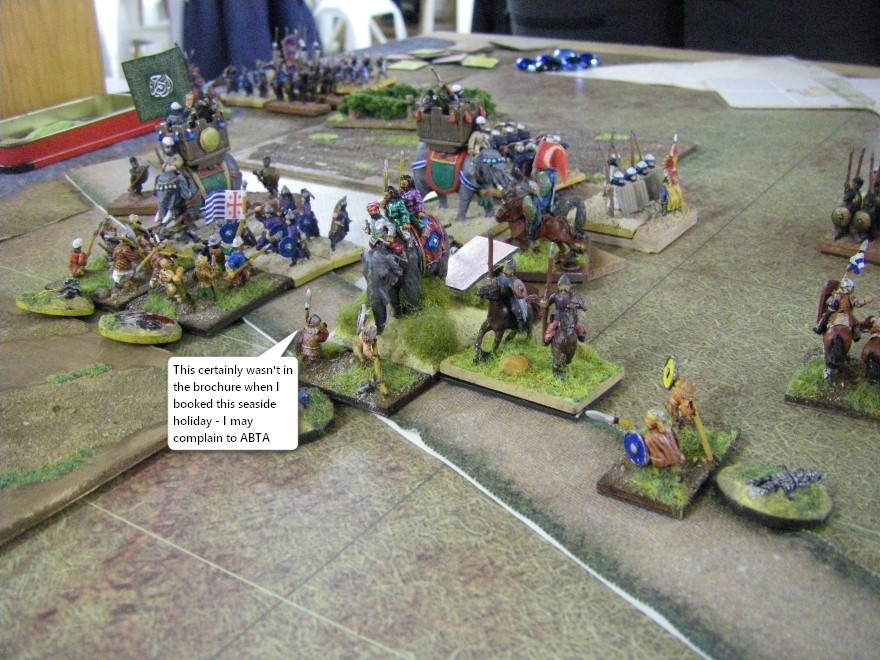 Sweet Jesus! The Ghaznavid Elephant Corps and associated Dailami Death Star Accoutrements were casting around for new opponents, marooned in a sea of expired Christianity and seemingly soon destined to be unable to find any new god-botherers to stomp upon.
Those that had already finished battering the faithful sought to lumber slowly around to set off to help out their embattled spearmen.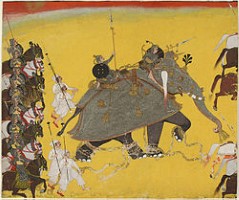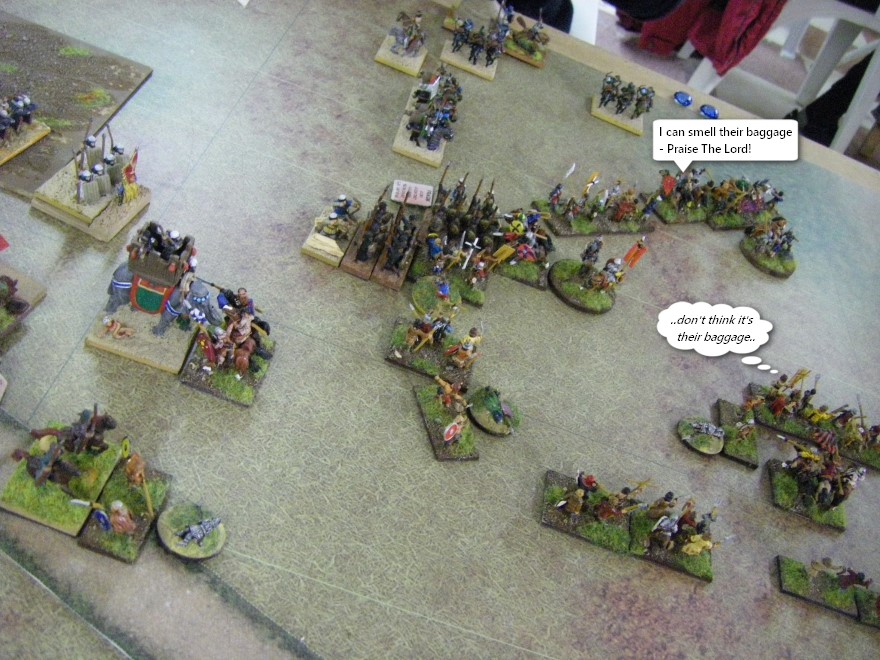 Rather surprisingly, the Pilgrims and their accompanying decent quality knights of Outremer had by now succeeded in pushing back the outnumbered and knight-phobic Ghaznavid cavalry across much of the tabletop with their speedy and faith-infused attack.
The surreal prospect of a baggage train that had marched all the way from Samarkand being looted by peasants in Syria and taken home to be put on display in a small village outside Leicester seemed weirdly imminent.
Pocket size Ghaznavid History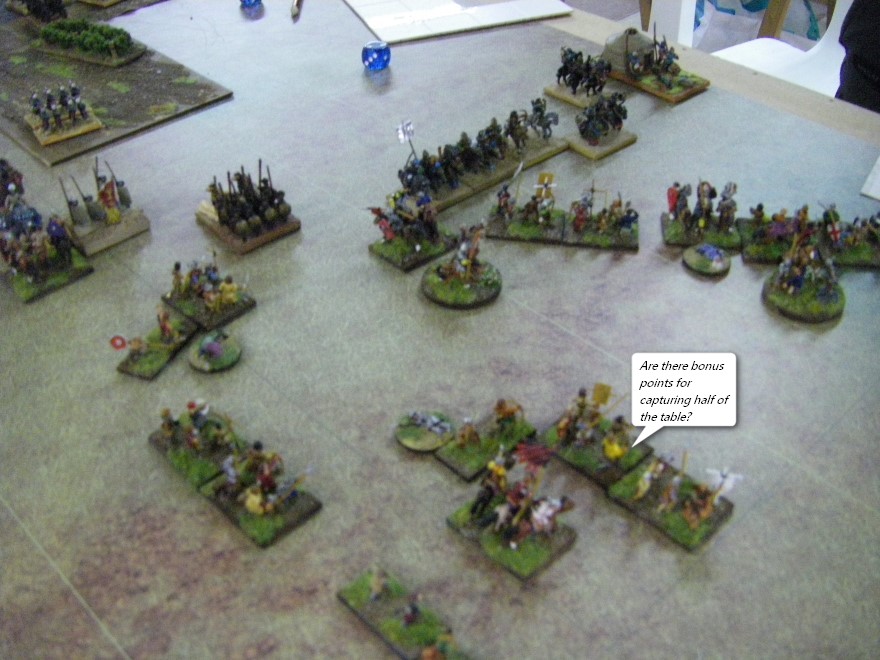 My Sweet Lord ! At that moment, with the battle having almost entirely turned through 90 degrees and with The People's Crusade forces wiped out next to the seaside but in full flow across the rest of the pitch, time was called and the game ended in a draw.
Both armies were exhausted and within moments of breaking - the Peoples Crusade having lost almost all of their 38 units but remaining undefeated!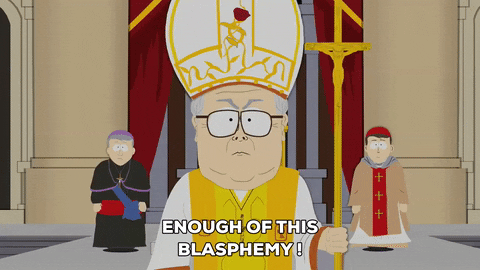 The Result is a timed-out draw, with heavy losses on both sides.
Click here for the report of the next game in this competition, or read on for the post match summaries from the Generals involved, as well as another episode of legendary expert analysis from Hannibal
Post Match Summary from Peter The Hermit, The Peoples Crusade Commander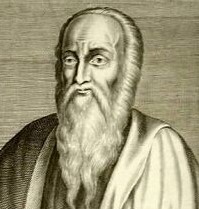 Honestly, this is all a bit weird. I mean, Covid has been kinda great for me, you know, that whole Hermit thing I have going on? Well, it turns out that a global ban on travel, mandatory working from home, and the risk of serious illness or possible death ever time you go to Tesco's - and god forbid, don't even get me talking about the life-threatening scenario in which you try to actually speak to someone face to face.. well, basically for both me and anyone who collects Warhammer, it's been a fabulous time frankly, although for everyone else it's surely been, like, heavy maaaaan.
So, with this event in Spain, which involved getting on a plane, meeting strangers, and trying not to go into a blind panic when it becomes immediately apparent that mask wearing is being taken far more seriously in mainland Europe than on BoJos Plague Island (and let's face it we all like a good bit of the Plague every now and then) is just panic inducing in the extreme.
To then have to try and command my disciples, followers and the general rag-tag band of hangers on, neer-do-wells and basically bandits there for the money that make up my army as well was, well, mind bending dude. I must have listened to that Phish album maybe a dozen times. Far Out!
Either way dudes, that was close - could have gone my way or just away. Ho hum, peace and love man, peace and love
---
Hannibal's Post Match Analysis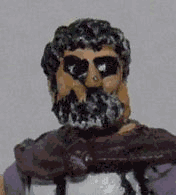 For a so-called Man of God, you are indeed a most notable coward, an infinite and endless liar, an hourly promise breaker, the owner of no one good quality - I believe not a word of your bleating protestations and fear that thou are little more than a common money grabbing con-man on a power trip to lead an army of gullible fools!
Come, come, you froward and unable worms, digest this painful to watch pile of stinking god-excrement which claims to be an army, There is no plan like a plan humbled by the simple enemy expedient of concentrating most of their forces in one place and attacking strongly, and this list of layabouts and fools is one which has no answer to such simple strategies at all
For inflicting this nonsense up on us, quite frankly I'd beat thee, but I would fear to infect my hands with teh scurvies and lice of a thousand miles of pilgrimage and sweats.
Away, you starvelling, you elf-skin, you dried neat's-tongue, bull's-pizzle, you stock-fish! Bring us yet another ame of linear nonsense and we will perhap snot even want to see how you do against another Ghaznavid army in the next game
Click here for the report of the next game against yet more Ghaznavids in this competition
You may also like....
Game 1 The Peoples Crusade vs Ghaznavid
Game 2 The Peoples Crusade vs Ghaznavid
Game 3 The Peoples Crusade vs Samurai
Game 4 The Peoples Crusade vs Maurikian Byzantine
Game 5 The Peoples Crusade vs Vikingos!
Game 6 The Peoples Crusade vs Army6