Dark Ages & Early Feudal at Lisbon 2023
Anglo-Irish vs Ghaznavid
Game 1 Anglo-Irish vs Nikephorian Byzantine
Game 2 Anglo-Irish vs Hindu Indian
Game 3 Anglo-Irish vs Konstantinan Byzantine
Game 5 Anglo-Irish vs Ghaznavid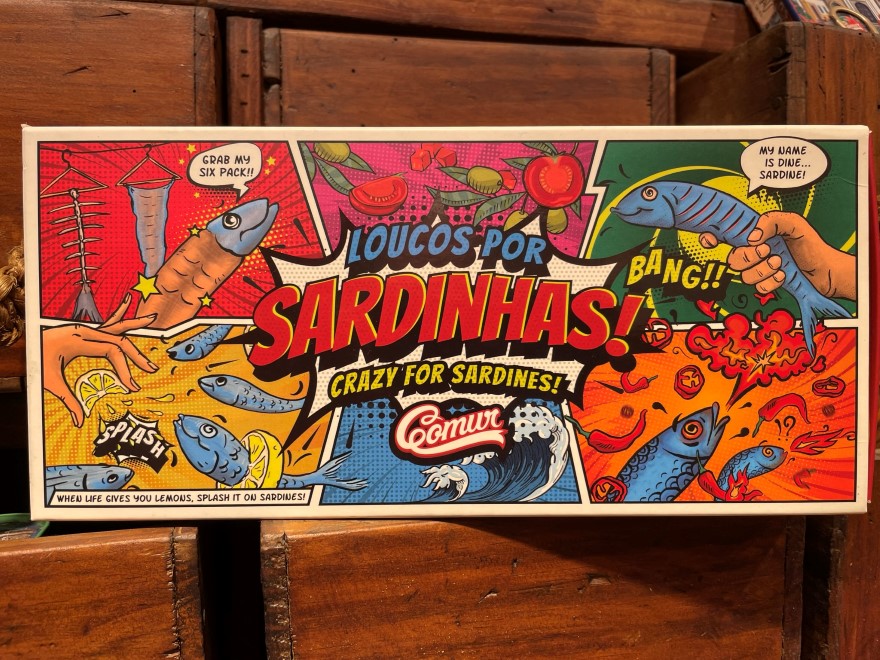 4 games, 4 wins, and suddenly the Anglo-Irish army, pulled together to utilize a few rarely-deployed troop types on the back of a suggestion made by Mr Aynsley which I was too stupid to have fully understood at the time it was made, was looking like it was actually the wargaming equivalent of a 6-pack of top quality tinned sardines in olive oil (This may not sound that exciting, but spend a few days in Lisbon and you will grow to understand that this is actually very, very exciting indeed)
What could possibly come next?
Well, this was a "Book 3" competition, and so almost inevitably what was coming next was a game against Iniaki with his pastel coloured Ghaznavids !
You have probably seen what Ghaznavid army looks like - its got lots of toys, nice elephants, top quality Ghulam cavalry, some Dailami and Ghazis to give it grunt against solid enemy foot, and it was ever-so slightly toned down in v4 by de-Elitifying the Elephants and changing them to Armoured, and removing some historically dubious "Skoutatoi"-style foot as well.
Iniaki uses it every time he can, and even when he can't he tries to sneak in the same figures, such as this attempt to use them as a Timurid army from last year.
When we first started playing ADLG internationally, Iniaki very much had the hex on me (and most of CLWC to be fair) with this exact army, but in recent years the Ghaznavids, and Iniaki's hot dice luck both seem to have waned a little (thank god!) and so now this would be an intriguing text as to whether this Rolls Royce army with its strike elephants could put one over on the squidgy yet surprisingly effective so far Anglo-Irish
The lists for the Anglo-Irish and Ghaznavid from this game, as well as all the other lists from the games at Lisbon can be seen here in the L'Art de la Guerre Wiki.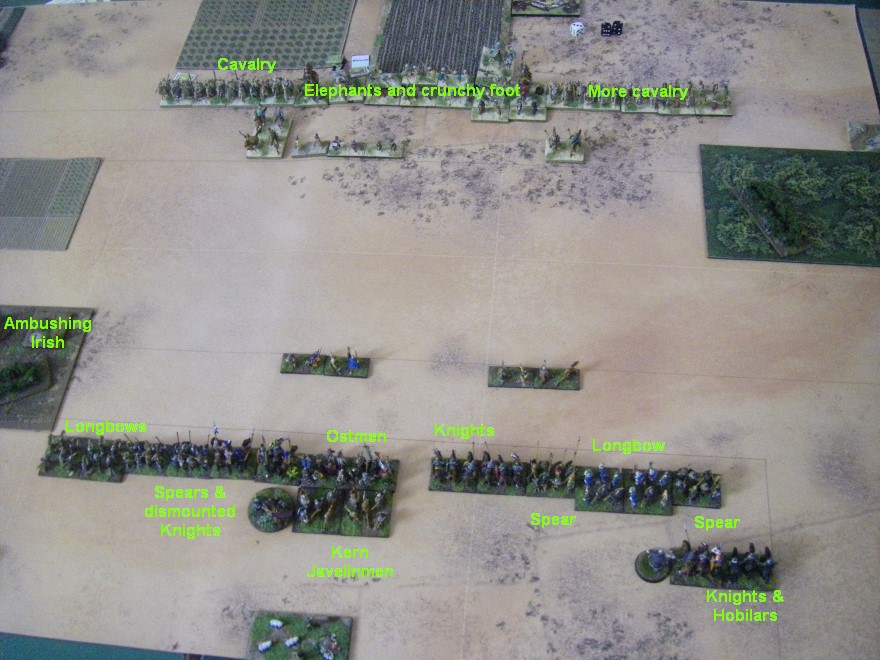 This was a textbook battlefield, slightly constrained on both flanks by fields and plantations but leaving a nice bowling alley right down the middle for the Ghaznavid elephants.
The terrain-congested flanks rather stymied any possibility of Ghaznavid mounted shenanigans, and also my cunning (OK, I had tried it in every game so far) selection of a plantation had this time worked out well, allowing the Irish to hide over to the left hand side of the battlefield and hope the terrain-o-phobic Ghaznavids would ride past their ambush marker and allow them to jump out and exercise the element of surprise once again.
L'Art de la Guerre hint - Many of the wily old players on the ADLG circuit will assume ambush markers are false, so when there is something in them it is often a real surprise !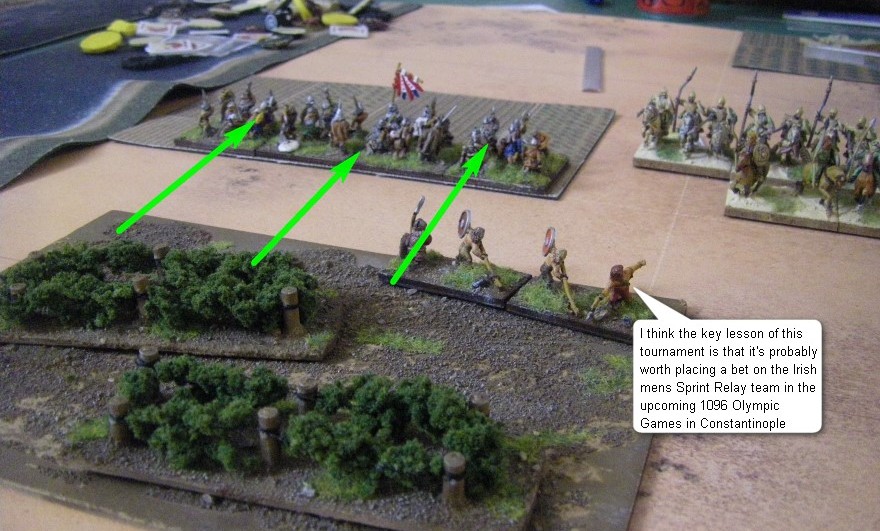 With an other patch of cavalry-unfriendly field in sprinting distance from their plantation lair, the irish had actually decided almost immediately that this would be yet another game in which they would race across open ground right from the starting whistle
Ameijoas Amazement! With feet a-pounding and hearts a-racing the band of Irish warriors girded their loins and gathered their bravery, and taking a deep breath made a run for it to try and get into the safety of the ploughed Rafa-esque field before the Ghaznavid horsemen had time to respond to the emergence of this surprising force on their left flank
The emergence of so many Viking-esque Celts from a vineyard totally surprised the Ghaznavid horsemen, especially as they had concluded that the ambush woudl be fake and that a flank march may be arriving on their left flank at some point in the future.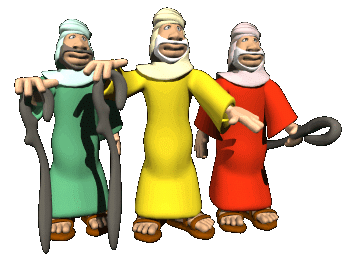 "Finally, an Arab army as an opponent means we get a performance fee this week
Go over there son, and claim our money!"
L'Art de la Guerre hint - As a whole command of Irish was hidden in Ambush, it was entirely reasonable and possible for Iniaki to assume that the "missing" command he could not see at deployment was actually a flank march.. right up until the moment they emerged from the plantation.
I could have carried on rolling a dice for this "hidden" command for longer if I had wished, although if I rolled a 6 (in the first turn) or 5 (in subsequent turns) I would have had to cough up the fact it was an ambush rather than a flank march which had just rolled enough to arrive on table next turn.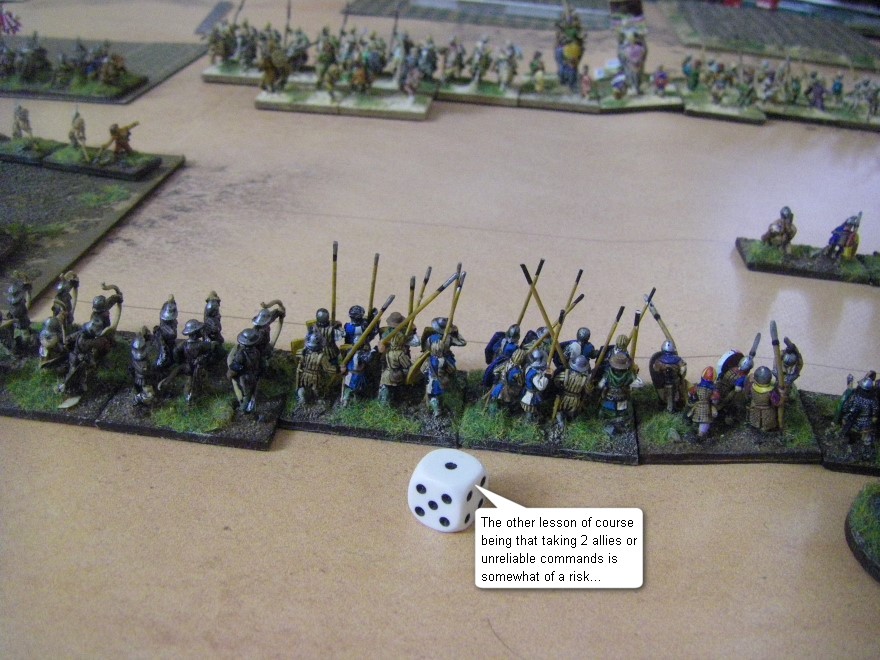 The Ambush tactic was by now a well trodden one for the Anglo-Irish army, but less amusingly it seemed that the "large, unreliable command" tactic was now also becoming a staple as the sub-general declined to fight for the second game in a row in a clear signal that he liked neither elephants nor Camels, or indeed anyone who could cause "Panic" amongst his troops.
Fortunately, filling the table from terrain piece to terrain piece and standing in a line waiting to be hit was still a viable tactical option for the Anglo-Irish army - so not a total loss after all.
The Rise & Fall of the Ghaznavids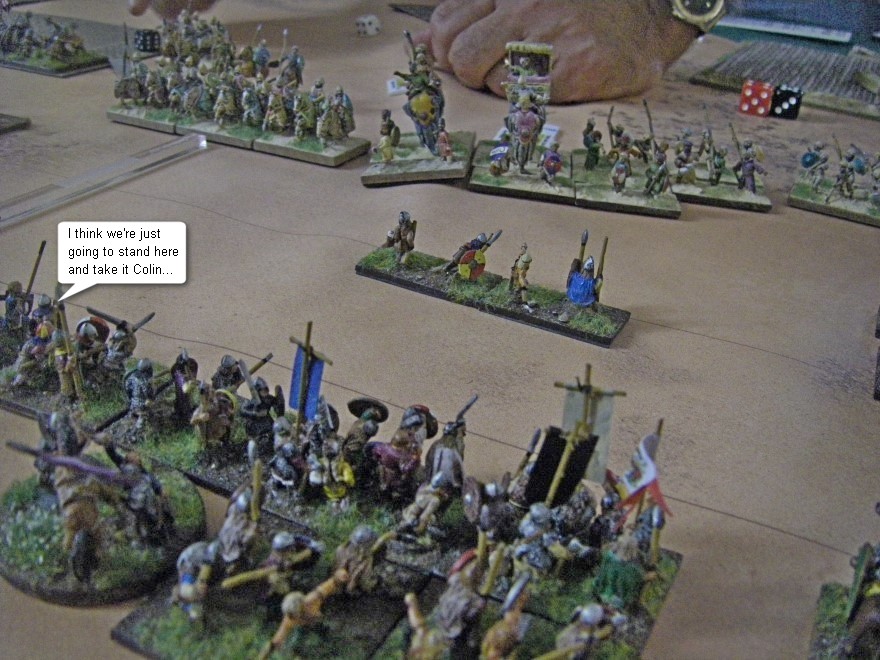 In common with the game against the Hindu's, almost all of the English Knights had elected to dismount and send their horses far to the rear at the first sight of Elephantry in the opposing lines, joining the Ostmen and Colonist spearmen in setting up a wall of solid but still rather quaking infantry to wait to be hit by a Pachyderm Charge.
Broa Bedlam! The Kernish Javelineers, eager to test their mettle against yet more mighty beasts which they had no experience of fighting historically, but which wargames rules writers from time immemorial had deemed them expert opponents for, lurked ominously behind their Ostmen screen waiting for the right moment to emerge and place themselves in the front lines.
L'Art de la Guerre hint - "Javelinmen" are the best anti-elephant combat troops in the game, with a first round factor of +2, made up of a base factor of +1 and a first round "javelin" +1 bonus.
Elephants I guess because they can't really build up a proper head of steam charging a cloud of skirmishing javelineers, don't get to count their usual first-round "Impact" +1 factor, so end up just on their baseline +1 against the (in this case) bog-hopping Kerns.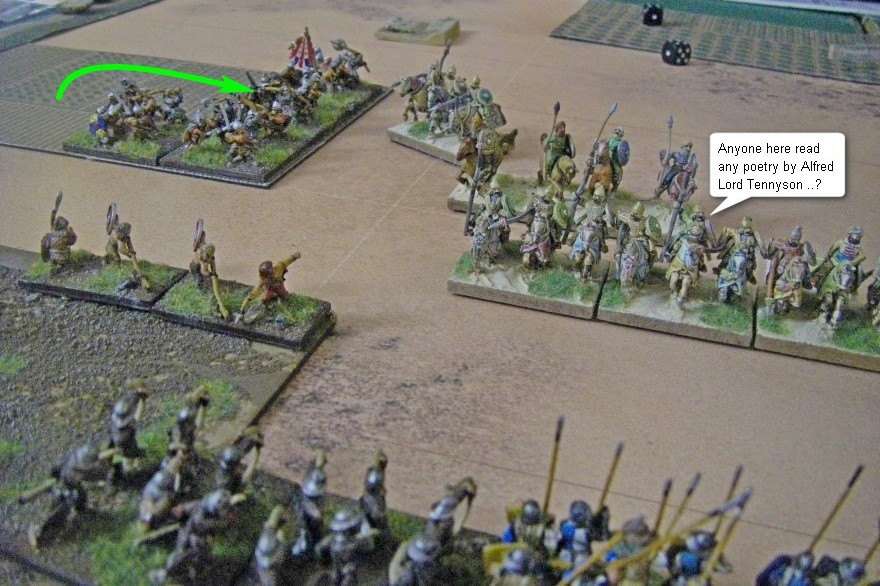 The Irish were now revelling in their newfound role as horse-botherers, turning to line up on the very edge of the terrain to hurl Irish insults at the Ghaznavid riders and their mounts
The Ghaznavids were perplexed - they could not simply ignore these Gaelic hooligans as a flank charge from an axeman was not to be sniffed at, but equally they only had the possibility of bowfire to reach into the field and discomfort the Gaels, as their horses would be greatly disadvantaged should they initiate combat in such uneven ploughed soft ground.
They knew what they wanted to do, but they also knew it would be a disaster if they did..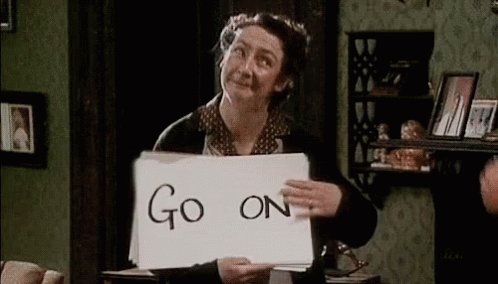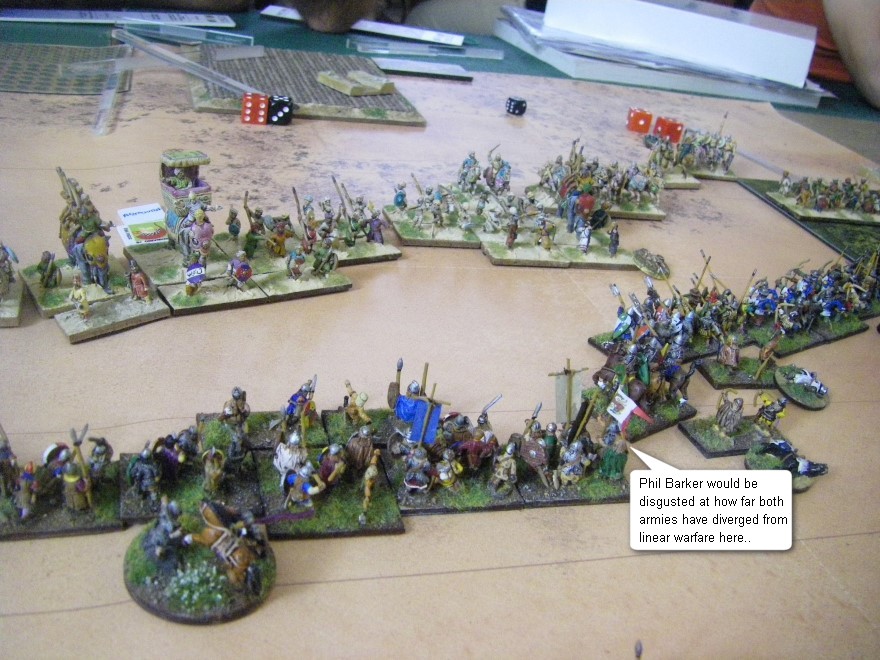 The Ghaznavids had decided that there was no advantage at all in waiting for the Anglo-Irish sub-commander to come online - they just steamed forward and triggered him back to life bu advancing brazenly to within 4MUs of the line of static soldiery
This dramatically changed the Anglo-Irish options in the game - now they could just stand in a line and shuffle the odd unit around waiting to be hit, instead of, erm, actually probably doing exactly that anyway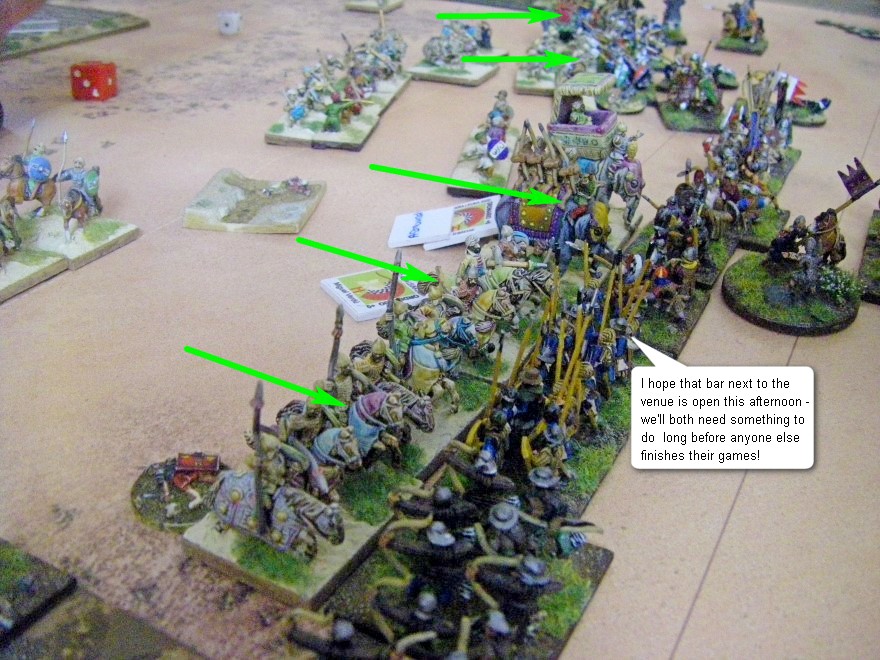 The Ghaznavids suddenly lurched forward, charging home all along the line against the static defensive setup of the Anglo-Irish.
Elephants led the way, but in the absence of all that many support troops, and with the Irish threatening on their right flank the Ghaznavid Ghulams decided to take their chances against the Poor Quality, unarmoured Colonist spearmen and potentially rather squishy longbows as well in a wild and brave charge.
Well, it was either that or just stand there and get shot up by longbow arrows I guess.
My Feudal Anglo-Irish Army List
Command 3 - The Ally
Ordinary Included Irish Ally General
1 Medium Sword, 2HW, Elite (with General)
3 Medium Sword, 2HW
2 Kerns, LI Javelin
This allied contingent is small enough to fit inside 2 Ambush markers, allowing them to get a forward position in which they are almost certain to be triggered to reliability by any enemy moving first. Puttinga whole command in ambush is also unusual enough that it may catch people out occasionally too
Medium Sword 2HW are pretty decent troops, and a block of 4 of them including an Elite unit with a General is going to outmatch almost anything else they will find in terrain in this theme, giving me a very good flank-holding force indeed.
Two Kern LF screen the MF from some shooting, operate pretty well in terrain anyway and allow the command to start further forward in terms of unreliability triggering too.
These 6 chaps also bulk the army up to a hefty count of 28 - not to be sniffed at with only 6 light foot and 22 combat-capable troops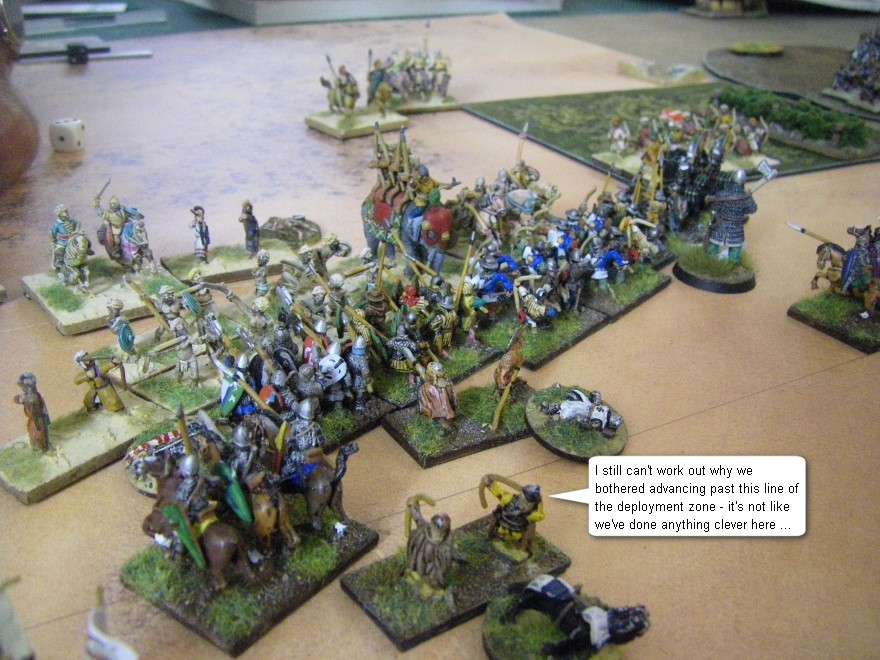 The Ghaznavid Elephant Corps were also in action on the other end of the line too, this time supported by fanatical Ghazi warriors who Iniaki still hasn't glued together into a single 40x40 base despite having been playing ADLG every day of the week for over 2 million years now
The wild Ghazis were testing themselves against dismounted English Knights (quite tough) and Colonist Spearmen (sort of the perfect opponent for a Ghazi who likes winning and winning big) as elephants and cavalry coordinated their attacks to charge down the fast-firing English longbowmen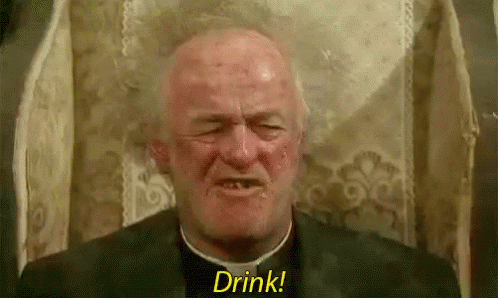 The Anglo-irish CinC had already worked out that this might be a good place to hang around, on the basis that there could well be some rallying of his men's morale to do in the near future.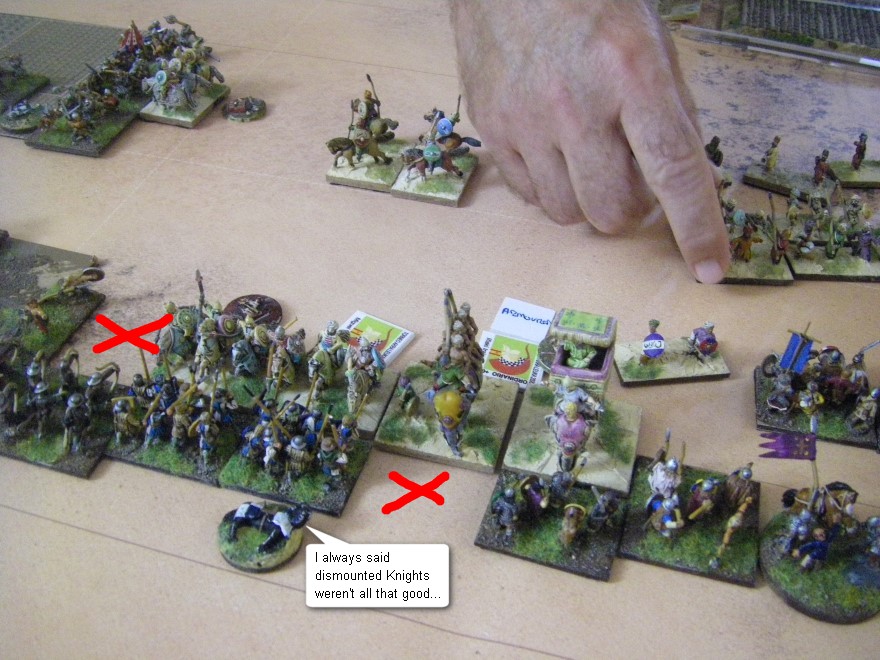 Bebinca Bedazzlement! The initial assault of the elephants was almost a textbook example of random outcomes, with one pachyderm trampling the flower of English dismounted chivalry underfoot with disdain, while the rest of his strike force seemed to have come up a little short in the instant victory stakes, having their impetus checked by the resilience and bravery of yet more dismountees and spearmen.
But things looked ominous for the Afghans - Kerns of all flavours were shuffling sneakily around the edges of the prolonged combat, poised to take advantage of the carelessly-offered flanks and tip the balance in favour of the army from the damp and chilly extremities of the European continent.
The Anglo-Norman conquest of Ireland
The Anglo-Norman invasion of Ireland accelerated between 1175-1185 as the Normans continued to expand their territory, building castles and consolidating their control over the eastern part of Ireland. Several Irish kings submitted to Henry II, acknowledging him as their overlord in exchange for maintaining some autonomy in their own territories.
Despite initial resistance, the Normans gradually extended their influence westward and southward, facing opposition from various Irish clans and regional kings. The Normans constructed more castles and fortifications, establishing a feudal system and introducing English law and administration in the areas under their control.
From 1210-1220 the Norman lords continued to seize land, leading to increased tension with the native Irish population. The Normans faced sporadic uprisings, but their military superiority and the continuing division among Irish clans allowed the Norman-led English aristocracy to continue to gradually increase their grip over the newly-won Irish territories, while further cementing their control by bringing over ever-greater numbers of English colonists to settle in this green and fertile land.
The Anglo-Norman invasion laid the foundation for centuries of English rule in Ireland. It introduced feudalism, English culture, and legal systems, leaving a lasting impact on Irish society. However, it also sowed the seeds of conflict between the English and Irish, setting the stage for centuries of political and cultural strife.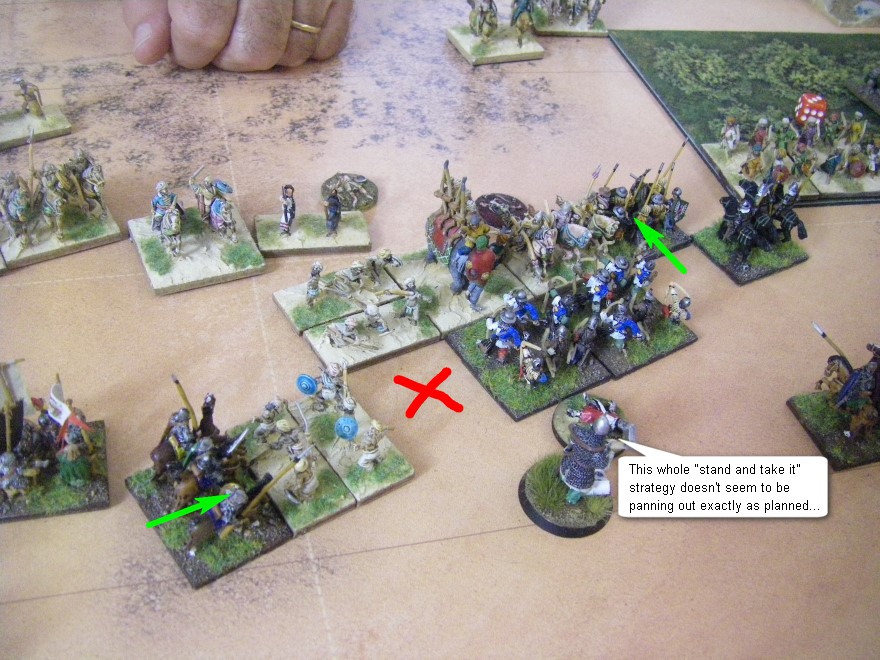 As the combat-crazed Ghazis started to celebrate their victory against the mail-clad knights on foot (actually HI Swordsmen Armour 2HW if you are picky), suddenly their revelry was rudely interrupted by one of the noblemen who had not deigned to dismount and now was riding around the battlefield picking vulnerable targets to lance with his lance at high speed.
The Ghazis were no match for such a product of military evolution, and doubly not so when they were being attacked in the flank after rashly racing forwards in excitement at the speed with which they had removed the English infantrymen from the field of play.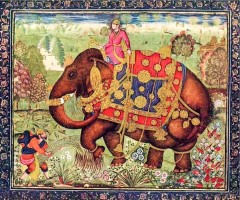 Suddenly this seemed like it may be turning into a very bad place to be a Ghaznavid infantryman - and soon the same appeared that it would be true for their Elephant Corps as well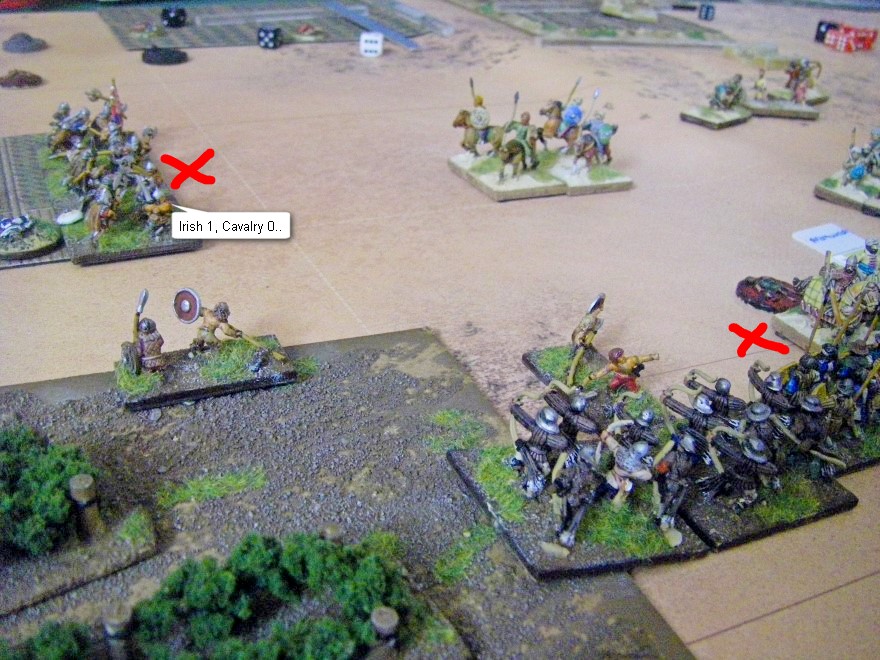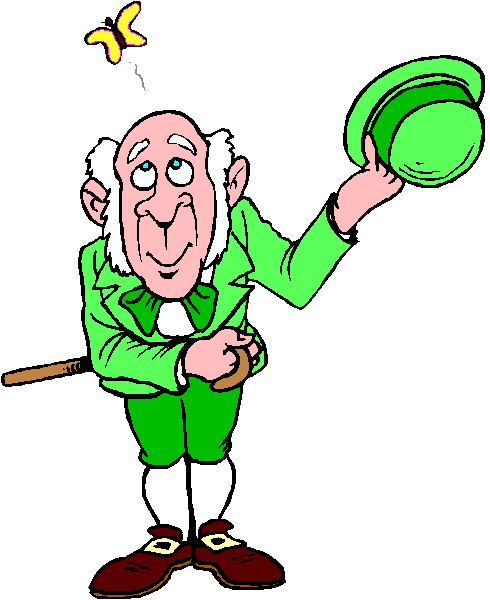 The Fighting Irish had by now repulsed any thoughts the Ghaznavid cavalry might have once had of bottling them up in terrain, and with sheer weight of numbers on their side had stepped forth to drag a long unit of cavalry from their saddles and to their doom.
The rest of the Ghaznavids horsemen had also faltered, condemned to attack formed spearmen in order to support their Elephants they were now paying the price for that rashness by being returned to the box in ever greater numbers.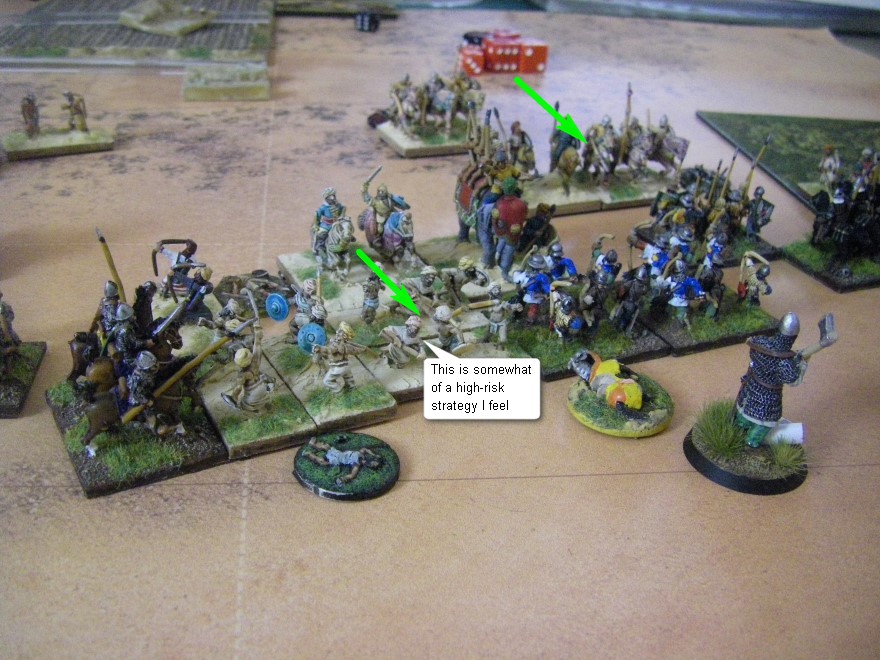 Faced with English knights on all sides, the Ghazis were continuing to fight bravely but the odds remained stacked against them - and, to paraphrase Geoff Goldblum in Jurassic Park, the knights of course knew that maths will always find a way"
Were the Ghazis to fold, the effects would be catastrophic, with a cascade of calamity befalling the befuddled and distracted Ghaznavid forces the like of which had rarely ever been seen before
The Knights bided their time, but the Anglo-Irish commander was well aware that the Longbowmen he was urging not to falter were a pretty vital piece of this jigsaw that the Ghaznavid elephants seemed very keen indeed to lose down the back of the sofa of battle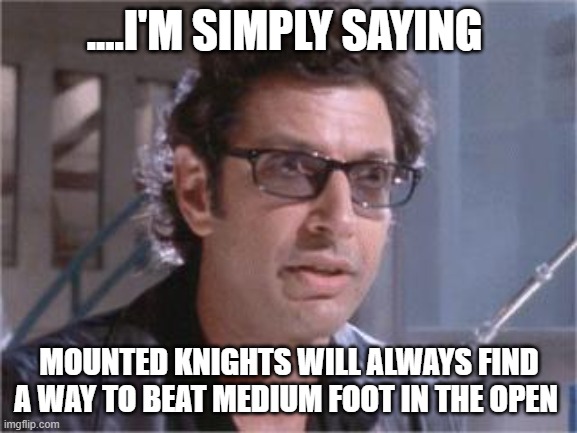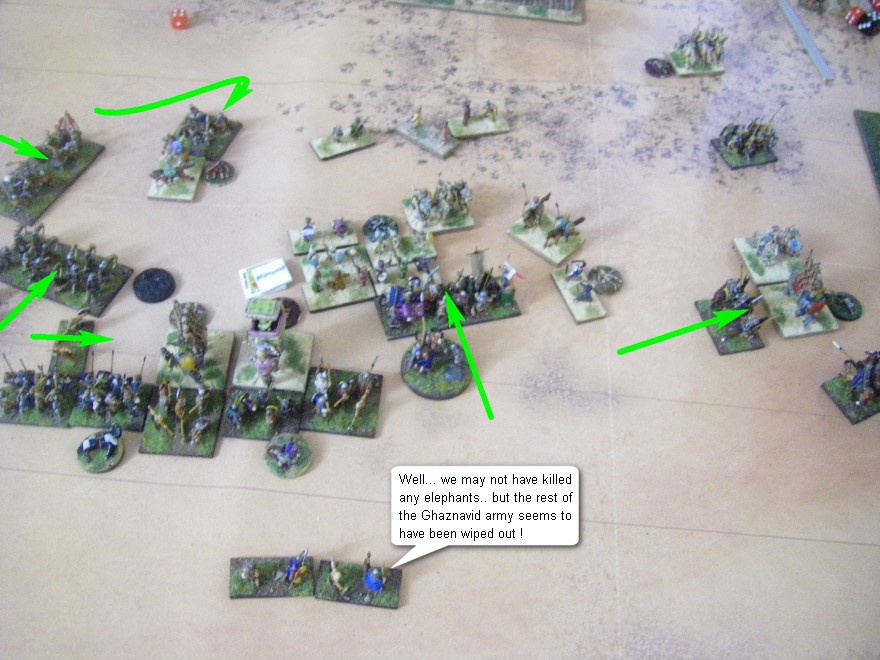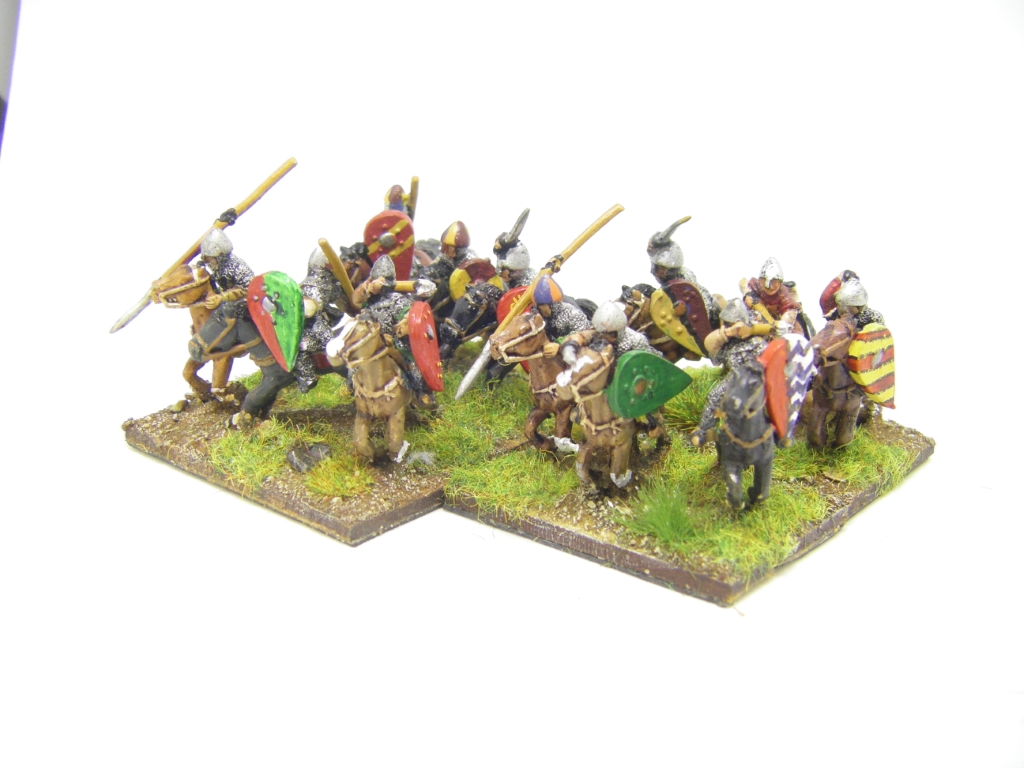 Vinho do Porto Pizzazz! Suddenly, in a flurry of loincloths and naked embarrassment, the Ghazis evaporated under the onslaught of the Knights, leaving the left wing of the Ghaznavid army almost totally bereft of combat troops at a stroke.
On the opposite flank the Irish allied contingent were sweeping forward out of their flank fortress, and combining with longbowmen to eradicate pretty much anything with four legs and no trunk in the Ghaznavid army.
The Elephants still survived, but their forward momentum had been well and truly checked, and now they were being surrounded and picked off, their plaintive wails of injury sounding the death knell for the Ghaznavid army
The Result is a 5th consecutive victory for the Anglo-Irish army, leaving them bizarrely undefeated over the entire weekend, and rendering the Anglo-Irish commander as pleased with himself as this happy chap in an oil painting hanging prominently in the Lisbon Military Museum !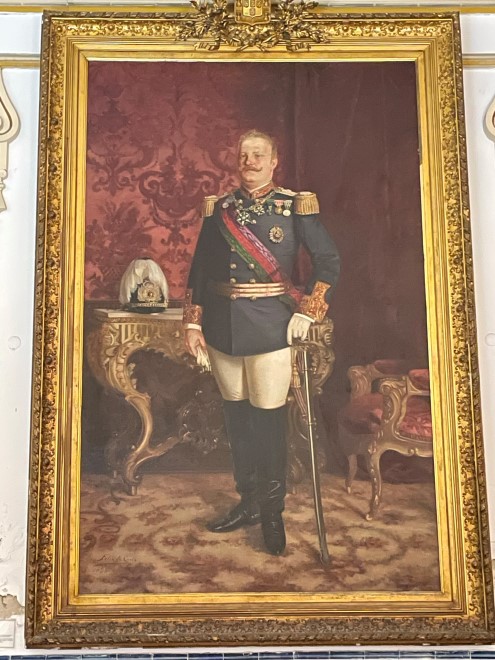 (although unlike the chap in the photo, the Anglo-Irish commander was most definitely 100% sure he was wearing trousers)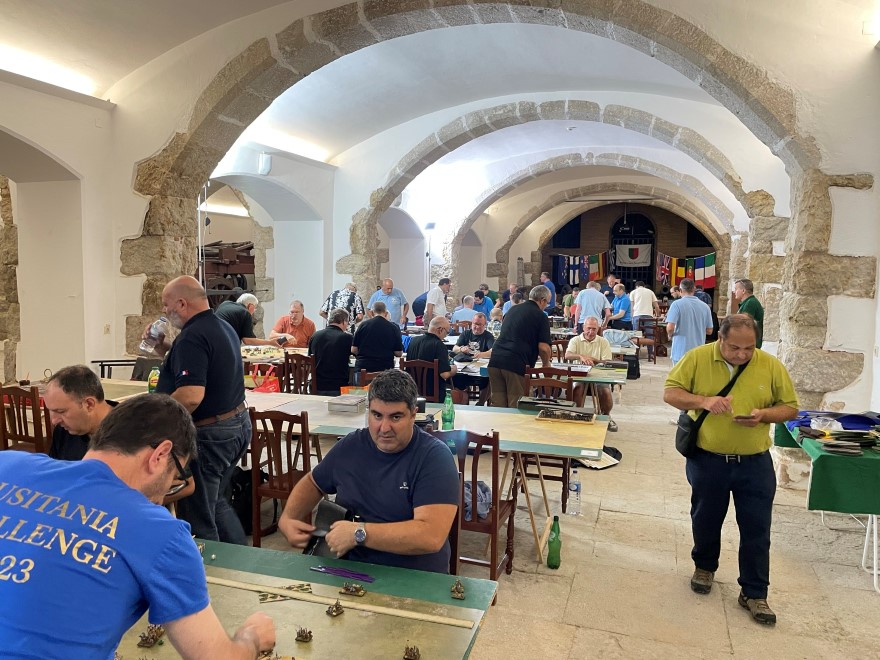 All in all another excellent weekend of wargaming, salted codfish, Superbock beers, red wine, and catching up with old friends from all around the world over the wargames table, alfresco bars, and of course dining tables all across the old town of Lisbon
Many thanks of course go to the fabulous organisers who made everything go swimmingly, the Portuguese MOD for providing lunch in their canteen, and everyone I played for graciously impaling themselves on the rather pedestrian Anglo-Irish army and in the process giving me the opportunity to put so many new and old faithful troops on table together for the first time in ages.
We'll be back next year for sure!
Read on for the post match summaries from the Generals involved, as well as another episode of legendary expert analysis from Hannibal
Post Match Summary from the Anglo-Irish Commander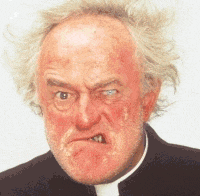 FECKIN ELEPHANTS AGAIN! ARSE! DRINK! GIRLS!
I must say that this occasion fills me with a modicum of trepidation, for, as I stand before you, the victorious general in this little fracas against the Ghaznavid Empire, I feel a certain need to exercise the utmost discretion in addressing such a convivial assembly.
ARSE BISCUITS! WHAT?! KNICKERS! GHULAMS! GIRLS!
It brings to mind an anecdote, if I may digress momentarily. One is reminded of the time young Bertie Wooster found himself entangled in an escapade involving a stolen cow creamer, the perfidious Aunt Agatha, and a somewhat disgruntled police constable.
In that instance, as in this campaign, the pursuit of an elusive prize necessitated a deft combination of shrewd calculation and the finest of teamwork, for, as we all know, "teamwork is what makes the dream work".
FECKING TOILET DUCK! TROPHIES! GIMME A DRINK! FECK! ARSE! GIRLS!
Thank you, and may our victory be celebrated with the elegance and grace that would be expected in the finest drawing rooms of England.
---
Hannibal's Post Match Analysis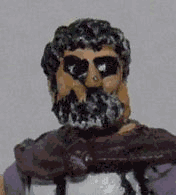 Ah, Father Jack, thou hast somehow managed to eke out a victory over the Ghaznavid elephant horde. An accomplishment, I suppose, though I must admit, I am quite astonished that such a task was entrusted to one of your, shall we say, befuddled state.
"It must have been a daunting challenge for one of your... condition to handle such lumbering beasts. I daresay, were I in command, my mastery of elephants would have secured a far more decisive victory
Indeed, my dear Father,my expertise in the handling of these magnificent creatures, honed in a past life, would have turned the tide of battle in an instant. The elephants would have danced to my command.
So, Father Jack, I, who once marched elephants across the Alps and struck fear into the heart of Rome, do extend my reluctant congratulations for this most curious triumph over the Ghaznavids. Perhaps one day, you shall come to understand the depth of my superiority on the battlefield, even inebriated as you have been all weekend here in Lisbon !
Add your comments on these reports on the following forums
That's the end - so why not go back to the Match Reports Index and read some more reports?
You may also like....
Game 1 Anglo-Irish vs Nikephorian Byzantine
Game 2 Anglo-Irish vs Hindu Indian
Game 3 Anglo-Irish vs Konstantinan Byzantine
Game 5 Anglo-Irish vs Ghaznavid
View My Stats for My Match Reports Pages