Biblical at Warfare 2022
Achean (Mycenean) vs Ancient Hebrew
Game 1 Achean (Mycenean) vs Zhou and Spring and Autumn Chinese
Game 2 Achean (Mycenean) vs Ancient Hebrew
Game 3 Achean (Mycenean) vs Ancient Bedouin
Game 4 Achean (Mycenean) vs Assyrian Empire and Sargonid
Game 5 Achean (Mycenean) vs Syria, Canaan and Ugarit
Game 2 and the Hebrews were lining up for a crack at the wall of spearmen with little else that was the Achean army.
The lists for the Achean and Ancient Hebrew from this game, as well as all the other lists from the games at Warfare can be seen here in the L'Art de la Guerre Wiki.
The Hebrews have a pretty good range of well-drilled stonking chariots, and sensible supporting infantry as well. Many of the Biblical era armies can also be livened up with the addition of a number of interesting allies, and this Hebrew list was no exception with an Phonecian contingent as well to up the Heavy Chariot count to 9!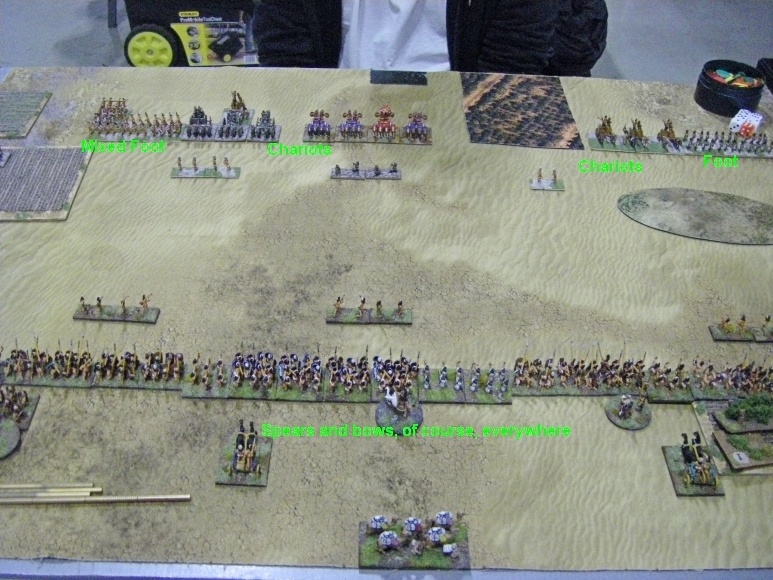 This time the table had fallen far more open than in the first round, but even so the sheer intimidation of the Acheans width was in evidence leaving the Hebrews no doubt somewhat mind-boggled by the vanilla host arrayed before them
Again the Pylians were in the centre and were braced for impact against a charging host of heavy chariots
Either side of the deep block of spearmen were, erm, yet more spearmen interspersed with archers, with penny packets of Achean chariotry acting as floating reserved lurking behind the near-solid line of anti-chariot forces and their cow-hide shields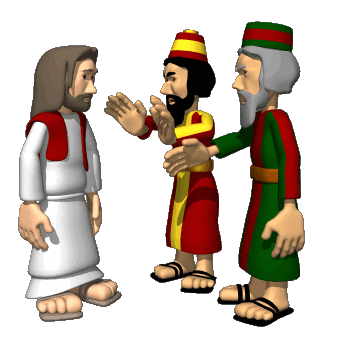 I can't believe we've not had a look-in so far! I mean, how much more Biblical can we get ?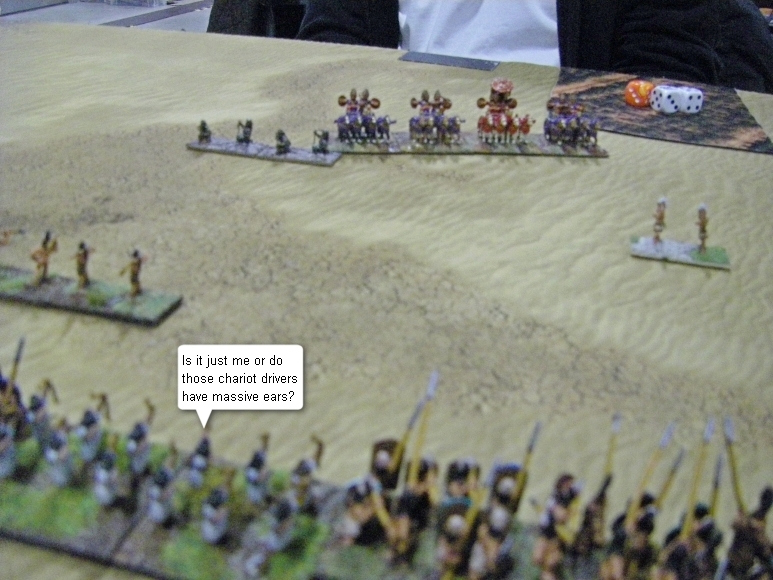 The Hebrews started off in the far distance, lost in the desert mists (or slightly out of focus due to hurried photography).
From this range they could almost be mistaken for Assyrians...!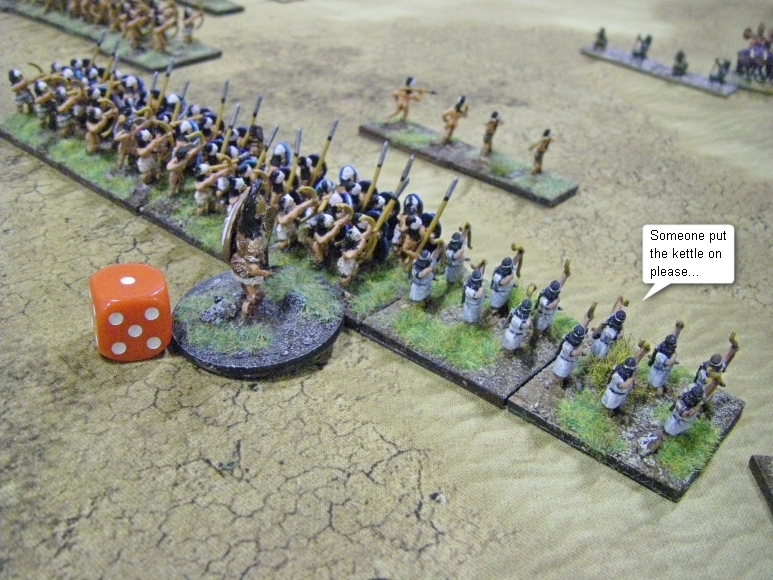 A-hah! Nestor didn't fancy this one clearly, as his command elected to be unreliable for this game.
With the centre of the army unable to press forward, the Achean force would have to be even more static and linear than usual in this game until the Pylians rejoined the party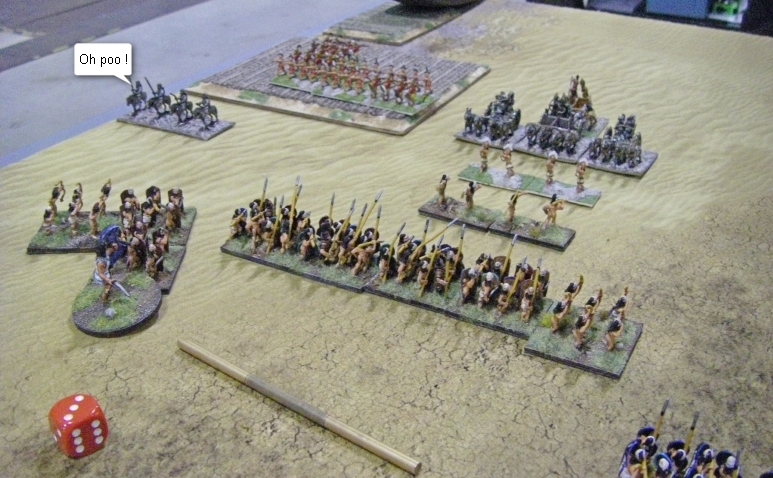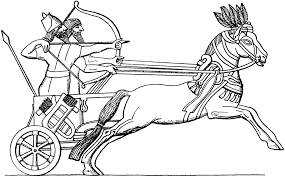 Achilles however hadn't read the memo, and spotting a target had raced out to the flank to try and charge down a huge formation of Hebrew archers lurking in the terrain.
To protect his flanks the bulk of spearmen under his command also then found themselves dragged forward to try and engage the enemy on their own terms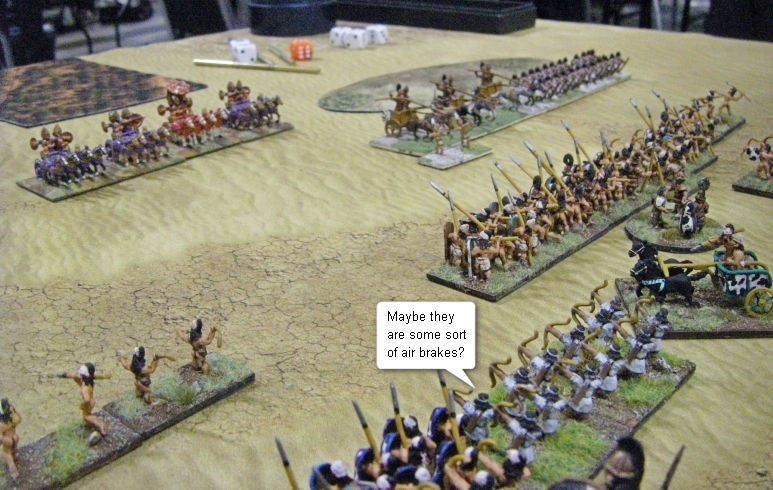 The opposite flank of the line of spearmen was resting gently in thin air, as a lack of planning and poor memory had ended with the army not quite filling as much table as hoped once it was fully deployed
Spearmen were successfully facing off against Hebrew chariots, so not all was lost - but the end of the line saw a load of well coordinated generic biblical men with sticks advancing in neat formation against a flank defence that barely existed in any meaningful fashion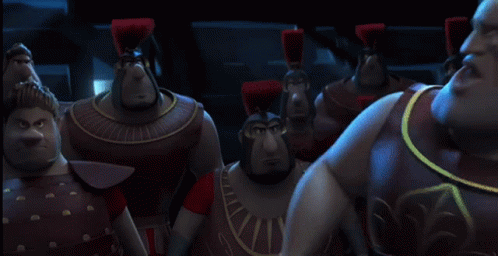 Anyways, with the army in a line, outflanked, and with the best units not yet deciding to join in - what could possibly go wrong?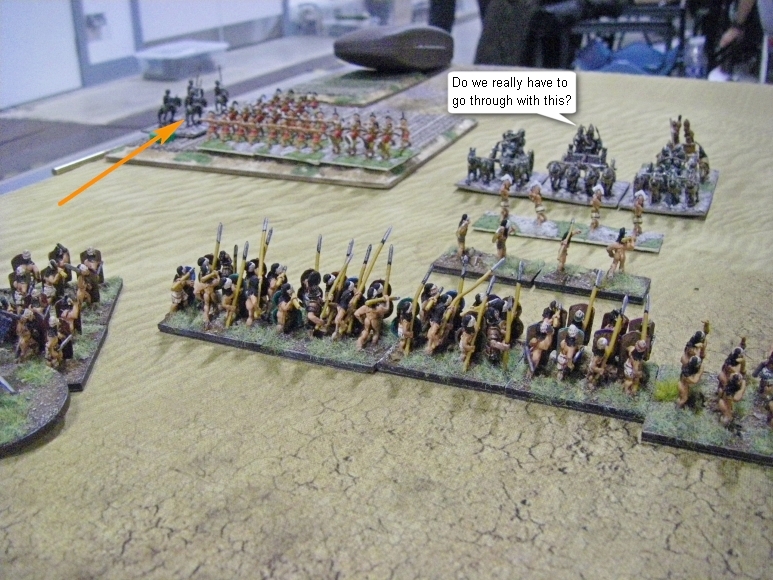 Achilles' advance had driven back the Hebrews half-hearted light cavalry force to behind their infantry, teeing up this flank for a quality vs quantity scenario in which the Achillean infantry would need to be on their best behaviours to prevail.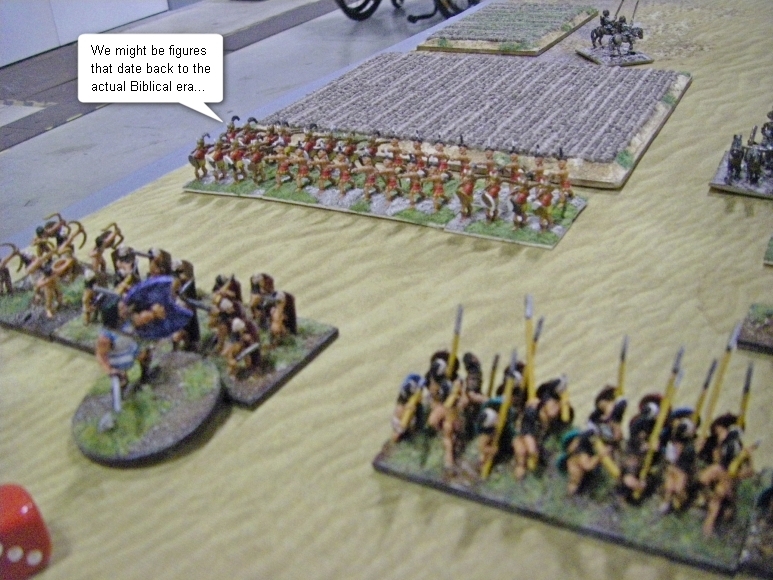 The Hebrews were clearly of the quantity beats quality variety, as they stepped smartly forward out of the terrain to impose their will on Achilles and his men.
With chariots lurking dangerously, the Acheans would now need to get forward quickly to be able to take on the Jewish swordsmen with both Achilles and the standard spearmen in order to address the numeric imbalance
Would this be another one of those cases when a good performance in the previous game would lead to a high profile unit becoming over confident in this one ?
Achilles rushed up to a field,
Keeping (of course) his eyes peeled,
For Judeans with swords,
And some harsh, cutting words,
Which might well leave his blood much congealed!
(Homer, The Silly-iad)
On the open wing the Hebrews were pushing forward aggressively with their chariots to try to fix the static Acheans in place while their foot worked the flanks
But, with so many units to move, the Hebrew's careful attempts to move forward while not getting close enough to Nestors Pylian command to trigger their return to the game suddenly stuttered and faltered - a lone unit of light infantry carelessly popped forward through the chariots, ending within the required distance of the Pylian archers and thus bringing Nestor back online!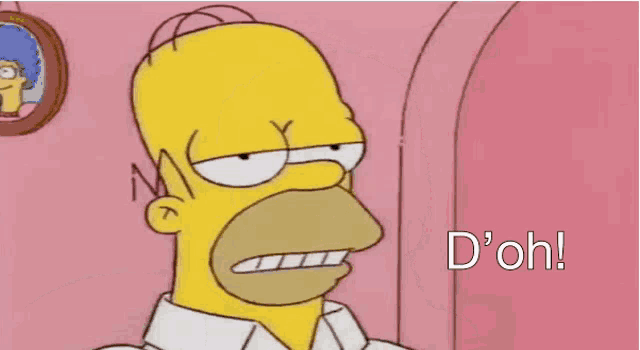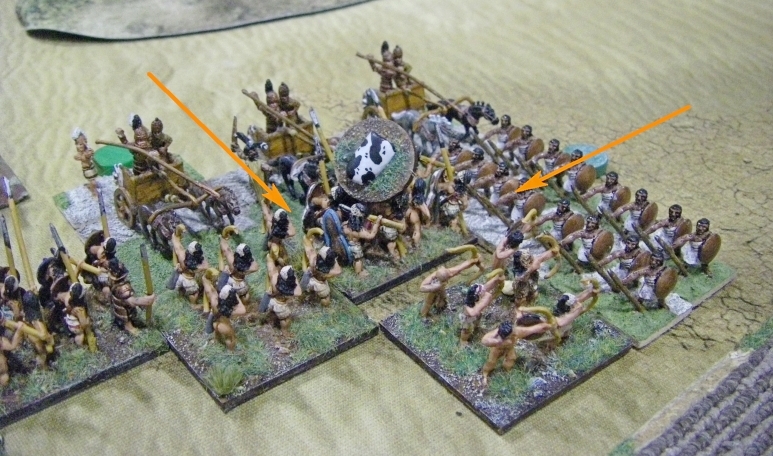 Anyways, the Hebrews were now even more committed to their plan, and flowed around the hanging end of the Achean army like Red Sea water to cause the spearmen and archers of untold levels of martial consternation.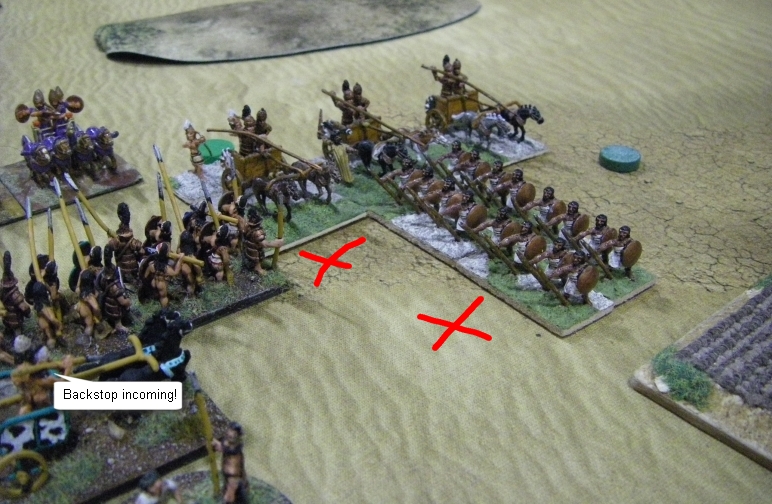 Diomedes Deadly and Diptheric Dinosaur Spaghetti! That didn't last long, did it?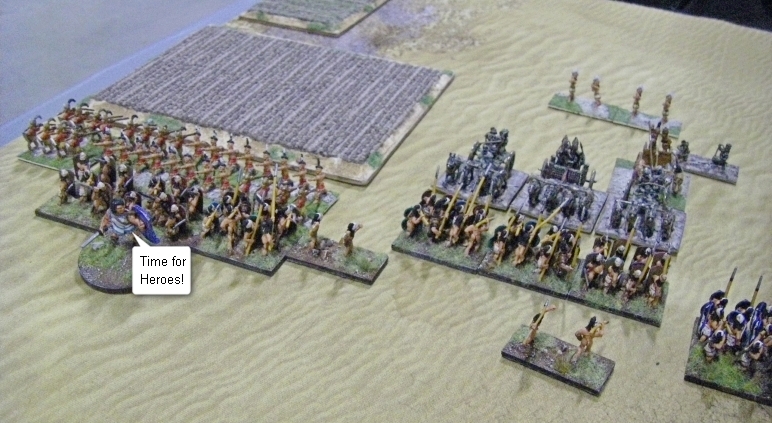 On the opposite flank the Achean plan was going much more in line with the plan - mainly as they had managed to maintain a proper line in the first place!
With Nestor now stepping up smartly too the Hebrews chariots found themselves isolated and facing the unenticing prospect of having to charge home unsupported against a solid and coherent line of spearpoints
(at this time it would be normal to suggest that the butts of their spears were planted in the ground. But these figures have a lot higher butt-count than can be accounted for simply by enumerating their spears, so in order to avoid unfortunate misunderstandings I've ducked that one this time around)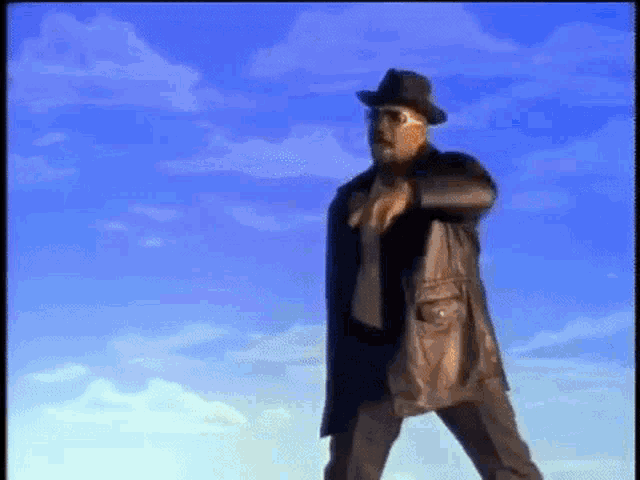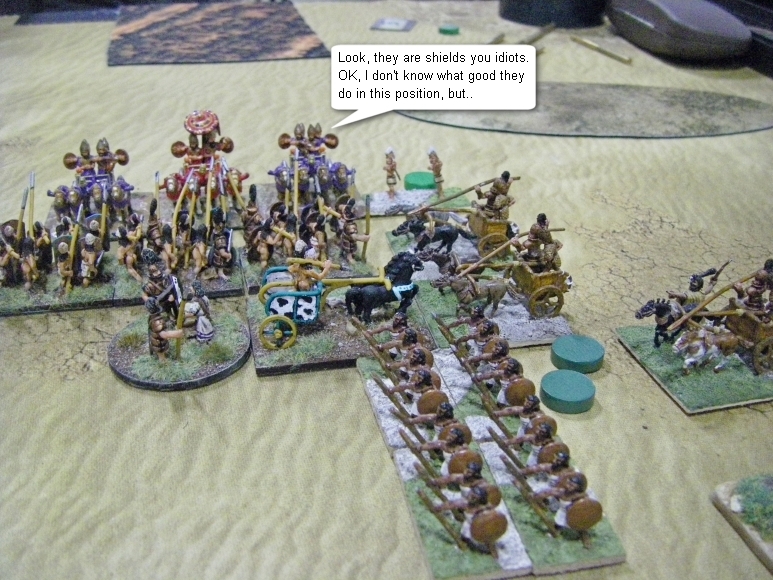 This army may well have been very light on the number of chariots, but it seemed that those who were included were intent on making a name for themselves - even when their role was to shore up a disaster caused by lack of attention to hanging flanks.
The Achean army had seemingly lost enough men on this flank for one day, and they were now digging in to stop the problem getting any more serious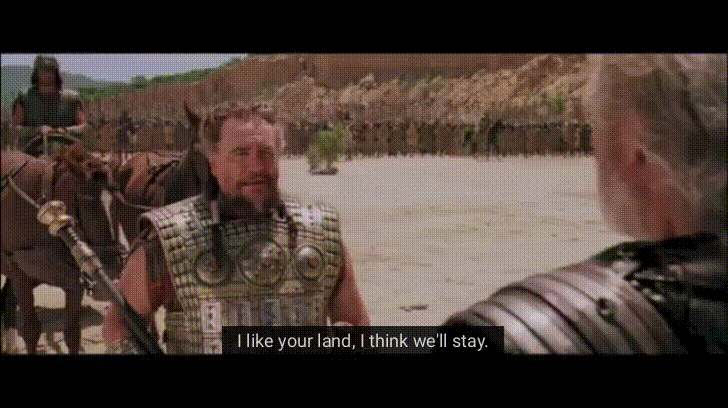 How Does This All Work Then?
The Achean command on the right here was really designed to sit a bit closer to some congested terrain to anchor it's flank, possibly chucking the 2 LF into a wood or a mountain to hold up anyone trying to push through. With nothing to talk of on this side of the table it has ended up extending itself towards the flank with a Chariot and the half hearted light infantry, and has soon been overwhelmed in this battle by a robust attack. Its makeup is as follows:
3 Heavy Spearmen
1 Heavy Spearmen Pavise
1 Light Chariot Javelin
2 Bowmen
1 Light Infantry Javelin
1 Light Infantry Sling
Frank, Ordinary General
The theory of Bow + Spear + a reserve of 1 LCh to fill any gaps is the same as Nestors command
The one Spear/Pavise chap is there to soak up a spare point, as I couldn't find anything better to do with it.
Points are spent on troops, not command, with one of 3 Ordinary Generals running this little lot. If the command is 6 wide and has a plan to inch forward and wait to be attacked there's more call for more troops to throw into the meat grinder than there is for expansive command and control capability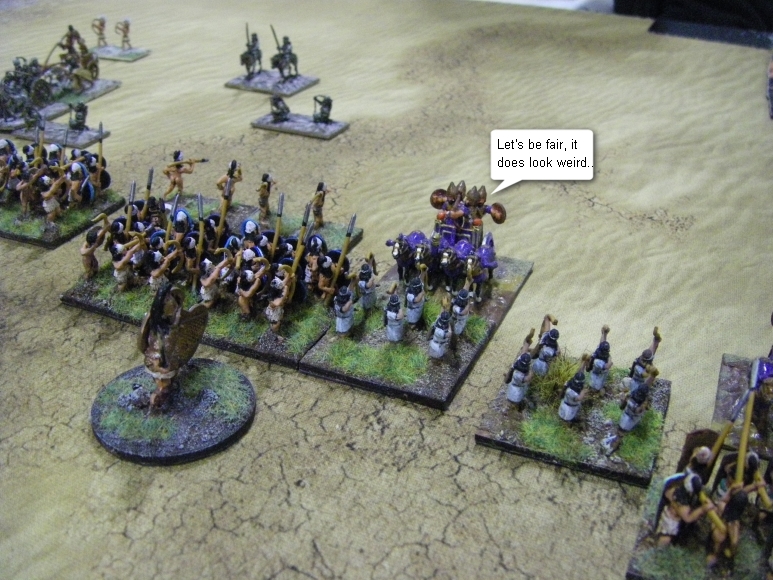 The slow-to-join Pylians were almost the sole occupants of the table centre by now, with only one enemy Chariot looking to play with them.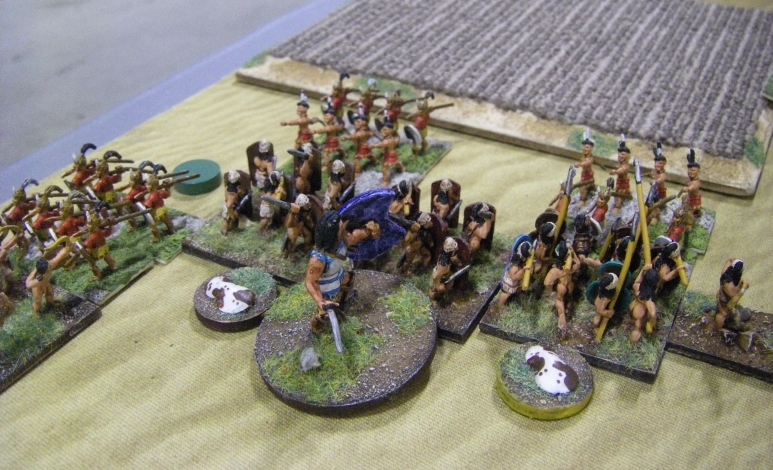 Achilles meanwhile was busy doing his thang, hacking his way through a lump of Hebrew infantry and singlehandedly trying to restore the balance in the universe by offsetting the losses being experienced on the opposite flank.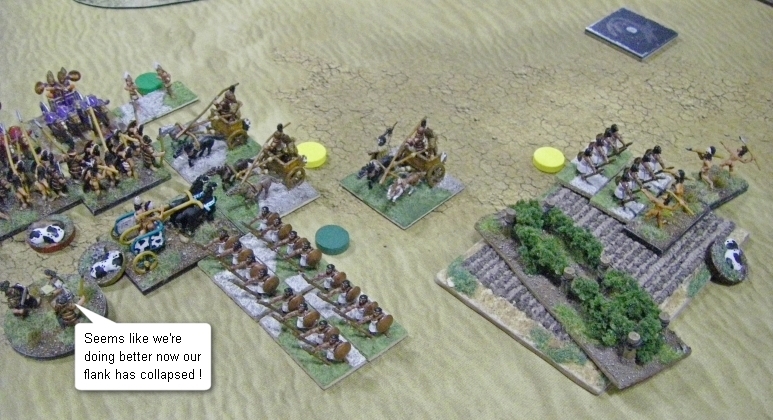 Hector's Hairy Handwarmers! Despite the increasingly numerous Hebrew formation dance troupe members hacking away at their right hand end, the right wing of the Achean army were continuing to fight like a tribe of double-bass case holding demons as they rebuffed every attempt by the Hebrews to exploit their tactical advantage.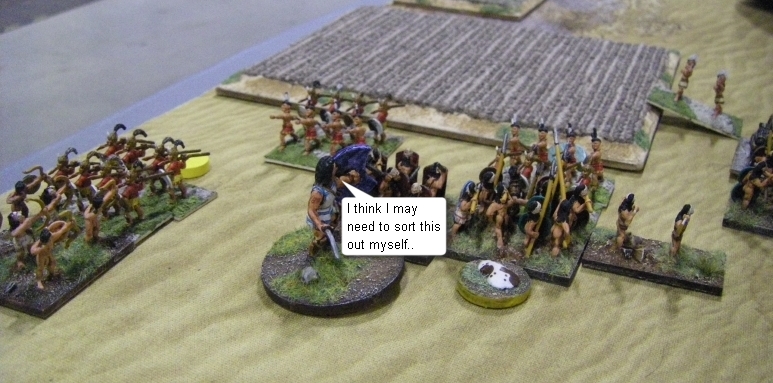 Even Achilles was starting to struggle, with half of the Myrmidions cut down by the Hebrew-onic forces and their close formation synchronised swordsmanship - but at least here gaps were appearing in the lines of the enemy, giving hope for a decisive strike before attrition could take its toll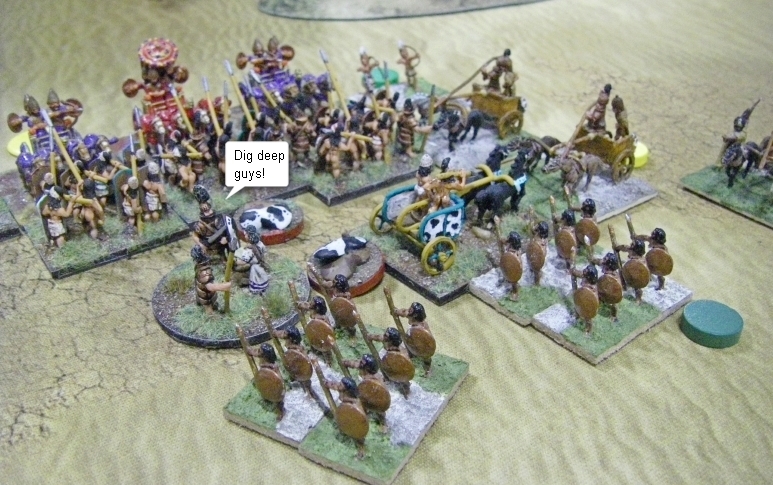 Unfortunately heroism only goes so far when faced with insurmountable odds and a terrible tactical and strategic situation
The forces of the Talmud were now in position to strike a devastating blow to Achean pride and send the broken remnants of the spear line running back to their fleet of boats at this end of the battle line
Swarming like flies seeking out over-ripe kosher meat products the Hebrew army overran the brave resistance of Mycene's chariots and spearmen to start to smash this flank into tiny little pieces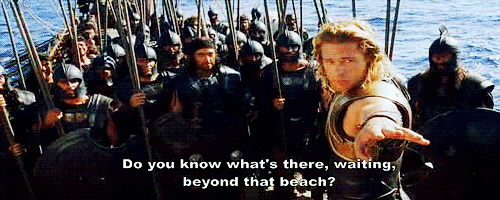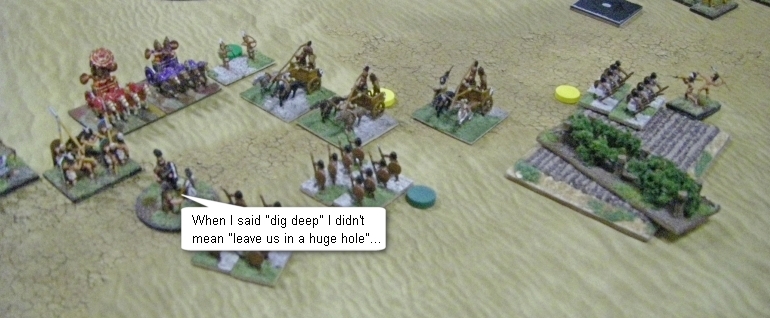 After standing up for so long, the Acheans suddenly imploded under the multi-faceted Hebrew assault faster than a newly-toasted bagel can absorb butter, leaving the Judean forces in sole possession of almost half the table - and more importantly, pretty much bereft of any further opponents in the immediate vicinity!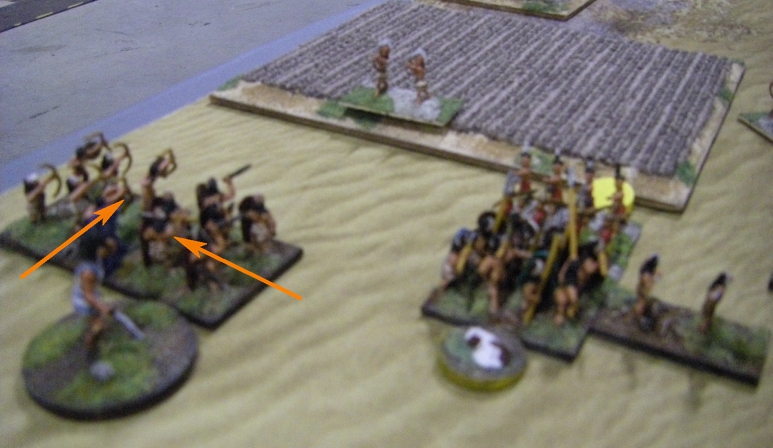 The somewhat blurry Silly-iadic forces of Achilles and his gang of eager little helpers were making equally efficient strides in their elimination of Hebrew infantry on the opposite flank, balancing the battlefield in a symmetrical fashion with both sides sweeping all before them on different wings
The last vestiges of Hebrew resistance were about to be double-bass'ed to death by the grinding persistence of Homeric-era spearwork as Achilles himself led his remaining Myrmidions to a decisive victory against the flank of some already-engaged enemy foot warriors
A Great Tale got told on this blog,
Of some Hebrews who went the whole hog
Their troops came to grief,
Like a side of salt beef,
In a party at the synagogue!
(Homer, The Silly-iad)
Ajax' Alarming Anderson Shelter! Losses were mounting up with alacrity for both sides as defeat loomed ever closer - the question was really whether anyone had any enemies left close enough to their troops to actually kill!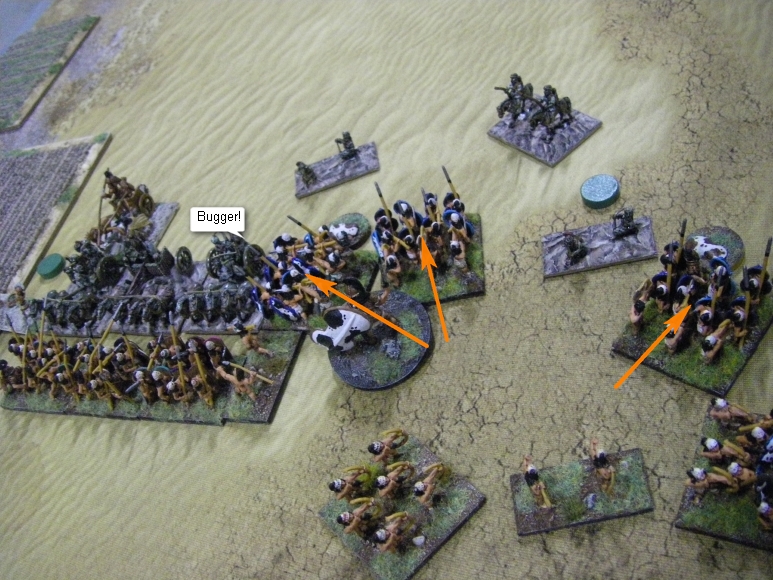 But, late to the party they may have been, the Pylian spearmen were finally getting themselves into exactly the sort of position from which casualties could most certainly be inflicted on the opposition
Allies of the Hebrews, the Phonecian chariots, dark and foreboding though their paint scheme may have been, were transfixed in front of the almost unassailable wall of Achean and Pylian spears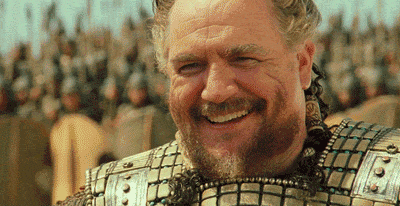 Nestor sniggered at the opportunity like a 21st century media mogul choosing his least incompetent offspring to take over his empire, and then urged his men forward, teeing them up for a crushing flank attack on the fearsome and now fearful enemy battle carts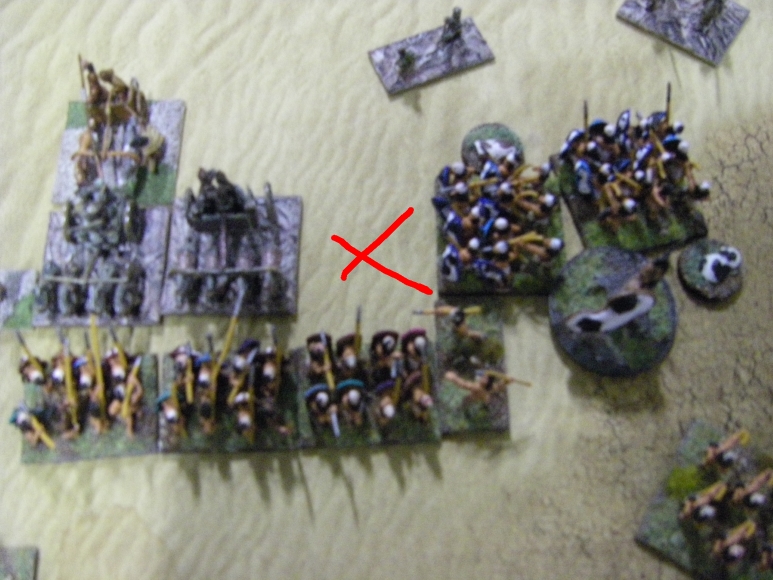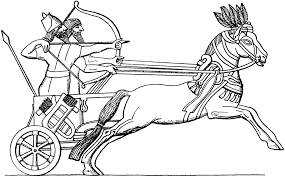 The Pylians attack was swift and brutal, erasing the Phonecians from history and consigning them to a return to the maganabase-encrusted dungeon which no doubt passed as the pre-Lebanese equivalent of Hades at double-quick speed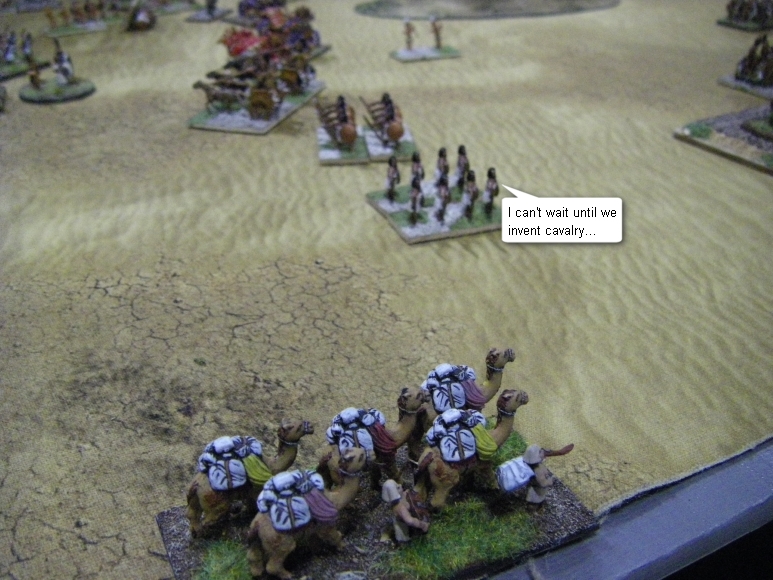 The Achean army had conceded its entire right flank to the rampaging Hebrews, but their victory here had been so complete the Hebrew forces had found themselves bereft of further opponents, leaving only a long-distance trek to take the Achean baggage as a sensible option
But, time, distance and the huge volume of men in the Achean army had in the end conspired to render this a thankless and baggage-capture-free endeavour, with the Hebrew army being overwhelmed by the more numerous Acheans right at the death!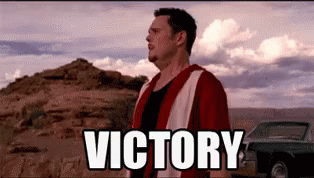 The Result is a narrow 82-28 win, with 26 losses out of 28 (more than the Hebrews entire 24-strong army!) incurred.
Click here for the report of the next game in this competition, or read on for the post match summaries from the Generals involved, as well as another episode of legendary expert analysis from Hannibal
Post Match Summary from the Achean Commander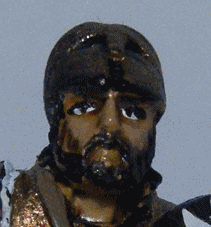 What a wonderful victory, achieved in the best way possible of toe to toe grinding fighting, sweaty bodies pressed against horseflesh and leaving much blood in the sands of one of Rafa's playing finest mats?!
The Hebrews looked clever, but in the end they were yet another Biblical army made up of Chariots and Nonsense, and my brilliant idea of having a lot of stuff that's pretty good against Chariots seems to have managed to knock a big hole in the enemy's ability to think past just throwing the Chariots at an opponent and lurking about with the Nonsense
I will go from here to bring news of the capture of bagel-making technology back to Greece, as frankly I never liked that flatbread stuff all that much anyway. It was all too, well, flat for me really
Perhaps in honour of the victory though I shall decree that all Mycenean bagels need to be made with only 3/4 of a circle, to represent the broken chariot wheels of the Hebrew host which led me to own this culinary sandwich-making technology?
---
Hannibal's Post Match Analysis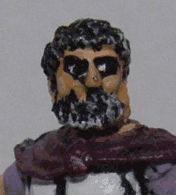 Forthwith, then, I first bade propitiate the god of false victory, but thereafter anger seems to have seized you, son of Atreus, and straightway the gods arose and spoke more than a threatening word, which now has come to pass in this sobering, skin of the teeth victory.
Ah, my child, why did anyone rear you, cursed in their child-bearing that they were? In a game in which Nestor decided to take a break, you immediately ditched the plan you had laid out in writing and advanced the wings out of safety in some weird obsession with attacking with your defensive army?
Even when you had planned it, you seem obsessed with dashing all chance to fulfil your plan in your desire to put your back foot men on the front foot at all times. I beseech the Gods themselves, ward off now from the Danaans the loathly pestilence of your existence!
If you cannot remember what you did this morning, surely your span of life will be brief and will endure no long time; and now you are doomed to a speedy death and are laden with sorrow above all men - lets see if that sorrow will continue in the next game shall we?
Click here for the report of the next game in this competition
You may also like....
Game 1 Achean (Mycenean) vs Zhou and Spring and Autumn Chinese
Game 2 Achean (Mycenean) vs Ancient Hebrew
Game 3 Achean (Mycenean) vs Ancient Bedouin
Game 4 Achean (Mycenean) vs Assyrian Empire and Sargonid
Game 5 Achean (Mycenean) vs Syria, Canaan and Ugarit
View My Stats for My Match Reports Pages