Godendag Field of Glory Doubles 2008
Part 2 - Carthage vs Pontus
Game 2 after a short sharp lunch saw us facing Nik "I'm a doubles team honest" Gaukroger and his Pontic army. His list is available for your perusal here
Again we opted for a developed terrain set up, and again we managed to deploy the nice North African dwelling and some palm trees (hoorah!).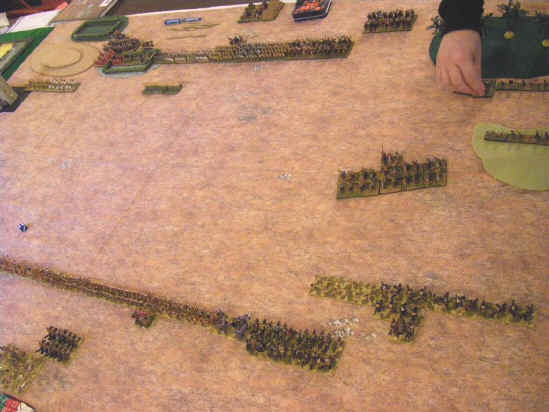 However the terrain mostly fell in rather inconsequential places, leaving a large gap in the middle of the field (of glory I suppose...). As we had no real idea what was going to be in Niks list, we selected the usual spear-based center, and massed most of the cavalry on our right, and most of the loose formation troops on our left.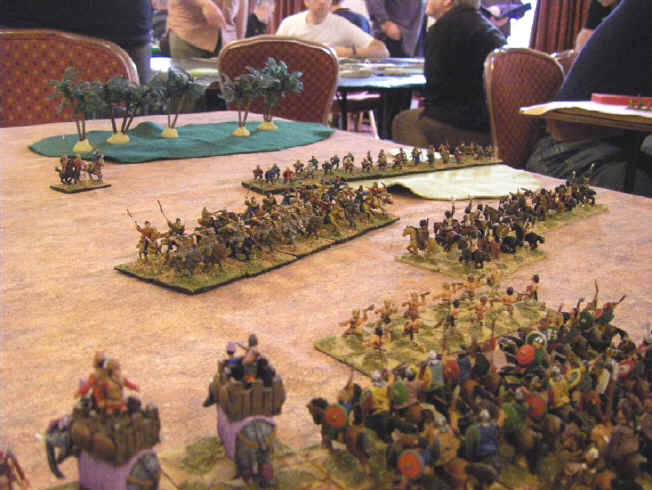 As it turned out, Nik also had a large contingent of mounted and foot skirmishers and we were soon embroiled in a sharp exchange of javelins, arrows and slingshots on our right.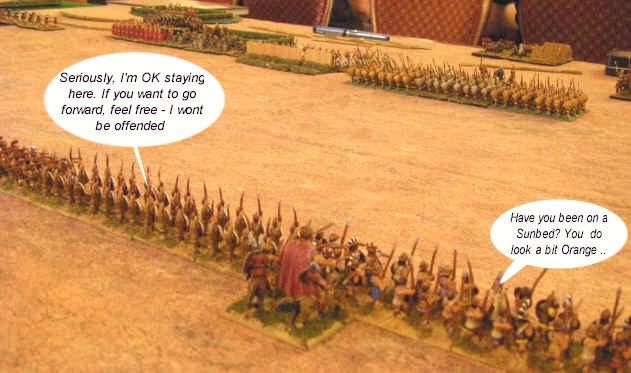 My colour balance was going haywire as I struggled to reconcile the new camera with the rapidly changing late afternoon Welsh lighting conditions, and with their commander otherwise engaged, our spear line decided that they didn't really fancy taking on Niks pikemen too early in the game, and held back.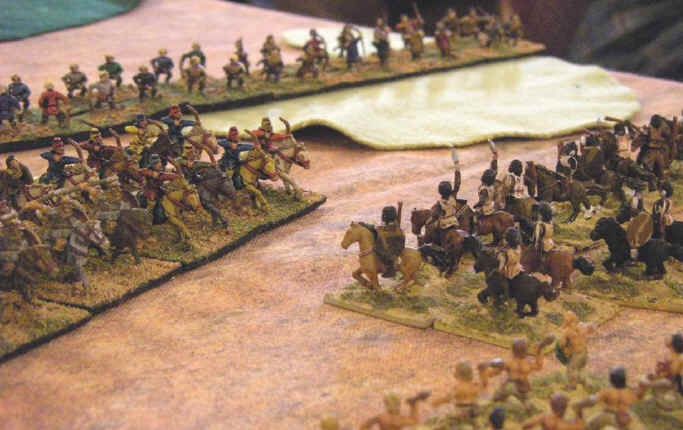 At Last! A decisive breakthrough on our right as the white balance finally clicked into place! I could now concentrate on the game again!

The Pontic army was in a quandary - they had brought along some fortifications, but as we refused to advance they had to decide whether to leave them behind or sit and stare us out from across the field.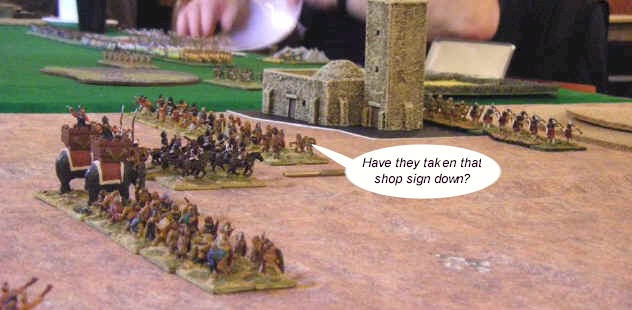 On our left the surprising number of light and light-medium infantry in the Carthaginian army was unnerving the Pontic skirmishers, who quickly turned and sought refuse - sorry refuge (they were themselves a bit rubbish though, so maybe I was right first time and hey were looking for some friends) in (our) village, hoping to create space for better equipped reserves to take their place.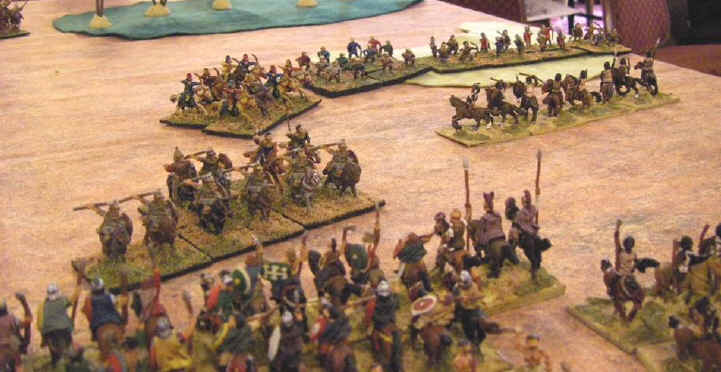 Meanwhile on the right flank, things were turning our way as our massed Gallic cavalry force charged at the clouds of Armenian and Pontic skirmishers, forcing them to evade (yes, evade moves....wooohoo... and they do have a variable component to the move, so get close and you can catch the little b-ggers too - which really hurts!!) and creating space for our own light horse to chase them even further away. Both wings were starting to look good for us....
But by now the Pontic general had summoned his Armenian allies, and their powerful cataphract formation was swinging into place on our left, supported by their imitation legionaries. Even as imitations, they were still scary enough - would we be able to improve our unit coordination and get our elephants into their cataphracts, or would the log-jam of units count against us as in the previous game....?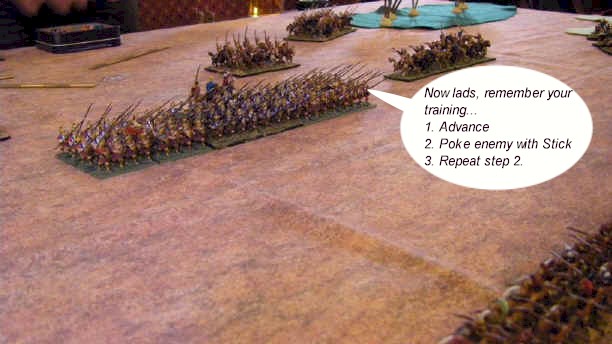 With their left flank protection looking like it was eventually going to crumble under the weight of our Gallic and Numidian cavalry, the Pontic pikemen decided they only had limited time and commenced a rapid march forwards, calling up some of their own cavalrymen to ride wingman (this double-march malarkey is only possible if the enemy troops are a fair distance away) and hopefully stave off our barbarian horsemen long enough for the pikes to do a number on our relatively ineffectual spearmen.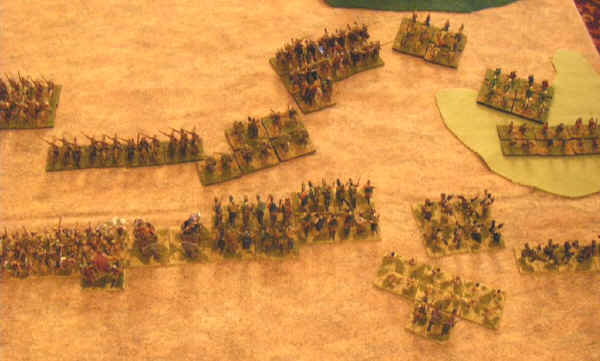 As the two lines closed, this top down view shows the right flank with the Pontic skirmishers melting away to be replaced by their heavier cavalry as our Gallic horsemen advance supported by elephants. On the far right the Pontic skirmishers have retreated to the safety of a palm grove as our Numidians circle menacingly outside.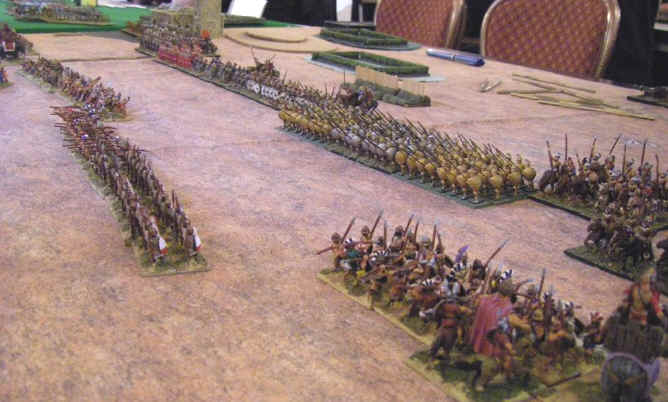 We were by now pushing forward strongly on both flanks, and despite their reluctance our spearmen in the center were dragged along by the inexorable forward momentum of the rest of the army. As much as they wished to avoid fighting pikemen, they also recognized the need to prevent the Pontic central forces from turning outwards and and crushing both of the "insides" of our two flanks. So, with this tactical thought on board, together with a large element of "well, we won't learn the rules by not fighting, lets see what happens" (plus 3 pints of lager) the spear line lurched forward.
Things had paned our well on our right, with the Pontic heavy cavalry in the wrong position to take on our Gauls and instead facing spears and elephants. They were forced into some desperate reshuffling to make space for their trapped skirmishers to escape our inexorable advance (units - or battle groups - basically move by wheeling, with a little sideways shuffling allowed to make sure the game doesn't get too bogged down in a traffic jam over the odd millimeter).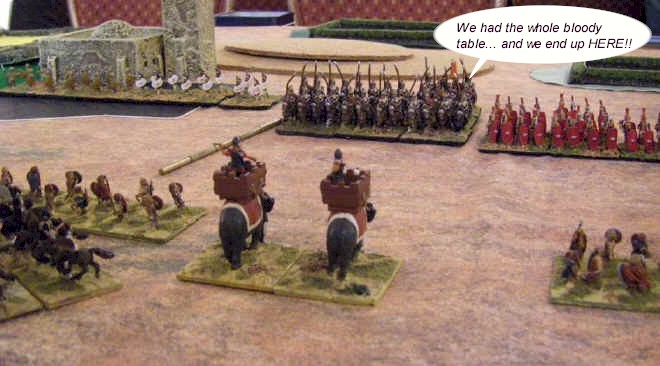 Likewise on our left Adam had managed to tee up the elephants nicely, and the Armenians were debating whether their appointment to allied mercenary service (yes, allied contingents are allowed - sometimes with their own generals who personally command the contingent and cant influence other troops. Its almost like it makes common sense eh? ) in the Pontic army was going to prove a career limiting move.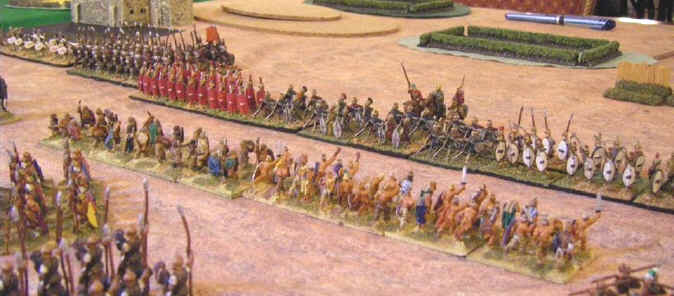 Nearer the middle of the Field of Glory (cheesy yes, but it help no end with the Google rankings...) things also looked good, as our densely packed Gallic tribesmen were bearing down on the looser formation Pontic peltasts - we also had support coming up from behind (having troops in reserve just behind makes your men more confident and better able to pass morale tests - so having reserves is useful) in the form of more well-drilled Spaniards (the blokes with colourful shields from the last game).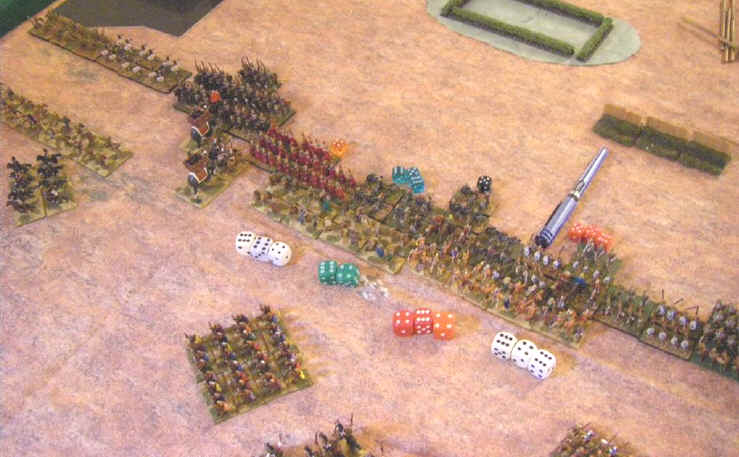 The two battle lines clashed and we found ourselves in combat all along the line - the initial impact was traumatic for the Pontic army, with the two sets of Carthaginian Gallic mercenaries dishing out 5 or 6 hits each and taking less - the imitation legionaries in particular suffered a real battering (do you get it - "imitation" legionaries, "real" battering.... oh never mind...). (Combat splits into "impact" and "melee" phases - every troop type has different combat factors in each phase based on both their arms and skills and those of the troops they are facing. Troops with good impact ratings are good in the initial charge, whereas those with good melee ratings gain the edge once the battle shifts to a session of toe-to-toe slugging it out. If you have an advantage in either phase over the troops you are facing, you score "hits" with lower numbers, if you are disadvantaged you score hits only by rolling higher numbers).

Back over to the right and the Gallic cavalry, urged on by the Big Man himself, Hannibal, had driven off a pack of light horsemen who were plugging a key point in the Pontic lines. As the Pontic cavalry started to charge Hannibal quickly flicked through his set of rules and discovered that he could command his mercenaries to keep charging forwards and intercept them - catching the disgruntled Pontic horsemen in the flank (this is A Very Bad Thing in FoG), who had been hoping that Hannibal might have overlooked the section on "intercept charges" in the heat of battle. (This doesn't seem to happen too often, but I suspect it's partly a game balancing mechanism to stop the "our cavalry charge further than your infantry so if we stand out of your charge range we will always have the drop on you" thingy. Maybe.)
On the left the Pontic line was starting to show signs of serious structural failure, as the morale and cohesion of the legionaries and cataphracts in particular was on the slide under the sledgehammer blows of the Gallic warband and the feet of the elephants. (if you lose a round of combat, you take a morale test. If you fail it, you will be rolling roll less dice next time around. A general can sometimes try and rebuild a units morale - as long as he's not busy doing other things - but of course, if you've been paying attention you knew that already!)
On the right, the Intercept Charge struck home as the elephants chased off the rest of the severely unhappy Pontic cavalry. (hitting someone in the flank is very hard to engineer unless the opponent makes a mistake, but its very effective!!!)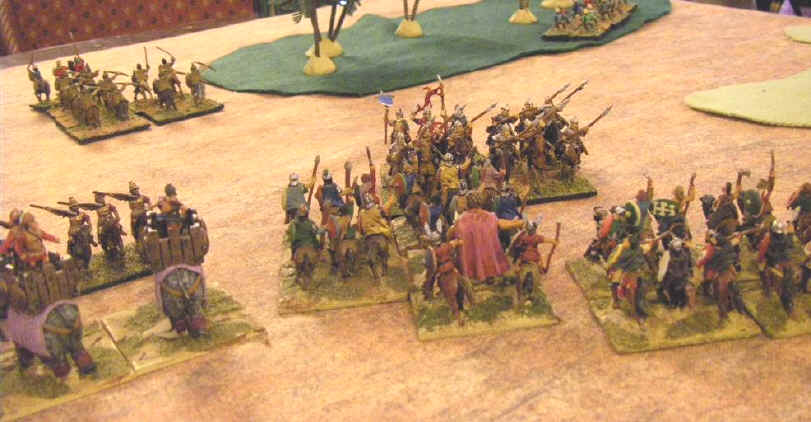 The Pontic cavalry fought bravely, but their numbers were rapidly whittled away as the Gauls followed up their advantage, comforted by the reassuring presence of Hannibal behind them.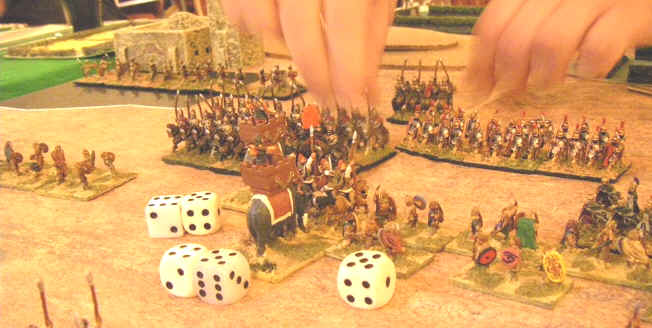 The desperate struggle on the left suddenly took a turn towards Carthage, as the Gauls, who had suffered a few setbacks after their initial success and who were now being personally led by a general in an attempt to keep their morale together, finally broke the Imitation legionaries - now all attention and effort was turned to the cataphracts and the peltasts. (Once troops are in combat, there's no "pushing back" of units or bases - they stay in place and the combat tilts one way and the other as either side's morale and cohesion degrades or is patched up again. Not having troops actually make any pushback or follow-up moves is one of those "of course - that's a brilliant idea - why didn't someone spot that before!" things in these rules, largely because it removes the need for loads of other fiddly rules about what happens when recoiling bases crunch into other blocks of troops behind)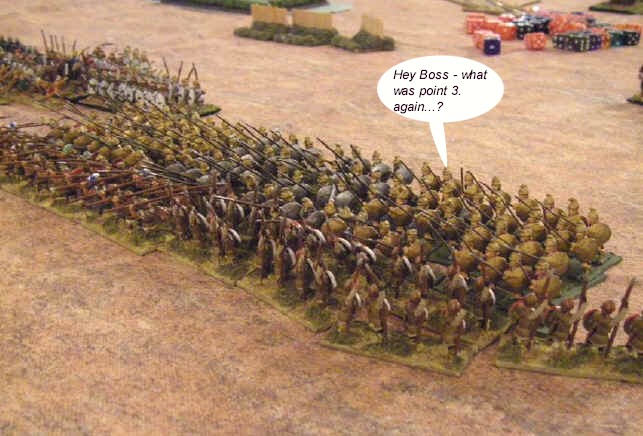 But, as both Pontic wings started to bleed away, almost immune to the fate of the rest of their army the Pontic phalanx finally crashed into the Carthaginian spearmen. It was brutal, short and decisive as the thinly armoured North Africans comprehensively failed to stand up to the better trained, armed and equipped Greeks.
On the right our forces were now chasing shadows as they attempted to pursue the routing or retreating Pontic cavalry wing.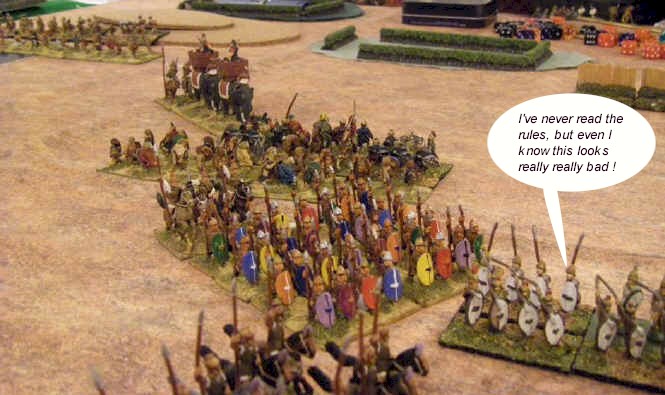 But things were much better on our left where our well drilled Spanish mercenaries were able to exploit the position created by the crushing of the Imitation legionaries and swing round to strike a decisive blow against the remaining Pontic peltasts.
With the enemy bearing down on them from all sides, the Pontic troops panicked and turned into a mob of individuals, refusing to heed their officers orders to turn about and face just one of the threats. Surely soon for them Pontus, the War would soon be over... ? (I've told you about this before....)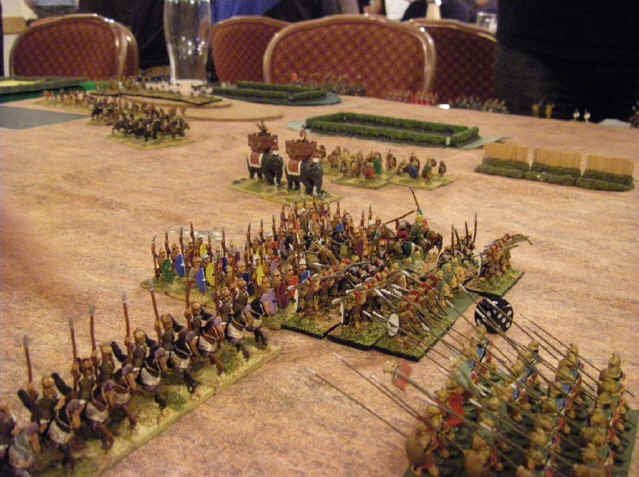 But despite their lack of discipline, they had no lack of fighting prowess and bolstered by the personal intervention of a Pontic general they withstood the flank charge. By now the Pikemen had finished with their butchery and separated into two blocks and swung round to form a virtual redoubt in the middle of the field.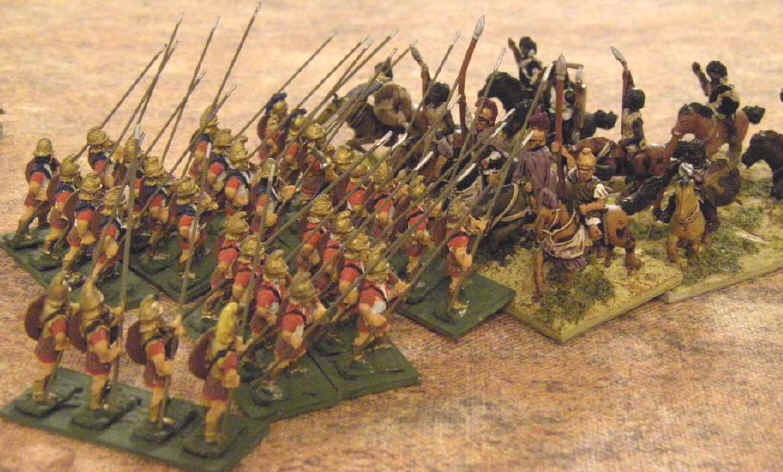 With one last throw of the dice, a Carthaginian commander took personal charge of some Numidians, and initiated a charge into the rear of the most disjointed Pontic pike block. But whereas Hannibal had known the rules on "intercept charges", his subordinate didn't know how poorly light horse fight against close formation foot and that they also don't cause an immediate drop in morale if they attack such troops in the flank. (Skirmishers are for skirmishing - they can harass, delay and generally cause a nuisance, but they are pretty rubbish against a big block of main battle line troops!)
With that the Carthaginians retreated to fight another day - close to a decisive victory, but still not quite there winning 14-6.
Post Match Summary
By the end of this game we'd really gotten to grips with the rules, and had definitely started to play the game, not learn the rules as we went along. We were also starting to see flaws in our "a bit of everything" army design, with basically little or no troops capable of standing up to any enemy's toughest stuff.
The other big difference to previous games was that we were starting to understand how to really use generals and how they exercised command and control. Previously we'd just thrown them into combat at the earliest opportunity, which is good for the unit they are with, but is very bad for their ability to do anything else whatsoever until the combat is resolved. This time around the generals had moved around a little and rarely got sucked into fighting as part of just one single unit, allowing them freedom to shore up a larger number of units when their morale started to look flakey - this meant the combats began to be more protracted affairs, and we were learning how an initial bad result could be turned around.
Tactically we'd done what we set out to, and stove in both flanks - yet we somehow just failed to capitalize on either, as the Pontic Army had either managed to escape relatively intact (on my side), or had survived the flank assaults through bloody minded determination (on Adams side). Clearly there was a little more to learn about the degree of vigor needed to really push home an advantage!
On to the Surreal and Hilarious FoG Authors Movie
Jump forward to Game 3 vs More Romans

View Visitor Traffic for FoG Match Report Pages