Godendag 2008 Field of Glory Competition
Game 3 - The Romans Return !
After a night sampling the culinary delights of Usk (or, put another way, start drinking around 5pm means you end up going for an early Curry followed by a few more beers, then end up looking for a lock-in around 1am...).
After yet another surreally Chinese breakfast we wandered back to the Venue of Champions, and asked to be let in as a special favour.
Much to our horror we were playing some more Romans. Their list is available here.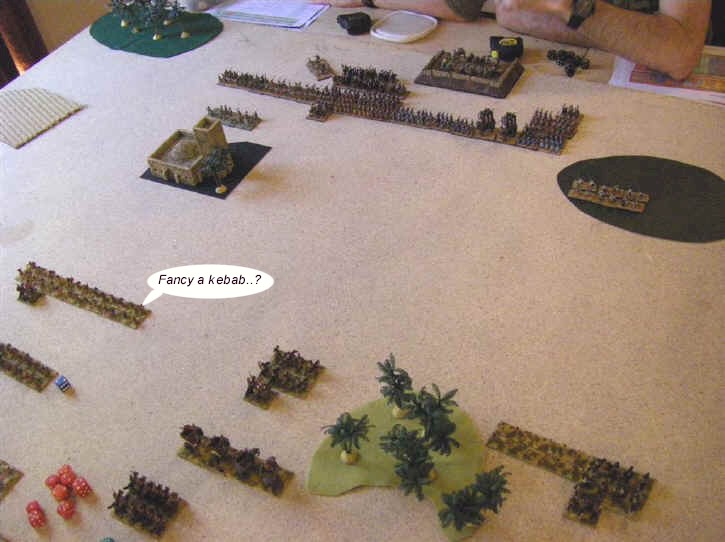 Yet again we went for developed, having failed to win decisively using it in our previous two games it seemed silly to give up now...And that house did look nice...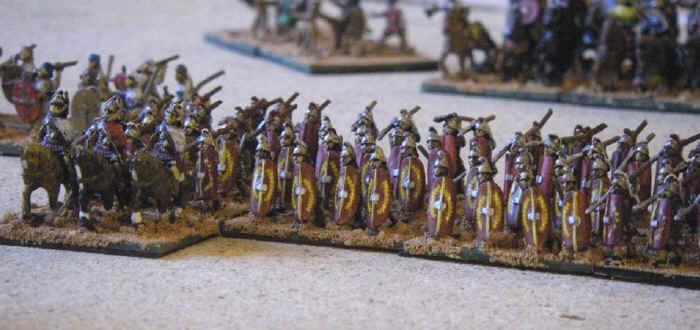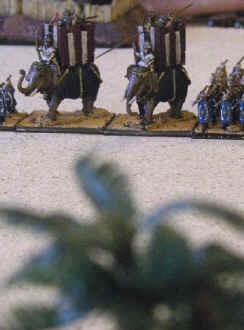 We were already very wary of Romans, but these guys were even more scary - some were not only Superior, they were Elite !!!
The Roman army was as hard as nails - it even included some artillery, and in a shocking turn of events, they had also stolen an idea from our Glorious Leader and fielded some Elephants.
We were already - at deployment - starting to worry that we would not be able to avoid fighting the legions this time. In fact the Roman army was well designed in this respect, as it basically consisted only of Legions !! (Imagine! Fielding a Roman Army - and doing so with a shed load of legions and not too much else - and finding that its pretty damn good too. Oooh! Veering on the historical... !!)

Even though it seemed obvious the Legions would get into contact somewhere, we quickly conjured up the appearance of having a plan and sent out some Numidians to skirmish and buy us some time to actually come up with one...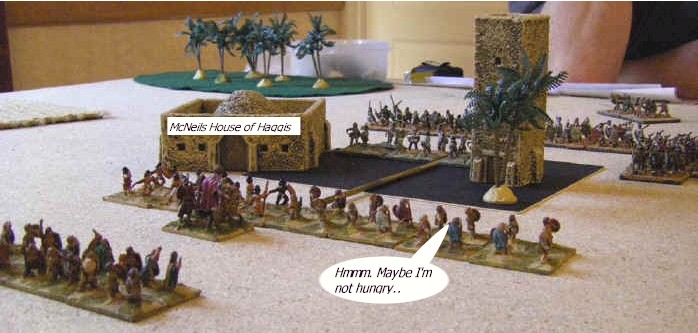 Some say the definition of madness is doing something exactly the same again, but expecting a different result. Our skirmish mob advanced to sweep its way through the town....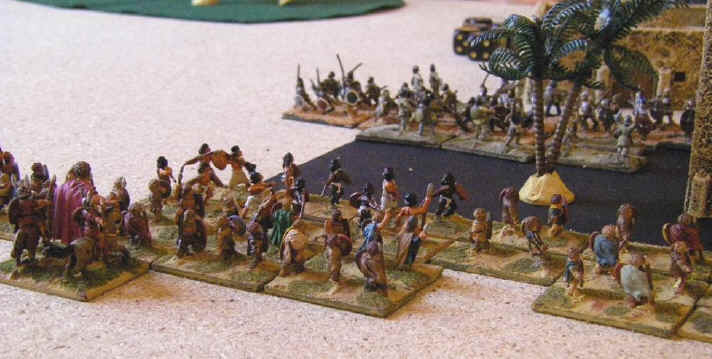 This time however the Romans also had their own light troops, and soon both sides were frantically feeding in heavier and heavier troops into the village as it assumed key strategic importance as the anchor of the Romans right wing.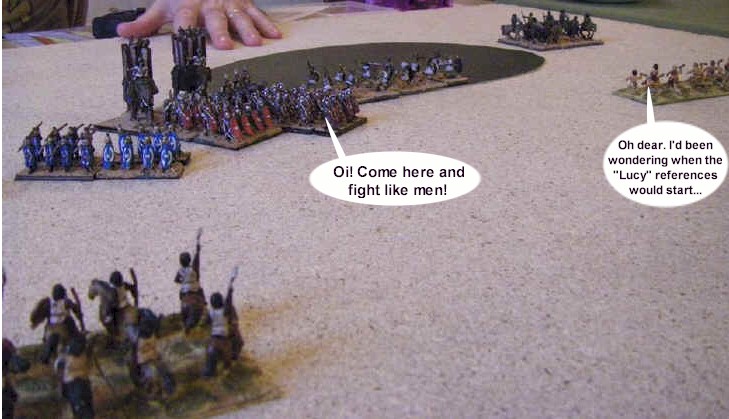 Despite having possession of the camera, using my figures and my terrain, this game I was unable to persuade Adam to let me use anything like the lions share of the troop, and so on my side of the table the Romans pushed forward cautiously into a gaping open plain, harassed ineffectually by my smattering of skirmishers.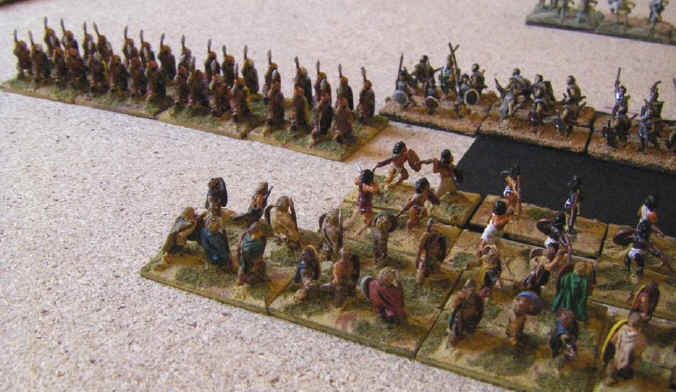 On our left however it was all kicking off big-style as almost every loose formation unit on the table was sucked into the urban environment for a bit of man-o-mano action. (look - the regular unit at the top left is fighting already - no need for conforming, that happens later!)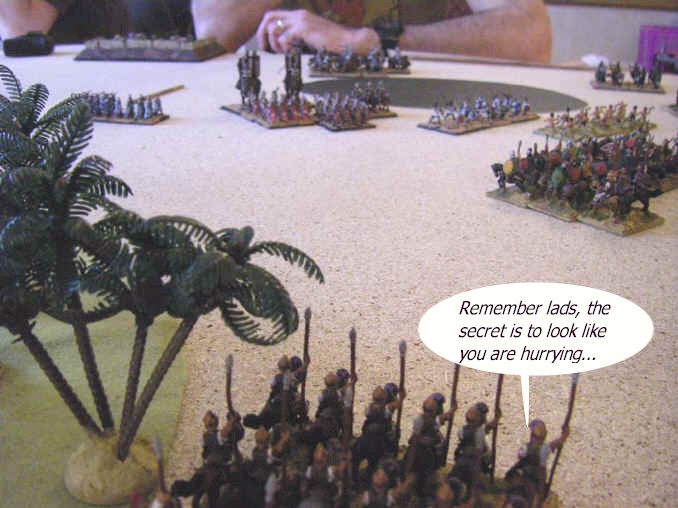 Meanwhile I had used the excitement on our left to secretly commandeer our entire mounted force and had snuck it away from under Adams beady gaze without him noticing ! Wanting to hog the glory I quickly hurled them towards some seemingly exposed Legionaries, hoping to get in a quick charge before he won the game on his own with all the rest of the army.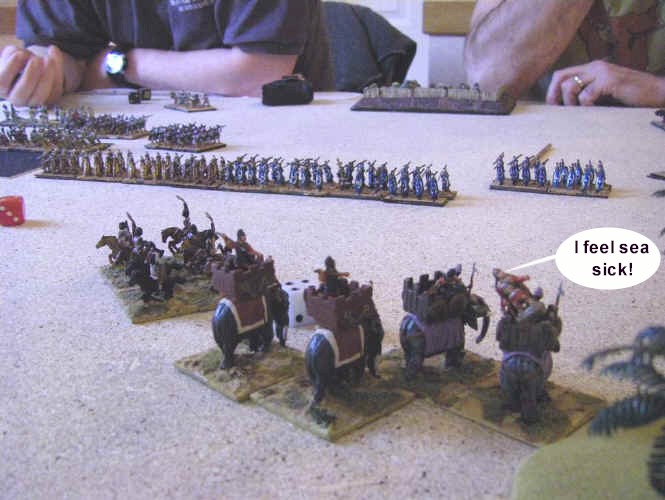 Even better news, as the battle hotted up I was also able to steal 4 elephants - which isn't that easy to do unless you are a character with a twirly moustache in a 1970's Disney film set in some idealized version of 1950's England. I attempted to sneak them past the palm grove to join in on my massive cavalry attack...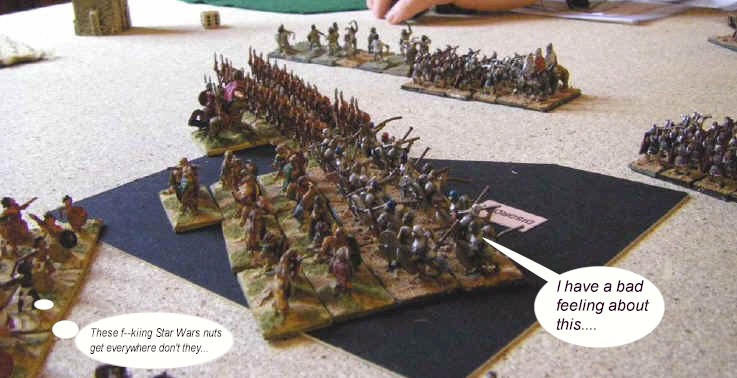 By now our attack through the village was really motoring, and our Gauls had already obliterated one (less well equipped, and smaller) enemy unit (once units lose enough casualties they simply get removed - no messy and long drawn out routs with only one or two bases running across the entire table and off the back edge. This also makes it easier to line up with 2 parallel lines, a front line and some reserves to feed in later) and were chewing their way through a second as the Romans, seeing the writing on the wall (in latin) called across two units of legionaries to provide a second line of defence. (see, I just told you that - and now its come true already!)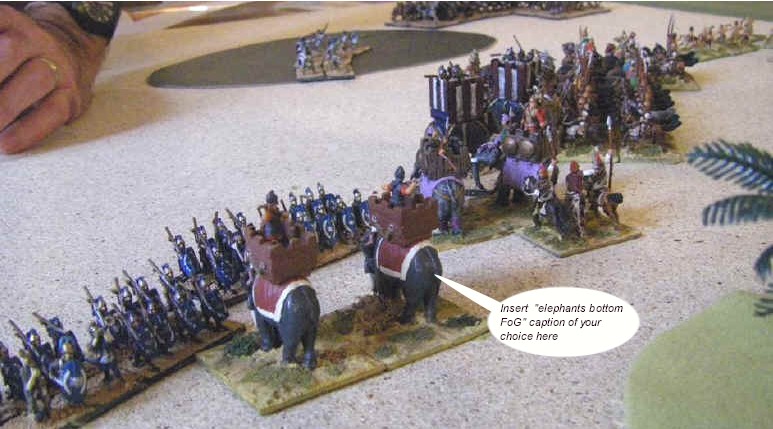 Not wishing to be left out I launched a charge with all three units of cavalry, and all four elephants into some of Rome's finest elite troops. I had hoped to get my elephants into position before the Roman elephants could respond, but again had fallen foul of DBx-thinking, and assumed my troops would be able to move faster than the enemies. Things to unlearn.... (look - they are all in combat wherever they touch, without lining up. No geometry to avoid contact in FoG)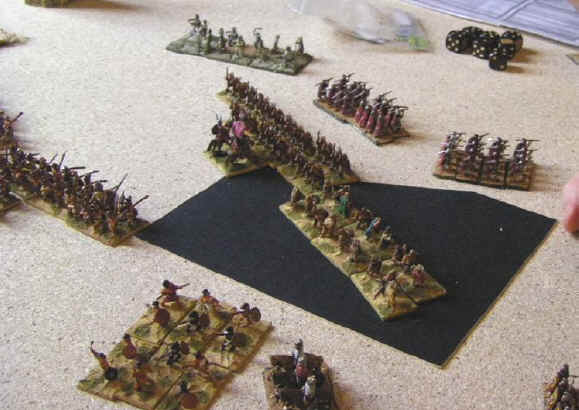 On our left Adam had by now evaporated the second enemy loose formation unit - but now our auxilia were facing a difficult decision - should they take on the Big Guns of the Roman Legions beyond the village? (Greater numbers vs better troops. We'd be pretty even at initial contact but the Romans were going to be a lot better at melee... but we'd be rolling more dice..... unless we broke into their formation, in which case we'd maybe have the edge in melee due to our numbers... but they had better morale so the were not that likely to lose cohesion... but if we lost the initial impact combat we might collapse due to our more fragile morale, and there'd be almost no way back - unless Hannibal joined in - but his influence would then be restricted to only one unit - and even so, the Romans might be good but they were only a small unit, so they couldn't take casualties as well as us if the fight dragged on.... aaaarrggghhh Decisions, Decisions....!)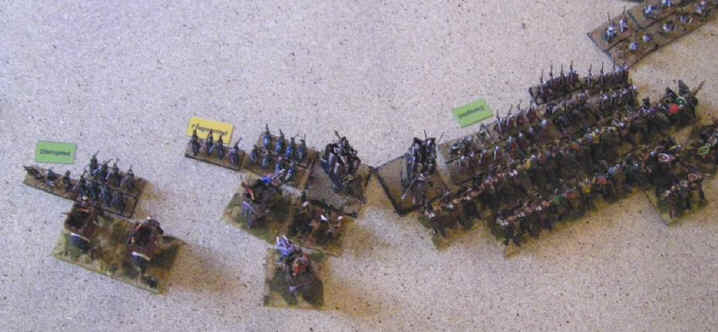 Things were looking good for the Carthaginian elephants, and they were gradually eroding the tiny formations of legionaries - but for the cavalry things were different. They had broken into some of the enemy formations they were facing, but the rest had stood firm causing my Gallic horsemen to break off in some disarray. (Cavalry on infantry also has lots of decision points - sometimes if they fail to break into the foot formation they will bounce off... read on for more ...) Should they charge back in - at an even bigger disadvantage due to their fractured morale having been beaten off - to help their colleagues who were hacking away hand to hand, or do they wait to regroup under the General's rallying call before charging back in ? Really they didn't want to try again knowing they needed luck to win - but with more Romans bearing down on the combat from the right flank, they simply didn't have the luxury of time to regroup and reorganize, and so they saddled up and charged back in valiantly.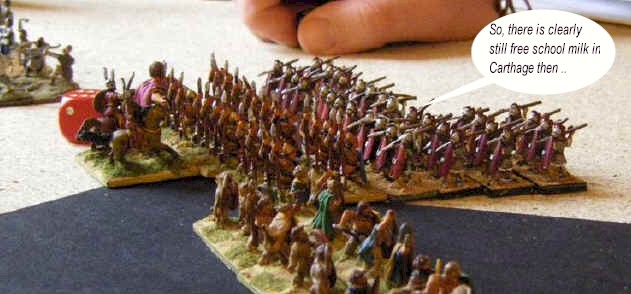 With the Big man to inspire them, and weight of numbers on their side the Spanish and Gallic infantry charged the Legions!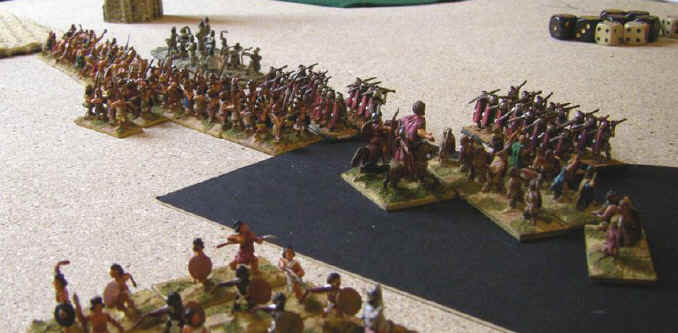 But they proved no match for the well drilled Roman swordsmen, and soon our own drilled troops had been despatched in short order. This however opened the way for another wave of Carthaginian troops (remeber that thing I told you about second lines? Good - there will be a quiz later on...), and the spearmen finally took center stage and clashed with the somewhat battered and bruised Legion.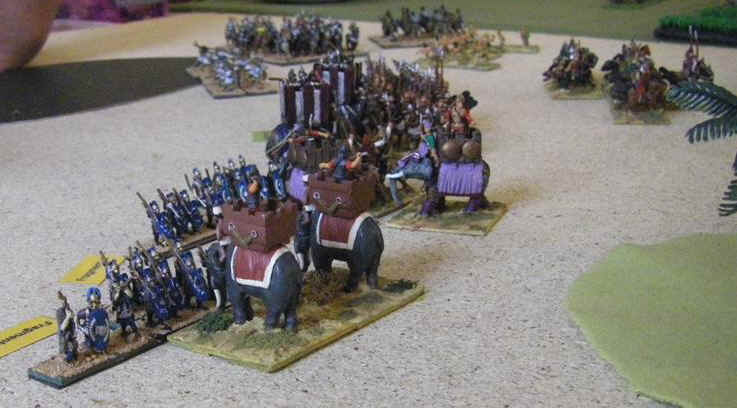 My half of the table was in itself a game of two halves. The cavalry charge had come close, but had failed at the last hurdle to break the legions resolve and was now in full rout - but the elephants were close to a stunning victory against some of Rome's best fighting men. (Routs don't cause morale tests to troops that far away - it's quite localized. It means the game is usually decided by fighting lots of the enemy, not by breaking one unit in the right place and then some bad morale tests)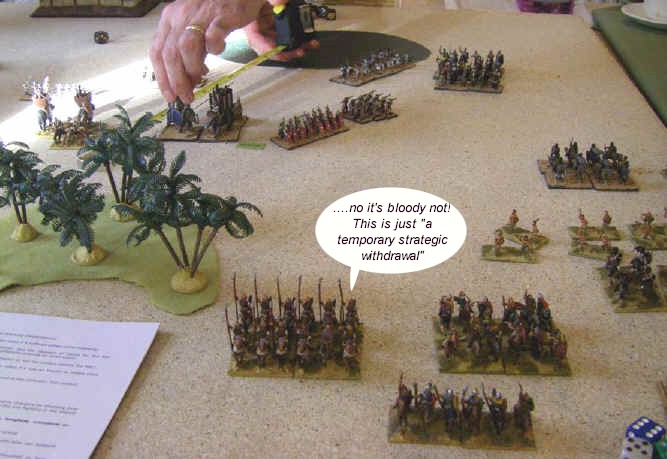 Soon it was one elephant unit each, but scratch two legions as the cavalry continued to flee the field. A lone commander quickly rushed between the routing formations, cajoling them into reconsidering their situation, and managed to halt most of the unseemly rabble before they left the field of play. (you can rescue routing troops - as long as they haven't already taken too many casualties!!)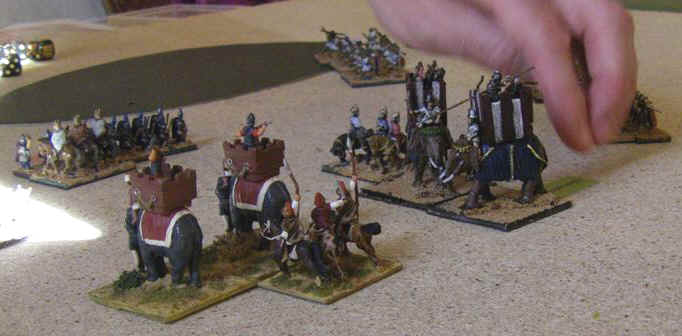 With only one effective combat unit left the Carthaginians were struggling - and when a Roman general took command of his elephants and ordered them to turn about and take on the Carthaginian beasts things looked grim indeed ...(guess how good elephants are at a "please turn round now!" test...)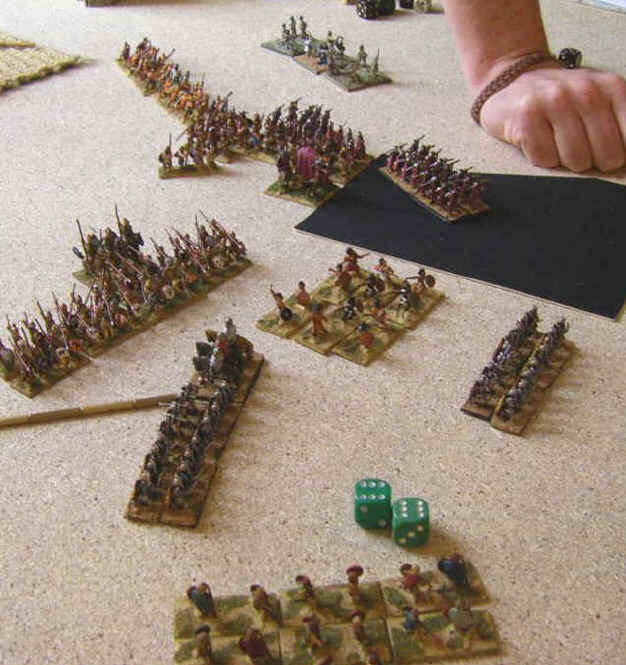 Battle still ebbed and flowed on our left, as the Roman battle lines became a distant memory and individual maniples chased whatever they could see - this in turn opened up their flanks for the eager Carthaginian skirmishers to surround them and pelt them with a withering hail of javelins. (Remember what I said about Battle Lines in Game 1's writeup. Well, you are about to see the proof...)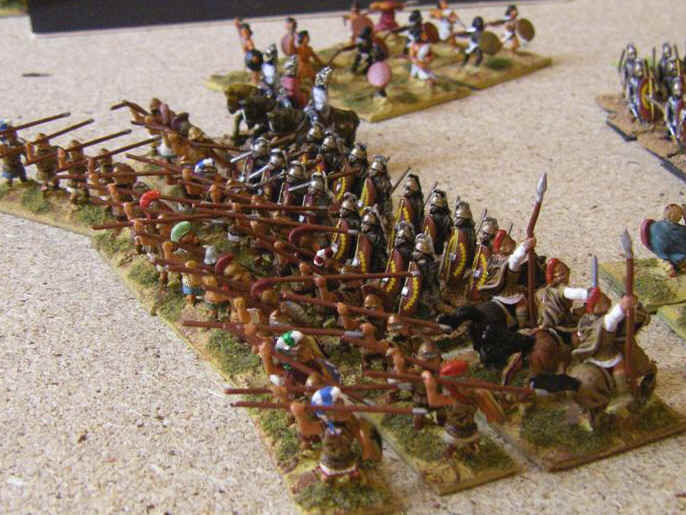 Even separated into isolated maniples, the Romans were still fearsome opponents for our early-period Carthaginian warriors, and despite their greater numbers, they struggled to hang on against the Roman impact.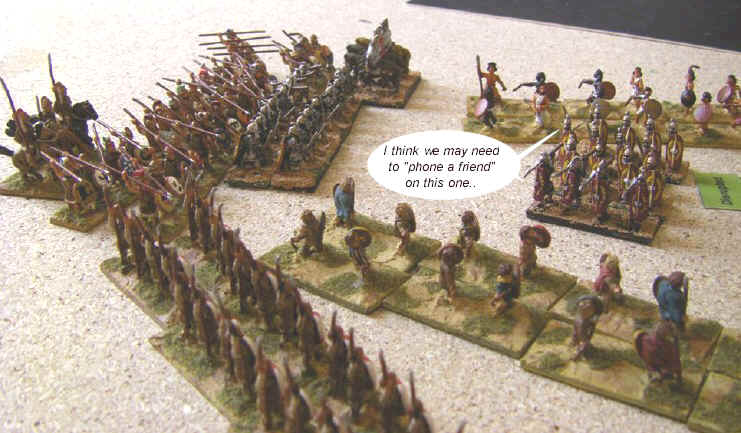 The plucky Carthaginians, personally inspired by one of their generals, managed to dig deep into their reserves of bravery and luck and held firm whilst the rest of the army enveloped the remaining Romans. Quality is all well and good, but numbers do still have a quality all of their own....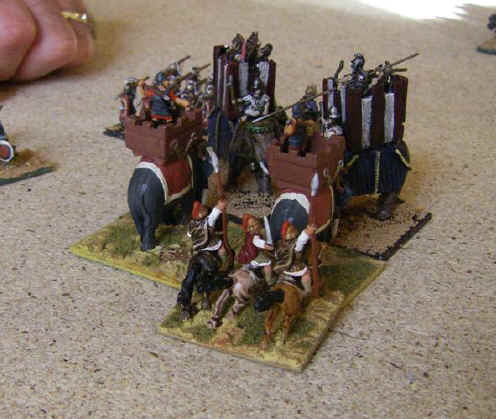 With time rapidly running out, both sides were teetering on the brink of defeat or victory. Every unit could tip the balance, making each combat a nail-biting test of nerve - especially one with so little to call as an elephant-on-elephant fight!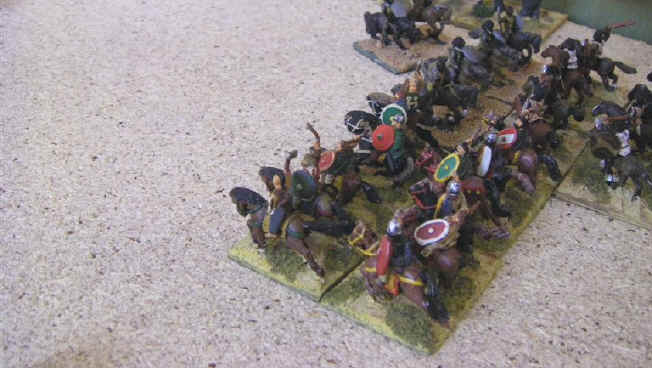 The ability to rescue troops from rout and bring them back into the game was still a novelty, and it also surprised the Romans own Numidians who suddenly found their pursuit of routers turn into a nasty and uneven fight against superior numbers of better troops, right at the back of our the table edge. The game was tipping in our favour again...

But luck could not favour one side alone - the elephant lottery ended up with the balls being firmly attached to the Romans elephants and removed from ours. in the final reckoning we had gone down 13-7.
Post Match Analysis
Despite coming out as losers, this game was very heartening, as we had - on occasion - managed to take down a few units of legionaries, proving to our selves that it could, if you could create the right situation, be done. We had come quite close to a victory ourselves, and also I had saved us from total defeat by rescuing 2 routing units and bringing them back into play - something I'd not done since the days of 7th Edition, and almost forgotten was possible.
Looking back, it was clear that to beat the Romans with our army we needed to isolate the legions and pick on them - and we had nearly achieved it towards the end of the game. What hadn't worked however was the cavalry charge - it had been executed in haste, with insecure flanks and then once combat was joined it turned out that a Roman Legion/Gallic Cavalry interaction was unlikely to be a quick (ie DBM Kn vs Bd) style affair, and there were actually many interesting decision point of breakoffs and secondary charges to make as the combat ground on.
Either way, we were now looking forward to our next game - and planning how we'd change the army for the next competition to boot!!
Jump forward to Game 4 vs Bosporans
On to the Surreal and Hilarious FoG Authors Movie
Jump straight to the Rules Review