Campaigns of Cyrus The Great in Campaign 2018
Achaemenid Persian vs Neo Babylonian
Game 1 Achaemenid Persian vs Achaemenid Persian
Game 2 Achaemenid Persian vs Medes
Game 3 Achaemenid Persian vs Lydians
Game 4 Achaemenid Persian vs Neo Babylonian
Game 5 Achaemenid Persian vs Neo Babylonian
This was the last game in an epic weekend. Curry had been eaten, the world had been put to rights in late night bars, fried breakfasts had been consumed, and I had nearly filled a complete loyalty card at Cafe Nero. No wonder I was still awake at 3am last night...!
The final game was another matchup against a Neo Babylonian, meaning that yet again I would need to come up with a plan to beat the enemy Chariots. By now team "As yet Unnamed" held a slender lead after a clean sweep against MKWS in the previous round, but with Warlords closing in (and playing MKWS themselves) it seemed likely that a decent win was required to keep us in the silverware.
The lists for the Achaemenid Persian and Neo Babylonian from this game, as well as all the other lists from the games at Campaign can be seen here in the L'Art de la Guerre Wiki.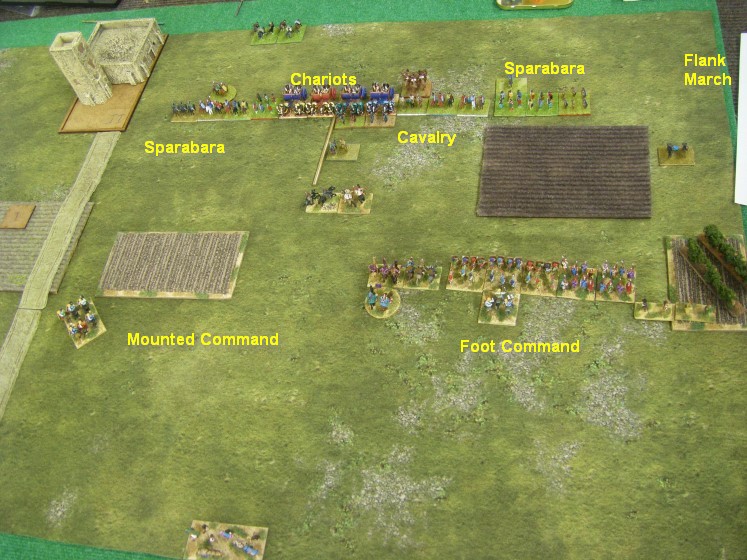 The table ended up pretty agricultural - two large fields, a plantation, and even a town (my buildings, lent to Dave) all of which clearly corralled the chariotry down the very middle of the board. With the rest of the army almost certain to be a mirror image of my own and the Chariots with a route-1 route to the heart of my army I decided that this was the time for a bold, grand gesture - yes, time for a flank march!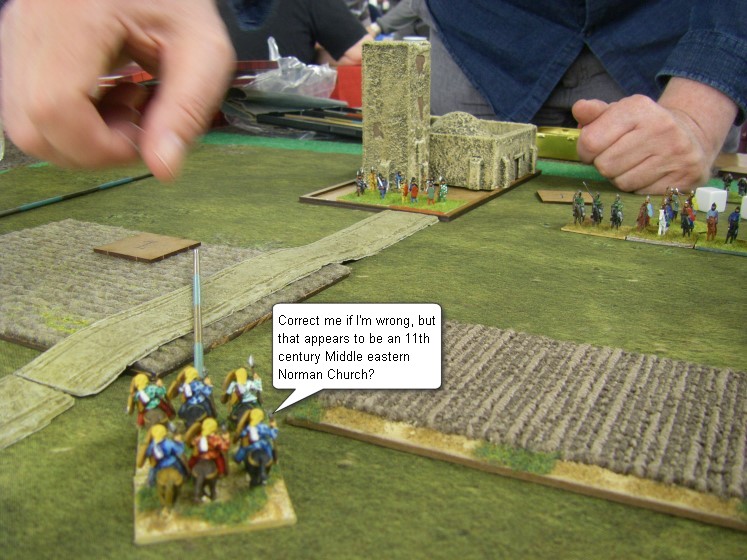 I had sent one of the infantry commands off on the flank march, needing the Cavalry on table to act as a delaying screen against the better part of Dave's army whilst my other foot command pressed up on the right to try and trap Daves infantry in the path of the hopefully soon arriving rest of my army. This did involve the cavalry command having quite a lot of table to defend however.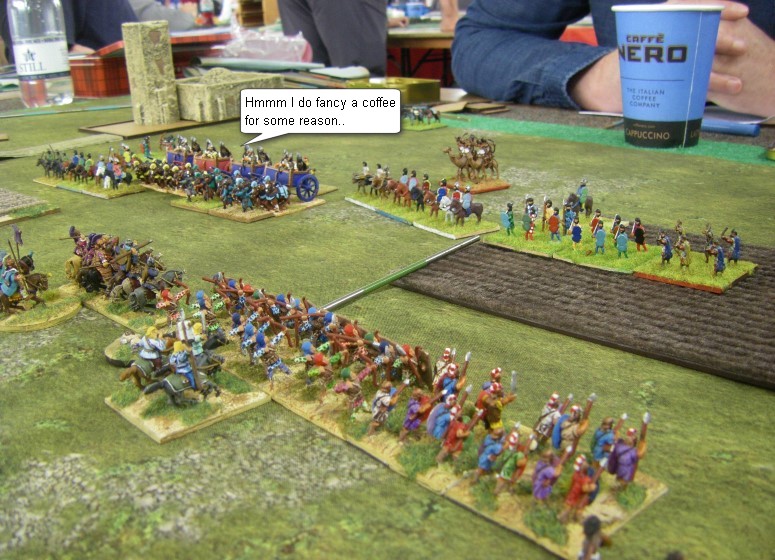 Babylon - not as cool as it once was
With yet more product placement creeping into the increasingly commercialised reporting my Spear/Sparabara command surged forward against what appears to be a lightly held area of ploughed field. I was already wider than the enemy foot but still needed to find a solution to the teeny-tiny very old cavalry who were flanking the Babylonian chariots.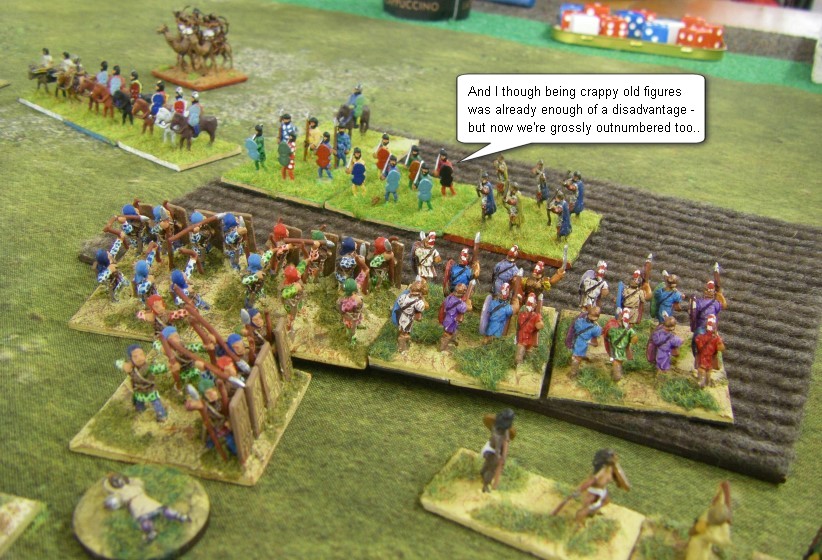 The solution was to ignore them and charge forward against the enemy Sparabara and bowmen - yet again the underrated Medium Spearmen were leading the line for my army, sot of justifying their inclusion apart from the fact they weren't facing mounted troops in any way which is what they are supposed to be relatively least worst at.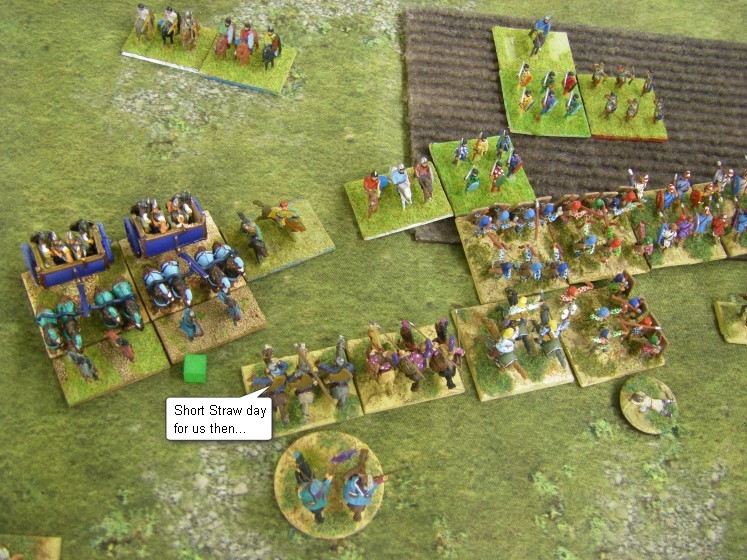 The Babylonians didn't want to be overwhelmed and sent forward a lone Sparabara, supporting it with Cavalry to try and peg back my advance whilst their chariots lumbered forward to get into the action. My Cavalry were in a quandary now - they were paid to support my foot, but they too could not stand against the wheeled battle carts.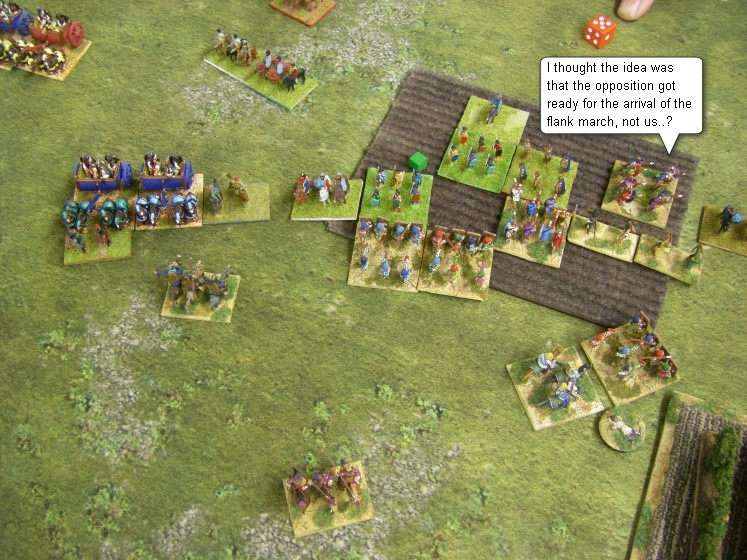 Yet again one of those situations where it seems that someone has to carry the can for a toothless attack - this time it was one of the Persian cavalry who was tasked with dying (probably) to keep the Chariots from running into my backfield. The flank march, by the way, has yet to arrive.. but it seems now that my on-table infantry may do the job themselves anyway as they have swarmed around the handful of enemy foot and are about to fall on them from all sides
Babylon - all of it's history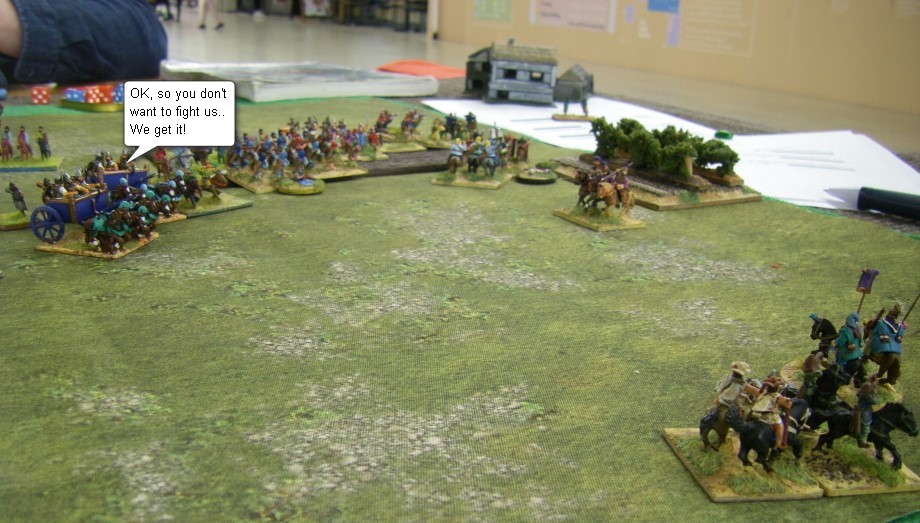 Partly driven forward by the opportunity to outnumber the enemy, and partly to escape the chariots the rest of my army scatters forward and back leaving the Chariots alone in acres of space - perfect!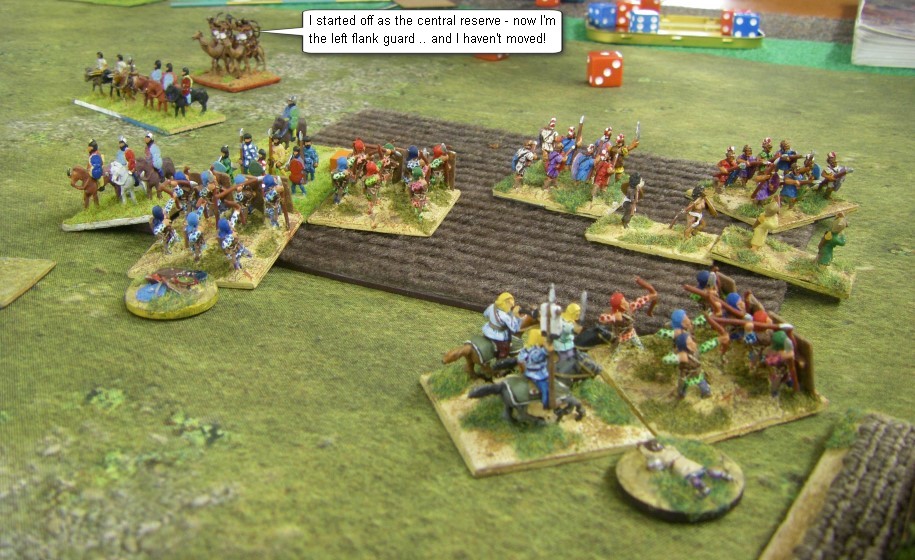 With the flank march still nowhere to be seen, my right wing has achieved a comprehensive victory - probably the fastest of the weekend - and now only has mopping up to do to own the terrain.

The flank march will have to keep marching when it arrives ..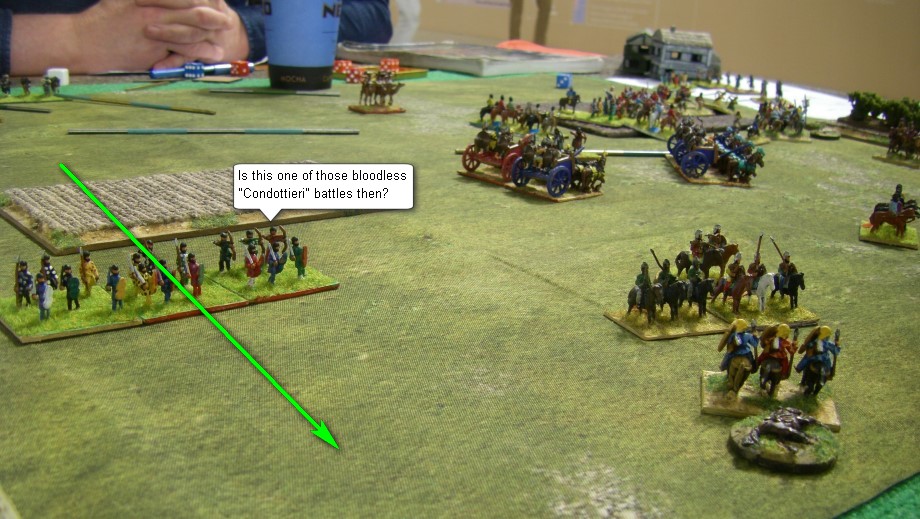 Meanwhile however, on the rest of the table the two commands of Babylonians are simply marching forwards against half a command of my cavalry. This is a tricky situation to say the least, as I'm outnumbers, out shot and out classed all along the line. The rear edge of the table is already in reach of Daves horsemen.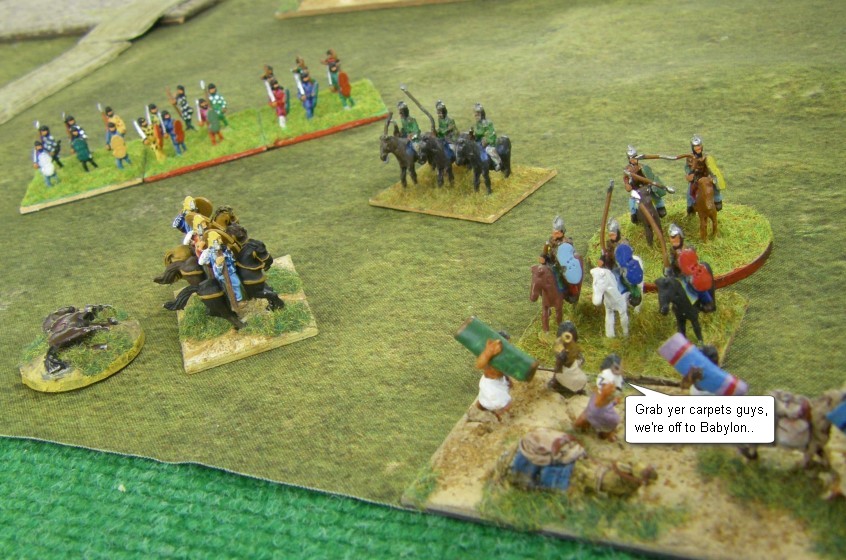 With nothing to protect it other than the arrival of a flank march which has yet to arrive, my baggage falls... and suddenly I remember a key part of the rules which is not really very good.
L'Art de la Guerre hint - Your army break point is the total of units on table. Units off on a flank march who have yet to arrive are excluded from the total until they turn up. So, here my army is just 14 strong, not 21... Oops.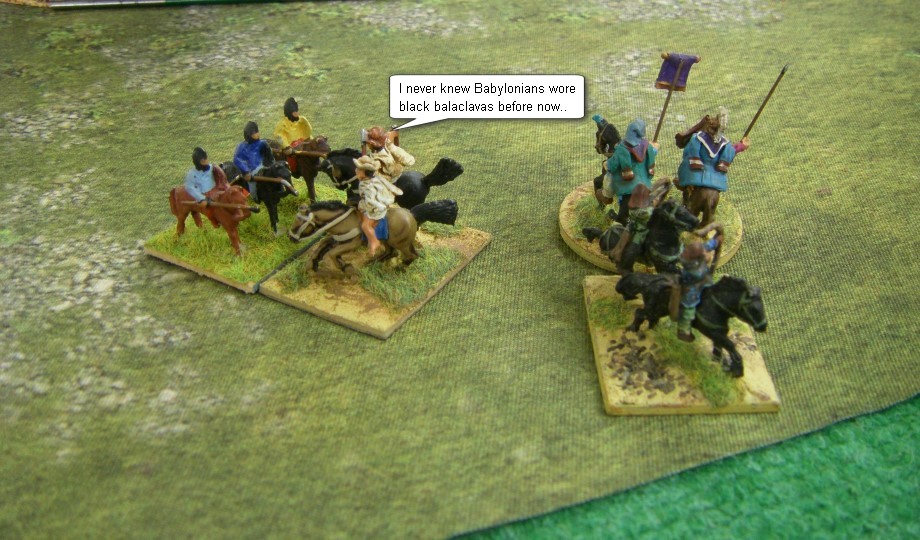 The flank march finally gets the 5 or 6 it needs to arrive, and will appear next turn. Until then all I need to do is survive without losing anything at all for 2 turns. Not easy, especially when it comes to Light Horse against Cavalry with nowhere left to evade.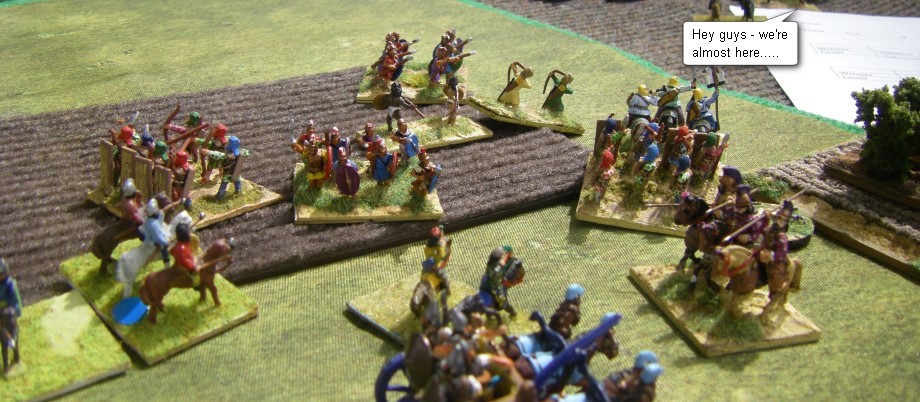 With the sound of distant footsteps getting closer, my army - only 14 strong, and having lost 4 for the baggage - slumps to an embarrassing defeat.
Read on for the post match summaries from the Generals involved, as well as another episode of legendary expert analysis from Hannibal
Post Match Summary from the Achaemenid Persian Commander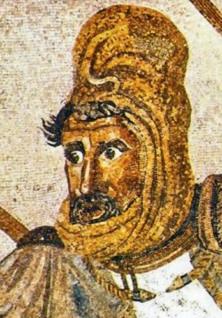 Look, lets just move on here, nothing to see nothing at all..
If you look at this another way, you could say that my plan was a good one but it was thwarted by the dice - after all, getting a 6 in the first turn, or a 5 or 6 in every subsequent turn should be pretty easy so I was unlucky for the flank march not to arrive before it did - or did not to be accurate
With all of my army on table this would have unhinged the already somewhat unhinged Dave and left his chariots entirely out of the game - which was my main aim
As it was they were stil kept out of the game, as I had managed to lose before they managed to hit anything at all. So, a small victory there too I think.
I think there is something better to be found however in this army list - the loss of the Heavy Infantry in this period hampers it more than I thought. That is something I need to think long and hard about, as having mercenary Greeks as the core of my army does perhaps point to a deeper problem in the planning of my empire... oh well, I'm sure nothing can go wrong.
---
Hannibal's Post Match Analysis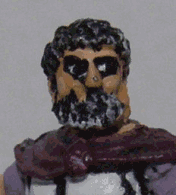 You miserable excude for a desert dwelling camels spare scrotum! How on earth did you think that flank marching 1/3 of your army on what was for most of the opposition a bald plain was ever going to work?
You flank marched, which was wrong, you designed your army with 3 equal sized commands, which was also inappropriate for a flank march strategy, and then you sent the better of the two commands off on the flank anyway - those cavalry would have been welcome elsewhere !
If you are to flank march, it can work, but you need much more terrain to pin the enemy against the point of arrival - like, ideally some mountains. And you then need Elephants to undertake the march. Thats the way it will make you famous - although this might be well remembered too for all the wrong reasons.
This was a shameful display, poor design, poor tactics, poor army composition. At least some of them were nicely painted.
That's the end - so why not go back to the Match Reports Index and read some more reports?
You may also like....
Game 1 Achaemenid Persian vs Achaemenid Persian
Game 2 Achaemenid Persian vs Medes
Game 3 Achaemenid Persian vs Lydians
Game 4 Achaemenid Persian vs Neo Babylonian
Game 5 Achaemenid Persian vs Neo Babylonian
View My Stats for My Match Reports Pages