Ancients in Salamanca, at The Worlds 2017
Alexandrian Macedonian vs Graeco-Indian/Indo-Greek
Game 1 Alexandrian Macedonian vs Classical Indian
Game 2 Alexandrian Macedonian vs Graeco-Indian/Indo-Greek
Game 3 Alexandrian Macedonian vs French Ordonnance
Game 4 Alexandrian Macedonian vs Delhi Sultanate
Game 5 Alexandrian Macedonian vs Christian Nubian
Game 6 Alexandrian Macedonian vs Sassanid Persian
Game 2, with a big win under my belt but unfortunately somewhat of a wait before lunchtime. I may be Alexander The Great, ruler of much of the known world in my lifetime, but it still appeared that my entourage were unable to secure a dining room slot prior before the FoW and Warhammer 40k players had been there - a double injustice given how little it appeared that many of them actually appear to need any sort of lunch, never mind an early one.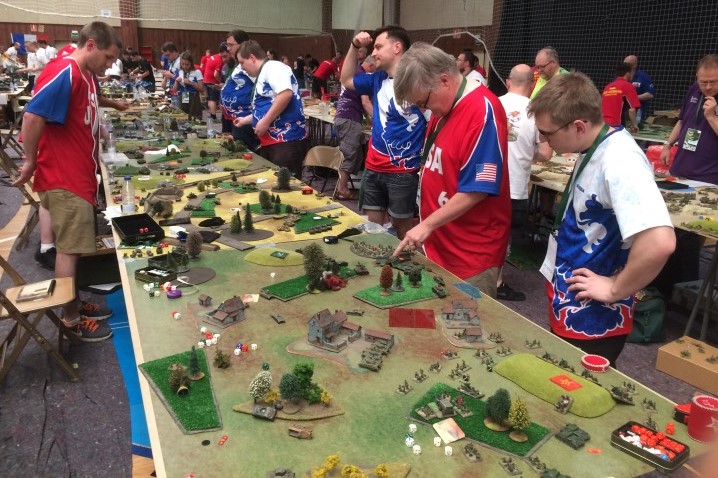 Well-fortified with strong coffee, my army again took to the field against one of my own Successors - the Indo Greek (and Indo Bactrians).
Indo Greek & Indo Bactrian - a clever list to take to this 2-list format event, as the Indo Greek version is very different to the Indo-Bactrian one, allowing the owner to either go big on Cataphracts or Elephants.
The lists for the Alexandrian Macedonian and Graeco-Indian/Indo-Greek from this game, as well as all the other lists from the games at Salamanca The Worlds can be seen here in the L'Art de la Guerre Wiki.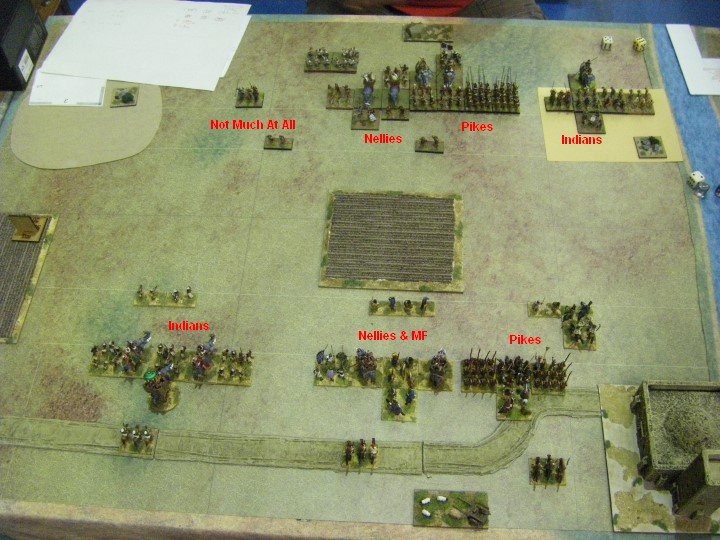 Expecting the Indo-Greek version I have cleverly selected some home-made fields to break up the enemy pikemen, and push their expected wall of cataphracts into an obvious space on the playing field into which my own allied Indian command - appearing for the first time after being previewed on this very website some months previously - could plug itself. Imagine how happy I was to have the opportunity to prove what a military genius of improvisation I was when to my surprise when the cunning enemy dropped their other list - cataphract-free and with their own Indian command - onto the table!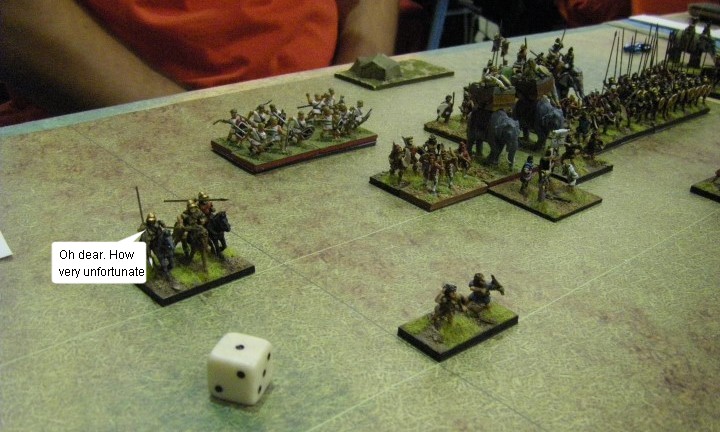 The enemy had concentrated their forces on their left, leaving my own Indians somewhat floating on my own left flank facing not much at all. To make things interesting, the enemy right flank command rolled a unitary pip in the first turn, becalming them as an allied contingent and rather limiting their ability to throw forward a skirmish screen and delay my Indians who were due to move second in this game.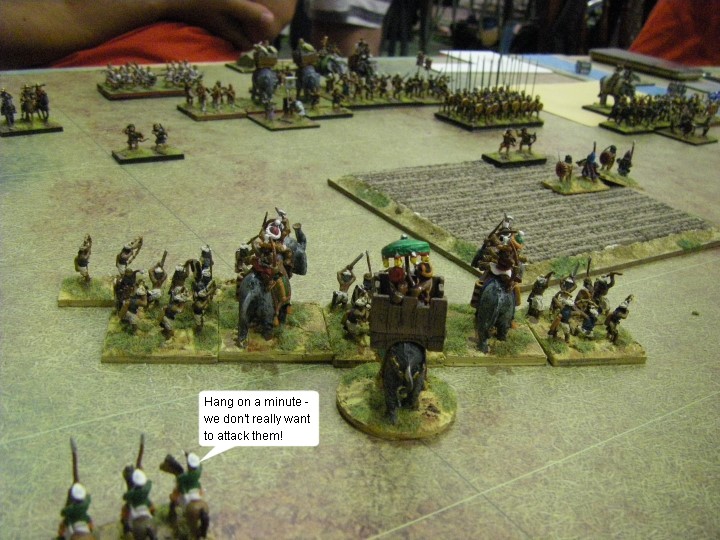 With not too much facing them frontally, the first decisive move on my part was to ask the Indian commander (he has lovely eyes you know?) to drive his allied contingent forward and swing it into the middle of the table.

Soon he was taking aim squarely at the enemy's own cadre of Elephants and replacing my own Greek Elephants and javelinmen command in the centre of my line.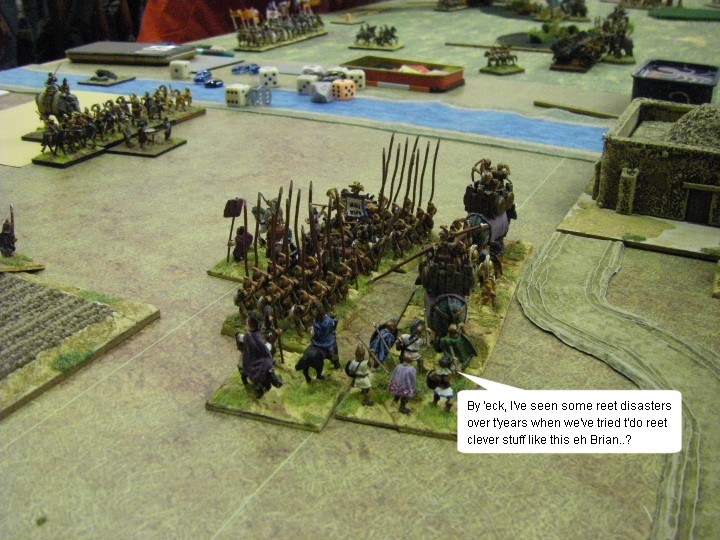 By now my martially impressive thought processes were whirring at full speed under my winged helmet (this is not a euphemism, honest) as I conducted the orchestra that was my finely tuned army in order to start to redeploy the Greek-managed Elephant corps further right, sending some of them behind my Phalanx and over to the far right of my line. This would see them facing just some mixed bowmen formations, who they could with luck run down. Piling pressure on this part of the line would also allow me to support the flanks of my own Phalanx as they teed up against the enemt Phalanx and elephants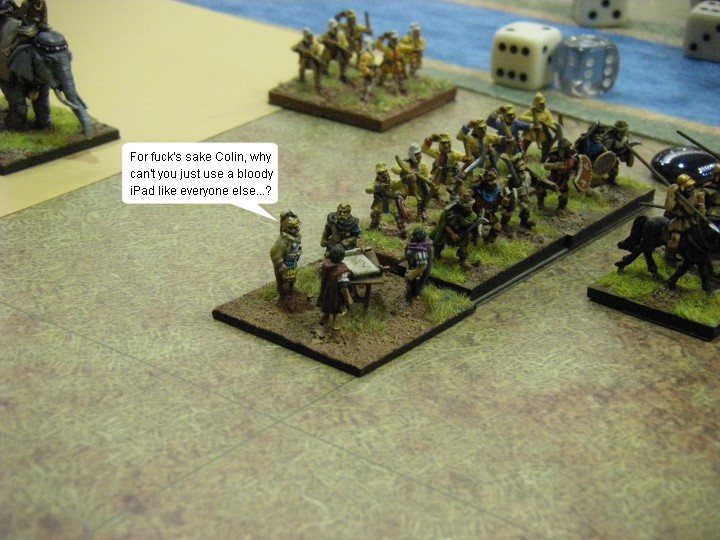 Noticing this stroke of genius, the enemy commanders consulted their maps and charts to see if they had a better idea tucked away in the filing cabinet - the answer was of course "no", so they opted for the military classic - advance !
Critiquing the Alexander Film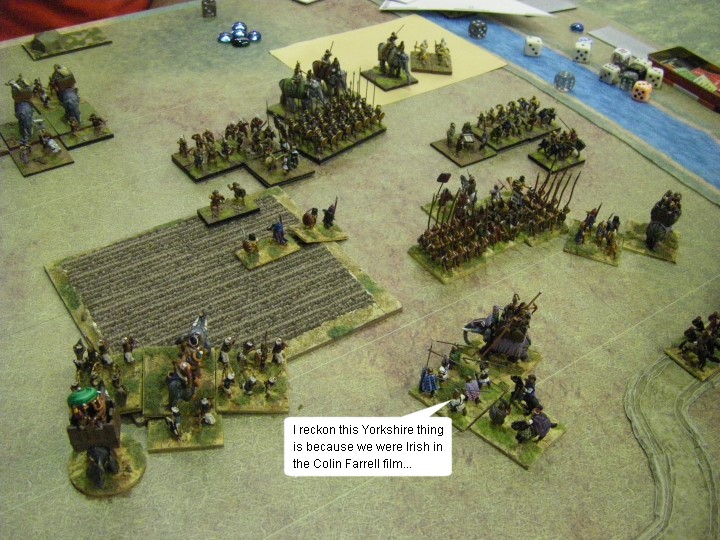 The battle was now being squeezed into an ever-smaller space, and with the enemy Indian command still unreliable my own men had a compelling advantage in committed combat troops as we squeezed the vice ever tighter.
Soon my Indian allied command would have to make a decision on whether it carried on pushing forward towards the flank of the enemy Phalanx, but at the same time triggering the enemy allies into life
L'Art de la Guerre hint - allied commands who start by rolling a 1 on the first turn will be unable to move until either they roll a 6, or enemy come within 4MU of any of their troops. The Indians will trigger this if they advance any further.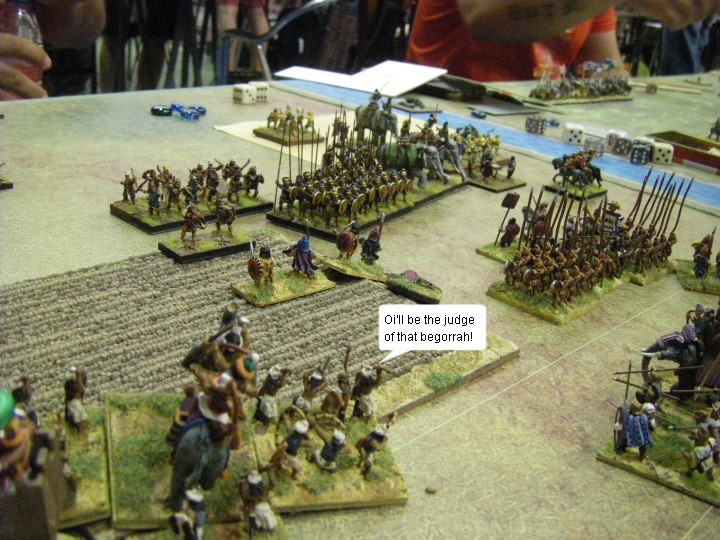 The Indo-Greeks had shuffled their Elephants out from behind their Phalanx, and their bowmen on the far flank had opted to fall back out of the way as well - the two Phalanx's (Phalanxii? Phalanges?) were ready for combat, but my anticipation and greater numbers of troops had already created a situation in which the right flank of the enemy infantry block looked unable to withstand the crushing elephant-led missile that I had cleverly set in motion some turns before.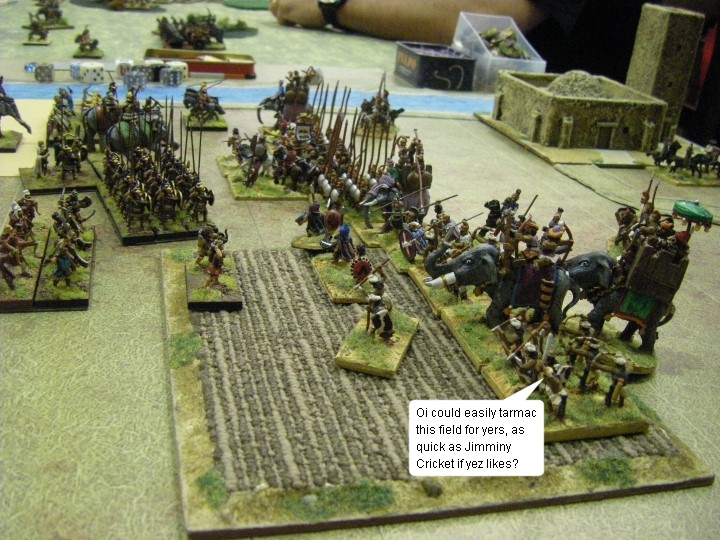 With perfect synchronicity and some decent pips all of my forces suddenly coalesced into a solid wall of well proven combat ability.

The effect was startling on the opposition, who only now started to realise the margin by which my own staggering genius exceeded their poor and paltry military so-called minds. Soon I would be looting their cities and marrying their princesses (whist of course still staying very close friends with some of my best childhood chums).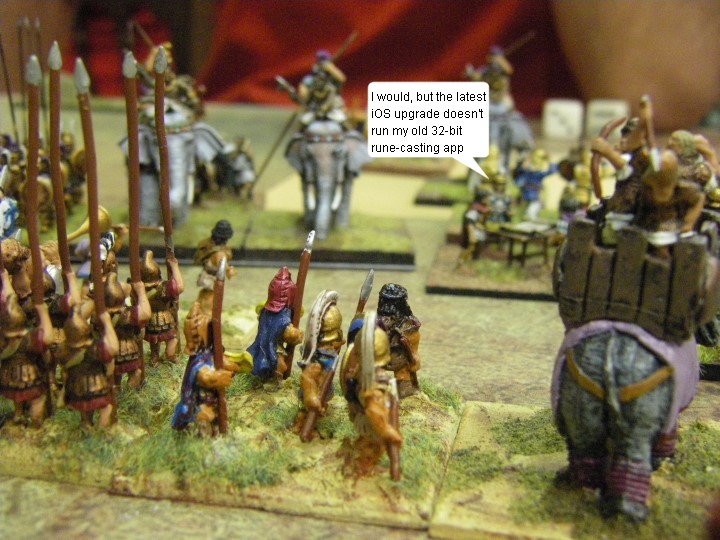 Everything was, as you have already guessed, perfect. The Minifigs Pike & Tin Soldier Javelinmen combination arrayed against the (admittedly far better painted) enemy elephants was just one example of my innate superiority in both list design and movement.
---
Pictures of Indians from my Ancients Photo Directory
(Click any image to see details of the manufacturer, and a larger version of the photo)
---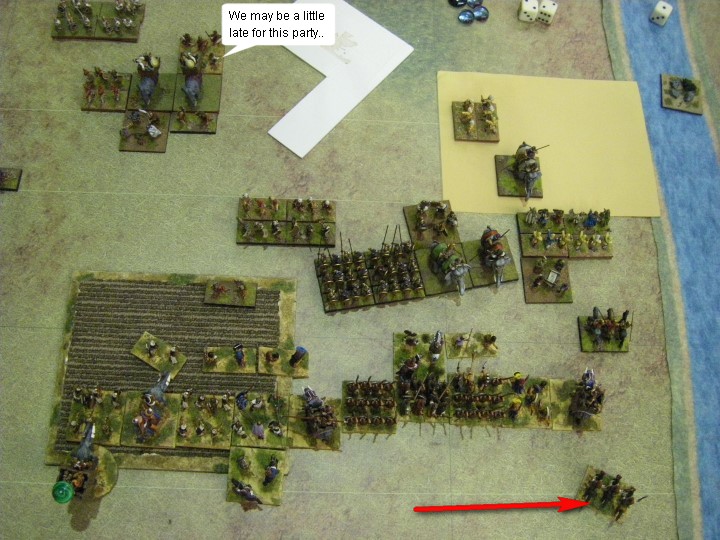 With the enemy shorter on shooting than even my own forces, I was now prepared to sit and wait for them to make the first move - giving time for the Companions, deployed in reserve initially, to swing around to my far right flank and pile even more pressure on the becalmed and shorter-than-mine enemy line.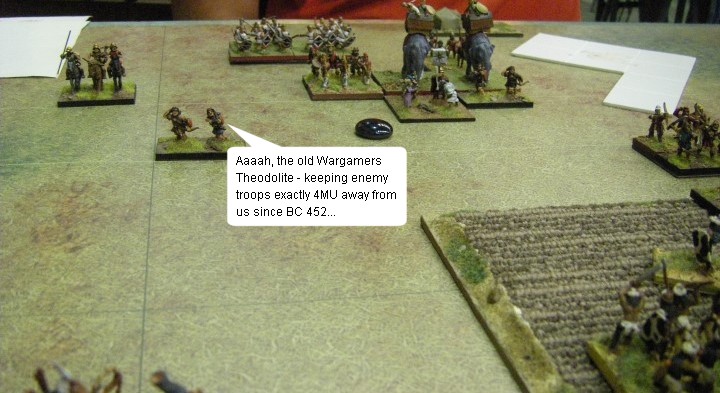 The enemy's allied command were still waiting patiently - which I must admit I found somewhat strange, as in my previous experience many Generals are practically falling over themselves for the honour of being crushed by Alexander the Great ?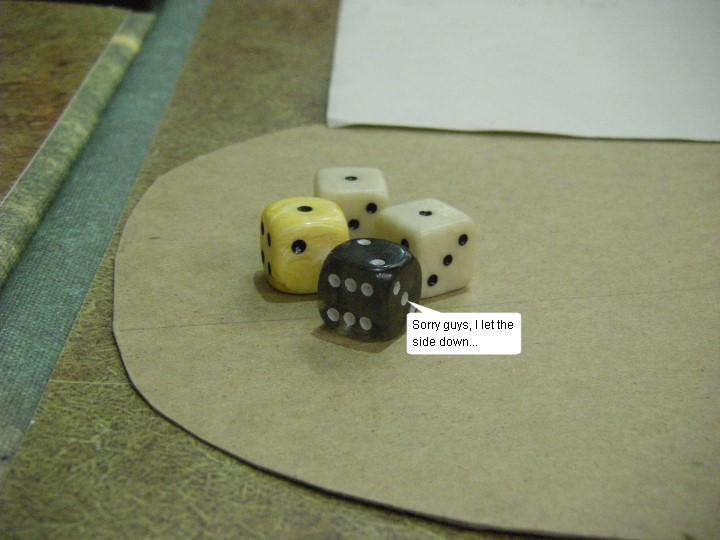 | | |
| --- | --- |
| But these chaps were not keen at all - not even rolling 6 in total in the first 4 rounds of the game! | |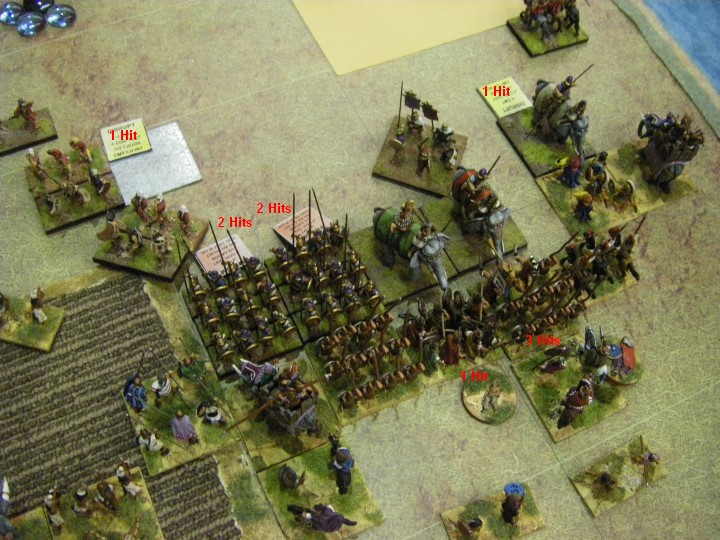 Finally the two lines clashed, and straight away the tide turned in my favour with multiple hit markers blossoming along the backs of the enemy forces

My clever working of the matchups and even cleverer "having more troops than the enemy because of their unreliable command" approach had paid dividends.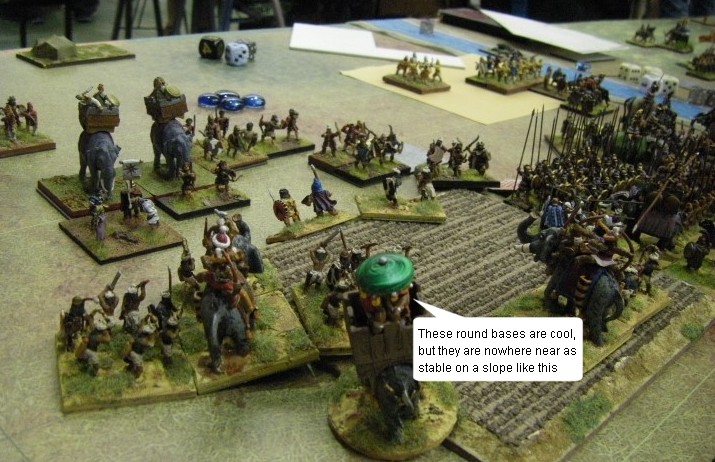 Triggered by the onward rush of my own Indians, the enemy's own allied contingent was now steaming forward to try and get into the action presumably before the rest of their army were crushed by my own brave boys. As they advanced they came under a hail of arrows from the mixed bow/sword formations of my Indian partner.
Things not to say in Spain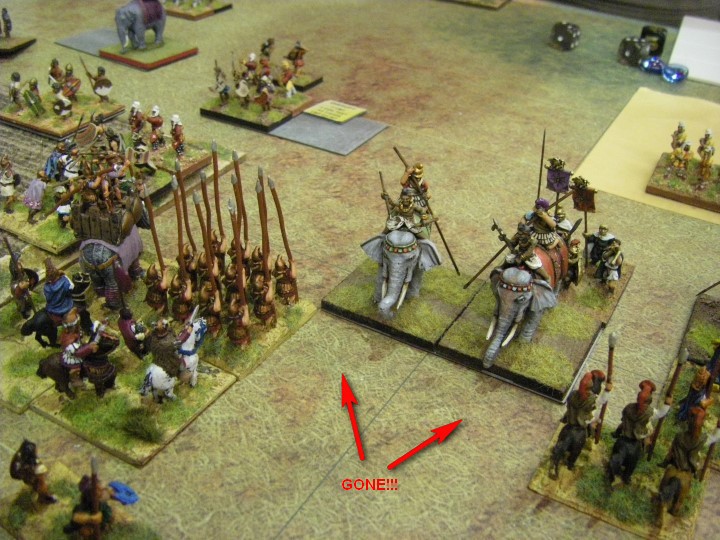 Not all victories come without some setbacks, and the battle of the two sets of Phalanx and their supporting casts was evolving in a binary fashion - I had lost a Phalanx and the Hypaspist spearmen to the enemy Elephants, but at the same time their own Phalanx had been crushed underfoot by a combination of a Phalanx of my own and my Greek-led Elephants. Someone would need to slide into combat.
And, grasping the initiative firmly in my well-manicured hands, that person was of course me. My Phalanx slid sideways, allowing the Agrianian skirmishers I had kept in reserve for exactly this sort of situation to rush up and harass the enemy elephants as overlaps and frontally. The Indo-Greeks however had no such reserves left, giving my men overlaps in all of the key remaining combats along the whole front line.
L'Art de la Guerre hint - troops who start a turn in corner-to-corner contact (usually after destroying their opponents in a combat in the previous round, like here) can then "conform" to the enemy they are touching for free instead of doing a normal move. This then counts as a continuing melee - so "charge" bonuses don't apply. This mechanic allows a thinning line to keep fighting, offsetting the somewhat artificial way in which the removal of blocks of units from a line of combats in DBx-type games can grind to a halt due to lack of pips.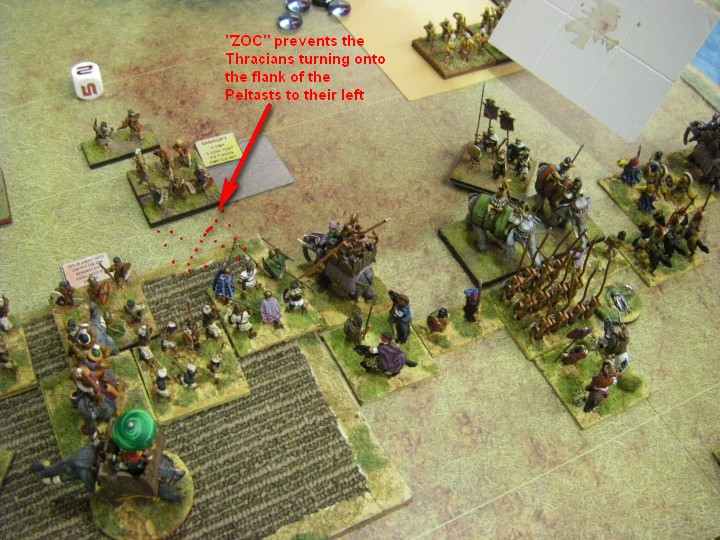 In a decisive move which mere mortals such as you will struggle to spot unless I point it out to you much as I am doing now, the Javelinmen at the far right of my line finally destroyed the Elephant they were opposing, opening up the flank of the enemy Elephants to a potentially devastating charge from that side. This happened just as the Thracians in the centre of the picture also did the same to their opponents, opening up them to a charge also from the left. Oops!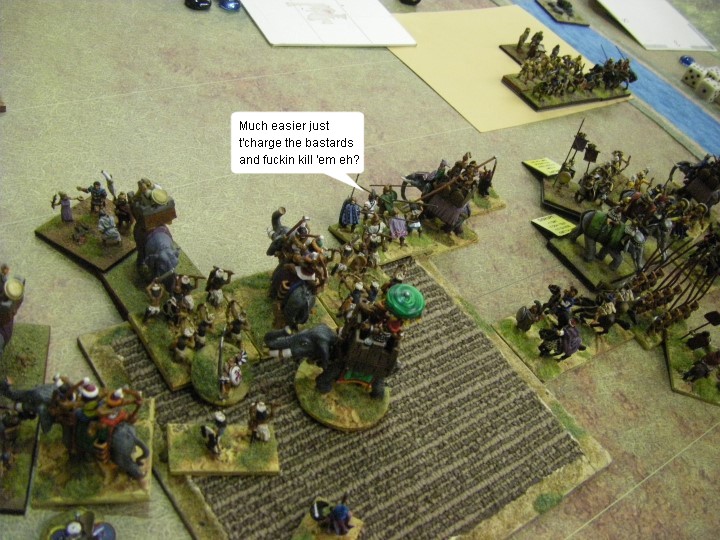 The two allied commands were going at it hammer and tongs in the field - good lads! - but the greater numbers of my own men and Elephants were proving pretty decisive by now. This was looking like yet another moment when I would realise yet again how brilliant I am.
Iron Maiden do Alexander The Great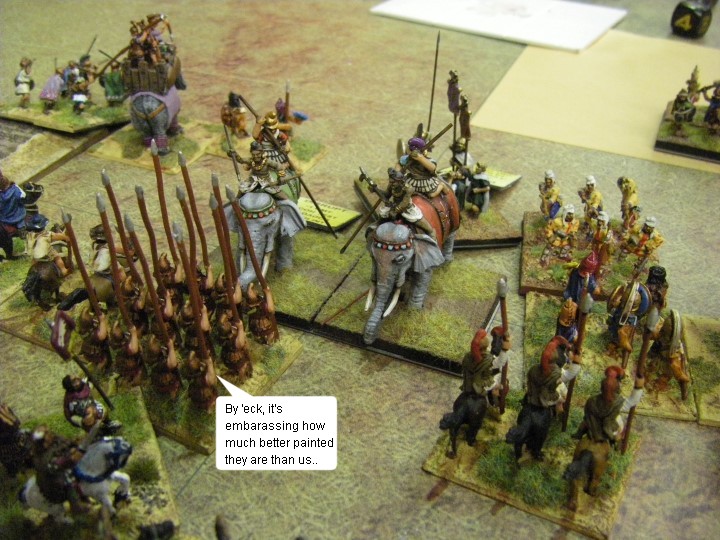 The enemy were throwing bodies and units into the fray in an increasingly frantic effort to protect their only real fighting force left, their Elephants - but even they were starting to run out of lives as the markers behind them grew ever more lurid and frightening.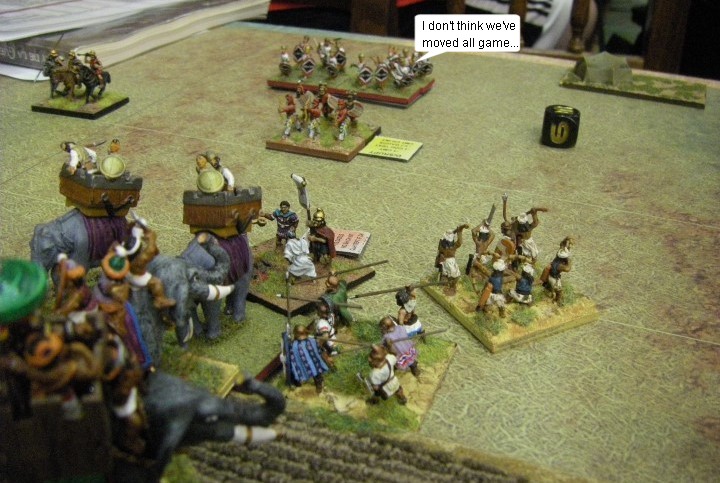 The Thracians swung round after pausing to celebrate their victory, and finally did for the allied command of the opposition.

No more monkey business, this game was well and truly won!
The Result is a Great Victory for Me, Alexander The Great!.
Click here for the report of the next game in this competition, or read on for the post match summaries from the Generals involved, as well as another episode of legendary expert analysis from Hannibal
Post Match Summary from the Alexandrian Macedonian Commander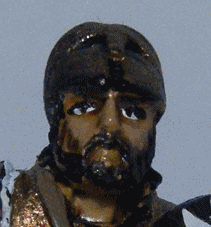 What a wonderful victory, in which I stunned my opponent into stasis, and then cleverly exploited that shock with an awesome display of fast movement and feint and thrust!
If it had not been for the heroics of the enemy elephants on their left flank, this battle would have been over before the enemy allied command even got started, but their unwillingness to be part of the inevitable defeat did mean that my natural instincts for a fast, decisive attack paid off here in style as the two lines were fully committed so far away from the uncommitted command that even when they finally woke up the game was almost played out.
Weight of numbers is a great thing to achieve in an even points battle, and having achieved it I was coasting to victory. If I can do the same again 4 more times this will be a weekend almost as successful as all of the other campaigns where I have won all of my battles.
---
Hannibal's Post Match Analysis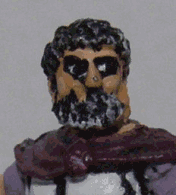 You pediculous cretin, for not realising that this game was only won because of the actions of your opponents army, and not because of any skill or wit exhibited by yourself.
Honestly, the reluctance of your opponent's Indian ally to start the game gave you a amssive advantage, and one you promptly threw away by choosing to attack them on a narrow frontage where your overwhelming superiority in numbers struggled to even be noticed. How on earth did you end up with a combat with Pikes and Elephants against, erm, the same number of Pikes and Elephants? I barely saw a flank exploited throughout the battle you doltish monkey-brain!
It beggars belief that even with such advantages a so-called self-rpoclaimed genius such as you could make such heavy weather of this battle.
I just wonder how badly you would have been beaten if your own Indians had been the reluctant ones? Maybe we will find out in the next game?
Click here for the report of the next game in this competition
You may also like....
Game 1 Alexandrian Macedonian vs Classical Indian
Game 2 Alexandrian Macedonian vs Graeco-Indian/Indo-Greek
Game 3 Alexandrian Macedonian vs French Ordonnance
Game 4 Alexandrian Macedonian vs Delhi Sultanate
Game 5 Alexandrian Macedonian vs Christian Nubian
Game 6 Alexandrian Macedonian vs Sassanid Persian
View My Stats for My Match Reports Pages