Romes Wars at York 2021
Odrysian Thracian vs Robert Taylor's Palmyrans
Game 1 Odrysian Thracian vs Carthaginian
Game 2 Odrysian Thracian vs Palmyran
Game 3 Odrysian Thracian vs Sassanid
Game 4 Odrysian Thracian vs Triumverate Roman
Game 5 Odrysian Thracian vs Seleucid
With the first game since March 2020 now as firmly under my belt as my full English breakfast inspired belly was no longer, the second round hove into view, and with it a first ever game against Robert Taylor and Robert Taylor's Palmyrans.
Robert Taylor had (some might now perhaps say in retrospect "somewhat foolishly") buttonholed me at numerous events over the last few years to whinge continuously politely point out to me that neither he nor any of Robert Taylor's Numerous Ancients 15mm Armies had ever been mentioned or featured in any Madaxeman.com battle Report, by the odd coincidence of us never having played each other.
This game was therefore a chance to rectify the extreme lack of mentions of Robert Taylor (and Robert Taylor's Palmyrans as well) in the annals of Madaxeman.com, and I am sure you will be delighted to hear and then discover that I have risen to this challenge and done everything I can to address the desparate shortage of Robert Taylor mentions on this website over the next few thousand words and pictures.
The lists for the Odrysian Thracian and Robert Taylor's Palmyrans from this game, as well as all the other lists from the games at York can be seen here in the L'Art de la Guerre Wiki.
The Palmyrans are a pretty pokey army, especially now that Cataphracts are a little bit better. They get almost-as-good-as-Roman Roman foot, more Cataphracts, some mounted bowmen and a decent command and control setup - all of which comes at quite a price however, making it a small but punchy force.
However in the hands of a skilled Robert Taylor it could well turn into a real Robert Taylor-style army. Whatever that means.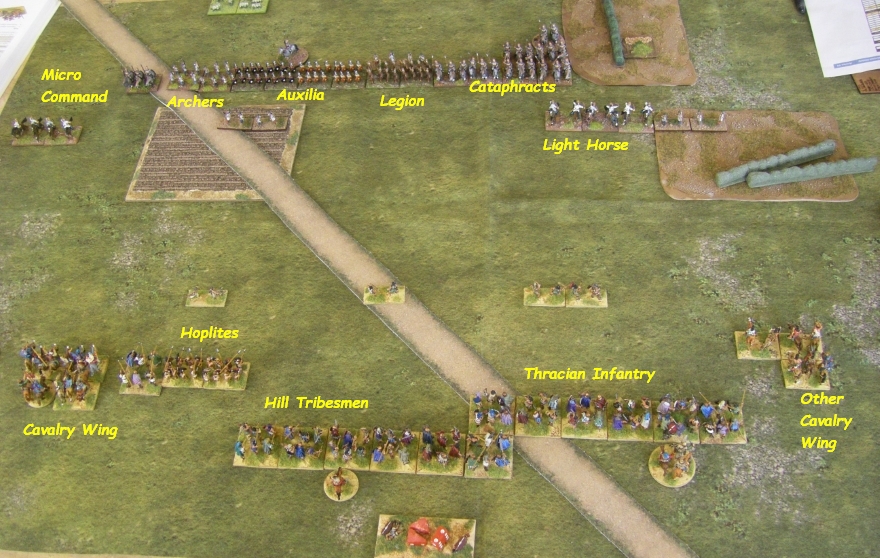 This game again saw the Thracians defending, and after picking 4 terrain pieces (2 fields, 2 plantations) and hoping for a half-decent last chance to shift one of them I was broadly optimistic of cluttering up the table and forcing Robert Taylor's Palmyran Cataphracts into an obvious area for the Thracians to run away from and hide in the terrain.
Sadly this did not come to pass and all of the terrain ended up in Robert Taylor's half of the table after Robert Taylor's Terrain Moving Dice (sourced from Robert Taylor's Great Palmyran Dice Factory, one of the largest civilian employers in Greater Palmyria, and source of over 18% of Palmyras dollar-based international trade) managed to drag it closer to Robert Taylor's baseline and away from the part of the board where Robert Taylor's Cataphracts would probably be hunting Thracians that afternoon.
What's Going on Here Then?
This looks like an odd deployment for the Thracians, however the infantry in the centre are stepped back some way from the start line hopefully giving them chance to scoot out of the way of the cataphracts who would surely come down the middle.
The Thracian anti-mounted command is on the left wing, and plans to send its Hoplites to the centre to meet the Cats head on, and use its remaining half-decent 3+2 Cavalry+LH force to run down what was hoped to be a lightly defended Palmyran right flank.
The rest of the Thracians on the right plan to make a run for the rough terrain, drawing the Cataphracts into an increasingly empty centre.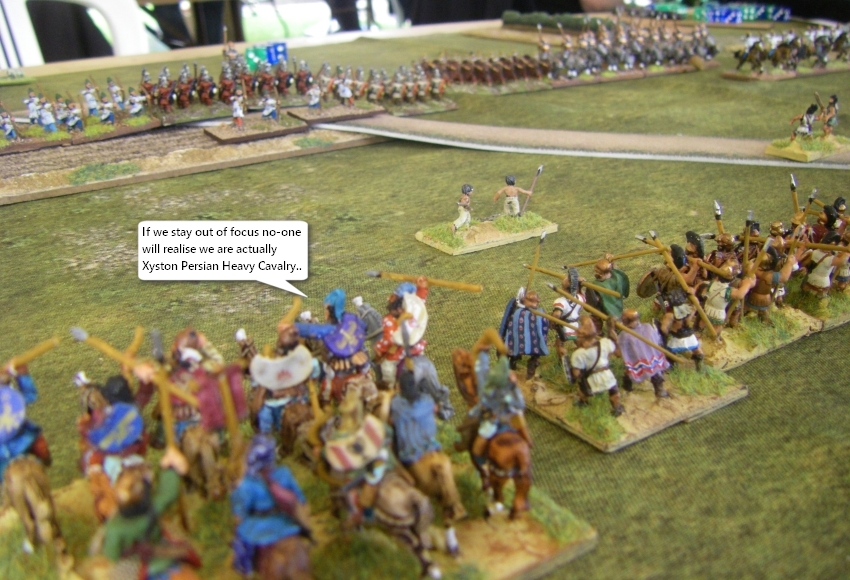 Robert Taylor's Palmyrans had a large contingent of Robert Taylor's Auxiliaries, supported by Robert Taylor's Almost-Roman Archers all stylishly equipped during a very fruitful team trip to The Robert Taylor Military Outfitters Outlet during their annual sale (which takes place each year in Palmyra on Robert Taylor is Still Our Glorious Leader Celebration Day .
The well turned out forces of Robert Taylor stepped up sharply and occupied the most contestable element of terrain, giving the Thracian's Elite Warrior Contingent a target that was even more tasty than a vegan burrito in a roadside mock-Route-66-esque diner would have been.
The hoplites were however less enamoured as it now appeared that they had to swap placed with a force of screaming maniacs all under the watchful eye of a load of the Almost-Roman Robert Taylor's Auxiliary Forces.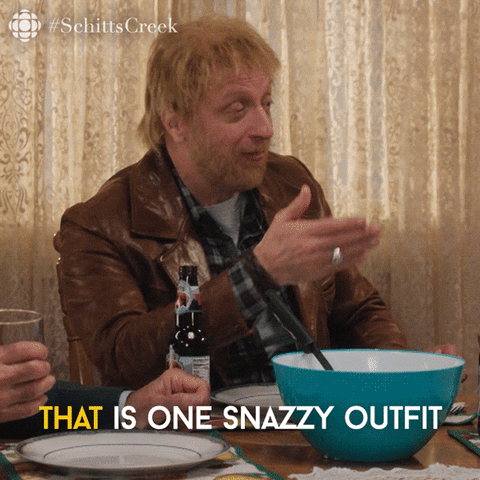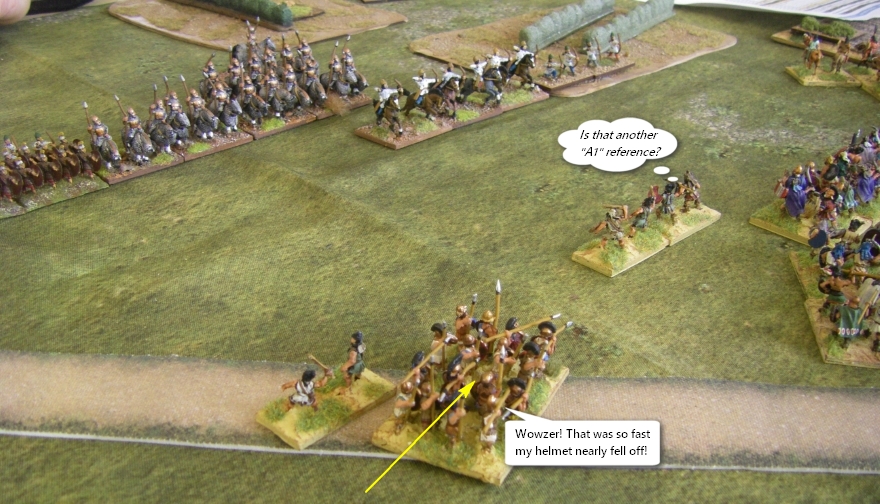 But - gadzooks - the Wonderful Charming, Handsome and Friendly Mr Robert Taylor reminded me of the new v4 rule allowing Heavy Infantry to move at 3MU if they are a long way from the enemy!
The Hoplites launched themselves as if they were a crowd of mid 50's mostly unfit blokes released from 18 months of indoor tedium and suddenly allowed to sit together in a pub garden heading for a just-opened bar, and positively sprinted across the face of Robert Taylor's Army to appear in front of Robert Taylor's Palmyran Cataphracts !
What's Going on Here Then?
The Palmyrans are advancing in a coherent line, keeping their Cataphracts and infantry in mutual support, with the infantry looking to get into the prominently placed field in advance of any Thracian moves to contest it
The Thracian army, having deployed relatively far back to start the game, is now shuffling everything it can out of the path of the Cataphracts and moving forward briskly either side of them towards the protection of terrain. The mercenary hoplites are about to earn their pay, as they are the only troops in the Thracian army who might be able to stand up even for a short while against the Cataphracts and so they are being urged forward to act most probably as a speed bump to delay their advance while the rest of the Thracian army runs for the flanks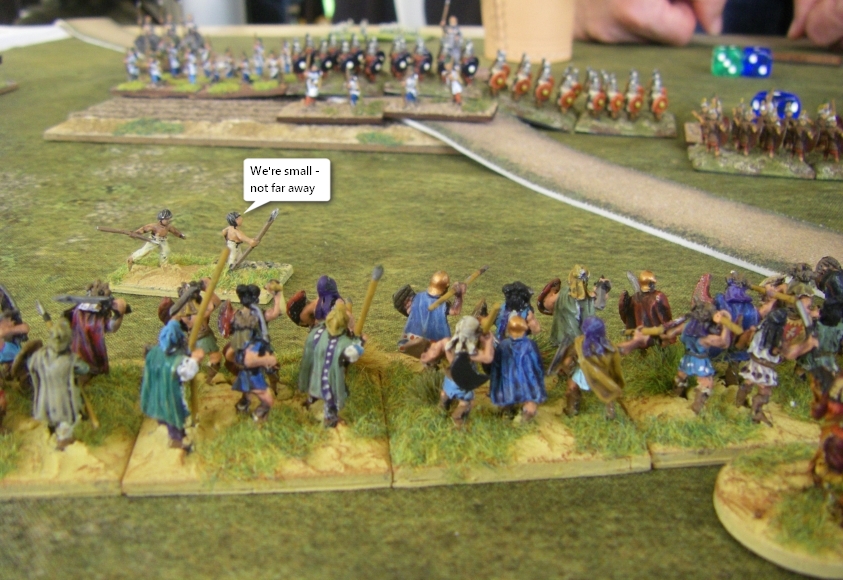 Drifting left faster than Andy Burnham finding himself accidentally arriving at a Friends of Jeremy Corbyn pie and mash reception in the Workington Workinmens Club in Eccles, the 4 Elite Hill Thracian romphia men slid, slided and wheeled as fast as they could making a bee-line straight for Robert Taylor's Romanesque Auxilia and Robert Taylor's Accompanying Archers.
This seemed an ideal target composed entirely of troops who the Thracians though had the very attractive characteristics of not being Robert Taylor's Palmyran Cataphracts, making them pretty much top of the list for the Thracians to have a punt at.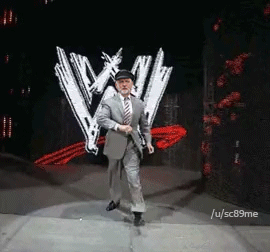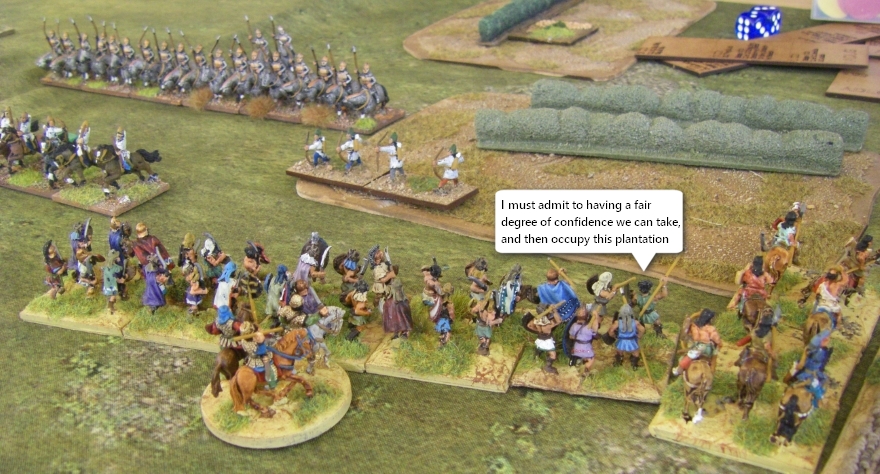 The other wing of the Thracian army was drifting rightwards faster than a Tory wannabe MP and member of the local Rotary Lions Freemasonry Society in a Red Wall constituency with a single major employer as yet to be decimated by the actual reality of the Hard Brexit which the aforementioned Freemason was relying upon to help get his trotters in the Westminster trough.
Robert Taylor's Palmyran Cataphracts looked on in amazement as the Thracians refused flat out to stand in front of them and be trampled underfoot by quads of cataphract hooves shod in metal at Robert Taylor's Mighty Mighty Metal Horseshoe-fitting Emporium located plumply in suburban Palmyra.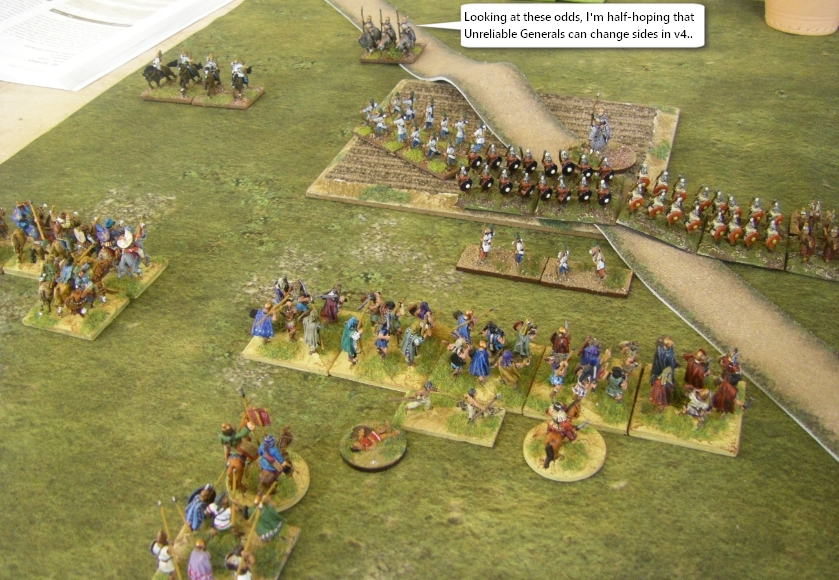 Robert Taylor's Palmyrans had a teeny flank guarding command which turned out to be unreliable.
With lots of pips spent throwing the Hoplites at the centre the Thracian mounted wing facing them lacked enough pips to try and run them down so instead moved up ready to pounce.
The Elite and extremely hairy wookie-like Hillmen had in the meantime gotten into position with minimal shooting casualties and were ready to launch an attack as soon as they could, ideally hitting the theoretically squishy bowmen even harder than the much more competent Robert Taylor Regiment of Imperial Auxilia.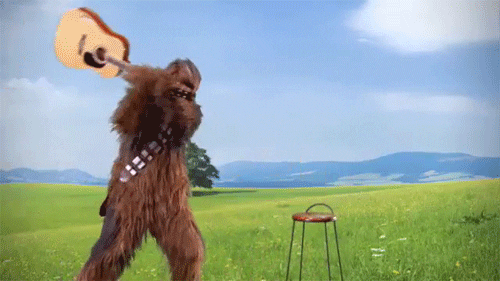 In another accident which can either be attributed to a slightly wobbly Gorilla Grip flexible tripod, poor lighting in the tented venue, or a lens smeared with a form of lubricant purchased at an A1-adjacent brown-bag dispensing retail emporium this rather patchy photo shows how Robert Taylor's Cataphracts are pushing forward into an increasingly Thracian-free centre of the table as the almost-Romanians run for safety in terrain.
Robert Taylor Merchandise on Amazon

(These are "affiliate links". If you buy something after clicking on them I get a small kickback from Amazon)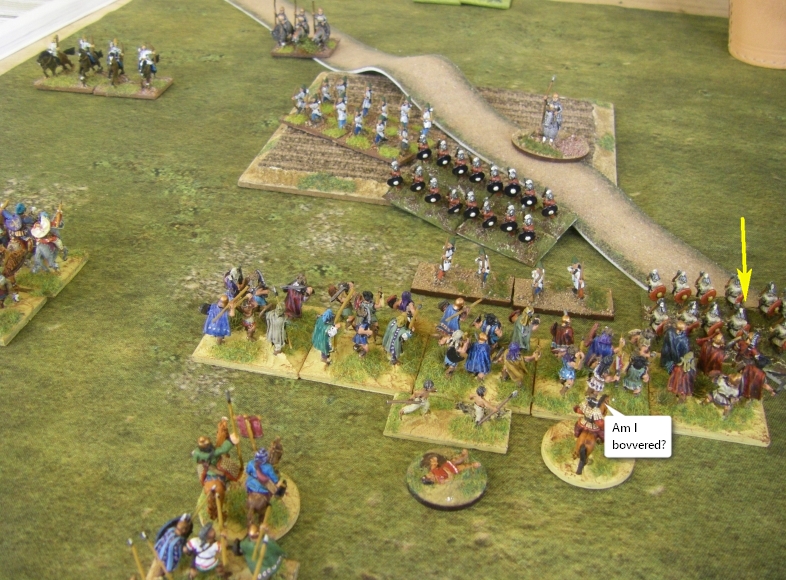 Seeing the threat to Robert Taylor's Pseudo-Roman Archers, some of Robert Taylor's Romano-Palmyran Auxilia stepped smartly forward from the enclosed field and charged into the very end of the line of Thracian romphia-ists to initiate combat!
This in turn helped make Robert Taylor's Romanized Bowmen feel much safer, and so they wheeled out a bit with a clever, almost balletic movement to begin to pour arrows made in the Robert Taylor Fletchery of Greater Palmyaria towards the still-becalmed Thracian mounted wing.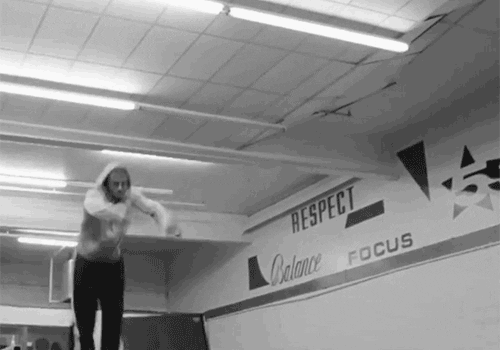 ---
What's Going on Here Then?
The Palmyran infantry already occupying the key piece of rough terrain have realised that the Thracian Hillmen's inexorable drift to the left will see them assault the Palmyran archers, and so have been forced to lurch forward to engage the hillmen before they can reach the soft underbelly of bowmen. This draws the Palmyran infantry forward, blocking any move from their own cataphracts to swing out to the left
On the same flank the unreliability of the Palmyran micro command continues to be a puzzle for the Thracian mounted component, as they are unable to organise a coherent attack on it due to spending much of their command capability driving the Hoplites into the centre of the board to block the Cataphracts. Elsewhere, the main body of Thracians has pretty much made it to the safety of the terrain on the opposite flank, leaving the Palmyran Cataphract short of real targets.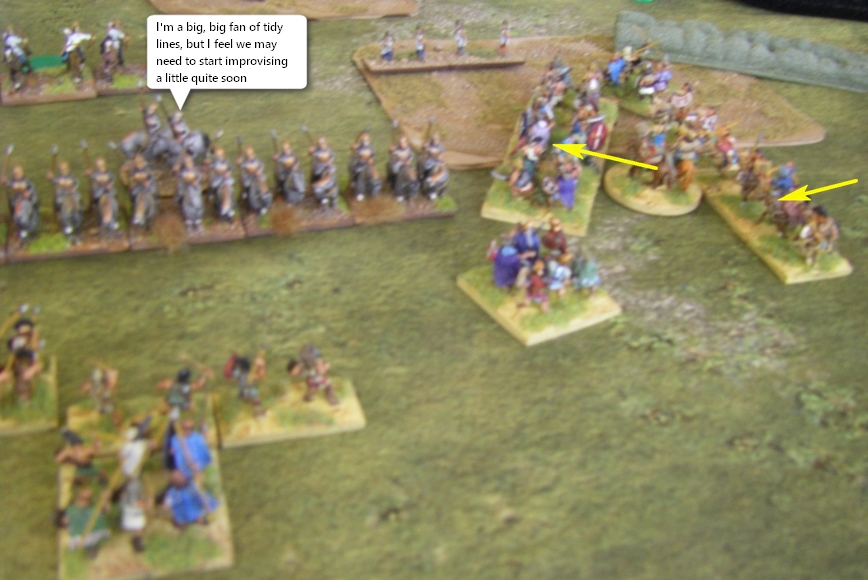 With everyone reading this probably still holding their computer mice more gingerly after reading the 'smeared lens' theory around the earlier instance of such a poor photograph, let's all just pretend this one was taken at speed by a camera strapped to a medium sized Thracian Eastern Imperial Eagle (typical wingspan of 1.76 to 2.2 m) or something?
Instead it is much better if we all just marvel at how effectively the Balkanian sort of forest and plains dwellers had managed to stream into safety and started to outflank Robert Taylor's Palmyran Cataphracts in almost incalculable (well, in this shot anyway) numbers to boot.
(These are "affiliate links". If you buy something after clicking on them I get a small kickback from eBay)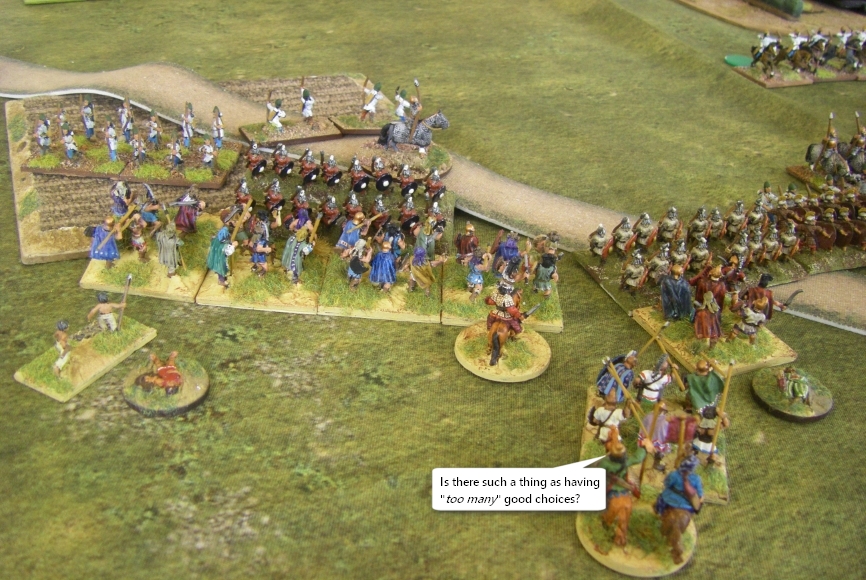 Thrace-tastic! The Thracians plan to denude the centre of their army was now paying dividends as the Thracian flanks started to fill up with hairy warriors with big choppers.

This was putting the fear of god into Robert Taylor's Palmyran Auxilia in particular, as they had found themselves attacking piecemeal to defend their flanks, and had ended up as the target of a huge assault of all of the Elite Thracian warriors down from the hills, a gaggin' and a-dripping with bloodthirsty enthusiasm for a bit of a cutting up session before (presumably) a lively night out in York.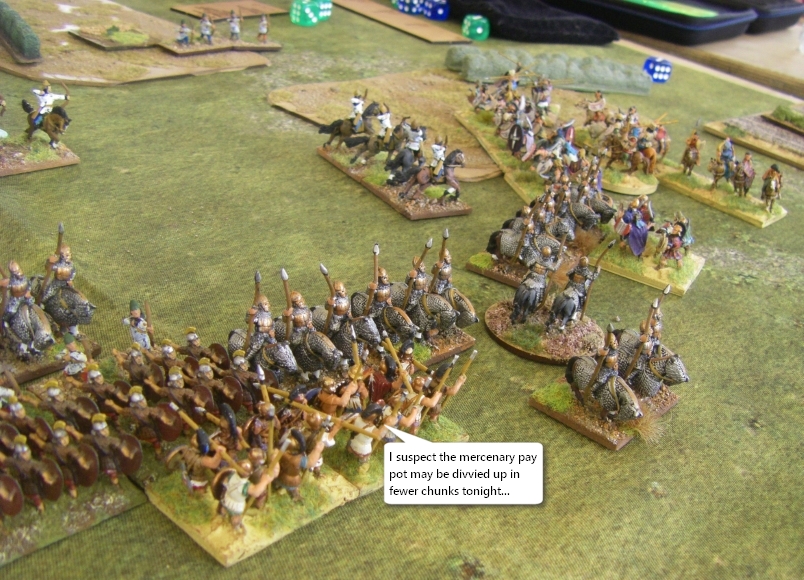 Robert Taylor's Cataphracts and Robert Taylor's Not Previously Photographed Actual Faux-Legionaries were now in a position where they really hoped that they would be running down Medium Foot In The Open.
But, instead all they found was a pair of rather bemused and fast-realising that they were underpaid Greek Mercenary spearmen, and a single Thracian who had been suffering from The Curse of Planar Faciliatus (the Greek God of supporting insoles) and who had not managed to join all of their woodland forest friends in the outflanking positions.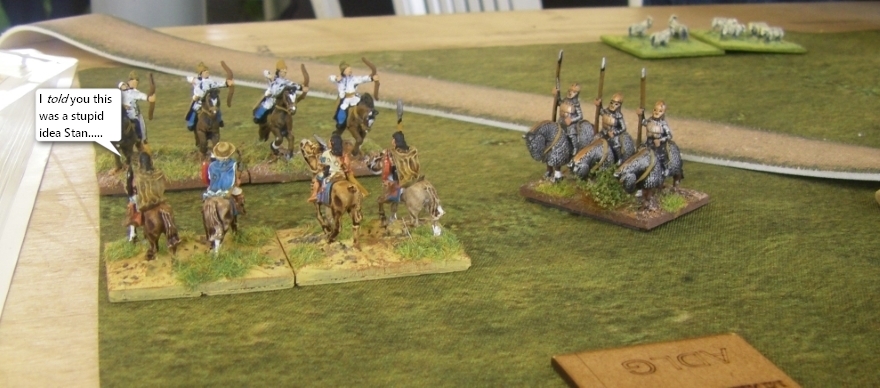 Robert Taylor's Patented Micro Command had now been triggered into action by the driving-forward Thracian moutned wing, as it luxuriated in ample pips now that the Greek Mercenaries had been delivered to their final resting place in front of Robert Taylor's Steel Horseflesh Wall of Mobile Stompy Death Battalion of Cataphracts.
The horse archers of the Equites Robertalylorii had evaded back in the face of a surging run from the Thracians, then returned to the fray together with their glorious leader embedded in a Cataphract (who incidentally was also a junior member of Palmyra's ruling Taylor family, named Robert after, well, every other male and female member of the clan, as why let a perfectly good name go unused ?)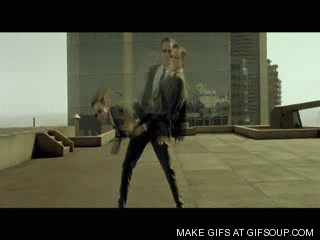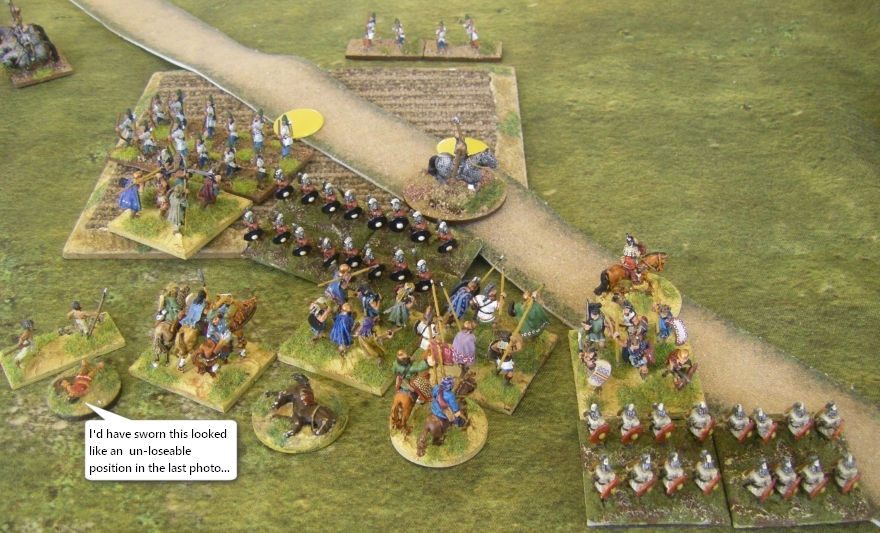 Robert Taylor's Indefatigable Auxilia and Bow Combo was putting up more resistance than was strictly sporting against the creme of the Croato-balkanian romphia waving maniacs, halting their progress and throwing overlaps and factors back in the faces of their opponents.
However, a gap is a gap, and even as the Robert Taylor Red Shield Auxilia Division crushed it's frontal opponents they found more Thracians clattering them in the rear of their 40x40 bases (bought at the Robert Taylor Imperial Palmyran Sawmill. Of course).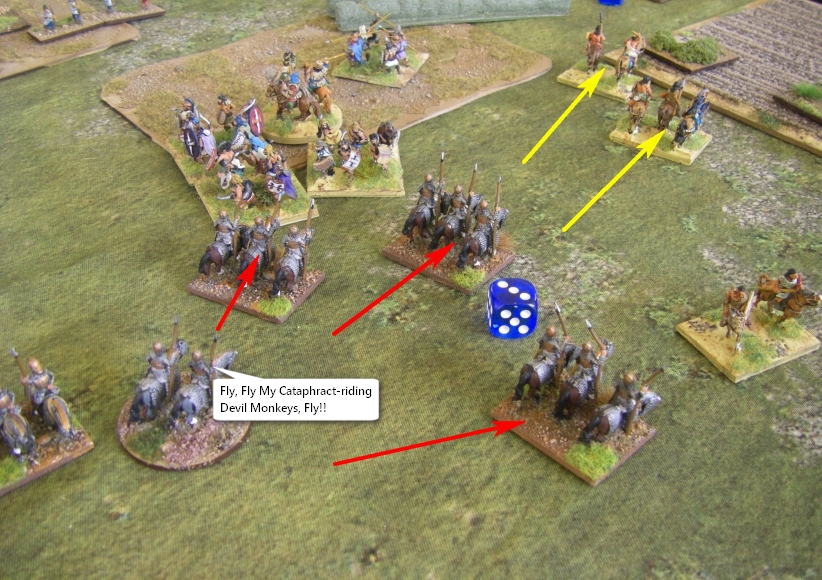 Robert Taylor's Imperial Cataphracts were now spread more randomly across the table than shotgun pellets fired at a barn door on the Robert Taylor Shotgun Shooting Range during Palmyra's semi-religious 2nd Amendment Rights (Things That Haven't Been Invented Yet) Day.
Everywhere Robert Taylor's Shiny Horsemen looked they were seeing Thracians running away into the woods!
Robert Taylor's Might Horsemen were starting to worry that they might need to go home this evening and report to their glorious Robert Tayloresque Leader that they had failed to implement the Thracian-squishing plans laid out for them by The Genius Robert Taylor, founder and Principal of the Robert Taylor Combat School of Palmyran Military Theory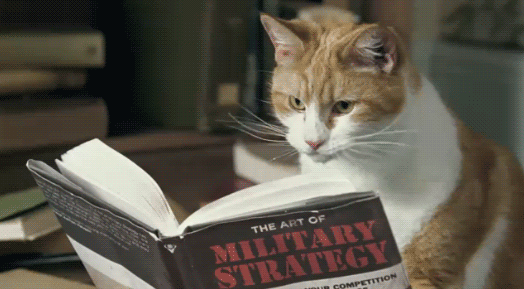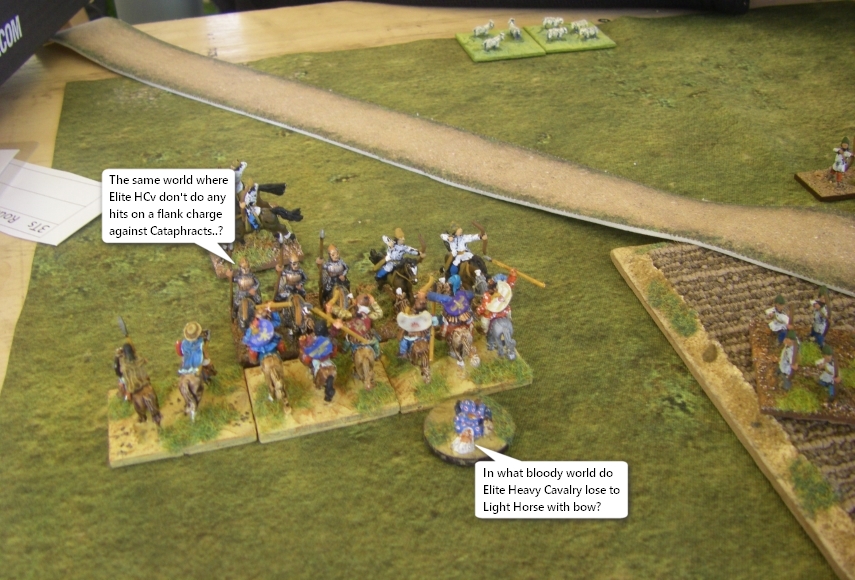 This photo shows the aftermath of a really cute move I managed to pull off using the little-known third bullet point in the conformation rules on p50 to hit the Embedded Cataphract General, Prince Robert Taylor in the flank despite him believing he was protected by a ZoC from one of Robert Taylor's Equites Robertaylorii.
Of course, Robert Taylor managed to out-dice me comprehensively in the combats - the traditional punishment for being a clever bastard - and then turn everything to face the two Elite Thracian cavalry with no hits incurred at all.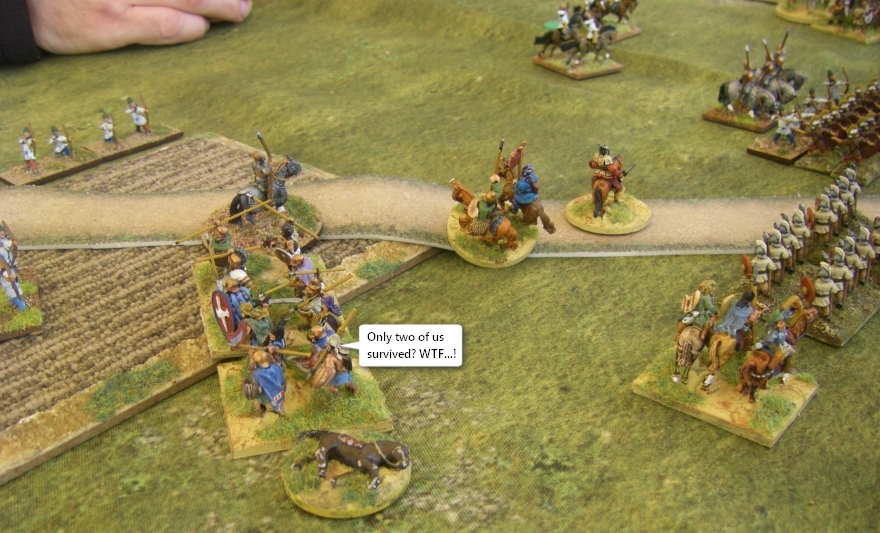 Finally, after an over-long struggle against two units of The Robert Taylor Regiment of Auxilia, who seemingly had been digging-in in the field for longer than an amnesiac Land Army girl with an aversion to consuming any form of news media media.
With a chunk of the dangerous troops now wiped out by flashing romphia action the Elite Hillmen Thracians (close relatives of the Hillman Imps) were now free to try and finish off the ridiculously resilient Pamyran bowmen, who had presumably snuck out of their lessons at the Lord Robert Taylor School of Palmyran Archery to attend classes at the Sir Robert Taylor's All-Palmyra Military Academy of Hand to Hand Combat.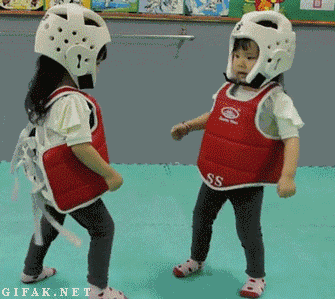 ---
What's Going on Here Then?
The Palmyran infantry in the key field have fought like lions, handing the Thracian Hillmen a bloody nose in a fight they were hoping very much to win. Together with the failure of the rest of the Thracian mounted troops on the flank to overrun the Micro Command this has left the Thracian army with little chance of success in the battle as the elements of the Palmyran army they had targeted for a swift victory have stood up far better, and inflicted far more hits on the Thracians than hoped and expected.
The enemy Cataphracts are still hunting for targets, and have succesfully been separated into individual slow moving units - but even so, the rest of the Thracian army has little if anything to face them with even in this fragmented state.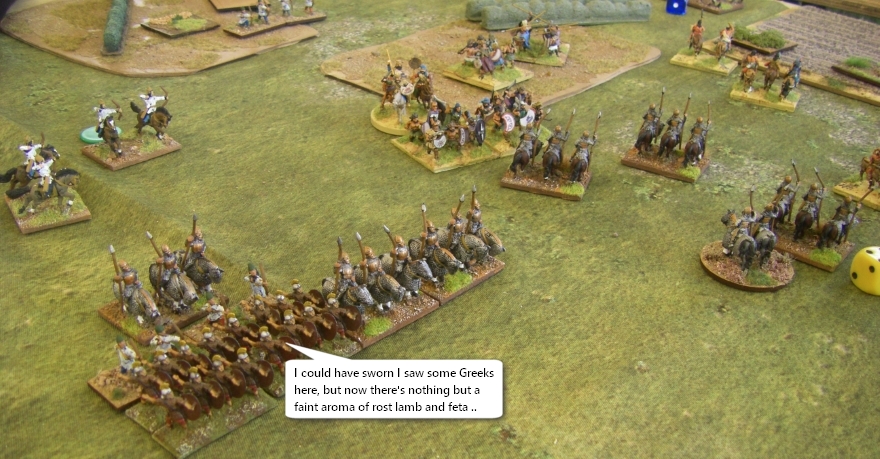 The Greek Mercenary hoplites had by now departed this mortal coil, leaving a rather bemused and opponent-bereft set of I Can't Believe They're Not Roman Legionaries and assorted shaken-and-stirred elements of Robert Taylor's Mighty Cataphract Army staring at an open field and a dearth of new targets willing to stand and fight.
Thrace-a-rama! Thracians meanwhile were dodging in and out of the woods, testing the reaction speeds (and the 2 pips for a turn style) of the Cataphracts whenever they could.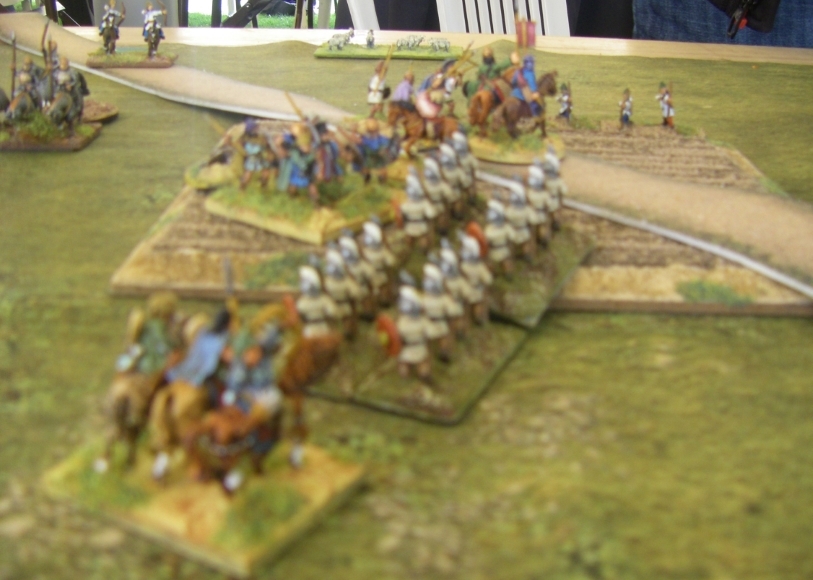 Robert Taylor's Resilient Auxilia soon however returned to the fray, seemingly drawn to the field like a pensioner is drawn to the ₤6.50 Wednesday Burger Special (*not available with other offers or vouchers) at an A1 roadside silver-clad dining experience.
They were met with whatever remnants of the Thracian Hillmen had survived prolonged contact with Robert Taylor's Clearly Not As Crappy As They Should Be Bowmen, as battle restarted where it had already started and finished.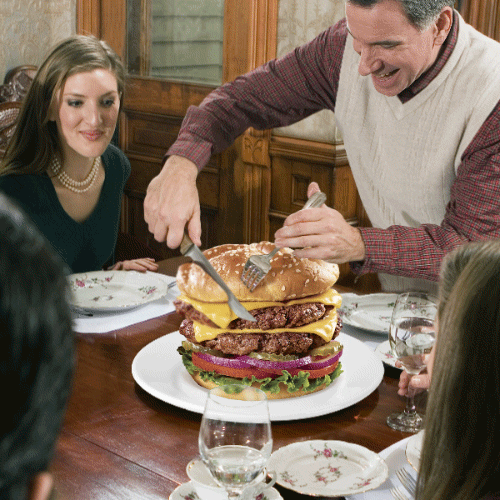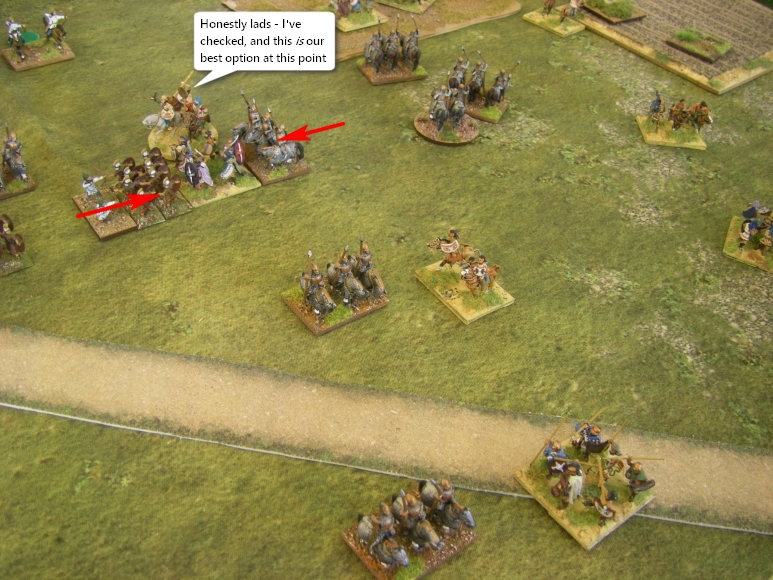 Robert Taylor's Multiple Independent Cataphract Re-entry Vehicle Strategy suddenly sprang into life, as every single one of the metal-shod behemoths found itself chasing shadows or Thracians across a swathe of land bigger even than the gardens of world-renown Palmyran landscape artist Robert Capability Taylor.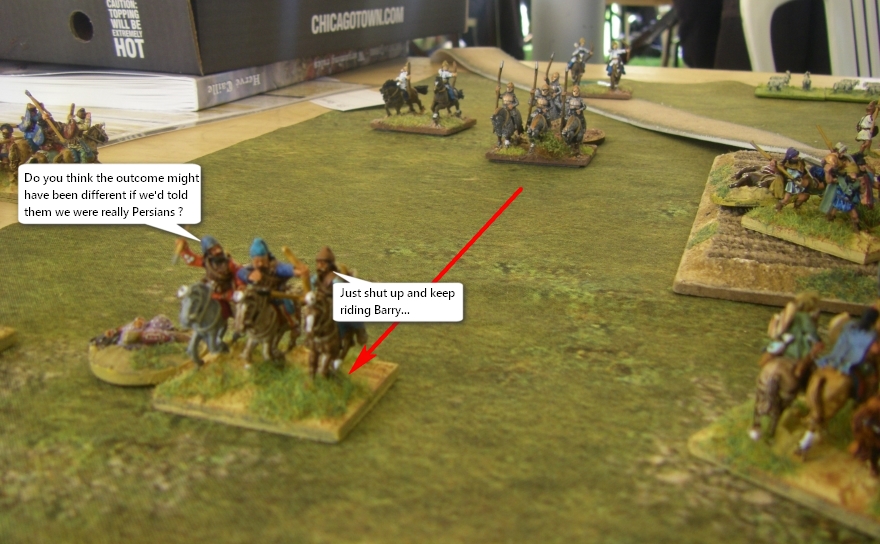 Laughing at the previous attempt to catch him out with the application of a new and unknown rule which had been cunningly hidden by being written clearly and in plain English on page 50 of the rules, Robert Taylor's Patented Micro Command, including both the Prince Robert Taylor and his accompanying units of the Equites Robertalylorii stepped forward.
The surviving Thracian Elite Cavalryman fled in terror.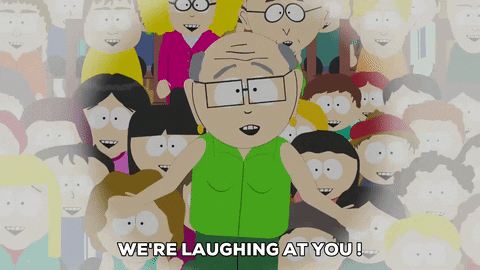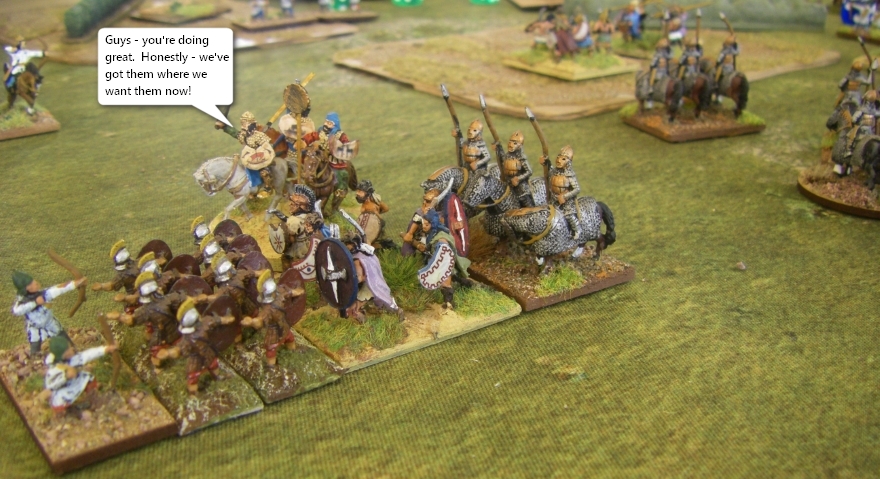 Looking at defeat clearly and imminently the Thracians were now hurling units and generals into combat, maximising their chance of rattling up some points and simultaneously trying to go for broke on the "survive or die big" strategy.
After an unsuccessful lunge at a lone Legionary this suddenly turned sour, as the warriors and their leader found themselves trapped in something closely resembling a chicken shwarma sandwich similar to those sold at Palmyra's leading vaguely healthy fast food outlet, Pret-a-Robert-Taylor-Manger.
The dice rolled, and finally the Thracians pulled one out of the bag to survive for another round by the skin of their romphia-picked teeth!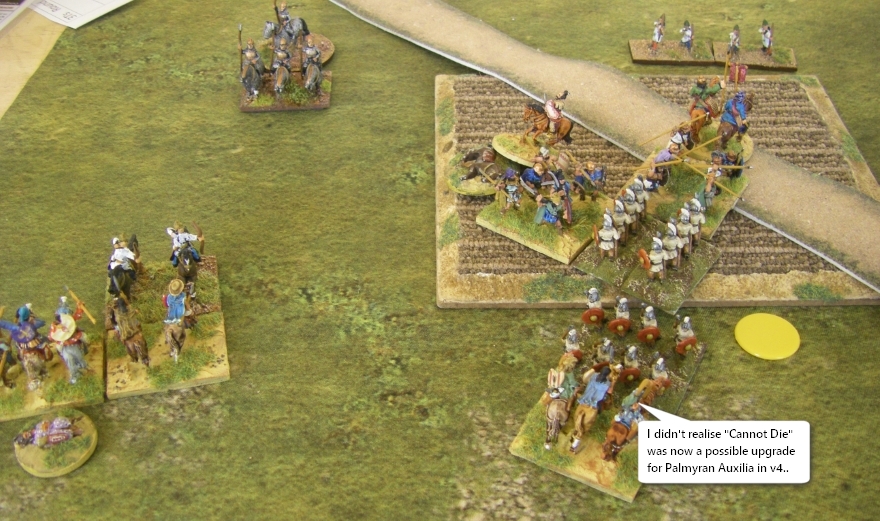 And, with Robert Taylor's Imperial Auxilia coming under huge pressure in the central field, and the Thracian army on the very brink of defeat, the referee called time (blowing loudly on his whistle, bought from Robert Taylor's Big Glassy Emporium of Sports Paraphernalia no doubt). The Thracians had survived their first encounter with Cataphracts!
The Result is a draw, with the Thracians only one unit from defeat!
Click here for the report of the next game in this competition, or read on for the post match summaries from the Generals involved, as well as another episode of legendary expert analysis from Hannibal
Post Match Summary from the Odrysian Thracian Commander

A woarahhah a cutty cutty woargh! A reet nasty smackin' around me head parts by tha' horsey bastards eh? I cannae' see whorrhghga how that clever thing with the silver scales really works, ah mean like in our neck o' the woods tha hills'd knacker that horses first time oot reet?
But, we kept away from 'em as much as we could, but the bugger were them auxiliaries in the bloody field. Ah mean, gnarrghagghy mklack, like how do they stand up aginst me best men forever - and dinnae get me started on them dammed archer fellas. Granghaghtyshlack! Wot the fook was that all about leek?
Them shooty bastards shoudl ha' been deed long time ago, nay goin' toe to toe wi' me finest blokes. Them Hill Thracians have spent life down't pit, they stood w' Scargill on that picket lines, and giv a good heedin' to the bent police back in t'day. Grangiharrrghts!
Ah mus gowan lie down in a darkened back room somewhere as ah am shaken so much I cannae draw on me eyebrows with a pencil wi'oot riskin poking me eye oot after that.
---
Hannibal's Post Match Analysis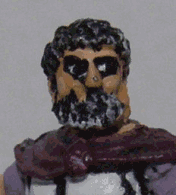 Again, incomprehensible nonsense to round out a battle in which it on occasion looked like you might actually have a plan of sorts, but which in the end you barely managed to survive long enough to trouble the scorers.
Starting the game with a need to swap units between two of your commands does point to something of a flaw in basic army design - your army has a command designed to fight enemy mounted on a flank, but in this themed event the enemy mounted are almost always going to be a wall of Cataphracts coming down the middle of the table so those 2 Hoplites are greatly outgunned and will almost always be starting in the wrong position as well I fear.
You did a faily competent job at getting your troops out of the way of the enemy, although this didn't really help you due to the abject failure of your best warriors to take down a handful of Romans - and their archers - in a field. Let's face it, if they use up all of their good dice in the previous game against Carthage to such an extent that they have nothing left in the tank even for the next game then it would suggest your plan is based on being lucky rather than being good.
And, as a strategy goes, running away from the oppositions best troops is always going to be rather limited in the "winning games" stakes isn't it? I think you need to have another think about what is involved in actually winning before the next game
Click here for the report of the next game in this competition
You may also like....
Game 1 Odrysian Thracian vs Carthaginian
Game 2 Odrysian Thracian vs Palmyran
Game 3 Odrysian Thracian vs Sassanid
Game 4 Odrysian Thracian vs Triumverate Roman
Game 5 Odrysian Thracian vs Seleucid
View My Stats for My Match Reports Pages