Romes Wars at York 2021
Odrysian Thracian vs Carthaginian
Game 1 Odrysian Thracian vs Carthaginian
Game 2 Odrysian Thracian vs Palmyran
Game 3 Odrysian Thracian vs Sassanid
Game 4 Odrysian Thracian vs Triumverate Roman
Game 5 Odrysian Thracian vs Seleucid
The first event of the post (we hope..) Covid world had been cunningly and dynamically organised by the soon-departing-these-shores Paul from York, and after a late shift of venue thanks to the #JohnsonVariant had ended up in the back garden of an estate pub in suburban Eboracum.
This restart of competitions was such a momentous moment that the Madaxeman Podcast Team had even recorded a nonsense Podcast trying to predict the winners, which is still available to hear online (starting around the 44 minute mark if you want to skip the other stuff):
The North being a long way away, and with all of us not having burnt any holiday yet this year even though it was now June, a detachment of 3 CLWC gamers made a day of it by travelling up the Mighty A1 on Friday morning with the aim of making a stop at Newark Air Museum & Castle (two separate places, not one weirdly wargamer-friendly multi-purpose facility) on the way.
That plan however got somewhat hijacked by the weather (wet..) and the sheer amount of cool stuff in the air museum (much of which now features in the Museums Gallery on this website), so we did a lot of low flying tin and ducked the historical stonemasonry option entirely.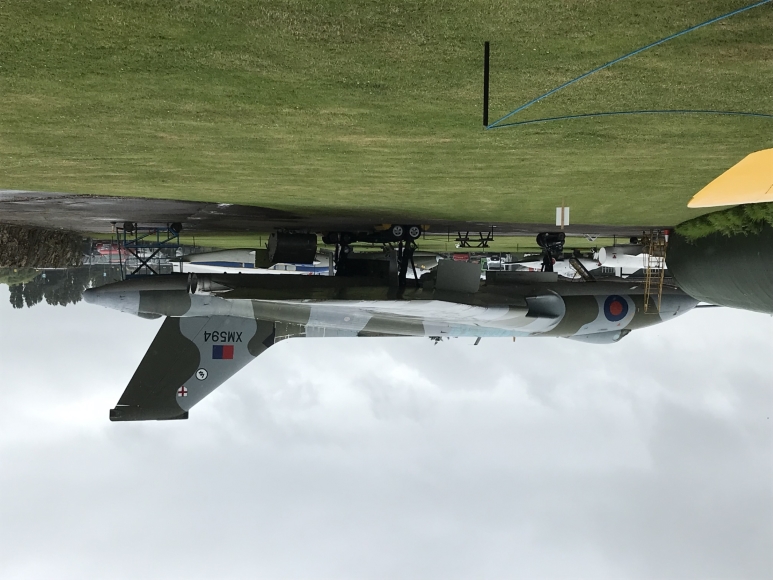 The museum generated lots of pictures but even that could not really stand comparison with the puzzling attractions of the Mighty A1 itself. These comprised a compelling collection of unfeasibly well-attended mock-American diners (queues of people older than us... what's going on?) and the strange reality of travelling on Alan Carr's well-remarked "Horniest road in England".
Safe to say that we were very, very careful to check which carpark we were pulling into when trying to find a place to stop for late lunch...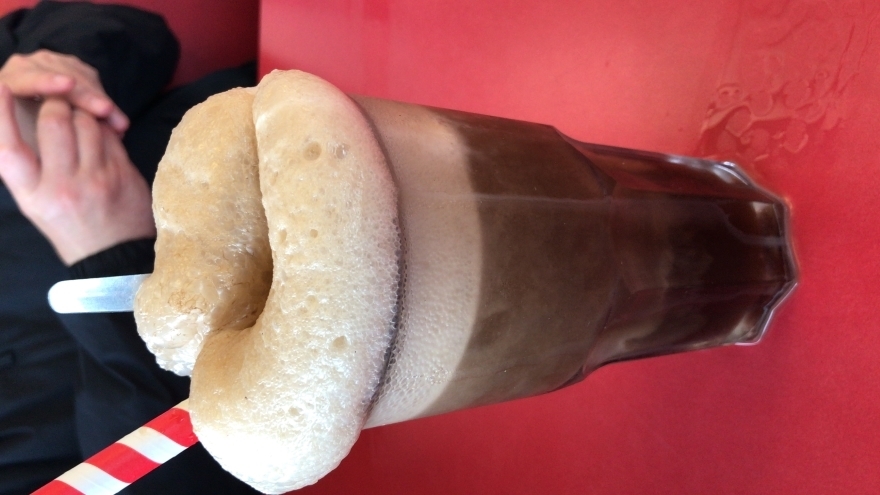 Even though the OK Diner we managed to squeeze into seemed to be over-confident in its self-naming (The Barely Acceptable Standard Diner might not have attracted the punters quite so well) it did manage to gift at least 2 of us with a Coke Float - only a couple of rearranged letters away from something we probably could have picked up in a different A1 roadside retail establishment I guess?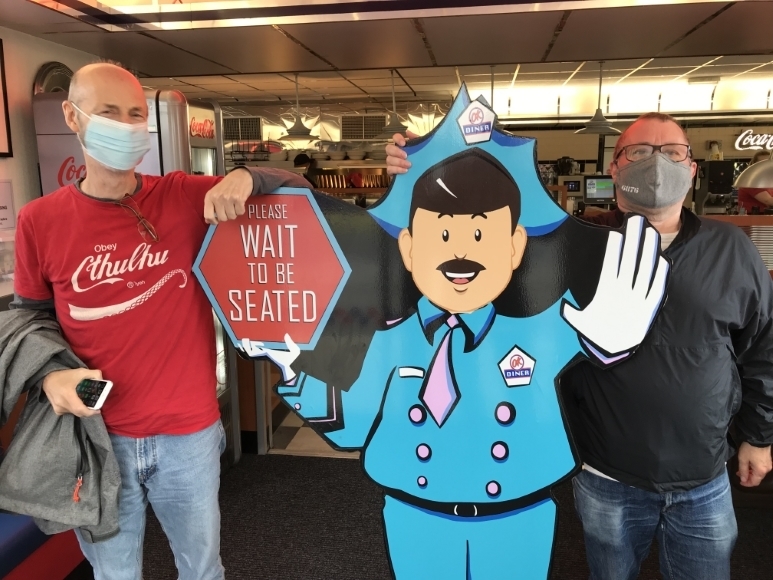 Finally saying goodbye to the Mighty A1 and it's many roadside attractions was a real wrench, but finally we made it to the glorious North West York Industrial Estate for a night in the car park / pub of a Premier Inn. Oh how I have missed the glamour of travel over the last year and a half.
The next day saw the competition actually start - and my newly-minted Thracians had been drawn against a Carthaginian army
The lists for the Odrysian Thracian and Carthaginian from this game, as well as all the other lists from the games at York can be seen here in the L'Art de la Guerre Wiki.
The Thracians
I'd owned 8 units of Thracians (4 2HW, 4 javelin) for years, and had always been tempted to extend them into a full army in ADLG mainly because the Xyston figures were so nice. The v4 lists had made that a much more viable proposition, with some really interesting options added to the army, and when I also realised I could use some of the new Museum Miniatures Z-range Scythians and Greeks to cook up some Thracian cavalry as well I decided to buy the rest of the army (and then some!).
With all of that painting I'd picked the Odrysian non-client Kingdom option just because it allowed me to use the maximum amount of "Thracian" figures with the small caveat of also fitting in some Greek Hoplites - who were another lockdown project.
A couple of practice games had seen the army start with 4 Impetuous Elite Swordsmen, but these had been dropped from the roster in favour of 4 Elite 2HW Highlanders as I had found that controlling the 4 Impetuous units was soaking up too much command and control capability from an army with fairly low C3, a very high unit count to control, and a game style which was more about overwhelming the flanks of an enemy rather than punching through their centre.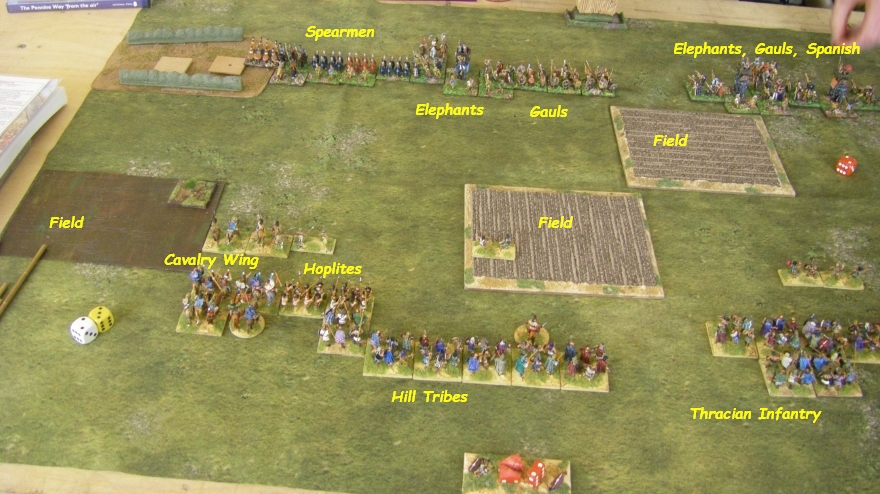 The return to the world of roadside hotels had also marked a return to the Big Fried Breakfast. This morning there would be no yoghurt or croissants for the Thracians - even though the bulk of the army were Lowland Southerners there were enough tough and hardy Northern Highander Thracians to order the full slam English daily starter
For the first game the terrain fell relatively kindly for the Thracians, with fields and plantations liberally spread (like the brown sauce had earlier been spread on the black pudding) across the middle of the table.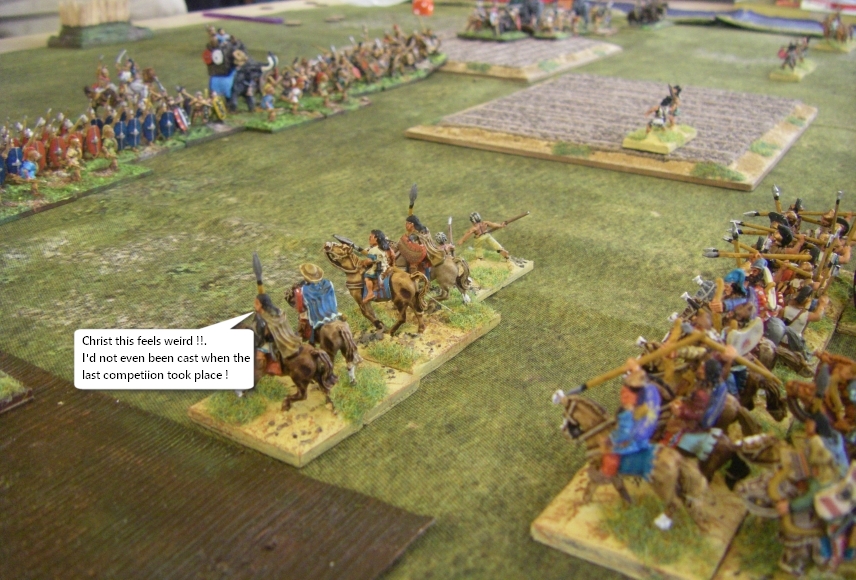 Facing Carthaginians I had expected to see some Heavy Chariots in the main open space on the board on my left, and so had deployed my command with the two Greek Mercenary Hoplites there to neutralise the potentially deadly wheeled battle cart attack.
Unfortunately my lack of any planning at all had meant I was still mentally playing a ruleset where the two Carthaginian armies were Carthaginian and Later Carthaginian instead of ADLG's Early Carthaginian and Carthaginian, and so my opponent had no chariots at all but did have a screaming horde of Gallic and Spanish warband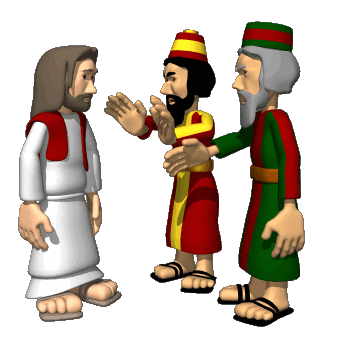 Nooooh - you're thinking of another ruleset. These are proper Carthaginians.
They also had the full 3 elephants, and to add insult to my incompetence a load of Carthaginian spearmen sat across the table in the open terrain facing the only command in my army with no 2HCW-armed troops.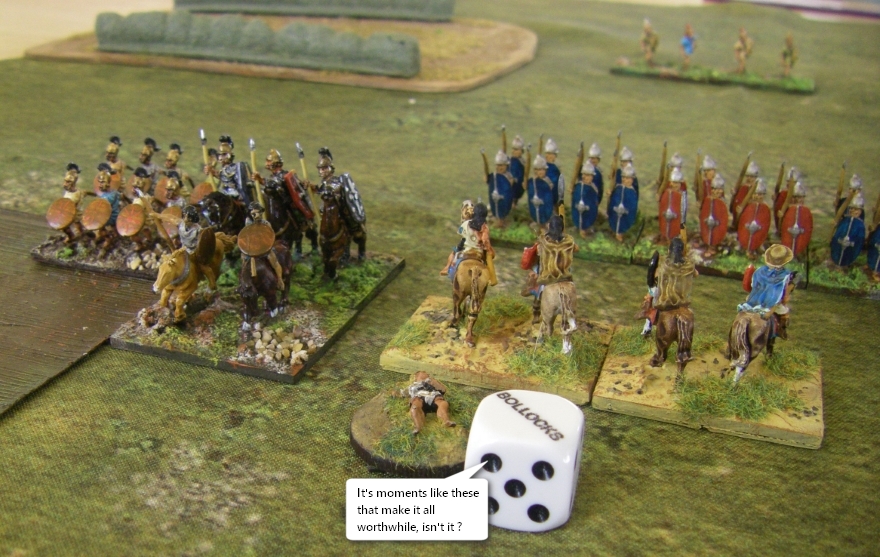 Keen to delay a combat between My Spearmen and More Spearmen than My Spearmen I had pushed some Thracian LH forward to engage in a bit of javelin throwing at close range.
This gave the enemy Numidians a chance to unleash their first volley of javelins since lockdown - which they promptly did, hitting my horsemen with a plumb dead centre 6-1 in my first competitive die role in 18 months.
Not a good omen.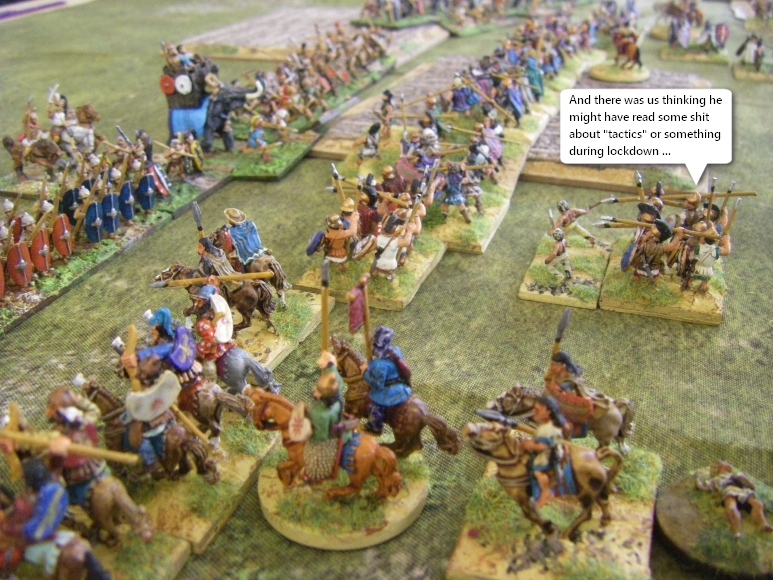 The rest of the (Later) Carthaginian army was having less trouble navigating the masses of uneven terrain than Michael Douglas would have had navigating a 100 mile stretch of the A1 in a timely manner, and was simply sweeping towards my army in a solid line of "things that probably have +1 for Impact against Thracians".
It appears that the Thracian army had time to do little other than attempt to remember some rules and line up ready to receive.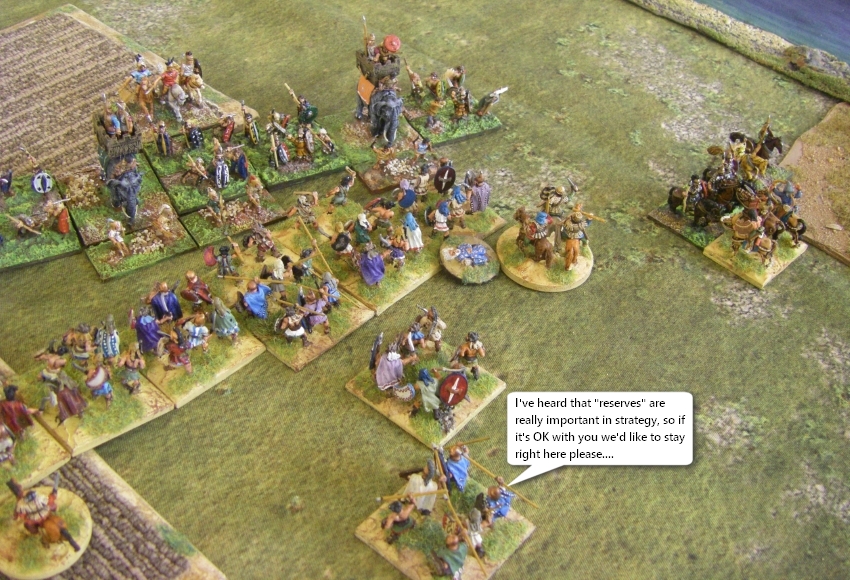 On the opposite flank the Carthaginians has unsportingly managed to be even wider than the huge Thracian army, and were seeking to insert their own cavalry by squeezing them into gaps on my flank which were so wide that no lubrication purchased from roadside establishments of any kind would be required.
The Thracians were just bracing for impact and trying to shuffle a few javelinmen towards the Mediocre enemy elephants as best they could.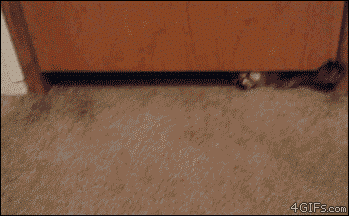 ---
ADLG hint - Impetuous Swordsmen (ie Warband) types in ADLG get a +1 in the first round of combat against other infantry for having a particularly bold charge. This +1 is however is not counted if they are charging in against other Swordsmen - but does count if the Swordsmen charge the Warbands.
In game terms this makes it sensible for Romans (and here, Thracians) to stand firm and try to take a warband charge at the halt. In both cases the Warbands also get "Furious Charge", doing an extra hit if they win in the first round.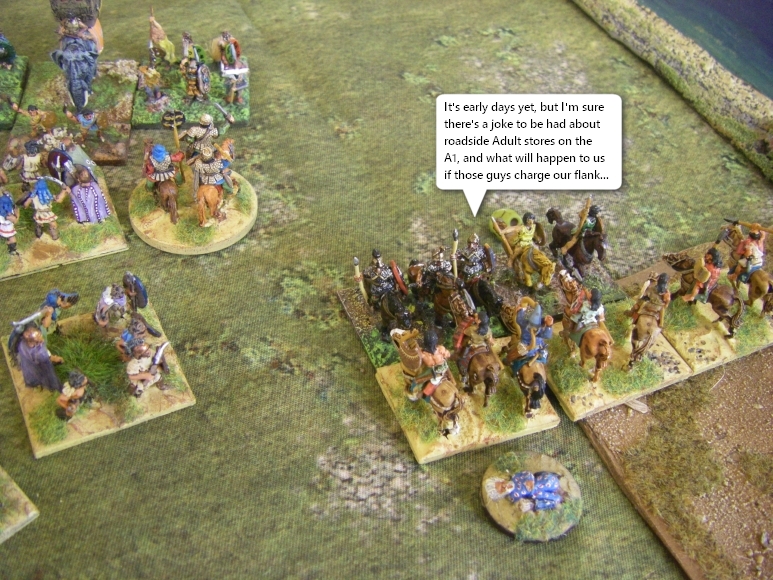 Thrace-tastic! This was supposed to be the defensive small Thracian cavalry wing, so the Museum Minis horsemen were delighted when seemingly spare Thracian infantry started to arrive to provide assistance - but would the Medium Cavalry be able to hold on long enough for the imminent flank attack to hit home?
(These are "affiliate links". If you buy something after clicking on them I get a small kickback from eBay)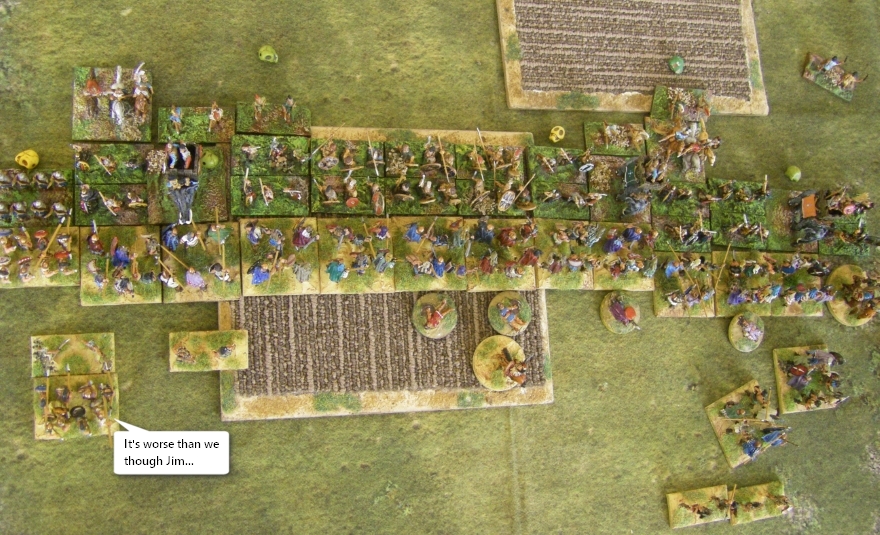 Before that small drama could resolve itself however the two lines of battle slammed together like a wall of hungry grandparents storming the hastily-secured doors of a faux-American diner like a pack of hungry dogs, only moments after local station Radio Newark had first run their advert promoting 2-for-1 OAP's lunches.
17 (seventeen!!)units on each side were simultaneously engaged in combat in the sort of lineup that only occurs when both players have forgotten how to do anything remotely resembling "tactics"* - and the Thracians were coming off best!
(* or in seemingly any one of of that Greek blokes' battle reports on his blog).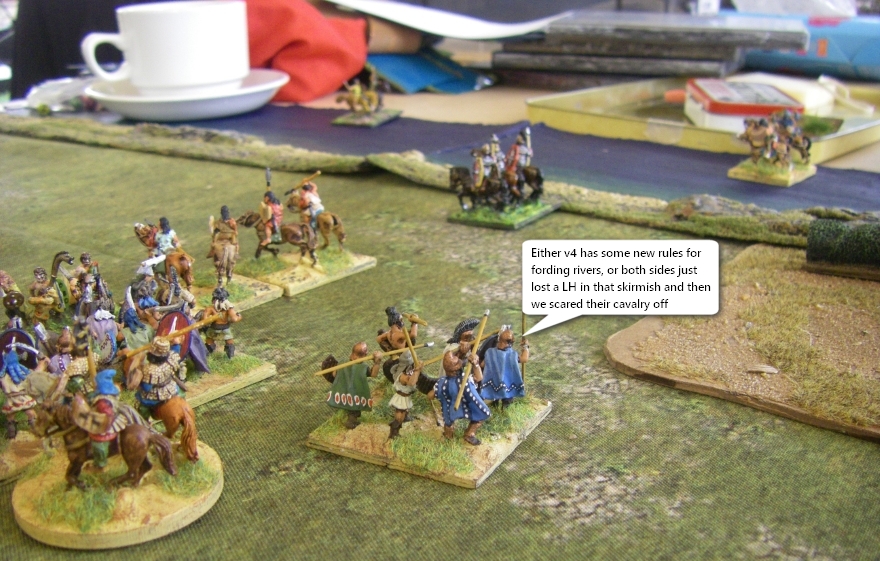 Thrace-a-rama! With the Great White Mountains of Yorkshire Tea looming large in the background the Thracian horsemen had worked perfectly with their infantry to scare away the paltry Carthaginian flank probe.
Even though a newly-minted Museum Mini's Medium Cavalryman had been consigned to the Thracian Valhalla (which looked suspiciously like a dead pile in the waterway) the flank was now secure again and both sides could concentrate on the skill-free dicefest which continued even now to unfold in the centre.
In a blur of excitement and rapid combat motion, beautifully and atmospherically captured by some expert photography (basically, I only realised that my new tripod was less stable than the old one after getting home and downloading the photos) the two armies ongoing melee continued apace, with swords and romphia's hacking, elephants stomping, and dice a-rolling at great speed and in huge numbers all along the fighting frontage.
The Carthaginians had some Spanish and of course the Elephants with Impact, but their wild and unruly Gauls had been neutralised by the Thracian tactic of standing to receive their charge.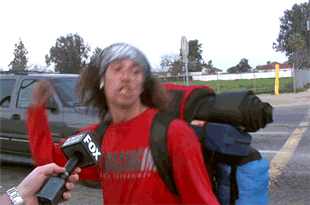 ---
ADLG hint - The Thracians have 2HW, so add +1 to any winning score - this means they do an extra hit 50% of the time, so not quite as good as Warband in the first round but better in the long run.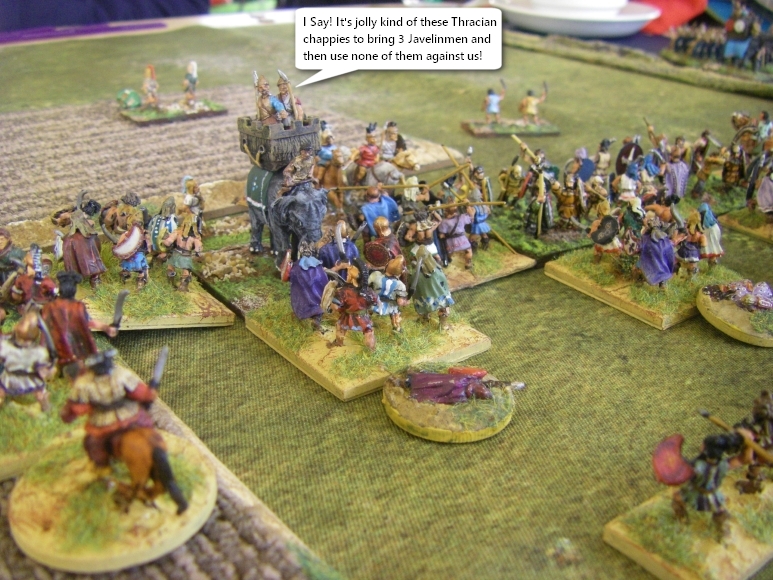 As the combat wore on into multiple rounds the 2HW of the Thracians started to gain the upper hand and holes started to appear in the Carthaginian line.
To be fair the success was also largely down to some rather hot dice which had been saving themselves since a particularly terrible outing for my Sea Peoples army on the previous Monday evening where good dice had been conspicuous by their total absence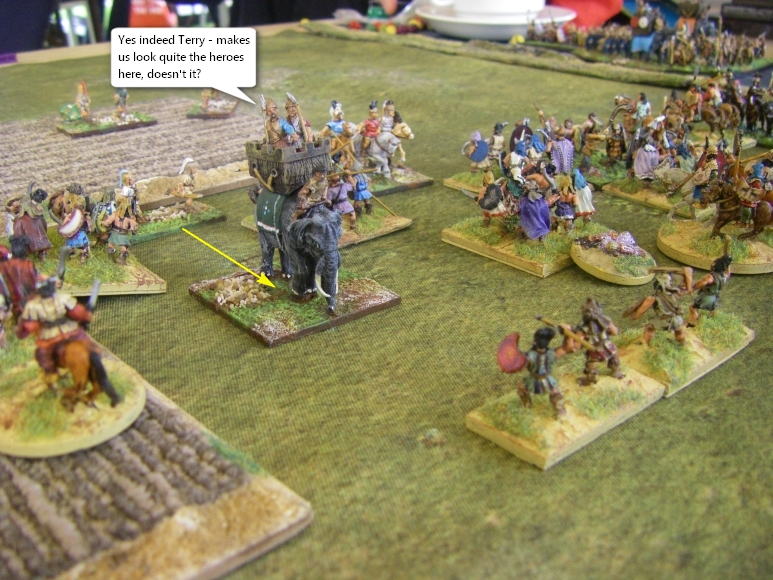 OK, so maybe not against the Elephants, who took the opportunity to remind the rest of their army just what they should have been doing by first trampling some I Can't Believe They Aren't Javelinmen romphia-holding Thracian peltasts underfoot, and then skilfully demonstrating the new v4 Elephant rules by mandatorily pursuing forwards 1 base width after their spectacular victory
This left the elephants themselves utterly isolated and alone in the middle of the Thracian army. The rest of the Carthaginian mercenary forces were removed in bucketfuls as eager Thracian javelineers looked on in excitement.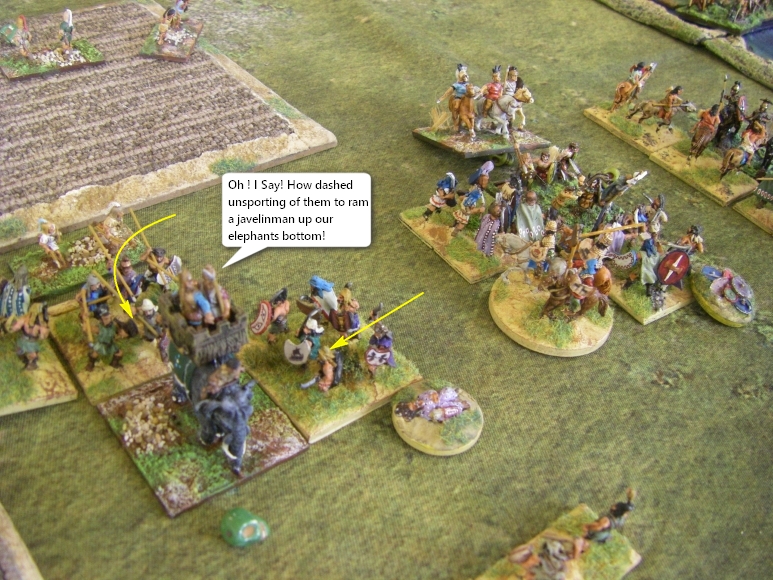 With the rest of the Carthaginian infantry now evaporating faster than a pint of John Smiths held in the hand of a thirsty wargamer, huge gaps were opening up in the centre of the pitch as jubilant Thracians waved their newly-wetted romphia's in the air in scenes which, had betamax video been invented at the time, would surely have ended up on the shelves of many an A1-based establishments in-store Graeco-Roman Blockbuster franchise.
Everywhere you looked the last vestiges of the North African army were being smothered, none worse than the overly successful elephant which at last found itself the target of one of the three units of Thracian javelinmen attacking it from the rear.
(These are "affiliate links". If you buy something after clicking on them I get a small kickback from Amazon)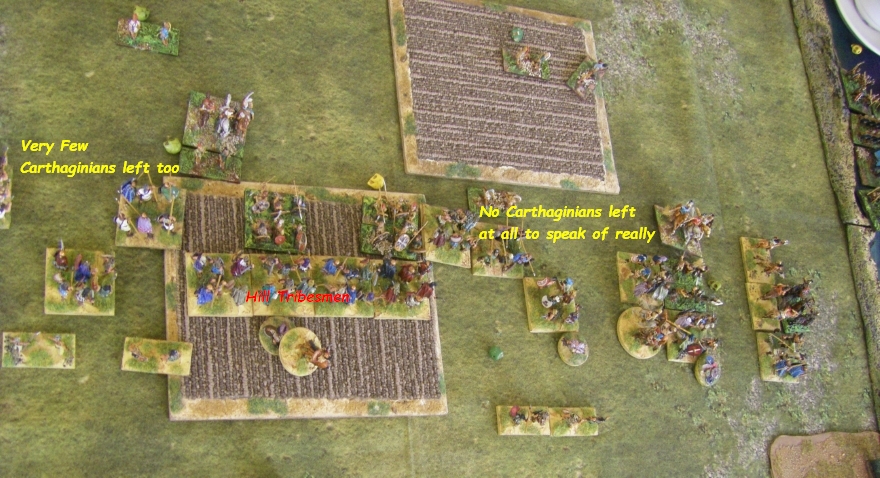 The Thracians, aided by their dice, had stood firm against the initial crazed assault from a massive wall of Carthaginian mercenary forces and then as time went by they had steadily and systematically chopped their way to victory two hands at a time.
Click here for the report of the next game in this competition, or read on for the post match summaries from the Generals involved, as well as another episode of legendary expert analysis from Hannibal
Post Match Summary from the Odrysian Thracian Commander

Aaroaharrah! I'm like a bloody manimanimanimaniac me, I am, I am. Oaaaragha! Me and my lads gived 'em a reet pastin' here, chop chop choppy chop like, cut 'em up reet good.
I know me eyes don't look like they can see in the same direction at t'same time like, but oaarghagah we can see how to swing a bloody great axe sickle thing proper, and cut some heeds off like woarrahagh!
Am reet grateful like that woarh fields and stuff and plantations all fell in 'middle of the pitch good and clean and proper, just like the bacon in a barm, and me men were like brown sauce and poured oursen' on it aorgheraoah and squashed them Gauls and Spaniards - serve em reet for not liking proper food like oarragh!
Ah must go and pluck me eyebrows out again as tha buggers grow reet fast oarghaggaowah and I dint want long hair buggers in me eyes int' next battle like arrrghaghrah!
---
Hannibal's Post Match Analysis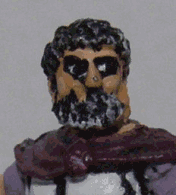 Good god that's more frightening than a French kiss from the Covid virus. I have no idea at all what on earth that thing is but I can only assume it will have relevance later in this set of battle reports in some horrible foretaste of Thracian nightmares.
In terms of this game, as has happened on more than one previous occasion you were caught cold by a very simple lack of preparation, in this case failing to open a book you had paid 30 of your English pounds for in the very recent past and to look up what was in a "Carthaginian" army. This was hardly the most challenging of tasks but was one you managed to fail to execute with quite some style and incompetence.
With the benefit of a pretty good fall of terrain you were within a couple of rolls of the dice of being utterly blown away by an opponent who had the temerity to line up all his troops and charge them at you - a simple strategy but one far better than yours in this game.
This then left you with no choice and no time to do anything else other than match that lineup man for man (and elephant) and hope that the first round of mostly evens combats didn't go spectacularly wrong. The extreme luck exhibited by the Hebrew army you incompetently faced on Monday probably has more to do with how you won this game than any skill arising from the goggle-eyed incomprehensibility of your over-painted historic almost-a-face. Lets see what horrors you can stare in the face in your next game
Click here for the report of the next game in this competition
You may also like....
Game 1 Odrysian Thracian vs Carthaginian
Game 2 Odrysian Thracian vs Palmyran
Game 3 Odrysian Thracian vs Sassanid
Game 4 Odrysian Thracian vs Triumverate Roman
Game 5 Odrysian Thracian vs Seleucid