FoGGing Hell !!
Britcon this year was an Epic Struggle. With one arm in a sling after dislocating my elbow, I was forced to take a small tough army so it would fit in an Avalon Hill game box and go into a rucksack on my back.
Having played all of 4 or 5 games as part of the beta test program, I decided this was the opportunity do a bit more rules learning and rules testing of the forthcoming Osprey rules FoG, and so I entered with a jolly Later Crusader army - it ticked the "is it small" box admirably, and also allowed me to use some figures I hadn't seen in ages, AND let me take a combination of stodgy spears and very cool knights - which I felt convinced might be reasonably hard to kill so it would give me a chance of not being turned over inside 30 minutes by someone who actually knew the rules!!!
This was my list
My first game was against a Medieval Portuguese army. The army list is here
Having only their 2nd ever outing my Crusaders spread reassuringly far across the table before me - although that may just have been blurred vision as I was on pint number 5 or 6 by this time. I had gone for a solid line of spearmen padded out with some bows, and 2 battle groups of uber-knights (one drilled, one undrilled).
Playing more by sense of smell than with any real knowledge of the rules I moved forwards. The Portly Geezers had out-deployed me and had refused their flank facing my two units of knights. Lesson One - don't commit your best troops to a place they can be Ignored!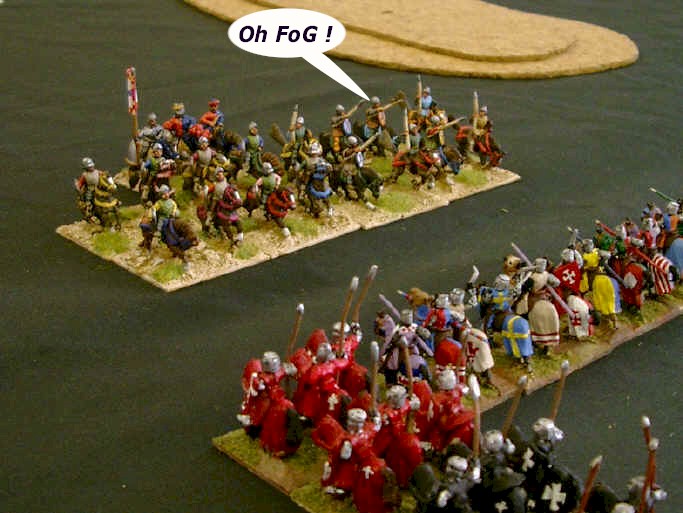 On my left my spearmen were facing some dismounted knights, stiffened by longbow men. A large unit of knights moved out to my far left - a strong right hook I had not anticipated and which I was likely to have to face off with some crossbowmen lurking in an enclosed field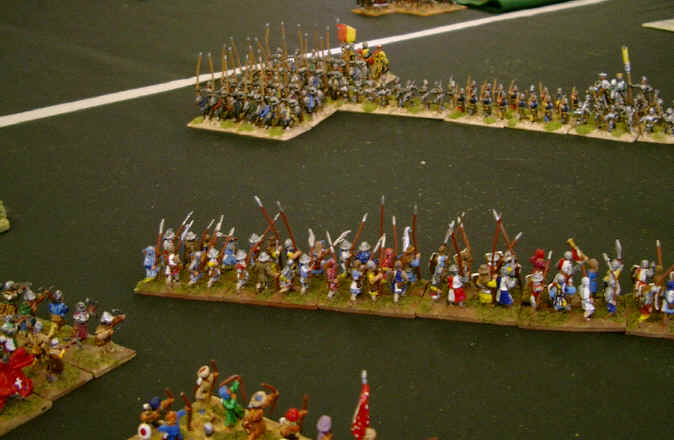 I initiated the first charge - or maybe they charged without orders anyway - and my knights proved an effective and reassuringly expensive way to scatter enemy the skirmishing light cavalry.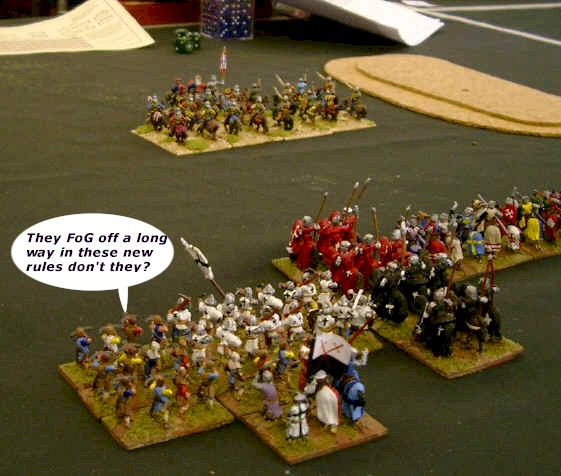 In the center my spearmen were coming under heavy shelling from large formations of bowmen. Despite their protective armour, the bowmen inflicted a telling round of shooting, temporarily disrupting the formation and morale of one of my key units in the middle of my line. (My first opponent had markers for these states of gradual decay, and so did some others, but it was just as easy to mark their state by turning bases around. I guess no-one ever went broke selling gamers small laminated colored things did they?).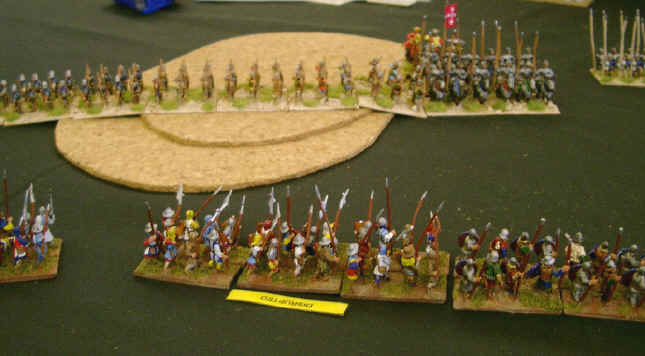 But my tactic of squeezing up was paying off, as the Portuguese were forced to bring up troops to prevent me overwhelming their bowmen, and in the rapid advance their mounted knights didn't have time to expand out - so some of their most powerful units would be fighting in an unnecessarily deep formation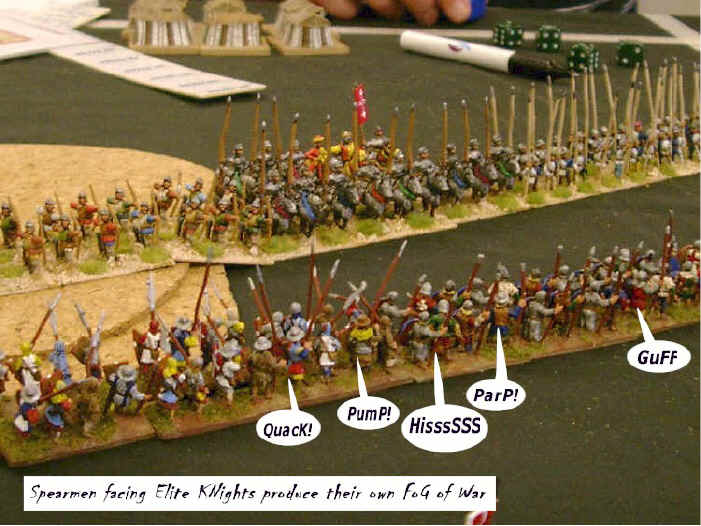 On my left things were still a bit of a Mexican standoff. The undrilled crossbowmen were finding it difficult to reorganize their formation to allow them to pass my spearmen and train all their men's bows onto the enemy knights. In turn the knights commander was also having trouble controlling his men - this time in getting them to advance in an orderly fashion towards the vulnerable bowmen instead of haring off to attack the equally lower-class (but rather more dangerous) spearmen, who were temptingly closer!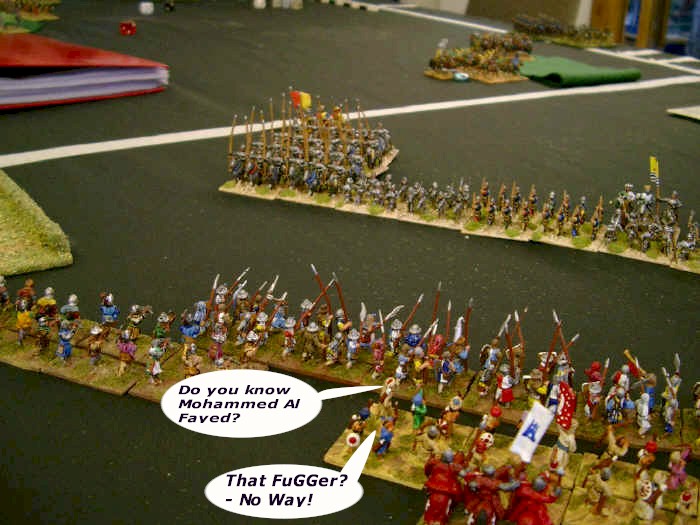 With shooting taking small but painful chunks out of my army I decided that it was time to force the issue, and my normally reticent defensive spearmen pushed up the hillside, hoping to clear the bowmen away and threaten the flanks of the Portuguese knights. This opened up a gap into which charged my Turcopoles, hoping to rush the bowmen who appeared to be off the comfort of the hill's slopes.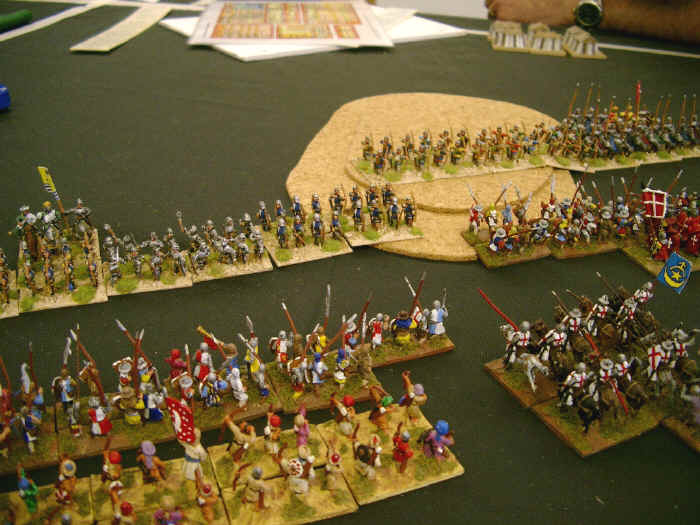 Impatience also got the better of the dismounted Portuguese Knights, and they charged in without orders or support to my formed spear line. Their general realised the gravity of the situation and committed himself to the front rank of combat (removing his ability to influence any other units) - win and my line starts to roll up - but lose and the spearmen would pursue the routing nobles and sweep over the line of less well armoured bowmen driving the army from the field (I was up to 8 pints by now - can you tell?).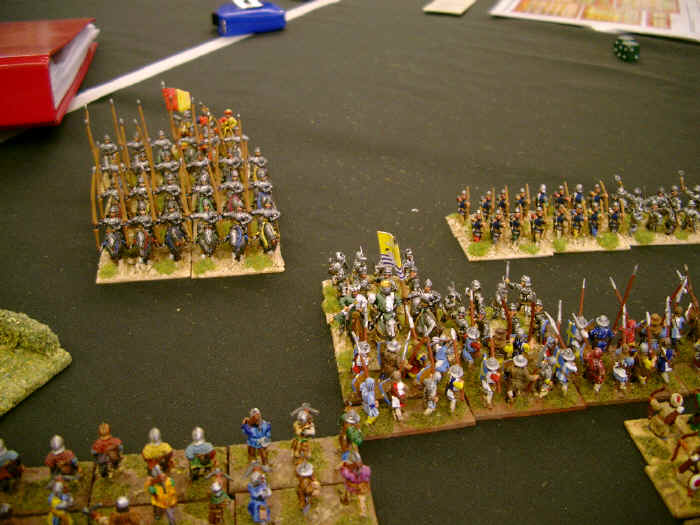 My spearmen and cavalry both charged in!! The Turcopoles were then horrified to discover that imy opponent believed that in the Foggy Universe having any part of the base up a hill allows you to count a combat advantage - not just "any part of the front edge". With me not knowing the rules too well, and being a bit pickled, I believed him - and so my poor Turcopoles found that they had accidentally charged bowmen uphill !!
(this has since been pointed out to me that this was wrong, and to be uphill you need to be totally on the hill AND have part of your base uphill of the enemy. The Dastardly Portuguese eh????)
On the right the battle raged toe-to-toe as my spearmen stood up valiantly against the dismounted knights. Again the mounted nobles attempted to close in on the crossbows, but they were being squeezed into a narrow gap between troops and terrain, and ended up stacked deeply, vulnerable to my shooting and unable to bring their maximum force to bear.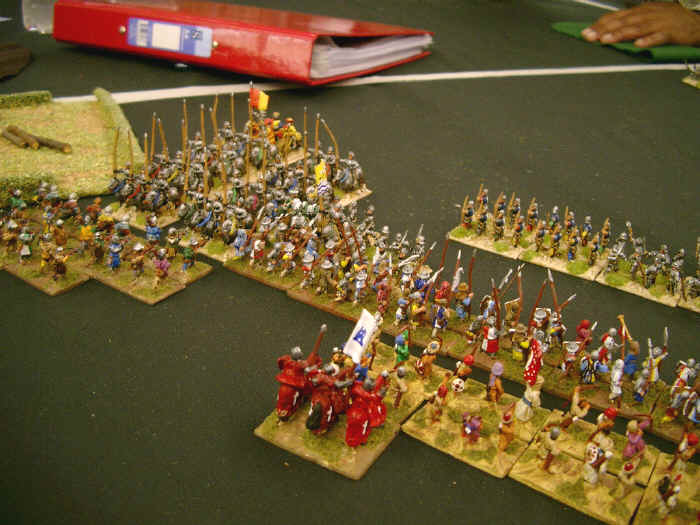 The spearmen charging uphill also suffered a rain of arrows, taking unfeasibly large numbers of casualties and failing to break into the bowmens formation at impact - although the turcopoles did manage to more than hold their own. But as the heat of the charge died down, and was replaced by a close quarters slog, the greater weight of numbers of the bowmen started to grind down my two small battle groups.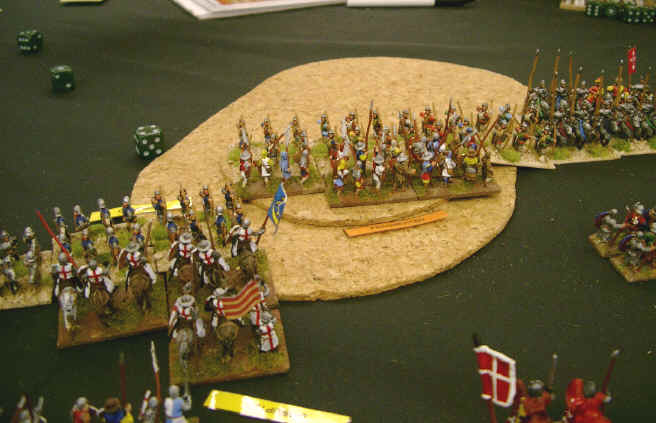 Over on my left things were also starting to unravel. The undrilled and undisciplined knights had been suckered into a series of repeated charges by cunning mounted bowmen, and had been drawn away from the main line of battle, become isolated, and were now feeling the effects as their confidence began to ebb away.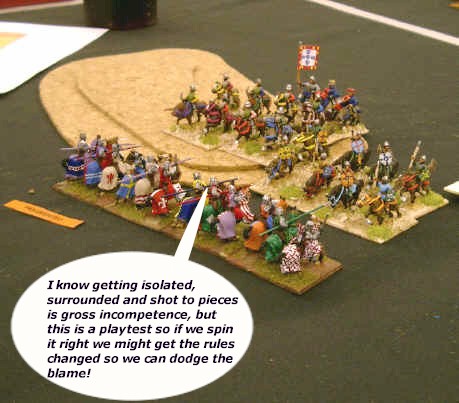 The fighting on the left was now intense, with one of my generals also joining the fray to bolster the spearmen. The crossbowmen were also standing up well as they were a massive formation being attacked on a Agincourt-type narrow frontage by mounted Knights. The Portuguese were desperate for a breakthrough from the mounted knights, as the small block of dismountees was gradually being whittled away - and unlike my spearmen, they had no friends to replace them when they fell.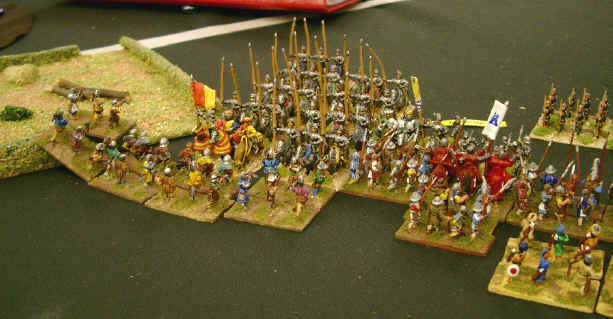 My Turcopoles were routed comprehensively, and my spearmen fled and dissipated after a crushing defeat as they tried to ascend the hill. This left a hole in my lines - but with battle joined everywhere else already, the war would almost certainly be over before the unwieldy bow and men-at-arms formations could reorganize themselves to exploit the advantage - so my spearmen stood firm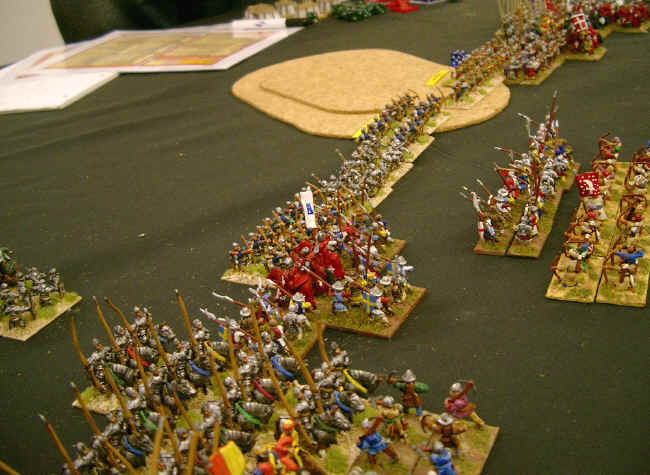 On my left another massive melee was taking place, as more and more units were being fed piecemeal into the combat. On the far left the well drilled professional spearmen of the Crusader army were gradually hacking their way through their less well armoured and less well trained Portuguese counterparts - and the Master of the Order was personally leading a charge against the Portuguese King himself, who was frantically calling for his bowmen to put their own lives in danger and shore up his flanks from yet more Crusader pedestrian spearmen.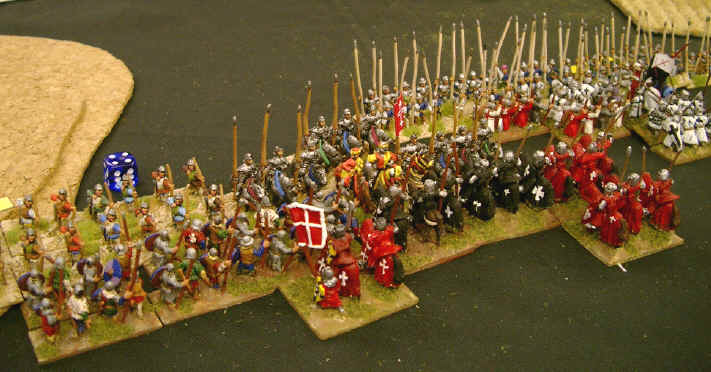 The first unit of Portuguese spearmen broke and turned tail to flee - the Crusaders had been battered, but then looked to the heavens in praise as the Hand of God intervened on their behalf to take the dead Portuguese warriors to a far better place... but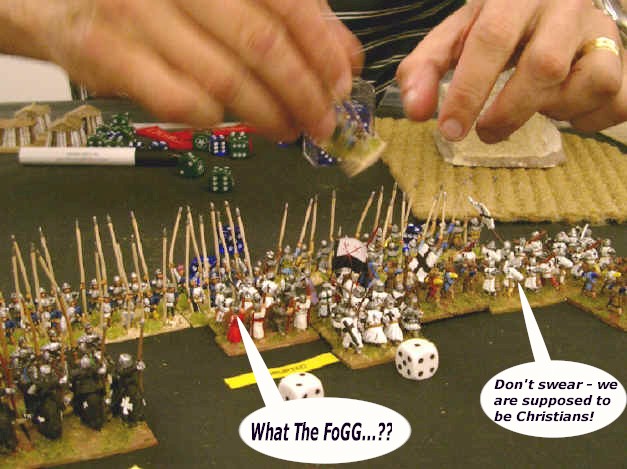 On my left however it was a game of two halves - the bowmen had finally crumbled after a heroic effort - but the men-at-arms had also finally been ground down, leaving the Portuguese general desperately attempting to reign in his knights from the full throated pursuit they clearly wished to do, and instead turn and rejoin the battle and take back the advantage from the Crusader spearmen.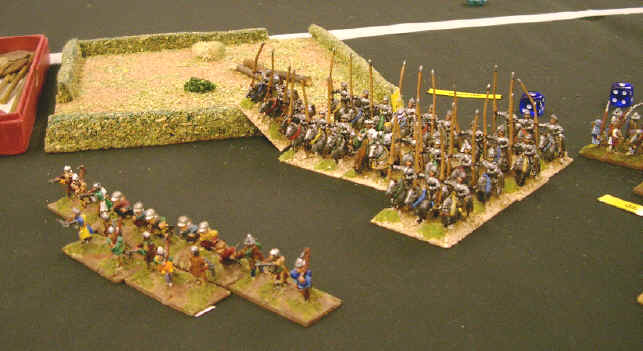 With massive casualties on both sides, the two exhausted armies limped towards the finish line. Finally, the Crusaders spirits were the first to be broken when the Portuguese light horsemen, fresh from their triumphant ambushing of the undisciplined Crusader knights, rode into the corral and set fire to the tents of the Crusaders baggage train, fleeing merchants and morally suspect undesirables in their way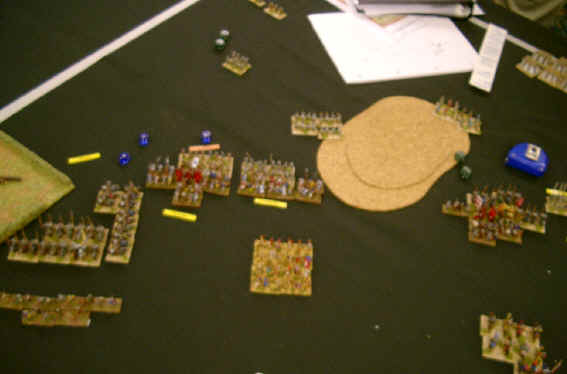 Post Match Analysis
Finally, after a good 3+ hours, the game was over - a defeat, but a relatively narrow one, with plenty of excitement and could-go-either-way moments, no real challenges with any of the rules mechanics. I was a little disappointed to lose control of my non-brotherhood knights, but that was down more to beer and incompetence than anything I could pin on the rules, and generally there was nothing that had felt unduly odd or a-historical going on.
The interaction between the men at arms and the defensive spear had been interesting, as it was not in my interest to charge first - but the men at arms were liable to charge without orders, and had come in early (before the knights had tooled up) and ended up losing in the end as they had too few friends to support. But in the end one of my best units had been totally wasted in vain charges into thin air, so with my small army size and low break point, it had proved too much of a handicap.
If I could manage to sober up and retain some of the information the next day, I could see things I'd try and do differently so I could then add a little tactical skill to what had already been a good run-through of the rules as well!
The Ancient Army List Index
Historical background notes, external links, 15mm supplier listings, FoG army lists, and a list of books about these armies
The Rise of Rome (280 BC to 25 BC) Mid Republican Roman ; Late Republican Roman ; Gallic ; Pyrrhic ; Later Carthaginian ; Ancient Spanish ; Later Macedonian ; Later Seleucid ; Later Ptolemaic ; Attalid Pergamene ; Numidian or early Moorish ; Pontic ; Early Armenian ; Parthian ; Later Jewish ; Illyrian ; Spartacus Slave Revolt ; Bosporan ;
Storm of Arrows - Western Europe in the Later Middle Ages (1300 AD to 1500 AD) Medieval French ; 100-yrs War English (Continental) ; 100-yrs War English (Britain) ; Later Medieval Scots ( Britain) ; Later Medieval Scots (Continental) ; Later Scots Isles & Highlands ; Medieval Welsh ; Later Anglo-Irish ; Medieval Irish ; Low Countries ; Later Medieval German ; Italian Condotta ; Swiss ; Free Company ; Medieval Burgundian ; Medieval Danish ; Medieval Swedish ; Medieval Castilian ; Medieval Crown of Aragon ; Medieval Portugese ; Later Granadine ; Navarrese ; Ordonnance French ; Wars of the Roses English ; Ordonnance Burgundian ; Santa Hermandad Nueva Castilian
Immortal Fire - The Greek, Persian & Macedonian Wars (550 BC - 146 BC)
Classical Greek ; Early Achaemenid Persian ; Lydian ; Thracian ; Syracusan ; Early Carthaginian ; Skythian or Saka ; Kyrenean Greek ; Late Dynastic Egyptian ; Alexandrian Macedonian ; Later Achaemenid Persian ; Classical Indian ; Early Successor ; Early Sarmatian ; Galatian ; Hellenistic Greek ; Graeco-Bactrian ; Graeco-Indian ; Indo-Greek :
Legions Triumphant - Imperial Rome (25 BC to 493 AD) Dominate Roman ; Principate Roman ; Foederate Roman ; Later Sarmatian ; Early German ; Dacian or Carpi ; Ancient British ; Caledonian ; Early Alan ; Jewish Revolt ; Sassanid Persian ; Kushan or Indo-Skythian ; Palmyran ; Early Frankish, Alamanni, Burgundi, Limigantes, Rugian, Suevi or Turcilingi ; Western Hunnic ; Early Visigothic & Early Vandal ; Early Ostrogothic, Herul, Sciri or Taifali ; Early Anglo-Saxon, Bavarian, Frisian, Old Saxon or Thuringian ; Gepid or Early Lombard ; Early Scots Irish ; Early Pictish ; Hephthalite Hunnic ;
Swords & Scimitars - The Crusades (1096 AD to 1311 AD) Early Crusader ; Later Crusader ; Fatimid Egyptian ; Georgian ; Seljuk Turk ; Cuman ; Komnenan Byzantine ; Post Latin Conquest Byzantine ; Ilkhanid Mongol ; Mamluk Egyptian ; Cilician Armenian ; Syrian States ; Khwarazmian ; Ayyubid Egyptian ; Middle Serbian ; Middle Bulgarian ; Medieval Cypriot ; Latin Greece ; Pecheneg ;
Eternal Empire - Eastern Europe and the Rise of the Ottomans (1300 AD to 1500 AD) Early Ottoman Turkish ; Later Ottoman Turkish ; Tatar ; Later Russian ; Later Serbian Empire ; Later Bulgarian ; Later Lithuanian ; Later Polish ; Later Teutonic Knights ; Catalan Company ; Middle Hungarian ; Moldavian or Wallachian ; Albanian ; Timurid, White Sheep Turcoman or Black Sheep Turcoman ; Later Hungarian ; Hussite ;
Decline & Fall - Byzantium and Islam (493 AD to 1071 AD) Early Byzantine; Maurikian Byzantine ; Thematic Byzantine ; Nikephorian Byzantine ; Later Moorish ; Later Visigothic ; African Vandal ; Italian Ostrogothic ; Early South Slav ; Lombard ; Avar ; Arab Conquest ; Early Bulgar ; Ummayad Arab ; Abbasid Arab ; Early North African Dynasties ; Khurasanian Dynasties ; Bedouin Dynasties ; Dailami Dynasties ; Pecheneg ; Ghaznavid ; Western Turkish (includes Khazar);
Wolves From The Sea - The Hairy European Dark Ages Post Roman British ; Early Welsh ; Later Scots Irish ; Merovingian Frankish ; Later Pictish ; Early Slavic ; Middle Anglo Saxon ; Astur Leonese ; Andalusian ; Early Navarrese ; Carolingian Frankish ; Viking ; Magyar ; Great Moravian ; Early Scots ; Rus ; Norse Irish ; Early Medieval French ; Early Medieval German ; Norman ; Early Polish ; Anglo Danish ;
Swifter Than Eagles - The Biblical Book Nubian ; Early Libyan ; Later Sumerian or Akkadian ; Early Nomad Allies ; Old or Middle Kingdom Egyptian ; Hyksos ; Mitanni ; Syro-Canaanite ; New Kingdom Egyptian ; Later Minoan or Early Mycenaean ; Hittite Empire ; ; Middle or Early Neo-Assyrian ; Later Mycenaean or Trojan ; Sea Peoples ; Philistine ; Phoenician Allies ; Neo-Hittite And Aramaean ; Later Hebrew ; Mannaean Allies ; Libyan Egyptian ; Urartian ; Median ; Neo-Elamite ; Proto-Arab Allies ; Cimmerian or Early Skythian ; Neo-Assyrian Empire ; Phrygian Allies ; Kushite Egyptian ; Neo-Babylonian Empire ;
Oaf of Fealty - Early Medieval Europe Feudal Catalan and Early Crown Of Aragon ; Early Hungarian ; Taifa Andalusian ; Feudal Navarrese and Aragonese ; Feudal Castilian Leonese or Portuguese ; Fanatic Berber ; Italo-Norman ; Feudal French ; Imperial German ; Feudal German ; Communal Italian ; Papal Italian ; Early Scots Isles And Highlands ; Feudal Scots ; Early Russian ; Feudal Polish ; Anglo-Norman ; Later Welsh ; Early Lithuanian or Samogitian ; Wendish Prussian or Estonian ; Early Medieval Frisia and Other Free Cantons ; Post-Viking Scandinavian ; Early Plantagenet English ; Later Sicilian ; Early Medieval Irish ; Early Anglo-Irish ; Early Teutonic Knights ; Mongol Invasion ; Early Granadine ; Middle Plantagenet English ;
Empires of The Dragon - China, Korea and Japan Erlitou-Shang Chinese ; Early Northern Barbarian Allies ; Early Zhou Chinese ; Yayoi Japanese ; Early Horse Nomad ; Ko Choson Korean ; Warring States To Western Han Chinese ; Qiang And Di ; Three Kingdoms Korean ; Eastern Han Chinese? ; Three Kingdoms W Jin And S Dynasties Chinese ; Kofun Nara Japanese ; Northern Dynasties Chinese ; Later Hindu North Indian ; Later Hindu South Indian ; Central Asian City States ; Western Wei To Early Tang Chinese ; ; Later Horse Nomad ; Tibetan ; Nepalese Allies ; Parhae Korean ; Late Tang To Five Dynasties Chinese ; Khmer Or Champa ; Thai Allies ; Nanzhao ; Pyu Burmese Allies ; Koryo Korean ; Early Heian Japanese ; Pagan Burmese ; Liao ; Song Chinese ; Xi Xia ; Ghurid Afghan ; Jin ; Late Heian To Muromachi Japanese ; Japanese Warrior Monk Allies ; Mongol Conquest ; Moslem Indian Sultanates ; Medieval Indonesian Or Malay ; Yuan Chinese ; Medieval Burmese ; Ming Chinese ; Yi Korean
Blood and Gold - The Americas Olmec ; Teotihuacan ; West Mexican ; Zapotec or Mixtec ; Toltec ; Chinantec ; Aztec ; Tarascan ; Tlaxcalan Confederacy ; Mayan ; Mochica ; Chanca ; Chimu ; Hatun-Colla ; Canari ; Inca ; Mapuche or Araucanian ; Amazonian Forest Tribes ; Tupi ; Chichimec ; Pueblo Culture ; Mound-Builder Culture ; South-Eastern Woodland Culture ; Timucuan ; Eastern Woodland Culture ; Plains Culture ; Pacific North-West Culture