Britcon FoG Game 4
It was now getting into Saturday Night, and the lager was starting to flow freely through my veins
What a time to take on a Medieval German army. My opponent was also cheating from the off, and had a pint of water rather than beer. It was going to be tough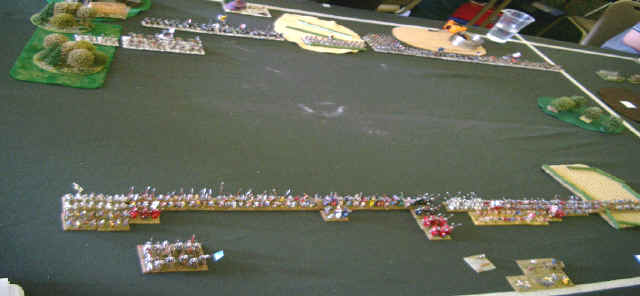 A large wood protected their flanks, and I settled in looking for a good old frontal heavy metal faceoff.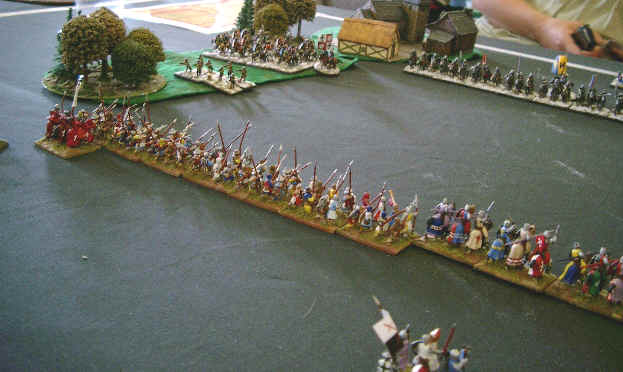 I was starting to have a little confidence in the "knights in the middle" strategy, as it had almost worked against the Ottomans, so with this aim I pushed forwards as fast as possible. The Germans detached some light horse to find a path through the woods and try and harass my flanks, but I had bowmen and Turcopoles facing them off, so hopefully my advance would be unimpeded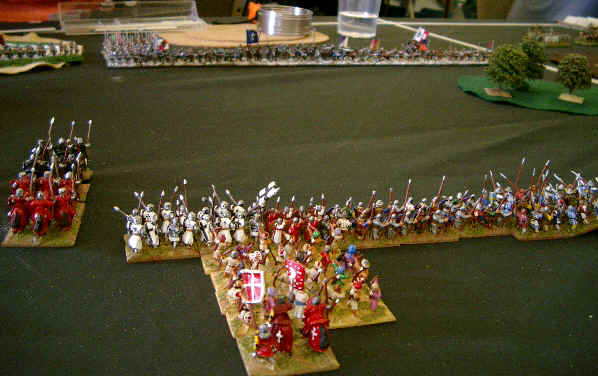 On the right a similar formation was also pushing forward, with my Brother Knights moving out to try and nail some more vulnerable foot as the rest of my line would pin back the mounted wing of the Germans.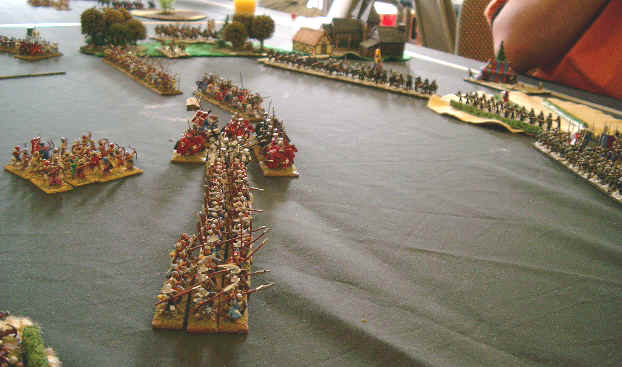 Either I was attacking in a classic wedge formation, or the Germans were drawing me into a classic envelopment and trap. What was it to be ?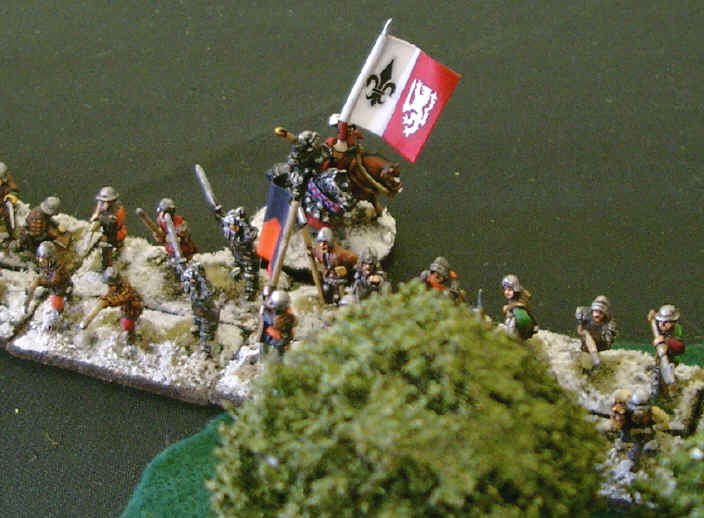 It had been snowing that day in Germany, and so my Crusaders were starting to get cold feet as they approached the German Offensive Spearmen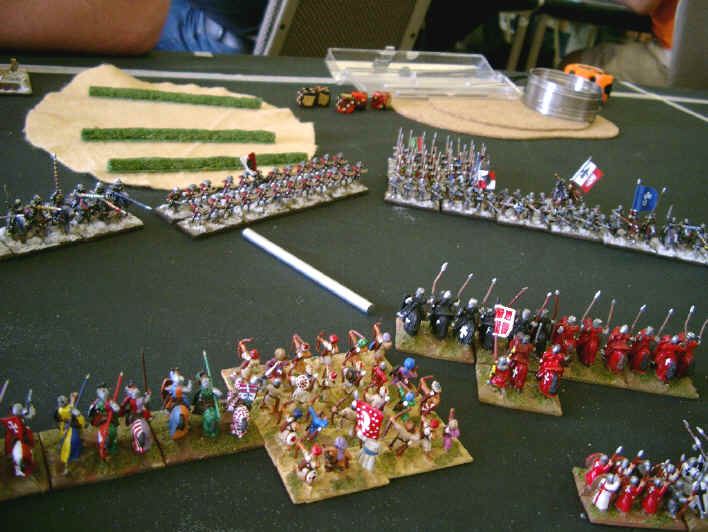 My V-shaped formation was creating openings in my line as it stretched both ways - this unusually allowed my unprotected foot archers to move forwards to exchange fire with the German crossbowmen, hoping our superior rate of fire would cause them problems.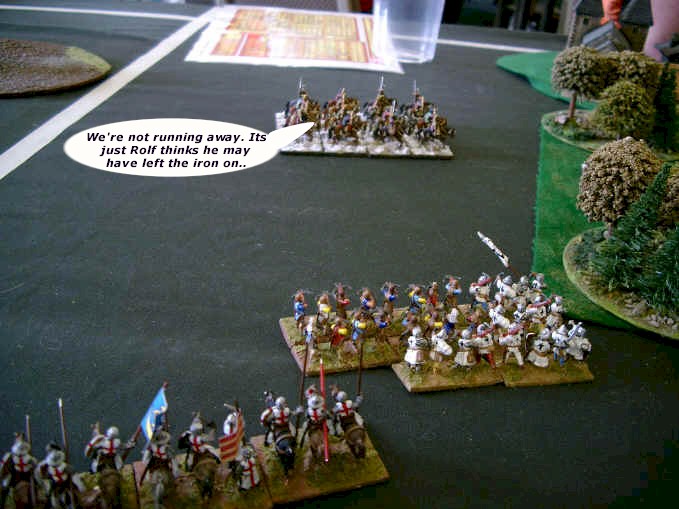 On the left, German mounted crossbowmen decided discretion was the better part of valor and skulked back into the woods before my Crossbowmen could train a bead on them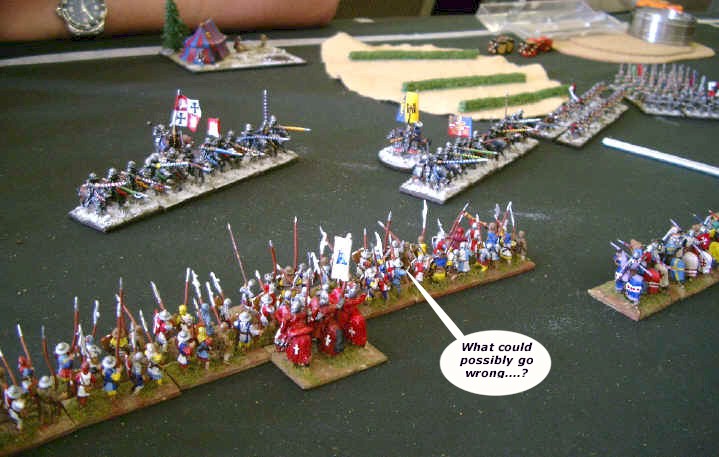 As my solid line of troops advanced on my left, the German Generals were desperately trying to keep their knights under control, and prevent them haring off unsupported into my line of advancing well-braced spearmen.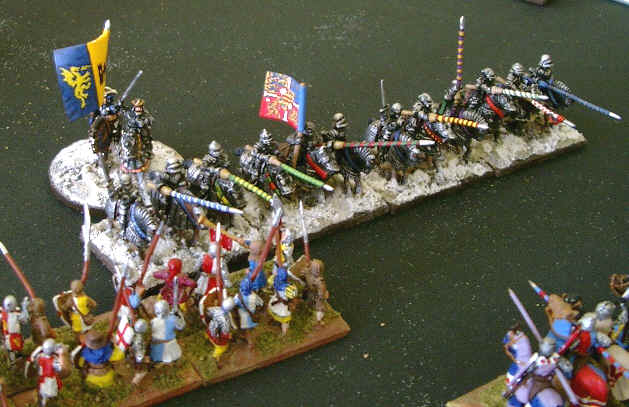 Unable to contain their enthusiasm, the German knights charged in - my foot soldiers prayed fervently that dice rolling rather than painting skill would prove the decisive factor in the coming combat!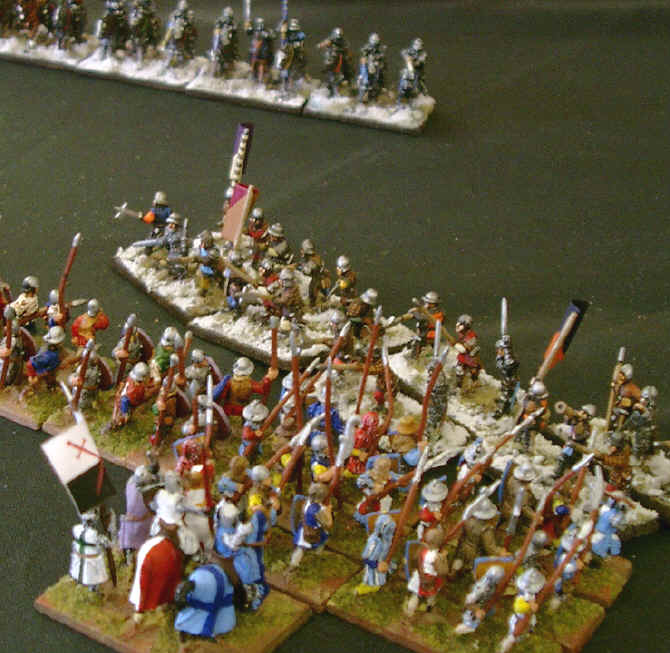 The dice rolling was proving the skill to have over of the right, as the German offensive spearmen failed to make an impact on my defensive spears - who were greatly encouraged by the presence of one of their generals rallying them onwards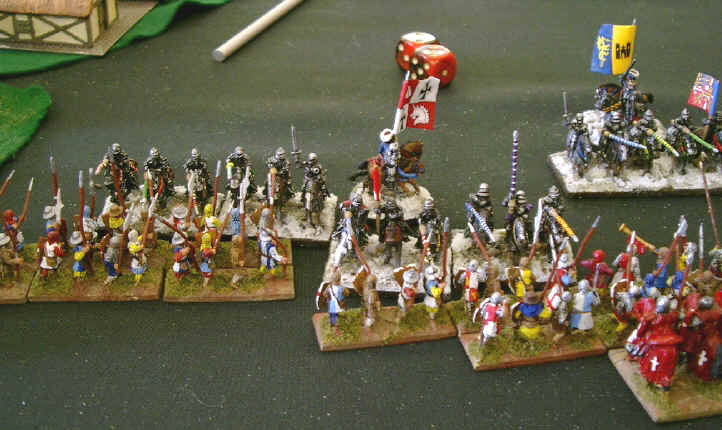 Failing time and tie again to break into the robust Crusader formations, the German knights on my left were making repeated charges back into the shieldwall - but as they charged, rallied and charged again, my infantry were also failing to cause any serious losses so their opponents fighting power was not being eroded. Generals were also being drawn to this potentially decisive combat like flies to a 3 day old dead pigeon left out on a warm afternoon (but better painted).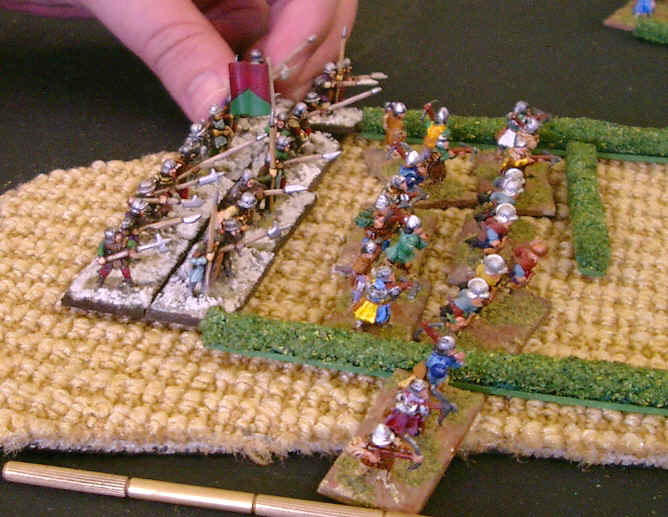 Everything seemed to be going according to plan - but unnoticed by the rest of the army, the crossbow unit protecting my far right flank had been attacked and soundly beaten by a second unit of offensive spearmen and were now in full flight, unlikely to return. A chill as cold as the November snow on the bases of the German foot started to creep into the hearts of my men.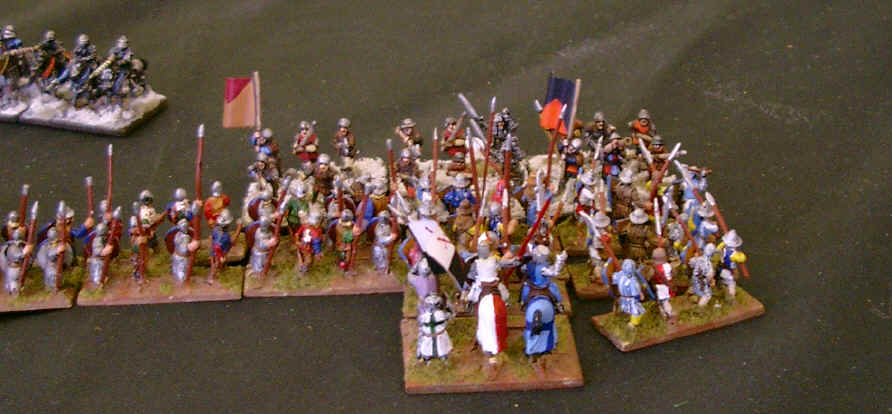 Next in line, despite their initial lack of success the other German spear unit were gradually gaining the upper hand against my spearmen - but were taking serious losses in the process. Who would crack first in the war of attrition?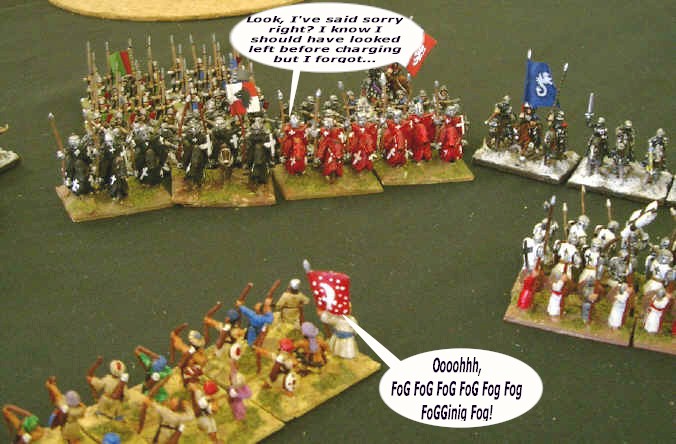 The answer came from a surprising source, as my Brother Knights, who had charged in rashly to a unit of men at arms and suffered a reverse at the initial combat, found themselves charged in the flank by some more German knights, and panicked and broke - leaving a huge problem for me in the middle of my line! The Arab peasant bowmen were unlikely to be able to fill the hole!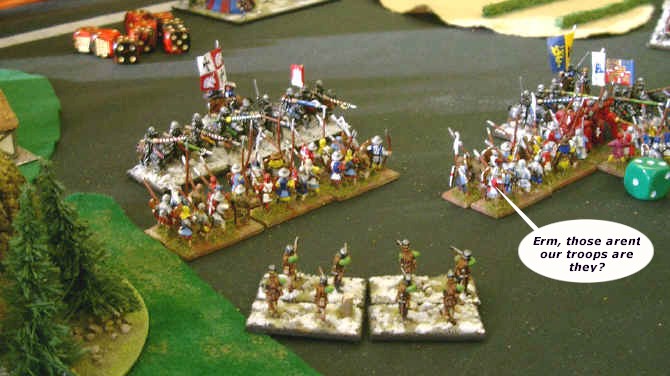 My spearmen continued to push forward on the left, hoping to gain their victory before the right flank collapsed. The Germans were know being whittled away quite seriously, and were nearing defeat. The Germans then unleashed some handgunners from hiding in the woods, but such a small unit of skirmishers was unable to dent the enthusiasm of the armoured spearmen, who pushed onwards regardless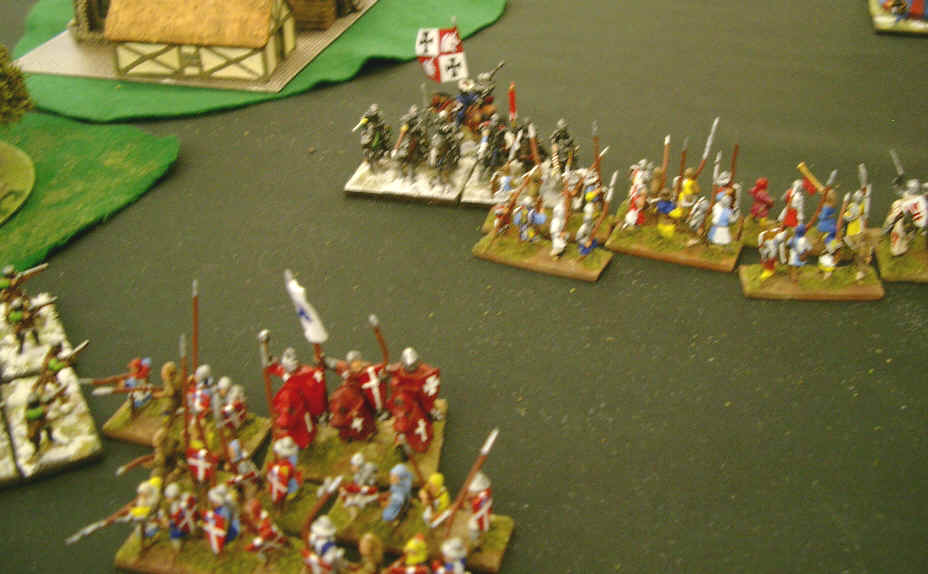 But then a catastrophe! A last ditch German charge smashed my spearmen, who were disconcerted by the presence of the handgunners behind their flank, and my left flank unit fled in rout!
Simultaneously my other spear unit broke the knights they were facing, and pursued forwards - already in some disarray after the protracted combat - and were caught on the run by the victorious Germans who had just routed my own spearmen.
It was a total disaster for the spearmen - managing to snatch defeat from the jaws of victory, my right flank crumbled, joining my left which had imploded as the Brother knights routed through the heart of it, and the game wa sover - a crushing defeat for my small army yet again!
Post Match Analysis
Again a game where I was too aggressive and failed to get my knights into a proper situation to charge in cleanly - and so when I suffered a couple of unlucky reverses I was totally unable to recover and they had a catastrophic knock-on effect on the viability of my army. The rot really set in when my Brother Knights allowed themselves to be charged in the flank - but after they had charged without orders they were in a "win quickly or die" situation!
The spearmen did stand up well initially to the knights on my left, but in a way they fought too well, as the knights were forced to keep breaking off and charging in (as my spear line retained it cohesion). Ultimately the knights superior morale allowed them to continue fighting for long enough to inflict the statistically likely reverse on my spearmen from which they - already being weakened - could not recover. If the knights had been slightly more successful in their initial charge they would have broken into my spear formation and carried on fighting at close quarters rather than breaking off and charging in again. If this had happened they would have been sucked into a war of attrition with my spearmen - which they may well have lost. However instead they saved up their luck for one big hit, and their repeated total failure followed by a singular dramatic success meant they and not my spearmen won the day.
2 more games to follow - click here...
View My Stats
The Ancient Army List Index
Historical background notes, external links, 15mm supplier listings, FoG army lists, and a list of books about these armies
The Rise of Rome (280 BC to 25 BC) Mid Republican Roman ; Late Republican Roman ; Gallic ; Pyrrhic ; Later Carthaginian ; Ancient Spanish ; Later Macedonian ; Later Seleucid ; Later Ptolemaic ; Attalid Pergamene ; Numidian or early Moorish ; Pontic ; Early Armenian ; Parthian ; Later Jewish ; Illyrian ; Spartacus Slave Revolt ; Bosporan ;
Storm of Arrows - Western Europe in the Later Middle Ages (1300 AD to 1500 AD) Medieval French ; 100-yrs War English (Continental) ; 100-yrs War English (Britain) ; Later Medieval Scots ( Britain) ; Later Medieval Scots (Continental) ; Later Scots Isles & Highlands ; Medieval Welsh ; Later Anglo-Irish ; Medieval Irish ; Low Countries ; Later Medieval German ; Italian Condotta ; Swiss ; Free Company ; Medieval Burgundian ; Medieval Danish ; Medieval Swedish ; Medieval Castilian ; Medieval Crown of Aragon ; Medieval Portugese ; Later Granadine ; Navarrese ; Ordonnance French ; Wars of the Roses English ; Ordonnance Burgundian ; Santa Hermandad Nueva Castilian
Immortal Fire - The Greek, Persian & Macedonian Wars (550 BC - 146 BC)
Classical Greek ; Early Achaemenid Persian ; Lydian ; Thracian ; Syracusan ; Early Carthaginian ; Skythian or Saka ; Kyrenean Greek ; Late Dynastic Egyptian ; Alexandrian Macedonian ; Later Achaemenid Persian ; Classical Indian ; Early Successor ; Early Sarmatian ; Galatian ; Hellenistic Greek ; Graeco-Bactrian ; Graeco-Indian ; Indo-Greek :
Legions Triumphant - Imperial Rome (25 BC to 493 AD) Dominate Roman ; Principate Roman ; Foederate Roman ; Later Sarmatian ; Early German ; Dacian or Carpi ; Ancient British ; Caledonian ; Early Alan ; Jewish Revolt ; Sassanid Persian ; Kushan or Indo-Skythian ; Palmyran ; Early Frankish, Alamanni, Burgundi, Limigantes, Rugian, Suevi or Turcilingi ; Western Hunnic ; Early Visigothic & Early Vandal ; Early Ostrogothic, Herul, Sciri or Taifali ; Early Anglo-Saxon, Bavarian, Frisian, Old Saxon or Thuringian ; Gepid or Early Lombard ; Early Scots Irish ; Early Pictish ; Hephthalite Hunnic ;
Swords & Scimitars - The Crusades (1096 AD to 1311 AD) Early Crusader ; Later Crusader ; Fatimid Egyptian ; Georgian ; Seljuk Turk ; Cuman ; Komnenan Byzantine ; Post Latin Conquest Byzantine ; Ilkhanid Mongol ; Mamluk Egyptian ; Cilician Armenian ; Syrian States ; Khwarazmian ; Ayyubid Egyptian ; Middle Serbian ; Middle Bulgarian ; Medieval Cypriot ; Latin Greece ; Pecheneg ;
Eternal Empire - Eastern Europe and the Rise of the Ottomans (1300 AD to 1500 AD) Early Ottoman Turkish ; Later Ottoman Turkish ; Tatar ; Later Russian ; Later Serbian Empire ; Later Bulgarian ; Later Lithuanian ; Later Polish ; Later Teutonic Knights ; Catalan Company ; Middle Hungarian ; Moldavian or Wallachian ; Albanian ; Timurid, White Sheep Turcoman or Black Sheep Turcoman ; Later Hungarian ; Hussite ;
Decline & Fall - Byzantium and Islam (493 AD to 1071 AD) Early Byzantine; Maurikian Byzantine ; Thematic Byzantine ; Nikephorian Byzantine ; Later Moorish ; Later Visigothic ; African Vandal ; Italian Ostrogothic ; Early South Slav ; Lombard ; Avar ; Arab Conquest ; Early Bulgar ; Ummayad Arab ; Abbasid Arab ; Early North African Dynasties ; Khurasanian Dynasties ; Bedouin Dynasties ; Dailami Dynasties ; Pecheneg ; Ghaznavid ; Western Turkish (includes Khazar);
Wolves From The Sea - The Hairy European Dark Ages Post Roman British ; Early Welsh ; Later Scots Irish ; Merovingian Frankish ; Later Pictish ; Early Slavic ; Middle Anglo Saxon ; Astur Leonese ; Andalusian ; Early Navarrese ; Carolingian Frankish ; Viking ; Magyar ; Great Moravian ; Early Scots ; Rus ; Norse Irish ; Early Medieval French ; Early Medieval German ; Norman ; Early Polish ; Anglo Danish ;
Swifter Than Eagles - The Biblical Book Nubian ; Early Libyan ; Later Sumerian or Akkadian ; Early Nomad Allies ; Old or Middle Kingdom Egyptian ; Hyksos ; Mitanni ; Syro-Canaanite ; New Kingdom Egyptian ; Later Minoan or Early Mycenaean ; Hittite Empire ; ; Middle or Early Neo-Assyrian ; Later Mycenaean or Trojan ; Sea Peoples ; Philistine ; Phoenician Allies ; Neo-Hittite And Aramaean ; Later Hebrew ; Mannaean Allies ; Libyan Egyptian ; Urartian ; Median ; Neo-Elamite ; Proto-Arab Allies ; Cimmerian or Early Skythian ; Neo-Assyrian Empire ; Phrygian Allies ; Kushite Egyptian ; Neo-Babylonian Empire ;
Oaf of Fealty - Early Medieval Europe Feudal Catalan and Early Crown Of Aragon ; Early Hungarian ; Taifa Andalusian ; Feudal Navarrese and Aragonese ; Feudal Castilian Leonese or Portuguese ; Fanatic Berber ; Italo-Norman ; Feudal French ; Imperial German ; Feudal German ; Communal Italian ; Papal Italian ; Early Scots Isles And Highlands ; Feudal Scots ; Early Russian ; Feudal Polish ; Anglo-Norman ; Later Welsh ; Early Lithuanian or Samogitian ; Wendish Prussian or Estonian ; Early Medieval Frisia and Other Free Cantons ; Post-Viking Scandinavian ; Early Plantagenet English ; Later Sicilian ; Early Medieval Irish ; Early Anglo-Irish ; Early Teutonic Knights ; Mongol Invasion ; Early Granadine ; Middle Plantagenet English ;
Empires of The Dragon - China, Korea and Japan Erlitou-Shang Chinese ; Early Northern Barbarian Allies ; Early Zhou Chinese ; Yayoi Japanese ; Early Horse Nomad ; Ko Choson Korean ; Warring States To Western Han Chinese ; Qiang And Di ; Three Kingdoms Korean ; Eastern Han Chinese? ; Three Kingdoms W Jin And S Dynasties Chinese ; Kofun Nara Japanese ; Northern Dynasties Chinese ; Later Hindu North Indian ; Later Hindu South Indian ; Central Asian City States ; Western Wei To Early Tang Chinese ; ; Later Horse Nomad ; Tibetan ; Nepalese Allies ; Parhae Korean ; Late Tang To Five Dynasties Chinese ; Khmer Or Champa ; Thai Allies ; Nanzhao ; Pyu Burmese Allies ; Koryo Korean ; Early Heian Japanese ; Pagan Burmese ; Liao ; Song Chinese ; Xi Xia ; Ghurid Afghan ; Jin ; Late Heian To Muromachi Japanese ; Japanese Warrior Monk Allies ; Mongol Conquest ; Moslem Indian Sultanates ; Medieval Indonesian Or Malay ; Yuan Chinese ; Medieval Burmese ; Ming Chinese ; Yi Korean
Blood and Gold - The Americas Olmec ; Teotihuacan ; West Mexican ; Zapotec or Mixtec ; Toltec ; Chinantec ; Aztec ; Tarascan ; Tlaxcalan Confederacy ; Mayan ; Mochica ; Chanca ; Chimu ; Hatun-Colla ; Canari ; Inca ; Mapuche or Araucanian ; Amazonian Forest Tribes ; Tupi ; Chichimec ; Pueblo Culture ; Mound-Builder Culture ; South-Eastern Woodland Culture ; Timucuan ; Eastern Woodland Culture ; Plains Culture ; Pacific North-West Culture