Britcon - The Final Chapter
So, bottom table in round 6. What else could possibly go wrong ?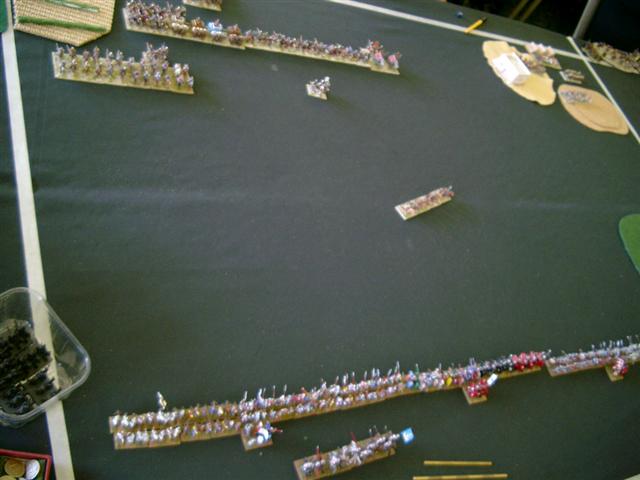 I found myself facing off against another highly mobile mounted and skirmishing army Later Achemenid Persians, (or click here for the list) who concentrated their force in one corner of the table, save for a handful of small infantry units who garrisoned the area of steep hills over to their left. With nothing to play for save a quick exit back down the M6 to avoid the football traffic I decided to crack on yet again.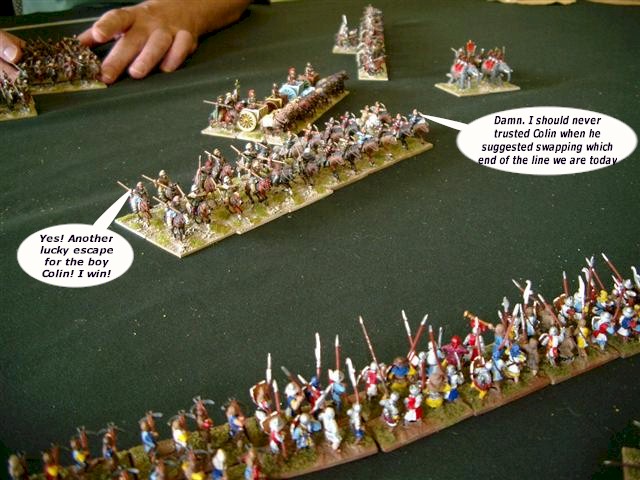 The Persians has scythed chariots - about which I knew nothing whatsoever as to their capabilities or performance under these rules. But I could imagine it was pretty tasty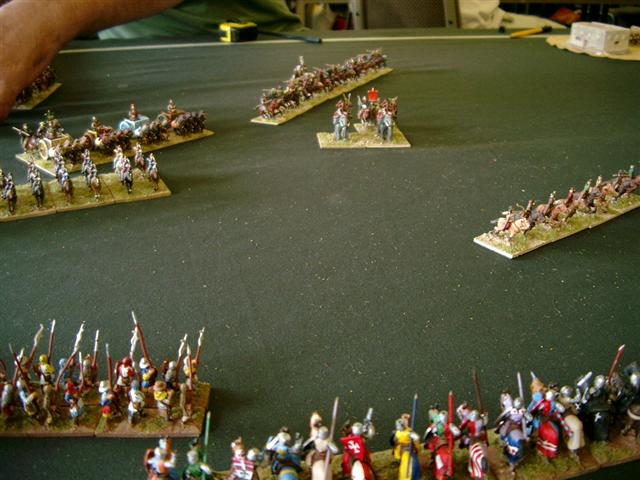 The Persians maneuvered behind a screen of light horse, and like the opening of a theatrical extravaganza, the army parted and the chariots moved to centre stage - with a supporting cast of Elephants for good measure!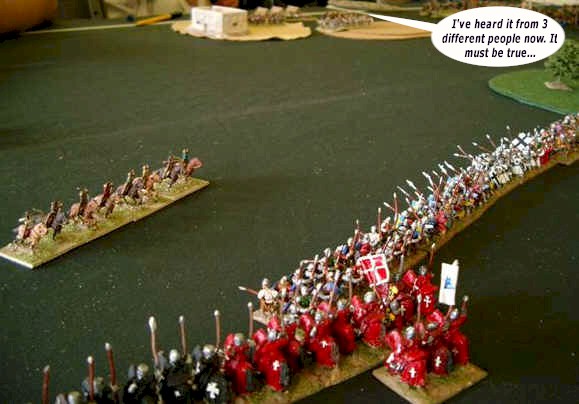 Meanwhile - as was becoming a pattern - a large chunk of my army advanced slowly with minimal opposition in its path.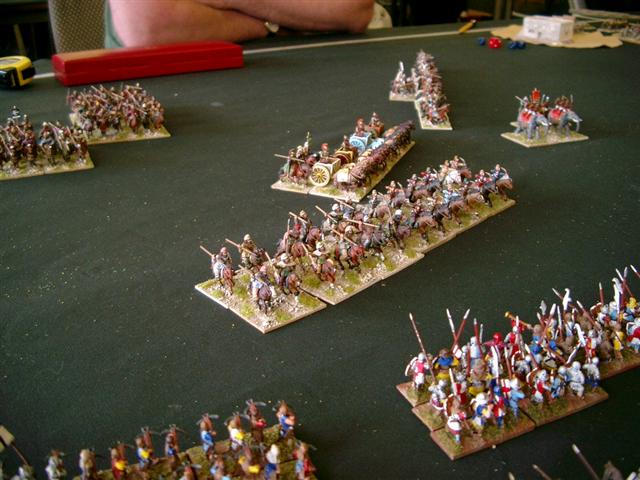 My defensive spearmen bravely decided to take on the Chariots - but given I had no other troop types it seemed like the best idea anyway. But the Persians were maneuvering to cleverly and a rush by the spearmen seemed to give them the chance to pin the skirmishing light horse in front of teh chariots - surely this couldn't be good for the Persians?
But the light horsemen wheeled about in various maneuvers not seen since the days of Cantabrian Circle in 6th edition, and skillfully breaking left and right avoided my spearmen! The Chariots then charged in! What would happen?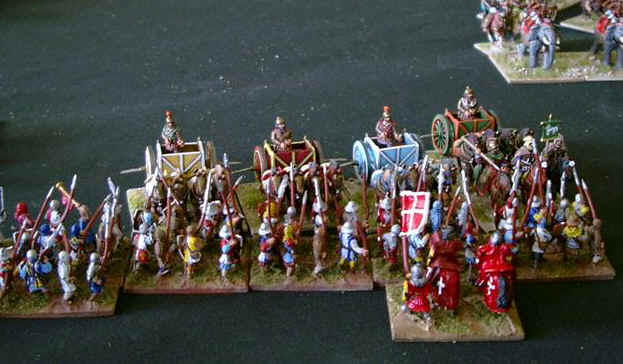 I threw a general into bolster my unit - and the Persians responded with one of their commanders also urging the madmen in their chariots to charge that little bit faster and hang on that few seconds more than they really wished to.
The two forces clashed - and my spearmen faltered, but did not break - so the Chariots charge being spent, they were removed from the field!!!
Thank Christ that was over........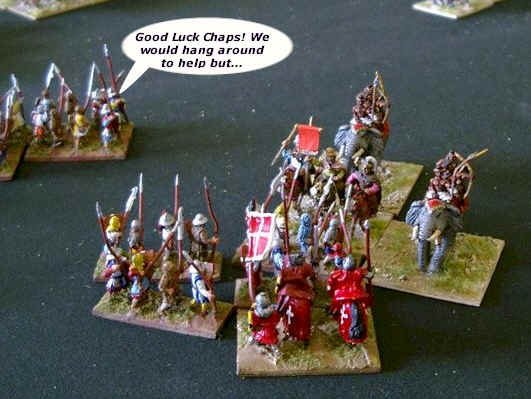 But the Persians had other ideas - and a hammer blow of elephants then followed up the chariotry and pulverized the poor spearmen.
Even heroic dice on behalf of the spearmen was not enough to do more than hold on for a short time, as their colleagues, smelling defeat in the air, pushed onwards anxious to avoid being caught at the scene of the forthcoming crime.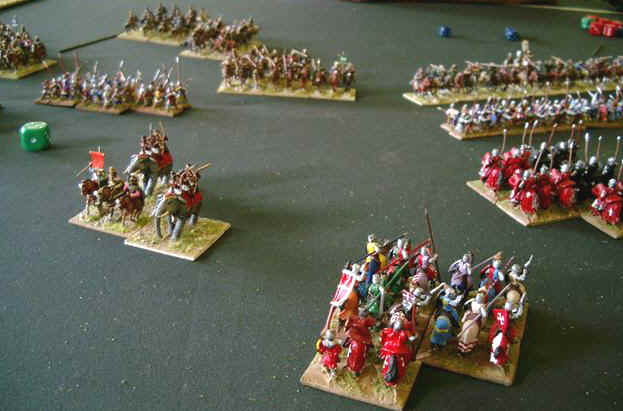 The chariots and elephants had punched a huge hole in the middle of my army - and the elephants were roaming free - but across the rest of the front I was pressing the Persians hard as they backpedaled to avoid getting squeezed between the sharp points of my spears and the the edge of the world at their backs.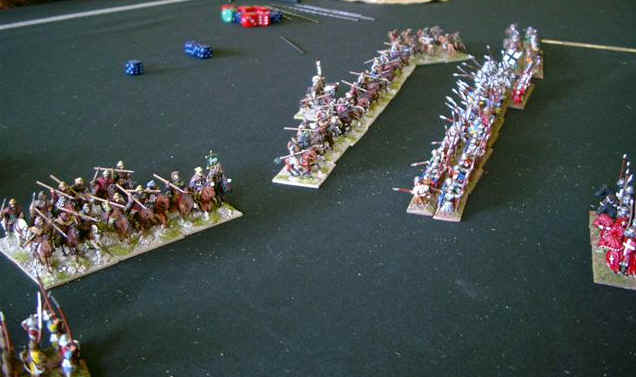 But more elite Persian cavalry were now starting to make for the gaping hole in my line, with the Brother Knights having half an eye on the marauding elephants, it would prove hard fro me to stop them breaking through.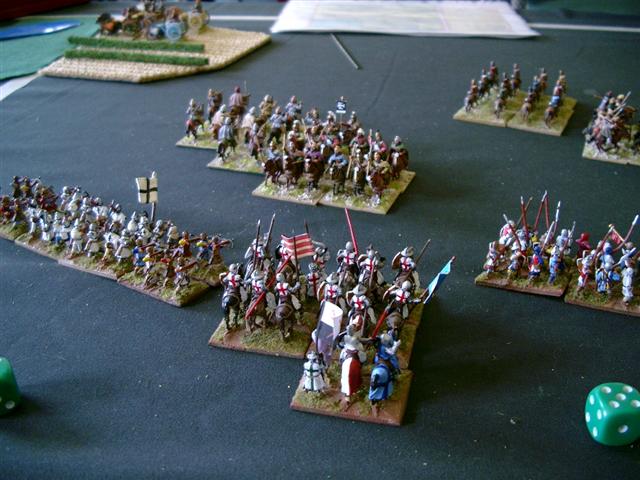 My left wing was starting to envelop the Persians, with the crossbowmen training a bead on the enemy horsemen, and my own Turcopoles coming up to add their shooting.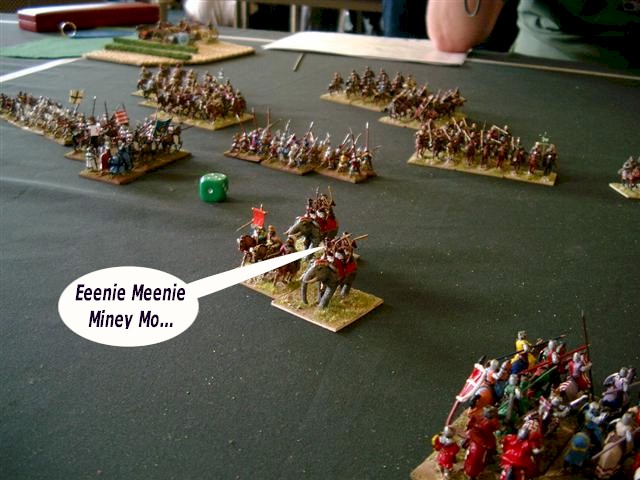 The elephants paused for breath - they had too many targets, with 2 units of knights, the rear of my spearmen, and my baggage all within reach.
The Persians however were confident, and launched a charge against my Turcopoles. I had imagined them to be a strongpoint in my lines, but they proved to be as resilient as a slab of jelly at an overweight 8-years old birthday party and imploded as the Persian cavalry charged in.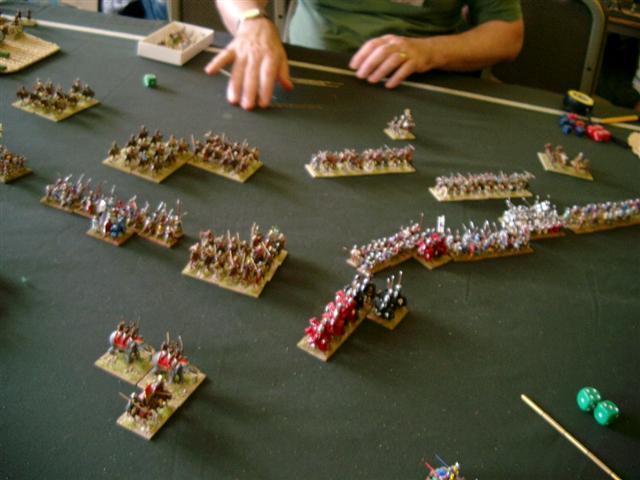 My Brother knights swung round - now, with two holes in my line, was no time to worry about the threat of the difficult to maneuver elephants - they needed to charge the Persian cavalry and fast!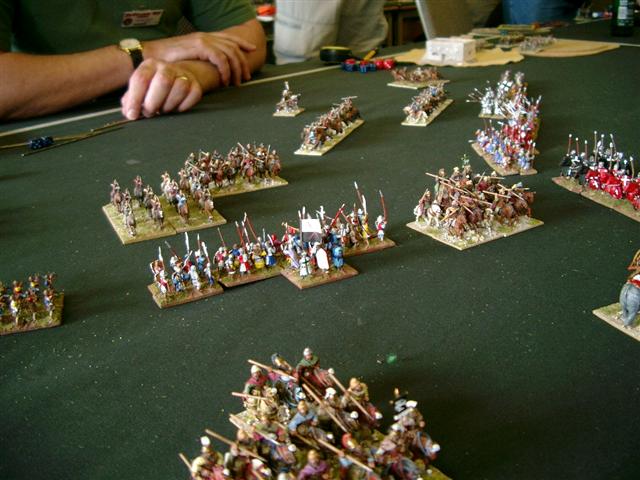 On the same flank, my one surviving spar unit was looking increasingly marooned. Desperate to get out of trouble, they charged forward against the skirmishers harassing their front - and with a rushed charge they continued to chase the evading irritants and managed to contact the cavalry unit in front of them hitting them at the halt, and causing dreadful carnage.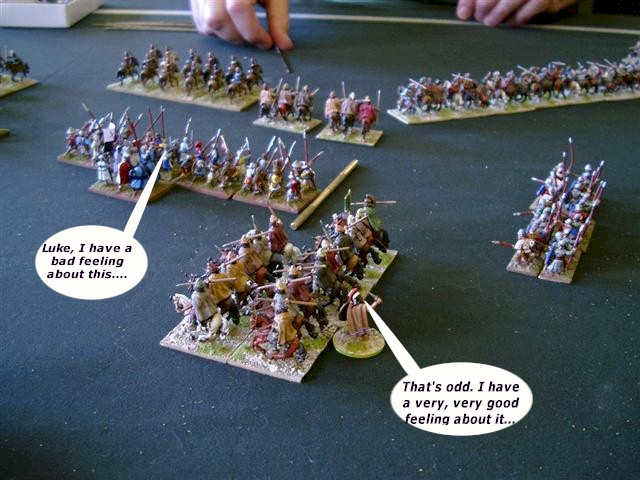 The Prsian cavalry broke and fled - maybe things were going to work out? But even as my spearmen advanced, and before my Brother knights could gee up their horses the well trained Persian cavalry they were threatening wheeled about and moved sharply off to threaten my victorious spearmen - leaving the knights grasping at thin air, and realizing that it had a nasty whiff of elephant flatulence about it as well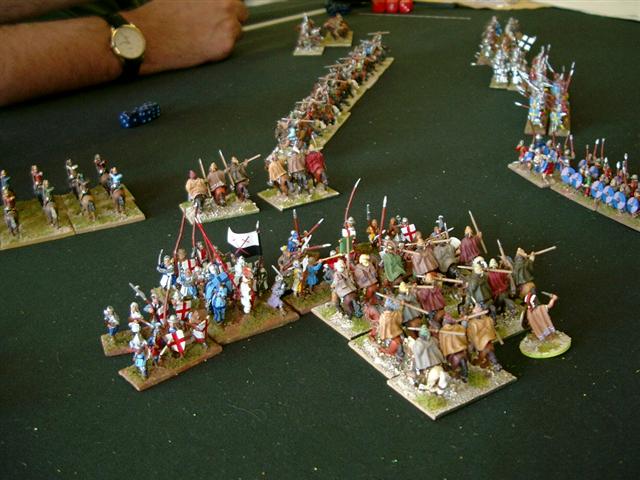 The Persians charged into the rear of the unsuspecting spearmen - it was no contest as the spearmen crumbled at this savage onslaught. My entire flank had collapsed !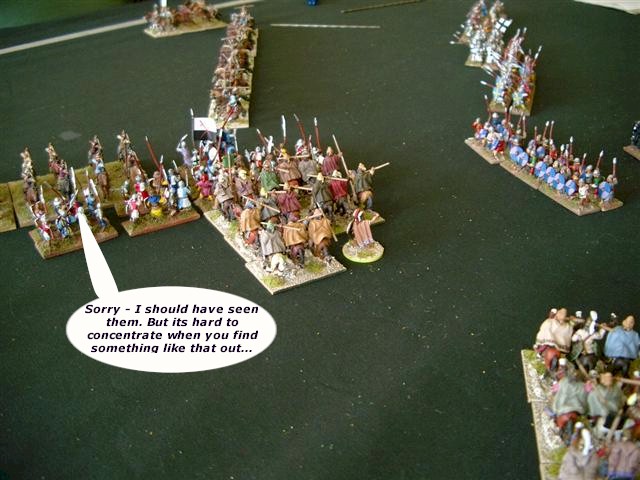 My left wing was still intact and was still pressing onwards, but my right was now a series of isolated units that were being picked off one by one by the marauding Persians.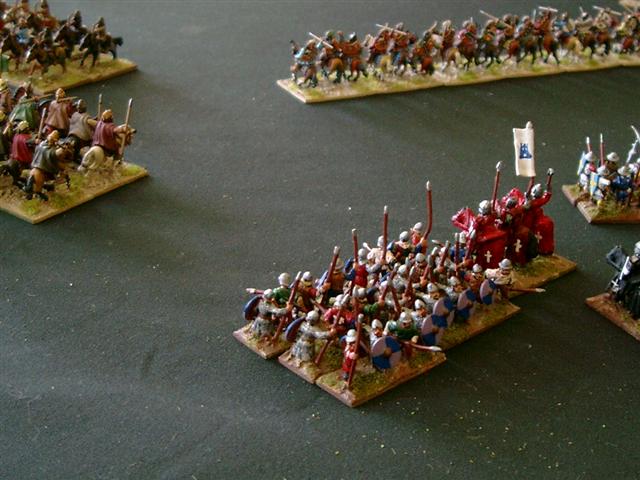 The solid line of spearmen moved relentlessly forwards, but the Persians were always one step ahead, and were creating more space to maneuver in with every part of my left wing they destroyed!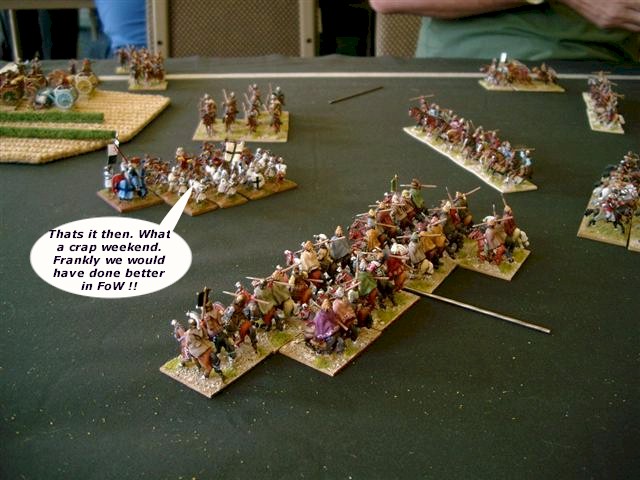 Soon only the crossbowmen remained of my entire left flank - surrounded, outnumbered, there was only one result. They were massacred and my army - yet again - fell to a crushing defeat - and I ended up bottom of the pile in my first ever FoG competition!
Post Match Analysis
The more mobile Persians were able to concentrate force on one wing of my army, and punched two massive holes in in - first with the double-whammy of chariots followed up by elephants, and secondly as the Turcopoles folded like a cheap garden chair under the assault of a fat uncle. This left the rest of the wing to be defeated in detail, and save for one unit of cavalry which was unlucky to be caught at the standstill, the pedestrian - in every sense of the word - Crusaders were unable to catch anything that didn't want to fight.
Post Tourney analysis
In retrospect, my choice of army - and it's design - was one dimensional, and that dimension was complete and utter pants, which makes it hard to put forward a coherent view on the rules as in many games I seemed to be fighting with one or two troop types and with both hands tied behind my back (which given I started with one arm in a sling as well, made life rather difficult!!).
Most of the other players had clearly also played significantly more games than I had, and so had gone past the "lets shove some figures around and see what happens" stage (where I was at!) to the "I have worked out some tactics and know what my troops are capable of when facing yours" (which proved to be a pretty big advantage for them...).
The consequence of the army choice and my lack of experience was that other than play a really defensive game, which regular readers will probably recognize is not really my forte, I struggled to be in with much of a chance in several of the games. In a way my army had similar downfalls to the Viking Raider army I took to the Scandinavian DBM championship - which came very close to losing all 4 of its games too - so adding this to the fact the other players knew the rules better and had better designed armies, made the task just too hard
The real problem was the army size - it was just too small, with units that simply could not be pulled out of the line, patched up and thrown back in, so even when I seemed to be making headway, simple attrition multiplied with a spot of adverse luck would turn a promising situation into a crushing rout as I just ran out of men short of the finish line time and time again.
Mechanically, the games all flowed well, with very little referring to the rules needed after, well, the first one really, which was reassuring. What else was good was that the design team were obviously looking carefully at all the odd combat outcomes, ahistorical-feeling incidents and the "erm, they surely wouldn't / couldn't do that in that situation ??" maneuvers, and were taking copious notes to feed back into the process to see if they can be ironed out of the finished product. Whether they will also include a big note that says "don't take a crap army, don't organize it badly, don't field enough generals and don't use aggressive tactics when defensive ones are what's needed " is another matter though!!
The bottom line is probably a few conclusions. FoG isn't DBM - which takes a shift of mindset to get away from a lot of habits and assumptions on how troops move and fight. There is clearly more to the game than some others - I'd probably played nearly as many games of FoG at the club as I had Warmaster Ancients for example, but I won my first WMA competition and came bottom in my first FoG one!!
The most interesting thing in the rules - that I suspect gives it the depth to reward repeated playing - is that way the interactions between the troop types are modeled means there are some very complex interactions, which means it's virtually impossible to work out the odds on winning or losing any combat in much more detail beyond an "erm, I'm probably better here, but..." level - and with often relatively small numbers of dice being rolled, there is always a chance of an upset which keeps things exciting.
However the one thing I can guarantee is that next time I'd do things differently - finding an army that is more suited to my style of play, and which has less challenging troop types to try and use - although I'm not entirely sure what that will mean in practice!
View My Stats
The Ancient Army List Index
Historical background notes, external links, 15mm supplier listings, FoG army lists, and a list of books about these armies
The Rise of Rome (280 BC to 25 BC) Mid Republican Roman ; Late Republican Roman ; Gallic ; Pyrrhic ; Later Carthaginian ; Ancient Spanish ; Later Macedonian ; Later Seleucid ; Later Ptolemaic ; Attalid Pergamene ; Numidian or early Moorish ; Pontic ; Early Armenian ; Parthian ; Later Jewish ; Illyrian ; Spartacus Slave Revolt ; Bosporan ;
Storm of Arrows - Western Europe in the Later Middle Ages (1300 AD to 1500 AD) Medieval French ; 100-yrs War English (Continental) ; 100-yrs War English (Britain) ; Later Medieval Scots ( Britain) ; Later Medieval Scots (Continental) ; Later Scots Isles & Highlands ; Medieval Welsh ; Later Anglo-Irish ; Medieval Irish ; Low Countries ; Later Medieval German ; Italian Condotta ; Swiss ; Free Company ; Medieval Burgundian ; Medieval Danish ; Medieval Swedish ; Medieval Castilian ; Medieval Crown of Aragon ; Medieval Portugese ; Later Granadine ; Navarrese ; Ordonnance French ; Wars of the Roses English ; Ordonnance Burgundian ; Santa Hermandad Nueva Castilian
Immortal Fire - The Greek, Persian & Macedonian Wars (550 BC - 146 BC)
Classical Greek ; Early Achaemenid Persian ; Lydian ; Thracian ; Syracusan ; Early Carthaginian ; Skythian or Saka ; Kyrenean Greek ; Late Dynastic Egyptian ; Alexandrian Macedonian ; Later Achaemenid Persian ; Classical Indian ; Early Successor ; Early Sarmatian ; Galatian ; Hellenistic Greek ; Graeco-Bactrian ; Graeco-Indian ; Indo-Greek :
Legions Triumphant - Imperial Rome (25 BC to 493 AD) Dominate Roman ; Principate Roman ; Foederate Roman ; Later Sarmatian ; Early German ; Dacian or Carpi ; Ancient British ; Caledonian ; Early Alan ; Jewish Revolt ; Sassanid Persian ; Kushan or Indo-Skythian ; Palmyran ; Early Frankish, Alamanni, Burgundi, Limigantes, Rugian, Suevi or Turcilingi ; Western Hunnic ; Early Visigothic & Early Vandal ; Early Ostrogothic, Herul, Sciri or Taifali ; Early Anglo-Saxon, Bavarian, Frisian, Old Saxon or Thuringian ; Gepid or Early Lombard ; Early Scots Irish ; Early Pictish ; Hephthalite Hunnic ;
Swords & Scimitars - The Crusades (1096 AD to 1311 AD) Early Crusader ; Later Crusader ; Fatimid Egyptian ; Georgian ; Seljuk Turk ; Cuman ; Komnenan Byzantine ; Post Latin Conquest Byzantine ; Ilkhanid Mongol ; Mamluk Egyptian ; Cilician Armenian ; Syrian States ; Khwarazmian ; Ayyubid Egyptian ; Middle Serbian ; Middle Bulgarian ; Medieval Cypriot ; Latin Greece ; Pecheneg ;
Eternal Empire - Eastern Europe and the Rise of the Ottomans (1300 AD to 1500 AD) Early Ottoman Turkish ; Later Ottoman Turkish ; Tatar ; Later Russian ; Later Serbian Empire ; Later Bulgarian ; Later Lithuanian ; Later Polish ; Later Teutonic Knights ; Catalan Company ; Middle Hungarian ; Moldavian or Wallachian ; Albanian ; Timurid, White Sheep Turcoman or Black Sheep Turcoman ; Later Hungarian ; Hussite ;
Decline & Fall - Byzantium and Islam (493 AD to 1071 AD) Early Byzantine; Maurikian Byzantine ; Thematic Byzantine ; Nikephorian Byzantine ; Later Moorish ; Later Visigothic ; African Vandal ; Italian Ostrogothic ; Early South Slav ; Lombard ; Avar ; Arab Conquest ; Early Bulgar ; Ummayad Arab ; Abbasid Arab ; Early North African Dynasties ; Khurasanian Dynasties ; Bedouin Dynasties ; Dailami Dynasties ; Pecheneg ; Ghaznavid ; Western Turkish (includes Khazar);
Wolves From The Sea - The Hairy European Dark Ages Post Roman British ; Early Welsh ; Later Scots Irish ; Merovingian Frankish ; Later Pictish ; Early Slavic ; Middle Anglo Saxon ; Astur Leonese ; Andalusian ; Early Navarrese ; Carolingian Frankish ; Viking ; Magyar ; Great Moravian ; Early Scots ; Rus ; Norse Irish ; Early Medieval French ; Early Medieval German ; Norman ; Early Polish ; Anglo Danish ;
Swifter Than Eagles - The Biblical Book Nubian ; Early Libyan ; Later Sumerian or Akkadian ; Early Nomad Allies ; Old or Middle Kingdom Egyptian ; Hyksos ; Mitanni ; Syro-Canaanite ; New Kingdom Egyptian ; Later Minoan or Early Mycenaean ; Hittite Empire ; ; Middle or Early Neo-Assyrian ; Later Mycenaean or Trojan ; Sea Peoples ; Philistine ; Phoenician Allies ; Neo-Hittite And Aramaean ; Later Hebrew ; Mannaean Allies ; Libyan Egyptian ; Urartian ; Median ; Neo-Elamite ; Proto-Arab Allies ; Cimmerian or Early Skythian ; Neo-Assyrian Empire ; Phrygian Allies ; Kushite Egyptian ; Neo-Babylonian Empire ;
Oaf of Fealty - Early Medieval Europe Feudal Catalan and Early Crown Of Aragon ; Early Hungarian ; Taifa Andalusian ; Feudal Navarrese and Aragonese ; Feudal Castilian Leonese or Portuguese ; Fanatic Berber ; Italo-Norman ; Feudal French ; Imperial German ; Feudal German ; Communal Italian ; Papal Italian ; Early Scots Isles And Highlands ; Feudal Scots ; Early Russian ; Feudal Polish ; Anglo-Norman ; Later Welsh ; Early Lithuanian or Samogitian ; Wendish Prussian or Estonian ; Early Medieval Frisia and Other Free Cantons ; Post-Viking Scandinavian ; Early Plantagenet English ; Later Sicilian ; Early Medieval Irish ; Early Anglo-Irish ; Early Teutonic Knights ; Mongol Invasion ; Early Granadine ; Middle Plantagenet English ;
Empires of The Dragon - China, Korea and Japan Erlitou-Shang Chinese ; Early Northern Barbarian Allies ; Early Zhou Chinese ; Yayoi Japanese ; Early Horse Nomad ; Ko Choson Korean ; Warring States To Western Han Chinese ; Qiang And Di ; Three Kingdoms Korean ; Eastern Han Chinese? ; Three Kingdoms W Jin And S Dynasties Chinese ; Kofun Nara Japanese ; Northern Dynasties Chinese ; Later Hindu North Indian ; Later Hindu South Indian ; Central Asian City States ; Western Wei To Early Tang Chinese ; ; Later Horse Nomad ; Tibetan ; Nepalese Allies ; Parhae Korean ; Late Tang To Five Dynasties Chinese ; Khmer Or Champa ; Thai Allies ; Nanzhao ; Pyu Burmese Allies ; Koryo Korean ; Early Heian Japanese ; Pagan Burmese ; Liao ; Song Chinese ; Xi Xia ; Ghurid Afghan ; Jin ; Late Heian To Muromachi Japanese ; Japanese Warrior Monk Allies ; Mongol Conquest ; Moslem Indian Sultanates ; Medieval Indonesian Or Malay ; Yuan Chinese ; Medieval Burmese ; Ming Chinese ; Yi Korean
Blood and Gold - The Americas Olmec ; Teotihuacan ; West Mexican ; Zapotec or Mixtec ; Toltec ; Chinantec ; Aztec ; Tarascan ; Tlaxcalan Confederacy ; Mayan ; Mochica ; Chanca ; Chimu ; Hatun-Colla ; Canari ; Inca ; Mapuche or Araucanian ; Amazonian Forest Tribes ; Tupi ; Chichimec ; Pueblo Culture ; Mound-Builder Culture ; South-Eastern Woodland Culture ; Timucuan ; Eastern Woodland Culture ; Plains Culture ; Pacific North-West Culture