Compulsary Cataphracts in Pamplona 2019
Koryo Korean vs Sui & Tang
Game 1 Koryo Korean vs Sui & Tang
Game 2 Koryo Korean vs Seleucid & Maccabean
Game 3 Koryo Korean vs Sassanid Persian
Game 4 Koryo Korean vs Northern & Southern Dynasties Chinese
Game 5 Koryo Korean vs Patrician Roman
Game 6 Koryo Korean vs Seleucid
A few months after surviving Estella, the Central London Expeditionary Force set off yet again for the balmy shores of Northern Spain to take part in the Pamplona Tournament.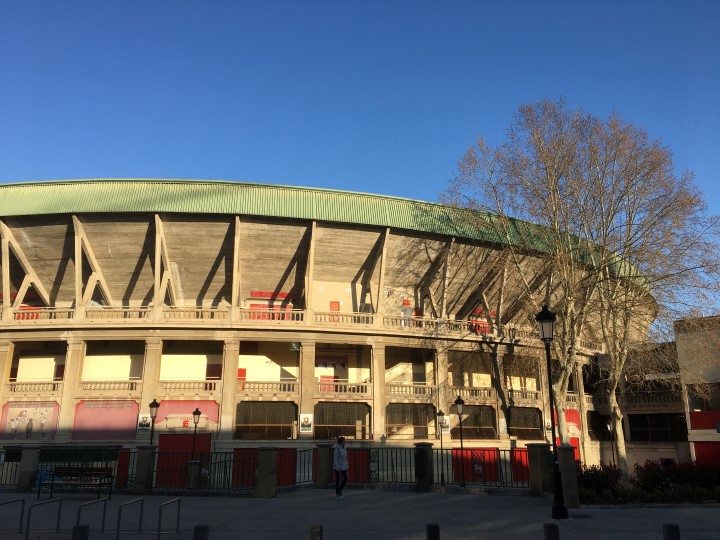 A bit of judicious planning and reconnaissance had allowed us to work out that a trip from London to Bilbao inevitably meant taking Friday off work - but also possibly an expensive and very early morning flight now that the culinary delights of the Basque coast have become wildly popular among the cognoscenti in the hip and trendy parts of South East England, almost certainly as a direct result of the publicity which the tapas scenes in many northern Spanish cities has received on the pages of this very well linked blog and website.
Early morning start + expensive flight was not however top of our list of things to do on a day off, so after some internet research we realised that a late flight Thursday from Gatwick would be sufficiently cheaper than a Friday morning one to justify an additional hotel night in Bilbao... which in turn opened up the possibility of adding a gastronomic component to the expedition.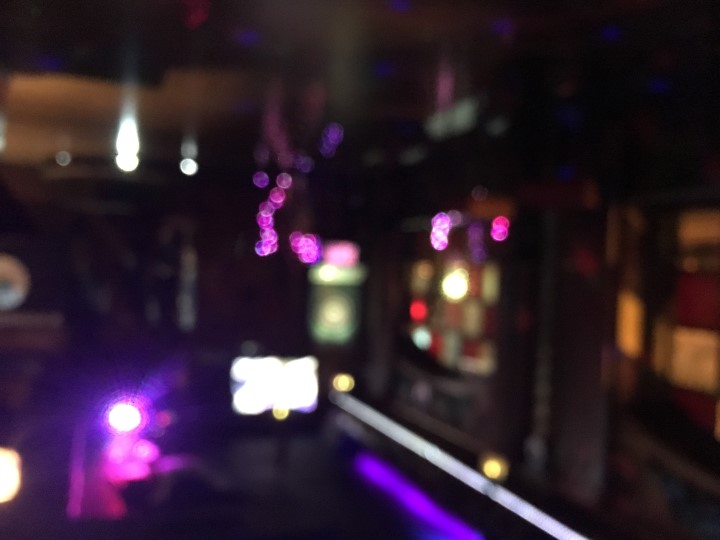 Thus, duly excited by some commuter-time Gatwick Express excitement the bold band of explorers touched down in Bilbao around 11ish, just about in time to sneak in a few rounds of canias and late night tapas (and of course a trip to a Pirate-themed pub... because why not) on Thursday before partaking of a proper Bilbao breakfast on Friday morning.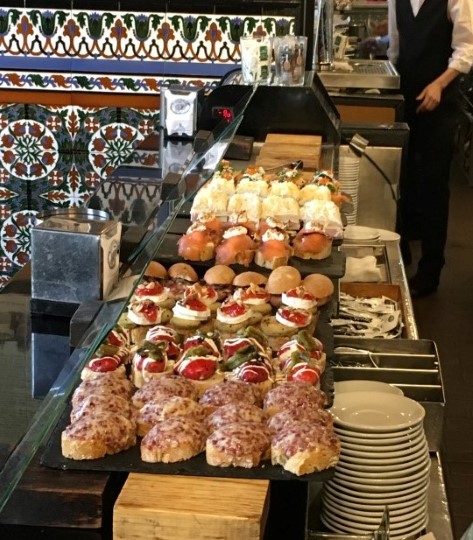 Friday then saw us traverse the mountains Eastwards heading cross-country to San Sebastian/Donostia - taking in the ancestral lands of the legendary Don Bat Family, and their descendants extensive collection of secretly sequestered advanced Donbat manufacturing facilities hidden, James Bond-style in the heavily wooded valleys and hinterlands of the Basque countryside.
On the trip we also passed a number of other exotic locations, notably a town with a humungous Seminary for the training of young priests, which also appeared to have a specialist Chorizo factory but a surprising absence of pig farms in the immediate vicinity - possibly a cautionary tale as to what happens to aspirant religious types who fail to make the grade demanded of them by the Pope?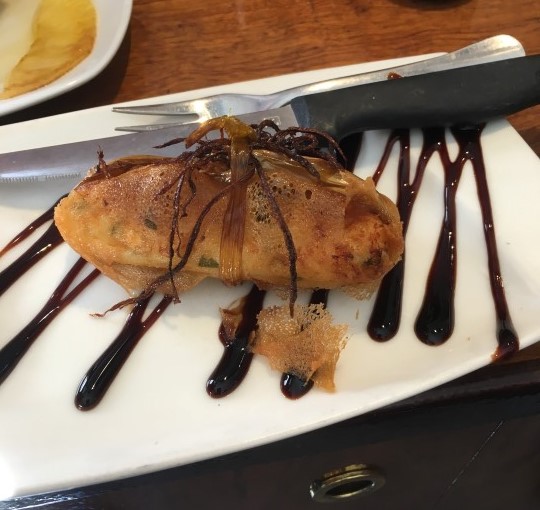 A long afternoon of Pintxos consuming in the cobbled streets of San Sebastian then followed..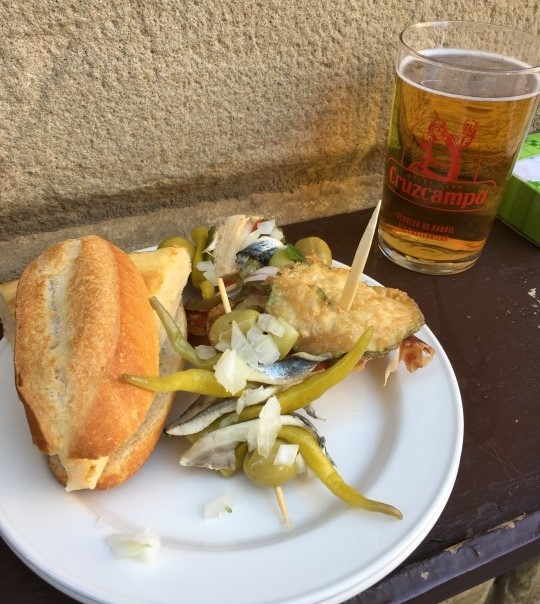 .. after which a brief siesta and a long evening of pintxos consuming in the cobbled streets of San Sebastian - and then it was time to head for Pamplona, and the event itself !
The theme of the event was that all armies used needed to include at least 2 Cataphracts, and could only include a lone elephant - an intriguing theme which opened up all sorts of possibilities, not least whether to go big on cataphracts or go with the minimum.
In keeping with my track record of trying to put on table a different army, and different style of army at each event I went with the Koryo Koreans, primarily because they offered the opportunity to try and recreate Richard Aynsley's winning list from a recent tournament in Ireland, in which he'd used War Wagons successfully - something I'd never managed to do since the days of DBM.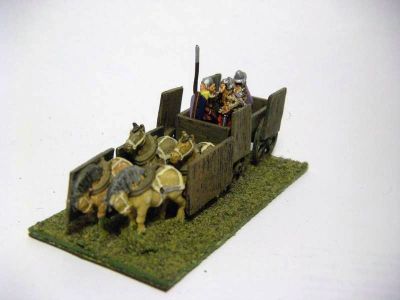 The first game saw the Koreans facing off against another popular choice (and one which had been in my list for consideration too) the Tang & Sui Chinese.. The lists for the Koryo Korean and Sui & Tang from this game, as well as all the other lists from the games at Pamplona can be seen here in the L'Art de la Guerre Wiki.
The Korean army I used was designed very much to concentrate on half of the table, using a couple of Wagons and a heavy Artillery unit to create a blockage for half of the opponents army and in theory allowing the other 2 Korean commands to swing round and crush one wing and roll up the centre of the opposition.
The non-Wagon commands were optimised for this, with a slower moving infantry and Cataphract command on the inner end of the wheeling line, and a large (7+ units) mounted command providing the fast moving outer edge of the line.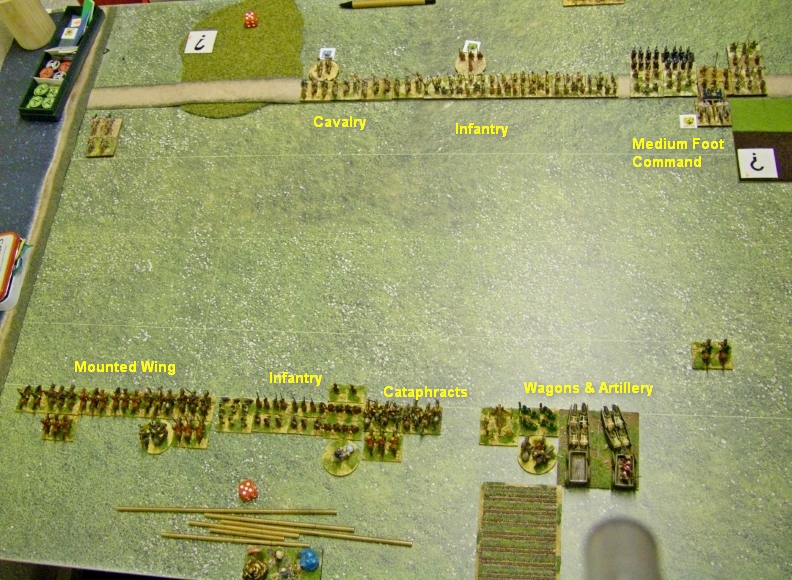 The opposition had a much more traditional arrangement of forces than the Koreans, with a Heavy Spear rich centre and left, and a normally sized mounted wing on their right facing off against my own over-sized cavalry force. I had refused the right of the table, with the pair of wagons ready to amble around and try and block a large force of Medium Foot swordsmen who looked set to burst out of the terrain on that wing.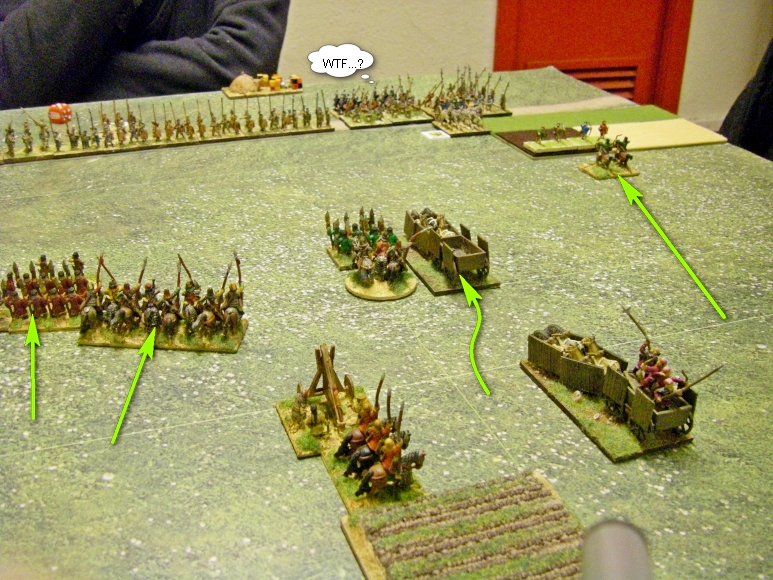 Sizzling Samsungs! Immediately the starting gun fired the Koryo war wagons trundled forwards in curiosity and puzzlement as to how they would fare (I had cunningly only had one practice game with the list beforehand - an improvement on most tournaments to be fair!)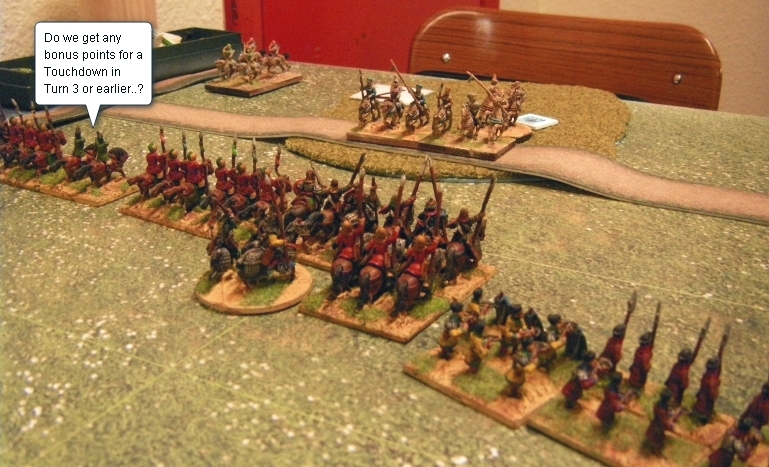 On the opposite flank the vast slab of Korean cavalry hurled themselves as fast as they could at the thin skin of Tang mounted troops who had been hoping to play a blocking role whilst their infantry presumably did the business in the middle. Finding that they were actually facing 7 cavalry, including three cheap but effective Mediocre Impact Medium Cavalry was a bit of a shock
L'Art de la Guerre, ADLG hint - Its relatively rare to find a mounted command with more than at most 4-5 actual cavalry in an ADLG army (plus a couple of LH) so rocking up with a 7-strong wing against them gives you an almost certain material number of potential overlaps. Weight of numbers can really count, and balances out quality pretty well under the points system - this even makes Mediocre Medium Cavalry a viable units as part of a very large command, as they may be a bit rubbish on their own, but as an overlap, fighting against LH or hitting an enemy flank they are just as good as "proper" cavalry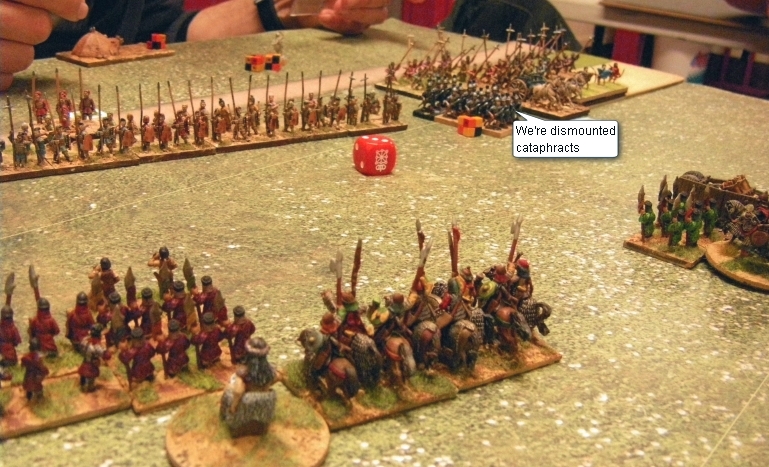 Faced by this odd combination of opponents the Tang were consulting their military manuals in an effort to work out what to do next. The horde of medium foot in the terrain to the far left of their army stuttered forwards slowly, knowing they would have to be the ones flicking through the rules to find out how to fight War Wagons.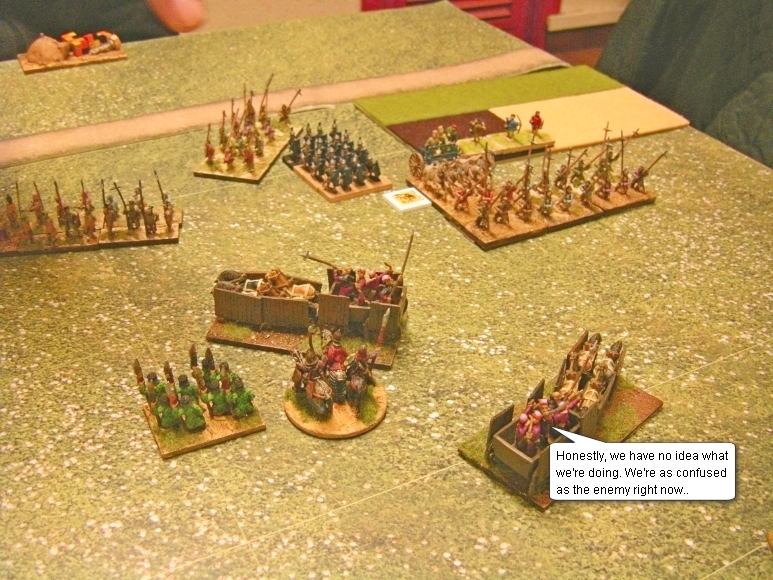 Holy Hyundais! As the Tang infantry scratched their heads, the wagons simply drove on and made good progress in their Convoy. Soon they were attempting to parallel park next to any pavements or sidewalks (depending on where you are reading this from) they could find. There was very like science to this movement - it was however confusing the Korean general almost as much as it was confusing the Tang infantry!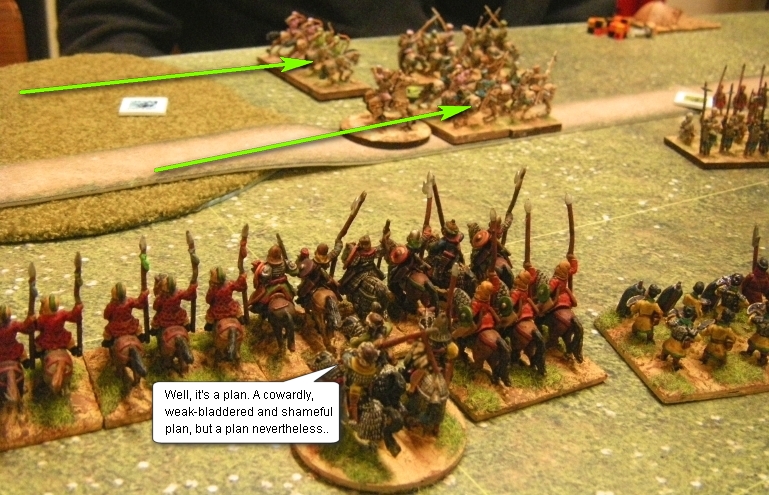 Back on the left of the Koryo army their superiority in mounted numbers was so great that the Tang simply decided to bug out and not even try and fight against the overwhelming numbers. Taking advantage of the somewhat clichéd lateral road the Tang engineering corps had built the Chinese cavalry made like trees and decided to leave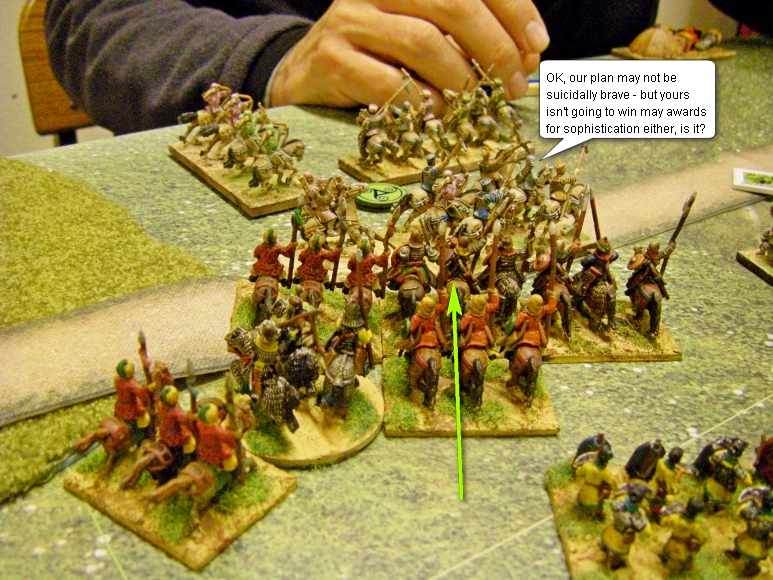 Trying to get away from 7 cavalry and actually getting away from 7 cavalry were however very different things. The hordes of Korean mounted soldiery swept forwards wherever they could, seeking to pin the fleeing Chinese horsemen in place and force them to stand and fight instead of exit stage left.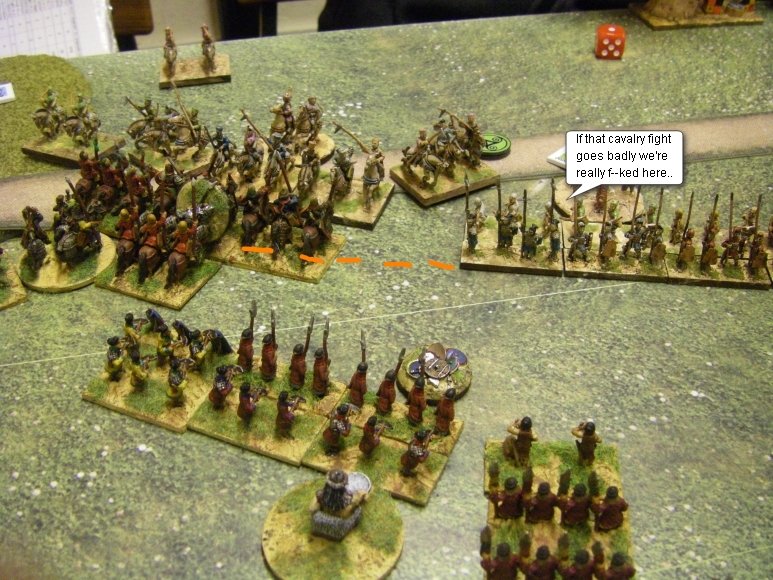 Ding Dang Daewoo! Time and space had run out for the Chinese mounted - they had no choice but to stand and fight Redeploying swiftly into a hastily assembled line they poured bowfire into the onrushing Koreans, and in turn received a series of volleys of crossbow bolts and archery back from the men from the peninsula.
Koreans vs Chinese Dynasties
The battle escalated more quickly than when a set of drunken friends start to add side dishes to their main order at a late night Chinese restaurant, growing from an exchange of archery into close quarters combat as the lines converged. First the horse, and shortly after the evenly matched infantry of both sides were pulled into the conflagration as more and more forces were fed into the maw of combat by both commanders.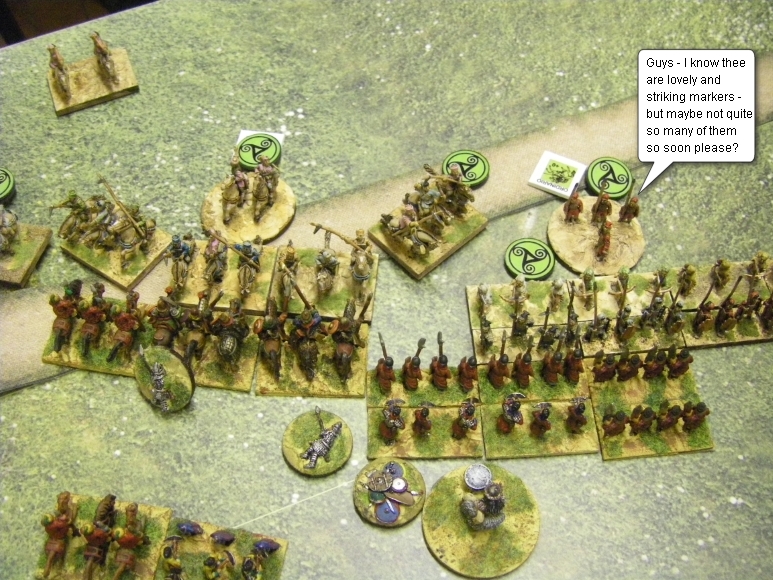 "Kimchee To Go!" The Koreans local superiority in numbers was inevitably leading to overlaps as they had men and horses to spare in the bitter conflict. As sure as 1000 year old eggs is eggs, this led swiftly to the Chinese deploying a significant number of casualty markers behind many of their engaged forces as the Koreans sought to limit their own hits through just being tough and resilient.
Korean Warfare in history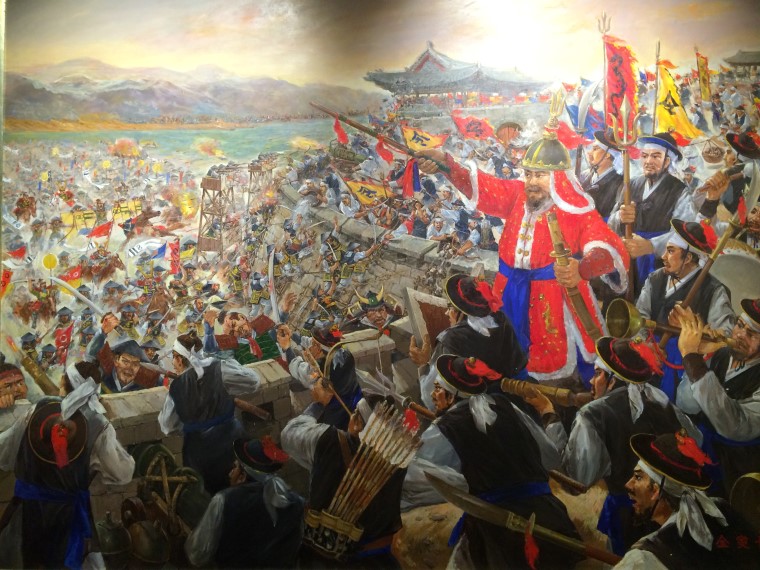 From my Korean War Memorial Museum Page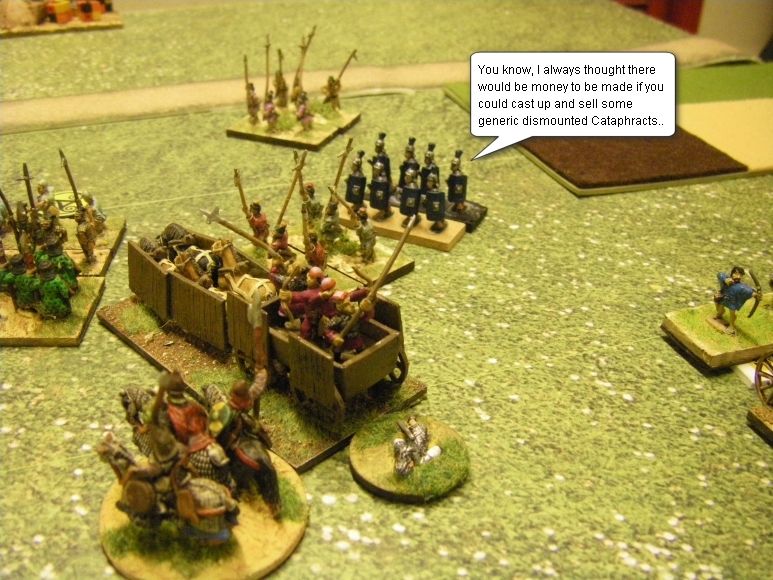 As battle raged and spread on the left, the right flank had finally witnessed a Chinese halberdier unit plucking up the bravery to work out how to actually engage the Korean cargo convoy. After a protracted delay to understand how the rules actually worked the dice were rolled and the wagon picked up its first ever hit marker in competitive combat.
L'Art de la Guerre, ADLG hint - this wagon is engaged by only one enemy unit on one of its long edges - the end result is that the enemy counts as being overlapped in combat. Were there to be two enemies in contact on this flank the wagon would no longer count as having an overlap, but only one of the enemy units would fight. The second one simply cancels the wagons inherent overlap.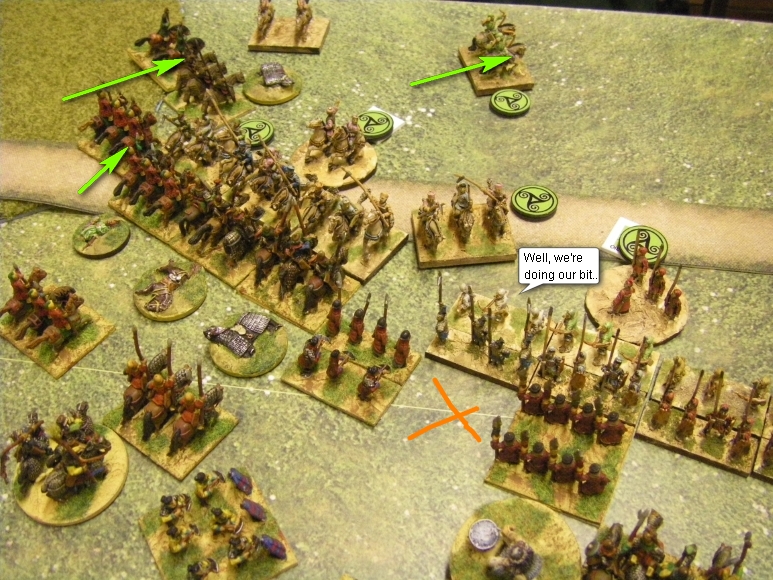 After their initial success the Korean cavalry suddenly started to find the going much harder against the ferocious and resilient Chinese horsemen. Specialist 2-hit mounted markers gratefully made it onto the table for their 15 minutes of fame as the Chinese dug deep in their reserves of strength and sought to push the tide of Korea back across the sea which separated their two countries (in some places where they didn't have a land border).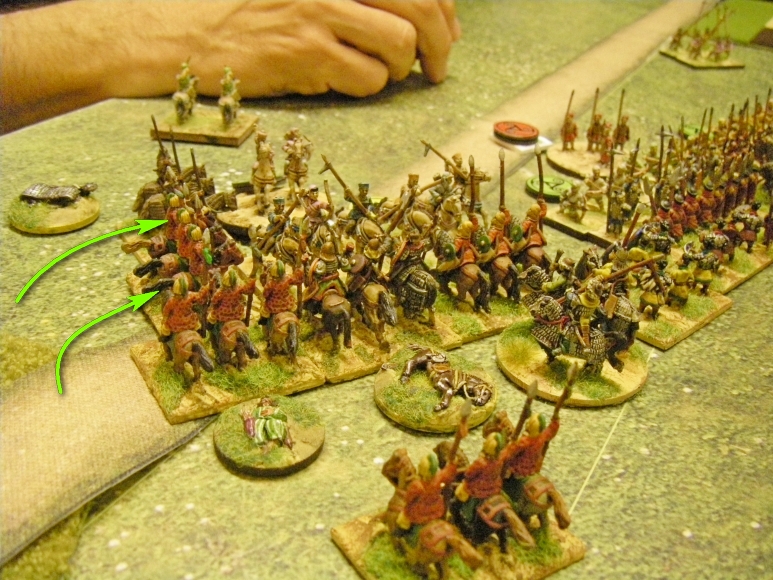 But the Chinese cavalry's bravery was soon to count for naught as the sheer numerical superiority of the Koreans had allowed them to drive off the enemy light horse and take up positions on the flanks of the already-engaged Chinese line.
Turning and charging at some speed the Korean horsemen slammed into the right hand end of the Chinese formation causing more damage to the Chinese cavalry than a drunken patron being over enthusiastic with the Lazy Suzan could do to the crockery collection of a Chinese restaurant.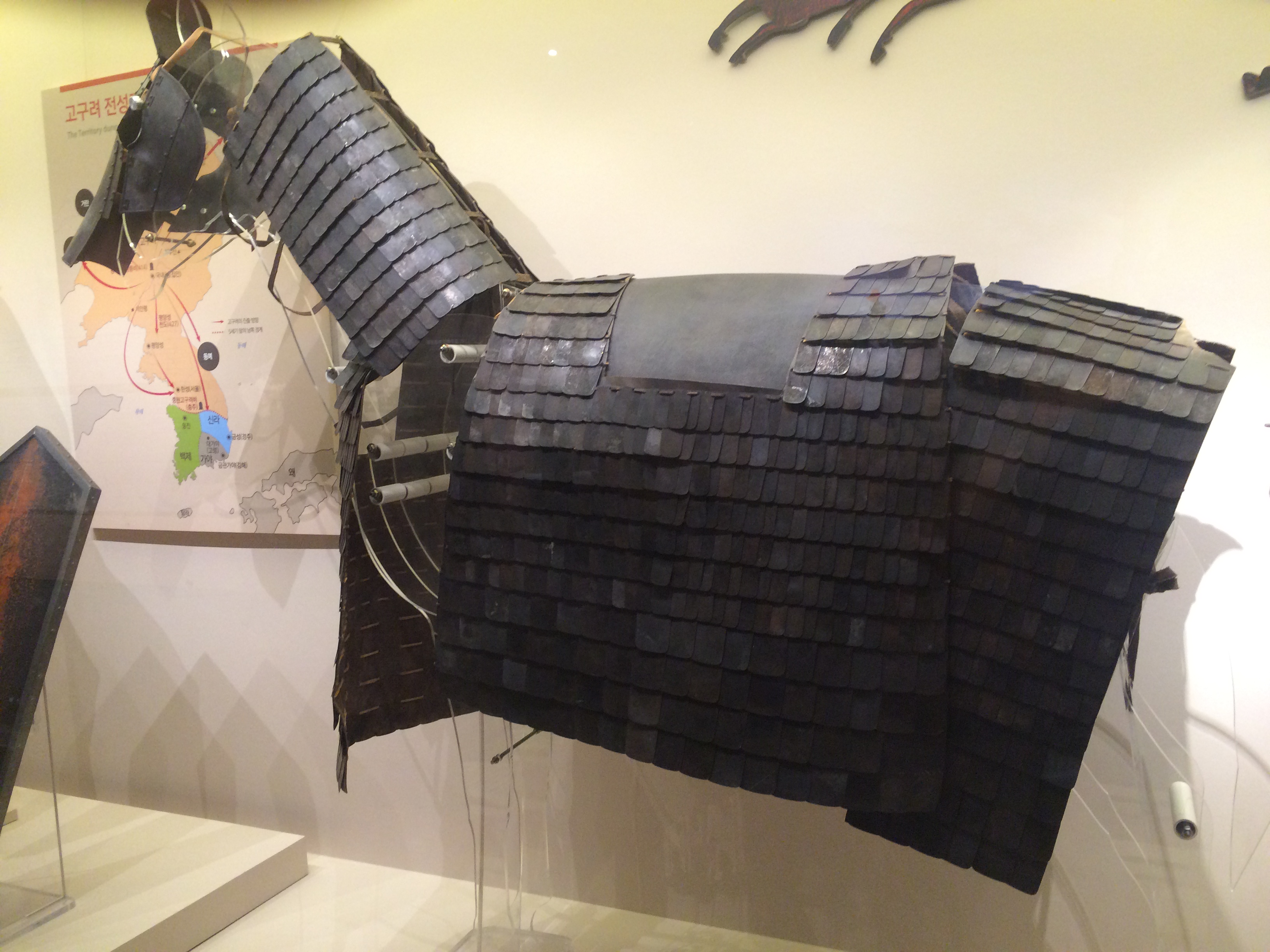 Korean Horse Armour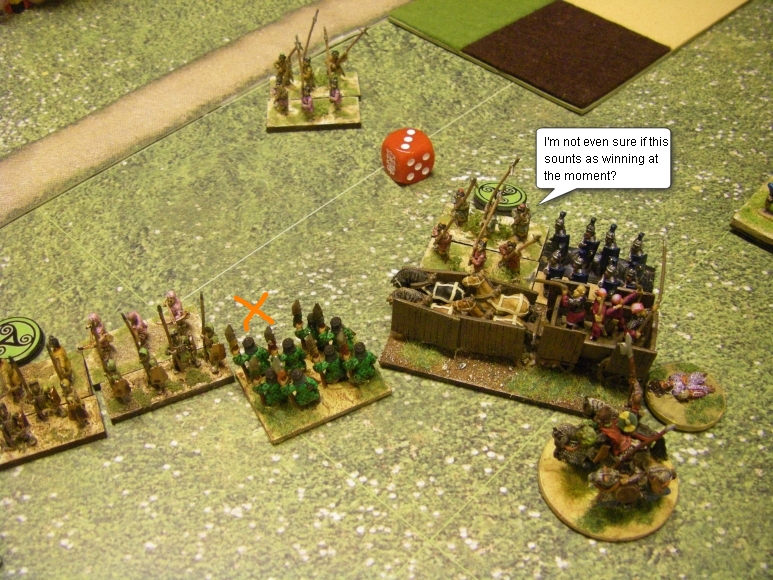 The infantry unit accompanying the Wagon Train had also been sneakily entering into combat of their own choosing, using their 2HW halberds against the highly vulnerable mixed crossbow/spearmen formations at the opposite end of the line of Tang infantry. Swinging mightily the dagger-axe, the Koreans broke through opening a dangerous looking gap in the Chinese Wall.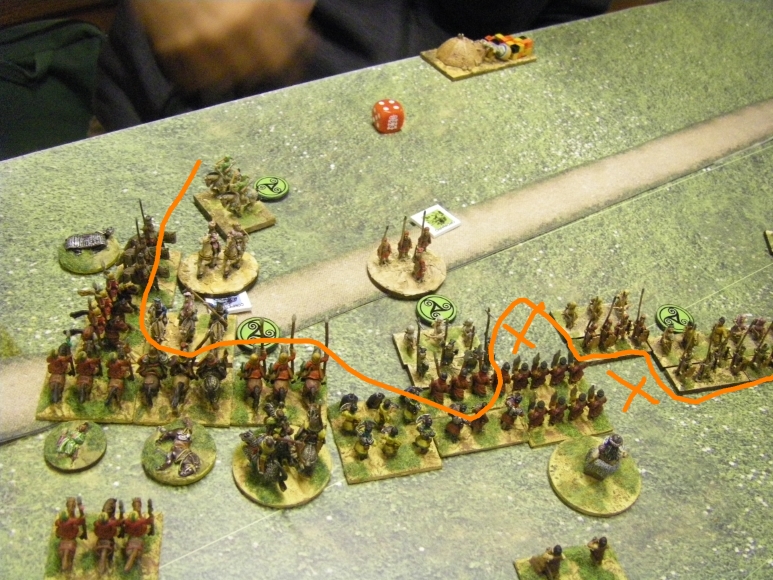 China's 1st Cavalry Army of the Right Wing was rapidly being turned into China's 1st Cavalry Army of The Back In The Box as the Koreans rolled up their line with alacrity. With barely a single unit of Chinese horsemen left the end of the Tang infantry line was about to get some serious Korean attention.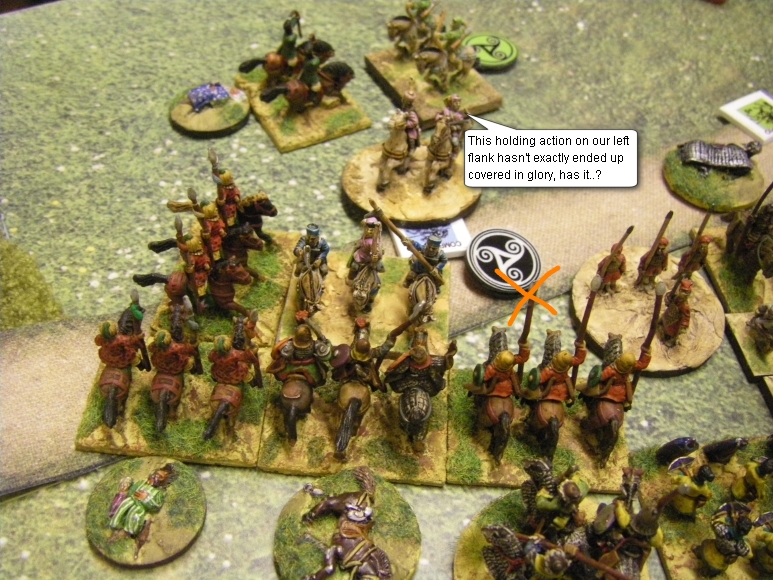 The Inferior Lancers had proved decisive as the Chinese mounted wing evaporated under the Koreans un-tender ministrations, tipping the Tang frighteningly near to defeat.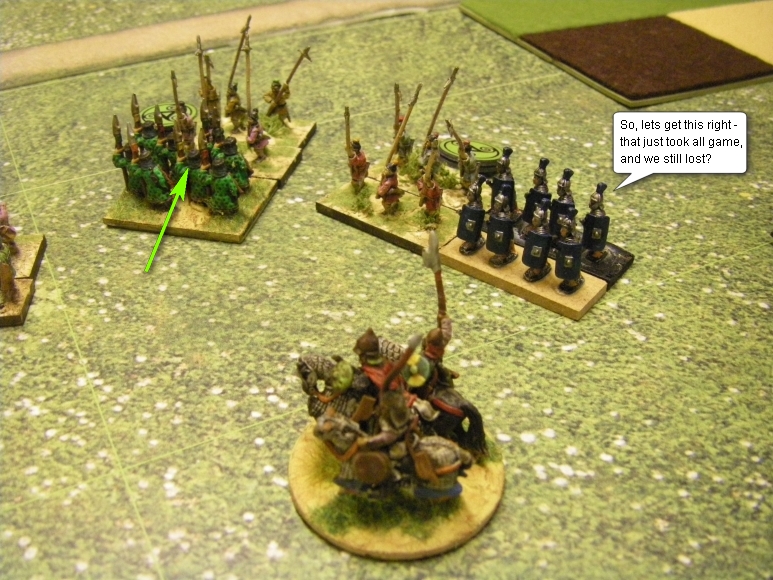 With their army crumbling away like sand sculptures in a typhoon the Tang took small comfort from finally eliminating one of the Korean battle wagons - but it was not enough, the game was won by Korea !
Click here for the report of the next game in this competition, or read on for the post match summaries from the Generals involved, as well as another episode of legendary expert analysis from Hannibal
Post Match Summary from the Koryo Korean Commander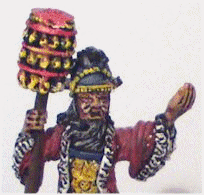 Well, I think my guys won that little match up more decisively even than a Samsung Galaxy 10 Smartphone beats an iPhone X in a fair and open benchmark test (whenever those dastardly Americans aren't cheating of course). Frankly my brilliant if a little one dimensional plan of using the Wagons to refuse one flank and delay the enemy while the rest of my army wheels round to overwhelm one flank worked better an unlocking the oppositions defences than an extra-spicy katsu curry does at unlocking chronic constipation.
In history my gracious and peaceful people have spent long years trying to over come the incomplrehensible resistance of the T'ang Chinese to submit to our Korean overlordship and munificent stewardship, but without a great deal of success - so to actually give them a good slapping here is a well overdue outcome.
Certainly to win by galloping on horseback across an open plain with spirit and joy is much better than digging in along a frozen ridgeline using outdated soviet era equipment whilst waiting for McArthur to appear in our rear areas, so that also is a big win.
The plan has been proved, so lets see if it can work a second time as well.
---
Hannibal's Post Match Analysis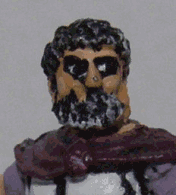 What a shower of shambles - you travelled half way across Europe to drop onto the table an army that you didn't even really know the rules for their key troop type?
Honestly, the wagons were a distraction - simply having some proper troops and offsetting your deplyment would have achieved just as much in terms of your plan - and even so you wasted a stack of points by choosing to attack with the wagons which meant your expensive artillery had no chance of even finding a single target in this game, never mind shooting at one.
Having more horsemen than the enemy was not the most complicated plan, but still you made it look difficult by deploying lazily against an enemy who was - gosh - running the same tactic as you by refusing a flank!
You won, but you failed to anticipate a plan similar to your own, and you wasted some of your small advantages by attacking rashly. This is not the first time this analysis has been written - lets see if it appears again in the next game
Click here for the report of the next game in this competition
You may also like....
Game 1 Koryo Korean vs Sui & Tang
Game 2 Koryo Korean vs Seleucid & Maccabean
Game 3 Koryo Korean vs Sassanid Persian
Game 4 Koryo Korean vs Northern & Southern Dynasties Chinese
Game 5 Koryo Korean vs Patrician Roman
Game 6 Koryo Korean vs Seleucid
View My Stats for My Match Reports Pages