BHGS Challenge Ascot 2006
Game 1
vs Hamaids of Aleppo - Dynastic Bedouin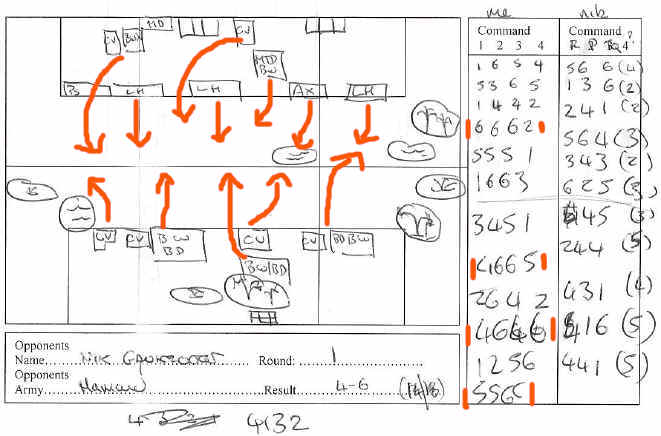 This is my self-generated super map thingy - you can download it here, or make one up yourself even easier I suspect. The arrows fairly self-explanatorily show where the troops moved during the game. At some point I will do this as an animation - but not this tourney (so relax, you are safe).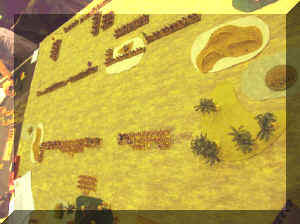 A table with dunes and some other rubbish (actually, nice dunes from Nik to be fair) saw me take on Nik Gaukrogers Hamanids.
With a new camera deployed by the Pharoh, getting the correct setting for the white balance under the tricky conditions of the hall was proving difficult to nail down, so apologies if some of the pictures are somewhat iffy with respect to the colours. But the tablecloth looked great !
The game started with a strong wind blowing kinda towards me. My bow/blade blocks, unused to playing with weather, and seeing only squishy stuff in front of them advanced confidently into the strong wind.
A dune had split the Hamanid army and strangely the Daylami were deployed behind it - they looked hard to extract quickly, so I decided to rush forwards - especially as the Arab flank march was off table (well, I would have done this anyway lets be honest, but at least this makes me sound like I had a plan with some logic behind it...)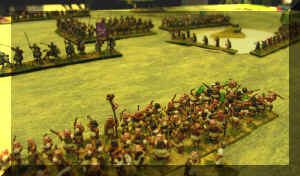 Confident as my bowmen were, the Arabs were still more confident, and had visions of earning a delayed entry into Heaven for their Cavalry by succesfully riding down the bowmen in my CinC's command - yes, the block of 8, with their natty red hats..!
I rolled good pips and the wind changed against me - (red marks on the dice chart)
Niks cavalry closed to within bow range, and looked happily at their probability tables. Cv (S) - or even 2 ranks of Cv (O) - vs 2 ranks of bowmen into a wind looks very close to a de-facto 2-2 (3-1(extar shooters)=2, vs 4-1(wind)-1 ("S")... all works out at a 1 in 9 chance of being sent to martydom.
But the Egyptians were reading the same numbers very differently. A close on 40% chance of pushing back the cavalry every turn - breaking up an irregular-led formation...and with 8 bowmen, they saw FOUR 1-in-9 chances EVERY shooting turn... which was getting very near to a 50/50 to kill someone each time they shot.
And today the dice gods were with Rammitupem and the Arab Cavalry started to fall like dead locusts in a sudden cold snap on the banks of the Upper Nile! Once a couple had gone, the Arab charge was de-fanged - and the Egyptians started adding an extra 2 vs 1 shot as they were able to gang up on the ends of the Arab line.
(Niks flank march didn't arrive)
Without the cavalry to threaten the bowmen, the entire Arab centre began to look like a milling mass of light horse (well, thats pretty much all that was left) only able to stand and watch as the Egyptians fell like Nile Eagles (lying 12th in the Egyptian 1st Division, but have been docked 3 points for a bung scandal) on the soft squish stuff (we hit some of his Bowmen with blades as the daylami struggled to get out of the dunes to protect them).
(Niks flank march didn't arrive)
Even my regular Auxilia looked like a good purchase!
(I rolled good pips and the wind changed against me again)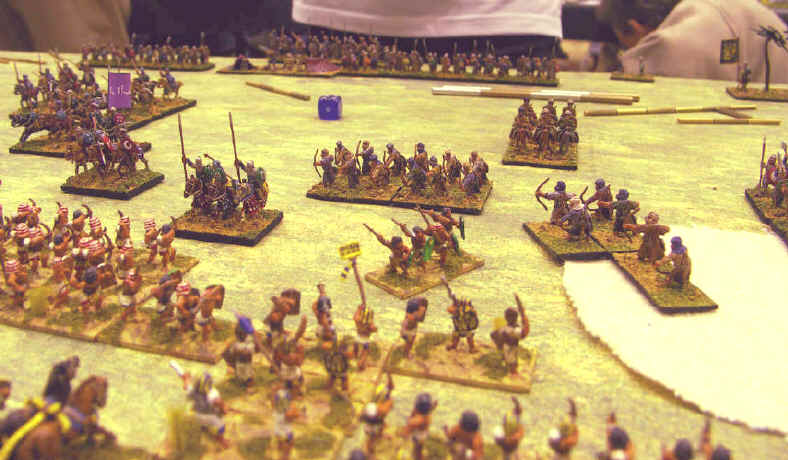 The Dailami - possibly the toughest part of the Arabs for us to face - were now marooned in the dunes pinned in there by chariots, and now were finding it hard to see a way out as Egyptians pressed them at all sides.
(Niks flank march didn't arrive)
(I rolled good pips and the wind changed against me )
The Arab centre was destined to fall. It was written in the sands But, in one last attempt at Martyrdom, the Arabs threw in sacrificial light horse into the red-hatted Arab bowmen. With out overlaps they fought, at worse factors than their more noble cavalrymen brothers, riding over their stinking corpses to sacrifice their lives for, erm some bloke with bleached hair who works for the YMCA.
Of course, they did far better than the Cavalry would ever have managed. In taking down the Arabs, the Pharoh had overextended himself, and the almost demoralized Arabs attack exploded 4 bowmen on contact, dragging down the Egyptian Pharos command even as they themselves died already weakened by the losses incurred from the dead cavalry.
(Niks flank march didn't arrive)
(I rolled good pips and the wind changed against me)
(Niks flank march didn't arrive)
As the God-king fled, there was a huge void in the middle of the battlefield with two broken commands and both the Arabs and the Egyptians found it impossible to exploit their advantages as both sides could only catch dead troops as the clock ran down.
In the end it finished 6-4 to the Arabs, one command each, but the Egyptians had killed more Arabs (49%) than the casualties they had suffered (erm, we lost about 45%. So fairly close really)
Post Match Analysis
For a first outing as an unseeded player this seemed to have gone quite well. I felt the placement of the terrain - especially the dunes with the Daylami behind them had given me a great opportunity to put Niks Irregular army on the back foot with an aggressive start. So it proved, with the Daylami, who I feared could trample my bowmen, being largely out of the game for the duration. The interaction with the cavalry and bowmen was an interesting one - Nik saw it as an opportunity, but I also felt the same, as save for the cavalry the Arabs had little to threaten me. By protecting both flanks of the bow block with Cv (S) and Bd/Ax I had made sure that any cavalry trying to charge me down would be overlapped at both ends of the line, so I was reasonably confident of coming out on top of any exchange. Losing the CinCs command to a last ditch charge by LH was a downer, but then again, I had the rub of the green in the bow exchange prior to it so hard to complain.
Here is Niks version of the same Game:
The first competition game matched me against Tim's NKE - my traditional easy start when seeded :-0 I defend and strong wind blows from left to right - over the course of the 12 bounds we play the wind moved 5 times, all on Tim's dice rolls and all when the PIPs averaged 5 or more! Terrain that mattered ended up as a clump of scrub dune and orchard on my left, a dune in my centre and dune and scrub on my right - so a somewhat narrowed field. I flank marched my smallest command on my right as somewhat surplus to requirement on table and it failed to show up all game. Tim drove Bw and Bd combos with supporting Cv either side of the central dune and held his left with a fair amount of Cv(S). I
filled the dune with Ax and Ps and fell back with the LH whilst pushing Cv, Bw and Ps at Tim's left forcing him to pull these back as single elements. Tim's C-in-C's Bw shot up a bunch of my Cv despite the wind and so I was forced to send in the LH to try and take down his Bw. This worked and with an element taken down by other troops his C-in-C was broken although I lost my weakened command at the same time. Despite a bit of action after that the score remained as it was and so I picked up a 6-4 (18-14).

Bedouin thoughts - again played out as you would expect and exactly how it would have done under 3.0 so no change. NKE isn't a great matchup for the Bedouin when they are handled by a good player who knows how to co-ordinate the Bw, Bd and Cv to effect.

Login via Facebook to leave a comment on this report
The Ancient Army List Index
Historical background notes, external links, 15mm supplier listings, FoG army lists, and a list of books about these armies
The Rise of Rome (280 BC to 25 BC) Mid Republican Roman ; Late Republican Roman ; Gallic ; Pyrrhic ; Later Carthaginian ; Ancient Spanish ; Later Macedonian ; Later Seleucid ; Later Ptolemaic ; Attalid Pergamene ; Numidian or early Moorish ; Pontic ; Early Armenian ; Parthian ; Later Jewish ; Illyrian ; Spartacus Slave Revolt ; Bosporan ;
Storm of Arrows - Western Europe in the Later Middle Ages (1300 AD to 1500 AD) Medieval French ; 100-yrs War English (Continental) ; 100-yrs War English (Britain) ; Later Medieval Scots ( Britain) ; Later Medieval Scots (Continental) ; Later Scots Isles & Highlands ; Medieval Welsh ; Later Anglo-Irish ; Medieval Irish ; Low Countries ; Later Medieval German ; Italian Condotta ; Swiss ; Free Company ; Medieval Burgundian ; Medieval Danish ; Medieval Swedish ; Medieval Castilian ; Medieval Crown of Aragon ; Medieval Portugese ; Later Granadine ; Navarrese ; Ordonnance French ; Wars of the Roses English ; Ordonnance Burgundian ; Santa Hermandad Nueva Castilian
Immortal Fire - The Greek, Persian & Macedonian Wars (550 BC - 146 BC)
Classical Greek ; Early Achaemenid Persian ; Lydian ; Thracian ; Syracusan ; Early Carthaginian ; Skythian or Saka ; Kyrenean Greek ; Late Dynastic Egyptian ; Alexandrian Macedonian ; Later Achaemenid Persian ; Classical Indian ; Early Successor ; Early Sarmatian ; Galatian ; Hellenistic Greek ; Graeco-Bactrian ; Graeco-Indian ; Indo-Greek :
Legions Triumphant - Imperial Rome (25 BC to 493 AD) Dominate Roman ; Principate Roman ; Foederate Roman ; Later Sarmatian ; Early German ; Dacian or Carpi ; Ancient British ; Caledonian ; Early Alan ; Jewish Revolt ; Sassanid Persian ; Kushan or Indo-Skythian ; Palmyran ; Early Frankish, Alamanni, Burgundi, Limigantes, Rugian, Suevi or Turcilingi ; Western Hunnic ; Early Visigothic & Early Vandal ; Early Ostrogothic, Herul, Sciri or Taifali ; Early Anglo-Saxon, Bavarian, Frisian, Old Saxon or Thuringian ; Gepid or Early Lombard ; Early Scots Irish ; Early Pictish ; Hephthalite Hunnic ;
Swords & Scimitars - The Crusades (1096 AD to 1311 AD) Early Crusader ; Later Crusader ; Fatimid Egyptian ; Georgian ; Seljuk Turk ; Cuman ; Komnenan Byzantine ; Post Latin Conquest Byzantine ; Ilkhanid Mongol ; Mamluk Egyptian ; Cilician Armenian ; Syrian States ; Khwarazmian ; Ayyubid Egyptian ; Middle Serbian ; Middle Bulgarian ; Medieval Cypriot ; Latin Greece ; Pecheneg ;
Eternal Empire - Eastern Europe and the Rise of the Ottomans (1300 AD to 1500 AD) Early Ottoman Turkish ; Later Ottoman Turkish ; Tatar ; Later Russian ; Later Serbian Empire ; Later Bulgarian ; Later Lithuanian ; Later Polish ; Later Teutonic Knights ; Catalan Company ; Middle Hungarian ; Moldavian or Wallachian ; Albanian ; Timurid, White Sheep Turcoman or Black Sheep Turcoman ; Later Hungarian ; Hussite ;
Decline & Fall - Byzantium and Islam (493 AD to 1071 AD) Early Byzantine; Maurikian Byzantine ; Thematic Byzantine ; Nikephorian Byzantine ; Later Moorish ; Later Visigothic ; African Vandal ; Italian Ostrogothic ; Early South Slav ; Lombard ; Avar ; Arab Conquest ; Early Bulgar ; Ummayad Arab ; Abbasid Arab ; Early North African Dynasties ; Khurasanian Dynasties ; Bedouin Dynasties ; Dailami Dynasties ; Pecheneg ; Ghaznavid ; Western Turkish (includes Khazar);
Wolves From The Sea - The Hairy European Dark Ages Post Roman British ; Early Welsh ; Later Scots Irish ; Merovingian Frankish ; Later Pictish ; Early Slavic ; Middle Anglo Saxon ; Astur Leonese ; Andalusian ; Early Navarrese ; Carolingian Frankish ; Viking ; Magyar ; Great Moravian ; Early Scots ; Rus ; Norse Irish ; Early Medieval French ; Early Medieval German ; Norman ; Early Polish ; Anglo Danish ;
Swifter Than Eagles - The Biblical Book Nubian ; Early Libyan ; Later Sumerian or Akkadian ; Early Nomad Allies ; Old or Middle Kingdom Egyptian ; Hyksos ; Mitanni ; Syro-Canaanite ; New Kingdom Egyptian ; Later Minoan or Early Mycenaean ; Hittite Empire ; ; Middle or Early Neo-Assyrian ; Later Mycenaean or Trojan ; Sea Peoples ; Philistine ; Phoenician Allies ; Neo-Hittite And Aramaean ; Later Hebrew ; Mannaean Allies ; Libyan Egyptian ; Urartian ; Median ; Neo-Elamite ; Proto-Arab Allies ; Cimmerian or Early Skythian ; Neo-Assyrian Empire ; Phrygian Allies ; Kushite Egyptian ; Neo-Babylonian Empire ;
Oaf of Fealty - Early Medieval Europe Feudal Catalan and Early Crown Of Aragon ; Early Hungarian ; Taifa Andalusian ; Feudal Navarrese and Aragonese ; Feudal Castilian Leonese or Portuguese ; Fanatic Berber ; Italo-Norman ; Feudal French ; Imperial German ; Feudal German ; Communal Italian ; Papal Italian ; Early Scots Isles And Highlands ; Feudal Scots ; Early Russian ; Feudal Polish ; Anglo-Norman ; Later Welsh ; Early Lithuanian or Samogitian ; Wendish Prussian or Estonian ; Early Medieval Frisia and Other Free Cantons ; Post-Viking Scandinavian ; Early Plantagenet English ; Later Sicilian ; Early Medieval Irish ; Early Anglo-Irish ; Early Teutonic Knights ; Mongol Invasion ; Early Granadine ; Middle Plantagenet English ;
Empires of The Dragon - China, Korea and Japan Erlitou-Shang Chinese ; Early Northern Barbarian Allies ; Early Zhou Chinese ; Yayoi Japanese ; Early Horse Nomad ; Ko Choson Korean ; Warring States To Western Han Chinese ; Qiang And Di ; Three Kingdoms Korean ; Eastern Han Chinese? ; Three Kingdoms W Jin And S Dynasties Chinese ; Kofun Nara Japanese ; Northern Dynasties Chinese ; Later Hindu North Indian ; Later Hindu South Indian ; Central Asian City States ; Western Wei To Early Tang Chinese ; ; Later Horse Nomad ; Tibetan ; Nepalese Allies ; Parhae Korean ; Late Tang To Five Dynasties Chinese ; Khmer Or Champa ; Thai Allies ; Nanzhao ; Pyu Burmese Allies ; Koryo Korean ; Early Heian Japanese ; Pagan Burmese ; Liao ; Song Chinese ; Xi Xia ; Ghurid Afghan ; Jin ; Late Heian To Muromachi Japanese ; Japanese Warrior Monk Allies ; Mongol Conquest ; Moslem Indian Sultanates ; Medieval Indonesian Or Malay ; Yuan Chinese ; Medieval Burmese ; Ming Chinese ; Yi Korean
Blood and Gold - The Americas Olmec ; Teotihuacan ; West Mexican ; Zapotec or Mixtec ; Toltec ; Chinantec ; Aztec ; Tarascan ; Tlaxcalan Confederacy ; Mayan ; Mochica ; Chanca ; Chimu ; Hatun-Colla ; Canari ; Inca ; Mapuche or Araucanian ; Amazonian Forest Tribes ; Tupi ; Chichimec ; Pueblo Culture ; Mound-Builder Culture ; South-Eastern Woodland Culture ; Timucuan ; Eastern Woodland Culture ; Plains Culture ; Pacific North-West Culture