Field of Glory Wargaming at Ascot 2008
The BHGS Challenge competition in Ascot saw my Field of Glory FoG Carthaginians make another appearance at 800 points this time. The list I used was here :
Game 1 saw me facing off against a medieval army - the DBM classic of Portuguese!

The terrain was mostly mine, with some plantations and enclosed fields. The Geezers obviously wanted it to be more clear, and as it turned out they had a vast amount of light foot and light horse - setting up almost like a DBM army with a mobile reserve and a screen behind which to maneuver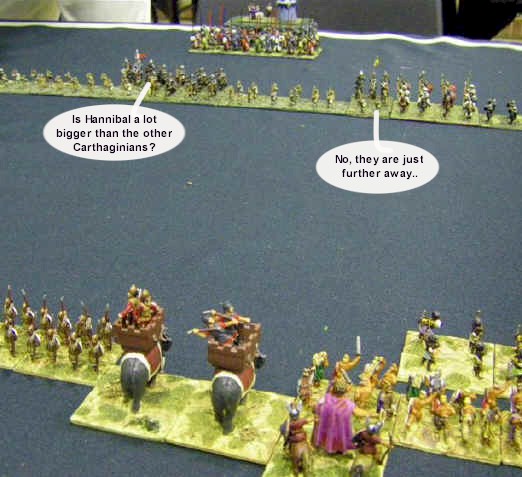 I'd started with the old (well, new) "deploy 2 elephants last, put them behind a solid battle line, and then shuffle both blocks of foot sideways one base in their first turn so the ellies can get out of the resulting 2 element wide gap" routine, which gave me even more confidence to advance against a screen of skirmishers. Blocks of troops can "slide" 1 base either left or right once per turn as long as they are more than 6" away from the enemy.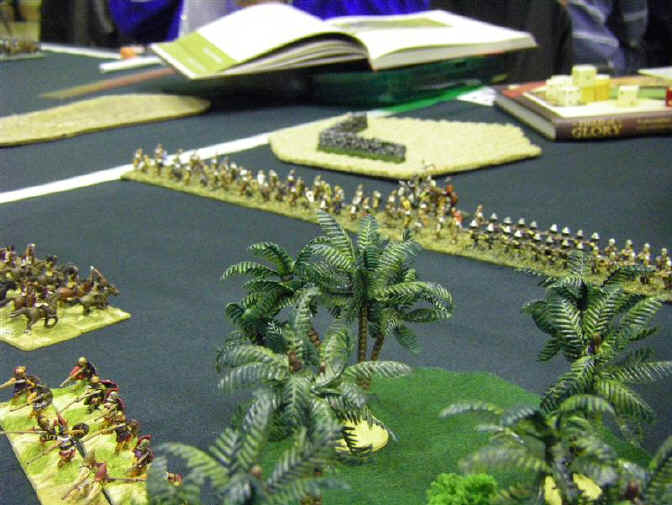 On my left I'd refused the flank with some skirmishers who faced off a massive wall of MF crossbowmen and bowmen. As long as the Numidians could keep out of shooting range they should be OK (the IGOUGO move sequence means the Light horse should be able to keep out of range, but they need to be careful not to run out of table) but frankly thinks looked grim for my javelin armed skirmishers who decided to swing into the middle of the table through a plantation of palm trees.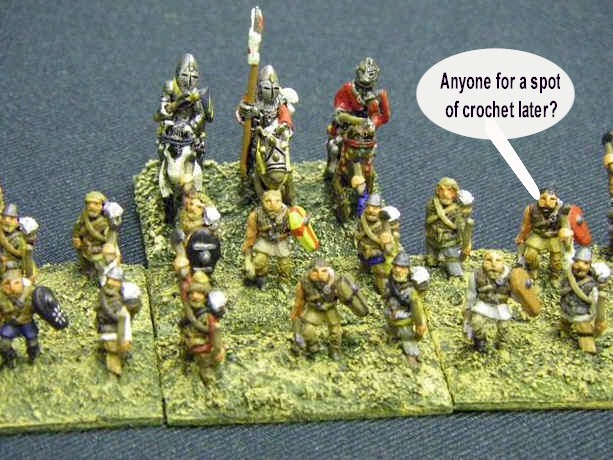 Not sure who's castings they were, but the crossbowmen and archers all looked like pretty tough characters!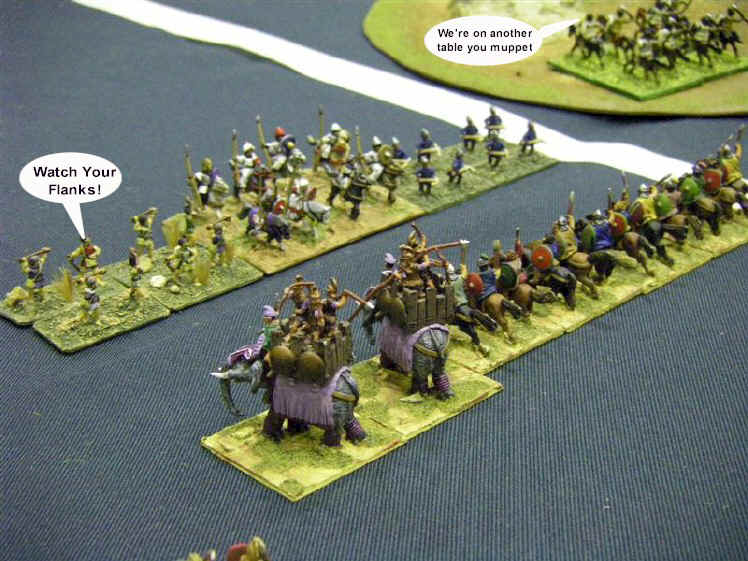 On the right 2 of my elephants reinforced my 4 protected cavalry to give the Portuguese outriders something to think about. At this stage I didn't remember the -1 on cohesion tests for non skirmishers being near the table edge - and perhaps my opponent had assumed I would know this rule and that I would only match his skirmishers with my own? Incompetence on my part - or unconscious trickery and genius? (the -1 in morale tests gives an incentive to deploy with skirmishers covering your flanks. It also applies when you are near to the base edge)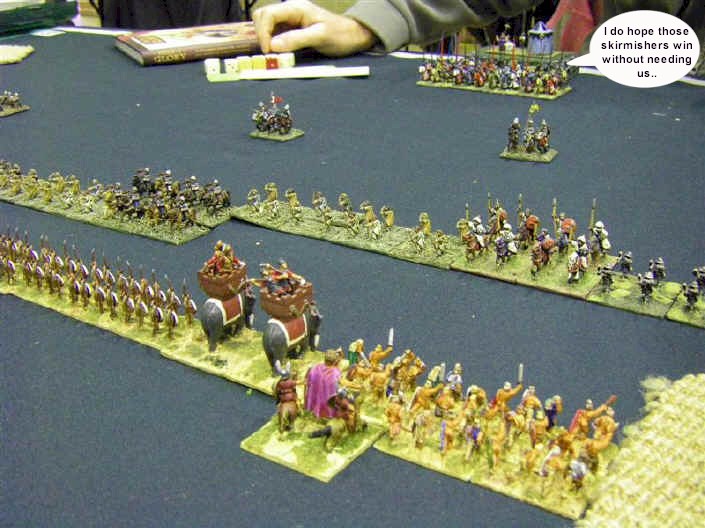 My army raced forward in the middle confidently as the Portuguese knights struggled to identify a good target. Or maybe they were just hoping that their light foot bowmen and handgunners might get some lucky shots and disrupt someone maybe? (massed - or lucky - shooting from skirmishers can have an effect)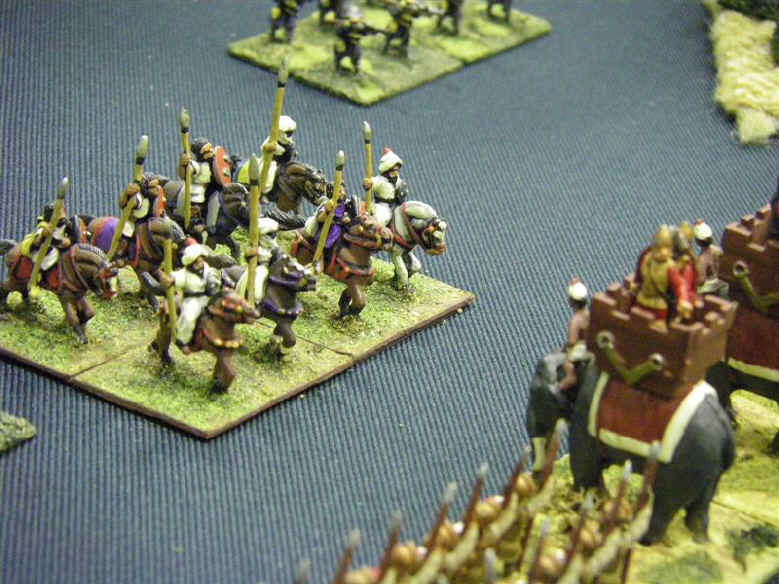 The Portuguese left the really hard work to the Arabs in their army !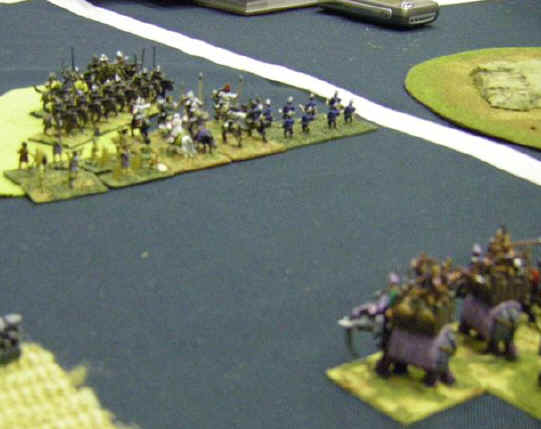 My right wing was charging forward at every opportunity to drive off the skirmishers, and they were forced to retreat - but there were knights coming up fast in reserve. (The elephants were charging to make the Portuguese evade away - they can still turn round and come back pretty easily, but by charging at them and making them evade it means the Portuguese miss a turn of shooting)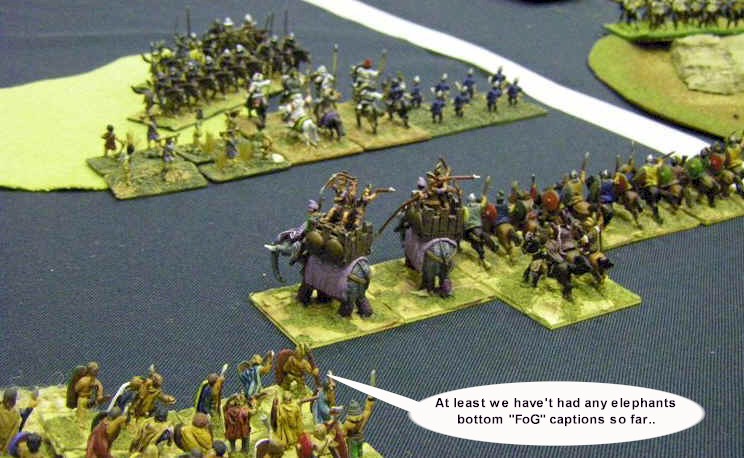 Oh well, surely Elephants are better than knights anyway ? As long as the Elephants were first in line, even the Gauls felt relatively confident about venturing out into the open with knights around.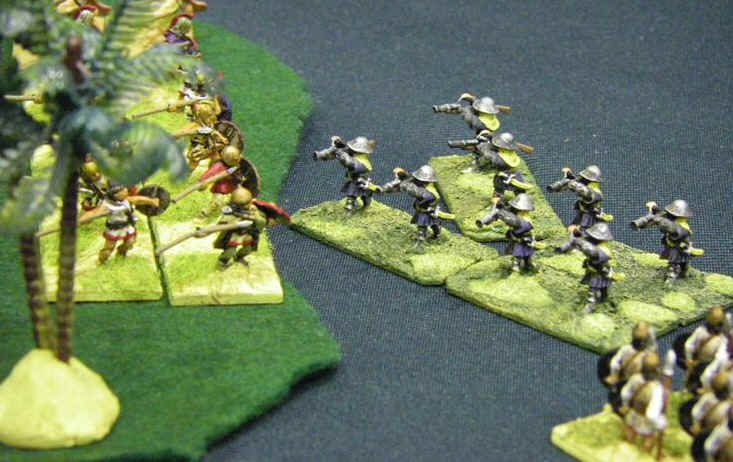 My skirmishers had decided to leave the massed bowmen to the Numidians and swing through the plantation to harass the Portuguese foot handgunners - javelins and greater numbers were more than a match for the supposedly better technology of the gunners.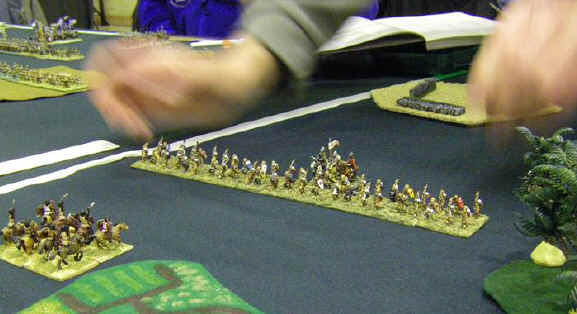 The wall of bowmen was advancing slowly on my handful of light horse, who stayed wisely out of the way. All I could hope to do was slow them down.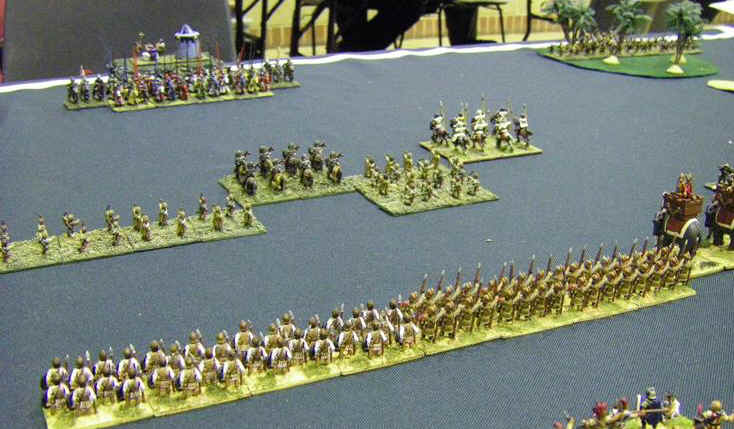 My army advanced inexorably, with little sign of the knights stirring into action as we marched onwards. It was a nice tidy line, only disrupted slightly by our repeated charges at the skirmish screen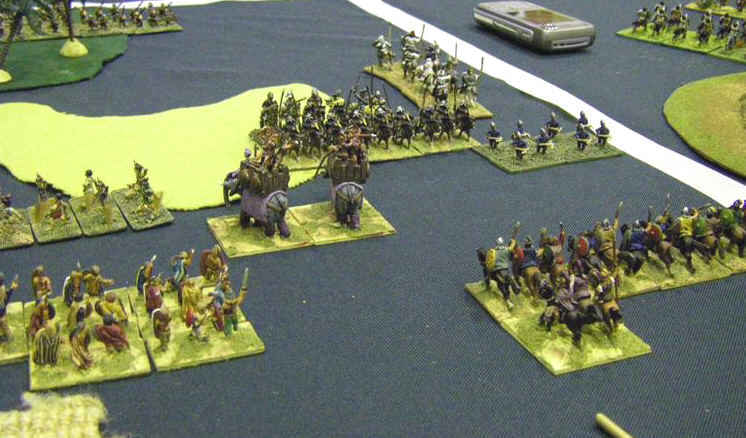 But there was action a-plenty over on my right, as the Portuguese knights bravely teed themselves up to fight and take on the Elephants. My Gauls had by now been fully detached to join in on this flank, as they were plainly not to be needed in the center. (there are several types of terrain, and many of them are not actually that bad for mounted troops)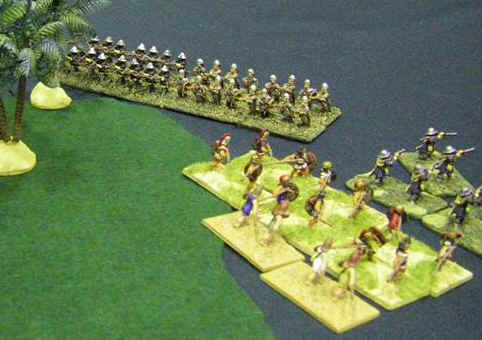 With the crossbowmen struggling to wheel round in time, my skirmishers chased off the handgunners.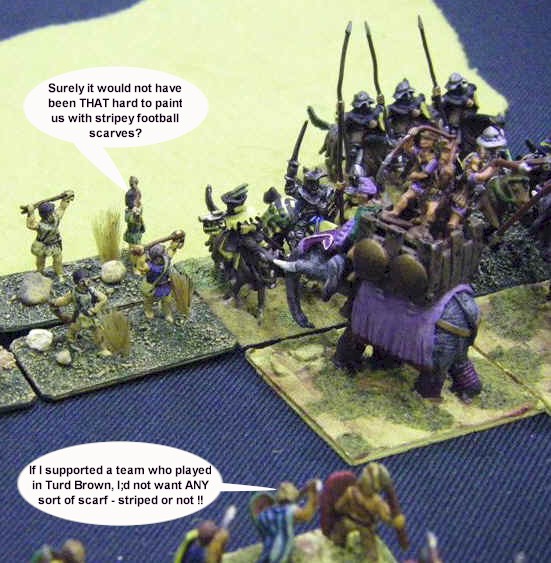 The elephants smacked into the knights - but with overlaps arriving from all sides, the battle was not as easy as I had hoped or expected. The Gauls were ready and would be needed to lend their support.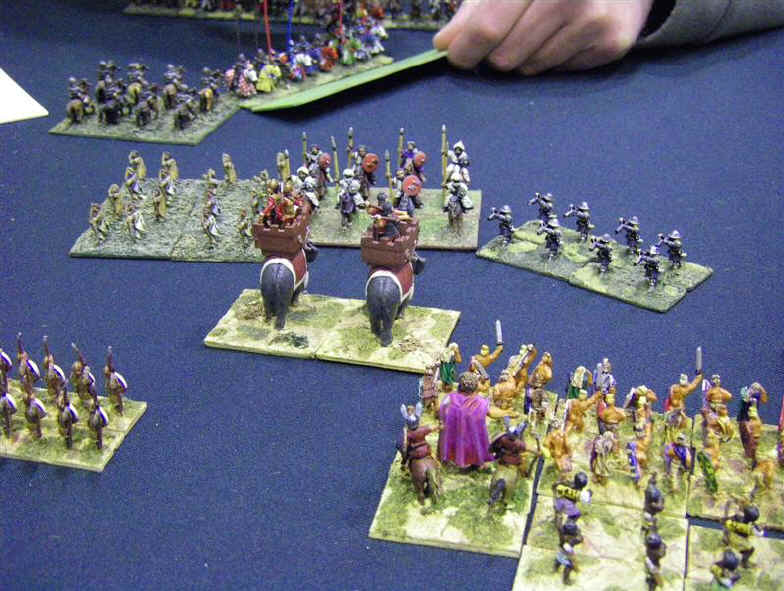 My other elephants were also pushing on bravely in the middle. They came in for some serious shooting, but the reassuring presence of the inspired commander Hannibal meant they kept on the straight and wide path forwards. (the presence of a really good commander like Hannibal adds +2 to most morale tests, so it makes a big difference to prevent troops being disheartened by shooting)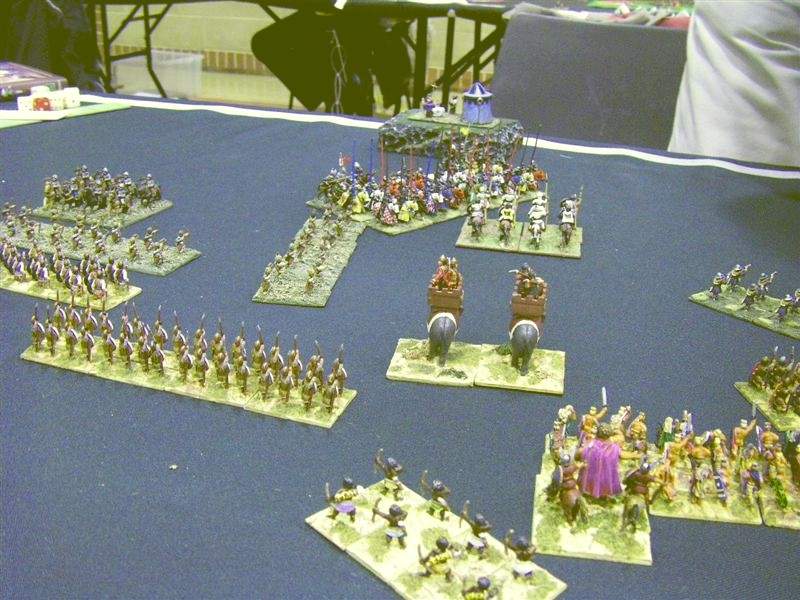 With much of their skirmish screen now fleeing in disarray, the Portuguese knights were unable to delay combat much longer - and it looked like it would be more elephant based combat at that.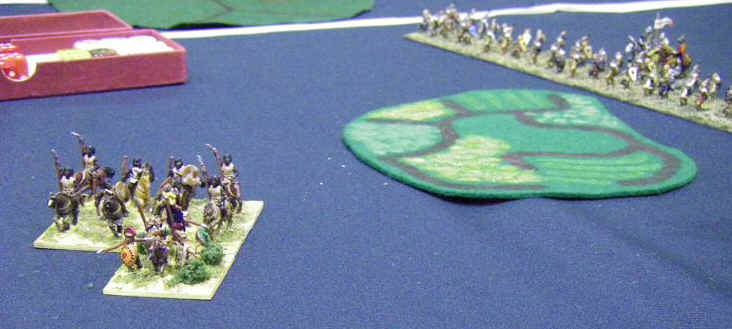 On the irrelevant flank, a surprisingly spare lone general had come back to try and encourage the Numidians to hurry up and get to somewhere interesting. (a general allows troops to move twice as long as they are a long way from the enemy)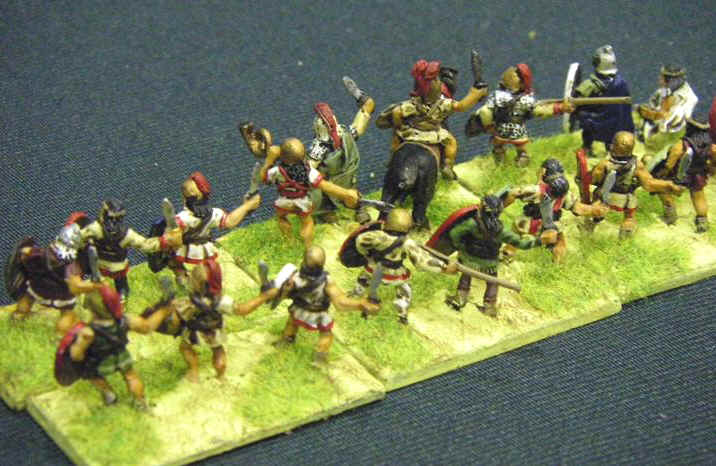 This is a fairly meaningless and gratuitous shot of my Spanish - they are nice, aren't they?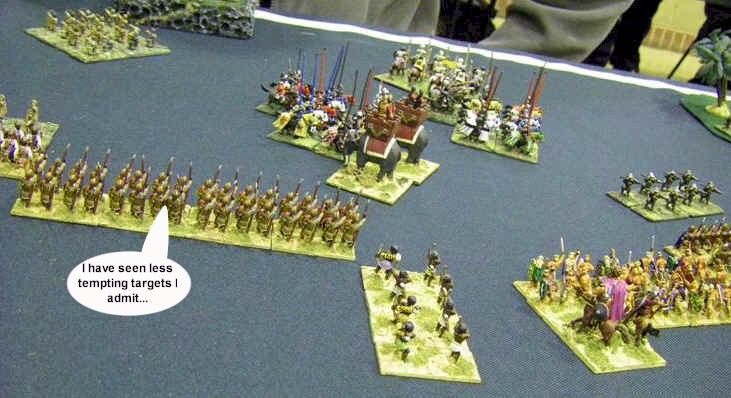 In the middle the knights split into two units and one engaged the elephants whilst the other tried to sneak away !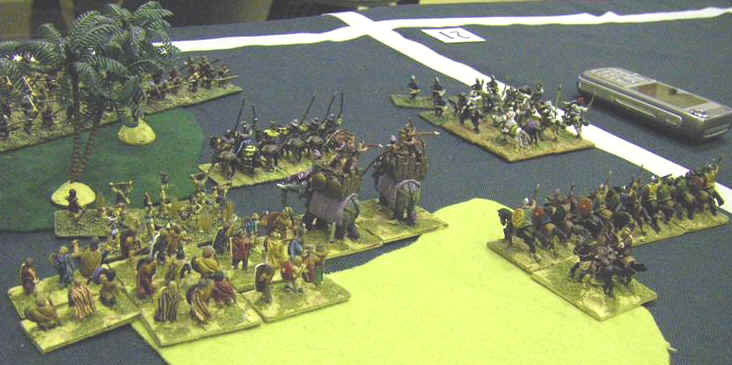 But the knights in the center can hardly have been encouraged to see what had happened to their colleagues on the flank, where my Elephants had creamed them and were now pursuing, supported by cavalry and a band of Gauls - making the "filler" in the woods look very uncomfortable indeed!! (some of the Portuguese skirmishers evaded off table - they are then lost, but its not quite as bad as if they are actually beaten and broken)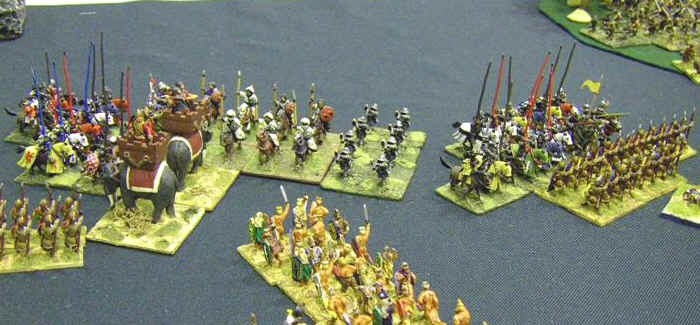 It was getting unbelievably messy in the middle - my elephants were fighting off a flank attack of light horse, and the knights who had avoided the elephants had managed to find the soft underbelly of my Bruttian medium foot and were ripping them apart. But with 2 large foot units arriving the main block of knights days were numbered - and the Elephants hung on to participate in a crushing victory that also saw the Portuguese general killed. (most troops are not that worried if skirmishers charge them in the flank - and light foot cant charge anyway - however having to fight in two directions will wear down their combat capability eventually)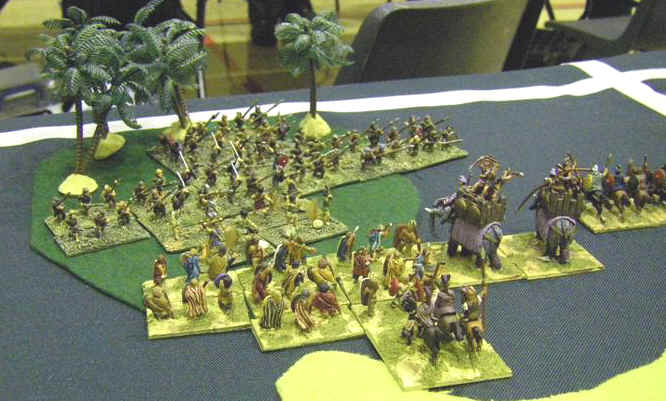 The picture may have been a little mixed in the middle, but was one of unbridled joy on the right as the triumphant flank force swept everything in their path off the table!! (These very poorly armed and pooor morale troops imploded almost instantly the Gauls contacted them - very quick!)

The Spanish frankly had nothing to do in the middle - they weren't suited to fighting knights, and the action would be over by the time they got there anyway, and so after a quick count up of the Portuguese army they decided to try and laboriously turn around and head for the crossbowmen. This turned out to be a disaster, as yet again they fell foul of he curse of the new nicely painted troops and eventually ended up getting caught in column and breaking against the wall of crossbowmen! (The Spanish are best at first contact and want as many bases in contact as they can. By advancing in a column they were more susceptible to shooting and also made the initial round of fighting more of a lottery)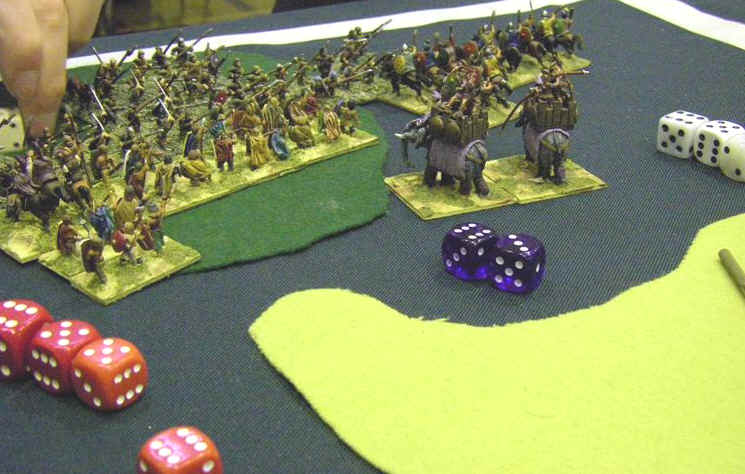 A slew of great dice at impact compounded what was already a very very bad day for the Portuguese Irreg D LMI JLS (no shield) as their hiding place in the woods was exposed. This catastrophic loss of 3 full units in quick succession was too much for the Portuguese to survive, and with them the army collapsed and fled.
Post Match Summary
Lance had some appalling dice in this game - I was dreading the "return luck" I would get in Game Two by the end of this one! The skirmish screen did absolutely no damage to my army and it was still fully functioning by the time the knights decided it was time to play. They had hoped to beat my somewhat over-extended elephants but the pachyderms hung on in there and by the time the rest of my main line caught up it was all over.
But the key battle took place on the right flank where my relatively light forces still totally outmatched the Portuguese skirmish screen, who were unable to stand in their path at all. This in turn exposed the "filler" hiding at the back and this flank saw 5 broken units and 2 fleeing off table for no losses on my part to give me an edge in the overall game.
Hannibals Post Match Analysis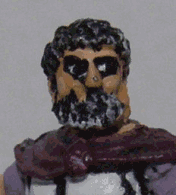 This was all about what every great General - like me - needs. Luck, and lots of it dolloped on the table in big bucketfuls. Your elephants were over extended and too far from their supporting troops but plain dumb luck allowed you to survive until your reserves pitched up.
I might give you the benefit of the doubt on the right flank and admit that you had a bright spark moment in putting troops out to run over a skirmish wing, however I am more inclined to believe that it was simply that you didn't have any other light horse left to put out that meant you placed the elephant there.
Now, get me a cup of tea while I watch this video.
The stage was set for the next round
But there was trouble with the draw.
Fortunately Madaxeman.com newsreel crews captured it on film:
The Ancient Army List Index

Historical background notes, external links, 15mm supplier listings, FoG army lists, and a list of books about these armies

The Rise of Rome (280 BC to 25 BC) Mid Republican Roman ; Late Republican Roman ; Gallic ; Pyrrhic ; Later Carthaginian ; Ancient Spanish ; Later Macedonian ; Later Seleucid ; Later Ptolemaic ; Attalid Pergamene ; Numidian or early Moorish ; Pontic ; Early Armenian ; Parthian ; Later Jewish ; Illyrian ; Spartacus Slave Revolt ; Bosporan ;

Storm of Arrows - Western Europe in the Later Middle Ages (1300 AD to 1500 AD) Medieval French ; 100-yrs War English (Continental) ; 100-yrs War English (Britain) ; Later Medieval Scots ( Britain) ; Later Medieval Scots (Continental) ; Later Scots Isles & Highlands ; Medieval Welsh ; Later Anglo-Irish ; Medieval Irish ; Low Countries ; Later Medieval German ; Italian Condotta ; Swiss ; Free Company ; Medieval Burgundian ; Medieval Danish ; Medieval Swedish ; Medieval Castilian ; Medieval Crown of Aragon ; Medieval Portugese ; Later Granadine ; Navarrese ; Ordonnance French ; Wars of the Roses English ; Ordonnance Burgundian ; Santa Hermandad Nueva Castilian

Immortal Fire - The Greek, Persian & Macedonian Wars (550 BC - 146 BC)
Classical Greek ; Early Achaemenid Persian ; Lydian ; Thracian ; Syracusan ; Early Carthaginian ; Skythian or Saka ; Kyrenean Greek ; Late Dynastic Egyptian ; Alexandrian Macedonian ; Later Achaemenid Persian ; Classical Indian ; Early Successor ; Early Sarmatian ; Galatian ; Hellenistic Greek ; Graeco-Bactrian ; Graeco-Indian ; Indo-Greek :

Legions Triumphant - Imperial Rome (25 BC to 493 AD) Dominate Roman ; Principate Roman ; Foederate Roman ; Later Sarmatian ; Early German ; Dacian or Carpi ; Ancient British ; Caledonian ; Early Alan ; Jewish Revolt ; Sassanid Persian ; Kushan or Indo-Skythian ; Palmyran ; Early Frankish, Alamanni, Burgundi, Limigantes, Rugian, Suevi or Turcilingi ; Western Hunnic ; Early Visigothic & Early Vandal ; Early Ostrogothic, Herul, Sciri or Taifali ; Early Anglo-Saxon, Bavarian, Frisian, Old Saxon or Thuringian ; Gepid or Early Lombard ; Early Scots Irish ; Early Pictish ; Hephthalite Hunnic ;

Swords & Scimitars - The Crusades (1096 AD to 1311 AD) Early Crusader ; Later Crusader ; Fatimid Egyptian ; Georgian ; Seljuk Turk ; Cuman ; Komnenan Byzantine ; Post Latin Conquest Byzantine ; Ilkhanid Mongol ; Mamluk Egyptian ; Cilician Armenian ; Syrian States ; Khwarazmian ; Ayyubid Egyptian ; Middle Serbian ; Middle Bulgarian ; Medieval Cypriot ; Latin Greece ; Pecheneg ;

Eternal Empire - Eastern Europe and the Rise of the Ottomans (1300 AD to 1500 AD) Early Ottoman Turkish ; Later Ottoman Turkish ; Tatar ; Later Russian ; Later Serbian Empire ; Later Bulgarian ; Later Lithuanian ; Later Polish ; Later Teutonic Knights ; Catalan Company ; Middle Hungarian ; Moldavian or Wallachian ; Albanian ; Timurid, White Sheep Turcoman or Black Sheep Turcoman ; Later Hungarian ; Hussite ;

Decline & Fall - Byzantium and Islam (493 AD to 1071 AD) Early Byzantine; Maurikian Byzantine ; Thematic Byzantine ; Nikephorian Byzantine ; Later Moorish ; Later Visigothic ; African Vandal ; Italian Ostrogothic ; Early South Slav ; Lombard ; Avar ; Arab Conquest ; Early Bulgar ; Ummayad Arab ; Abbasid Arab ; Early North African Dynasties ; Khurasanian Dynasties ; Bedouin Dynasties ; Dailami Dynasties ; Pecheneg ; Ghaznavid ; Western Turkish (includes Khazar);

Wolves From The Sea - The Hairy European Dark Ages Post Roman British ; Early Welsh ; Later Scots Irish ; Merovingian Frankish ; Later Pictish ; Early Slavic ; Middle Anglo Saxon ; Astur Leonese ; Andalusian ; Early Navarrese ; Carolingian Frankish ; Viking ; Magyar ; Great Moravian ; Early Scots ; Rus ; Norse Irish ; Early Medieval French ; Early Medieval German ; Norman ; Early Polish ; Anglo Danish ;

Swifter Than Eagles - The Biblical Book Nubian ; Early Libyan ; Later Sumerian or Akkadian ; Early Nomad Allies ; Old or Middle Kingdom Egyptian ; Hyksos ; Mitanni ; Syro-Canaanite ; New Kingdom Egyptian ; Later Minoan or Early Mycenaean ; Hittite Empire ; ; Middle or Early Neo-Assyrian ; Later Mycenaean or Trojan ; Sea Peoples ; Philistine ; Phoenician Allies ; Neo-Hittite And Aramaean ; Later Hebrew ; Mannaean Allies ; Libyan Egyptian ; Urartian ; Median ; Neo-Elamite ; Proto-Arab Allies ; Cimmerian or Early Skythian ; Neo-Assyrian Empire ; Phrygian Allies ; Kushite Egyptian ; Neo-Babylonian Empire ;

Oaf of Fealty - Early Medieval Europe Feudal Catalan and Early Crown Of Aragon ; Early Hungarian ; Taifa Andalusian ; Feudal Navarrese and Aragonese ; Feudal Castilian Leonese or Portuguese ; Fanatic Berber ; Italo-Norman ; Feudal French ; Imperial German ; Feudal German ; Communal Italian ; Papal Italian ; Early Scots Isles And Highlands ; Feudal Scots ; Early Russian ; Feudal Polish ; Anglo-Norman ; Later Welsh ; Early Lithuanian or Samogitian ; Wendish Prussian or Estonian ; Early Medieval Frisia and Other Free Cantons ; Post-Viking Scandinavian ; Early Plantagenet English ; Later Sicilian ; Early Medieval Irish ; Early Anglo-Irish ; Early Teutonic Knights ; Mongol Invasion ; Early Granadine ; Middle Plantagenet English ;

Empires of The Dragon - China, Korea and Japan Erlitou-Shang Chinese ; Early Northern Barbarian Allies ; Early Zhou Chinese ; Yayoi Japanese ; Early Horse Nomad ; Ko Choson Korean ; Warring States To Western Han Chinese ; Qiang And Di ; Three Kingdoms Korean ; Eastern Han Chinese? ; Three Kingdoms W Jin And S Dynasties Chinese ; Kofun Nara Japanese ; Northern Dynasties Chinese ; Later Hindu North Indian ; Later Hindu South Indian ; Central Asian City States ; Western Wei To Early Tang Chinese ; ; Later Horse Nomad ; Tibetan ; Nepalese Allies ; Parhae Korean ; Late Tang To Five Dynasties Chinese ; Khmer Or Champa ; Thai Allies ; Nanzhao ; Pyu Burmese Allies ; Koryo Korean ; Early Heian Japanese ; Pagan Burmese ; Liao ; Song Chinese ; Xi Xia ; Ghurid Afghan ; Jin ; Late Heian To Muromachi Japanese ; Japanese Warrior Monk Allies ; Mongol Conquest ; Moslem Indian Sultanates ; Medieval Indonesian Or Malay ; Yuan Chinese ; Medieval Burmese ; Ming Chinese ; Yi Korean

Blood and Gold - The Americas Olmec ; Teotihuacan ; West Mexican ; Zapotec or Mixtec ; Toltec ; Chinantec ; Aztec ; Tarascan ; Tlaxcalan Confederacy ; Mayan ; Mochica ; Chanca ; Chimu ; Hatun-Colla ; Canari ; Inca ; Mapuche or Araucanian ; Amazonian Forest Tribes ; Tupi ; Chichimec ; Pueblo Culture ; Mound-Builder Culture ; South-Eastern Woodland Culture ; Timucuan ; Eastern Woodland Culture ; Plains Culture ; Pacific North-West Culture


View My Stats