Field of Glory Wargaming at Burton Doubles, (Badcon) 2010
The snow was not yet falling however the TV cameras were already rolling at Badcon 2010.
In a Dark Ages period spanning loads of books, we had chosen Fatimid Egyptians, largely on the basis that I wanted to try out some Arabs, and having gotten a bit bored with some aspects of FoG, this bag of bits army promised to be both interesting and challenging to use even if it was not likely to prove that super-efficient at winning.
It also allowed us to use a poor quality pun in the form of the Al Shearer Infantry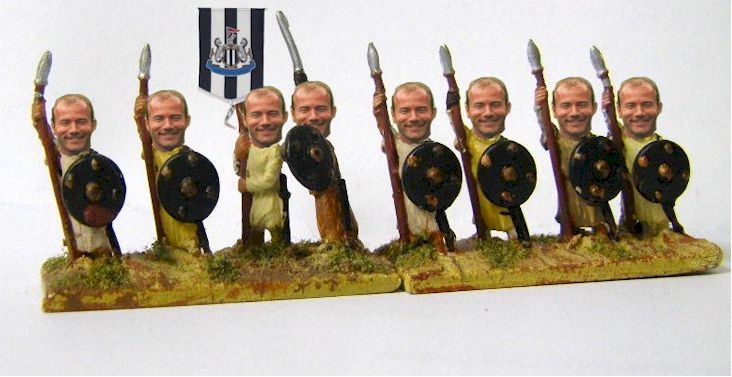 Game 1 saw us facing .... a Nikephorian Byzantine Army who's list is available here
Pictures of Byzantine Troops from my Ancients Photo Directory
You can rate the quality of the above figures by clicking on any of the pictures and then clicking on the 5-star voting buttons. Your ratings will be seen by hundreds of other gamers and will help them select the best figures for their armies!
The Match Video
---
The match was recorded by Madaxeman TV, with commentary from the Burton Town Hall, and analysis from our two experts in the studio back in Madaxeman Towers.
---
Supplementing the video, here are a series of shots from Battle Chronicler. I accidentally graded our 4 Crossbowmen as "Sk Jv", and missed out a LH unit on our left, but you will still get the picture.
Initial Deployment.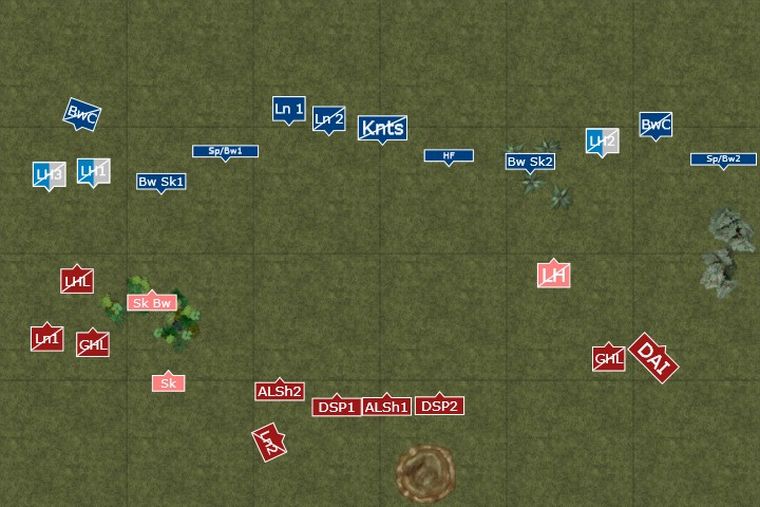 The Arabs push forwards on the left and right, whilst reorganising in the middle. Note the Dailami making a bee-line for the mixed Bw/Sp formation on the far right.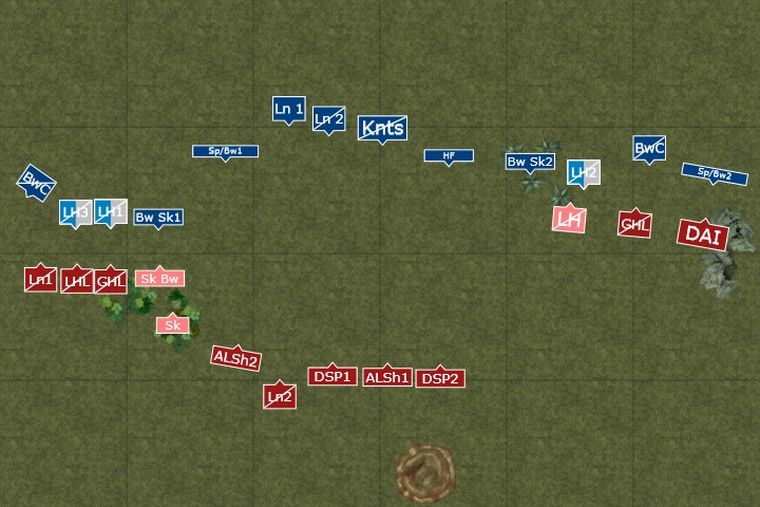 The Fatimids now have an overwhelming advantage on the left, and the Byzantines have little choice but to back off. One Fatimid LH unit is missing from this picture remeber!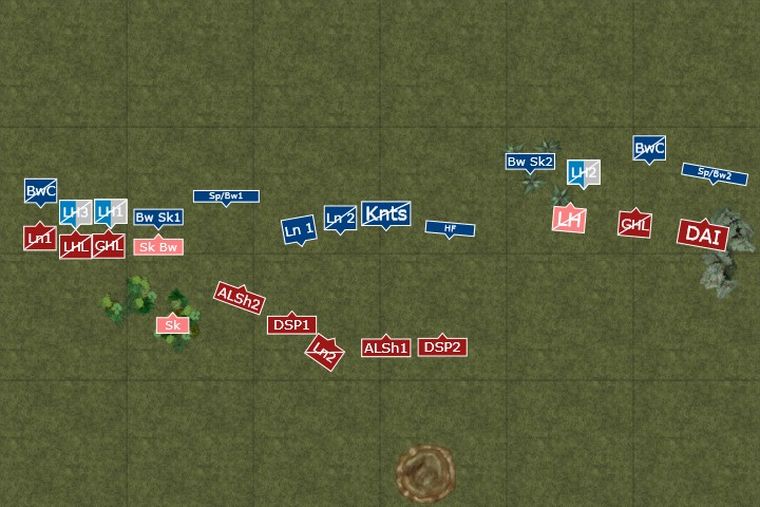 The Byzantines have been caught on the left, and some of them have to stand and take the Arabs charge.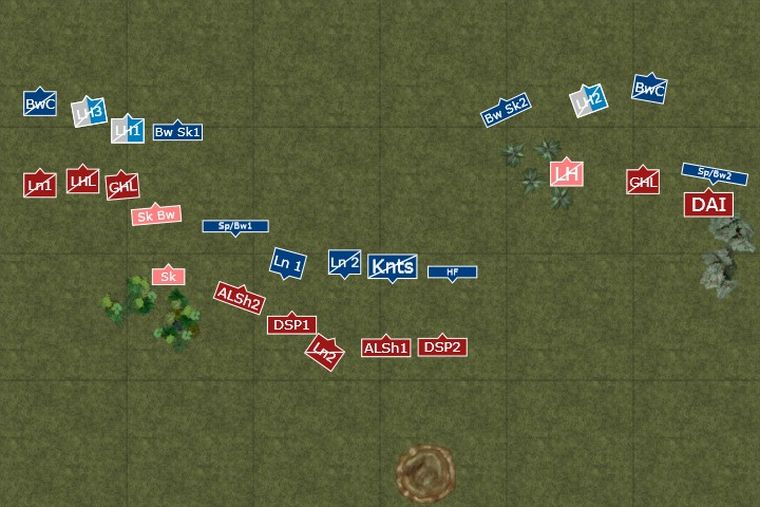 The Byzantines fall back on both wings, but in the dailami are in contact and making short work of the Mixed formation. One unit of lancers has been drawn towards 2 units of Fatimid foot.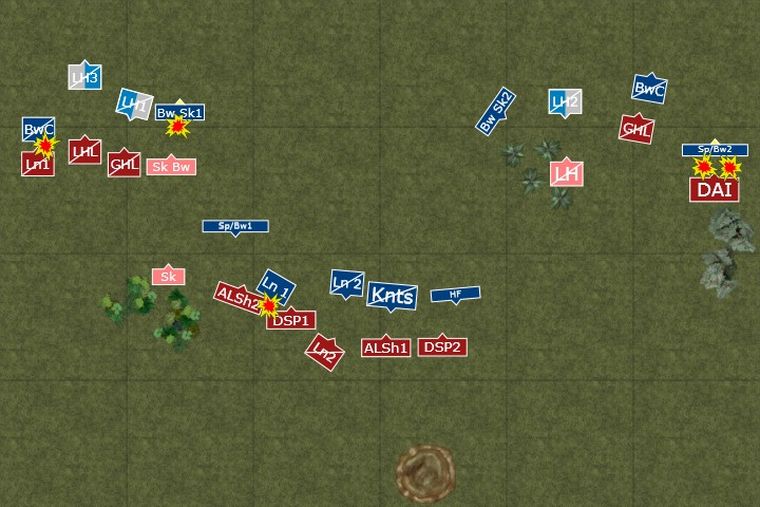 Other than the loss of the mixed formation, the Byzantine left flank is evading succesfully - but their right is being chewed up. The first lot of lancers go in unsupported, but bounce off unharmed.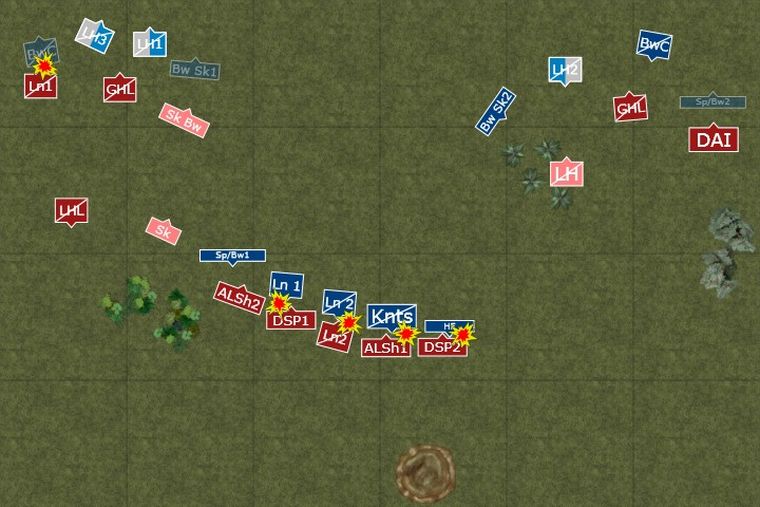 With the Byzantine right flank almost totally crushed, the Arabs still have no-one available to roll up the by-now engaged Byzantine lancers, who - assisted by the Varangians - are doing serious damage to the Arab foot.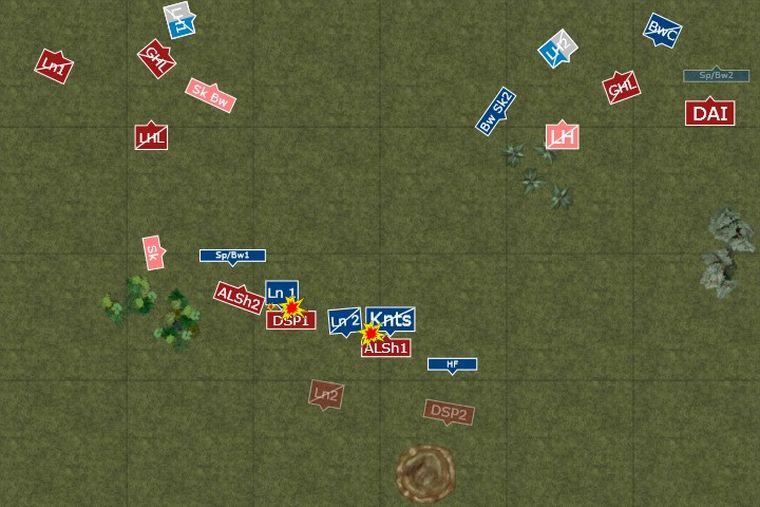 Time is called and the Byzantines have taken a beating, but have managed to escape with some units intact on both flanks. In the middle they have had the better of the combat against the Fatimids
Post Match Summary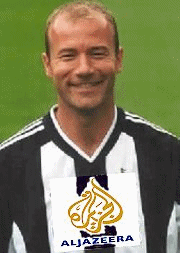 As Al Shearer, King o the Arabs in the Toon Of Alexandria, Ah felt this battle showed weh in wor best light, an wor worst. Wi cleverly delayed fighting the myest difficult port o the battle in the center instead of rushing forward leik maniacs, but wi were unable te cross the baal into the middle te score even affta wi enjoyed considerable advantages gannin doon both wings
Wor infantry fared rortha well Ah thowt , especially the Drilled Al Shearer javelin an sword lads , whee were a lot tougher than they looked.
The apparent weakness o the infantry formation suckered the Byzantines into a frontal charge frem which they were lucky te escape unscathed. If ernly wi had more pace doon the wings an crossing into the middle wi could hev wrapped up a handy victory fre the team sharp doors.
Haweeeeyyy Tha Lads!
---
Hannibal's Post Match Analysis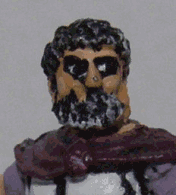 This new fangled TV rubbish cannot hide the way in which you let victory slip from your grasp, and alowed your opponents to not so much pluck a draw from the jaws of defeat, but practically to reach down your throat and fish a draw out from the oesophagus of defeat.
Your oh so clever army is in actuality a rag-bag collection of odds and sods, which has little to recommend it other than making it intellectually challenging for you to actually achieve anything whatsoever other than abject failure.
You should have realised by now, armoured troops are the only way to get success. Having armour always gives you a POA, being protected always loses you one. And with your spearmen and the pathetic Al Shearer Infantry both being protected, even if they manage to beat enemy knights and cavalry at impact, they are still at best on an evens shot in melee - which is hardly any good when you are average and your opponents are always superior, is it?
Also, what on earth are you doing with a unit of 4 protected crossbows on table? They can't fight, they can't take casulaties, they can't really even shoot that well. Another unit of Lancer LH woudl have been a far better option IM-not-so-O. They will come back to bit you mark my words.
Anyway, I'm sure your next opponent won't be so obliging.
NEXT!!!
Following a quick pint of inappropriate Summer Ale at one of Burtons many real ale establishments we returned for the next round
The Ancient Army List Index

Historical background notes, external links, 15mm supplier listings, FoG army lists, and a list of books about these armies

The Rise of Rome (280 BC to 25 BC) Mid Republican Roman ; Late Republican Roman ; Gallic ; Pyrrhic ; Later Carthaginian ; Ancient Spanish ; Later Macedonian ; Later Seleucid ; Later Ptolemaic ; Attalid Pergamene ; Numidian or early Moorish ; Pontic ; Early Armenian ; Parthian ; Later Jewish ; Illyrian ; Spartacus Slave Revolt ; Bosporan ;

Storm of Arrows - Western Europe in the Later Middle Ages (1300 AD to 1500 AD) Medieval French ; 100-yrs War English (Continental) ; 100-yrs War English (Britain) ; Later Medieval Scots ( Britain) ; Later Medieval Scots (Continental) ; Later Scots Isles & Highlands ; Medieval Welsh ; Later Anglo-Irish ; Medieval Irish ; Low Countries ; Later Medieval German ; Italian Condotta ; Swiss ; Free Company ; Medieval Burgundian ; Medieval Danish ; Medieval Swedish ; Medieval Castilian ; Medieval Crown of Aragon ; Medieval Portugese ; Later Granadine ; Navarrese ; Ordonnance French ; Wars of the Roses English ; Ordonnance Burgundian ; Santa Hermandad Nueva Castilian

Immortal Fire - The Greek, Persian & Macedonian Wars (550 BC - 146 BC)
Classical Greek ; Early Achaemenid Persian ; Lydian ; Thracian ; Syracusan ; Early Carthaginian ; Skythian or Saka ; Kyrenean Greek ; Late Dynastic Egyptian ; Alexandrian Macedonian ; Later Achaemenid Persian ; Classical Indian ; Early Successor ; Early Sarmatian ; Galatian ; Hellenistic Greek ; Graeco-Bactrian ; Graeco-Indian ; Indo-Greek :

Legions Triumphant - Imperial Rome (25 BC to 493 AD) Dominate Roman ; Principate Roman ; Foederate Roman ; Later Sarmatian ; Early German ; Dacian or Carpi ; Ancient British ; Caledonian ; Early Alan ; Jewish Revolt ; Sassanid Persian ; Kushan or Indo-Skythian ; Palmyran ; Early Frankish, Alamanni, Burgundi, Limigantes, Rugian, Suevi or Turcilingi ; Western Hunnic ; Early Visigothic & Early Vandal ; Early Ostrogothic, Herul, Sciri or Taifali ; Early Anglo-Saxon, Bavarian, Frisian, Old Saxon or Thuringian ; Gepid or Early Lombard ; Early Scots Irish ; Early Pictish ; Hephthalite Hunnic ;

Swords & Scimitars - The Crusades (1096 AD to 1311 AD) Early Crusader ; Later Crusader ; Fatimid Egyptian ; Georgian ; Seljuk Turk ; Cuman ; Komnenan Byzantine ; Post Latin Conquest Byzantine ; Ilkhanid Mongol ; Mamluk Egyptian ; Cilician Armenian ; Syrian States ; Khwarazmian ; Ayyubid Egyptian ; Middle Serbian ; Middle Bulgarian ; Medieval Cypriot ; Latin Greece ; Pecheneg ;

Eternal Empire - Eastern Europe and the Rise of the Ottomans (1300 AD to 1500 AD) Early Ottoman Turkish ; Later Ottoman Turkish ; Tatar ; Later Russian ; Later Serbian Empire ; Later Bulgarian ; Later Lithuanian ; Later Polish ; Later Teutonic Knights ; Catalan Company ; Middle Hungarian ; Moldavian or Wallachian ; Albanian ; Timurid, White Sheep Turcoman or Black Sheep Turcoman ; Later Hungarian ; Hussite ;

Decline & Fall - Byzantium and Islam (493 AD to 1071 AD) Early Byzantine; Maurikian Byzantine ; Thematic Byzantine ; Nikephorian Byzantine ; Later Moorish ; Later Visigothic ; African Vandal ; Italian Ostrogothic ; Early South Slav ; Lombard ; Avar ; Arab Conquest ; Early Bulgar ; Ummayad Arab ; Abbasid Arab ; Early North African Dynasties ; Khurasanian Dynasties ; Bedouin Dynasties ; Dailami Dynasties ; Pecheneg ; Ghaznavid ; Western Turkish (includes Khazar);

Wolves From The Sea - The Hairy European Dark Ages Post Roman British ; Early Welsh ; Later Scots Irish ; Merovingian Frankish ; Later Pictish ; Early Slavic ; Middle Anglo Saxon ; Astur Leonese ; Andalusian ; Early Navarrese ; Carolingian Frankish ; Viking ; Magyar ; Great Moravian ; Early Scots ; Rus ; Norse Irish ; Early Medieval French ; Early Medieval German ; Norman ; Early Polish ; Anglo Danish ;

Swifter Than Eagles - The Biblical Book Nubian ; Early Libyan ; Later Sumerian or Akkadian ; Early Nomad Allies ; Old or Middle Kingdom Egyptian ; Hyksos ; Mitanni ; Syro-Canaanite ; New Kingdom Egyptian ; Later Minoan or Early Mycenaean ; Hittite Empire ; ; Middle or Early Neo-Assyrian ; Later Mycenaean or Trojan ; Sea Peoples ; Philistine ; Phoenician Allies ; Neo-Hittite And Aramaean ; Later Hebrew ; Mannaean Allies ; Libyan Egyptian ; Urartian ; Median ; Neo-Elamite ; Proto-Arab Allies ; Cimmerian or Early Skythian ; Neo-Assyrian Empire ; Phrygian Allies ; Kushite Egyptian ; Neo-Babylonian Empire ;

Oaf of Fealty - Early Medieval Europe Feudal Catalan and Early Crown Of Aragon ; Early Hungarian ; Taifa Andalusian ; Feudal Navarrese and Aragonese ; Feudal Castilian Leonese or Portuguese ; Fanatic Berber ; Italo-Norman ; Feudal French ; Imperial German ; Feudal German ; Communal Italian ; Papal Italian ; Early Scots Isles And Highlands ; Feudal Scots ; Early Russian ; Feudal Polish ; Anglo-Norman ; Later Welsh ; Early Lithuanian or Samogitian ; Wendish Prussian or Estonian ; Early Medieval Frisia and Other Free Cantons ; Post-Viking Scandinavian ; Early Plantagenet English ; Later Sicilian ; Early Medieval Irish ; Early Anglo-Irish ; Early Teutonic Knights ; Mongol Invasion ; Early Granadine ; Middle Plantagenet English ;

Empires of The Dragon - China, Korea and Japan Erlitou-Shang Chinese ; Early Northern Barbarian Allies ; Early Zhou Chinese ; Yayoi Japanese ; Early Horse Nomad ; Ko Choson Korean ; Warring States To Western Han Chinese ; Qiang And Di ; Three Kingdoms Korean ; Eastern Han Chinese? ; Three Kingdoms W Jin And S Dynasties Chinese ; Kofun Nara Japanese ; Northern Dynasties Chinese ; Later Hindu North Indian ; Later Hindu South Indian ; Central Asian City States ; Western Wei To Early Tang Chinese ; ; Later Horse Nomad ; Tibetan ; Nepalese Allies ; Parhae Korean ; Late Tang To Five Dynasties Chinese ; Khmer Or Champa ; Thai Allies ; Nanzhao ; Pyu Burmese Allies ; Koryo Korean ; Early Heian Japanese ; Pagan Burmese ; Liao ; Song Chinese ; Xi Xia ; Ghurid Afghan ; Jin ; Late Heian To Muromachi Japanese ; Japanese Warrior Monk Allies ; Mongol Conquest ; Moslem Indian Sultanates ; Medieval Indonesian Or Malay ; Yuan Chinese ; Medieval Burmese ; Ming Chinese ; Yi Korean

Blood and Gold - The Americas Olmec ; Teotihuacan ; West Mexican ; Zapotec or Mixtec ; Toltec ; Chinantec ; Aztec ; Tarascan ; Tlaxcalan Confederacy ; Mayan ; Mochica ; Chanca ; Chimu ; Hatun-Colla ; Canari ; Inca ; Mapuche or Araucanian ; Amazonian Forest Tribes ; Tupi ; Chichimec ; Pueblo Culture ; Mound-Builder Culture ; South-Eastern Woodland Culture ; Timucuan ; Eastern Woodland Culture ; Plains Culture ; Pacific North-West Culture


View My Stats for My FoG Pages