Birmingham Alabama - The Games
Game 1 - vs Dan Hazlewood
After an epic flight ... (well, starting in the BA lounge at Gatwick did help..)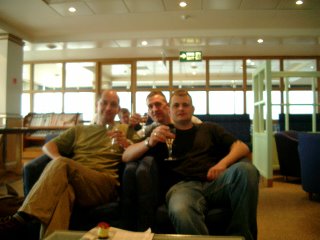 and drive from Atlanta to Birmingham (thanks to the Truck of Mark Faircloth)..
we ended up in Hooters restaurant with a load of Americans where our new friend Hollie helped us choose from a wide selection of chicken wing-based menu items: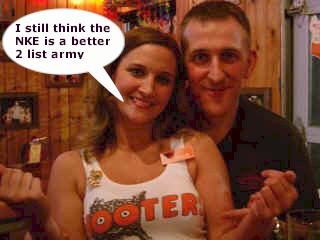 See Jim Hauber wave his wiener at Hooters here
Big wheels keep on turning
Carry me home to see my kin
Singing songs about Samogitia
I miss Lithuanian once again
And I think its a sin, yes..

The next day arrived rather too early, however after a 25 minute wait for the doors to open before we can get in (which I've now done this in the UK, Spain, Greece, France, Italy AND The USA.....) I found myself facing Dan Hazlewood and Dynastic Bedouin.
I was attempting to update my blog in real time throughout all 4 games, so if you want to see how this went, link to it here and scroll down to the end to start.
I was using my traditional Lithuanian lists. As it was, I only used one variant all weekend.
The first game had no terrain except in one corner (my side). Oh, and Dan had (of course) seen my list on this site! No surprises there then! The battlefield was dominated by some rough ground in the middle. Rather than commit auxilia to it, I chose to flood it with psiloi and push on my right.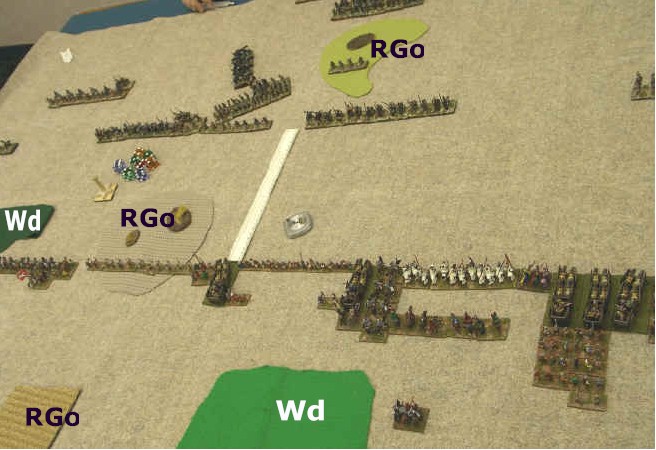 The Arabs were set up with lots of bowmen, who can find themselves as a target against large parts of my army, but they were initially well to the back. We had also both deployed our main strike forces asymmetrically, with most of my punch on my right, and the balance of Dans forces on my (refused) left, where the presence of the Artillery (S) had come as a nasty surprise (obviously he had not been reading this site carefully enough...)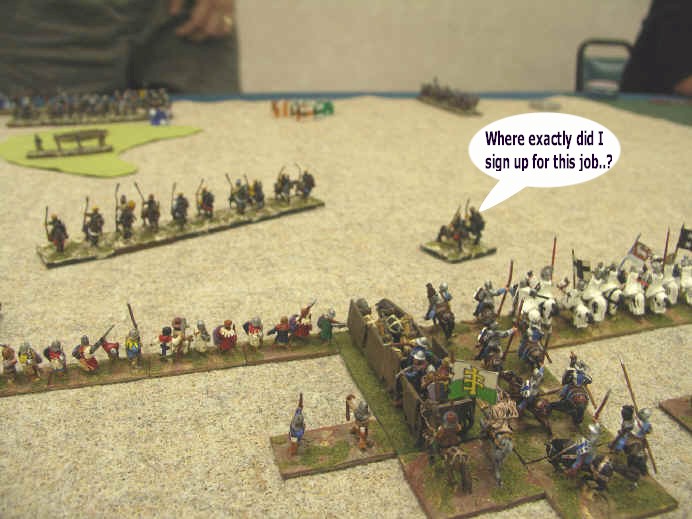 My heavy-hitting right wing moved imperiously forwards, as Dan attempted to redeploy his bowmen (and X-bowmen) to face my knights in the center.
Poor pips bedeviled the Arabs, making the redeployment glacial in the face of my onrushing solid lines using the traditional "go straight forwards" tactics. It was to be nearly an hour into the game before any of my troops wheeled.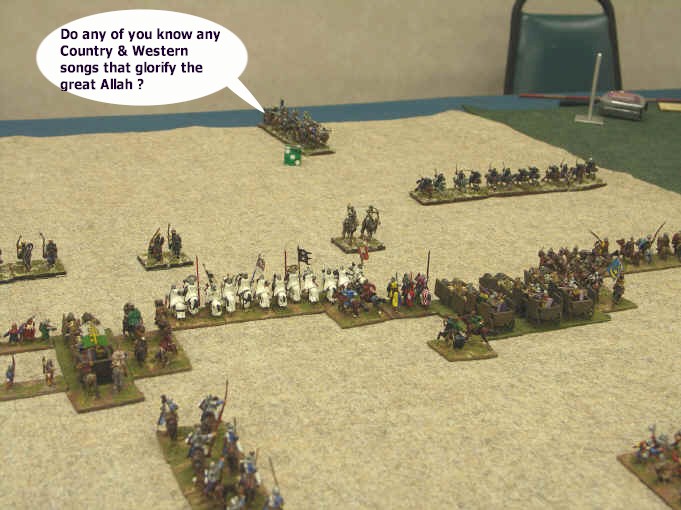 The Arab cavalry sat well back throughout, but I was optimistic of catching the left hand Arab command as all the good pips were being soaked up by the redeploying bowmen.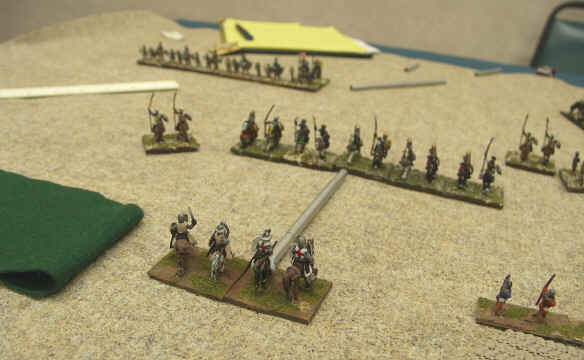 On my right, the thin skirmish screen was still holding firm, as even superior numbers of arab light horse would surely be reluctant to enter the gap between the forest and the rough ground occupied my my infantry.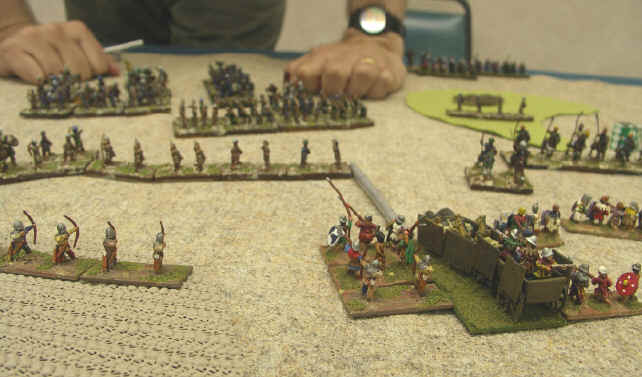 The arab bowmen completed their redeployment, but found that they were no longer likely to reach the Teutons, who had moved forwards and out of sight. Instead my infantry command of bow-munchers were in their place. Seeing the bowmens opportunities diminish, and also seeing the rear edge of the table approach rapidly, the Arabs committed their main cavalrymen on my right.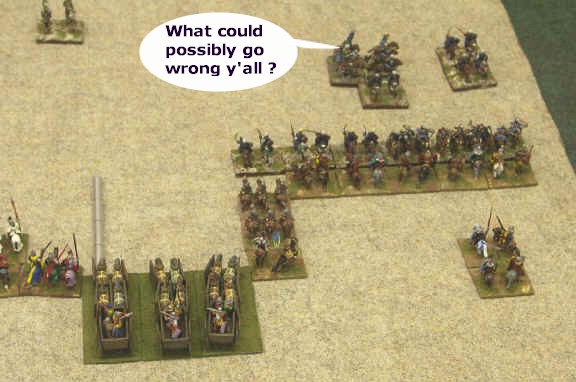 The Arabs had better troops in the front line, but the Lithuanians had reserves, and also numbers on their side as well as the rock solid flanks provided by the wagons.
Eventually, the weight of numbers theory proved better than the quality theory, and the Arabs left flank command collapsed.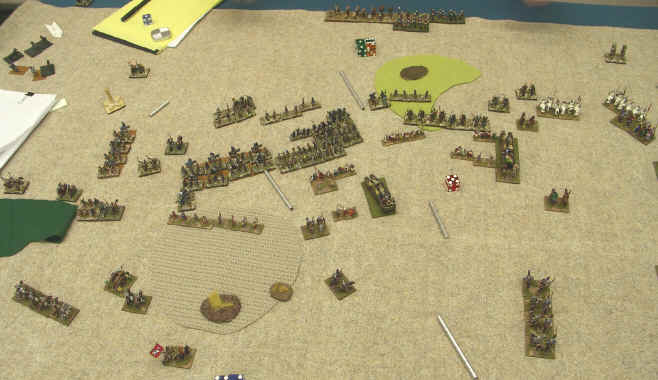 But the rest of the game was starting to look very bitty, with both sides swinging their main fighting troops round too slowly to engage the enemy. By now a very large block of bowmen had assembled, and my CinCs blades were struggling to get to grips with them as his attention was distracted by the need to withdraw psiloi in good order from such impressive firepower.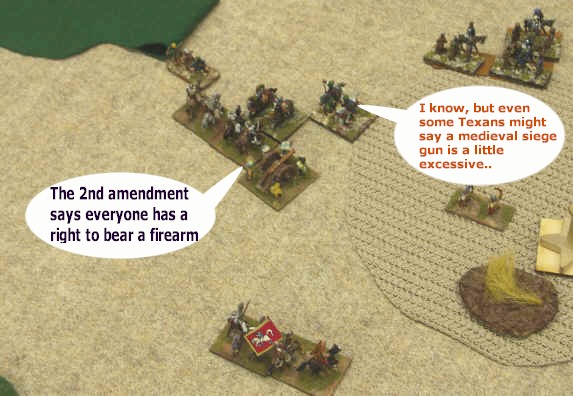 Meanwhile, my artillery park was proving a difficult obstacle to remove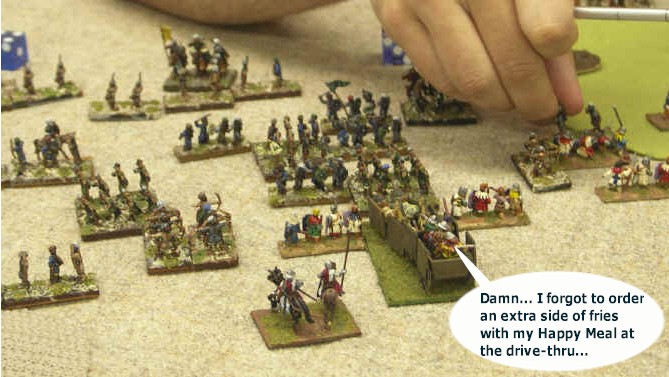 Soon there was furious bow-on-blade action in the centre - who would falter first?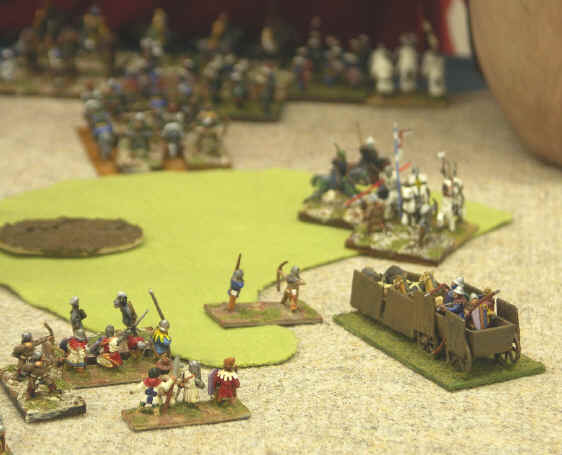 With both sides hunting elusive elements, me to win the game, Dan to take down my CinC's command, even the Teutons were sucked into the relatively undignified sport of hunting psiloi in rough going - and if you look carefully in the distance you will be able to make out a Teutonic Touchdown as one of the Brethren hammers some hordes on the Arab baseline.
Finally, as time was called, neither side quite reached a decisive point in the centre - so the game ended as a 6-4 to me.
Post match summary
Not a good matchup for the Arabs this one, but with worse pips throughout it was harder still. Both armies guessed wrong on the deployment, and committed their main forces to places where the enemy had chosen (largely) to refuse to fight.
I also made the mistake of forgetting that the flank command of Arabs was only a 12.5 EE command and not one of the 2 larger 19 EE commands, and therefore committed too many troops (especially some of the Teutons) against it as well as delaying initiating combat a little too long - at 12.5 I could have afforded to start a "LH Lottery" far sooner with my own 21.5 EE command, allowing the Teuts to wheel inwards rather than split in two sections.
All in all though, a great first game, with chances for both sides to win.
Post Match Expert Analysis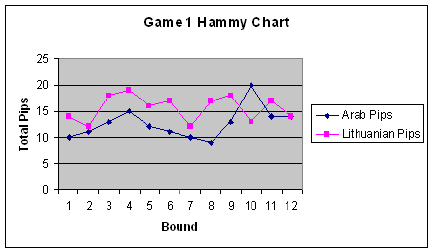 The Ancient Army List Index
Historical background notes, external links, 15mm supplier listings, FoG army lists, and a list of books about these armies
The Rise of Rome (280 BC to 25 BC) Mid Republican Roman ; Late Republican Roman ; Gallic ; Pyrrhic ; Later Carthaginian ; Ancient Spanish ; Later Macedonian ; Later Seleucid ; Later Ptolemaic ; Attalid Pergamene ; Numidian or early Moorish ; Pontic ; Early Armenian ; Parthian ; Later Jewish ; Illyrian ; Spartacus Slave Revolt ; Bosporan ;
Storm of Arrows - Western Europe in the Later Middle Ages (1300 AD to 1500 AD) Medieval French ; 100-yrs War English (Continental) ; 100-yrs War English (Britain) ; Later Medieval Scots ( Britain) ; Later Medieval Scots (Continental) ; Later Scots Isles & Highlands ; Medieval Welsh ; Later Anglo-Irish ; Medieval Irish ; Low Countries ; Later Medieval German ; Italian Condotta ; Swiss ; Free Company ; Medieval Burgundian ; Medieval Danish ; Medieval Swedish ; Medieval Castilian ; Medieval Crown of Aragon ; Medieval Portugese ; Later Granadine ; Navarrese ; Ordonnance French ; Wars of the Roses English ; Ordonnance Burgundian ; Santa Hermandad Nueva Castilian
Immortal Fire - The Greek, Persian & Macedonian Wars (550 BC - 146 BC)
Classical Greek ; Early Achaemenid Persian ; Lydian ; Thracian ; Syracusan ; Early Carthaginian ; Skythian or Saka ; Kyrenean Greek ; Late Dynastic Egyptian ; Alexandrian Macedonian ; Later Achaemenid Persian ; Classical Indian ; Early Successor ; Early Sarmatian ; Galatian ; Hellenistic Greek ; Graeco-Bactrian ; Graeco-Indian ; Indo-Greek :
Legions Triumphant - Imperial Rome (25 BC to 493 AD) Dominate Roman ; Principate Roman ; Foederate Roman ; Later Sarmatian ; Early German ; Dacian or Carpi ; Ancient British ; Caledonian ; Early Alan ; Jewish Revolt ; Sassanid Persian ; Kushan or Indo-Skythian ; Palmyran ; Early Frankish, Alamanni, Burgundi, Limigantes, Rugian, Suevi or Turcilingi ; Western Hunnic ; Early Visigothic & Early Vandal ; Early Ostrogothic, Herul, Sciri or Taifali ; Early Anglo-Saxon, Bavarian, Frisian, Old Saxon or Thuringian ; Gepid or Early Lombard ; Early Scots Irish ; Early Pictish ; Hephthalite Hunnic ;
Swords & Scimitars - The Crusades (1096 AD to 1311 AD) Early Crusader ; Later Crusader ; Fatimid Egyptian ; Georgian ; Seljuk Turk ; Cuman ; Komnenan Byzantine ; Post Latin Conquest Byzantine ; Ilkhanid Mongol ; Mamluk Egyptian ; Cilician Armenian ; Syrian States ; Khwarazmian ; Ayyubid Egyptian ; Middle Serbian ; Middle Bulgarian ; Medieval Cypriot ; Latin Greece ; Pecheneg ;
Eternal Empire - Eastern Europe and the Rise of the Ottomans (1300 AD to 1500 AD) Early Ottoman Turkish ; Later Ottoman Turkish ; Tatar ; Later Russian ; Later Serbian Empire ; Later Bulgarian ; Later Lithuanian ; Later Polish ; Later Teutonic Knights ; Catalan Company ; Middle Hungarian ; Moldavian or Wallachian ; Albanian ; Timurid, White Sheep Turcoman or Black Sheep Turcoman ; Later Hungarian ; Hussite ;
Decline & Fall - Byzantium and Islam (493 AD to 1071 AD) Early Byzantine; Maurikian Byzantine ; Thematic Byzantine ; Nikephorian Byzantine ; Later Moorish ; Later Visigothic ; African Vandal ; Italian Ostrogothic ; Early South Slav ; Lombard ; Avar ; Arab Conquest ; Early Bulgar ; Ummayad Arab ; Abbasid Arab ; Early North African Dynasties ; Khurasanian Dynasties ; Bedouin Dynasties ; Dailami Dynasties ; Pecheneg ; Ghaznavid ; Western Turkish (includes Khazar);
Wolves From The Sea - The Hairy European Dark Ages Post Roman British ; Early Welsh ; Later Scots Irish ; Merovingian Frankish ; Later Pictish ; Early Slavic ; Middle Anglo Saxon ; Astur Leonese ; Andalusian ; Early Navarrese ; Carolingian Frankish ; Viking ; Magyar ; Great Moravian ; Early Scots ; Rus ; Norse Irish ; Early Medieval French ; Early Medieval German ; Norman ; Early Polish ; Anglo Danish ;
Swifter Than Eagles - The Biblical Book Nubian ; Early Libyan ; Later Sumerian or Akkadian ; Early Nomad Allies ; Old or Middle Kingdom Egyptian ; Hyksos ; Mitanni ; Syro-Canaanite ; New Kingdom Egyptian ; Later Minoan or Early Mycenaean ; Hittite Empire ; ; Middle or Early Neo-Assyrian ; Later Mycenaean or Trojan ; Sea Peoples ; Philistine ; Phoenician Allies ; Neo-Hittite And Aramaean ; Later Hebrew ; Mannaean Allies ; Libyan Egyptian ; Urartian ; Median ; Neo-Elamite ; Proto-Arab Allies ; Cimmerian or Early Skythian ; Neo-Assyrian Empire ; Phrygian Allies ; Kushite Egyptian ; Neo-Babylonian Empire ;
Oaf of Fealty - Early Medieval Europe Feudal Catalan and Early Crown Of Aragon ; Early Hungarian ; Taifa Andalusian ; Feudal Navarrese and Aragonese ; Feudal Castilian Leonese or Portuguese ; Fanatic Berber ; Italo-Norman ; Feudal French ; Imperial German ; Feudal German ; Communal Italian ; Papal Italian ; Early Scots Isles And Highlands ; Feudal Scots ; Early Russian ; Feudal Polish ; Anglo-Norman ; Later Welsh ; Early Lithuanian or Samogitian ; Wendish Prussian or Estonian ; Early Medieval Frisia and Other Free Cantons ; Post-Viking Scandinavian ; Early Plantagenet English ; Later Sicilian ; Early Medieval Irish ; Early Anglo-Irish ; Early Teutonic Knights ; Mongol Invasion ; Early Granadine ; Middle Plantagenet English ;
Empires of The Dragon - China, Korea and Japan Erlitou-Shang Chinese ; Early Northern Barbarian Allies ; Early Zhou Chinese ; Yayoi Japanese ; Early Horse Nomad ; Ko Choson Korean ; Warring States To Western Han Chinese ; Qiang And Di ; Three Kingdoms Korean ; Eastern Han Chinese? ; Three Kingdoms W Jin And S Dynasties Chinese ; Kofun Nara Japanese ; Northern Dynasties Chinese ; Later Hindu North Indian ; Later Hindu South Indian ; Central Asian City States ; Western Wei To Early Tang Chinese ; ; Later Horse Nomad ; Tibetan ; Nepalese Allies ; Parhae Korean ; Late Tang To Five Dynasties Chinese ; Khmer Or Champa ; Thai Allies ; Nanzhao ; Pyu Burmese Allies ; Koryo Korean ; Early Heian Japanese ; Pagan Burmese ; Liao ; Song Chinese ; Xi Xia ; Ghurid Afghan ; Jin ; Late Heian To Muromachi Japanese ; Japanese Warrior Monk Allies ; Mongol Conquest ; Moslem Indian Sultanates ; Medieval Indonesian Or Malay ; Yuan Chinese ; Medieval Burmese ; Ming Chinese ; Yi Korean
Blood and Gold - The Americas Olmec ; Teotihuacan ; West Mexican ; Zapotec or Mixtec ; Toltec ; Chinantec ; Aztec ; Tarascan ; Tlaxcalan Confederacy ; Mayan ; Mochica ; Chanca ; Chimu ; Hatun-Colla ; Canari ; Inca ; Mapuche or Araucanian ; Amazonian Forest Tribes ; Tupi ; Chichimec ; Pueblo Culture ; Mound-Builder Culture ; South-Eastern Woodland Culture ; Timucuan ; Eastern Woodland Culture ; Plains Culture ; Pacific North-West Culture