Field of Glory Wargaming at Warfare 2008
So, 2 defeats, one win - what next?
After sneaking in a full roast dinner down by the river I found myself facing a proper army - Selukids.
You can see the list and find out all about the Selukids here
Pictures of Greek Heavy Foot from my Ancients Photo Directory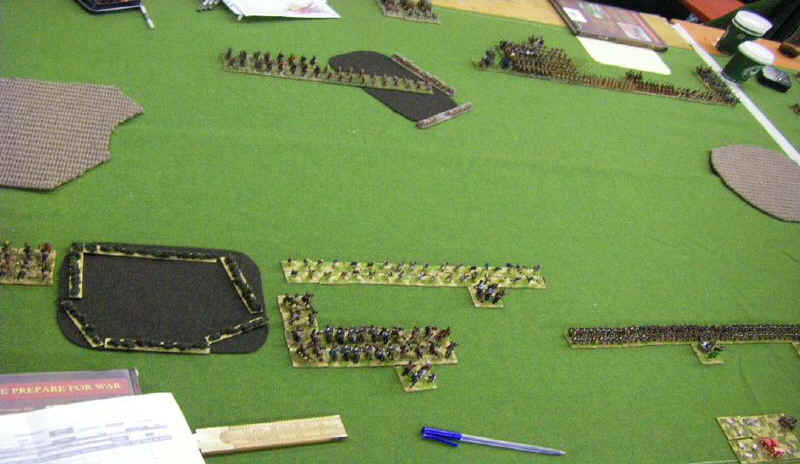 The Selukids also had the classic setup of skirmishers, a heavy foot center, some mounted troops and a bit of medium foot to hold terrain. But they had less rough terrain troops than the Romans, and the skirmisher wing was far weaker. Maybe my matchup strategy would work this time?
The Romans leapt out of the blocks with alacrity, and as they rushed forward the Selukids realised their skirmish wing was in real trouble, and they didn't hang around for it to come and beat them to death.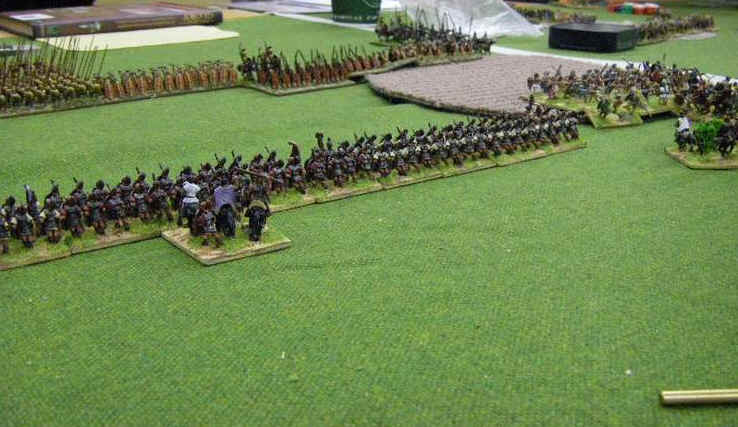 The main Roman line also raced forward, as the Selukids shuffled nervously in the (increasingly short) distance. The Romans hoped to get some of their legions to clip the end of the Selukid Thorakitoi line, drawing the dangerous spearmen into a combat outside the rough terrain - which was only defended by them and 6 Thracians, and which was anchoring the end of the Selukid line.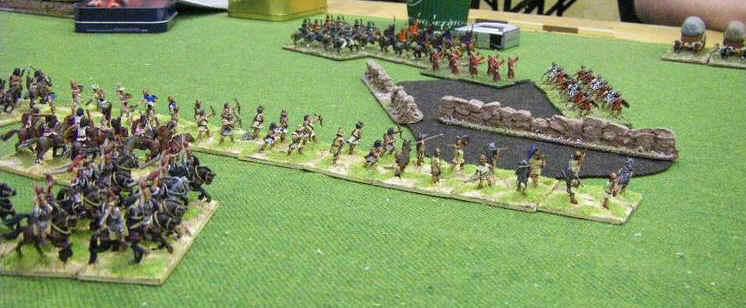 As the Romans streamed forward, the Selukids streamed back !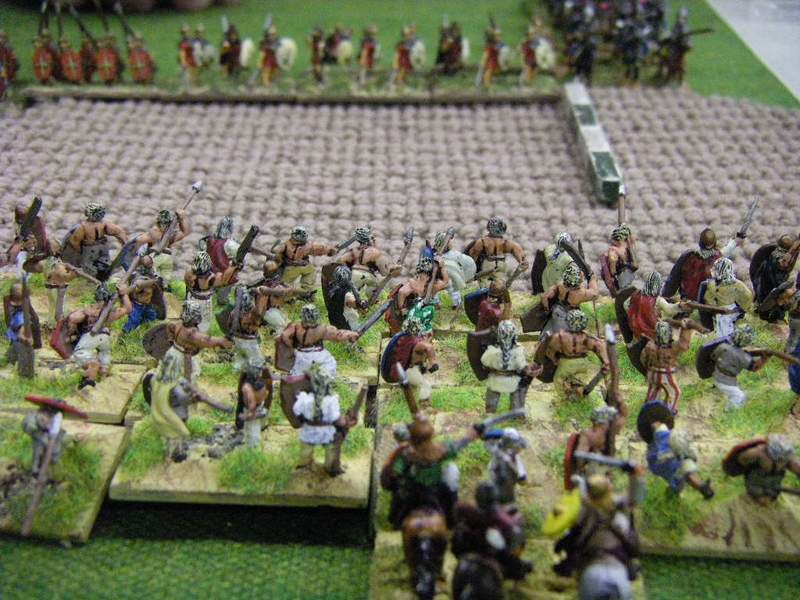 The Dacians were advancing confidently. Admittedly they were near the edge of the table, but they had a general, and rear support, and advantages in impact so hopefully they shouldn't be taking too many waver tests anyway. The edge of the world effect would work in their favour.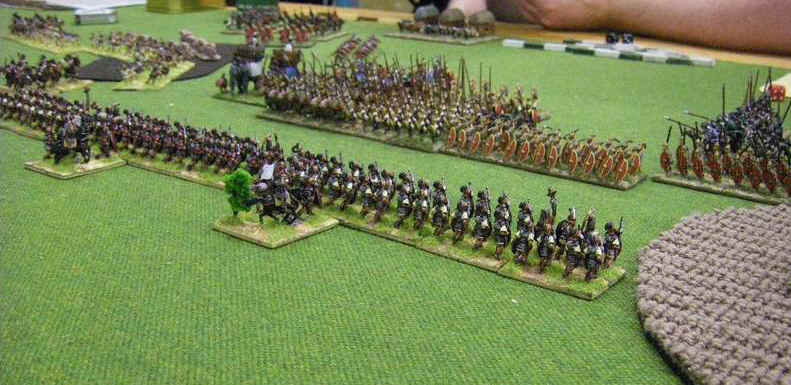 In the middle the two lines of capital troops were well teed up - who would blink first? But in the distance the Roman skirmishers were moving round to threaten the Selukid elephants with potentially irritating shooting, unpicking the end of the Greeks line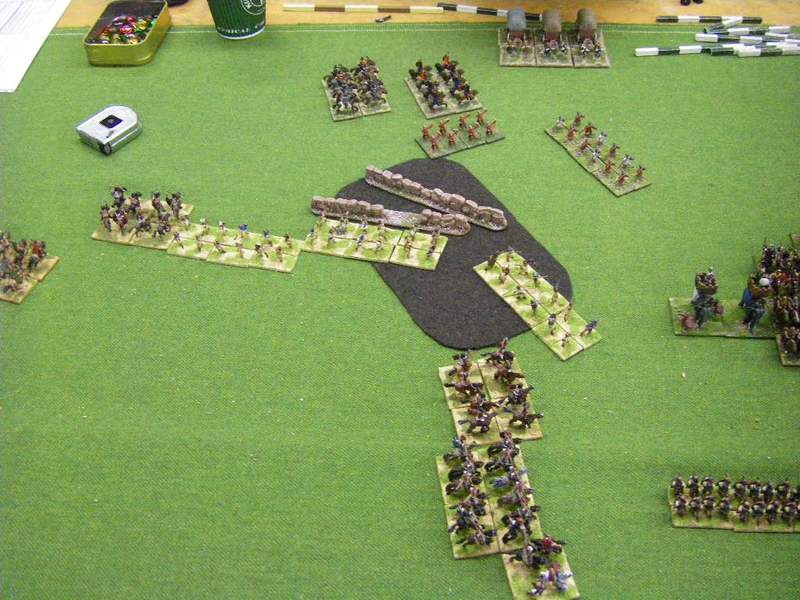 It all looked like the beginnings of a classic envelopment, and although the Roman skirmishers were relatively ineffectual against the Greeks capital troops, the Roman cavalry were a dangerous threat, and there seemed every chance the Selukid baggage would be quickly hoovered up and with it several of the Greek skirmish units.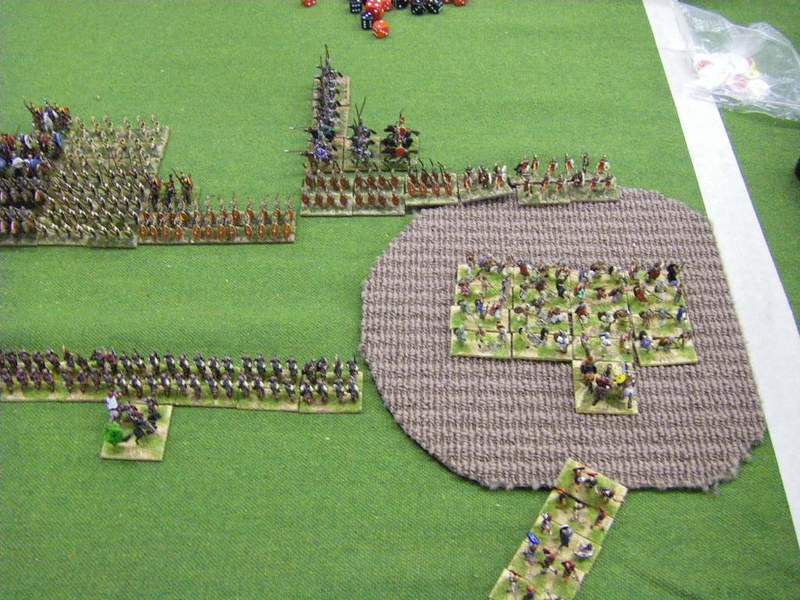 Back on the right, the Dacians were teeing themselves up for a charge against the Thracians where they would hold a great advantage - but they were also holding back for more support from the legions before attacking the armoured spearmen Thorakitoi.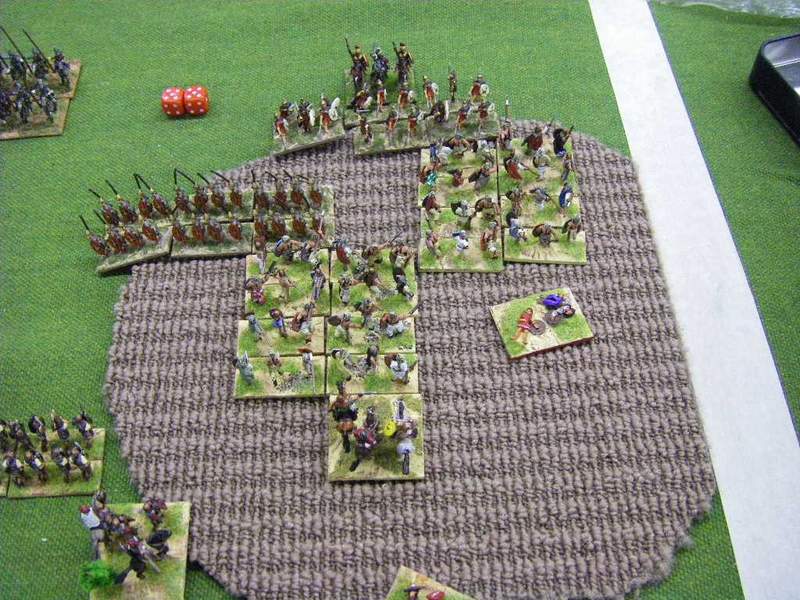 But when the two lines clashed, the Thracians overturned the odds in short order, beating the Dacians at impact and then again in melee and battering them down to fragmented - and then the Thorakitoi charged in as well.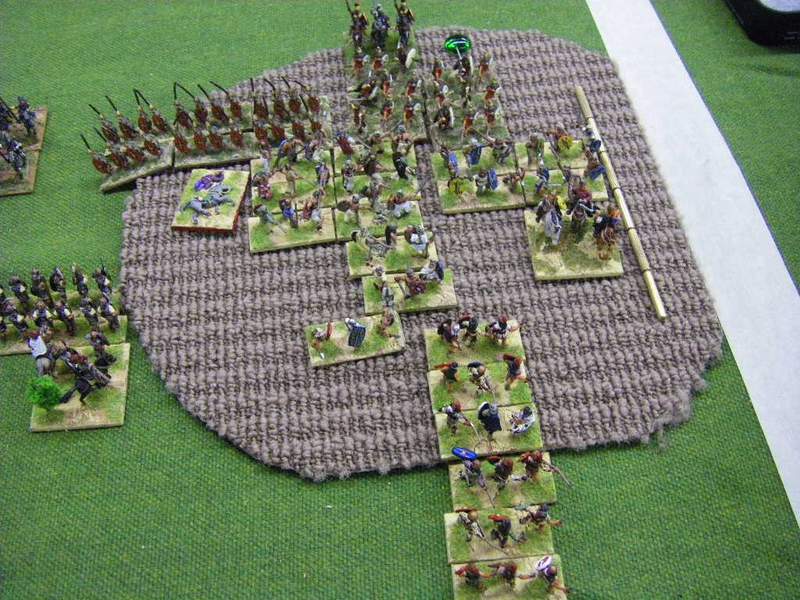 This time again the Dacians collapsed like a deck of cards, with the 6 Thracians wielding their heavy weapons to good effect against the 8 impact swordsmen routing them just as their colleagues quickly crumbled as well.
The entire right wing had imploded in seconds, against where there appeared to be a good advantage.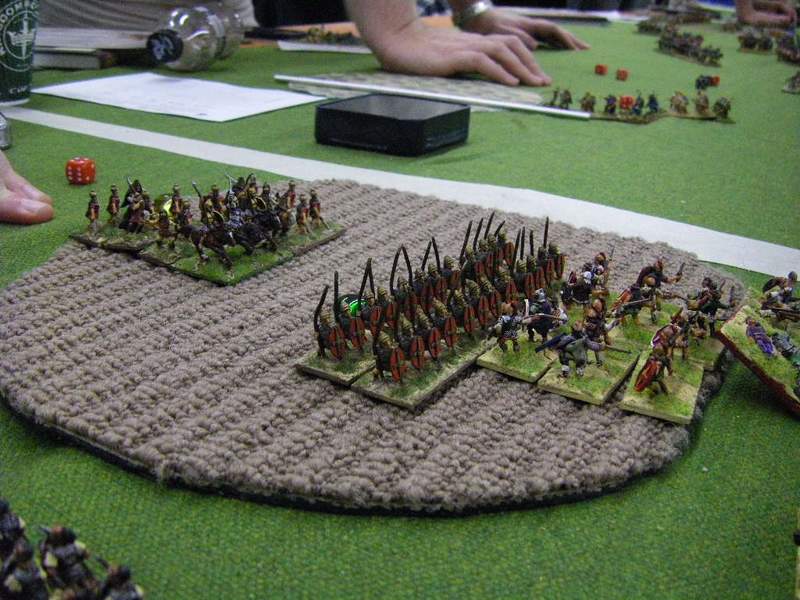 The Thorakitoi swept forward in pursuit, and battered their way through the poor hapless Ligurians, who were only there to provide rear support.

The main battle line at least gave me some hope - the many Selukid units meant lots of attrition points were still to play for.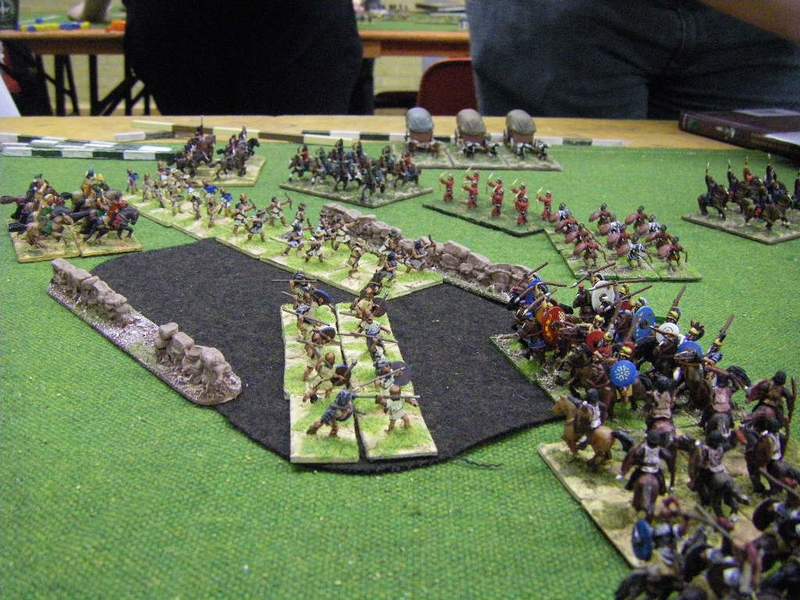 The Selukid skirmishers had regrouped and now there was a serous exchange of shooting in the rough ground of the enclosed field - the Selukids were drawn into using a cavalry unit to protect the flank of their main battle line, and it attracted a swarm of Roman shooting but managed to stand firm as the javelins rained in.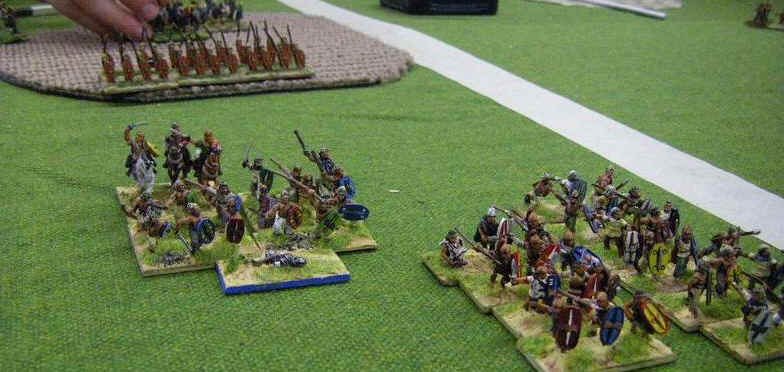 Smarting with shame, the Dacian general gave a stirring speech to his fleeing troops and persuaded one unit to stay around for further humiliation and degradation. This surprised the Thorakitoi who were hoping to turn into the middle of the park - and realizing every unit counted, they decided to continue the pursuit.
In the middle the two lines clashed - at last. Both sides set up their dice ready to roll them.
Somewhat bizarrely given the wide number of different troop types engaged, with lancers, cataphracts, pikemen, imitation legionaries and elephants all fighting legionaries, every single impact combat was at evens.
So, 20 dice each side needing 4's to hit.
The Greeks had 8 superiors dice re-rolling 6's, and the 4 average cataphracts also had a general making them superior as well. The other 8 dice got no re-rolls.
The Romans had 4 average troops facing the Elephants, and the other 16 were effectively Elite as they were led by generals, so they would re-roll any 1's and 2's.
If the Pikemen lost and went disrupted they would be crippled. The 2 units of mounted troops could easily bounce off, leaving the Selukid foot exposed and overlapped.
Things looked good...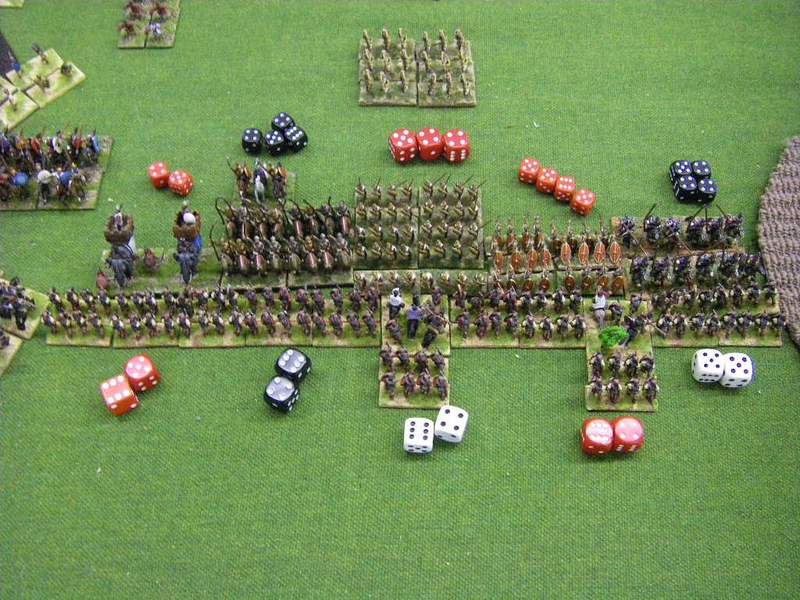 But the gods of Dice spoke Greek, not Latin.
The Romans managed just 10 hits, the Greeks racked up a rather impressive 17.
The only Roman unit to not lose was the average one facing the Elephants.
Oh dear.....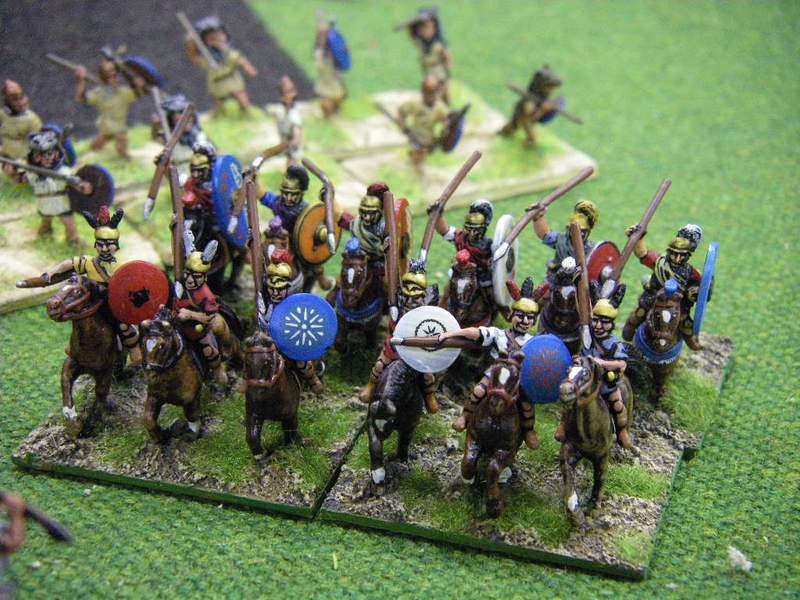 The Greek Cavalry had been protecting the flank of the whole line, and had stood fast against many many rounds of shooting without cracking. Now, with a flank threatened by the Roman cavalry, they faced a vital test to turn around.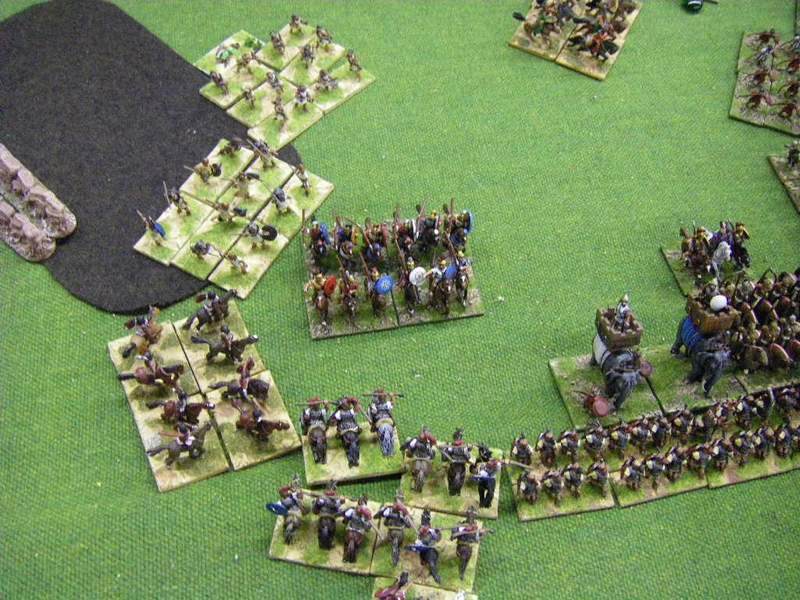 Which they did easily.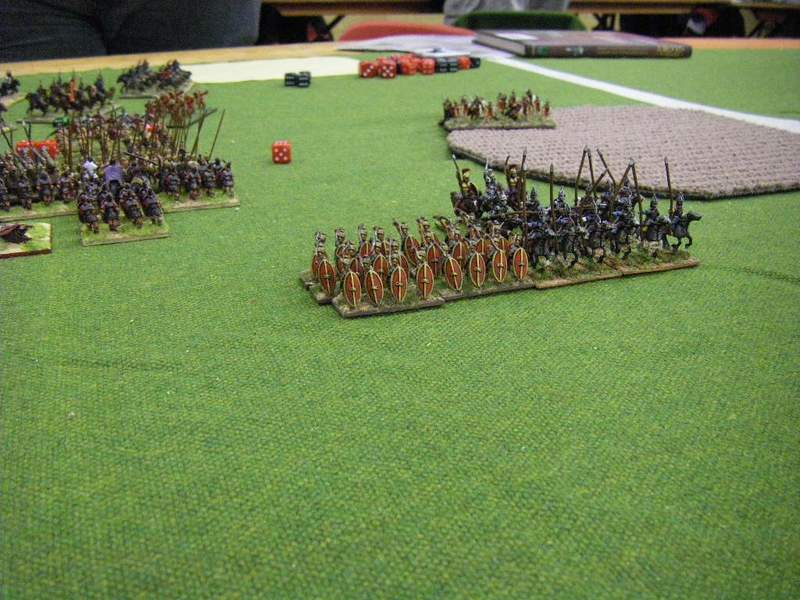 With the Roman center unable to survive the crippling initial round of combat the Selukids quickly broke through the supposedly Elite legionary line, and for the second time that day Imitation Romans beat Real ones quite easily, opening up a huge gap in the Roman line.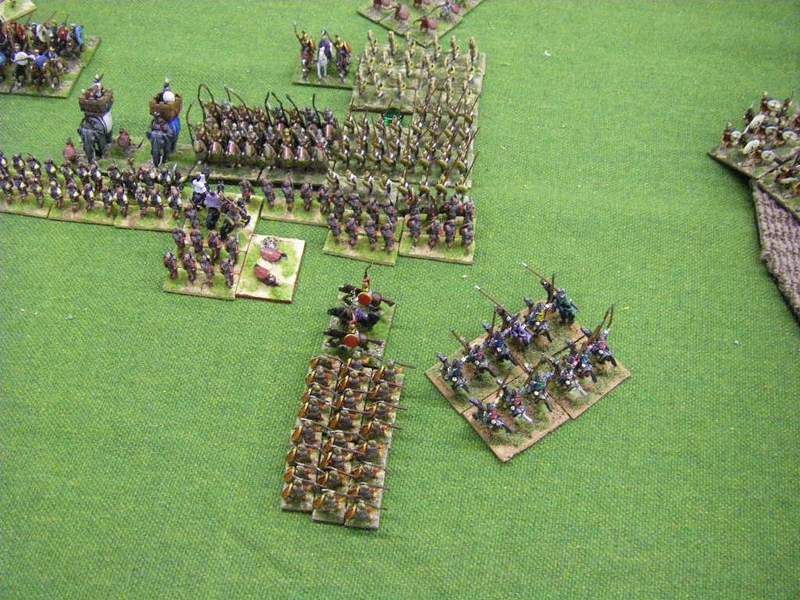 The imitation Legions and Xystophoroi swung back into action - but they probably would not get a chance to make their advantage count as the other large legion was also close to breaking anyway.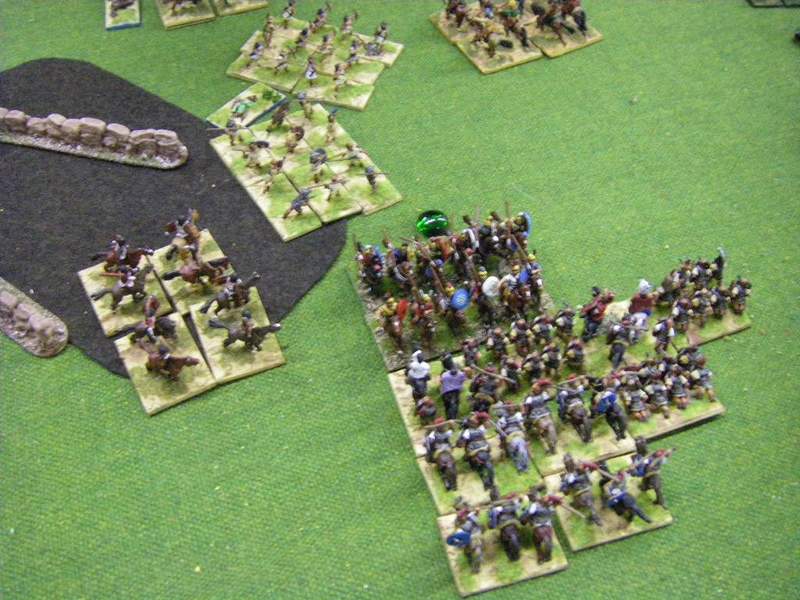 At least the small, average legion was doing the business. First it broke the Selukid elephants, and then waded in to help out the Roman cavalry who were fighting the Greek/Gallic troops.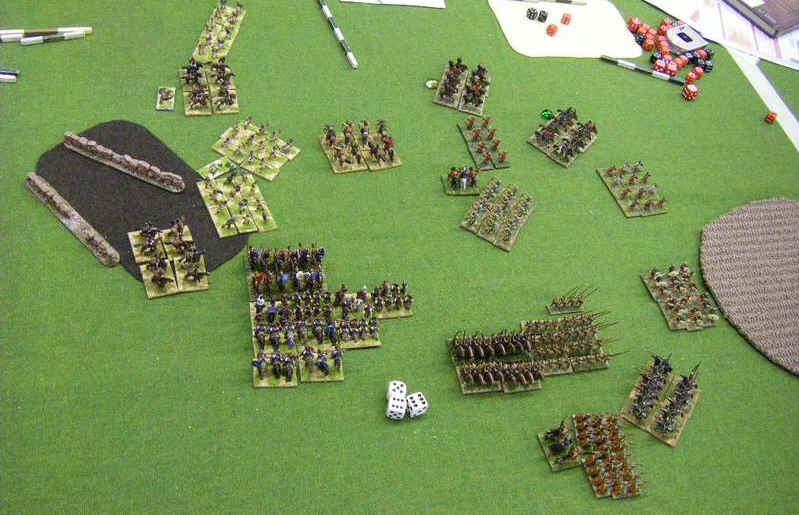 As the clock wound down, the Romans had captured the Greek baggage, fragmented some skirmishers and cavalry and broken their elephants but little else, for the loss of 2 legions and 2 units of medium foot.
A draw....
Post Match Summary
Another frustrating game, where the advantages in equipment and training of the Romans and their allies had been negated either by the opponents refusing combat, or simply by the dice in combat and the resulting cohesion tests.
My "beat up their light troops" plan had worked too well - or been too easily telegraphed, and the Greeks had just avoided the unequal battle, falling back on internal lines of communication to leave parts of the Roman army out of the game.
The "overwhelm in rough" plan had also fallen apart, due to coming up against far better troops in the form of the armoured spearmen, and against simple bad luck in the form of, well bad luck.
At the end of the day a multi-dimensional, but compact Roman army had performed adequately against two very similarly structured opponents in games 2 and 4, poorly against a Bosporan army that declined to join the Romans in playing at shoving MF into the rough terrain for no appreciable gain and instead spent the points on more stuff that could win elsewhere, and appallingly against a one (or two) dimensional army that relied on army size, being difficult to kill, and totally dominating in one or two phases of the game to achieve its results,
Hannibal's Post Match Analysis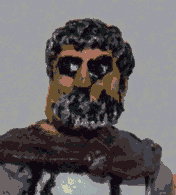 Yeah yeah yeah. But who picked the army then? You, you muppet!
Pick Romans and you will get in trouble - unless you just have a shed load of legionaries and not much else. You actually wrote that yourself in that Wiki thing - and then you ignored it. You plan was too clever, and it relied on fairly brittle troops consistently doing well in battles where they were often at evens or only marginally advantaged. And this is a game of dice, and often very few dice, so bad stuff will happen - fact.
If you keep facing one dimensional armies stuffed light troops, have a plan to beat them or draw when you pick your army. Take and IC so you have a half chance getting some terrain you want. Ditch the Dacians right now, as taking terrain does you no good anyway. Buy more blokes in red.
If it's a game of two halves, I'd have to say you lost them both here.
Lets hope you improve next time... (But lets not put money on it)
Post Competition Summary
Looking back over previous games and competitions, the success of my armies have been almost directly related to how one-dimensional they have been, with the best results (or games) coming from the Armenians and Foederate Romans (marginal in overall score, but I was close to winning some games!) and the worst from traditionally balanced outfits. Dominating in one part of the field or one set of match-ups and ignoring the rest of the battlefield appears to be much better than having a slight edge in many areas of engagement.
Medium foot have proved a liability almost every time they have appeared, as have average troops when committed to combat. Taking terrain - the job of MF - actually seems to give little or no advantage - cavalry (especially with javelins) can charge into many terrain types with impunity, and even heavier troops who drift into it with a front rank are relatively unfussed.
Terrain is especially useless if your army forces you to commit big formations to do so, as unlike DBM you can't break off off elements to conduct harassment raids into the flanks of anyone moving past it - you need to have a whole unit ready to commit to developing a flank advantage.
Going into combat with a +1 POA is clearly no real guarantee of success - but I have still seen very very few occasions in all my competition games when a frontal combat could deliver a ++/--.
This seems to mean that if you want to win with minimal risk, you need to either engineer flank attacks or maximise shooting - ideally from fast moving skirmishers who can easily escape if they need to.
Big army size would seem to be coming out as a material advantage, as units fight each other one-one-one, so having more units than the other bloke will mean you win a battle of attrition. Units who win combats don't generally have much time to regroup and exploit their victories so you can draw an enemy unit out of the game even by losing to it and it following your rout.
Having lots more units on table will also mean flank attack opportunities will open up more often and the impact of poor luck causing you to lose a unit is likely to be less traumatic as well. The other possibility would be to have more tightly themed competitions, or also to simply put more points on table to reduce the possibility for such armies to consistently get into flanking opportunities. The latter would be my personal recommendation, as FoG armies may well have similar numbers of troops to DBM armies, but in FoG almost everything fights in 2 ranks so it seems rare at 800 ap to be fighting on more than 3 or 4 feet of a 6 foot board.
Learnt anything from this? Want a new army as a result ?
Click here to check out the UK eBay Ancients listings or here to look at the US listings and see what bargains you can get.
back to Madaxeman.com Home Page !
The Ancient Army List Index

Historical background notes, external links, 15mm supplier listings, FoG army lists, and a list of books about these armies

The Rise of Rome (280 BC to 25 BC) Mid Republican Roman ; Late Republican Roman ; Gallic ; Pyrrhic ; Later Carthaginian ; Ancient Spanish ; Later Macedonian ; Later Seleucid ; Later Ptolemaic ; Attalid Pergamene ; Numidian or early Moorish ; Pontic ; Early Armenian ; Parthian ; Later Jewish ; Illyrian ; Spartacus Slave Revolt ; Bosporan ;

Storm of Arrows - Western Europe in the Later Middle Ages (1300 AD to 1500 AD) Medieval French ; 100-yrs War English (Continental) ; 100-yrs War English (Britain) ; Later Medieval Scots ( Britain) ; Later Medieval Scots (Continental) ; Later Scots Isles & Highlands ; Medieval Welsh ; Later Anglo-Irish ; Medieval Irish ; Low Countries ; Later Medieval German ; Italian Condotta ; Swiss ; Free Company ; Medieval Burgundian ; Medieval Danish ; Medieval Swedish ; Medieval Castilian ; Medieval Crown of Aragon ; Medieval Portugese ; Later Granadine ; Navarrese ; Ordonnance French ; Wars of the Roses English ; Ordonnance Burgundian ; Santa Hermandad Nueva Castilian

Immortal Fire - The Greek, Persian & Macedonian Wars (550 BC - 146 BC)
Classical Greek ; Early Achaemenid Persian ; Lydian ; Thracian ; Syracusan ; Early Carthaginian ; Skythian or Saka ; Kyrenean Greek ; Late Dynastic Egyptian ; Alexandrian Macedonian ; Later Achaemenid Persian ; Classical Indian ; Early Successor ; Early Sarmatian ; Galatian ; Hellenistic Greek ; Graeco-Bactrian ; Graeco-Indian ; Indo-Greek :

Legions Triumphant - Imperial Rome (25 BC to 493 AD) Dominate Roman ; Principate Roman ; Foederate Roman ; Later Sarmatian ; Early German ; Dacian or Carpi ; Ancient British ; Caledonian ; Early Alan ; Jewish Revolt ; Sassanid Persian ; Kushan or Indo-Skythian ; Palmyran ; Early Frankish, Alamanni, Burgundi, Limigantes, Rugian, Suevi or Turcilingi ; Western Hunnic ; Early Visigothic & Early Vandal ; Early Ostrogothic, Herul, Sciri or Taifali ; Early Anglo-Saxon, Bavarian, Frisian, Old Saxon or Thuringian ; Gepid or Early Lombard ; Early Scots Irish ; Early Pictish ; Hephthalite Hunnic ;

Swords & Scimitars - The Crusades (1096 AD to 1311 AD) Early Crusader ; Later Crusader ; Fatimid Egyptian ; Georgian ; Seljuk Turk ; Cuman ; Komnenan Byzantine ; Post Latin Conquest Byzantine ; Ilkhanid Mongol ; Mamluk Egyptian ; Cilician Armenian ; Syrian States ; Khwarazmian ; Ayyubid Egyptian ; Middle Serbian ; Middle Bulgarian ; Medieval Cypriot ; Latin Greece ; Pecheneg ;

Eternal Empire - Eastern Europe and the Rise of the Ottomans (1300 AD to 1500 AD) Early Ottoman Turkish ; Later Ottoman Turkish ; Tatar ; Later Russian ; Later Serbian Empire ; Later Bulgarian ; Later Lithuanian ; Later Polish ; Later Teutonic Knights ; Catalan Company ; Middle Hungarian ; Moldavian or Wallachian ; Albanian ; Timurid, White Sheep Turcoman or Black Sheep Turcoman ; Later Hungarian ; Hussite ;

Decline & Fall - Byzantium and Islam (493 AD to 1071 AD) Early Byzantine; Maurikian Byzantine ; Thematic Byzantine ; Nikephorian Byzantine ; Later Moorish ; Later Visigothic ; African Vandal ; Italian Ostrogothic ; Early South Slav ; Lombard ; Avar ; Arab Conquest ; Early Bulgar ; Ummayad Arab ; Abbasid Arab ; Early North African Dynasties ; Khurasanian Dynasties ; Bedouin Dynasties ; Dailami Dynasties ; Pecheneg ; Ghaznavid ; Western Turkish (includes Khazar);

Wolves From The Sea - The Hairy European Dark Ages Post Roman British ; Early Welsh ; Later Scots Irish ; Merovingian Frankish ; Later Pictish ; Early Slavic ; Middle Anglo Saxon ; Astur Leonese ; Andalusian ; Early Navarrese ; Carolingian Frankish ; Viking ; Magyar ; Great Moravian ; Early Scots ; Rus ; Norse Irish ; Early Medieval French ; Early Medieval German ; Norman ; Early Polish ; Anglo Danish ;

Swifter Than Eagles - The Biblical Book Nubian ; Early Libyan ; Later Sumerian or Akkadian ; Early Nomad Allies ; Old or Middle Kingdom Egyptian ; Hyksos ; Mitanni ; Syro-Canaanite ; New Kingdom Egyptian ; Later Minoan or Early Mycenaean ; Hittite Empire ; ; Middle or Early Neo-Assyrian ; Later Mycenaean or Trojan ; Sea Peoples ; Philistine ; Phoenician Allies ; Neo-Hittite And Aramaean ; Later Hebrew ; Mannaean Allies ; Libyan Egyptian ; Urartian ; Median ; Neo-Elamite ; Proto-Arab Allies ; Cimmerian or Early Skythian ; Neo-Assyrian Empire ; Phrygian Allies ; Kushite Egyptian ; Neo-Babylonian Empire ;

Oaf of Fealty - Early Medieval Europe Feudal Catalan and Early Crown Of Aragon ; Early Hungarian ; Taifa Andalusian ; Feudal Navarrese and Aragonese ; Feudal Castilian Leonese or Portuguese ; Fanatic Berber ; Italo-Norman ; Feudal French ; Imperial German ; Feudal German ; Communal Italian ; Papal Italian ; Early Scots Isles And Highlands ; Feudal Scots ; Early Russian ; Feudal Polish ; Anglo-Norman ; Later Welsh ; Early Lithuanian or Samogitian ; Wendish Prussian or Estonian ; Early Medieval Frisia and Other Free Cantons ; Post-Viking Scandinavian ; Early Plantagenet English ; Later Sicilian ; Early Medieval Irish ; Early Anglo-Irish ; Early Teutonic Knights ; Mongol Invasion ; Early Granadine ; Middle Plantagenet English ;

Empires of The Dragon - China, Korea and Japan Erlitou-Shang Chinese ; Early Northern Barbarian Allies ; Early Zhou Chinese ; Yayoi Japanese ; Early Horse Nomad ; Ko Choson Korean ; Warring States To Western Han Chinese ; Qiang And Di ; Three Kingdoms Korean ; Eastern Han Chinese? ; Three Kingdoms W Jin And S Dynasties Chinese ; Kofun Nara Japanese ; Northern Dynasties Chinese ; Later Hindu North Indian ; Later Hindu South Indian ; Central Asian City States ; Western Wei To Early Tang Chinese ; ; Later Horse Nomad ; Tibetan ; Nepalese Allies ; Parhae Korean ; Late Tang To Five Dynasties Chinese ; Khmer Or Champa ; Thai Allies ; Nanzhao ; Pyu Burmese Allies ; Koryo Korean ; Early Heian Japanese ; Pagan Burmese ; Liao ; Song Chinese ; Xi Xia ; Ghurid Afghan ; Jin ; Late Heian To Muromachi Japanese ; Japanese Warrior Monk Allies ; Mongol Conquest ; Moslem Indian Sultanates ; Medieval Indonesian Or Malay ; Yuan Chinese ; Medieval Burmese ; Ming Chinese ; Yi Korean

Blood and Gold - The Americas Olmec ; Teotihuacan ; West Mexican ; Zapotec or Mixtec ; Toltec ; Chinantec ; Aztec ; Tarascan ; Tlaxcalan Confederacy ; Mayan ; Mochica ; Chanca ; Chimu ; Hatun-Colla ; Canari ; Inca ; Mapuche or Araucanian ; Amazonian Forest Tribes ; Tupi ; Chichimec ; Pueblo Culture ; Mound-Builder Culture ; South-Eastern Woodland Culture ; Timucuan ; Eastern Woodland Culture ; Plains Culture ; Pacific North-West Culture


View My Stats for My FoG Pages