ADLG in Germany - Marksburg Castle, Braubach 2022
Secretly, in hidden mountain-top castles, secret underground smoke-filled beerkellers, and in alf-timbered hunting lodges marooned in the vastness of the Black Forest,so far from habitation that even the wolves have no fear of humanity or understanding of the impact of bad dice, the German wargaming community had been moving carefully, and cohesively over the past few years to begin to adopt ADLG.
With a core made up of the 15mm German WRG 6th edition scene (I mean, who knew??) and some encouragement from regular English visitors these preparations had been going on for years hidden from view, but aided by the weird coincidence that a 16mm 6th table is the right size for ADLG.
And, finally, post lockdown, almost-post-pandemic (we hope), the borders opened and a handful of invites went out.. and Lo, ADLG was happening internationally in Germany, in a castle and on the very banks of the Rhine!
In the spirit of international fraternity, and with hope of a sea of beer, a small band of one (eventually to be two) Daves and I set out on an epic road trip covering 4 and a half days of travel and gaming to join this new Germanic outpost of ADLG excitement, and to witness L'Art de la Guerre become the most popular competition ancients set in yet another European country!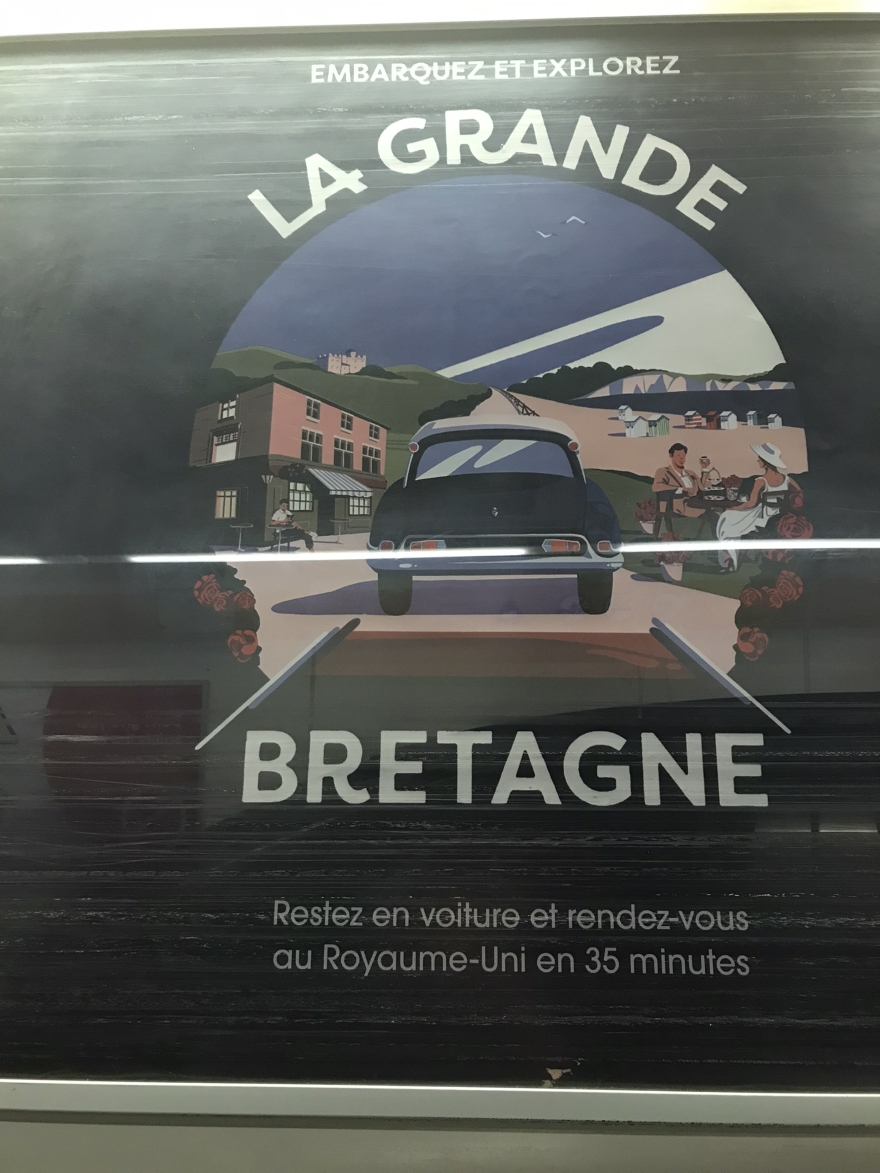 After a somewhat lenthy diversion around the back streets of Kent, courtesy of Brexit-enhanced lorry queues and BMW's rally-car-inspired navigation system we were straight onto a rather lightly populated Channel Tunnel, with barely enough time to stop at the newly-minted Duty Free shop in the terminal on the way - only to discover that even if Paul Frith & Co were still struck in traffic, The Baron himself had somehow made it into the tunnel ahead of us!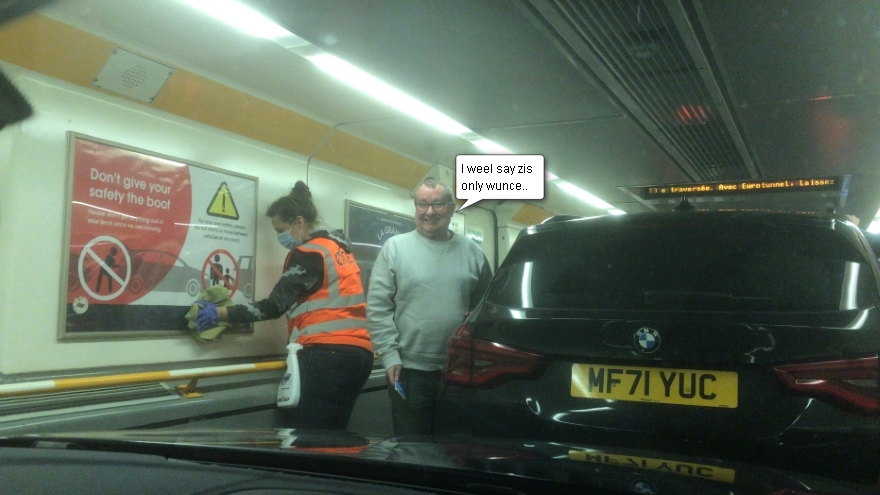 Dave of course immediately took the opportunity to make a new friend a mile underground...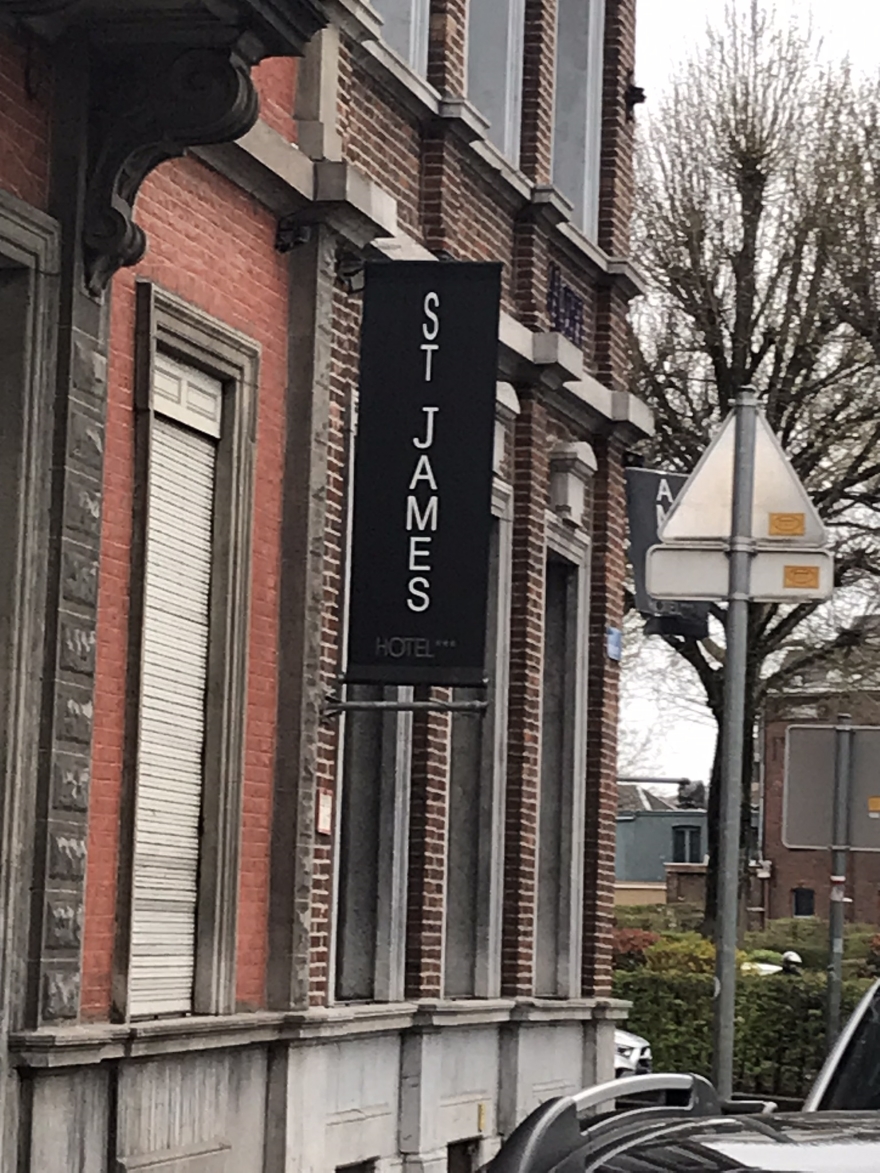 Once under the chunnel and on our way in France, the plan involved a breakout from the Bocage by nightfall and then an overnight stop at the disappointingly un-Dylan-themed St James Hotel in Mons, Belgium
Other than that the place was excellent value, simple to find being on the ring road, offering a good breakfast and benefitting from easy on-street parking too
The only thing missing was a burst of inspiration to write a tune about an old blues singer, record it with Mark Knopfler on guitar, and then fail to include it on the next Madaxeman.com album to be released in the mid 1970's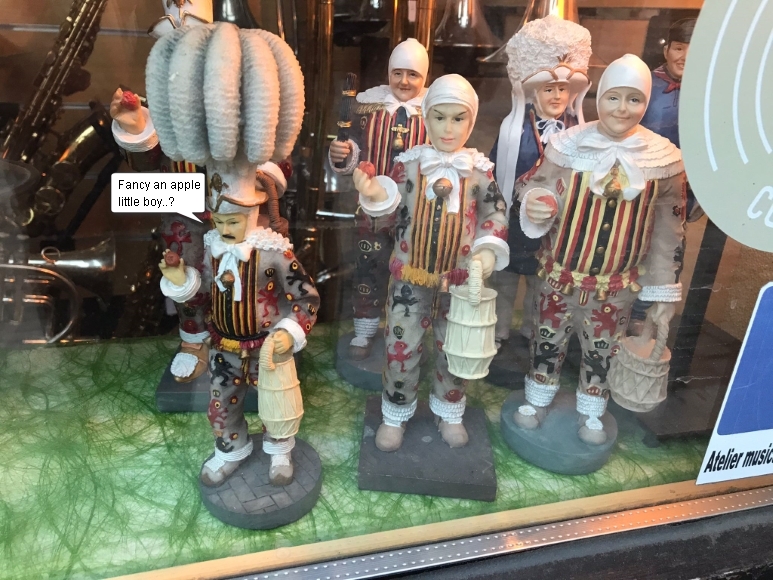 The briefest of check-in procedures then occurred, with the near-obligatory "see you downstairs in five mate" post-2-hour-drive old geezers hiatus the only thing that slowed us down on our way towards the Grand Place which seemingly exists in every Franco-Belgian town of any size whatsoever.
On the way we did walk through some Charleroi-lite urban decay, but more worryingly the window-full of weirdness that was this collection of 300mm wargame figures in a shop which we did not plan to tarry long in front of lest we be kidnapped and forced to model for their next range of psychotic clown familiy toys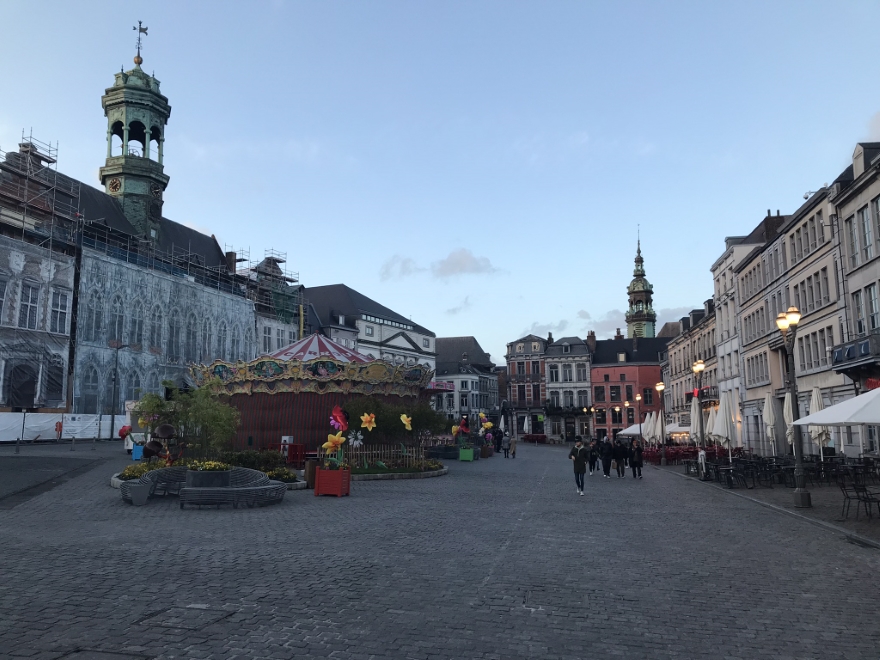 Thankfully we escaped the evil influence, and soon found ourselves in a cornucopia of potential drinking and eating establishments, a good few of which were sadly as closed as the roundabout but still, this being Belgium, there remained plenty to choose from.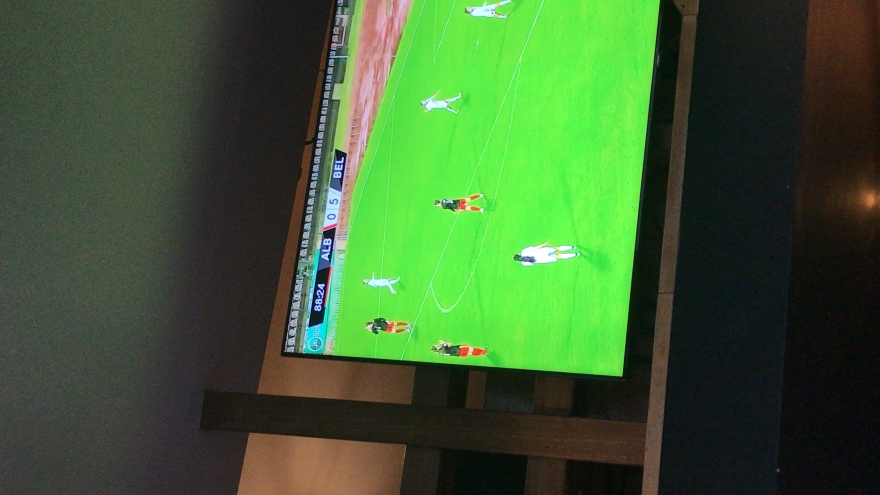 With all of this choice there needed to be a key differentiating factor to draw us in - and this glowing green playinig surface was it, as the possibility of Europa Conference Football involving two sides who would struggle to get past the group stages compelled us to enter.
The reality however was that this was the last 5 minutes of a womens football international between Belgium and Albania, live from Tirana - a game Belgium were well in command of at this stage, but hey, it helped us choose our first pub of the day so GO BELGE!!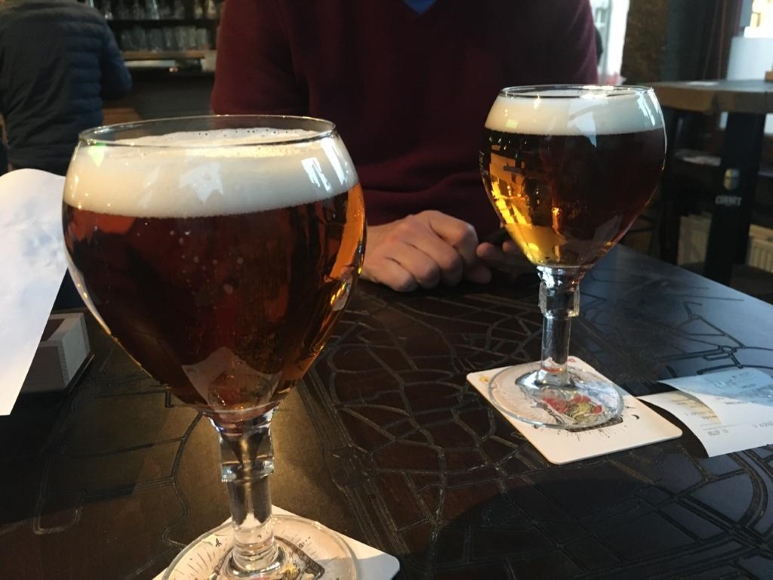 A gentle start to the weekend with two from-the-tap beers in those fancy Belgian glasses which scream in equal measure "sophistication" and "permanently brain-altering ABV content" text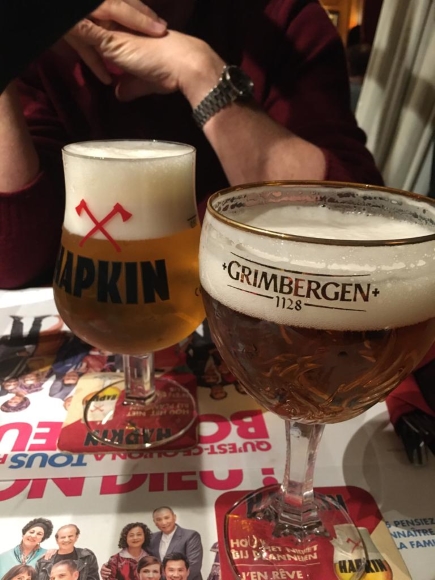 From that point the excursion continued apace, with a different bar and beers with more overt branding, including the compelling proposition of a beer with the word "Grim" in it's name - always a good sign.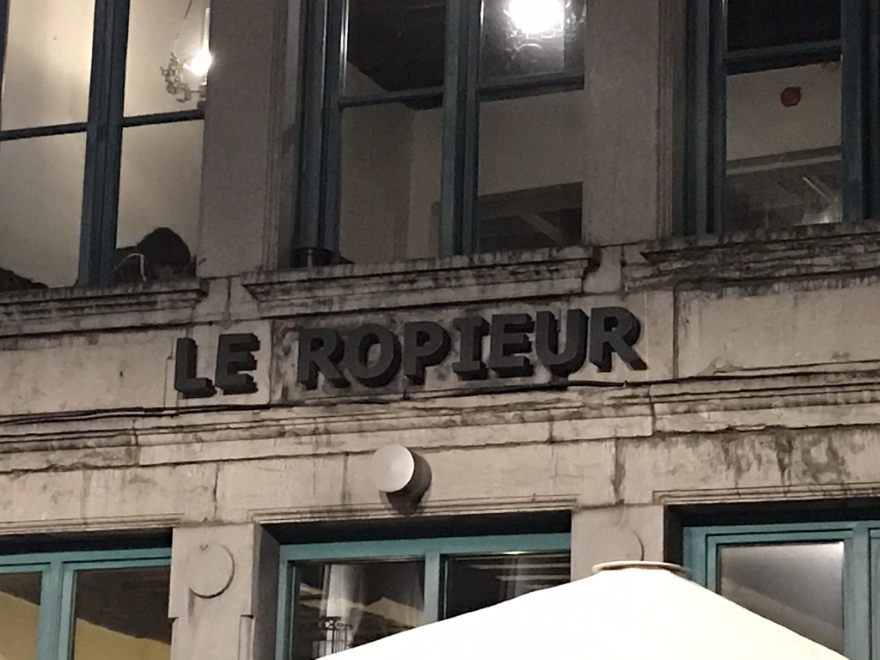 With two beers down, and admitting to ourselves that the first football-themed pub had not been the apex of style and desirability we cast our gaze around the square for something better.
Unfortunately, instead of finding a more upscale establishment to patronise, our eyes settled upon one which was quite literally Ropier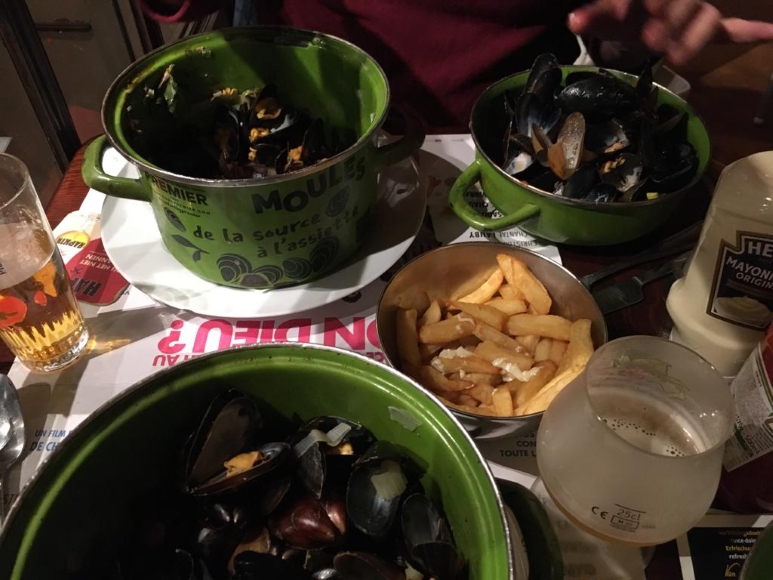 A couple of doors down an A-board sign promised Moules et Frites, so being in Belgium the choice was as good as made for us at that moment - 2 kilos of crustaceans and two of your oddest beers Inkeeper!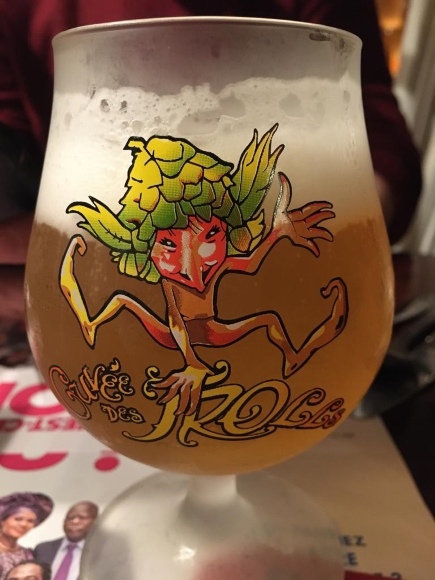 Beers that have cartoon evil goblins wearing artichokes for hats would be a warning sign many would observe with alacrity - but not Dave!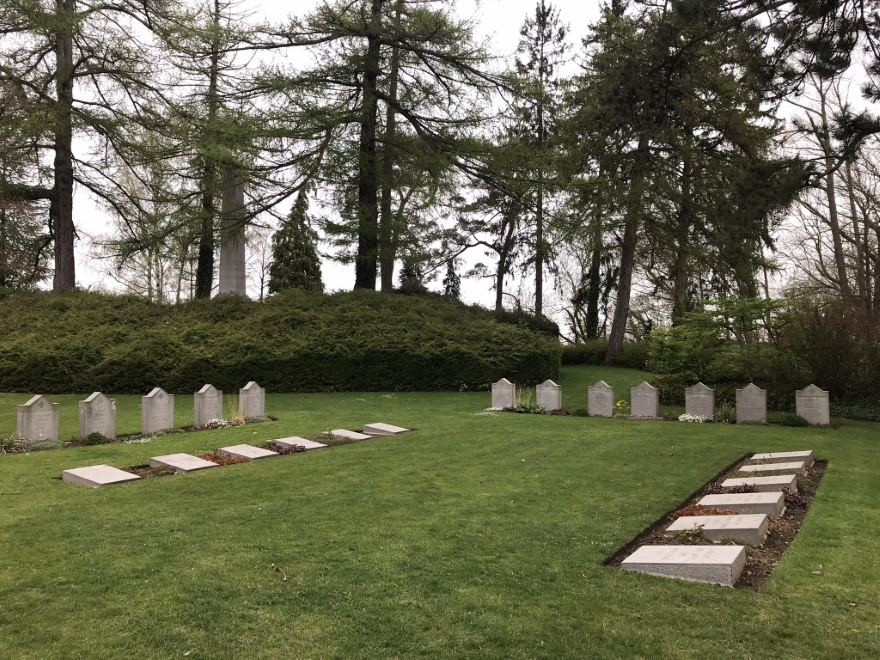 The next morning, after a surprisingly hearty breakfast we sauntered to the outskirts of Mons to succesfully find a WW1 cemetery - St Symphorien Military Cemetery which somewhat unusually is the resting place of British, Canadian and German troops, and was established in 1917 by the German forces.
Notables interred there include John Parr and George Lawrence Price, traditionally believed to be the first and last Commonwealth soldiers killed in action during the First World War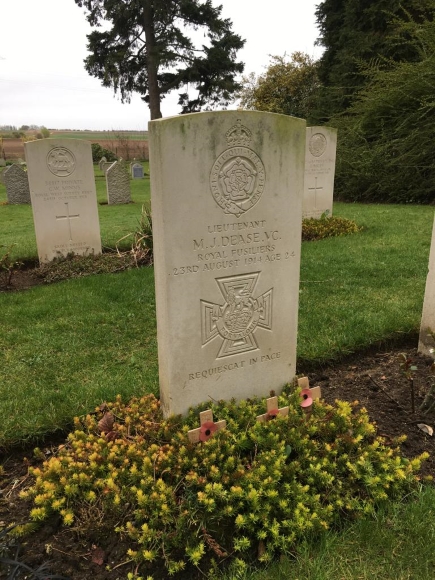 The cemetery was also the final resting place of two recipients of the VC, including this chap Maurice Dease, one of the first British officer battle casualties of the war and the first officer to posthumously receive the Victoria Cross.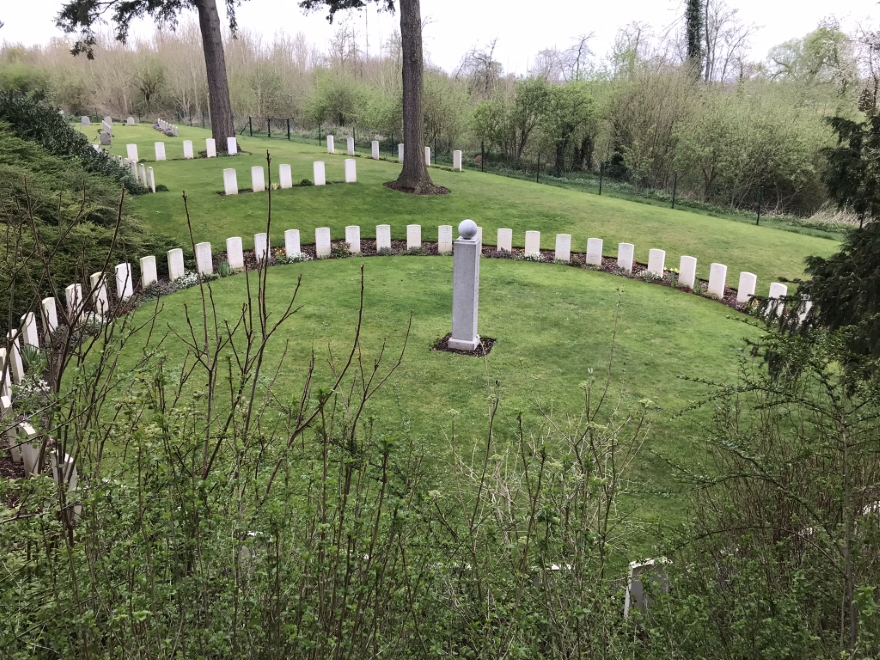 Some years after the war, control of the St Symphorien cemetery was transferred to the Imperial War Graves Commission, under whos stewardship it was converted from a woodland cemetery to the more open English garden style cemetery present at most Imperial War Graves Commission cemeteries.
Many of the trees were chopped down,and thecemetery was made to feel more open but no changes were made to the location of the graves. This combination of styles and nationalities makes this feel like a unique place to visit.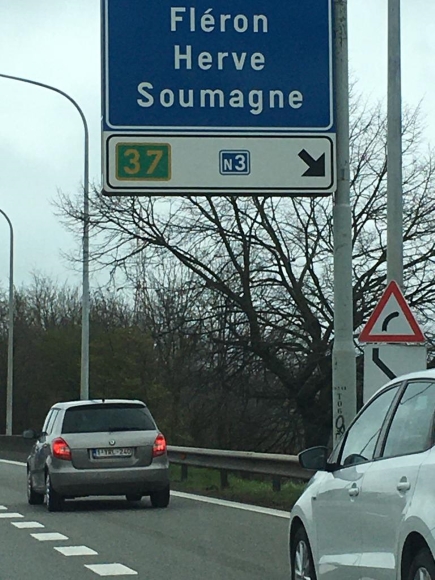 With respects paid we were then on the road again, heading towards Koblenz with the promise of a stop around lunchtime in Aachen
The Belgio-German-Luxembourgoise motorway network is a marvel to behold (OK, apart from the Belgian bits, which are markedly less well maintained than the German roads), and our route took us past a town much beloved to players of ADLG everywhere, the township of Herve renamed in honour of El Kreator after he blessed a local tournament with his munificent presence on a date lost to history but believed to be sometime in the mid 2010's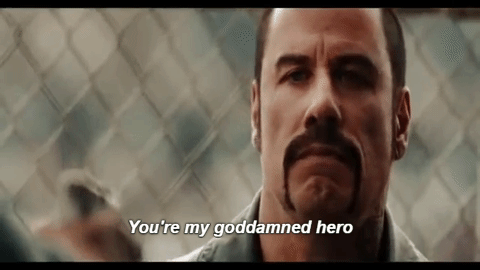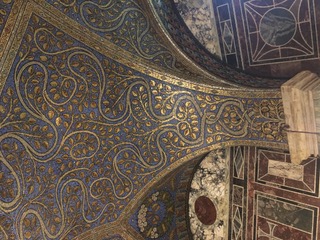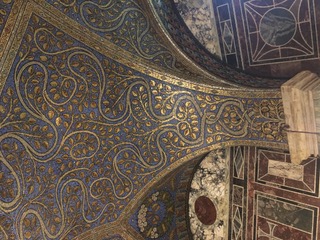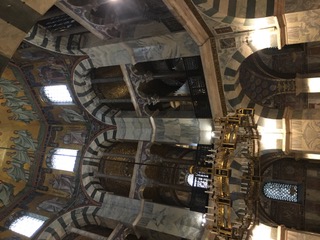 That near-religious experience dispensed with, next up was the quite literal cathedral to Carolingian Munificence, Aachen.
Having survived for almost a thousand years after the end of Charlemagnes dynasty foundered, mainly we suspected because Aachen's one way system is snarled up and it was a right bugger to find anywhere nearby to park, the Cathedral is a staggering wonder of decorative tiling all built around a unique octagonal central knave.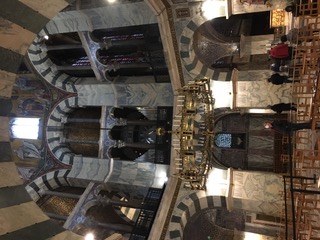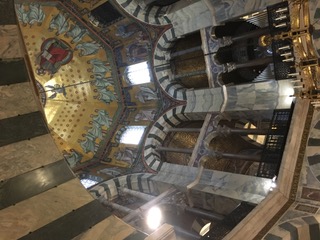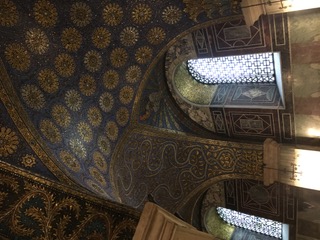 Charlemagne was buried here in 814, and between 936 to 1531 the Cathedral saw the coronation of thirty-one German kings and twelve queens - and probably overshadowed them all
The place suffered a large amount of damage in a Viking raid in 881 (they were just barbarians weren't they?) and was then restored in 983.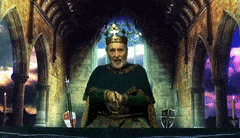 Sizzling Schnitzels! The tourism bureau of Aachen had been lobbying the Pope and whoever else would listen for years to promote the place more widely, and in 1165 Frederick Barbarossa cannonoized Charlemagne, ushring in a new golden era of religious tourism and providing a massive boost to manufacturers of dodgy knock-off religious relics in the wider metropolitain area which lasted for many year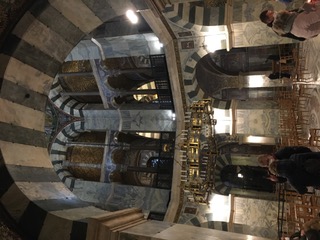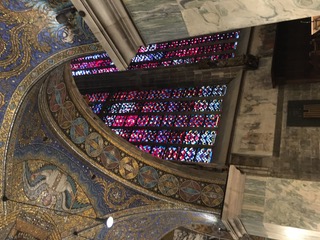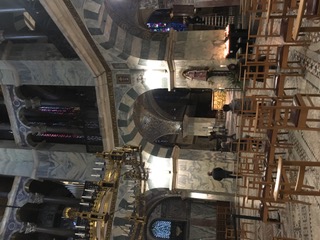 Hopefully no-one told them that those striped arches are typically found in Mosques, especially those in Southern Spain converted to churches at the end of the Reconquista!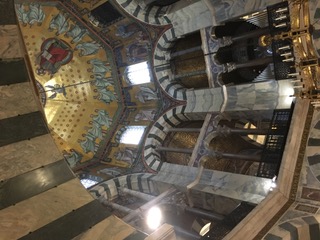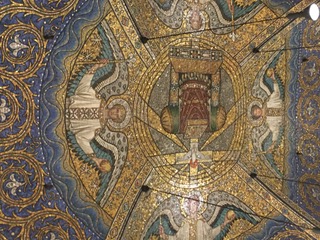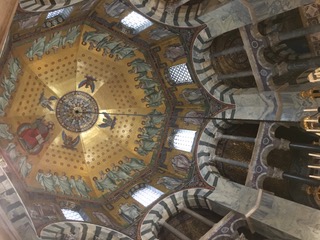 By now thoughts of anything to do with Charlemagne were almost inescapable - after all, what sort of dude could cook up a building like this in the Middle Ages?
No matter how brown and generally ink-washed the rest of Europe was, this chap had style and cash, and that may also mean his troops could be painted in a more uniform style with cleaner colours.
Or possibly he was just a bit of a dodgy dude running numbers between cars, and running girls between bars whilst working on that whole Holy Roman Emperor schtick in his downtime?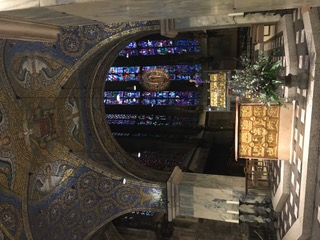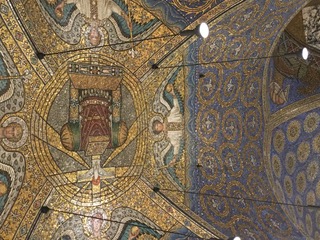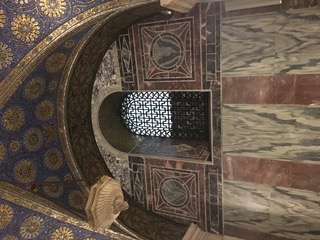 Anyways, the cathedral was pretty trashed in WW2, and afterwards someone did a great job re-doing a whole new set of stained glass windows that overlook Charlemagne's actual tomb (probably)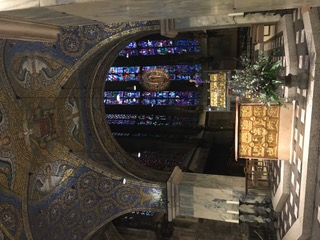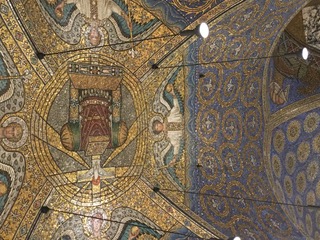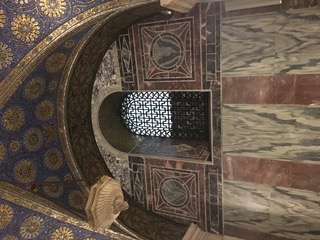 In case you aren't bored already, here's some more mosaical astonishment. Pick the uniform colours out of that if you may!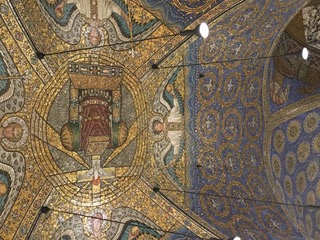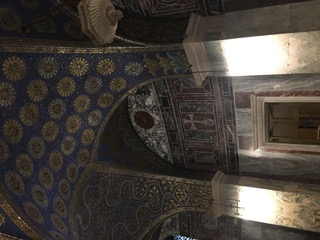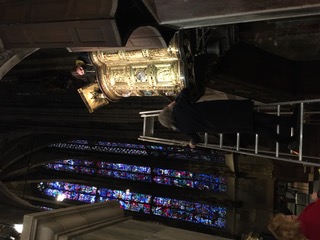 Someone must have had a badly cricked neck by the time they had finished this little lot
The glue used in the tiling would also presumably be worthy of a place on any wargamers table, as if the pieces fell down out of your hand then it would be a lot harder to get them than finding small plastic kit components in a shagpile carpet
After a dull and small-castle-free gift shop visit myself and one Dave From The Podcast turned to the Museum of Aachen, with more Carolingian nonsense on show, an obligatory audio gude and a seemingly also obligatory story about a Great Fire and some Napoleon visitations, and then outside into the main square thing to get another view of the Cathedral from outside.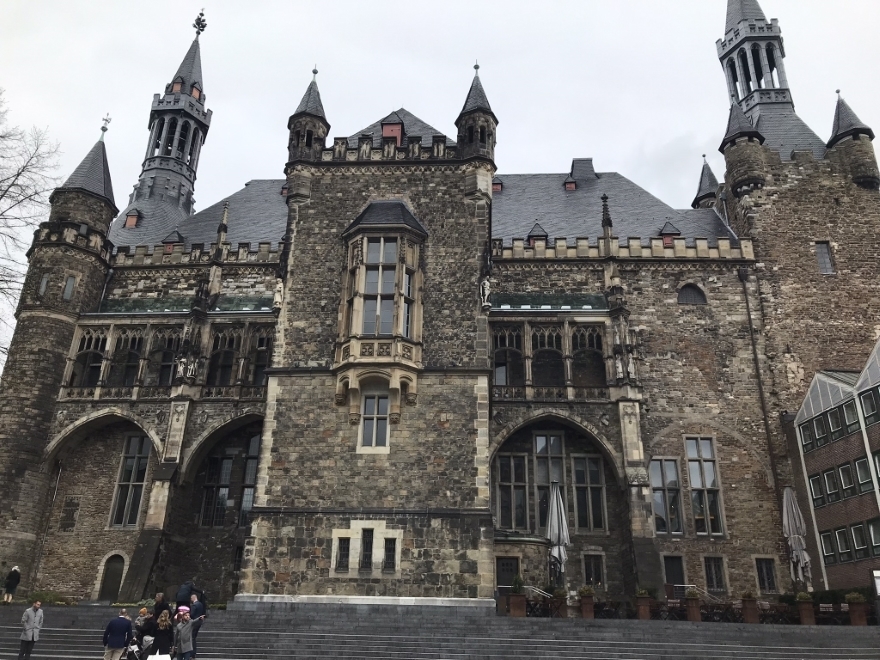 Facing this visa as the Rathaus - which may have been interesting in itself but for us epicuran tourists was principally of interest as it would indeed have a Ratskeller underneath it into which we would pour ourselves for some top quality stodgy Germanic fare
As kellers go, it was a pretty posh one..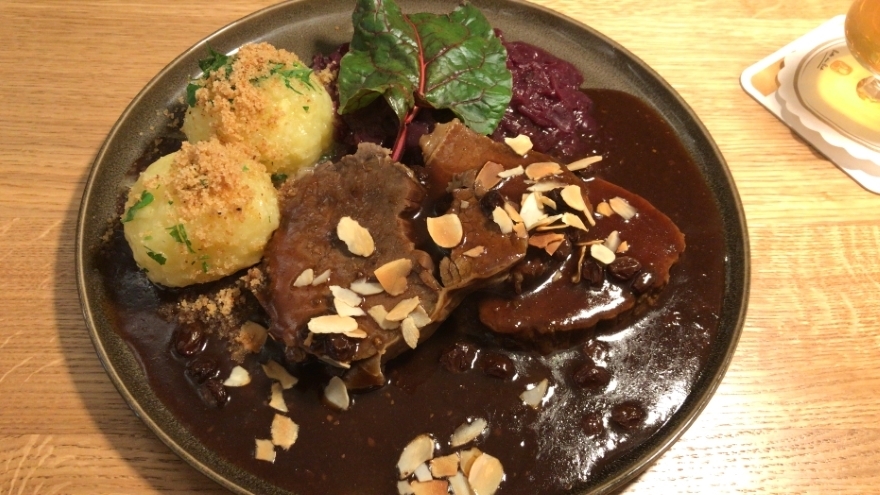 The food offering was supplementary to the beer, and included this hearty and warming "Indistinct Origin Meat Stewed To the Point of Near Dissolution" (with added meat sauce and some non-absorbent dumpling as a healthy side dish.
And so here we sat until the vagaries of intercontinental train scheduling spewed forth a Dave Allen into Aachen station, as the club Whatsapp group had appraised him of our wherabouts whilst he was already en-route to Marksburg and about to pass through Aachen by rail.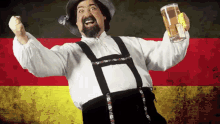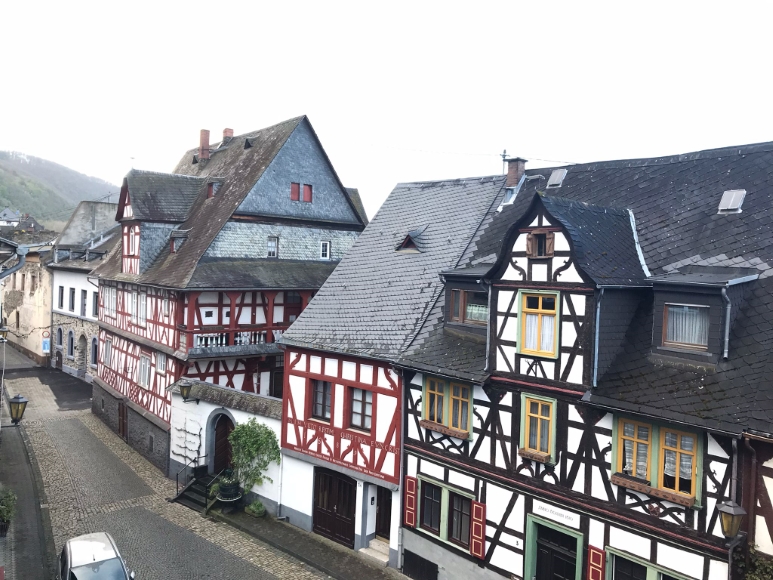 And then, after a bit of sharp practice Lodon style driving in a rainy Koblenz in which we managed to cut up the only other English driver within 200 kms, we arrived in the picture-postcard Heidi-schoss-style town of Braubach!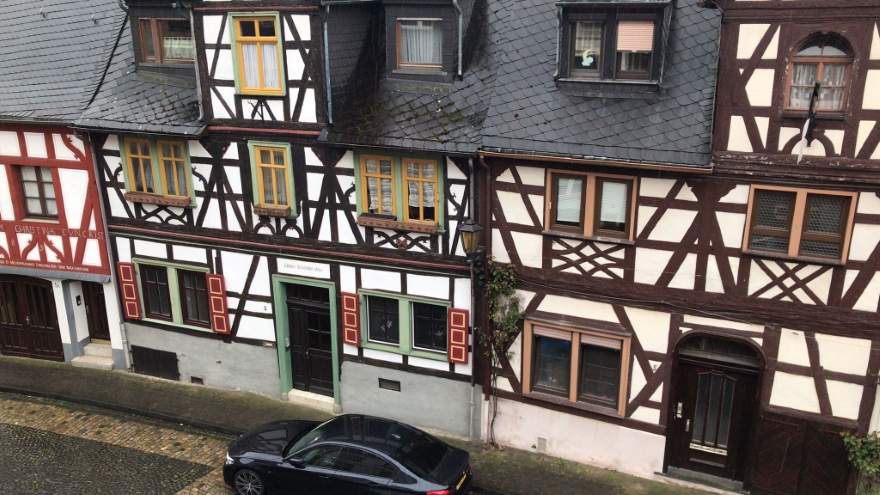 The town was in fact more German than if a German model railway enthusiast had gone on a last-minute shopping spree before 4Ground closed down, and accidentally ordered all of their 1:1 scale kits by mistake, and then assembled them all in his back garden
Germanness oozed from every pore and half-timbered beam of the small and somewhat damp town square as we magically arrived at the same time as the rest of the Brits, allowing us to seamlessly slide into the almost-only B&B in the entire town and then slither next door into the only open restaurant and bar.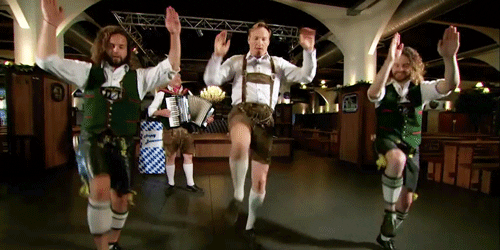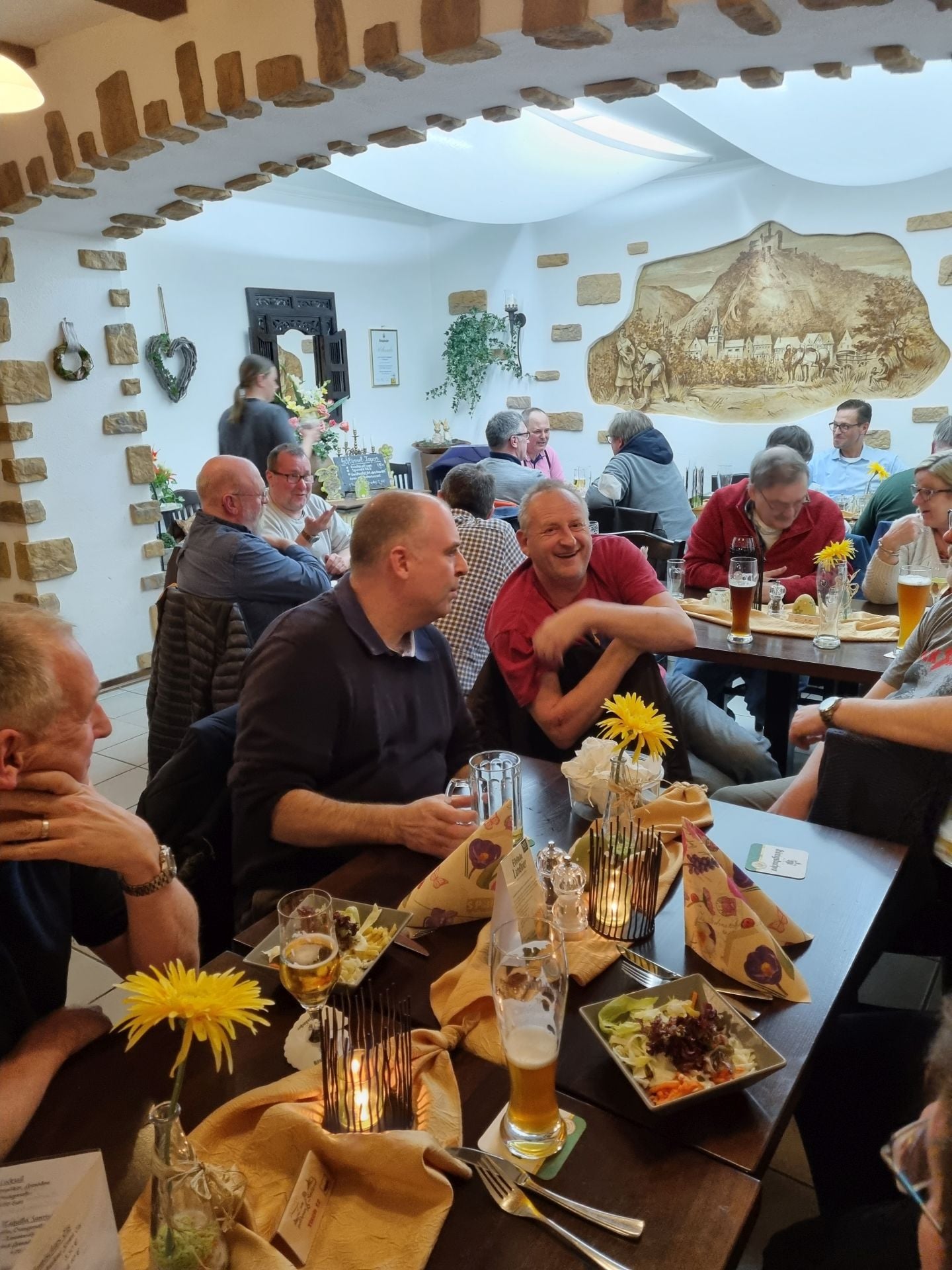 Moments later the bar was a happy melee of beer-fuelled teutonic gaming celebrities, mixing seamlessly with men called Dave in a happy international gathering of dice-based class and sophistication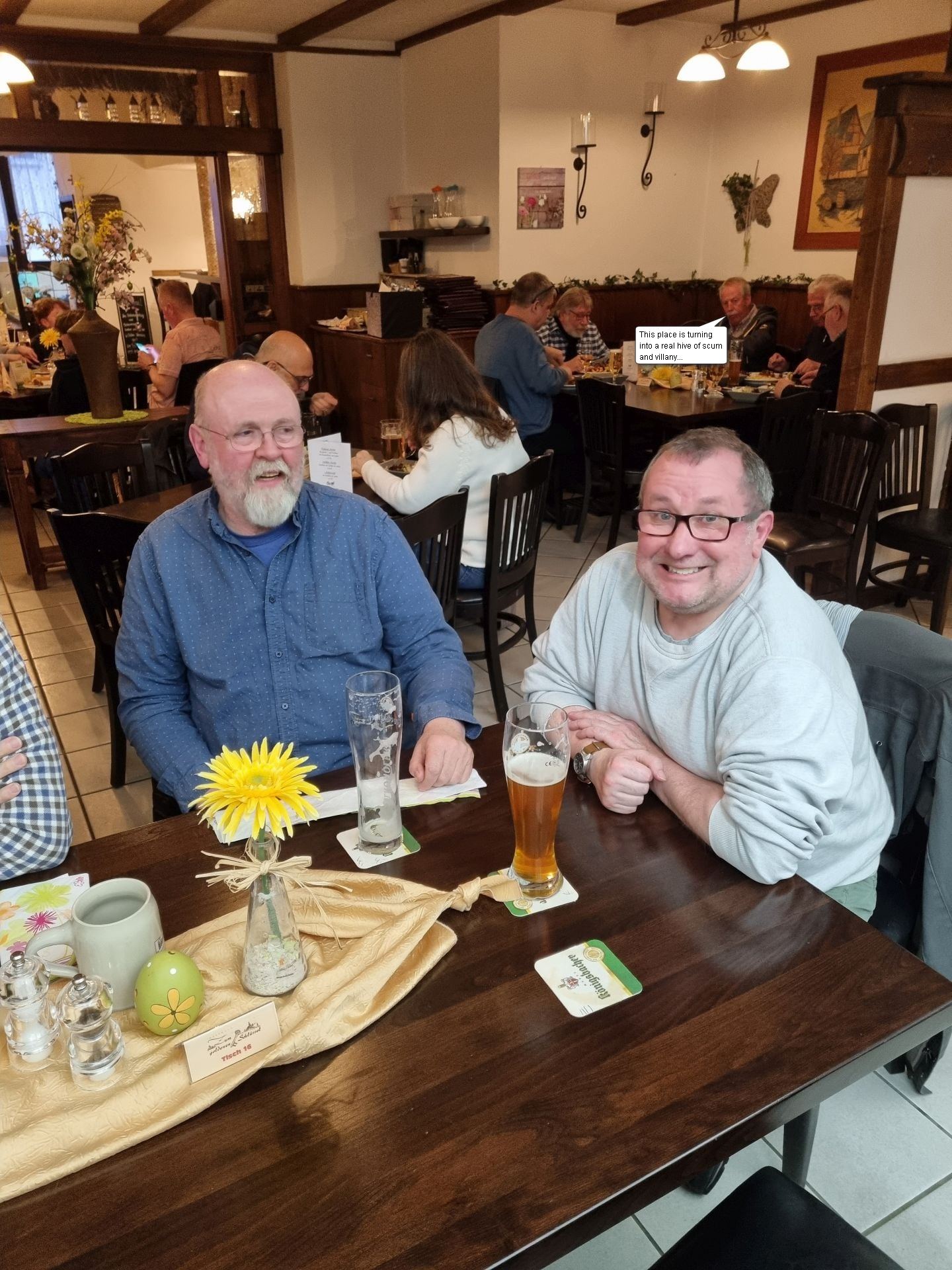 As The Daves mixed with Der Daves, comparisons of who had the most hair turned to who had drunk the most weissbeer as in the background bemused logal burghers attempted to undertake a Friday night family meal surrounded by militaristic geekery of the highest order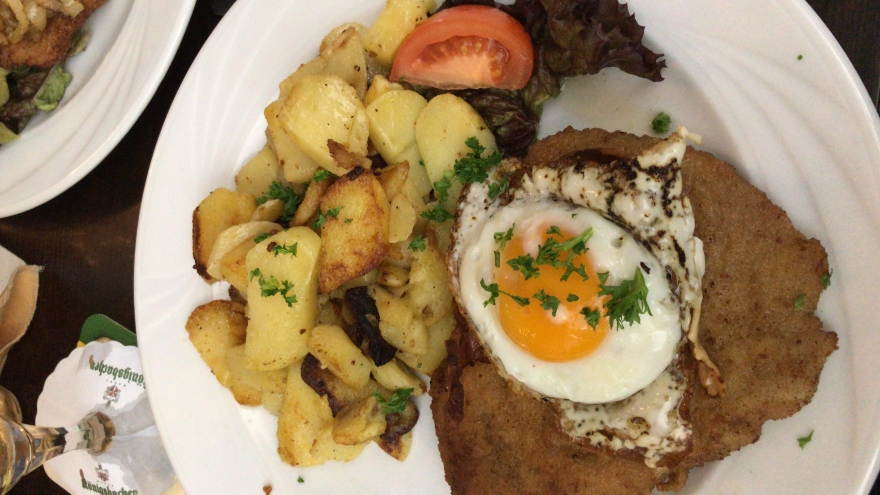 The food was everything than an anglo-German wargames meal could aspire to be - Schnitzel topped with the majority of a Full English Breakfast!
Yes this heart-stopping, artery-busting beauty had all of the major food groups - batter, veal, fried potatoes and a fried egg, tastefully garnished with just enough salad to allow me to tell my wife that I had been eating healthily that weekend
The image was so fantastic that it appeared immediately on the @Madaxeman Twitter and Facebook accounts... only to then be immediately re-Tweeted by the @Schnitzelbot account, dedicated to promoting all things Schnitzel in an automated fashion for which one suspects even Elon Musk was not fully aware of it's commercial potential when he bought the company

The full round of bizzarre international wargaming related social media for the evening was wrapped up nicely with a rather unambitious Facebook auto-translate effort, in which Finland's leading global wargaming personality's efforts at compound German word construction fell somewhat flat in translation.
The night was done, and tomorrow a Castle beckoned!
Click here for the report of the first actual game in this competition, or read on for the post trip summary from Zenobia
Comments from the Palmyran Commander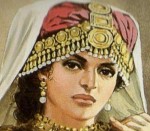 I am delighted that you were so appreciative of the short-lived Carolingian empire, and the robust choice offered by Belgiums cusine!
Paying tribute to the fallen is also a welcome detour in an otherwise epic road movie the like of which will not be seen until Thelma and Louise grace the silver screen in the far future
This town, seemingly the epitome of Germanity, looks like it will be a great venue for you over the coming days, and I look forward to commanding your army of never-deplyed nonsense over the 5 games to be played this weekend
Click here for the report of the first game in this competition
You may also like....
Game 1 Palmyran vs Bedouin Dynasties
Game 3 Palmyran vs Thematic Byzantine
Game 4 Palmyran vs Han Chinese
Game 5 Palmyran vs Nikephorian Byzantine
Driving home via Bastogne and Namur
View My Stats for My Match Reports Pages