Classical & Early Dark Ages at Marksburg Castle, Braubach 2022
Palmyran vs Han Chinese Chinese
After a hearty meal of carbs, more carbs, some vegetables which included carbs, and a dessert the motley crew of international travelllers retired to the kitchen of the guesthouse, the only place in Marksburg where you could get a beer after 8pm on a Saturday night in April apparently.
The next morning arose sort of damp and cheery a bit like the day before, and after a hair-raising drive to the half-way summit of the mountain on which the castle was perched we all trudged up the final incline for the final days gaming.
The morning saw Zenobia taking on Germany's in-house Spaniard, Pablo Suarez with a Han Chinese Chinese army
Han Chinese is pretty handy as armies go - I'd struggled against some of the more tooled up versions with plenty of Elite Supported foot in some previous events, and the variety of options open to the owner through a very flexible list structure meant that it would be a bit of guesswork as what terrain to take.
Either way it would be an army that depended on its infantry more than the couple of decent chariots in the list, so on balance open space may be the Palmyrans friend
The lists for the Palmyran and Han Chinese Chinese from this game, as well as all the other lists from the games at Braubach can be seen here in the L'Art de la Guerre Wiki.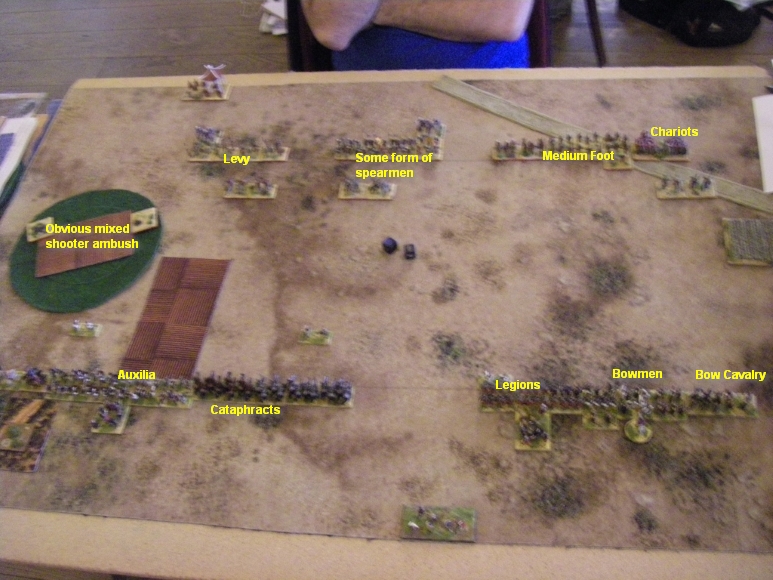 And, Lo Behold - the terrain is fairly open but with some considerable clutter on the Palmyran left including a large Chinese-placed hill festooned with ambush markers which would no doubt be hiding some mixed shooty infantry which the Auxilia would need to decide if they dared assault.
German Translation: "Orientalischerbergsteigermesserhinterbaumen"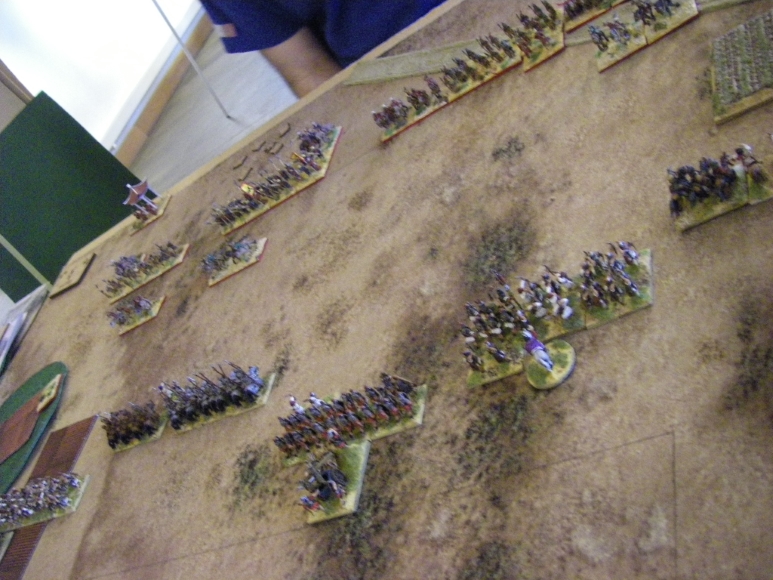 The rest of the Chinese army appeared to hold few fears for the eager Palmyrans, who advanced across the plain in a ragged echelon driving their men forward as fast as they could manage
The Han Chinese era had clearly been one of considerable population growth in China, as their army stretched beyond the scope of the widescreen camera angle in all directions as the men of Zenobia advanced towards it at pace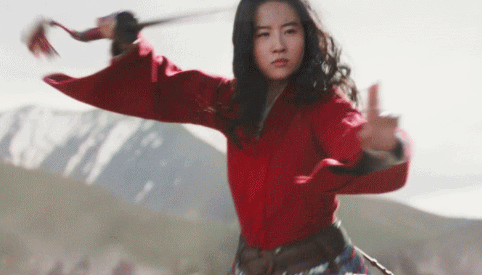 Cut me a slice of Black Forest Gateaux, and don't hold the cherries! There was little of subtlety going on here, although the decision for the Auxilia as whether to assault the hill was still yet to come with the ambush unrevealed
Cheeky Oompha band Moment!! Not only did the ambush contain the obligatory mixed shooters, a second marker also hosted a pair of mounted chancers, hoping to sneak pas the end of the Palmyran line and go baggage-looting!
Fortunately Zenobia's rather obvious list construction had its own micro-flanking force of cavalry and light horse archers to oppose the enemy thrust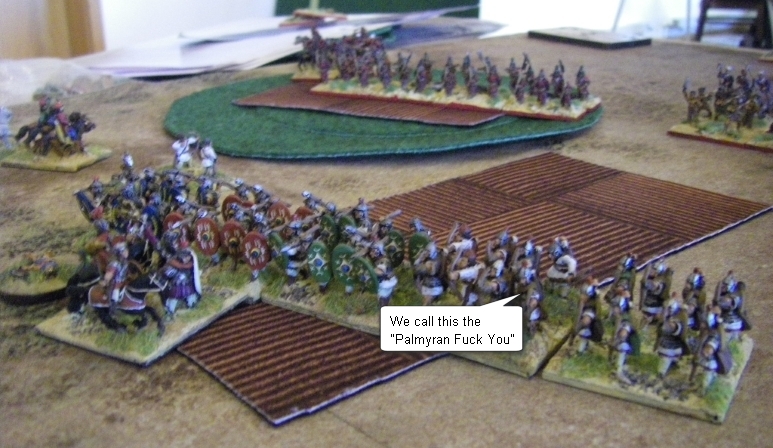 Die Nationalmannschaft! The Auxilia quickly seized up their prospective opposition and decided that the odds were not good. As their cavalry component drove back the enemy outflankers with a robust charge, the auxilia turned tail and fell back
They were badly outnumbered on this part of the field, but that must surely mean that the Legions and Cataphracts would have similiar advantages elsewhere and could push on as the Auxilia refused combat.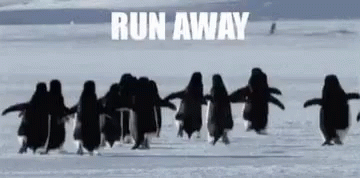 Yes, believe it or not, after 3 games, this was the long-awaited emergence of something which could reasonably be described as tactics within the army of Zenobia!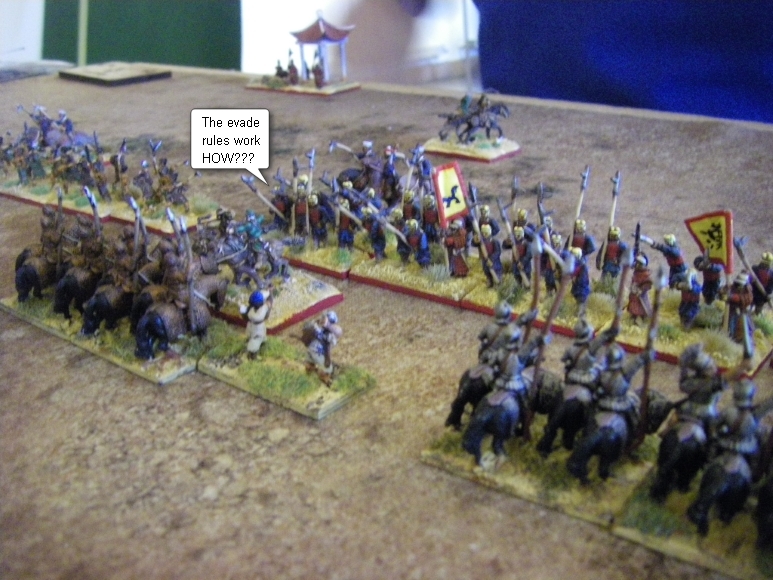 The clattering cataphracts had pressed hard on the Chinese skirmish screen, moving fast enough to trap an unwary unit of skirmishing horsemen in front of their own infantry.
L'Art de la Guerre hint - Light cavalry can interpenetrate other cavalry in ADLG, allowing them to act as a skirmish screen and then fall back / evade through their own battle-line-grade horsemen. Evading troops can also usually slide or wheel to avoid most other obstacles, such as troops they can't interpenetrate.
The exception is where something evading troops can't go through or slide around is within 1 base width of the evaders starting position - then the evade isn't possible.
Getting LH trapped in front of your own infantry in this way is often rather painful, as the LH tend to get blatted, causing hits on the infantry behind them
Max Ernst and Berthold Brecht Go Jogging in Nord Rhein Westphalia!
With gaps in the line to fill, the historically appropriate use of skirmishers to nip in an harass the enemy occurred as the Cataphracts worked to make ultra-sure of destroying the enemy horsemen and causing them to rout to devastating effect through a supposedly solid line of their own infantrymen close behind
German Translation: "Zzerbrochenekegeltanzerreparieren"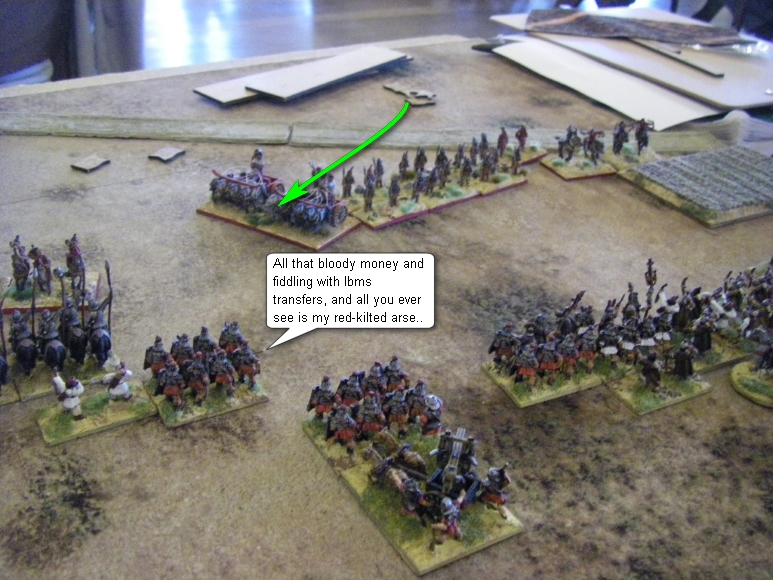 Pour me a gluewine and roll me over in a Christmas Market! The Chinese had been shuffling their left wing troops faster than a Las Vegas card shark
Troops hastily rearranged their positions all the while seeking to make space for the mighty War Chariots to aim themselves at a target worthy of their status and prowess
Luckily for the legions, this appeared not to be them - but not so handy if you were a Cataphract rider in the Chariots' crosshairs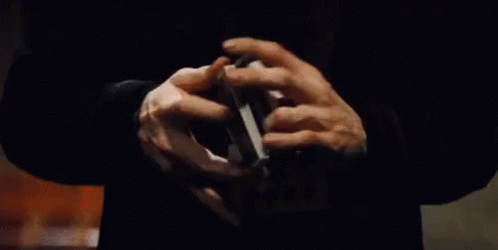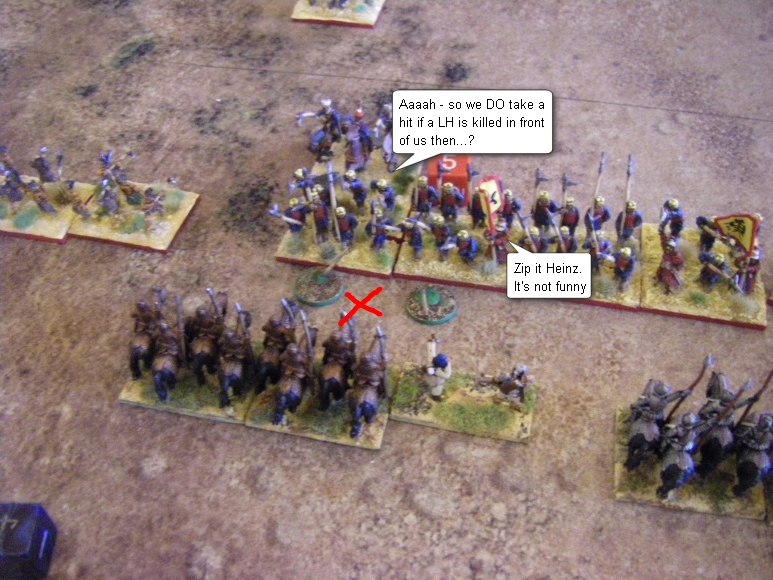 Sizzling Schnitzels! The Chinese light horse fulfilled their manifest destiny and also made a mental note never to get trapped in front of troops they could not interpenetrate ever again, leaving the spearmen reeling behind them as they suddenly realised that they were now more next victims than nemesis for the Palmyran Horse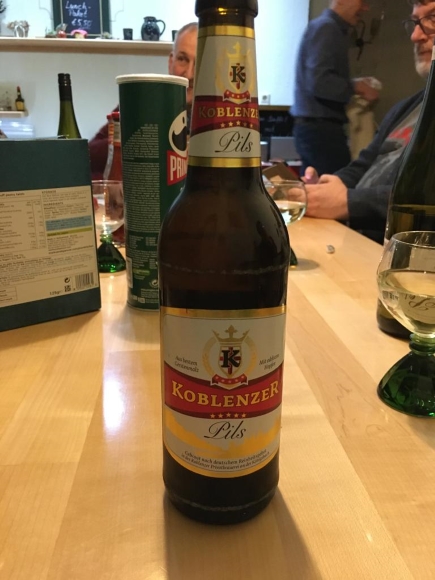 Here's a picture of a beer, for no real reason other than pictures of beer are good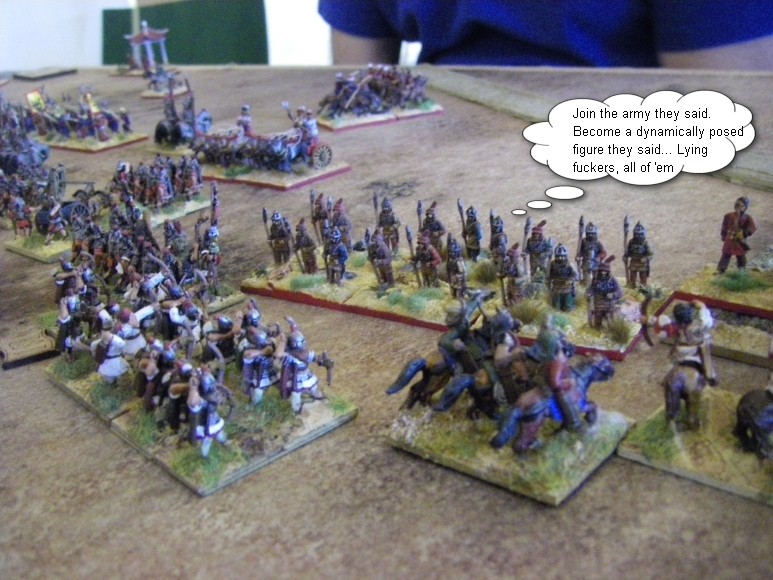 The Chinese left, denuded of Chariots, suddenly appeared somewhat thin in the face of a flood of almost-Roman infantry and their accompanying cavalry component.
Asiatic skills had the edge one on one against the melange of Romanness that faced them, but width also has a quality all of it's own (ooh-er missus!)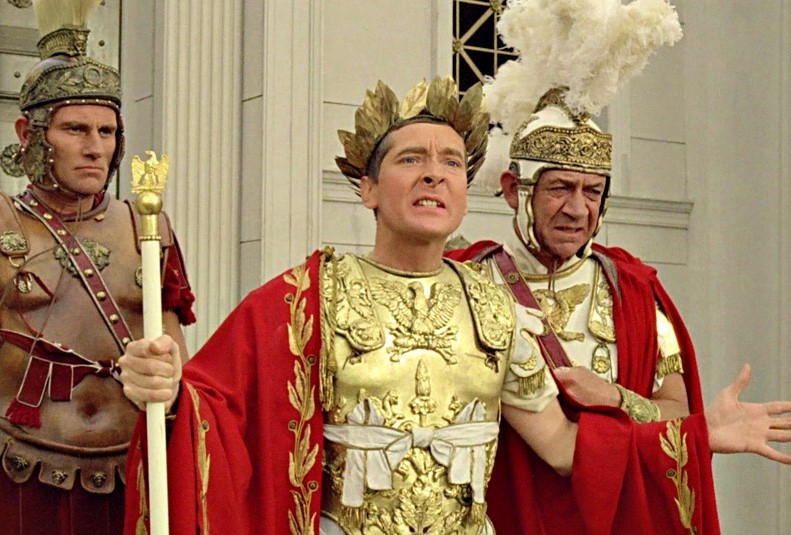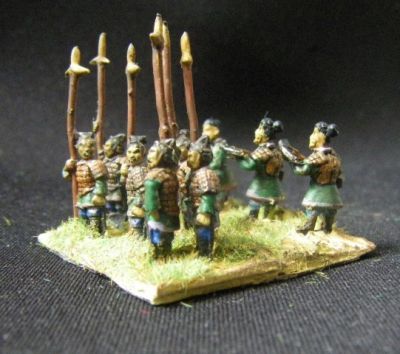 The Chinese mixed shooters had decided to drift down the hill in order to get themselves into range of the over-cautious Auxilia, with their flanks secured by the presence of a handful of blocks of (probably not all that) impressed peasantry.
As post industrial techo started to ring out across the Rhine in lieu of church bells on this fine Sunday afternoon, Byzantine archery shots started to hit their mark but at least now the Auxilia had a target to charge home against - provided the shooting didn't worsen markedly
German Translation: "Technomusikbogenschiessenparty"
In the centre things were starting to get bitty, as the Chinese worked furiously to get their two chariots into play while drawing back the rest of the decidedly not as good as the Cataphracts cavalry who were filling other gaps in the line.
The Legionaries broke into maniples and centuries to spread themselves more thinly across a wider front as their Cataphract colleagues chased off enemy skirmishing horsemen into the table-edge-adjacent distance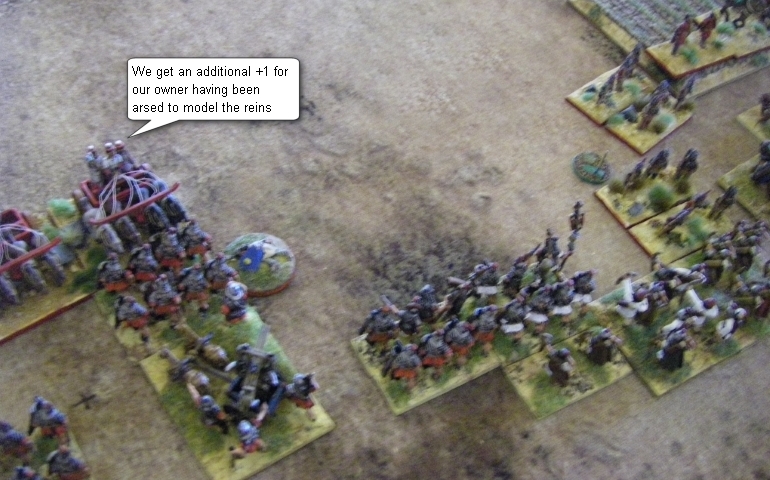 The Roman infantry had by now swept away most of the Chinese chaff on their right flank, but that was not the only task Zenobia had in mind for them that day.
Neuschwanstein! The Chariots charge had to be blunted, and the lone supported legion were the guys to do it.
Deutsche Bahnhof! As the Romans polished off the enemy infantry on the Palmyran right, Chinese skirmishing flank cavalry suddenly found themselves the sole force for the Orient in this part of the table. The prospect of defending in a piece of terrain was not by any means ideal, but with greater numbers of units on their side they at least had the possible excitement of squirting a block of light horse archers past the Roman line in an obvious second attempt at a baggage run
Steckerlfisch mit Brod! The Romans loved their baggage however, replete as it was with Italian staples such as pasta, freshly ground coffee, Vespa scooters and cashmere sweaters designed to be worn over the shoulder, so they sent in a request to the Palmyran archery corps to sort the irritating upstart horse archers out double-quicktime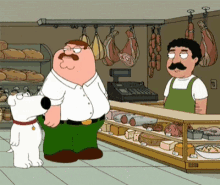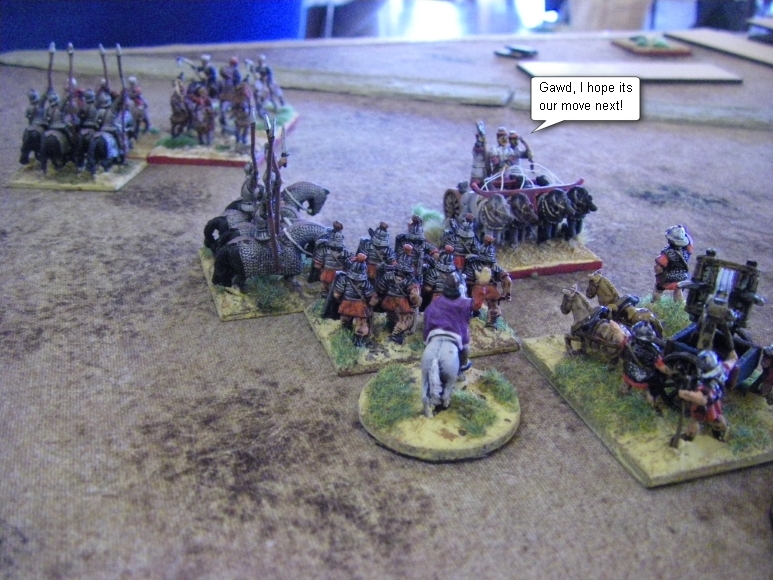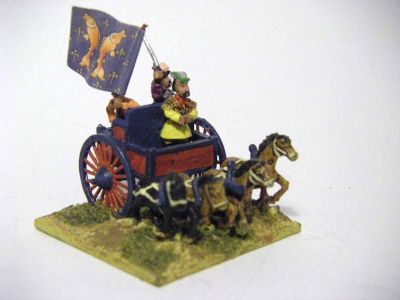 The plan to blunt the chariots attack had been a partial success, as it had cost the lives of some brave Legionaires but bought time for Palmyran cataphract horsemen to slam into the flank of the unengaged chariot unit and remove it from play.
Things now looked about as tricky for the wheeled wagons of war as they would be for a lederhosen-wearer requiring an urgent bathroom break
German Translation: "Lederhosenknopfcurrykatastrophennotfall"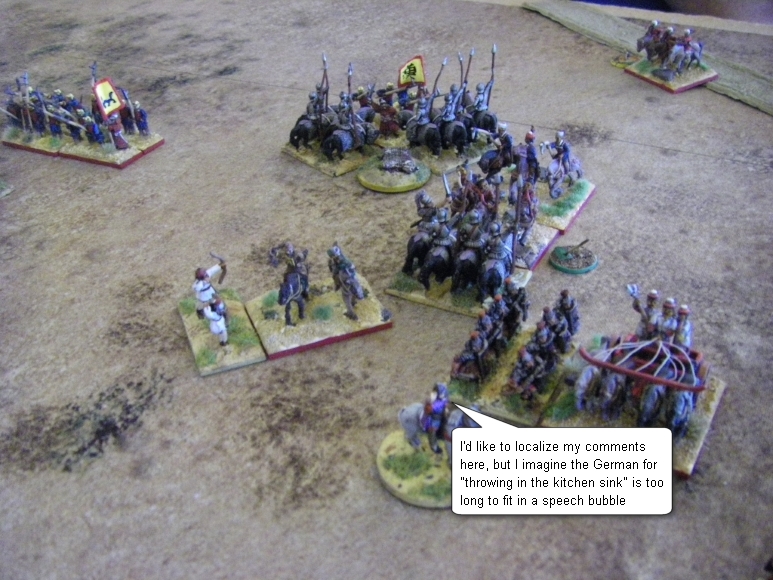 Kraftwerk! With more space and time to play with than a newly-minted version of Dr Who contemplating a Christmas Special, the centre of Zenobia's army was now starting to trap and despatch the Chinese opposing them
With the table edge beckoning invitingly the Han Chinese troopers had decided to make a stand, and the entire middle of the table descended into a swirling melange of melee and desert dustups
Everyone was throwing everything into combat with anyone they could reach - a cascade of defeat or success beckoned for whoever could engineer the first handful of spare units to tip the balance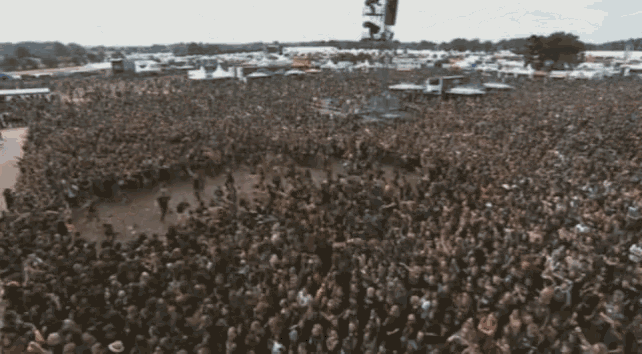 Unifying China in 3 Minutes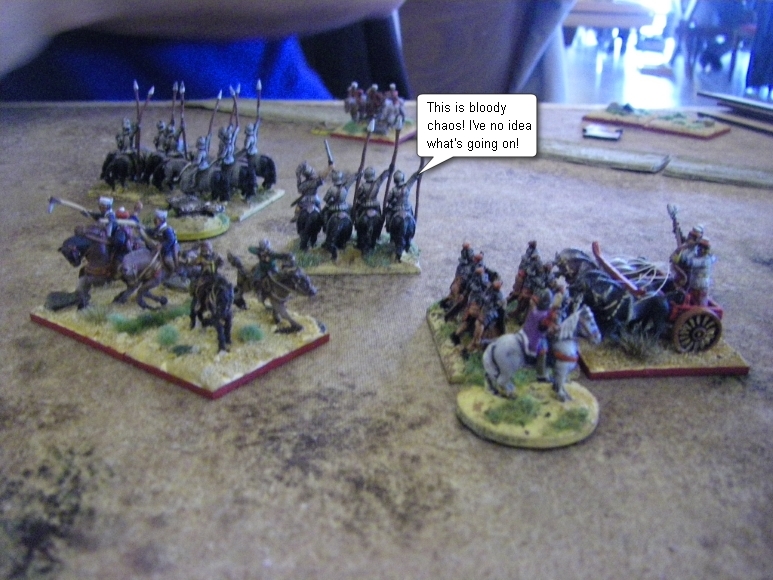 Well, the outcome was - of course - a mixed bag so well mixed that Woolworths were even now contemplating re-opening a store in downtown Palmyra City just to offer a selection of pick and mix simply to meet the demand.
Some had won, some had lost - but the much-hoped for (on this side of the table at least) Palmyran breakthrough had notably failed to make any sort of appearance, and so the game continued to teeter in the balance with no side having a clear route to victory.
Vorsprung durch Technik as they say Rodney..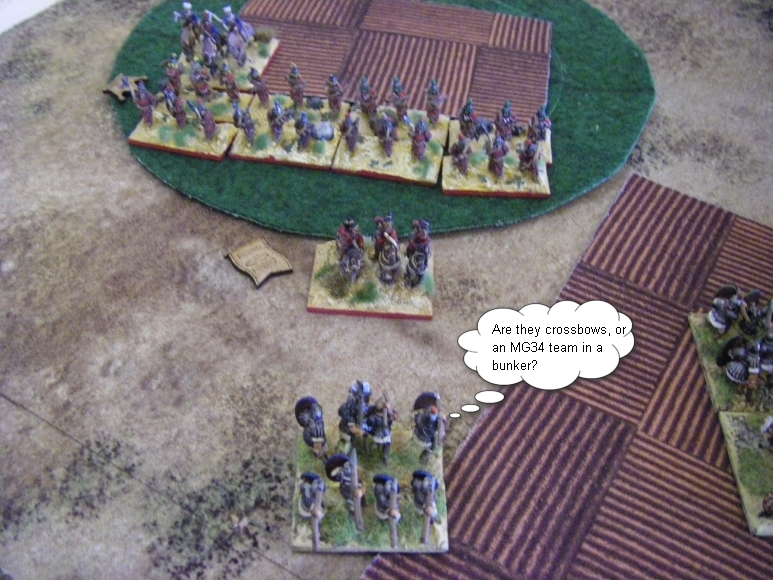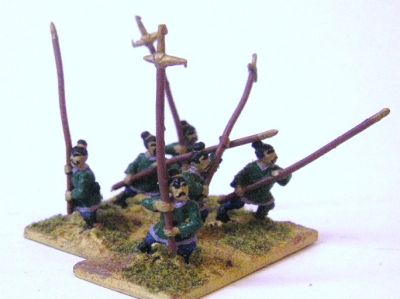 It would appear from this photo that the Auxilia had decided that charging uphill was a mugs game at this stage in the battle, and most of them had inched off to the right leaving only one poor sap to suck up the slings, arrows and most numerically superior, crossbow bolts of outrageous fortune.
It does also seem rather unlikely that I managed to pull this feat off with no shooting casualties, so I suspect a couple of devastating rounds of crossbow fire and a lack of rallying meant the Auxilia decided that their services were better used fighting levy than being pincushions
German Translation: "Scheiternfotogedachtnisphantasielugen"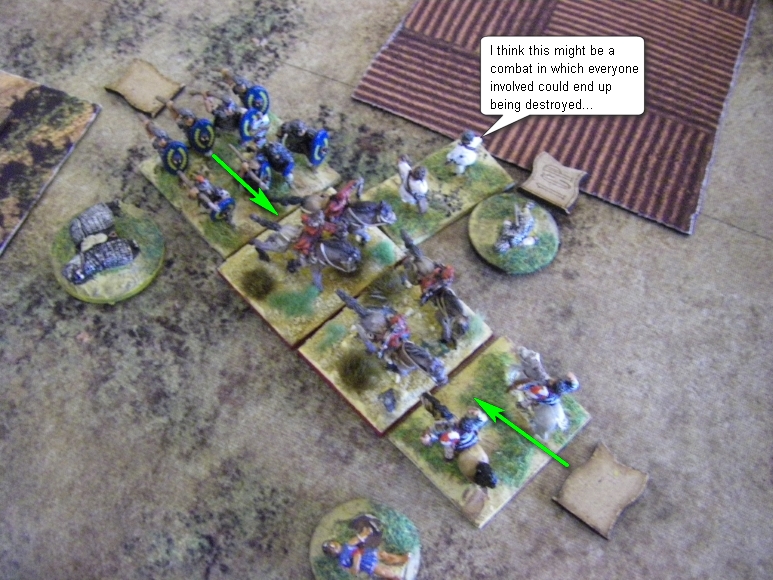 And, indeed, this looks like a much better place to be using their military skills
Schwarzbrot! A Chinese Sandwich (not to be confused with a Vietnamese Bao Bun) had been created as a column of Chinese light horse units had gotten itself trapped between auxilia and Palmyran horse archers
It was somewhat dicey to say the least, especially with the Auxilia carrying 2 wounds (out of 3) but by this stage in the game anything that resembled a straw was in severe danger of being firmly grasped by either side as both teetered towards possible defeat at some pace.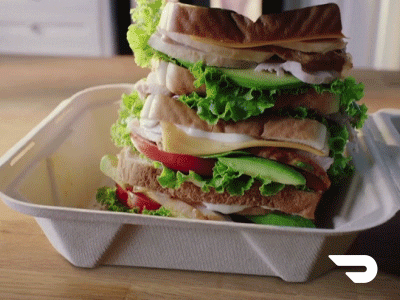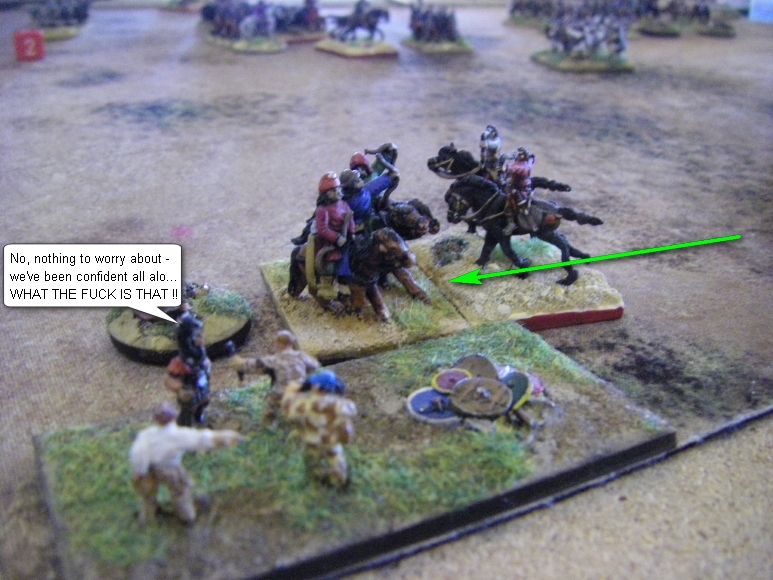 Oktoberfest-tastic! Here you see Palmyran medium cavalry horse archers carrying an injury defending their camp against a potentially game-winning assault from Chinese horse archers.
Move along, nothing to see here..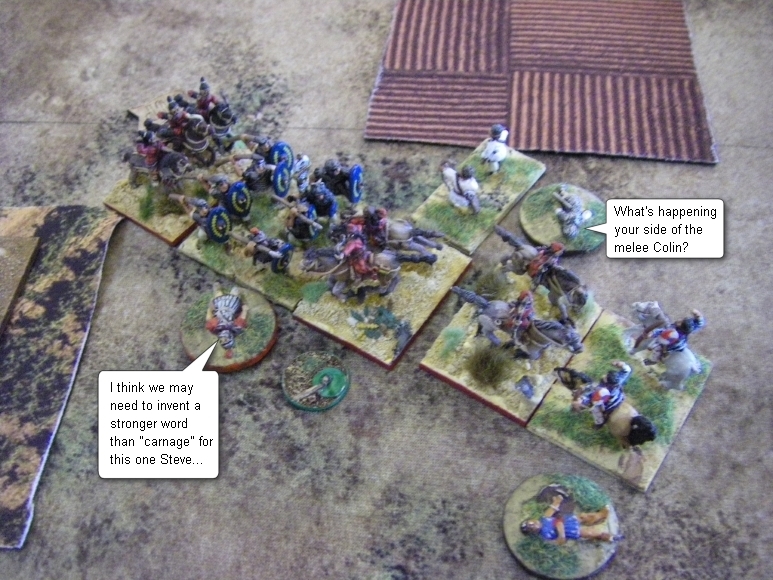 The Palmyran sandwich maker had by now blown a fuse, and the dastardly oriental warriors were adding insult to injury by going fully "club sandwich" on the Palmyrans by throwing in an extra layer
The battered Auxilia became ex-soldiery as yet another layer of gherkin-inspired Chinese cavalry was added to the teetering edifice of gastronomic militarism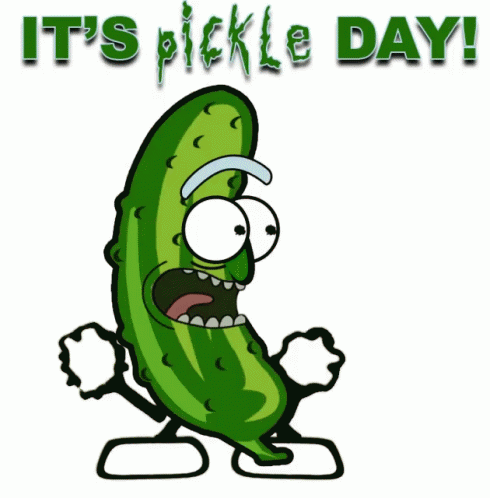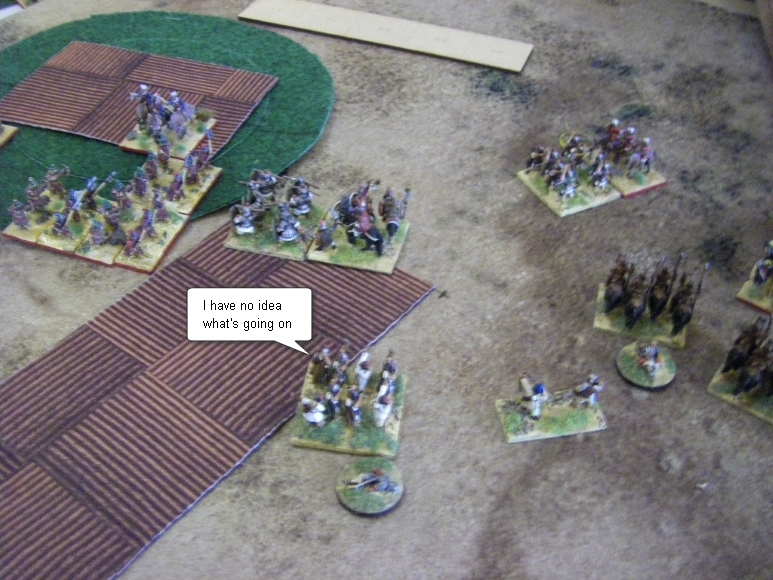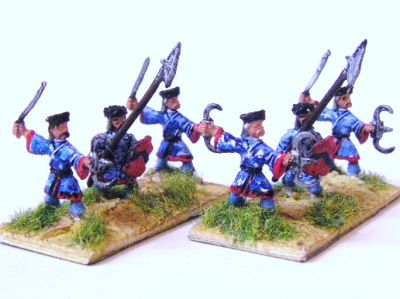 Everyone everywhere was in some sort of combat - shooting, fighting supporting, and mostly being swept from the table.
Losses totted up like a fruit machine hitting a Vegas jackpot on all sides... and when the dust finally settled, Zenobia emerged triumphant by the narrowest of possible margins!
The Result is a victory - within inches of defeat !
Click here for the report of the next game in this competition, or read on for the post match summaries from the Generals involved, as well as another episode of legendary expert analysis from Hannibal
Post Match Summary from the Palmyran Commander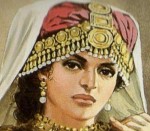 Women have long since discovered that they cannot rely on men's chivalry to give them justice, but here the tables were turned and my men now understand that they can indeed rely on a womans martial skills to present them with the spoils of victory!
If you dare question the skills whith which my troops won this game, I will tell you again that I am a woman with thoughts and questions and shit to say. I say if Iím beautiful. I say if Iím strong. You will not determine my storyóI will - and that story is one of bravery, battle-winning ability and bravery stronger than that of any desert lion.
No country can ever truly flourish if it stifles the potential of its women and deprives itself of the contributions of half its citizens - that is a truism that Palmyra knows well, and which the forces of Ancient China are only now coming to realise
That whole queen thing, that's still me - and as long as I live I will reign!
---
Hannibal's Post Match Analysis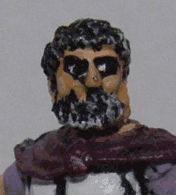 What nonsense is this? Even if your writings were from an angel from heaven I would take this horrible document, and, after having used it as toilet paper, wipe its nose. You were rocked on your heels here, parrying mortal blows at every turn, and for much of the game all seemed lost
The once-astute minds of your commanders have been completely turned into stinking mushrooms if they believe you did anything clever to eke out an ill-deserved win from this shameful position.
Hannibal Reply A seven-year-old child, indeed, a silly fool, can figure it out on his fingers how close you came to defeat - although you, stupid ass, cannot it appears understand anything.
You and your rag-tag army are spiritual scarecrows and monk calves, not fit to polish the sandals of a true Roman. The forces of the Empire will surely bring you to heel in the next game
Click here for the report of the next game in this competition
You may also like....
Game 1 Palmyran vs Bedouin Dynasties
Game 3 Palmyran vs Thematic Byzantine
Game 4 Palmyran vs Han Chinese
Game 5 Palmyran vs Nikephorian Byzantine
Driving home via Bastogne and Namur
View My Stats for My Match Reports Pages