Classical & Early Dark Ages at Marksburg Castle, Braubach 2022
Palmyran vs Thematic Byzantine
Racing through the day as if it was a wargaming Nuerburgring (incidentally remarkably close to Braubach..) the next opponent to find themselves facing the Palmyran amy of Zenobia was the Phlegmatic, sorry, Thematic Byzantine.
A Later Roman with Bells and Whistles sort of army, the Thematics can sometimes fall under the shadow of the later ones with more toys but a strong punchy, shoot cavalry-led army nevertheless, providing a choice of closing down or opening up the terrain for the Palmyrans. The lists for the Palmyran and Thematic Byzantine from this game, as well as all the other lists from the games at Braubach can be seen here in the L'Art de la Guerre Wiki.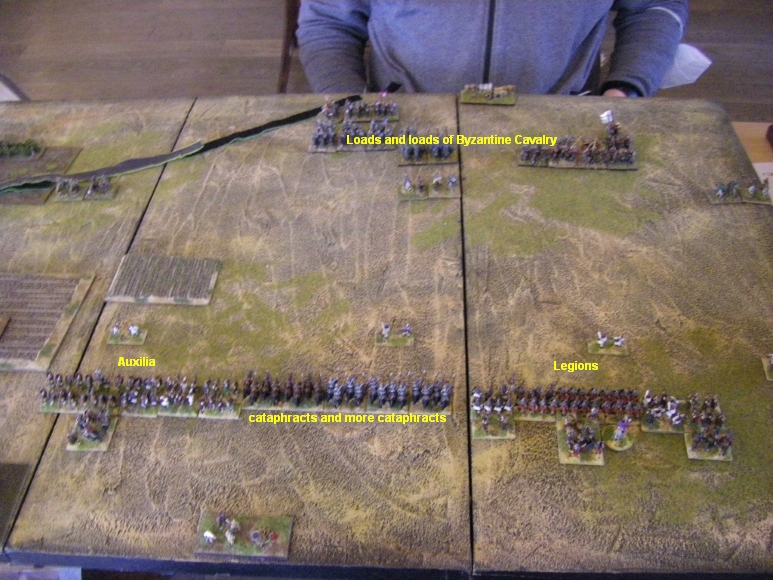 Steckerlfisch! The trifuricated pre-prepared terrain board that the battle was to take place on had seen many years of service in Germany, as a coincidentally perfectly sized 15mm 6th edition table, and it was now getting its moment in the Madaxeman limelight as an ADLG field of combat.
With a handful of inconsequentual fields on one side, the table was narrow enough for the Palmyrans yet still gapingly open for the small yet hard-hitting all-mounted Thematics. Time to strap yourself into your Lederhosen and enjoy the ride!
German Translation: "Lederhosekriegachterbahnaufregung"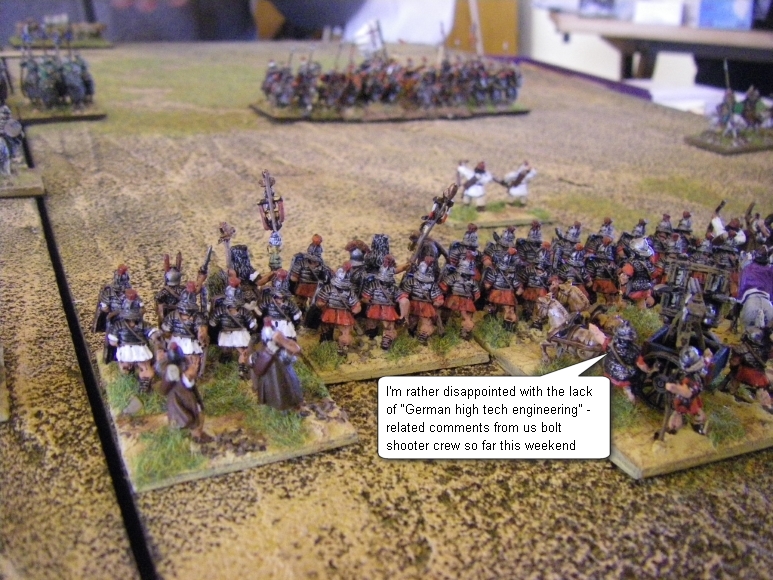 The provision of rear support for just one of the 4 units of Zenobian suddenly looked like a poor investment as big hairy blocks of lancer-armed Thematic cavalry bore down upon the square-shield boys at a speed which could easily have recycled the earlier Nurburgring reference and perhaps used it even more poetically if only I had planned the writing of this match report a little better (ie at all)
The Emperor Thematikos' cavalry appeared intent on not even bothering with their half-hearted shooting as they raced across the ancient plain, scene no doubt of so many more anachronistic clashes in the past decades of Rhineside tabletop warfare
The cart-mounted artillery would need to find its range quickly this time around if it were to play a meaningful part in the upcoming melee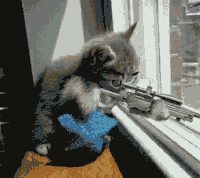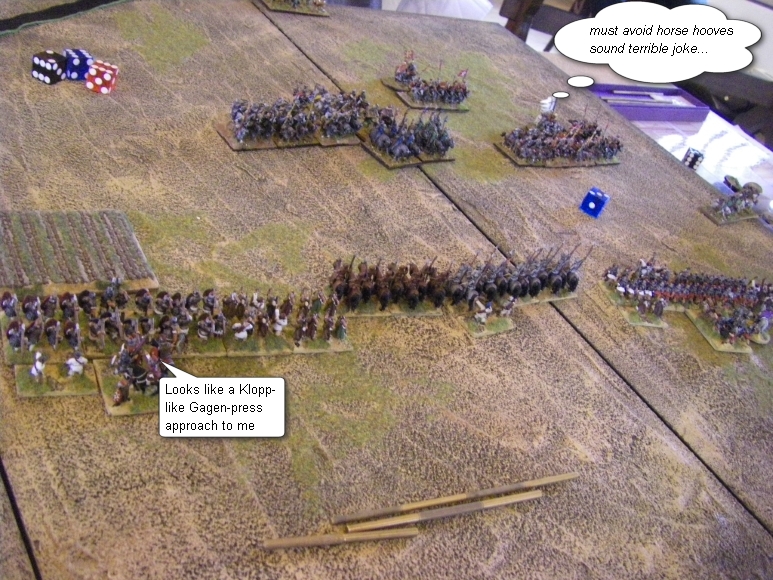 Kraftwerk!
With one third of the Palmyran army cut out of the game by the unexpected speed of the Byzantine assault, the other two commands sought to echelon themselves to meet the full force of the imminent blow as best they could - Cataphracts to the fore
Around this point in the game I asked my opponent
if he knew what the square root of 81 was?
He said "no"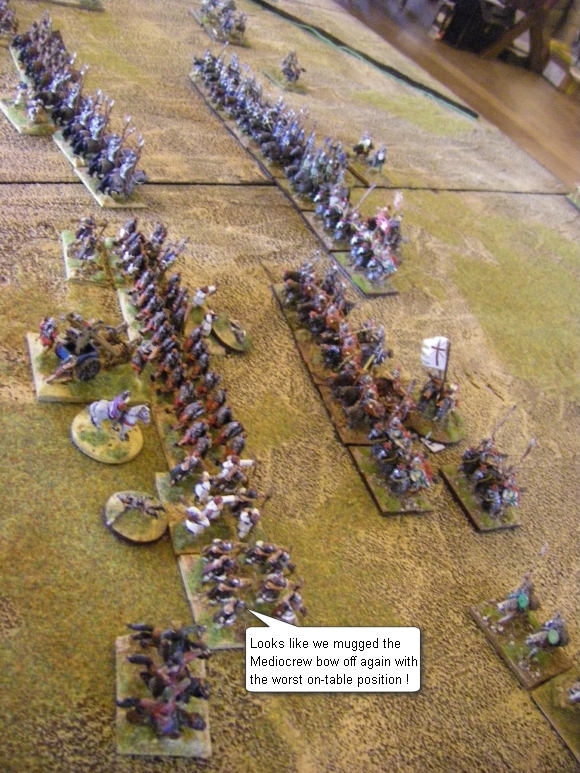 Vorsprung durch Technik! An epic scene worthy of the greatest of historical cinematic epics stretched across the table in epic fashion as the two armies converged epically in epic style
In the near future the epic battle would be discussed in epic detail over a no-doubt epicuranally epicocious evening meal comprising of a full suite of epic schnizels
Given the alacrity with which both players were committing to the attack, it also seemed possible that there would be an epic wait for the aforementioned team meal, after an epically early end to this game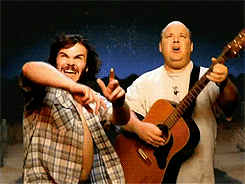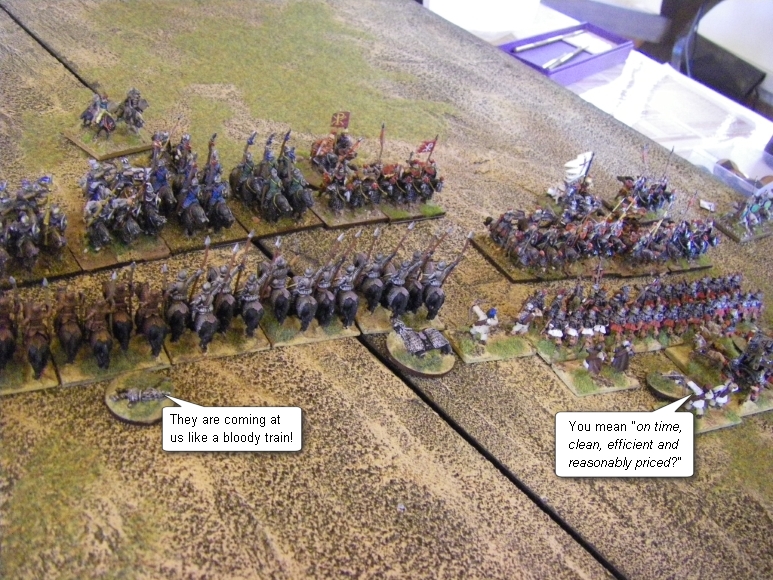 Schwarzbrot! The first volleys of mounted archery from the Byzantine lines fell in showers on the Palmyrans, finding gaps between armour and leather to scatter casualties across the desert-dwellers forces as a Palmyran bread-maker might scatter zataar over his fast-leavening loaves
German Translation: "Entdeckungbogenschützenbrot-rustungsschlucht"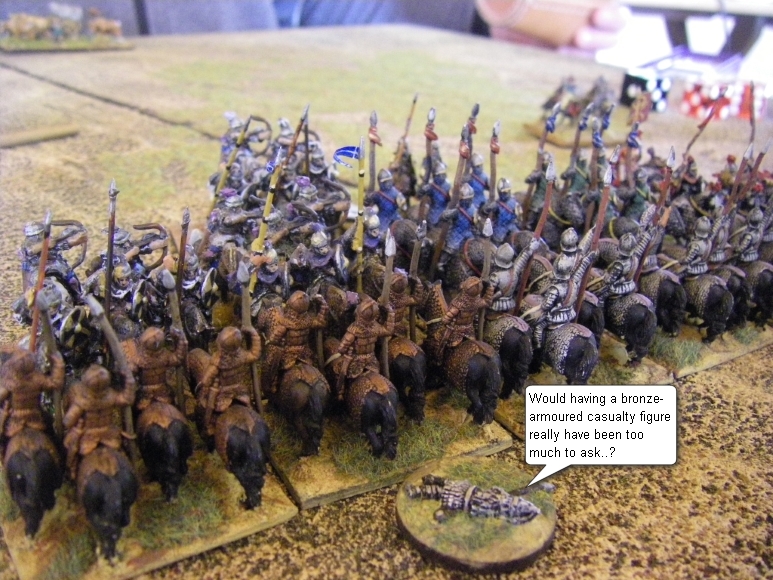 And then.... they were in!
The Byzantines declined to evade as the wall of cataphtract steel and bronze careened into them at an aggressive and somewhat assertive walking pace
The Palmyrans were unprepared for combat at this early stage of the game, but if someone wanted to give them a fight, they were here, ready and waiting to oblige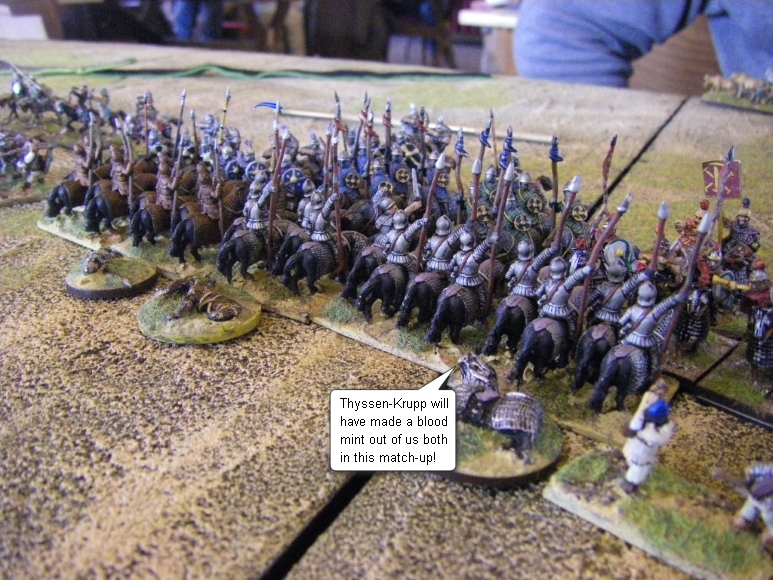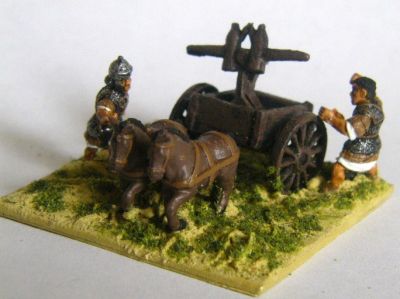 OK, well, possibly not all that ready.
Ich glaub mich knutscht ein Elch! Not the best round of combat results, but at least melee was now joined and the Byzantines were no longer rolling shooting dice without reply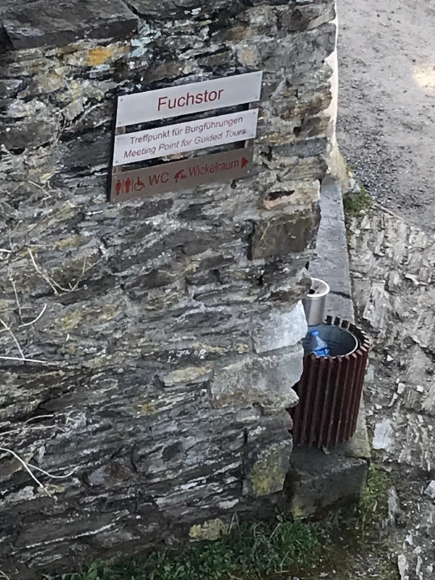 Stepping out quickly for some air, I suddenly spotted the storeroom where the Germans presumably store all of the ones they don't actually give.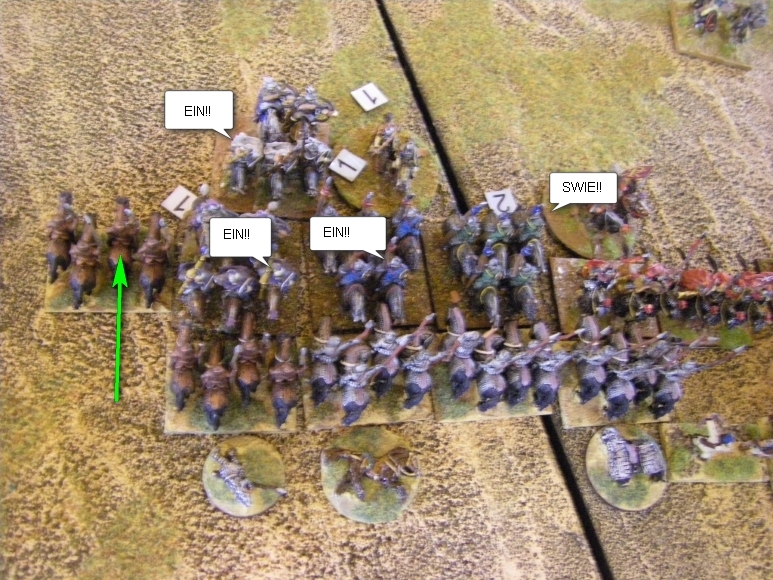 Inspired by their ability to catch supposedly-evading mounted archer/lancers the Palmyrans redoubled their efforts to inflict pain, suffering and extremely clear and well made German-sourced casualty markers on the enemy horsemen
And now the Byzantines seemed keen to recieve them, grasping for the numbers of doom like a pessimistic numismatist reaching out in the dark for a self-defeating, self-fulfilling prophesy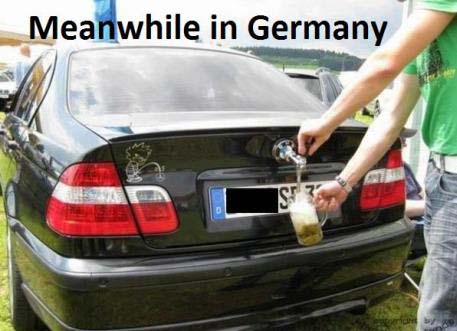 The textbook Old Glory Legionaries were now also enmeshed in combat against a mounted foe, with the Byzanes declining to skirmish away much longer under the indignities of bolt-shooter-itis and the risk of being enveloped by the still-unengaged Auxilary command to the Legions left
German Translation: "Abneigungegenpressgepanzertekampfpferde"
Sizzling Schnitzels! The Cataphracts were doing the business in spades and in full chainmail, as they chewed their way inexorably through the Byzantine cavalry who had so unwisely sought them out at the earliest opportunity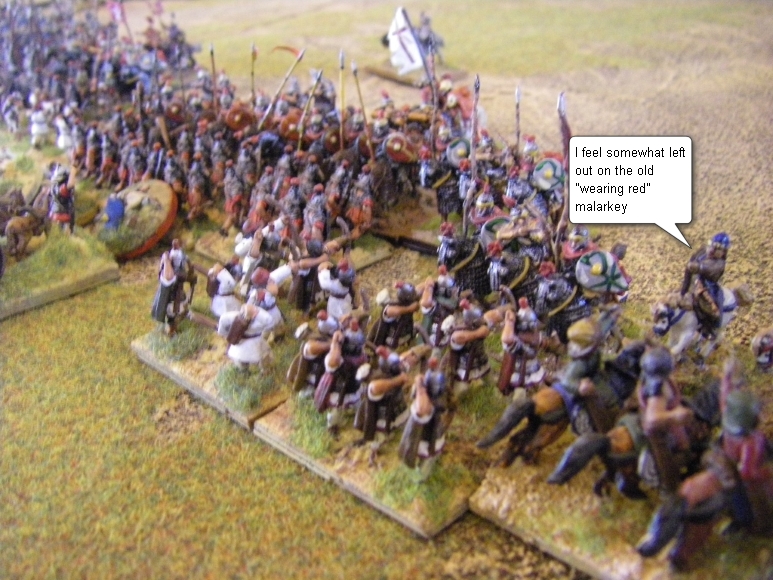 The Legions were standing firm, without the successes of their fully-armoured betters but still engaging a large part of the super-tiny 19 unit enemy army as the rest of their forces advanced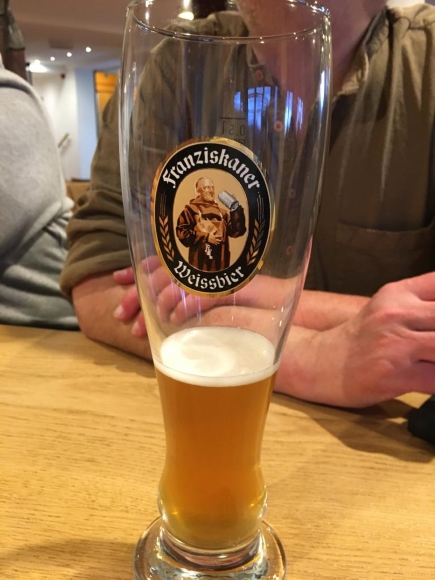 Here's a picture of a beer, for no real reason other than pictures of beer are good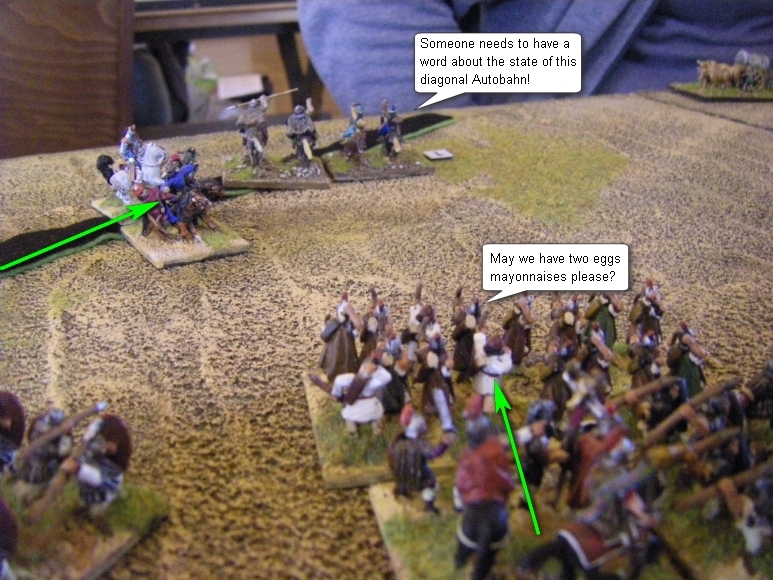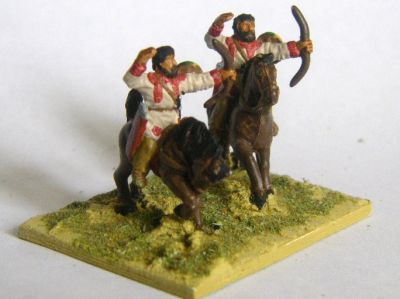 Oktoberfest-tastic! The Byzantines were now in disarray - and soon they were in full scale retreat as spare unengaged Palmyran bowmen rushed forward unopposed to pepper the light forces of the enemy army with hails of deadly arrows.
Ich glaub mich knutscht ein Elch! Weight of armour, archery and numbers had all counted, and the final result was another win for Zenobias Boys.
Click here for the report of the next game in this competition, or read on for the post match summaries from the Generals involved, as well as another episode of legendary expert analysis from Hannibal
Post Match Summary from the Palmyran Commander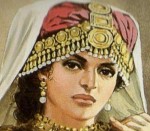 If you want something said, ask a man; if you want something done, ask a woman is a quote yet to come, however in this game my opponents said his piece loudly enough with a bold and immediate attack, and yet he was not just done but undone by the ferocity of our resistance - No, No and No again said my warriors to the Byzantines attacks!
I have always said that feminism isn't about making women strong. Women are already strong. It's about changing the way the world perceives that strength - and this poor Roman had his nose rubbed in just how strong a line of Cataphracts and Legions can be if they are given a chance to stand and fight
I'm tough, ambitious, and I know exactly what I want. If that makes me a bitch, okay, but three wins out of three is not to be sniffed at and will not be something that any other lady here can match I daresay
I am still continuing to be a queen; and as long as I live I will reign!
---
Hannibal's Post Match Analysis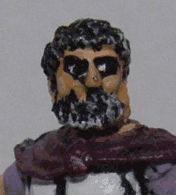 Oh dear my dear, in lying fashion you ignore what even children know, that here you again were the recipient of a wild attack and a strategy to overwhelm a cleverer and more agile opponent with a brutal charge - but it met it's match in your army which has no agility, no guile and simply aims to stand in a line and fight anyone it faces.
So, again your opponent chose to attack and set the agenda and pacxe, and your amy did naught but fight where it stood. Tactics be dammed - despite your claims to the contrary, and as a result I do wonder how is it, then, that you drivel like people in their second childhood?
You have a perverted spirit that thinks only of murdering the conscience in order to claim plaudits for your military excellence which you do not deserve in the slightest.
Must we believe your nightmares? Or dare we begin to dream of your come-uppance in the next game?
Click here for the report of the next game in this competition
You may also like....
Game 1 Palmyran vs Bedouin Dynasties
Game 3 Palmyran vs Thematic Byzantine
Game 4 Palmyran vs Han Chinese
Game 5 Palmyran vs Nikephorian Byzantine
Driving home via Bastogne and Namur
View My Stats for My Match Reports Pages