Classical & Early Dark Ages at Marksburg Castle, Braubach 2022
Palmyran vs Bedouin Dynasties
So, on with the business..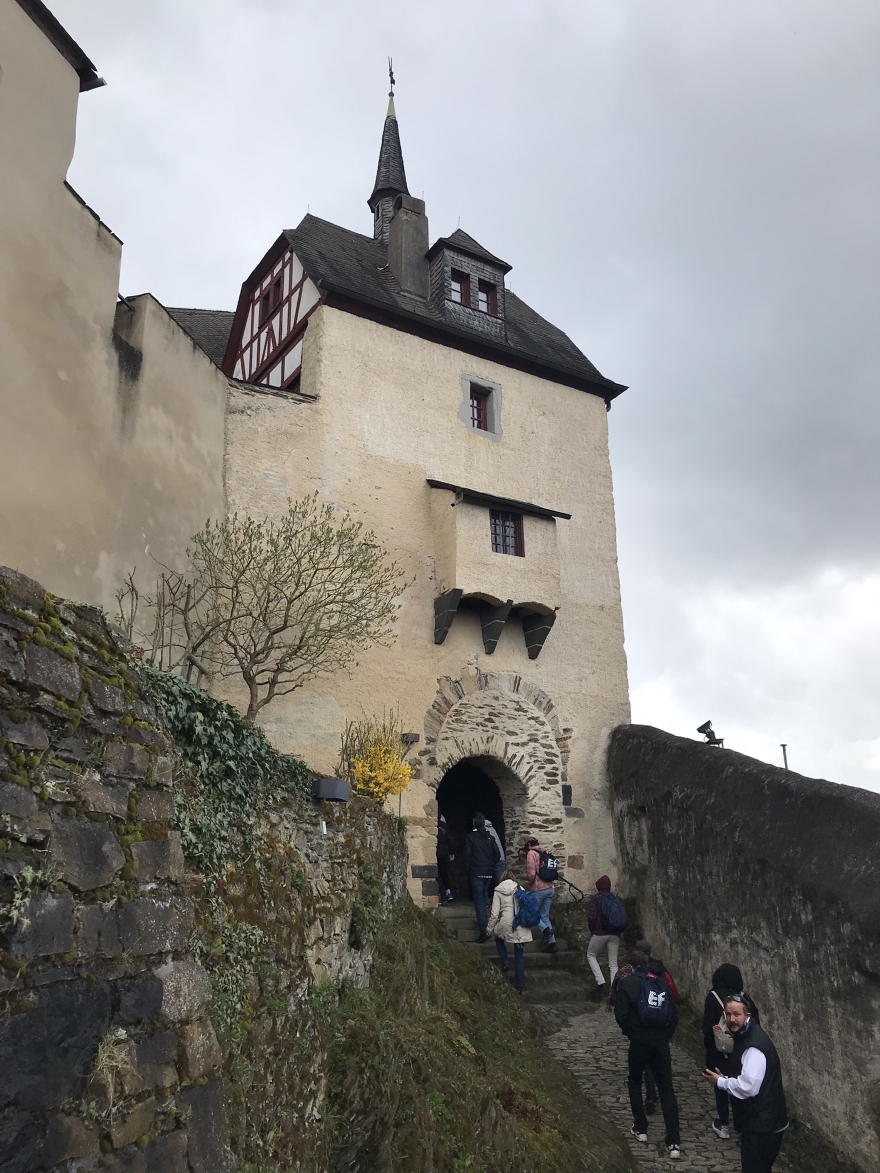 After a rather steep climb up the (final couple of hundred yards) to the Castle itself, the morning preamble started with a bit of coffee-fuelled socialising and the chance to meet some new old friends.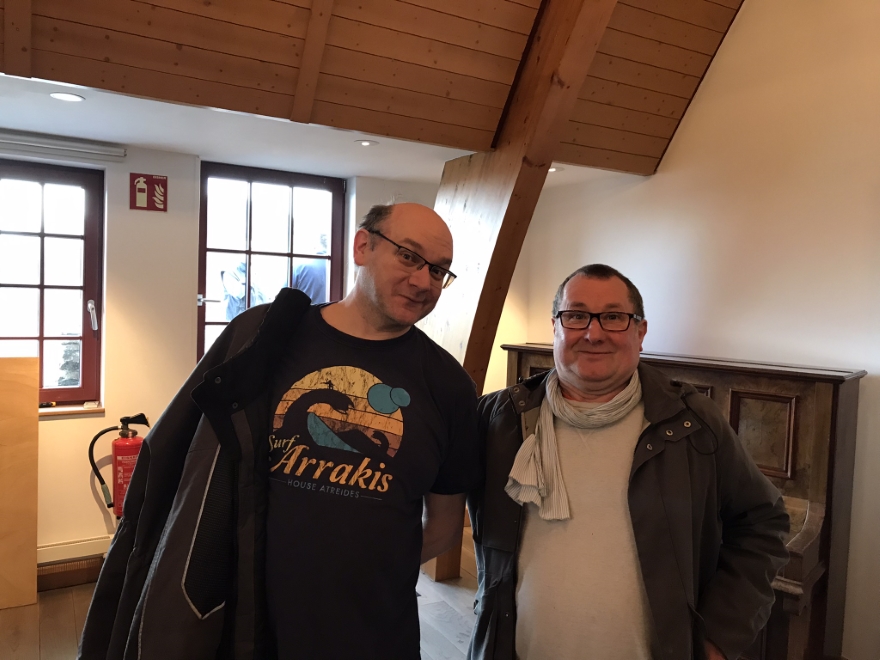 Strangely, this included a younger German version of Andy from the Podcast..
German Translation: "Jungkeinpodcastbesseraussehend-duplizierenmehrhaare"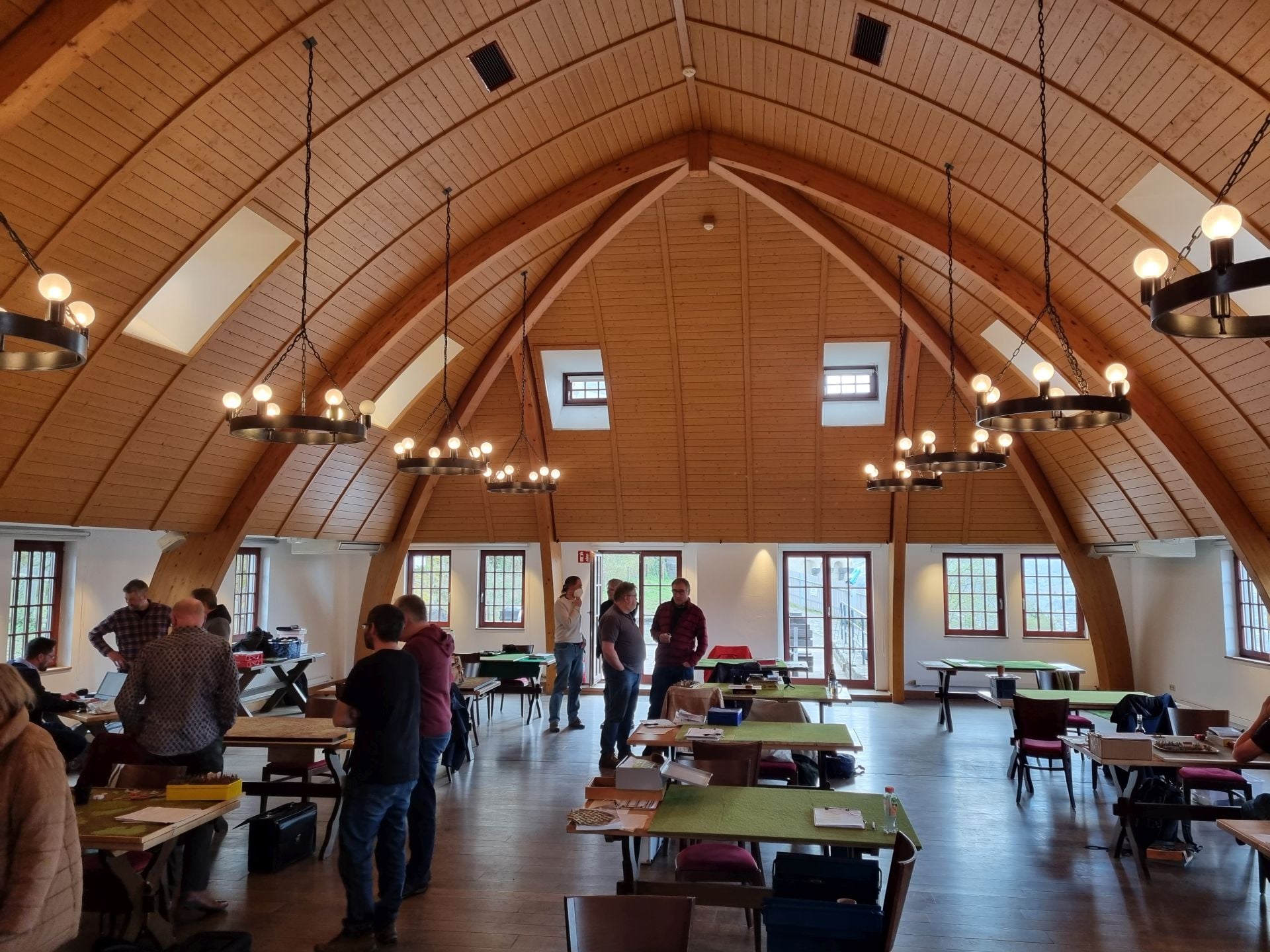 The room soon filled with wargamers from across Germany, many of whom had arrived by efficient rail system or travelled by well-made premium auto brands along the excellent and well maintained autobahns.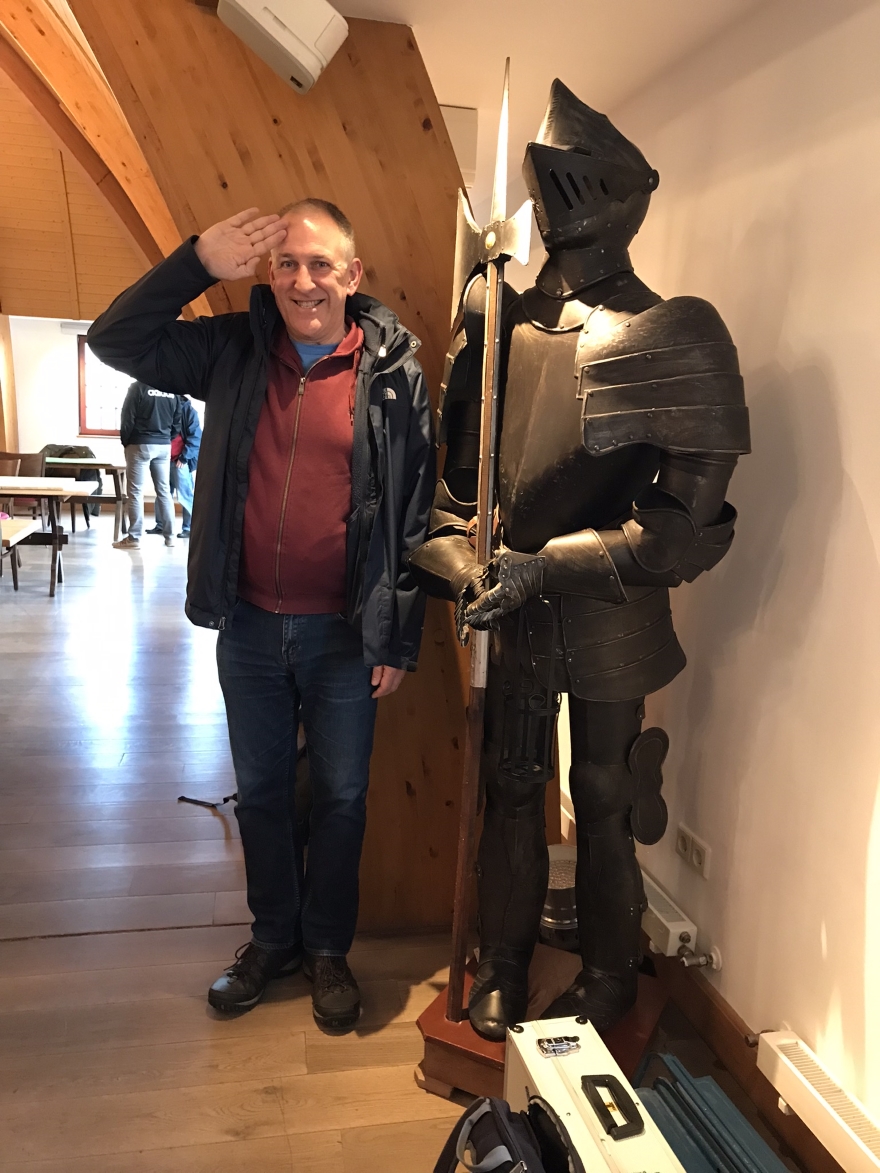 And, of course, there was a suit of armour.
In terms of the actual gaming, I had opted to take a Palmyran army, mostly as it was one of those classic armies which I had never really managed to use before.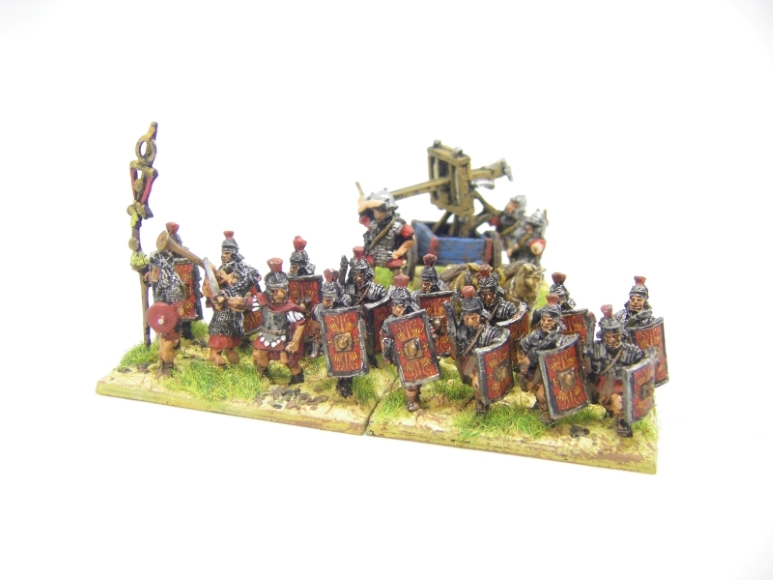 The fact that it could also squeeze in some cart-mounted bolt shooters of mine which had made it onto the pages of the ADLG ARmy Lists was also an extra added bonus (although whether anyone would notice was a bigger question yet to be resolved.)
The competition was themed for "pre Knights", so Heavy Cavalry and Cataphracts would be the queens of the battlefield - with the Byzantine style double armed guys being a likely choice too. I'd opted to build my Palmyran army as fairly large but of mixed quality, with a larger-than-necessary bllock of bog-standard Legionaries there as a squishy anvil onto which I hoped to draw the enemy's strike force whilst working the flanks with Cataphracts, archers, auxilia and bow-armed cavalry of my own
The lists for the Palmyran and Bedouin Dynasties from this game, as well as all the other lists from the games at Braubach can be seen here in the L'Art de la Guerre Wiki.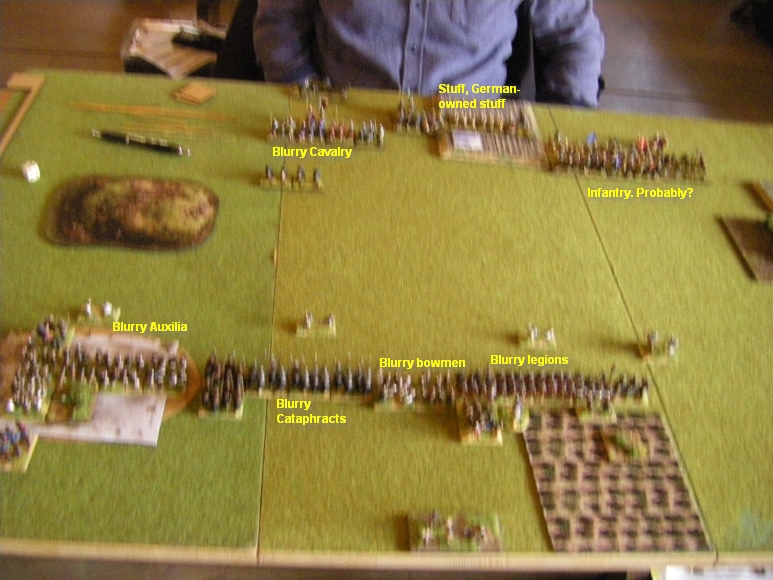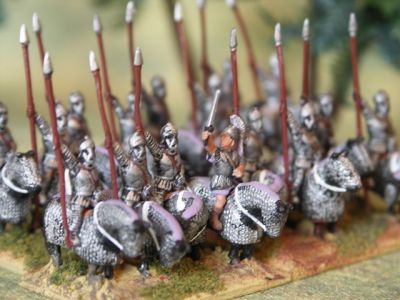 Heiliger Strohsack! In a clear demonstration of the advantages of owning a tripod, and also the challenges presented by taking photos before setting the exposure of the camera, the first game saw the Bedouin Dynasties attempting to retake Palmyra from the dastardly Romanised Emperor-Queen's army of textbook Holywood-style warriors in a dynamic blur of excitement and action!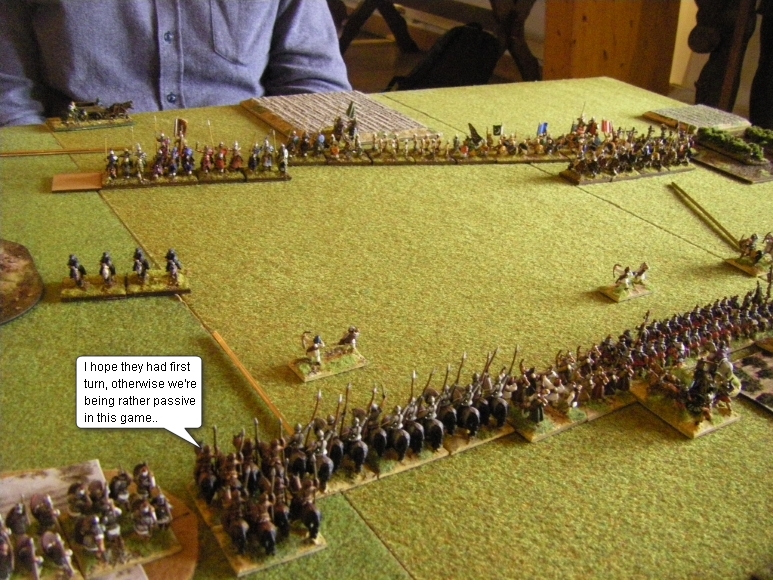 The Palmyran army had anchored it's flank somewhat hopefully on a plantation on their base edge, slightly wrongfooting the Bedouins who were skewed to their left with a lot of aggressive infantry stacked up ready to overwhelm anything unwise enough to contest that flank
Palmyra's skirmish screen was called upon immediately to do some sterling work slowing down the aggressive Bedouin advance, but with the enemy army already mid-launch against them the Romanized troopers knew that they would be in a real fight real soon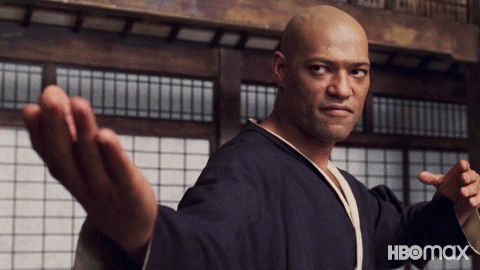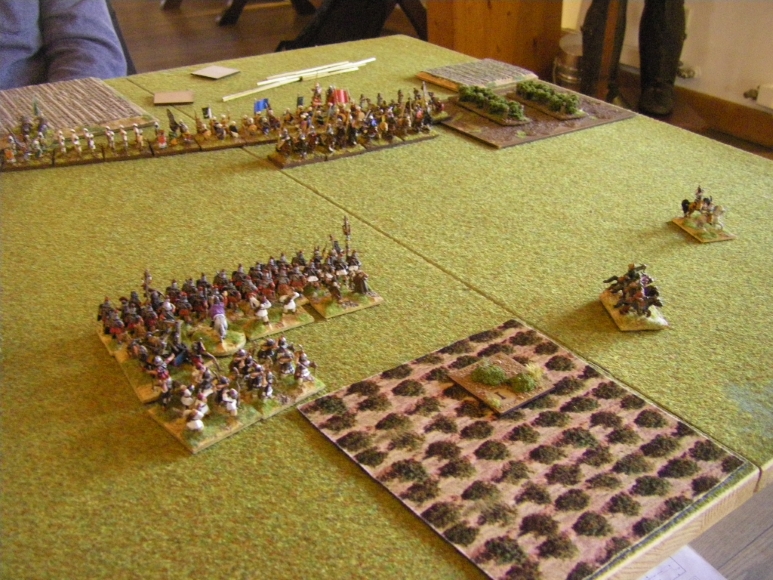 Sizzling Schnitzels! With massed cavalry and infantry surging down their right flank, the Desert Legionaries were caught between wanting to rush forward themselves and attack the rather squishy looking bowmen in the middle of the Arab line, and a fear of being overrun by hordes of Arabianized lancers.
The answer seemingly was to shuffle forward, making room for the Palmyran Bow Brigade to squeeze in behind them and look to take some pot shots at the onrushing Bedouins on their vulnerable horses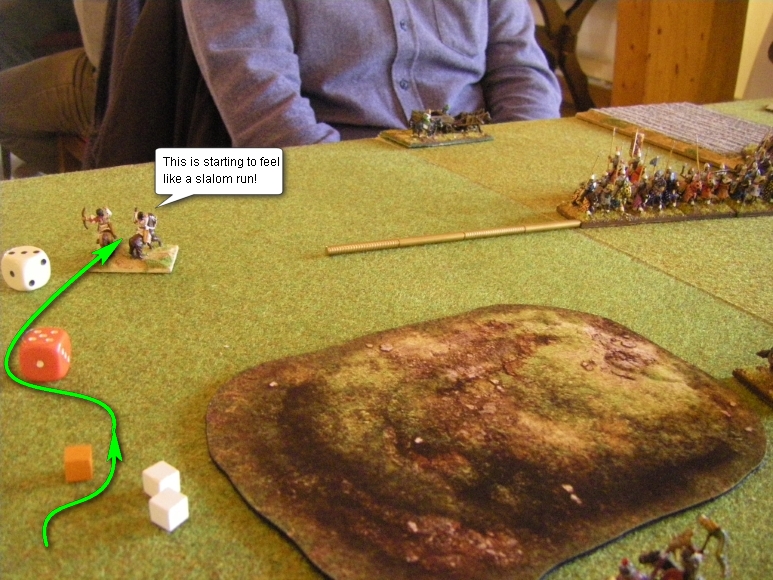 Leather my buttocks in newly-tanned Lederhosen! The Palmyrans themselves also had some flank-love to dish out in a nicely wrapped LH parcel to the right hand end of the Bedouins line.
Roman-style LH who have rarely been seen on table in years gleefully galloped forward, threatening either to take the enemy baggage train or tease some of the Bedouin's strike cavalry off to engage in a wild goose chase in the open spaces of the Palmyran left wing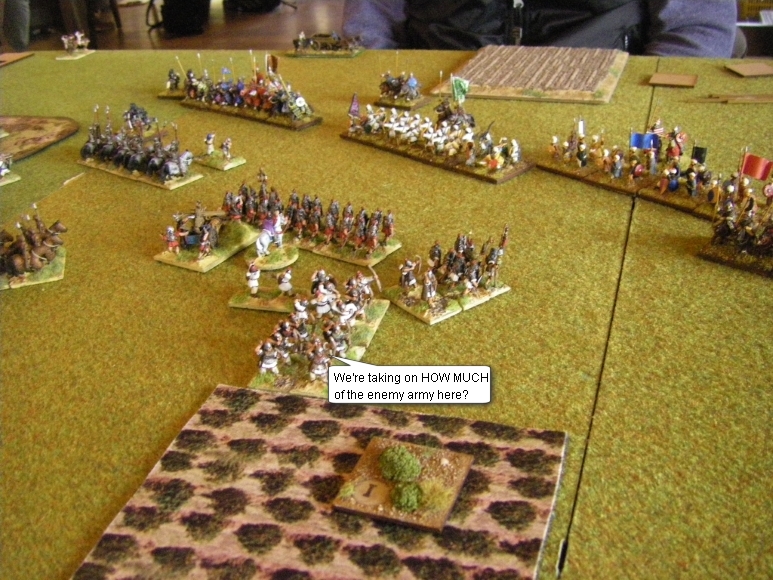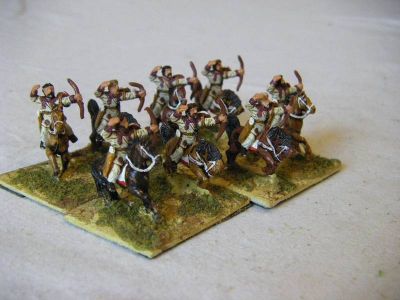 Oktoberfest-tastic! The two lines started inexorably to close, with the Legionary block splitting asunder to throw some morsels of lorica segmentata to the Bedouin horsemen whilst the main thrust raced towards the line of arabic archery, swords in hand.
The "silver" cataphracts (Elite) had also now joined what was starting to look like a reasonably coherent pseudo-Romanic line of troopers, causing the Bedouin real distress as they looked nervously at their baggage and its proximity to Palmyran Horse Archer thievery
L'Art de la Guerre hint - Every army has to have a baggage camp in ADLG. Losing an unfortified camp like this one costs 4 points towards the army break (usually around 20-odd in total). Fortified camps are harder to capture, but their loss counts as 6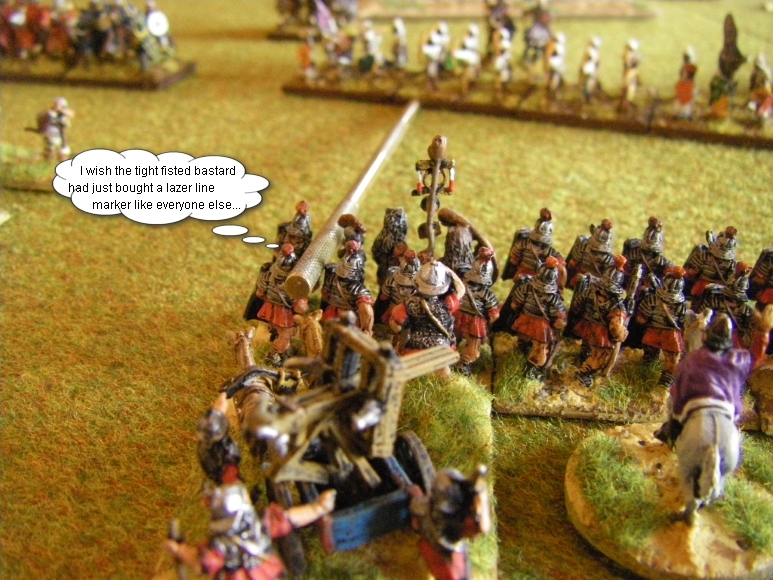 Soak me in Sauerkraut and send me to Schwerin! The Bolt Shooter inched into range ready for its first, and inevitably unsuccesful roll to hit.
Being a new troops type for me, and with the added complication of measuring range from the front of the legionaries the usual "Wargamers Theodolite" ability to assess distances simply by eye had deserted me, and so the poor Palmyrain Legionaries had to literally shoulder a huge burden to work out the range to their artillerymen's target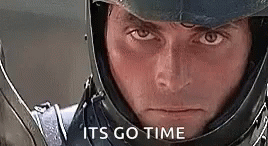 L'Art de la Guerre hint - Cart mounted artillery can shoot over some "named" troops (Legions and Auxilia only - you can't put them behind anyone else and still shoot), measuring range from the front of the infantry in front of them. This represents Roman style scorpion units integrated inside a legion or auxiliary unit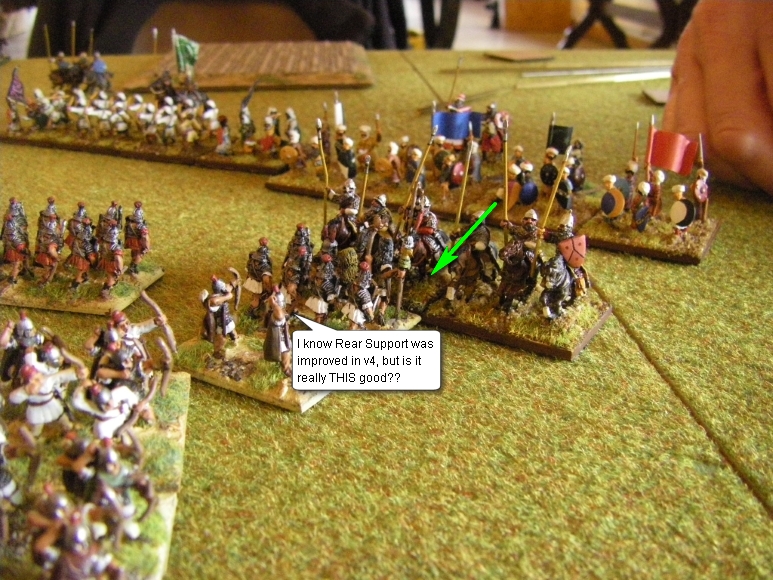 David Hasselhoff on the bonnet of an Audi Quattro! By now the almost-Legionaries were doing their job - attracting enemy charging cavalry like a well-endowed German Frauline attracts empty beer steins and the unwanted stares of slighly inebriated oompha-band flugelhornists at an overly-rowdy Okotoberfest.
Fortunately these peeled-off Legionaries were beneficiaries of the odd spare point in 200, and couild at least claim Rear Support to mitigate any downsides of losing to the lancers wild charge. As they say in Germany : Steckerlfisch!
L'Art de la Guerre hint - In V4 the way "Adrianople-style" deep formations with archers at the rear works has been beefed up - they now give a mitigating +1 if you lose the first round, and also remove entirely any enemy "Furious Charge" effects which would otherwise see infantry clattered by a cavalry charge taking an extra hit if they lost the initial impact. This tweak has changed Rear Support from something that was never really worth taking into a genuine "its worth the extra points" decision in army design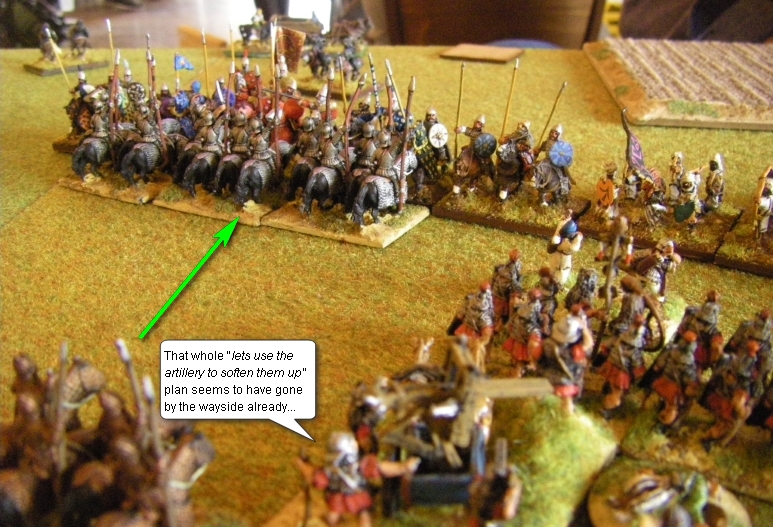 Franz Beckenbauer's Well Smoked Cheeseboard!
At the other side of the main Legionary phalanx, the shiny-silver best-quality Cataphracts in the Palmyran army had also gotten stuck straight into action, engaging the right flank of the Arabic-speakers army and drawing what surely wanted to be a fast-moving, romantically hair-flowing-in-the-wind set of Turkic cavalrymen into what now would inevitably descend into a lengthy slog against the fully-armoured Palmyran military experts
The commander at this end of the Bedouin line was also trying to juggle the half-hearted yet still dangerous threat of lurking Romanized horse archers threatening his baggage, and had peeled off a number of Bedouin light horsemen to try and block off the threat
The end result was a command scattered across the table, as fully defensive as an F14 piloted by Tom Cruise at the end of a film from back in the days we could all still believe in the luxuriousness and colouration of his fabulous full head of hair.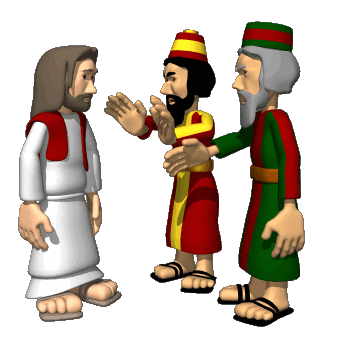 Relax Ahmed
- I know that we're not exactly, well, "German", and I think we had all assumed we'd not get a look in this time around, but given we are playing against an Arab army there's every chance of some appearance fees this week if we play our cards right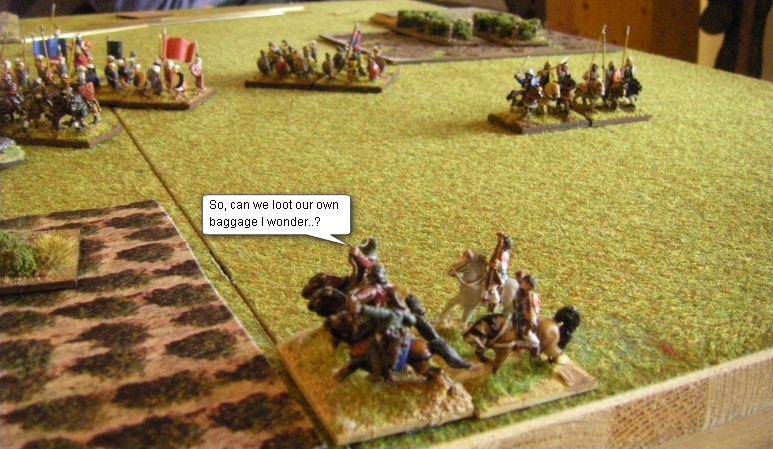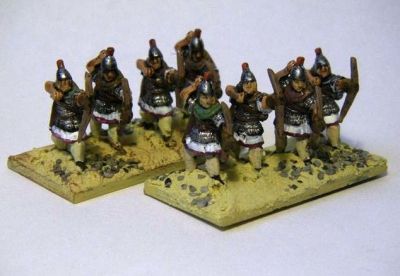 Ludwig van Beethoven's Well Made False Teeth! As some of the Palmyran horse archers made feints towards the enemy camp, back on their own baseline the other wing of mounted shooters were already skulking away into a vineyard.
Their job was now done, and a near half-dozen active combat units of the Bedouin army appeared to have been taken out of the game in the process of enduring a wild goose chase
German Translation: "Feldundtrachtganderschnelljaererdisasterfunkenspiele"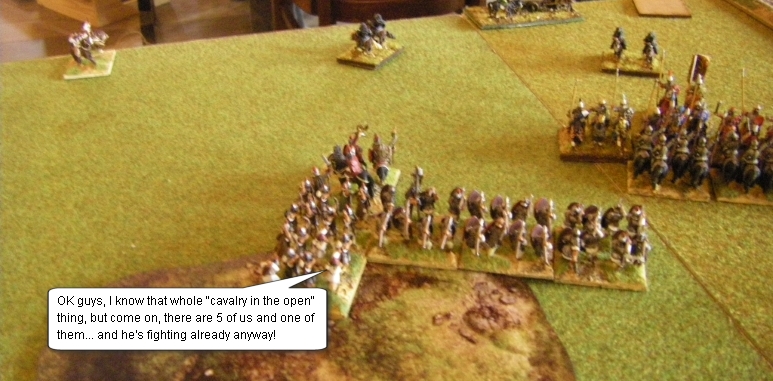 Currywurst In Bread! The Romanized Auxiliaries and their contingent of Dave From The Podcast Officially Approved "one ordinary, one mediocre" bowmen however were just arriving at a place where they could look to have a significant impact on the game outcome.
In a one on one battle, the Bedouin and Palmyran Light Horse would cancel one another out leaving the Bedouin camp safe in most possible outcomes, but throw in a bucket of infantry archery and sprinkle with a smattering of Auxilia piling into the flank of the already-Cataphract-engaged Bedouin cavalry and that equation could have changed dramatically in Zernobia's favour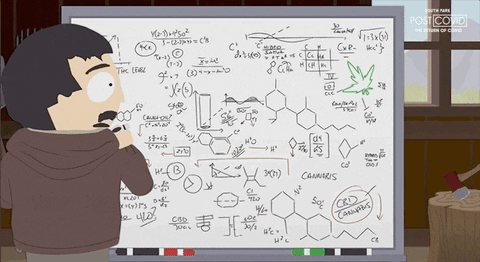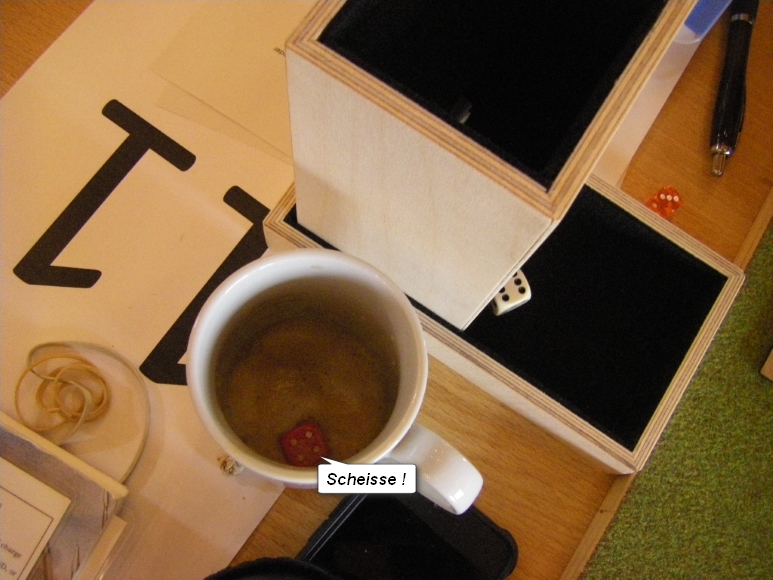 Ach du meine Gute!
At this exact moment, the juxtaposition of a typically Germanic over-engineered dice tower made from aerospace-grade Krupp steel lovingly hand-crafted with a protective veneer of post-modern bauhaus-era plywood sheeting and a mostly-drunk cup of coffee bore dramatic fruit
Yes - one of the well-tossed dice declined to follow its destiny and instead made a bid for freedom and jumped straight out of the tower to immerse itself into the caffeine-rich liquid in the adjacent receptacle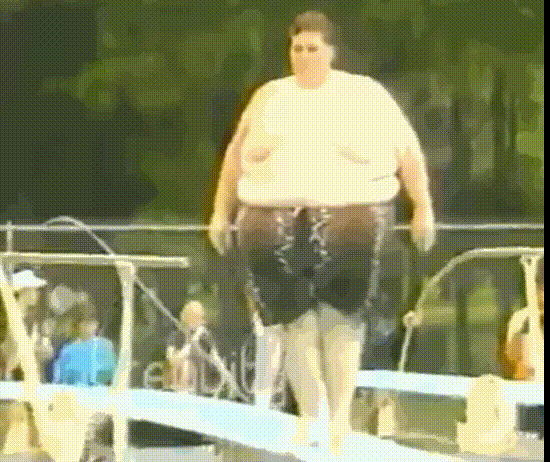 This astonishing move surely can only be explained in terms of the 6-sided cuboid awaking that morning with a buring urge to grow a Tom Cruise-esque head of hair combined with its inability to find Germany's most popular mens shampoo in a local garage forecourt retail store earlier that day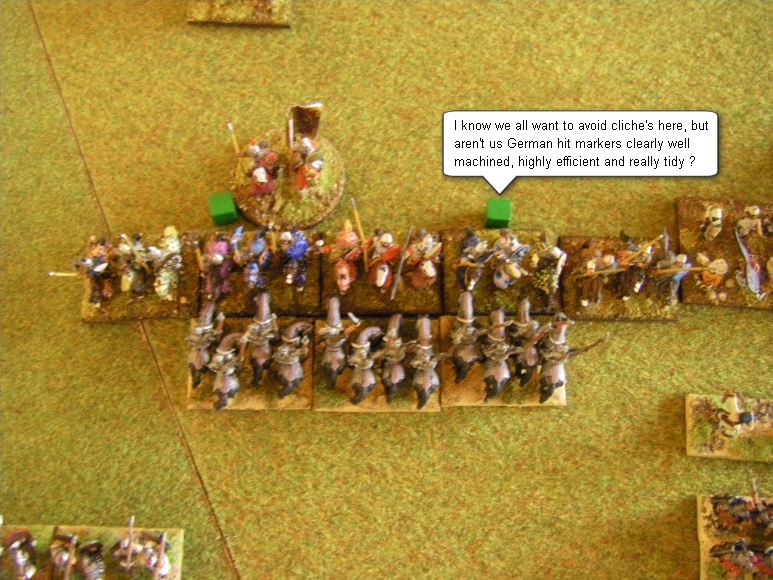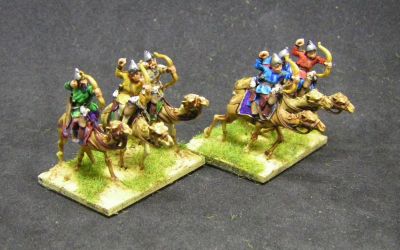 Angela Merkel on a camel! The Cataphracts were by now shrugging off the ministrations of the Bedouin horse, and were slowly and painstakingly starting to gain the upper hand against the desert-dwelling equitanianists.
With more Palmyran troops soon arriving on both flanks, this was not a good look for the men from the lands of the endless sands.
Here's a picture of a beer, for no real reason other than pictures of beer are good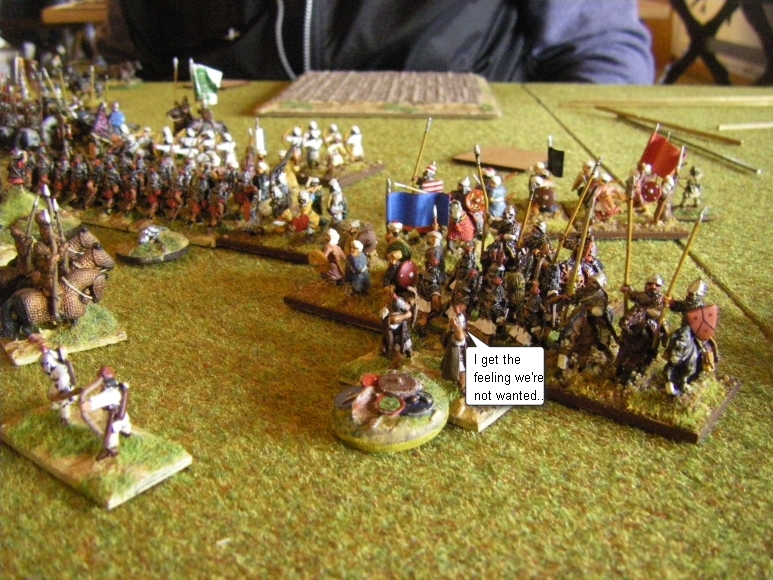 As the main body of Legions continued to close in on the line of bowmen at the heart of the enemy army, the peeled-off square scutum carrying contingent were still manfully striving to hold off the worst the whole left wing of the Bedouin army could throw at them.
A yellow-edged base (as regular readers will know by now) denoting two hits out of their stock of four may now have sat behind the Legionaries, but the time they had bought for their army's main attack was invaluable to the overall strategic thrust of the Palmyran forces. Kraftwerk!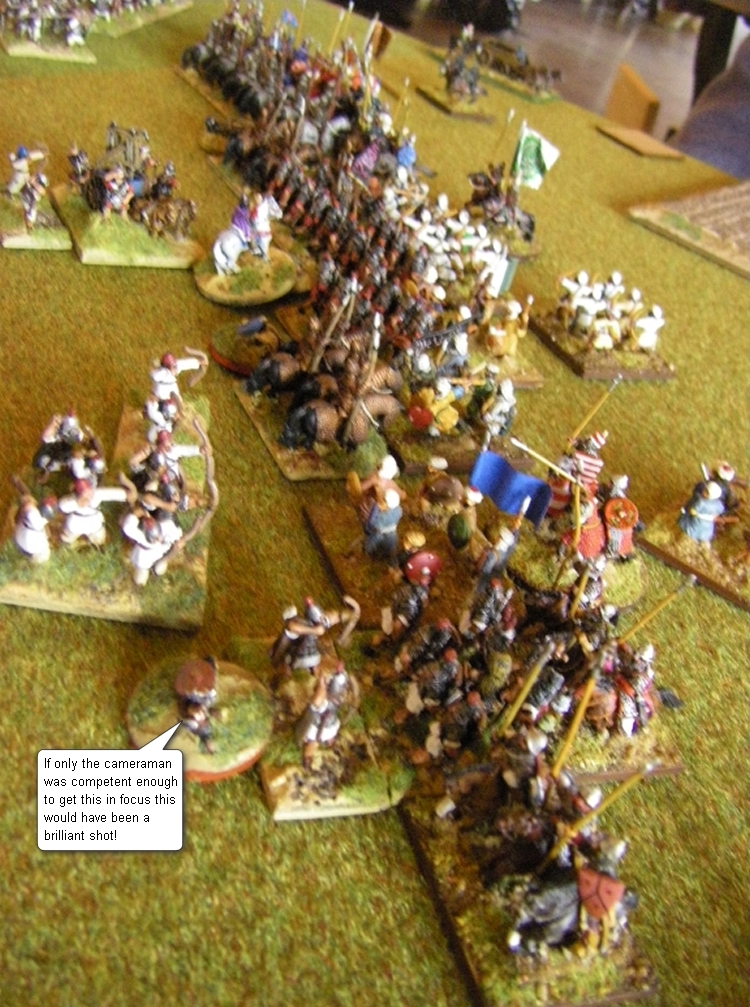 One by one, but also kinda simultaneously, the full strike power of the Palmyran army slammed into the coherent line of formerly-fanatical Moslem army.
Revise the Reinheitsgebot! Copper-clad second-string Cataphracts now stood shoulder to shoulder with lorica-wearing Legionaries as combat erupted in a cacophany of battle across a wide frontage of men and horseflesh
The game would be decided here and now in the outrageous crucible of dice-based combat
German Translation: "Sechsseitigebboxkampfmaschinengluckstechnologie"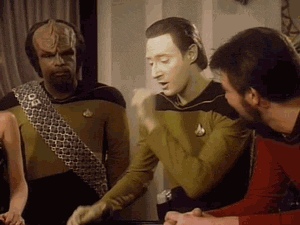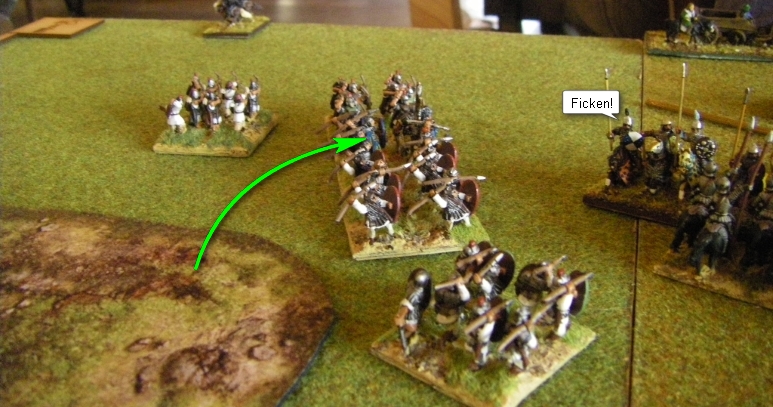 The well-oiled castle door that was Palmyra's Auxiliary Corps was by now swinging shut at an ever-increasing pace on the exposed right flank of the engaged wing of the main body of Bedouin horsemen.
Bratwurst Explosion! Something far more significant than a few loose fingers would soon be swqished as the hard-charging and often overlooked Donnington Originals-range Medium Infantrymen picked up the pace of their long-planned charge and prepared to unleash hell on the quivering Bedouins over-exposed side-quarters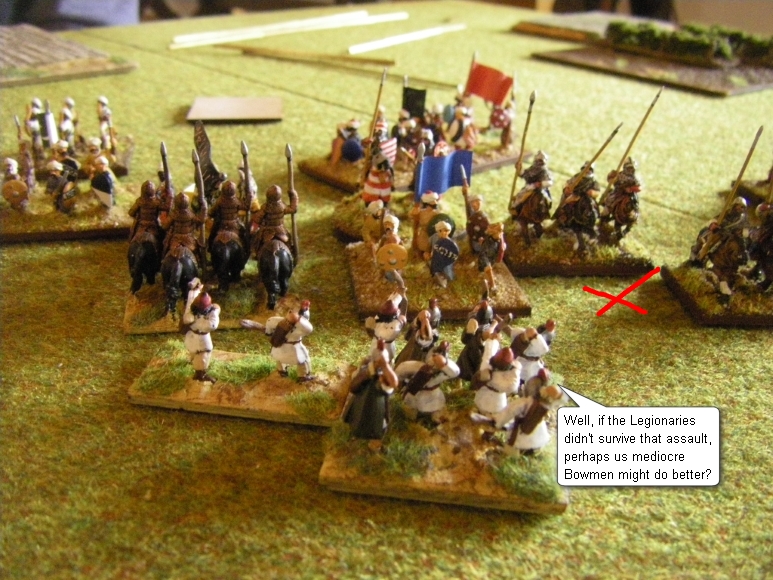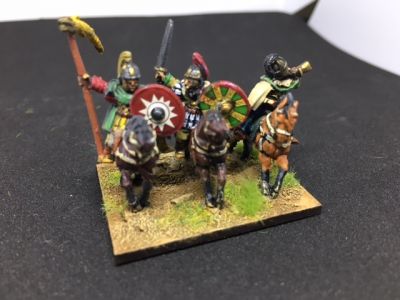 Peeled-off Legion chose this moment to expire, their task well-perfomed, their job done.
Whether the Palmyran bowmen behind them were entirely grateful for their Legionaries sacrifice is however debatable, as the combat-averse archers now found themselves in the crosshairs of a substantial component of the enemy army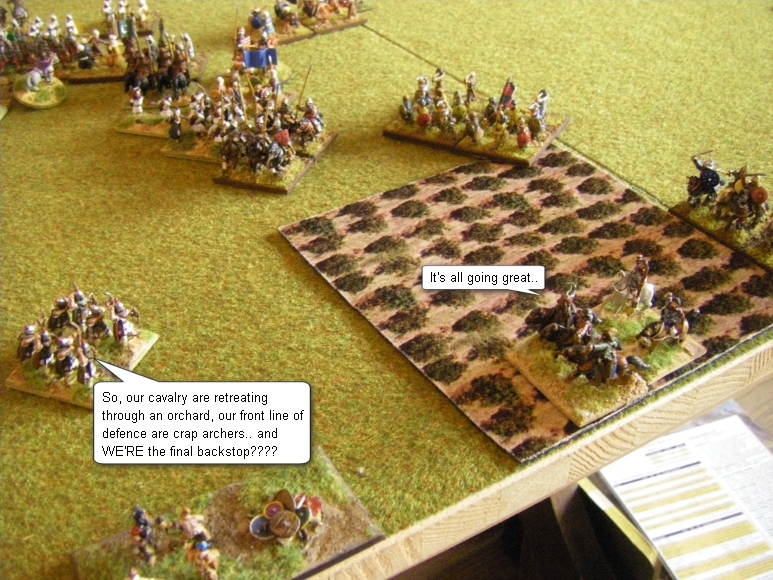 The Legions decision to exit the table, combined with the forward momentum of the rest of Zenobia's fighting force had however suddenly created a surprisingly large gap on the Palmyran right.
Schwarzbrot! Into this Bedouin flooded gleefully, seeking targets to vent their pent-up fury on and make up for their period of unwanted non-contribution in the game thus far.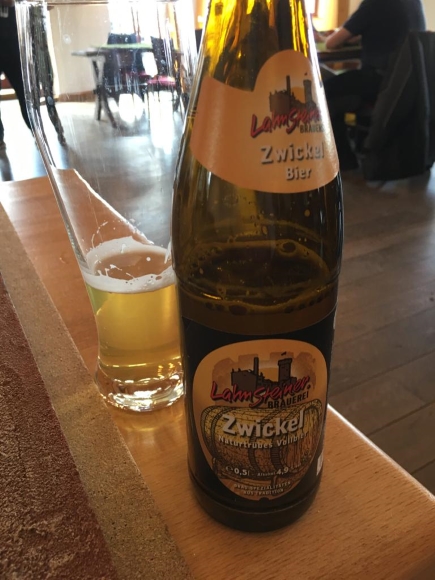 Here's a picture of a beer, for no real reason other than pictures of beer are good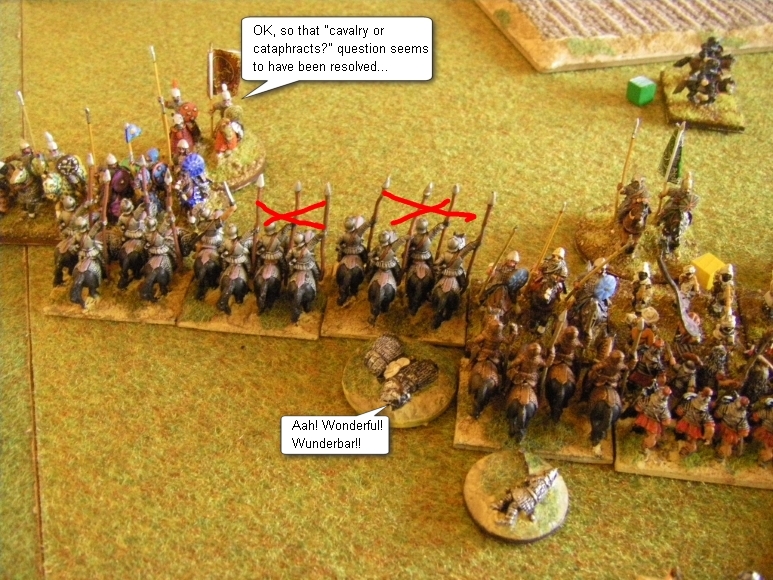 Vorsprung durch Technik! In a puff of desert dust and a cacophony of Arabo-Germanic cries of despair, the main body of Bedouin horsemen finally cracked and dissipated in the relentless steel face of the grinding Palmyran Cataphtacts assault.
Suddenly Arab resistance was starting to slump more spectacularly than a rathaus dumpling which has just absorbed a critical mass of meat-based gravy, and the vaguely-mobile silver-clad spearpoint of Zenobia's crack troops were perfectly positioned to exploit that weirdly disturbing and clunkily-assembled Teutonc culinary metaphor
German Translation: "Merkwürdigerkochliteraturhumomisslungenerversuch"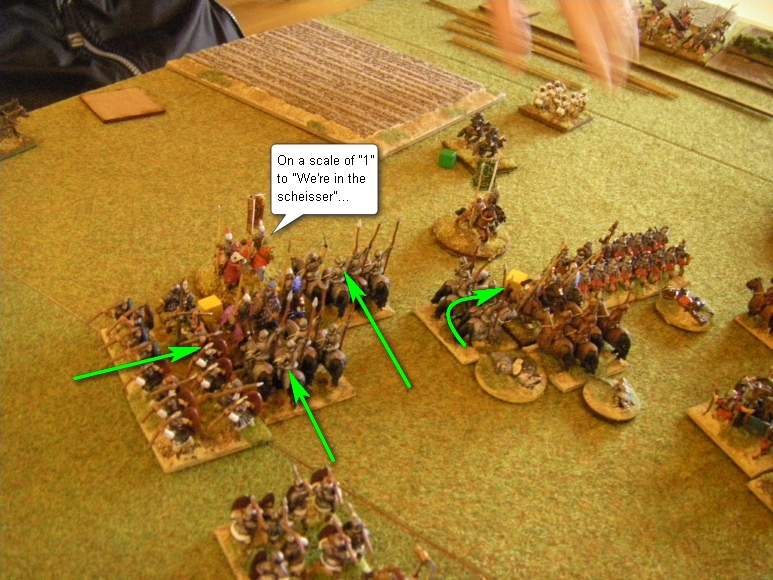 The entire Bedouin line was starting to be little but a memory of footprints in the ever-shifting desert sands, as the Legins sliced through enemy bowmen, Cataphracts rode down whatever they wanted, and Auxiliaries rolled up the flank like a very obvious and unoriginal arabic carpet metaphor
The Bedouins had committed two generals to this part of the battlefield in a bid to inspire their men, but now both commanders were struggling to spot any troops to issue commands to as their army evaporated around them at a spectacular rate
German Translation: "Wasserfliegtschnellwegkeinefreundeindernahe- katastrophe"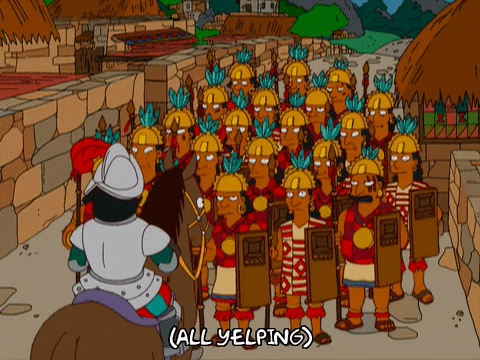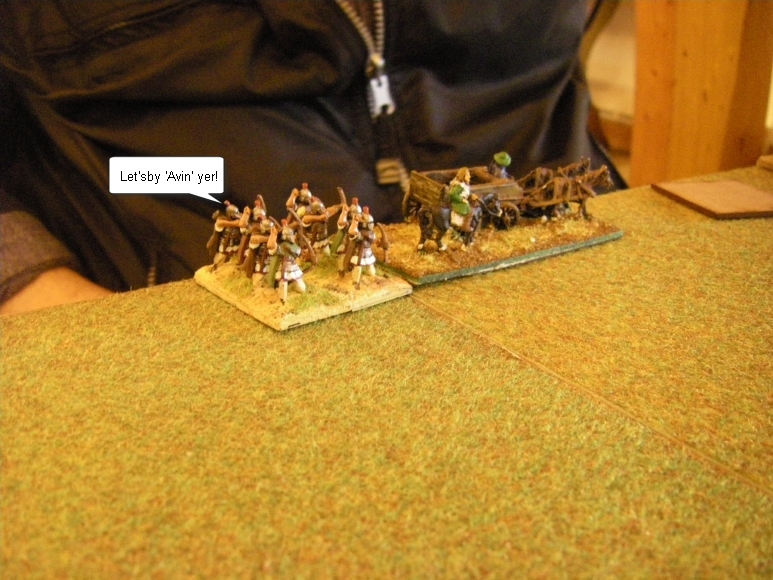 The Palmyrans had so many spare units on this end of the battlefield that some of their special forces archers even had time to make the money-shot run to the end zone and score the baggage train capturing touchdown that pushed the onece-enormous Bedouin army inexprably closer to defeat at the hands of Zenobia and her band of ever happier chaps.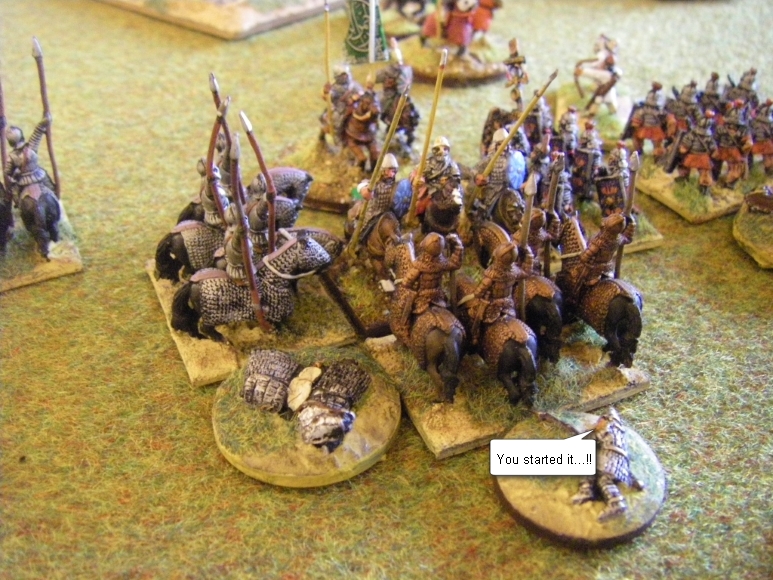 Fittingly perhaps, the final coup-de-grace was delivered by an irresistable combination of Elite and Average Cataphracts, assisted by Legionary swordsmen to crush the last vestiges of resistance and sap the Badouin of their last dregs of resistance.
The Result is a significant win for Palmyra - the Desert again belongs to Zenobia!
Click here for the report of the next game in this competition, or read on for the post match summaries from the Generals involved, as well as another episode of legendary expert analysis from Hannibal
Post Match Summary from the Palmyran Commander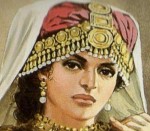 I will claim this as a victory for all women everywhere, as we strive to throw off the yoke of subservience to the macho-dominated world of Roman era warfare by adopting an aggressive testosterone-fuelled approach to robustly attacking all of our enemies and smiting them to the ground!
I never dreamed about success. I worked for it - and I know in my heart that the secret to liberation and emancipation lies clearly in piling Cataphracts into the middle of the enemy army, relying on legionaries to beat bowmen and trying furiously to avoid fighting anything dangerous wherever possible
A woman with a voice is, by definition, a strong woman, and my voice proclaims loud and clear that these simple battle tactics somehow seem to have evaded the attentions of all of the male leaders to grace these pages until now .. somehow?
I am a queen; and as long as I live I will reign!
---
Hannibal's Post Match Analysis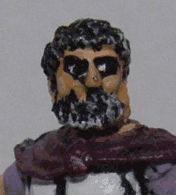 You are blasphemous, abominable rascal and damned scum of Satan, and even your feminine wiles cannot disguise how unrealistic is is for you to claim this as a victory of your own making.
Shame, shame, and shame again upon your blind and despicable ingratitude for an enemy who chose to stick all their cool troops in rough terrain kindly provided for them on a flank. It was this act of choice on their part that wrongfooted your opponent, not anything clever that you yourself ordered
You worship a Dagon and a god of your stomach, but the growling of hunger (or the burbling of digesting schitzel) cannot hide the reality that you had not deployed this army on table before this game and so you were almost certainly as surprised as anyone else to discover just how narrow it was.
You have the master-devil on your side all right, but to claim you refused a flank for any reason other than you had no idea that your army would not stretch that far is pure folly and falsehood. I am sure we will see more learnings of this sort in the next game
Click here for the report of the next game in this competition
You may also like....
Game 1 Palmyran vs Bedouin Dynasties
Game 3 Palmyran vs Thematic Byzantine
Game 4 Palmyran vs Han Chinese
Game 5 Palmyran vs Nikephorian Byzantine
Driving home via Bastogne and Namur
View My Stats for My Match Reports Pages